Barrier-breaking lesbian does a 'Death-Defying Escape' in her new play
Carter was the first woman to ever play the Close-Up Gallery at the Magic Castle, LA's famed club frequented by celebrity magic lovers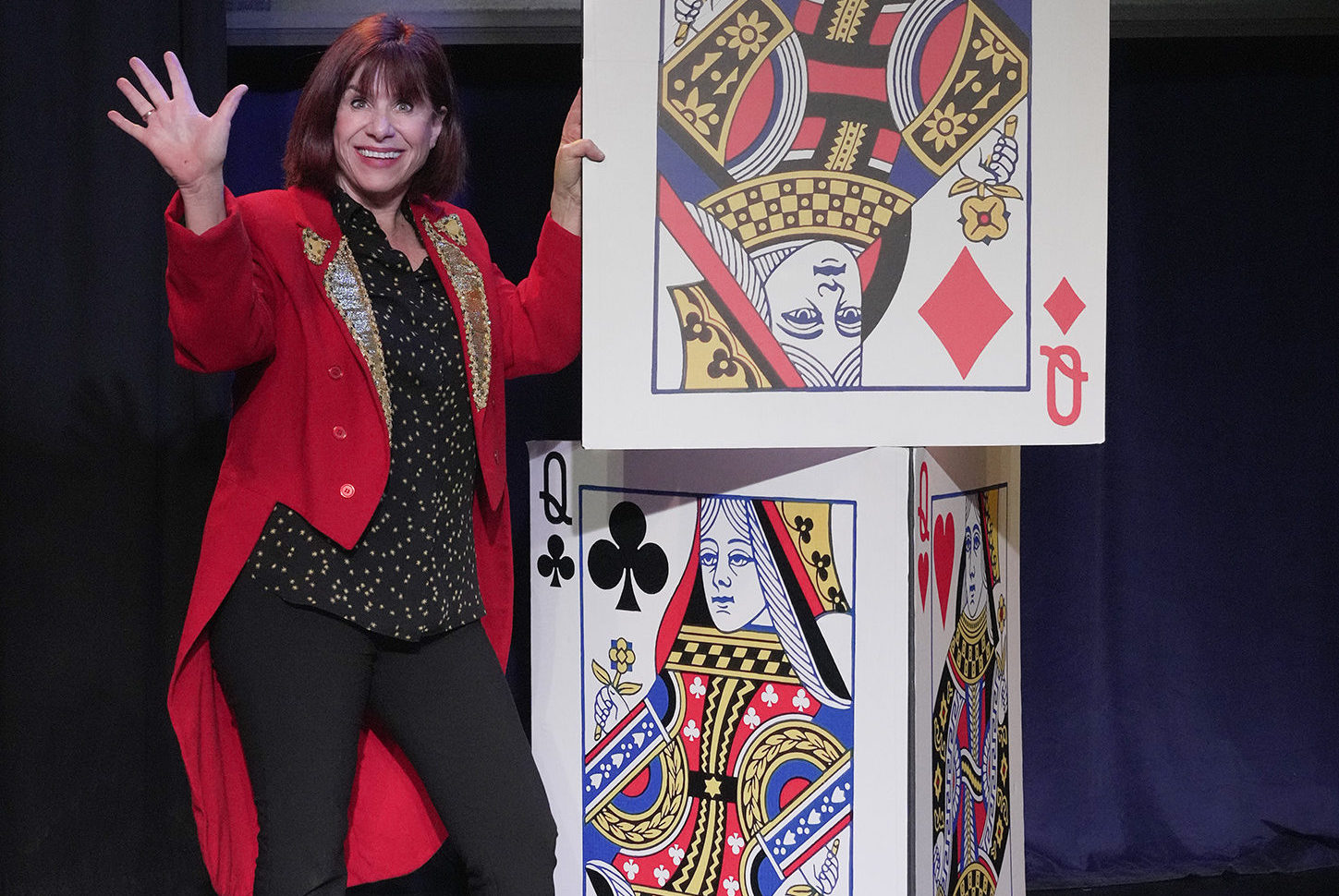 HOLLYWOOD – Quick, name a famous female magician. Don't worry, we already know you probably can't – not even if you use Google. That's because, as Judy Carter puts it, "There aren't any. They're all men. The idea that a woman can manipulate reality is really terrifying – I mean, we used to get burned at the stake for it, right?"
Judy herself, however, is proof that her statement is not entirely true. Though hardly a household name (not in most households, anyway), she broke gender barriers by performing magic on TV on the likes of "The Merv Griffin Show" and "The Mike Douglas Show," before an impromptu performance necessitated by missing equipment launched her into a second career as a stand-up comedian, public speaker, and author ("I wrote the BOOK on being gay!", she jokes, in reference to her Lambda Literary Award-winning humor book, "The Homo Handbook"). She's since appeared on over 100 TV shows and four comedy cable specials, as well as opening for Prince and playing in Las Vegas.
Now she's playing the Hudson Guild Theatre in Hollywood, with her play "A Death-Defying Escape." Presented by Comedy Workshop Productions, it's described as "a darkly funny, inspiring new comedy about one woman's miraculous escape from the secrets of her past." In it, Carter weaves together stories from her life with "jaw-dropping, audience-interactive on-stage magic", and takes audiences through a unique narrative that features something for everyone: Jewish humor, lesbian romance, a disability awareness — and world-class, never-before-seen illusions designed by Vegas pro Craig Dickens.
"He did it because he loved the script so much," Carter tells us.
Speaking with the Blade during a break from the rigors of last-minute rehearsals, the verteran performer shared some of the experiences – not all of them wonderful – that culminated in her decision to tell her life story in a play, starting with a not-so-obvious explanation about the connection she feels between magic and being a lesbian.
"I think there's a big correlation between us gays and magicians," she told us. "Especially those of us who came out in the eighties – and that's keeping secrets.
This play is about revealing secrets. We had so of them many growing up in the Fairfax district of LA – we weren't the fancy Beverly Hills Jews, you know, we were the low-end Jews who still had our original noses. My older sister was disabled, and she was given away to an institution, that was a secret. And then I turned out to be gay, and that was a secret. And then guess what? Grandma's having electro-shock treatment, and that was another secret!"

During those early years, Carter found refuge and release in comedy, overcoming a speech impediment so she could do funny magic shows for birthday parties. She even ended up being written up for it in the Los Angeles Times, launching her on a career that would ultimately take her across barriers no woman had passed before – though it wasn't always an easy passage.
"I was the first woman to ever play the Close-Up Gallery, in the card room at the Magic Castle," she remembers, meaning Los Angeles' famed private club frequented by celebrity magic lovers ranging from Orson Welles to Neil Patrick Harris since its founding in 1963.
"Anyway, what happened was, I was physically picked up by this real 'macho' magician, and he threw me over his shoulder, and carried me out of the Castle, and he threw me down into the parking lot. And he said to me, 'Women don't belong here, honey, stick to bunnies and rabbits, cards are for men.' And I thought, 'Why? Because they're so heavy?'
And so, in my play, I have that scene, and I think it will open up some things… I think it will really resonate."
Still, her show is not just dedicated to the professional hurdles that she had to leap.
"I wrote this play because it also surrounds something that happened to me later in life, and that is that I fell deeply in love," she explains. "It was almost like the first time. I was married to another woman for sixteen years, and we got divorced, and even though I had given up on finding love – I mean, I know getting older is not big turn on for a lot of people – suddenly I was falling in love with a woman that was considerably younger than me. Forty years younger! And it blew my mind."
While the new love in her life might not seem related to the stories of her earlier trials, it's more than just a convenient "happy ending" – there's a point to be made.
"No matter what trauma has happened to us in our past, love is possible," Carter says. "Escape is possible. It's possible to leave behind these things that have happened to us and make ourselves vulnerable to love."
As for the magic, she won't reveal too much.

"I can't give any spoilers, but I will tell you that I do a death-defying escape from heterosexuality, right in front of people's eyes! It's going to be amazing!"
Directed by Lee Costello, "A Death-Defying Escape!" features Carter alongside actors Kevin Scott Allen and Lyndsi LaRose, and will "disappear weekly" at the Hudson Guild Theatre Saturdays and Sundays from April 2 through May 8. In addition, the production will be made available to streaming audiences worldwide beginning on April 9 – so even if you're reading this from outside of Los Angeles, you'll still get a chance to experience it.
Tickets to both are available via www.deathdefyingescape.com.
Captivating topic, great cast, but falls short on real issue
Rogue Machine Theatre's recent run of "A Great Wilderness" is reviewed by the founder of the Conversion Therapy Dropout Network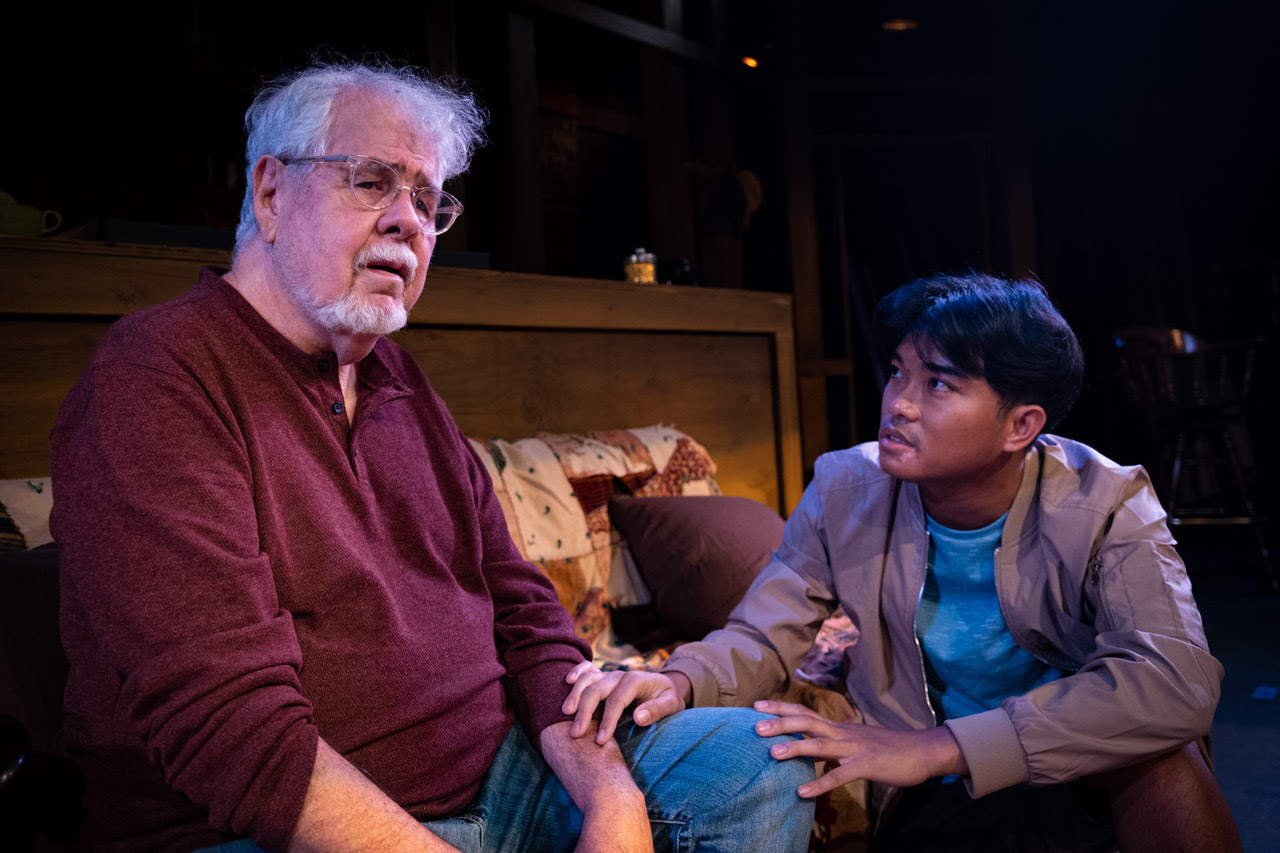 By Curtis Galloway | LOS ANGELES – Rogue Machine Theatre's recent run of "A Great Wilderness", written by Samuel D. Hunter and directed by Elina de Santos, was a harrowing story, to say the least. It explores the complex ideas behind conversion therapy or sexual orientation and gender identity change efforts.
As a conversion therapy survivor, I knew that I needed to see this production as I am always more than happy to see conversations about this topic. While the cast was excellent and the overall theatrical presentation was entertaining and very engaging, I feel that the script itself lacked direction and proper handling of the main topic, conversion therapy.
The show opens in an old cabin, which we will stay in for the duration of the story, with the two main characters, Daniel & Walt, standing off in silent opposition. Daniel, a teenager, has just been sent away to a remote cabin run by Walt, an elderly man that is about to be moved into an assisted living home. We learn quickly that Daniel was sent there by his mother after he was caught watching homosexual pornography, and Walt is known for "helping" kids change their sexual orientation through religious means. To be plain, Walt is a "conversion therapist" and has been running a conversion camp with his friend Tim and ex-wife Abby.
Over the course of two hours, Daniel goes missing in the woods, Abby and Walt reveal that their son was gay and committed suicide due to their attempts to have his sexual orientation changed, and Daniel's mother seemingly prefers her son stay missing rather than face the world that she knows is unkind to "people like him".
There is no doubt, that the show had a fantastic cast. The six characters were neatly defined as their own individuals with distinct personalities and lives of their own. Each action was meaningful and thought out, to the smallest detail. The emotion brought through each character enticed you to believe that it was actually happening before your eyes. It was everything good casting should be.
My main issue with the production sat in the script, specifically the sympathy it garnered for Walt as a conversion therapist.
From personal experience, when talking about conversion therapy and specifically the conversion therapist, we need to be careful not to create a sympathetic tone. A Great Wilderness focused too much on the life and struggles of a conversion therapist that, in his old age, is trying to come to terms with his life, the mistakes he has made, and his past attractions.
This brings feelings of sympathy and emotional connection to the character, that does not deserve sympathy. One character notes that they knew Walt through the community as a weird old man that abuses children in his cabin by trying to make them straight. They noted that as they grew to know him they realized that people will say what they want, but they knew he "never harmed those kids".
Toward the end of the show, we get the initial beginnings that Walt is starting to doubt the conversion therapy he has been providing his whole life, but we never really get to him denouncing it or talk directly about it.
At the end, we finally get to see Daniel stumble back into the cabin after being missing in the woods. He describes seeing flames (from a wildfire nearby) and having a revelation from God that he can change and that he wants to pursue what Walt initially set out to do, make Daniel straight.
For me, this left the door way too open for interpretation that, yes, conversion therapy is bad, but what this guy did really wasn't. It misses the whole point and ideology behind why conversion therapy exists in the first place. Anti-LGBTQ sentiments that something is wrong with the individual are at the heart of all of it, and no amount of feel good cabin, "I just want to help" can cover that up.
Overall, the production of "A Great Wilderness" was captivating and fantastic. The cast did an amazing job and they should all be proud, as should the theatre. I left having mixed feelings, as you have now read, but I stand by my evaluation that it casts too much sympathy on a character that has spent his life making other's lives worse and more confusing.
************************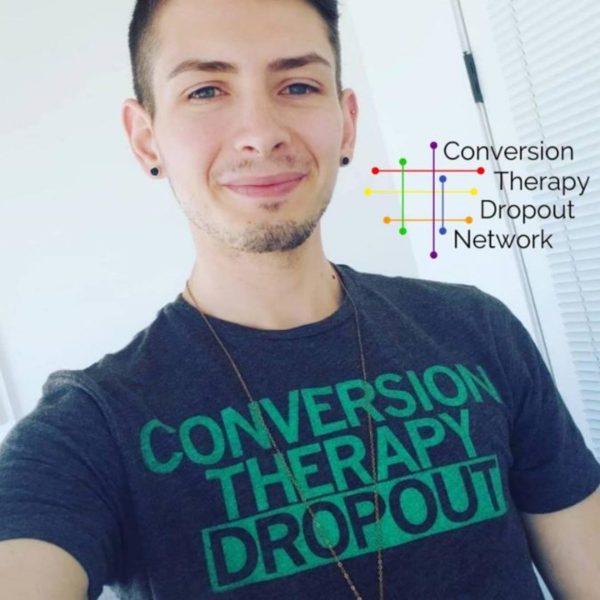 Curtis D. Galloway is the Founder & President of Conversion Therapy Dropout Network in Los Angeles, California. Curtis grew up in a small town in Southern Illinois. When he was 16 years old he was subjected to conversion therapy; an experience he was later able to use to ban conversion therapy in his home state.
Now living in L.A., Curtis has taken his activism to the next level and founded the Conversion Therapy Dropout Network to bring survivors of conversion therapy together in community and solidarity.