San Francisco to host largest display of Aids Memorial Quilt in a decade
The 35th anniversary of the AIDS Memorial Quilt that will feature nearly 3,000 hand-stitched panels of the Quilt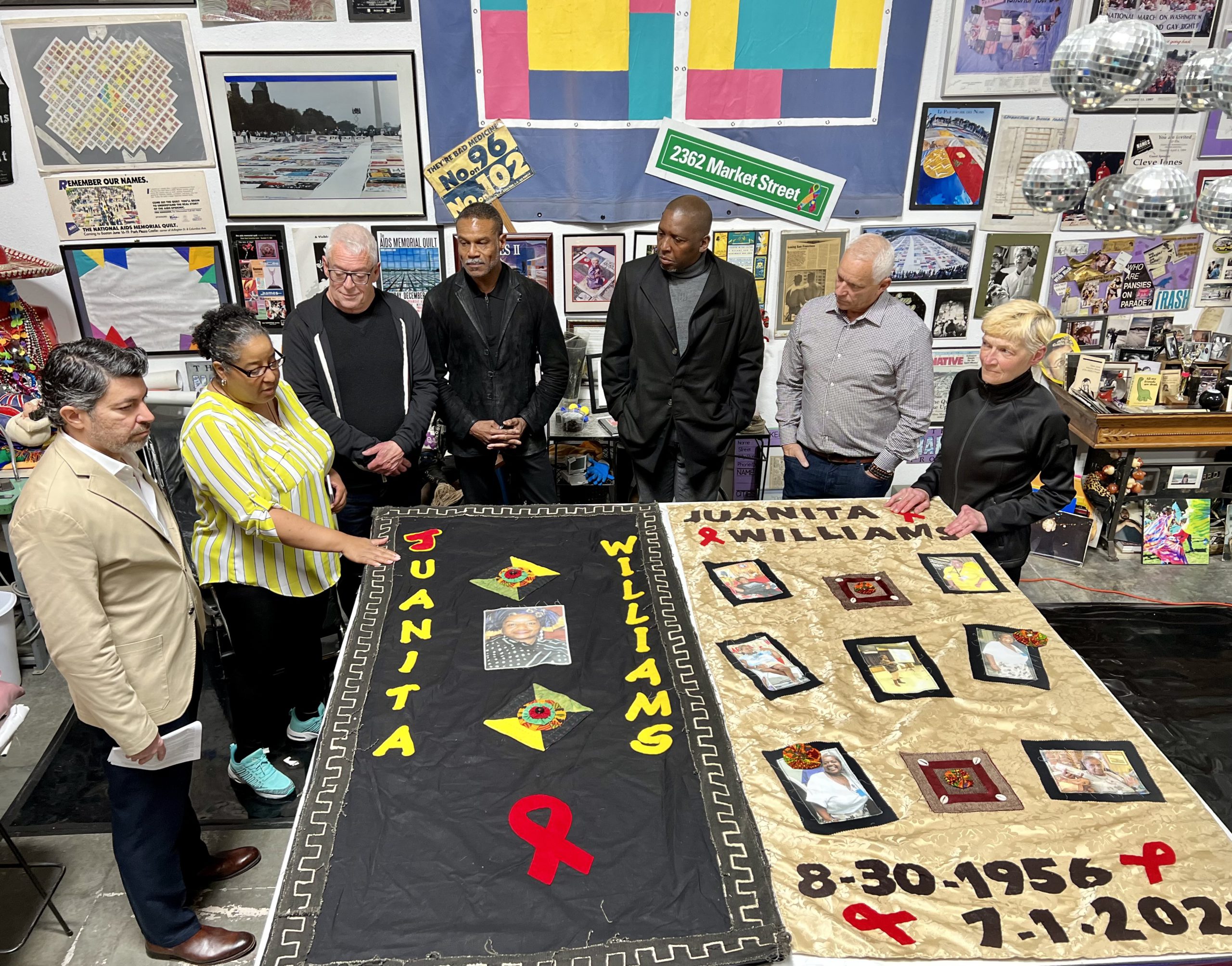 SAN FRANCISCO – The National AIDS Memorial will mark the 35th anniversary of the AIDS Memorial Quilt with an historic outdoor display in Golden Gate Park that will feature nearly 3,000 hand-stitched panels of the Quilt.
The free public event will take place on June 11 & 12 from 10 am – 5 pm each day in Robin Williams Meadow and in the National AIDS Memorial Grove. Expected to draw thousands of people, the display will be the largest display of the Quilt in over a decade and the largest-ever in San Francisco history.
"This year's historic community display will be a beautiful celebration of life and a recognition of the power of the Quilt today as a teaching tool for health and social justice," said National AIDS Memorial CEO John Cunningham. "The Quilt is an important reminder that the HIV/AIDS crisis is still not over and there is much work to be done, particularly in communities of color, where HIV is on the rise in many parts of the country."
The two-day 35th Anniversary event, presented by Gilead Sciences, will feature 350 12'x12' blocks of the Quilt laid out on the ground, each consisting of eight 3'x 6' individually sewn panels that honor and remember the names and stories of loved ones lost to AIDS. Visitors will be able to walk through the display to experience each panel, remember the names, and see first-hand the stories sewn into each of them. Featured Quilt blocks will include many of the original panels made during the darkest days of the pandemic and panels made in recent years, a solemn reminder that the AIDS crisis is still not over.
"The Quilt remains an important symbol of hope, activism and remembrance that reaches millions of people each year, opening hearts and minds," said Alex Kalomparis, Senior Vice President, Gilead Sciences, a long-time partner of the Quilt and its programs. The company provided a $2.4 million grant to the National AIDS Memorial in 2019 to relocate the Quilt from Atlanta back to San Francisco. "Through community displays such as this, the Quilt is connecting the story of HIV/AIDS to the issues faced by many people today, touching their lives in a very personal, compelling way."
An opening ceremony and traditional Quilt unfolding will start at 9:30 am on the 11th, followed by the continuous reading of names of lives lost to AIDS aloud by volunteers, dignitaries, and the public on both days. There will be panel-making workshops, community information booths, stories behind the Quilt, displays of memorabilia, and the ability for the public to share their personal Quilt stories. Volunteer opportunities and community/corporate partnerships are available. The public is also invited to bring new panels that can be displayed in a special area to become part of the Quilt.
More than 100 new panels will be seen for the first time at the San Francisco display.  Many of them were made through the Memorial's Call My Name panel-making program, which helps raise greater awareness about the impact of HIV/AIDS in communities of color, particularly in the South, where HIV rates are on the rise today. Panel-making workshops are organized around the country, working with church groups, quilting guilds and AIDS service organizations to continue the Quilt's 35-year legacy of bringing people together and to serve as a catalyst for education and action by pulling the thread from then to now for justice. 
·       Nearly 3,000 panels on 350 Quilt blocks to be displayed in Golden Gate Park on June 11 & 12 for a free public event expected to draw thousands to experience the largest community arts project in the world
·       Panels on display will include those made during the darkest days of the pandemic and ones made today, a reminder that the fight for a cure is not over, with communities of color most impacted today
·       Presented by Gilead Sciences, visitors will experience a national treasure that is a teaching tool today for health and social justice
"The AIDS Quilt has always been an important part of Glide Memorial Church and many Black churches around the country. Throughout the years, we have made panels and displayed them from the pulpit as a backdrop to worship, with parishioners calling, singing, and preaching their names," said Marvin White, Minister of Celebration at Glide. "We are honored to be a community partner of this historic display, to celebrate their lives and to share their stories so future generations always remember."
According to the latest Centers for Disease Control and Prevention data, while new HIV infections in the U.S. fell about 8% from 2015 to 2019, Black and Latino communities — particularly gay and bisexual men within those groups — continue to be disproportionately affected. In 2019, 26% of new HIV infections were among Black gay and bisexual men, 23% among Latino gay and bisexual men, and 45% among gay and bisexual men under the age of 35. African American and Hispanics/Latinos account for the largest increases in new HIV diagnoses, 42% and 27% respectively. Disparities also persist among women. Black women's HIV infection rate is 11 times that of white women and four times that of Latina women. Racism, HIV stigma, homophobia, poverty, and barriers to health care continue to drive these disparities.
The first panels of the Quilt were created in June of 1987 when a group of strangers, led by gay rights activist Cleve Jones, gathered in a San Francisco storefront to document the lives they feared history would forget. This meeting of devoted friends, lovers and activists would serve as the foundation for The NAMES Project AIDS Memorial Quilt. Each panel made was the size of a human grave and they saw the Quilt as an activist tool to push the government into taking action to end the epidemic.
"What started as a protest to demand action turned into a national movement that served as a wake-up call to the nation that thousands upon thousands of people were dying," said Jones. "Today, the Quilt is just as relevant and even more important, particularly in the wake of Covid-19, and the fact that the struggles we face today that result from health and social inequities are the issues we will face again in the future if we don't learn from the lessons of the past."
That year, the nearly 2,000 panels of the Quilt traveled to Washington, D.C. for its first display on the National Mall. It then traveled to several cities, including a large display at the Moscone Center in San Francisco to raise funds for AIDS service organizations.
Today, the Quilt, considered the largest community arts project in the world, is under the stewardship of the National AIDS Memorial and has surpassed 50,000 individually sewn panels with more than 110,000 names stitched into its 54 tons of fabric. The Quilt continues to connect the history of the AIDS pandemic to the ongoing fight against stigma and prejudice through hundreds of community displays around the country and educational programs that reach millions of people each year. In 2021, an outdoor Quilt display system was constructed in the National AIDS Memorial Grove, located in Golden Gate Park, which allows for regular outdoor displays.
"Golden Gate Park has long been a place where history is made and where people come together for change, to heal and express themselves," said Phil Ginsburg, general manager of the San Francisco Recreation and Park Department. "The National AIDS Memorial is an important part of that history, and we are honored to be part of this event that will bring thousands of people to our beloved park to honor a national treasure."
A special web page at www.aidsmemorial.org has been created for the public to plan their visit to see the display that will be updated regularly with the latest details and information about this historic event.
San Francisco bids farewell to trailblazing Senator Dianne Feinstein
"While Feinstein had a complicated relationship with LGBTQs over the years, we recognize her commitment to the community"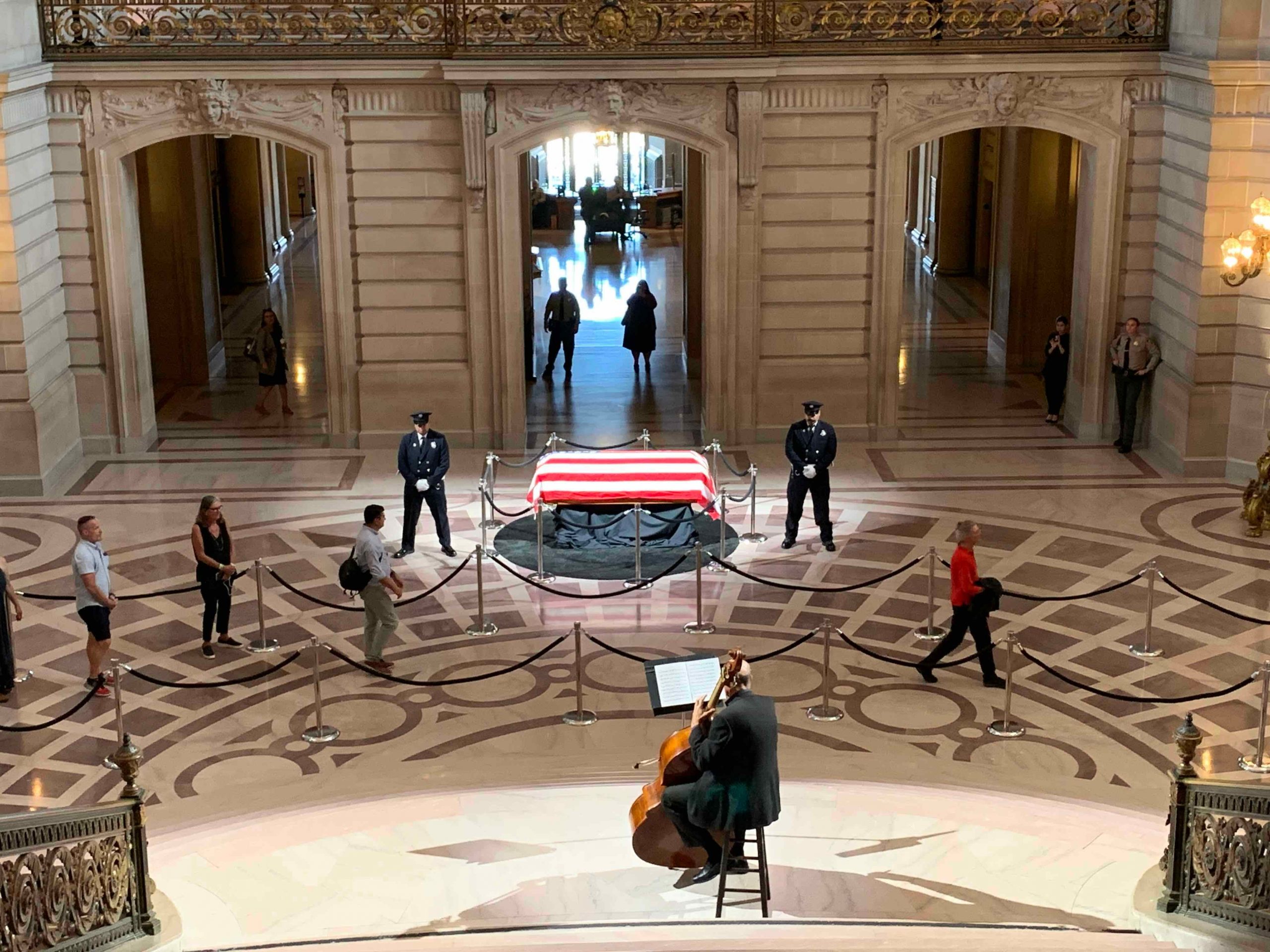 SAN FRANCISCO, Calif. – Thousands passed by throughout the day on Wednesday in the imposing marble rotunda of the City Hall to pay respects to a trailblazing woman politician whose career had begun in this very building fifty-four years ago.
Lying in state where other famous San Franciscans have prior, most notably the two men whose political assassinations in this building on the next floor up on November 27, 1978 catapulted her into national prominence, Supervisor Harvey Milk and Mayor George Moscone, U.S. Senator Dianne Feinstein (D-California), who died last week at the age of 90, was remembered by the great, the good, the poor, the rich, the politicos and the ordinary people who call the City by the Bay home.
Among those seen in quiet contemplation at her casket was U.S. House Speaker Emerita Nancy Pelosi with her husband Paul, Dr. Anthony Fauci, California State Senator Scott Wiener, and San Francisco Mayor London Breed.
Senator Feinstein is lying in state at the place where it all started — San Francisco City Hall. It's still hard to process that this absolute giant of San Francisco and national politics is no longer with us. Rest in peace, Senator. pic.twitter.com/VCYKcD42Ua

— Senator Scott Wiener (@Scott_Wiener) October 4, 2023
Dr. Anthony Fauci arrives to pay his respects to the late Senator Dianne Feinstein as she lies in state in the Rotunda of San Francisco City Hall @sfchronicle pic.twitter.com/cg4E9sMqBo

— Jessica Christian (@jachristian) October 4, 2023
Feinstein had a complicated relationship with the LGBTQ+ community. Longtime LGBTQ+ journalist and former Los Angeles Blade news editor Karen Ocamb noted in a commentary published on her personal Facebook page a few days after the Senator's death:
The forgotten story I want to share happened in 1990 when Feinstein was running for governor against moderate Republican Sen. Pete Wilson of San Diego. Wilson told Log Cabin Republicans behind closed doors that he would sign the long-fought-for gay rights bill, AB 101. That promise quickly caught fire and moved some gays from the Feinstein to Wilson column.
It wasn't just that Feinstein would not commit to signing AB 101 – it was that she was publicly silent on LGBTQ rights at the height of the Second Wave of AIDS, where she could actually take some credit for leadership as SF Mayor. Meanwhile, Harvey Gantt, the engaging Black Democratic mayor of Charlotte, North Carolina, was in LA raising money for his close battle to dethrone ultra racist homophobe Sen. Jesse Helms. Everywhere he went, including private fundraisers, Gantt talked about gay rights – unprompted.
That was just too much for lesbian attorney Diane Abbitt, first woman co-chair of MECLA, leader against the Briggs Initiative, board co-chair for APLA and close friend of David Mixner, with whom Abbitt and a slew of other LGBT politicos subsequently founded ANGLE. At a private reelection fundraiser for San Fransisco DA Arlo Smith, Diane got up on some stage – I seem to remember it as a huge boulder – and just fumed about how she was sick and tired of raising money for politicians who quietly gestured that they were allies but never said the words "gay and lesbian."
We were outdoors and everyone – even the breeze – just stopped in shock. Diane had that kind of intensity that could zap you with a look. But apparently few had seen her this enraged. She didn't just hit a nerve; she inflamed the marrow in our bones.
I wrote about that political epiphany for Frontiers and for other gay press outlets under a pseudonyme. But the word spread beyond us and even though Feinstein brought lesbian icons Del Martin and Phyllis Lyons with her to events – the "gay vote" that first showed up to defeat the Briggs Initiative in 1978 started dropping away from Feinstein. She suffered a terrible loss to Wilson, though only the gay press pointed to our community as one reason why.
Gov. Wilson went on to betray us, vetoing AB 101 on this day, Sept. 30, 1991. That led to weeks of riots – also now forgotten."
The Editorial Board of the oldest LGBTQ publication in California, San Francisco's The Bay Area Reporter, also took measure of Sen. Feinstein and her career:
U.S. Senator Dianne Feinstein (D-California), who died last week at the age of 90, will be remembered for a lot of things, but to many older LGBTQ people, she is recalled as the steadfast leader who worked to heal San Francisco following a tragedy that propelled her into the national spotlight. It was November 27, 1978, when Feinstein, then president of the San Francisco Board of Supervisors, standing inside City Hall announced to the world that then-mayor George Moscone and gay supervisor Harvey Milk had been shot and killed by disgruntled ex-supervisor Dan White.
Watching that old TV footage, which was replayed in the hours after her death was announced, brought back a flood of memories for so many. We couldn't believe that both city leaders had been assassinated. Moscone was a progressive leader and Milk, of course, made history when he was elected just a year earlier, becoming the first out LGBTQ person to win elected office in California. He only served for 11 short months.
As board president, Feinstein became mayor — the first woman to lead San Francisco — and went on to serve in that capacity for a decade, easily surviving a recall and winning reelection during that time. Her leadership occurred during the worst of the AIDS crisis, and Feinstein allocated millions of dollars to help stop the spread of the disease.
As gay former KPIX-TV reporter Hank Plante noted in a social media post, Feinstein's AIDS budget was more than then-President Ronald Reagan's was for the entire United States. The "San Francisco Model" was born during her administration, as nonprofits sprang up to work with people living with AIDS and health officials in a partnership that endures today.
She did face criticism for city health leaders' decision to close the gay bathhouses, but relied in part on their expertise at a time when thousands of gay men were dying of a disease that had virtually no treatment.
As mayor, Feinstein appointed LGBTQ people to city boards and commissions, and hosted the wedding of one of them, the late Jo Daly, the first lesbian to serve on the Police Commission, in her garden.
She appointed Harry Britt, a gay man, to replace Milk on the Board of Supervisors. Her veto of Britt's domestic partner legislation caused a rift in her support from the LGBTQ community and was one of the reasons for the 1983 recall. The city later passed a domestic partner ordinance, and of course, jump-started the marriage equality movement in 2004 when then-mayor Gavin Newsom ordered city officials to issue marriage licenses to same-sex couples. That exposed another split with the LGBTQ community, when Feinstein, then a U.S. senator, said Newsom's actions were "too much, too fast, too soon."

But Feinstein remained an ally to the community when she won election to the Senate in 1992. Most significantly, she was one of only a few senators who voted against the hideous Defense of Marriage Act that for decades banned federal recognition of same-sex marriage. Even Joe Biden, then a U.S. senator from Delaware, voted for DOMA at the time.
Feinstein also voted against the homophobic "Don't Ask, Don't Tell" policy that prevented gays and lesbians from serving openly in the military. Both of those laws have since been repealed.

While Feinstein had a complicated relationship with LGBTQs over the years, we recognize her commitment to the community. Allies such as Feinstein are rarely perfect, yet, especially back in the 1990s, it often took some degree of courage for a mainstream political leader to stand with us.
It was a different time. Feinstein's actions in support of the community led to support from other political leaders over the years, as they evolved in their thinking. Ultimately, she served the city and state well and will be missed.
Related:
"I know what happened, I lived those times- and I've tried to learn from them." ~ Diane Feinstein