'Don't Say Gay' law in Florida challenged in first lawsuit filing
"Don't Say Gay" is "discriminatory law" and "threatens the decades of progress we've made in creating safer schools for everyone"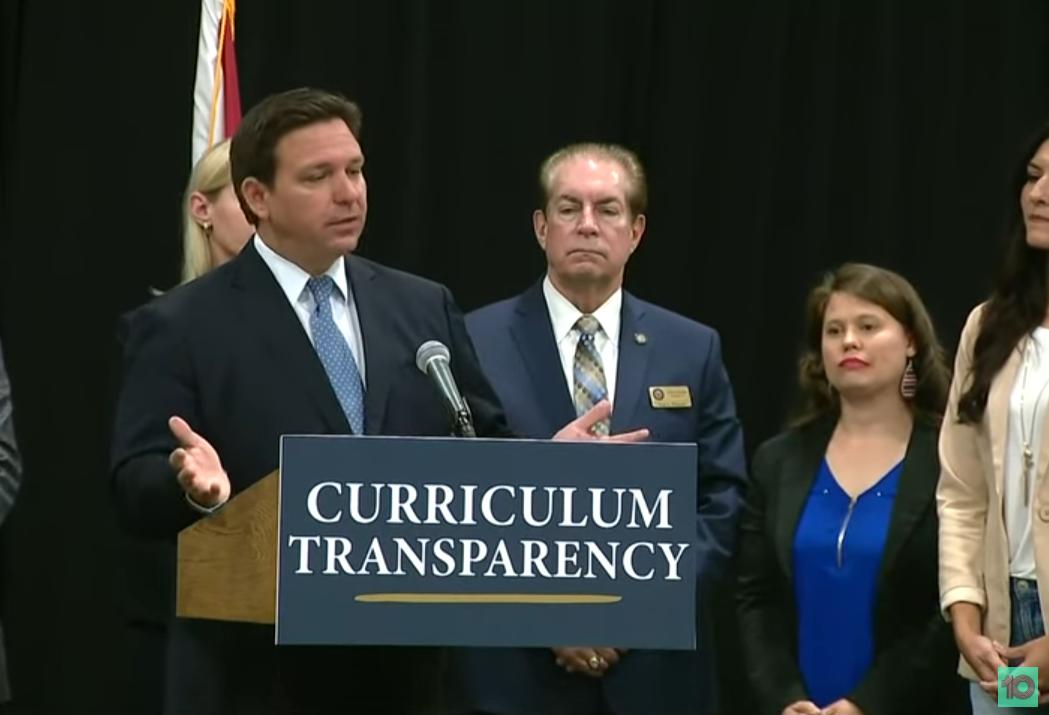 PENSACOLA – Mere days after Florida Gov. Ron DeSantis signed into law the "Don't Say Gay" bill, the first lawsuit against the measure has emerged, asserting the statute "would deny to an entire generation that LGBTQ people exist and have equal dignity."
Among the lawyers who signed the complaint — filed Thursday before the U.S. District Court of the Northern District of Florida — was Roberta Kaplan, who rose to fame for successfully arguing against the anti-gay Defense of Marriage Act before the U.S. Supreme Court in 2013, as partner at the New York-based law firm Kaplan Hecker & Fink LLP.
"Over time and continuing today, our nation has strived to make good on its promise that everyone is entitled to be treated with equal dignity under the law," Kaplan said in a statement. "That is true when it comes to LGBTQ Americans, who now have the constitutional right to identify openly as LGBTQ, to marry, and to form families with children."
Other lawyers who signed the complaint against the "Don't Say Gay" bill, known as HB 1557, are Christopher Stoll, senior staff attorney with the National Center for Lesbian Rights, and Elizabeth Schwartz, a Miami-based attorney.
"This effort to control young minds through state censorship —and to demean LGBTQ lives by denying their reality — is a grave abuse of power," the lawsuit says.
Under the "Don't Say Gay" bill, schools for children in kindergarten through grade 3 may not engage in "instruction" about sexual orientation and gender identity, or generally throughout the education system "in a manner that is not age-appropriate or developmentally appropriate for students." Although the new law allows for internal review and resolution if a parent brings a complaint against the school for violating the measure, the "Don't Say Gay" bill also empowers a parent of a student who feels the law was violated to "bring an action against a school district" in court to seek damages.
A lawsuit was expected soon after DeSantis signed the "Don't Say Gay" bill into law amid discussion about the various legal vulnerabilities of the measure. The complaint, declaring the new law "piles one violation on top of another," makes its primary case based on free speech and equal protection principles, by saying the measure seeks "to censor discussions of sexual orientation or gender identity that recognize and respect LGBTQ people and their families." Other violations cited in the complaint are based on due process protections as well as discrimination against LGBTQ people based on sex stereotypes, which the Supreme Court has ruled is unlawful in the case of Bostock v. Clayton County.
In a clear nod to the precedent set by the 1996 decision in Romer v. Evans, which determined laws against animus, including those against gay people, are unconstitutional, the complaint says the "Don't Say Gay" law is clearly the product of animus toward Florida's LGBTQ community.
"The bill's sponsor in the Senate has stated that the law is meant to prohibit discussion of sexual orientations and gender identities that do not comport with Florida's supposed 'core belief systems and values," the lawsuit says. "He has also stated that the bill is intended to prevent students "coming out in school" to their peers from being treated as 'celebrities.' The premise of these statements is fear that LGBTQ students might live their true identities in school and be met with acceptance rather than state-sanctioned hostility targeting their protected characteristics."
Plaintiffs in the lawsuit are Equality Florida, a state LGBTQ organization, and Family Equality, a nationwide group that focus on LGBTQ parents and families. Other plaintiff are students, such as one gay student identified as "M.A" who set up a gay-straight alliance in his school, including Dan and Brent VanTice, a same-sex couple who are parents of two first-grade boys who go to public school in the area; and Hatcher Powderly, a teacher who seeks to inform her lessons with LGBTQ identity and history.
"Already, our children have told us that they are afraid that they will not be able to talk about their family at school," Dan and Brent VanTice said in a joint statement. "We are heartbroken that our children are already feeling isolated and stigmatized by this law."
The lawsuit speculates numerous ways schools could be subjected to lawsuits from a parent who objects to LGBTQ identities coming up in some way in classroom settings, which could be any number of ways other than planned curriculum.
"Can students ask— and teachers answer—questions about historical events involving LGBTQ people?" the complaint says. "Would H.B. 1557 ban a teacher from discussing gay-rights' decisions, like Bostock v. Clayton County, 140 S. Ct. 1731 (2020), where the Court held that LGBTQ persons cannot be discriminated against in employment? If a student writes a paper in which they discuss their gender identity or sexual orientation — and relate it to their argument — could a teacher not grade it? If the teacher did grade it, would they be prohibited from commenting on any aspect of the paper or discussing it with the student, thus leaving LGBTQ students at a systematic educational disadvantage?"
Proponents of the "Don't Say Gay" bill have defended the measure by erroneously saying it simply prohibits sex education for K-3 children or would only prohibit school curriculum on sexual orientation or gender identity, even though there's no limiting principle in the measure restricting its reach. In fact, Republican lawmakers during the legislative process for the measure rejected an amendment proposed by Democrats that would enumerate the prohibition in the bill was limited to discussion on "sexual activity."
Imani Rupert-Gordon, executive director of the National Center for Lesbian Rights, said in a statement the "Don't Say Gay" measure is "discriminatory law" and "threatens the decades of progress we've made in creating safer schools for everyone."
"While this law will endanger all students, it will be particularly damaging to LGBTQ students and LGBTQ parents," Rupert-Gordon said. "We are filing this challenge only days after the bill was signed into law because the harms it is causing are already so incredibly clear. Every young person deserves to be safe at school and we will fight unconscionable laws like this until that is true for every student."
"No state has passed a law barring any positive teaching about gay or transgender people in more than 20 years. Florida's law attempts to roll back decades of progress in making schools safe for LGBTQ students. Many students now enrolled in Florida schools were born after Obergefell, the 2015 Supreme Court decision establishing marriage equality nationwide. They have grown up taking acceptance of LGBTQ people for granted. As a result of Florida's law, these students may now for the first time be made to feel shame and stigma about their families or their own identities. We are already seeing these harmful effects on the ground in Florida, where teachers are removing posters that show support for LGBTQ students and censoring any mention of LGBTQ people or issues in their classrooms."   Shannon Minter, the Legal Director for the National Center for Lesbian Rights, (NCLR) said in an email to the Blade.
ACLU & Lambda Legal sue Iowa over 'Don't Say Gay' law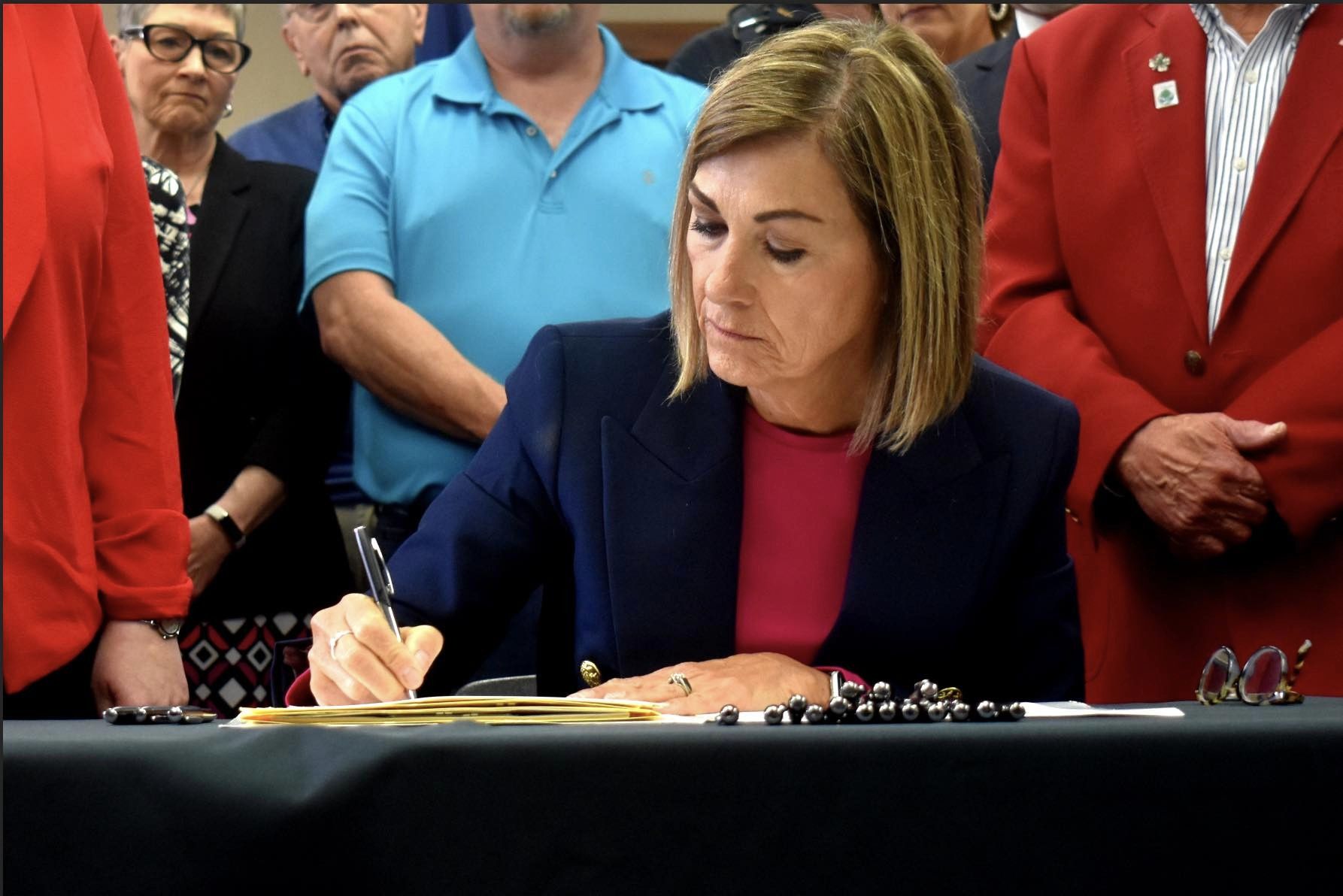 DES MOINES, Iowa – The American Civil Liberties Union (ACLU) of Iowa and Lambda Legal on Tuesday sued to block a sweeping Iowa education law that seeks to silence LGBTQ+ students, erase any recognition of LGBTQ+ people from public schools, and bans books with sexual or LGBTQ+ content, arguing in a federal lawsuit that the measure violates the constitutional rights of LGBTQ students.
The law also requires teachers, counselors, school psychologists, and other staff to report students to their parents or guardians if a student asks to be referred to by names or pronouns that align with their gender identity. This reporting is required regardless of whether it violates a student's expectation of confidentiality, professional ethical obligations, or whether the school official knows that the student would be rendered unsafe, kicked out of their home, or subject to abuse as a result, the suit alleges.
The lawsuit is being brought on behalf of Iowa Safe Schools, a non-profit organization supporting LGBTQ and allied youth, and seven Iowa students and their families affected by the law. The students range from 4th to 12th graders and span the state.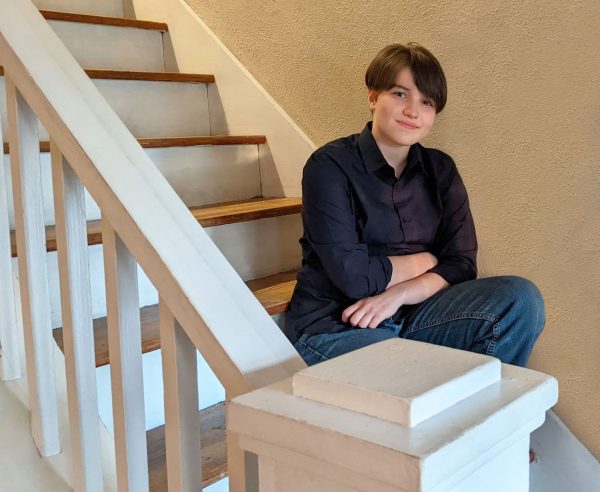 One of the clients in the case, Puck Carlson (they/them), a high school senior in Iowa City, said the law is having a devastating impact on LGBTQ+ students like them. "Reading has always been a fundamental part of how I learned to understand the world around me. Every student should have the right to do the same: to be able to learn about people, cultures, and perspectives and to be able to learn about all of the world around them—not just parts of it. Furthermore, every student should be able to see themselves in their libraries—so that they not only understand the world around them but that they also belong in it."
Another plaintiff is Percy Batista-Pedro, high school junior, Waterloo, Iowa who said:
"I am a junior and I also attend orchestra, participate in theater, and lead my school's Gay-Straight Alliance. I have experienced harassment in school because of my transgender identity, but SF496 and its provisions to shut down open, healthy discussion of LGBTQ issues, and its silencing of students like me make me fear for my happiness and safety more than ever.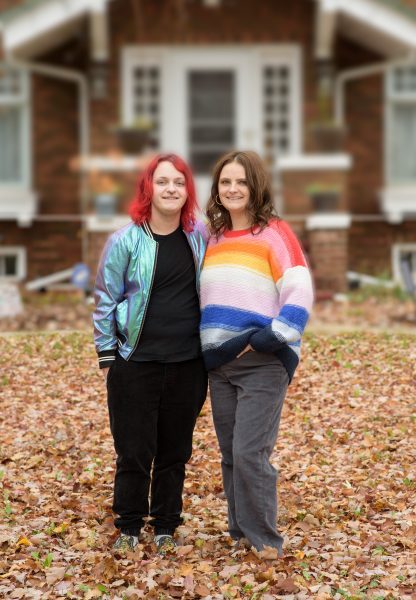 "I am scared of being harassed if I wear Pride apparel, or if I talk about my identity in class. This fear, which is shared by my transgender friends, is why I have chosen to be a plaintiff in this case. During my freshman year while I was performing in a play, a student in the crowd threatened to kill me. I believe the student knew me because of a protest I had staged earlier that year at my high school. Now, after SF 496 and the climate it has created to shame and invite violence against transgender people, I would be terrified of organizing another protest.
"Transgender youth should not have to live in fear at their schools. We should not have to take unnecessary steps to gain the respect of being called by the correct name and pronouns that no cisgender kid ever has to ask for. It is blatant discrimination and should not be permitted to continue."
Belinda Scarrott, Percy's mom noted:
"I have joined with other parents in the State of Iowa to act against this unnecessarily cruel law. My 16-year-old child is transgender and queer. Prior to the passage of SF 496, school already presented difficulties for him that are not faced by cisgender, straight children. We struggled for years, and continue to struggle, with him being misgendered, bullied, and called the wrong name. We even received death threats posted to social media and shouted at school functions, with no action taken by the school.
"I send my child to school, work, and play every day knowing there are many individuals who, given the opportunity, would harm my child simply because he exists as his authentic self. This law only serves to make life more perilous for him and more terrifying for me. This law claims to protect parental rights, but it does the opposite. Instead of sending my child to school and assuming he will be safe, as every parent of a cis-gendered, straight child does, I spend my days worrying about what potential damage this school day might do to my child's physical or mental well-being."
The law went into effect this fall. Penalties for violating portions of the law start January 1, 2024, and administrators, teachers, librarians, and other school staff will be subject to disciplinary action, which could include being fired or losing a license.
SPECIFICS OF THE LAWSUIT
SF 496 is a law with wide-ranging implications for students' academic experience, safe school climate, and mental health. The lawsuit challenges multiple portions of the law that target LGBTQ+ youth and require school districts to ban books, including the following provisions:
The law forbids "any program, curriculum, test, survey, questionnaire, promotion, or instruction relating to gender identity or sexual orientation" in grades K-6. This prohibition has frightened LGBTQ+ young people into concealing who they are for fear of violating the law or getting a teacher in trouble. This provision has caused school districts to take down safe space stickers, remove references to LGBTQ historical figures from library displays, and ban books with LGBTQ themes or characters from libraries and classrooms. This provision also has forced student groups for LGBTQ+ students and their allies to stop meeting entirely.
The law requires public schools K-12 to remove all books containing "descriptions or visual depictions of a sex act" with the explicit exception of the Bible. This portion of the law has caused school districts to remove hundreds of titles from school libraries. School districts have interpreted this provision as requiring the removal of classics from authors such as James Joyce, F. Scott Fitzgerald, Alice Walker, and many others.
The law requires school counselors and other school employees to report to parents or guardians any student's request for a gender-affirming accommodation, including any request to be addressed by particular pronouns. This forced outing provision requires disclosure of a student's gender identity to the student's parents or guardians regardless of whether a school official knows that the report will expose the student to potential family rejection, being kicked out, or physical abuse.
On Nov. 15, the Iowa Board of Education issued proposed rules implementing the law, but those rules do not clarify the law and do not address its unconstitutionality.
The plaintiffs ask the court to 1) temporarily block the law's implementation while the litigation proceeds because of ongoing irreparable harm to LGBTQ+ students. The lawsuit also asks 2) that SF 496 then be declared unconstitutional and permanently blocked. 
Related: