NGO partners with South Africa government to issue ID documents to Trans people
Iranti made announcement on Transgender Day of Visibility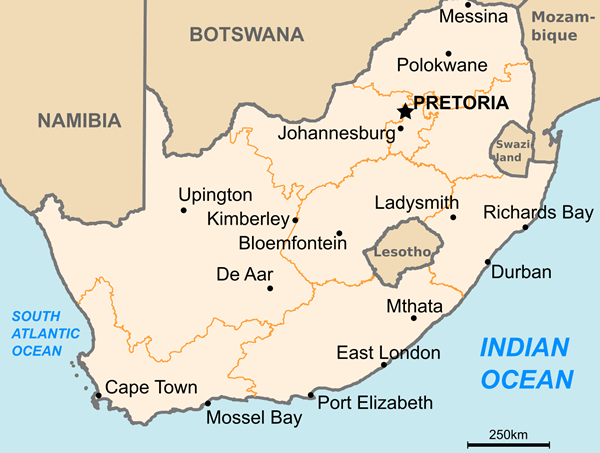 JOHANNESBURG — A Johannesburg-based non-profit on Thursday partnered with South Africa's Department of Home Affairs to issue identity documents for transgender people.
The partnership with Iranti was done in commemoration of the Transgender Day of Visibility, which saw several Trans people getting their IDs.
Trans and gender-diverse people with identity documents which do not reflect their gender identity and gender expression currently face challenges in their daily lives such as access to healthcare, travel, job opportunities and voting.
"(The Transgender Day of Visibility) is a day dedicated to celebrating the accomplishments of Transgender and gender diverse persons, as well as a celebration of their contributions to society," said Iranti Communications and Media Manager Nolwazi Tusini in a statement. "The day is also focused on raising awareness of the work that still needs to be done to end the discrimination and exclusion faced by Transgender persons worldwide and ensure the protection of their human rights."
"Iranti welcomes the Cabinet's approval of the Identity Management Policy which seeks to ensure the protection of the rights of Transgender, intersex and non-binary persons," added Tusini. "South Africa's Constitution defines equality as the full and equal enjoyment of all rights and liberties."
Tusini in their statement said Iranti is "pleased that the Department of Home Affairs is proposing a progressive policy that will ensure that South African IDs are inclusive of Trans, intersex and non-binary persons, as a step towards ensuring equality for all."
"Iranti agrees with sentiments expressed by the Department of Home Affairs Chief Information Officer Sihle Mthiyane that the current South African ID numbers are cisgender binary in nature and assume that all South Africans are either cisgender male or cisgender female. Which is unfair, exclusionary and unconstitutional," said Tusini. "In addition, Iranti supports the department's proposal for the introduction of a random unique ID number that is not linked to or founded on a person's sex. Potential harms towards intersex, Trans and non-binary persons such as harassment, discrimination, economic exclusion and violence will be avoided as a result, as the current systems harms intersex born children."
Tusini said Iranti opposes the proposed introduction of a gender-neutral ID number "because we believe it will lead to the othering of intersex, Trans and gender diverse persons and further expose them to violence and discrimination."
"What we need is the complete removal of sex and gender markers from identification documents, not the introduction of a gender-neutral ID number," said Tusini. "We call on the South African government to follow the lead of other countries such as the Netherlands and Malta and discontinue the registration of a person's sex in identity documents, as sex markers are unnecessary and add no additional clarity to who the person is."
"Let us ensure the protection and promotion of gender minority rights by eliminating policies that segregate people based on binaries of sex or gender," added Tusini. "The existing laws facilitate the barriers that Trans and gender diverse people face in obtaining IDs, therefore, Iranti calls on the Department of Home Affairs to remove gender markers from identity documents, repeal the Alteration of Sex Descriptors and Sex Status Act which is Act 49 of 2003 and replace it with depathologized legislation, that grants Trans and gender-diverse people the right to self-determination."
There is no law in South Africa that allows Trans and gender non-conforming people to amend their gender markers except for Act 49.
The law allows Trans, intersex and gender non-conforming people who have begun their medical transition to change the gender marker in their identity documents to reflect their gender identity. Trans and intersex people who have sought amendments with the Department of Home Affairs have challenged the law.
Daniel Itai is the Washington Blade's Africa Correspondent.
Mauritius activists await sodomy law ruling
Consensual same-sex sexual relations remain criminalized in country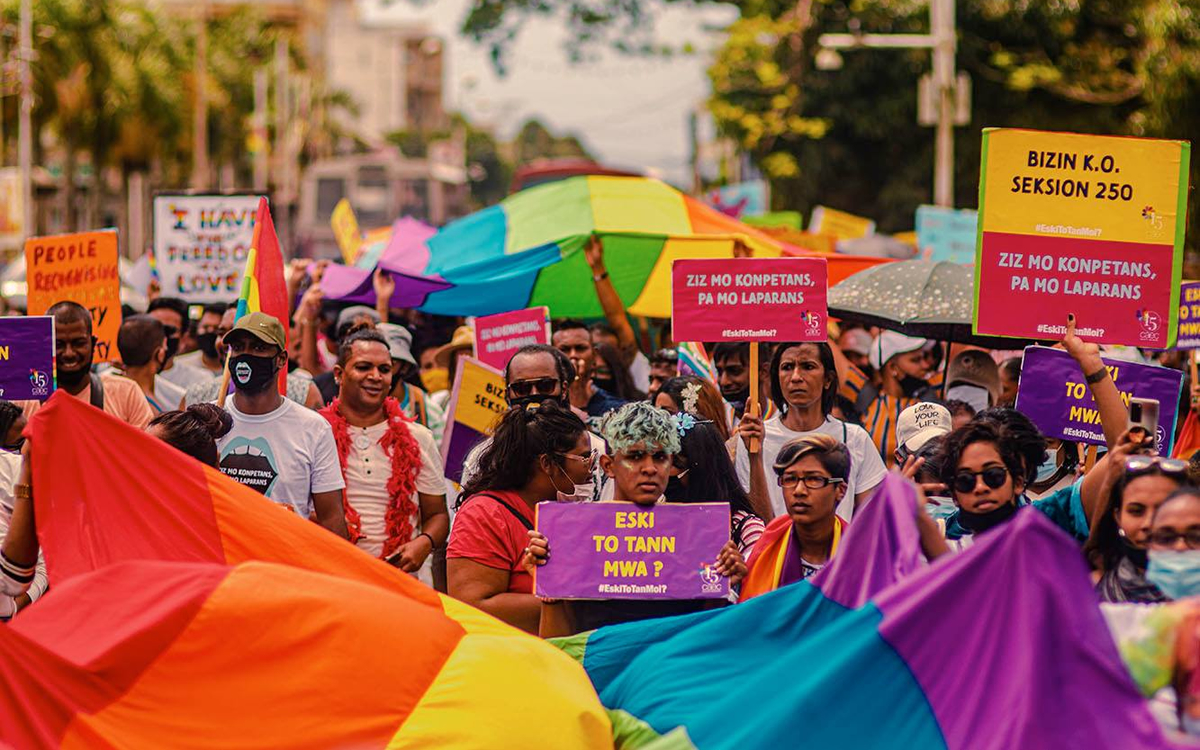 PORT LOUIS, Mauritius — Section 250 of Mauritius' Criminal Code criminalizes sodomy with up to five years in prison. That may soon change after four young LGBTQ+ people challenged the law in the country's Supreme Court.
The four plaintiffs who come from Hindu, Christian and Muslim backgrounds and are members of the Young Queer Alliance, a Mauritian LGBTQ+ rights group, brought their case in 2019. Three of them are the first public officers to come out as gay, while the fourth plaintiff is an artist.
The Young Queer Alliance in a statement notes two of the plaintiffs have been in a committed relationship for seven years. They and the other two plaintiffs argue Section 250(1) does not have a place in a modern and democratic Mauritius.
"2SLGBTQIA+ people should benefit from the same protection afforded to other citizens such as protection from discrimination and should enjoy the same freedom of expression and right to privacy as them," says the Young Queer Alliance. "Section 250 is contrary to the values of democracy and treats 2SLGBTQIA+ people as second-class citizens. There is no justifiable reason why section 250(1) should be maintained in our criminal code when it concerns two consenting adults."
The Young Queer Alliance notes the plaintiffs have requested the Supreme Court to declare that "sexual orientation forms part of and is implied in the definition of sex as enacted under Sections 3, 3 (a) and 16 of the Constitution of Mauritius, a declaration that Section 250 of the Criminal Code Act is unconstitutional and alternatively, a declaration that Section 250 of the Criminal Code does not apply to consensual acts of sodomy performed by consensual adults."
Jean Daniel Wong of Collectif Arc-en-Ciel, an NGO that focuses on human rights issues in Mauritius, told the Washington Blade the case is a historic moment for the country.
"This was a truly historic moment for our nation, which has always placed equality and non-discrimination at the heart of the very fabric of our society," said Wong. "Section 250 stands in stark contrast to the ideals of our Constitution. 2SLGBTQIA+ rights are human rights. Who we are and who we love should never be reasons for discrimination or abuse. It is time for our country to provide us with the same legal protections and equality before the law as all citizens of Mauritius."
The Supreme Court last considered the case on June 1.
If it repeals Section 250(1); Mauritius will join South Africa, Angola, Botswana and other African countries that have decriminalized consensual same-sex sexual relations.
Daniel Itai is the Washington Blade's Africa Correspondent.
Southern Africa LGBTQ development conference sees hundreds attend
Many of those in attendance acknowledged the harsh realities facing community members that include gender-based violence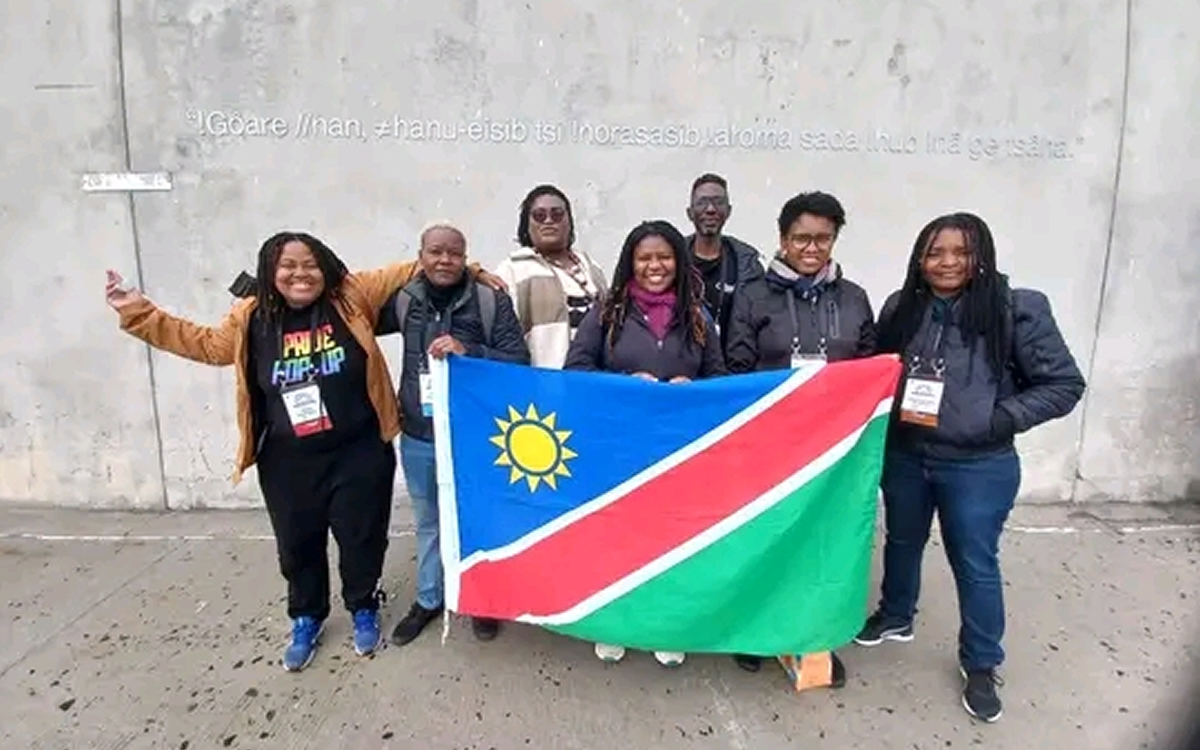 CAPETOWN, South Africa – A number of LGBTQ rights groups from across southern Africa participated in a recent conference in Cape Town, South Africa, that focused on how to advance equality in the region against the backdrop of the pandemic.
More than 300 people participated in the conference, titled Kopano, which means "gathering" in Sesotho, the Other Foundation, an NGO that advances equality and freedom in Southern Africa, organized. The themes were rollbacks, resilience, reinvention, reinventing relationships and renewal of connections.
Many of those in attendance acknowledged the harsh realities facing community members that include gender-based violence and other barriers to making a living.
The Namibia Diverse Women's Association sent 10 representatives to the conference that ended last week.
"Our diversity in representation manifested the comprehension of our national diversity," it said. "Kopano continues to empower and critically challenge our ways of working."
"Delegates raised issues such as the importance of collaboration and inclusion in advocacy work in the 2LGBTQIA+ sector," said Gender DynamiX. "Discussants flagged concerns about businesses and organizations from other sectors engaging in work for their own financial benefit, rather than addressing the underlying problems affecting community members. The current funding system is problematic, as it seeks to profit with the lives of 2LGBTQIA+ people and makes it difficult for smaller organization to get funding."
Gender DynamiX noted its members "suggested an online toolkit for both business and organizations, setting out how partnerships can help support and sustain the cause without exploiting beneficiaries in the process."
"Nevertheless, 2SLGBTQIA+ people should also be empowered during these business collaborations, and 2SLGBTQIA+ people in workspaces should use their power to push for the representation and values based on inclusion and equity," said the group. " 2SLGBTQIA+ organizations also need to hold themselves accountable. Toxic work environments, internal power-plays, overworking, hierarchal flow of work and lack of compensation undermine the wellbeing of 2SLGBTIA+ activists in organizations."
Lesbians, Gays and Bisexuals of Botswana (LEGABIBO) also welcomed the conference, and even took note of their visit to Robben Island where former South African President Nelson Mandela spent 18 years in prison.
"We had such an eventful day on Africa Day at the Robben Island Museum," said LEGABIBO. "This visit was a reminder of how Black people have always had to be resilient in the face of adversity, something that black 2SLGBTQIA+ communities can relate with."
Kopano organizers also thanked those who attended and paid tribute to activists, especially South African advocate Phumi Mtetwa.
"Thank you all, for making Kopano 2022 a great moment to reconnect and renew our movement," they said. "As Kopano 2022 came to a close, the southern African 2SLGBTQIA+ activist community gathered in Cape Town paid tribute to our living legend, Phumi Mtetwa. There are a few activists about whom this is truer than Phumi. Her entire being sings, vibrates, reverberates with unbridled love for humanity. Never flinching from dissenting or being critical or questioning but always moved by a great love of justice, fairness, and equality, accompanied by huge doses of laughter and a welcoming smile. She represents for many of us, a bridge over troubled waters and always will. Fearlessly but humbly leading from the front, the side and the rear."
"To know Phumi is to taste, smell and to touch the society so many of us are struggling for," added the organizers. "From her work in the National Coalition for Gay and Lesbian Equality (NCGLE) in South Africa, the Equality Project, and in various international organizations and in her personal relations Phumi tirelessly and relentlessly tries to bring everyone on board, sometimes at great cost and sacrifice to herself and her interests. Self-sacrifice is not what she is known to shy away from, giving, sharing and genuinely caring for her comrades, friends and family is what Phumi excels at. Organizing is in her DNA, so she is never satisfied to stop at merely strategic thinking which she has shown herself to be very capable of. We honor you, Phumi Mtetwa, for all that you have done to advance our organizing freedom and wellbeing in southern Africa as 2SLGBTQIA+ people."
Jholerina Timbo, co-chair of the Transgender Movement of Namibia, was also honored.
Timbo founded Wings to Transcend Namibia in 2015 and was involved in the creation of the Southern African Trans Forum, the International Trans Forum and the African Trans Network. Timbo has also worked with PEPFAR-funded programs and is currently a senior advisor for groups on how they can expand their health programs to better reflect human rights needs.
"She believes that inclusive societies are the key to success for southern Africa," said the Other Foundation. "If any country needs to show that they care about their people, it should start with the minority. We honor you, Jholerina Timbo, for all that you have done to advance our organizing freedom, and wellbeing in southern Africa as 2SLGBTQIA+ people."
Daniel Itai is the Washington Blade's Africa correspondent.
Senegal advocacy group demands better treatment of LGBTQ+ prisoners
Homosexuality remains criminalized in West African country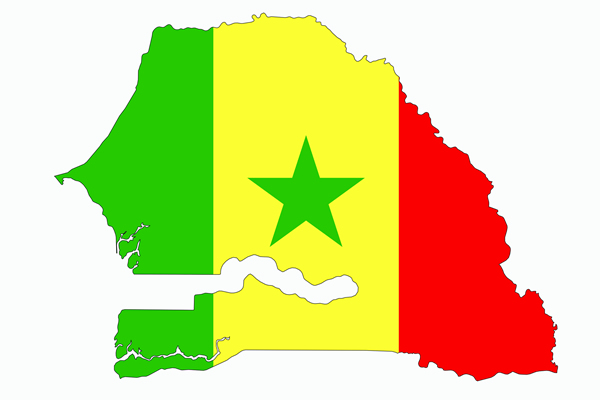 DAKAR, Senegal — The founder of a Senegalese advocacy group has criticized the treatment of LGBTQ+ people in the country's prisons.
Souleymane Diouf, founder of Collectif Free du Sénégal, says prisoners suffer physical and sexual abuse, especially from other inmates. Diouf notes prison wardens are often reluctant to respond due to current laws that criminalize same sex relations.
"There is a considerable difference in treatment between homosexual and heterosexual prisoners. This difference is due to the behavior of prison officers, but also to the attitude of other inmates. The overcrowding of the prisons has furthermore worsened the situation and the attitudes of rejection towards 2SLGBTQIA+ persons," said Diouf. "The difference in treatment occurs at all stages of the deprivation of physical liberty."
Diouf said LGBTQ+ detainees are often beaten at police stations, such as in Dakar's Mermoz district in October 2020 during a wave of arrests.
"One of the young people arrested during this police raid had complained of having been tortured in prison and had received very bad treatment," said Diouf. "He complained of having a stomach ache following a kick he received, but had not been taken care of, neither at the hospital nor at the infirmary of the prison where he was held."
Diouf said the man died shortly after his release.
"The exact nature of the death is not known," said Diouf. "Nevertheless, one cannot help but wonder or draw parallels with his conditions of incarceration.
Diouf also said LGBTQ+ people are not placed in solitary confinement cells.
"This situation, as well as the recurrent overcrowding of prisoners within the prisons, increases the risk of sexual violence," said Diouf.
Diouf noted lesbian women are held at Dakar's Cap Manuel Prison, but less information is known about their treatment.
"They are subjected to verbal abuse but seem to be spared physical abuse," said Diouf. "However, their conditions of detention are far from obvious, due to the dilapidated state of the prisons."
Diouf noted Senegalese civil society organizations that advocate for these prisoners are often ineffective because of the hostility they may face if the community and law enforcement agencies discover they are LGBTQ+ lobbyists.
"The Senegalese State is totally uninvolved in the security of 2SLGBTQIA+ persons," said Diouf. "Complaints are rarely filed, when an 2SLGBTQIA+ person reports to the authorities a danger or an imminent threat to their life little is done for the victim. Also calls for hatred and murder targeting the 2SLGBTQIA+ community go largely unpunished in the country."
"The government is more concerned about the upcoming elections than the 2SLGBTQIA+ community," added Diouf. "As for the civil society, it remains inert and the last two years have been characterized by a clear increase in hostility towards 2SLGBTQIA+ people."
Diouf also painted a grim picture for the country's LGBTQ+ community, citing there are more stringent measures in the making that are meant to further suppress those who identify as LGBTQ+.
Same-sex relations in Senegal are prohibited under the country's 1965 penal code that criminalizes so-called unnatural acts with between 1-5 years in prison and a fine that can range from $170-$2,580.
Both men and women are criminalized under this law.
A group of Senegalese lawmakers last December announced plans to introduce a bill that would double the length of jail terms for those convicted of same-sex activities to between five and 10 years. One lawmaker, Amadou Ba, stated that voting against the "bill criminalizing homosexuality will be equivalent to its legalization."
Anti-LGBTQ+ groups last May burned the Pride flag during a rally and demanded a new, more repressive anti-LGBTQ+ law to be passed. They also called for the criminalization of homosexuality to be an issue at the next presidential election in 2024.
"Today, we should be able to fight for the visibility of all the points of view that are expressed regarding the 2SLGBTQIA+ communities," said Diouf. "However, we are far from it."
Daniel Itai is the Washington Blade's Africa Correspondent.