'Public Right to Know Act' supporters say Lies, defects, + secrecy = death
"He had a huge heart & family was the center of his life. He loved his brothers & his sister immensely- he is more than a statistic"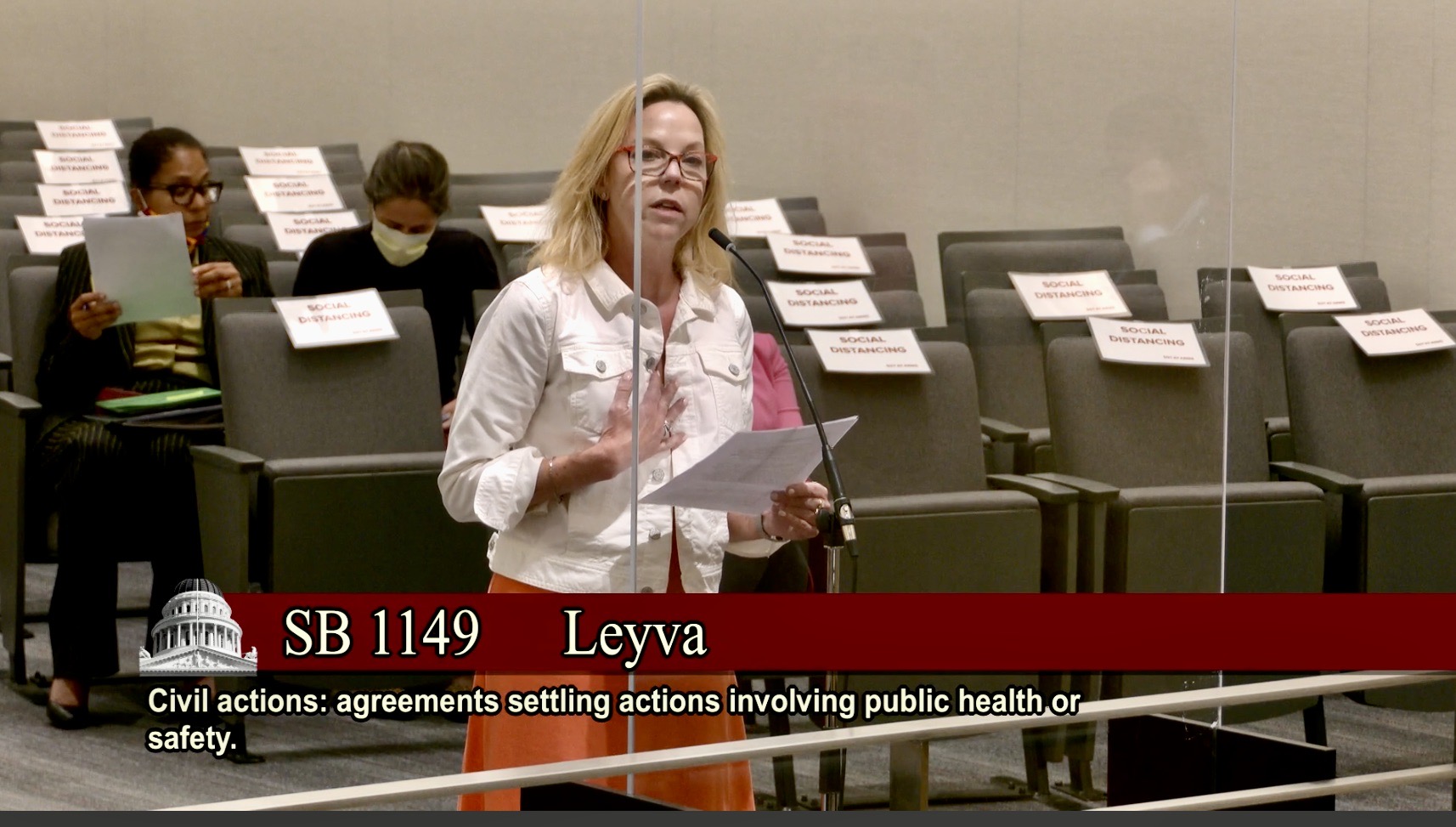 By Karen Ocamb | SACRAMENTO – On Tuesday afternoon, California's Senate Judiciary Committee voted to advance SB 1149, the 'Public Right to Know Act,' a bill introduced by California Senator Connie M. Leyva to end common court secrecy practices that hide critical, and often lifesaving, information from the public eye.
If passed by the state legislature and signed by Governor Gavin Newsom, California would join other states with similar anti-secrecy laws on the books, including Florida, Louisiana, Montana, South Carolina, and Washington.
Out Senators Scott Wiener and John Laird are members of the Judiciary Committee.
Among those testifying in support of the legislation, co-sponsored by Public Justice and Consumer Reports, was California mother Amy Cooper, who became a citizen activist after the preventable opioid overdose death of her son, John Gotley, in 2014.
"John was my first-born son," Cooper said, clutching papers imprinted with her testimony. "He had a huge heart and family was the center of his life. He loved his brothers and his sister immensely, I want you to know him because he is more than a statistic and there's a lot of him out there now."
John graduated from Thomas Moore college with a degree in philosophy and rhetoric and became the founder and CEO of a startup company.
"From our perspective, he was living his best life," said Cooper. "He had an apartment. He had a puppy. He had a girlfriend. He was living what we all think of the Silicon Valley dream," with plans to go to law school.
Unbeknownst to Cooper, however, her son took Oxycodone throughout college after a motorcycle incident, getting the addictive pain medication from various doctors in various states and innocently following their usage directions.
"We believe that's what triggered his fall into addiction," she testified. But since he showed no evidence of "substance misuse," the family was "in complete shock" when San Jose police called to say his girlfriend found him unresponsive sitting outside on his patio. That was on July 7th, 2014. It took five months before they learned that John had been prescribed 56 pills of Oxycodone on July 1st.
"I'm just here to tell you that when a child dies, it is unimaginable," Cooper said. "But when their death is preventable, it is tragic beyond words. And I hope with education and prevention, senseless deaths like my son's will stop."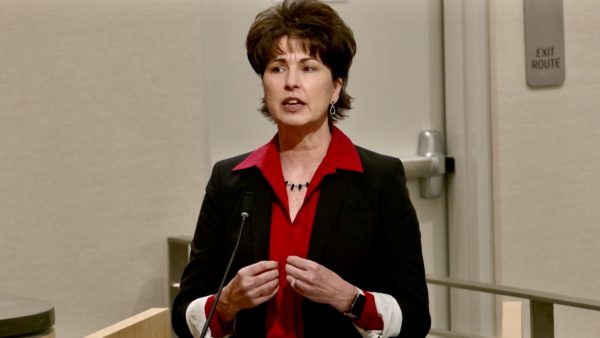 Cooper's story highlights the need for SB 1149, Leyva told her colleagues. "In the case of Purdue Pharma, the company told outright lies for many years regarding safe dosage levels and the likelihood of addiction from OxyContin, which ultimately killed hundreds of thousands of people. These tragedies that touch far too many families across California and the nation – was largely enabled through courthouse secrecy and the very tactics that this bill seeks to address."
Leyva also cited the case of the 2015 balcony collapse at a birthday party in Berkeley. Partygoers and state regulators did not know that "the construction company who built the complex had paid over $26 million in settlements in early defect cases," but information about those cases remained shielded. Seven people died, including a young woman who initially survived the collapse and testified in 2016 before the legislature about her "life changing experience." Tragically, she never recovered from the brain and other injuries and died earlier this year after suffering a severe stroke.
"In an open society, our court records are presumptively open to public inspection," Leyva said. "Even in a dispute between private parties, a court's resolution of that dispute is a matter of public interest. This is especially true when a case involves a public danger, such as a defective product or an environmental hazard. The courts repeatedly issue overly- broad protective orders that keep discovery information secret and protect incriminating documents."
Such secrecy, Leyva said, "is grossly inappropriate when it clearly keeps information about ongoing dangers from the public, which in a very real way can and does threaten their health safety and even their lives."
Leyva noted that she is taking steps to ensure the bill also addresses concerns raised during the hearing, such as "good doctors" who were lied to about OxyContin.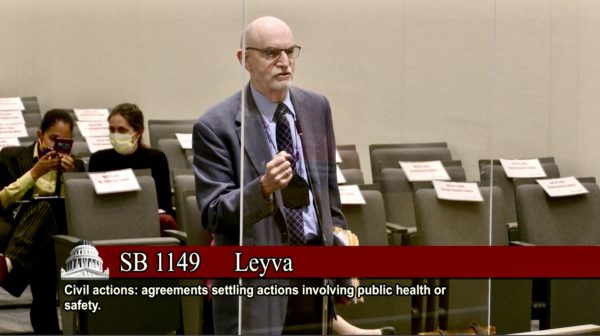 Richard Zitrin, Legal Ethics Professor Emeritus at UC Hastings and author of a new book, detailed the harms caused by court secrecy laws in testifying on behalf of Public Justice.
Zitrin offered a short history of how over-protective court secrecy resulted in a national tragedy unleashed by OxyContin that could have been entirely prevented.
"The state of West Virginia sued the Purdue company in 2002, and in 2004, that case settled and it was settled, apparently for a great deal of money," Zitrin said. "But the judge involved in that case created a protective order so that none of the truth of the over-prescription and over-addictive properties and the ratchetting up of the dosages came out to the public."
Later, a federal judge in Cleveland, Ohio, who had 2,000 individual cases in front of him, "created an umbrella protective order, a complete cone of silence," Zitrin said. "As a result, it was from 2004 to at least 2016 – another 12 years — until information was released to the LA Times."
Meanwhile, Zitrin said, "the public had no idea whatsoever that the Food and Drug Administration (FDA) was trying to investigate. The FDA was shut out of the process." Therefore, neither the public nor "innocent doctors" knew or understood that these opioids were being grossly over-prescribed and were grossly addictive. "So, in a real sense […] the doctors were victims, too."
The bill, Zitrin emphasized, is "about allowing information about dangerous products and environmental hazards to become freely available to the public."
"We're talking about the factual information that if only we knew it would save countless lives." Zitrin said.
Zitrin cited his own examples, dramatically illustrating how car seat backs, "when they're hit from the rear, snap back and people exit and hit the rear windshield and are killed. "Sometimes," he added, "they snap back and hit children in car seats in the back." Such defects, he noted, resulted in 11,000 deaths between 2000-2015, with over a thousand of those being children in car seats.
Zitrin also cited known issues with Cooper Tires resulting in 362 deaths documented between 2000-2015 that Cooper's management said were too expensive to fix. "Thousands and thousands of cases settled secretly because the information was not known," Zitrin said.
Individuals and representatives from numerous organizations have expressed support for SB 1149, including civil rights attorney Kipp Mueller and Jason Solomon of Stanford Law School's Center on the Legal Profession, who also wrote a strong letter in support of the legislation.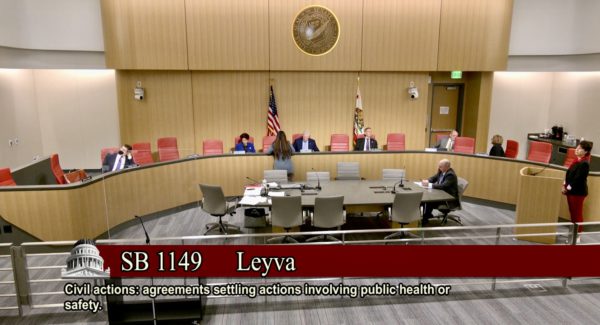 The Public Right to Know Act, Leyva said, "will create a presumption that any court order that conceals information is prohibited unless the court finds that the public interest in disclosure is clearly outweighed by a specific and substantial need for secrecy" adding that it will also "prohibit settlement agreements that restrict the disclosure of information about a defective product or environmental condition that poses a danger to the health and safety."
It also, she noted, specifically "tailors its application to only information about a danger to public health or safety that is likely to cause significant or substantial bodily injury, or illness or death."
"This is about knowledge, and it's about keeping people, consumers, safe," Leyva said.
If you're a California resident, please contact your state senator and Governor Gavin Newsom. It's easy. Just say: "Hi. My name is (your name) and I live in (your locale). I urge you to please vote for SB 1149 by Sen. Leyva when the bill is heard on the Senate floor." Thank you.
#CALeg. #SB1149 #PublicRighttoKnowAct
********************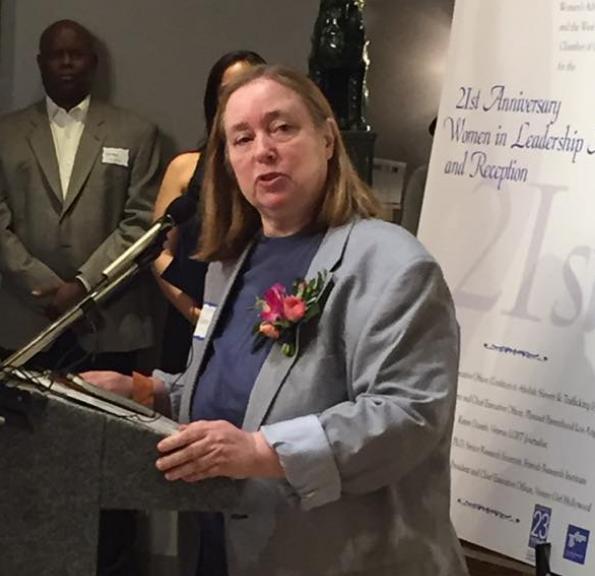 Karen Ocamb is the Director of Media Relations for Public Justice.
Newsom, Senate & Assembly leaders announce budget agreement
23 million Californians will benefit from direct payments of up to $1,050 & additional funds to help people pay rent & utility bills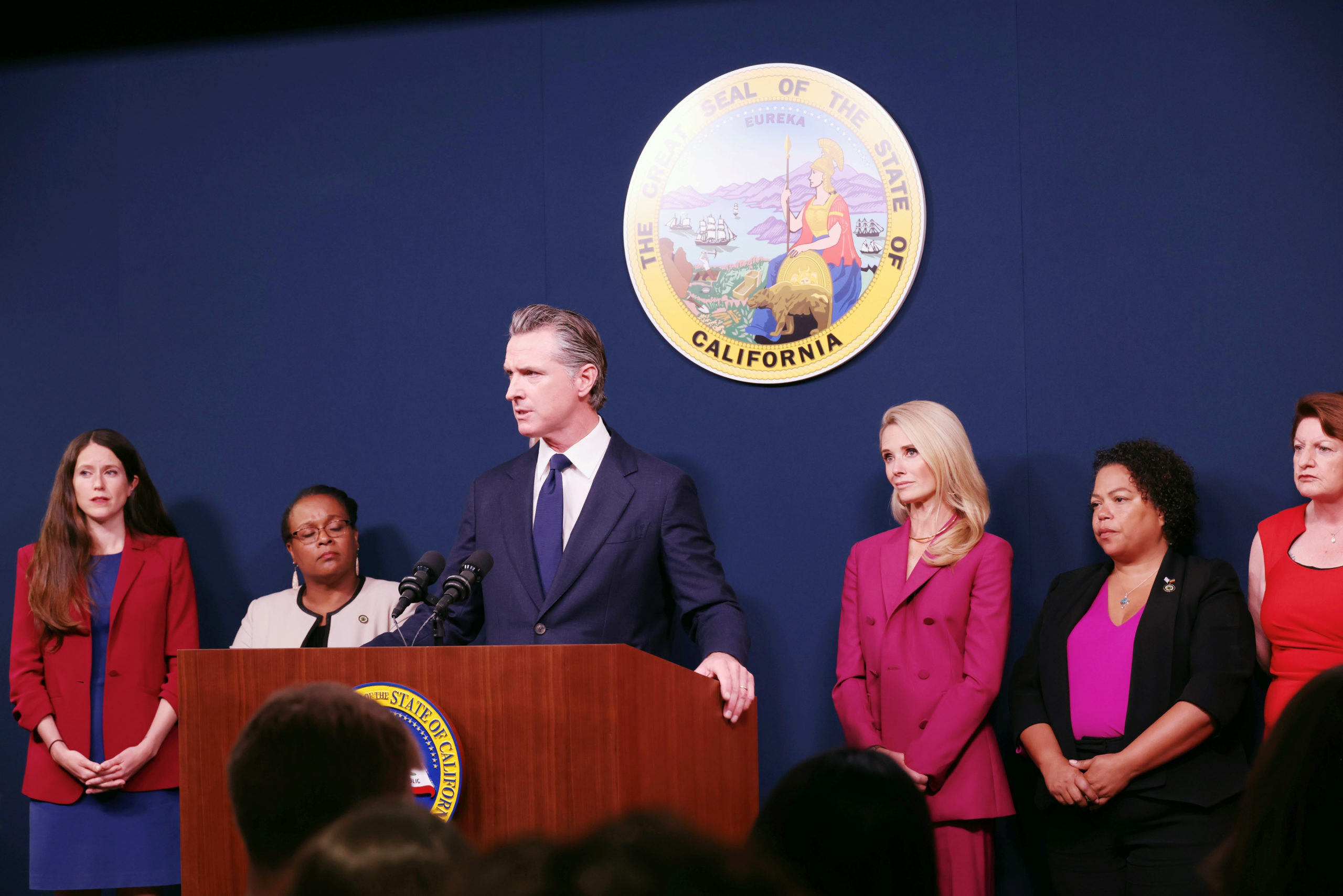 SACRAMENTO – California Governor Gavin Newsom, Senate President pro Tempore Toni G. Atkins (D-San Diego) and Assembly Speaker Anthony Rendon (D-Lakewood) announced they had were able to reach an agreement on the framework for the 2022-23 state budget.
In a statement released Sunday evening, the state's leadership said:
"California's budget addresses the state's most pressing needs, and prioritizes getting dollars back into the pockets of millions of Californians who are grappling with global inflation and rising prices of everything from gas to groceries.
"The centerpiece of the agreement, a $17 billion inflation relief package, will offer tax refunds to millions of working Californians. Twenty-three million Californians will benefit from direct payments of up to $1,050. The package will also include a suspension of the state sales tax on diesel, and additional funds to help people pay their rent and utility bills.
"In addition, California is doubling down in our response to the climate crisis – securing additional power-generating capacity for the summer, accelerating our clean energy future, expanding our ability to prepare for and respond to severe wildfires, extreme heat, and the continuing drought conditions that lie ahead.
"This budget builds on our unprecedented commitment to transform the resources available in our state, from a $47 billion multi-year infrastructure and transportation package to education and health care, showing the nation what a true pro-life agenda looks like. With these new investments, California will become the first state to achieve universal access to health care coverage.
Newsom and his legislative counterparts also highlighted that in the wake of Friday's stunning U.S. Supreme Court decision, California is reaffirming its commitment to defending reproductive rights, providing more than $200 million in additional funding for reproductive health care services. The state will also be investing in key programs that help California families, from funding for homeownership programs and billions of dollars in additional ongoing funding for education, to universal preschool, children's mental health, and free school meals.
"In the face of growing economic uncertainty, this budget invests in California's values while further filling the state's budget reserves and building in triggers for future state spending to ensure budget stability for years to come," the statement read.
Yesterday the governor and the leadership agreed to the framework to offset the high cost of gas prices and the hit inflation has created on the wallets of taxpayers, particularly those who least able to bear the added cost burden. Under the budget compromise most California taxpayers would get hundreds of dollars in cash to help offset the high price of fuel and other goods.
Delayed repeal of loitering law targeting sex workers sent to Newsom
SB 357 repeals "loitering with intent to engage in prostitution" law, which results in harassment of transwomen & women of color sex workers
SACRAMENTO – Senator Scott Wiener (D-San Francisco) sent Senate Bill 357, the Safer Streets for All Act, to Governor Gavin Newsom's desk for his action Monday. The Legislature passed SB 357 last year, but Senator Wiener held the bill at the Senate desk, delaying its transmittal to the Governor.
Governor Newsom will have 12 days to sign the bill after it is processed by the Senate. SB 357 repeals a provision of California law criminalizing "loitering with the intent to engage in prostitution." This criminal provision — arrests for which are based on an officer's subjective perception of whether a person is "acting like" or "looks like" they intend to engage in sex work — results in the disproportionate criminalization of trans, Black and Brown women, and perpetuates violence toward sex workers.
SB 357 is sponsored by a large coalition made up of former and current sex workers, LGTBQ groups like Equality California and Transgender Gender-variant and Intersex Justice Project (TGIJP), and civil rights groups like the ACLU. The Coalition to Abolish Slavery and Trafficking (CAST LA) is supporting the legislation.
SB 357 does not decriminalize soliciting or engaging in sex work. Rather, it simply eliminates an loitering offense that leads to harmful treatment of people for simply "appearing" to be a sex worker.
This crime is so subjective and inherently profiling that it allows a police officer to arrest someone purely based on how they are dressed, whether they're wearing high heels and certain kinds of make-up, how they're wearing their hair, and the like. This criminal provision is inherently discriminatory and targets people not for any action but simply based on how they look. People who engage in sex work deserve to be treated with dignity and respect.
Criminalizing sex work does not make sex workers or communities safer. Most criminal penalties for sex workers, loitering laws included, do nothing to stop sex crimes against sex workers and human trafficking. In fact, loitering laws make it harder to identify trafficking victims; trafficking victims are often afraid to come forward in fear of being arrested or incarcerated.
In February of 2021, a similar piece of legislation to repeal this type of loitering ban became law in New York. SB 357 is part of the movement to end discrimination against and violence toward sex workers, especially the most targeted communities — trans, Black, and Brown people. SB 357 is co-sponsored by Positive Women's Network – USA, St. James Infirmary, SWOP LA, Trans [email protected] Coalition, Asian Pacific Islander Legal Outreach, Equality California and ACLU California Action.
Under current law, it is a crime to loiter in a public place with the "intent" to commit a sex work-related offense. But this law can be broadly interpreted, and thus allows for discriminatory application against the LGBTQ community and people of color. Law enforcement can use a non-exhaustive list of circumstances to subjectively determine if someone "intends" to engage in sex work, including factors such as speaking with other pedestrians, being in an area where sex work has occurred before, wearing revealing clothing, or moving in a certain way.
Because current law regarding loitering is highly subjective and vague, law enforcement officers disproportionately profile and target Black and Brown transgender women by stopping and arresting people for discriminatory and inappropriate reasons. This is how Black and Brown transgender women get arrested and cited for simply walking on the street. It also gives law enforcement the ability to more easily target and arrest sex workers.
People in the LGBTQ, Black, and Brown communities report high rates of police misconduct throughout the United States and are disproportionately affected by police violence. Transgender people who have done street-based sex work are more than twice as likely to report physical assault by police officers and four times as likely to report sexual assault by police.
A Black person is 3.5 times more likely to be shot by police than a white person. These statistics are a daily reality that transgender, Black and Brown people face and lead to mistrust of law enforcement.
SB 357 will repeal a discriminatory law that makes it a crime to loiter with the intent to engage in sex work, given that it fails to prevent street-based sex work and disproportionately results in the criminalization of transgender people and communities of color.
"This Pride Month, as we see a surge in violence against and harassment of the LGTBQ community, it is more important than ever to get rid of a law that targets our community," said Wiener. "Current law essentially allows law enforcement to target and arrest people if they are wearing tight clothes or a lot of make-up. Many of those impacted by this law are Black and Brown trans women. Pride isn't just about rainbow flags and parades. It's about protecting the most marginalized in our community. I urge Governor Newsom to sign SB 357."
"SB 357 repeals a Jim Crow law that criminalized Black and trans people in public spaces," said Fatima Shabazz of the DecrimSexWorkCA Coalition.
"We hope that the Safer Streets for All Act will help people understand how policing does not create public safety, and will immediately deprive police of one tool they use to harass and oppress folks based on race and gender," said Ashley Madness of SWOP LA and the DecrimSexWorkCA Coalition.
"Ahora nosotros nos sentimos libre de caminar en la calle sin miedo que la policia nos vaya a arrestar," (Now we can walk free on the streets without fear of the police arresting us,") said Lisseth Sánchez of St. James Infirmary and the DecrimSexWorkCA
Assembly members & education leaders rally for Debt Free College Plan
"The Legislature's debt free college plan furthers California's commitment to a higher education that's affordable for all Californians"
LOS ANGELES – Assembly Member Miguel Santiago (D-Los Angeles), Assembly Member Mike Fong (D-Alhambra) and education leaders in Los Angeles hosted a rally to urge the Legislature and Governor to pass the Legislature's Debt Free College Plan.
The Debt Free College Plan includes; 1) $25 million to expand free community college to all full-time students, 2) over $500 million for Cal Grant reform, which will provide 150,000 new students with Cal Grants, and 3) historic investments in the Middle Class Scholarship.
Assembly Members Santiago and Mike Fong, in partnership with the Los Angeles Community College District, (LACCD) and other education leaders such as Assemblymember Kevin McCarty, are celebrating the Legislature's Debt Free College Plan and urging their legislative colleagues and Governor Newsom to pass the proposal.
This plan consists of; 1) $25 million to expand the College Promise program to all full-time students; 2) an historic investment in the Middle Class Scholarship; and 3) over $500 million to reform the Cal Grant and provide an additional 150,000 students with Cal Grant awards.
The Debt Free College Plan furthers California's goal of providing truly debt free education to all California students by removing barriers such as GPA and time-out-of-college requirements.
"The Legislature's debt free college plan furthers California's commitment to a higher education that's affordable for all Californians," said Assembly Member Miguel Santiago (D-Los Angeles). "The current higher education system leaves students with tens of thousands of dollars in debt. In California, we're changing that. In 2017, AB 2 (Santiago) provided free community college (CC) to first-time, full-time California students. This year, AB 2266 (Santiago) will expand free CC to all full-time students. We are also working on Cal Grant reform and debt free education at CSUs and UCs. We will continue to work toward completely debt free higher education in California!"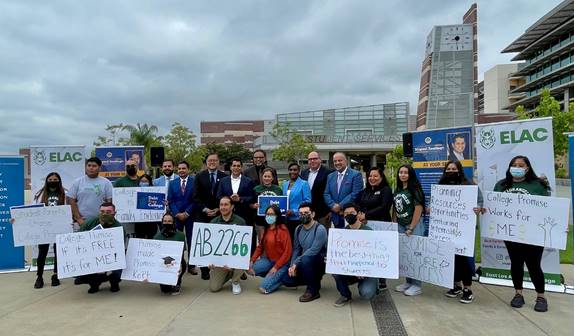 "Debt-Free college should be the standard in California, and we're on our way," said Assembly Member Kevin McCarty (D-Sacramento). "California has always led on college access and affordability, and we can do it again with the first in the nation Debt-Free College plan—a game changer for California families.
"As a former trustee of the Los Angeles Community College District, (LACCD), I am proud of the Legislature's budget that provides millions of dollars to help our students access and complete higher education debt free," said Assembly Member Mike Fong (D-Alhambra). "Costs to attend college is more than just tuition. We need to continue to advocate and provide funding for transportation, books, basic needs, and housing in embracing the hopes and aspirations of our students in their pursuit of higher education. This budget reflects the Legislature's commitment to helping students succeed."
"The LACCD College Promise Program has experienced unparalleled success, with higher overall rates of completion and persistence among mostly first-generation students," said Chancellor Francisco C. Rodriguez, Ph.D. "This bill expands much-needed access to higher education, keeps college affordable for working families, and accelerates the journey to a no-cost Associates degree for all full-time students, keeping California globally competitive in an inclusive economy."
"Equity has always been at the forefront of LACCD, and expanding College Promise to returning students is an important step in bolstering that," said LACCD Board of Trustees Member & Second Vice President Nichelle Henderson. "We have seen the dramatic impact College Promise has had on first-time students, with significant increases in their completion rates. Giving this same opportunity to returning students is the right thing to do."
"Our economy works best when it includes everyone," said LACCD Board of Trustees Member & Immediate Past President Steve Veres. "The College Promise program has been a pioneer in helping underserved students access college where many have secured high-paying jobs. Expanding it to cover returning students as well will only strengthen our workforce for years to come."
The Legislature is expected to vote on the State Budget, which includes the Debt Free College Plan, on Monday, June 13 and the Governor must sign the Budget by June 15.