'Public Right to Know Act' supporters say Lies, defects, + secrecy = death
"He had a huge heart & family was the center of his life. He loved his brothers & his sister immensely- he is more than a statistic"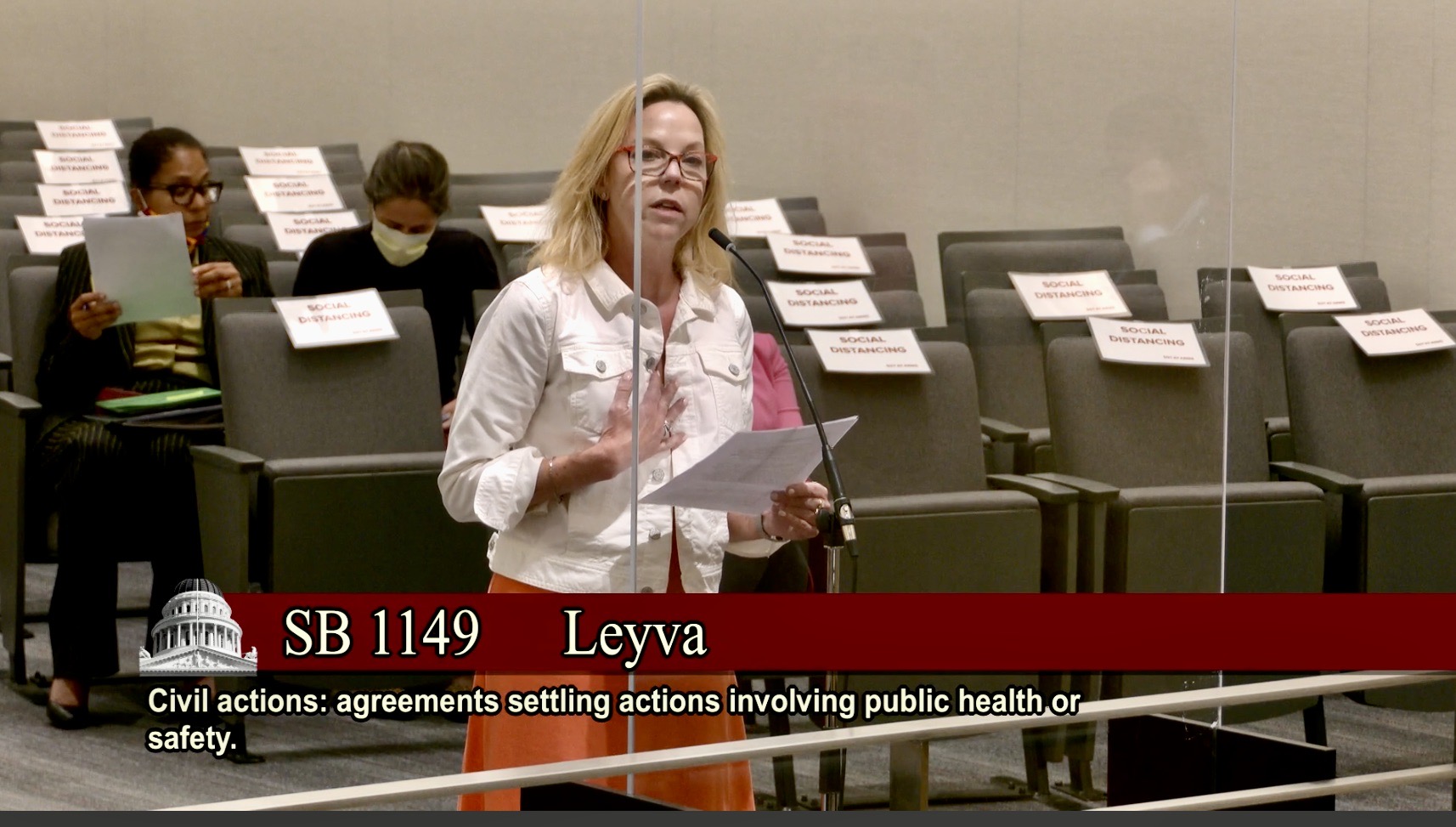 By Karen Ocamb | SACRAMENTO – On Tuesday afternoon, California's Senate Judiciary Committee voted to advance SB 1149, the 'Public Right to Know Act,' a bill introduced by California Senator Connie M. Leyva to end common court secrecy practices that hide critical, and often lifesaving, information from the public eye.
If passed by the state legislature and signed by Governor Gavin Newsom, California would join other states with similar anti-secrecy laws on the books, including Florida, Louisiana, Montana, South Carolina, and Washington.
Out Senators Scott Wiener and John Laird are members of the Judiciary Committee.
Among those testifying in support of the legislation, co-sponsored by Public Justice and Consumer Reports, was California mother Amy Cooper, who became a citizen activist after the preventable opioid overdose death of her son, John Gotley, in 2014.
"John was my first-born son," Cooper said, clutching papers imprinted with her testimony. "He had a huge heart and family was the center of his life. He loved his brothers and his sister immensely, I want you to know him because he is more than a statistic and there's a lot of him out there now."
John graduated from Thomas Moore college with a degree in philosophy and rhetoric and became the founder and CEO of a startup company.
"From our perspective, he was living his best life," said Cooper. "He had an apartment. He had a puppy. He had a girlfriend. He was living what we all think of the Silicon Valley dream," with plans to go to law school.
Unbeknownst to Cooper, however, her son took Oxycodone throughout college after a motorcycle incident, getting the addictive pain medication from various doctors in various states and innocently following their usage directions.
"We believe that's what triggered his fall into addiction," she testified. But since he showed no evidence of "substance misuse," the family was "in complete shock" when San Jose police called to say his girlfriend found him unresponsive sitting outside on his patio. That was on July 7th, 2014. It took five months before they learned that John had been prescribed 56 pills of Oxycodone on July 1st.
"I'm just here to tell you that when a child dies, it is unimaginable," Cooper said. "But when their death is preventable, it is tragic beyond words. And I hope with education and prevention, senseless deaths like my son's will stop."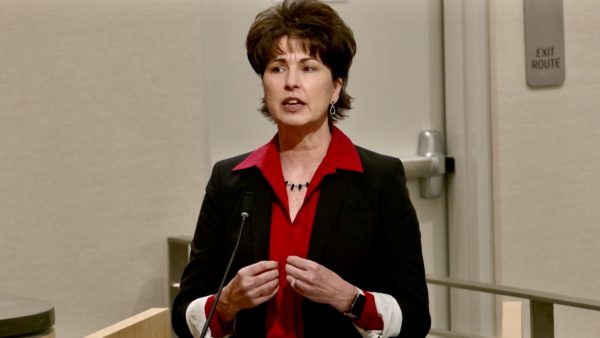 Cooper's story highlights the need for SB 1149, Leyva told her colleagues. "In the case of Purdue Pharma, the company told outright lies for many years regarding safe dosage levels and the likelihood of addiction from OxyContin, which ultimately killed hundreds of thousands of people. These tragedies that touch far too many families across California and the nation – was largely enabled through courthouse secrecy and the very tactics that this bill seeks to address."
Leyva also cited the case of the 2015 balcony collapse at a birthday party in Berkeley. Partygoers and state regulators did not know that "the construction company who built the complex had paid over $26 million in settlements in early defect cases," but information about those cases remained shielded. Seven people died, including a young woman who initially survived the collapse and testified in 2016 before the legislature about her "life changing experience." Tragically, she never recovered from the brain and other injuries and died earlier this year after suffering a severe stroke.
"In an open society, our court records are presumptively open to public inspection," Leyva said. "Even in a dispute between private parties, a court's resolution of that dispute is a matter of public interest. This is especially true when a case involves a public danger, such as a defective product or an environmental hazard. The courts repeatedly issue overly- broad protective orders that keep discovery information secret and protect incriminating documents."
Such secrecy, Leyva said, "is grossly inappropriate when it clearly keeps information about ongoing dangers from the public, which in a very real way can and does threaten their health safety and even their lives."
Leyva noted that she is taking steps to ensure the bill also addresses concerns raised during the hearing, such as "good doctors" who were lied to about OxyContin.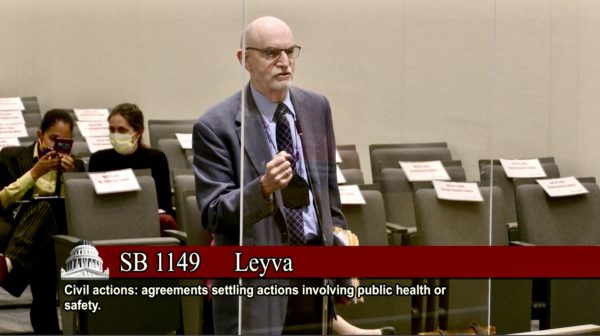 Richard Zitrin, Legal Ethics Professor Emeritus at UC Hastings and author of a new book, detailed the harms caused by court secrecy laws in testifying on behalf of Public Justice.
Zitrin offered a short history of how over-protective court secrecy resulted in a national tragedy unleashed by OxyContin that could have been entirely prevented.
"The state of West Virginia sued the Purdue company in 2002, and in 2004, that case settled and it was settled, apparently for a great deal of money," Zitrin said. "But the judge involved in that case created a protective order so that none of the truth of the over-prescription and over-addictive properties and the ratchetting up of the dosages came out to the public."
Later, a federal judge in Cleveland, Ohio, who had 2,000 individual cases in front of him, "created an umbrella protective order, a complete cone of silence," Zitrin said. "As a result, it was from 2004 to at least 2016 – another 12 years — until information was released to the LA Times."
Meanwhile, Zitrin said, "the public had no idea whatsoever that the Food and Drug Administration (FDA) was trying to investigate. The FDA was shut out of the process." Therefore, neither the public nor "innocent doctors" knew or understood that these opioids were being grossly over-prescribed and were grossly addictive. "So, in a real sense […] the doctors were victims, too."
The bill, Zitrin emphasized, is "about allowing information about dangerous products and environmental hazards to become freely available to the public."
"We're talking about the factual information that if only we knew it would save countless lives." Zitrin said.
Zitrin cited his own examples, dramatically illustrating how car seat backs, "when they're hit from the rear, snap back and people exit and hit the rear windshield and are killed. "Sometimes," he added, "they snap back and hit children in car seats in the back." Such defects, he noted, resulted in 11,000 deaths between 2000-2015, with over a thousand of those being children in car seats.
Zitrin also cited known issues with Cooper Tires resulting in 362 deaths documented between 2000-2015 that Cooper's management said were too expensive to fix. "Thousands and thousands of cases settled secretly because the information was not known," Zitrin said.
Individuals and representatives from numerous organizations have expressed support for SB 1149, including civil rights attorney Kipp Mueller and Jason Solomon of Stanford Law School's Center on the Legal Profession, who also wrote a strong letter in support of the legislation.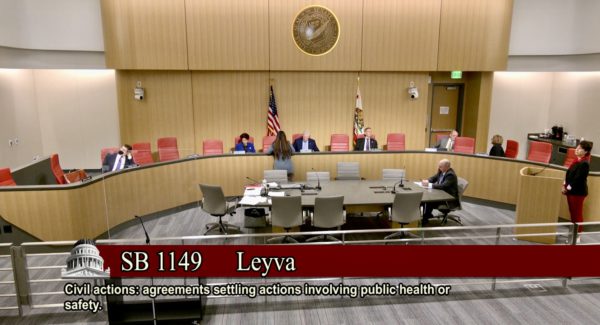 The Public Right to Know Act, Leyva said, "will create a presumption that any court order that conceals information is prohibited unless the court finds that the public interest in disclosure is clearly outweighed by a specific and substantial need for secrecy" adding that it will also "prohibit settlement agreements that restrict the disclosure of information about a defective product or environmental condition that poses a danger to the health and safety."
It also, she noted, specifically "tailors its application to only information about a danger to public health or safety that is likely to cause significant or substantial bodily injury, or illness or death."
"This is about knowledge, and it's about keeping people, consumers, safe," Leyva said.
If you're a California resident, please contact your state senator and Governor Gavin Newsom. It's easy. Just say: "Hi. My name is (your name) and I live in (your locale). I urge you to please vote for SB 1149 by Sen. Leyva when the bill is heard on the Senate floor." Thank you.
#CALeg. #SB1149 #PublicRighttoKnowAct
********************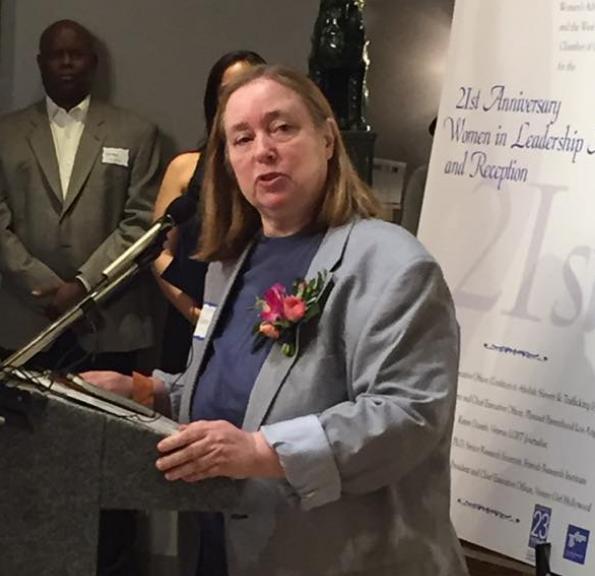 Karen Ocamb is the Director of Media Relations for Public Justice.
Out Assemblymember Evan Low eyes South Bay House seat
Long considered a likely U.S. House candidate once a seat opened up, Low is widely expected to enter the 2024 race to succeed Rep. Anna Eshoo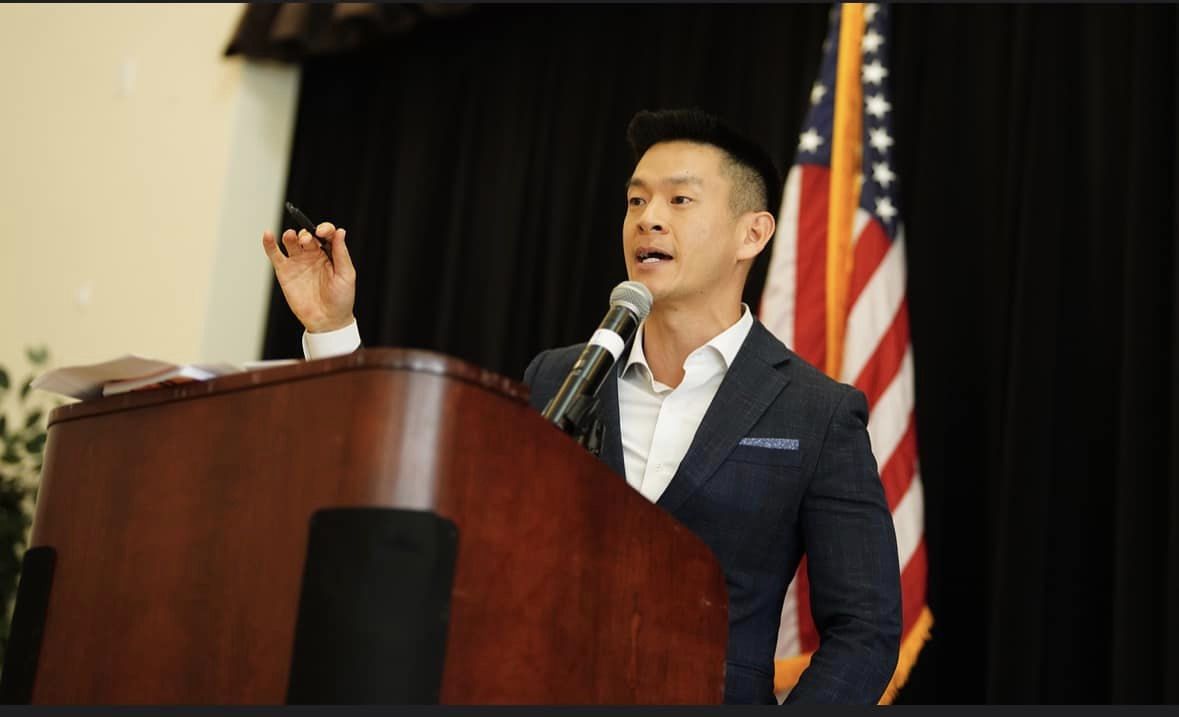 By Matthew S. Bajko, Assistant Editor | SANTA CLARA COUNTY, Calif. – With the news Tuesday that Congressmember Anna Eshoo (D-Palo Alto) will retire from the South Bay House seat she has held since 1993, it provides an opportunity to see the first LGBTQ person from the Bay Area be elected to Capitol Hill.
Long considered a likely congressional candidate once a seat opened up, gay Assemblymember Evan Low (D-Cupertino) is widely expected to enter the 2024 race to succeed Eshoo. Low, 41, told the Bay Area Reporter that he is interested in running for it but is not yet ready to make an official announcement.
"Any person who follows in her footsteps must commit themselves completely to upholding her incredible legacy. Today, I'm going to celebrate one of our valley's greatest public servants and a personal mentor to me. There are a lot of people in the community I need to talk to before I make a formal decision," Low, who has until early December to decide, wrote in a texted reply November 21.
Tuesday morning Eshoo released a video about her decision not to seek reelection next year in order to break the news to her constituents.
"As the first Democrat and first woman to ever represent this distinguished congressional district, no one could ever be prouder than me to carry our Democratic Party values," Eshoo wrote in an email to her supporters.
Eshoo's 16th Congressional District spans both San Mateo and Santa Clara counties. She had first sought a House seat six years after winning election to the San Mateo County Board of Supervisors but fell short in the general election of 1988 to Republican then-Stanford professor Tom Campbell.
When Campbell opted not to run for another term in 1992, and instead mounted an unsuccessful U.S. Senate bid, Eshoo ran again and won. She has long been a champion of LGBTQ issues in Congress and has enjoyed strong support from the LGBTQ community throughout her time in the House.
As the B.A.R.'s online Political Notes column reported last year, Eshoo ran her first TV ads since being elected to Congress for her 2022 candidacy. In it, she touted being an original co-sponsor of the Equality Act, the federal omnibus LGBTQ rights legislation adopted by the House in 2021. (It died when the U.S. Senate failed to vote on it.)
It is believed to be the first time a Bay Area congressmember highlighted their support of the Equality Act in a campaign commercial. In an interview Eshoo had told the B.A.R. she was proud to have that distinction.
"I have always believed there is one class of citizenship in our country and that is first class. So without the movement for equality and fullness of citizenship that can't happen," Eshoo had told the B.A.R. "I am very proud of that, so I wanted to highlight the Equality Act."
Eshoo also had the honor of being the first woman to serve as chair of the Democratic Party in San Mateo County, as she noted in her email to constituents. She also served as a member of the Democratic National Committee.
"I'm so proud of all we've achieved together and that the strength of our party rests on a strong foundation of clubs, caucuses, and county committees with our allies in Labor and other valued advocates. Our party continues to be strengthened by our diversity, and I'm confident this will continue because it is who we are," wrote Eshoo. "As the last year of my service in Congress lies ahead, be assured that I will continue to bring my tenaciousness and unswerving commitment to my work to strengthen our democracy, and our work together for a sweeping Democratic victory for the country we love so much."
In a statement he released reacting to Eshoo's news, Low called Eshoo "an icon" and a "personal hero" to him. He also praised her for being a "champion who leads this community with tremendous energy, grace, and grit."
He added that he is looking forward "to the many ways" the community can honor Eshoo for "her extraordinary service" over the years.
"We are so blessed to have her as our leader, gracefully navigating the complex issues in this valley of high expectations," stated Low. "Her public service has been noble and selfless, advancing quality healthcare access for all, immigration reform rooted in compassion and humanity, and stringent consumer protections unfettered by special interests."
As the B.A.R. reported last year, Low moved into the redrawn 26th Assembly District that includes Cupertino, Santa Clara, Sunnyvale, and parts of San Jose in order to avoid competing against his colleague Assemblymember Marc Berman (D-Palo Alto) for reelection to the state Legislature. Berman had been drawn into Low's former Assembly District.
Doing so required Low to vacate the 1,100 square foot condo in Campbell that he co-owns with his brother, a San Jose police officer. He moved into the Sunnyvale home of his father and stepmother.
Low grew up in San Jose, and his parents separated when he was 18. He graduated from San Jose State University and went on to win election to the Campbell City Council in 2006.
He was the first Asian American to serve on the governing body. Four years later he became the youngest openly LGBTQ+ mayor in the country at age 26.
He first won election to the state Assembly in 2014. He has strong ties to Silicon Valley's tech industry, which could benefit him in a House race as a source of support and financial donations to his campaign.
Low would be the second out candidate running next year for an open House seat in the Bay Area. Jennifer Kim-Anh Tran, Ph.D., a queer leader within the state's Vietnamese American community, is seeking to succeed Congresswoman Barbara Lee (D-Oakland), who is running for U.S. Senate rather than seek another House term.
Tran is the partner of Nenna Joiner, who owns several sex shops in the East Bay and a downtown Oakland nightlife venue. She is in a tough race to survive the March primary along with fellow Democrats BART board member Lateefah Simon and business owner Tim Sanchez, a U.S. Navy Reserves veteran who served in Afghanistan.
As the B.A.R. first reported in an online story November 17, there are now out House candidates in all three of the West Coast states. The 2024 election could thus see the California congressional delegation's LGBTQ contingent expand from its current two gay members, while those in Oregon and Washington state could see their first out members.
**************************************************************************************
The preceding article was previously published by the Bay Area Reporter and is republished with permission.
Help keep the Bay Area Reporter going in these tough times. To support local, independent, LGBTQ journalism, consider becoming a BAR member.