Boris Johnson's LGBTQ+ rights advisor criticizes advocacy groups over conference cancellation
Nick Herbert acknowledges episode damaged UK 'global reputation'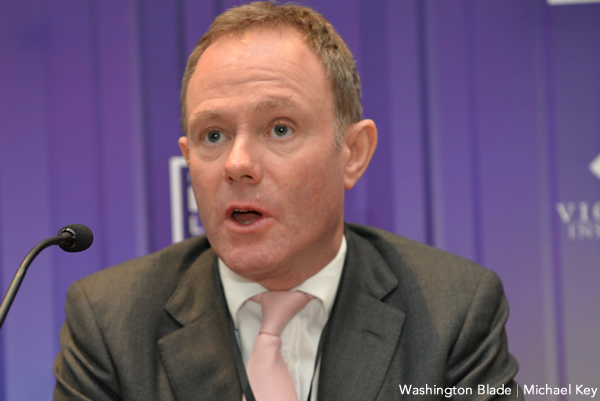 LONDON — British Prime Minister Boris Johnson's advisor on LGBTQ+ issues on Sunday issued a lengthy statement in response to the boycott of the government's Safe to Be Me Conference that prompted its cancellation.
Nick Herbert, a member of the British House of Lords, in his statement described the conference's cancellation as "damaging to the government and to the U.K.'s global reputation." Herbert added it is "also an act of self-harm by the LGBT lobby."
The conference was to have taken place in London from June 29-July 1.
The British government cancelled it last week after more than 100 British LGBTQ+ rights groups announced they would boycott it in response to Johnson's decision to exclude Transgender people from a conversion therapy ban. LGBT Business Champion Iain Anderson on Tuesday resigned over the issue.
Here is Herbert's entire statement.
The Safe To Be Me equality conference was to be a global first, bringing governments, businesses, parliamentarians, faith leaders and activists together to discuss how to advance LGBT rights across the world. Our focus was on ending violence, advancing decriminalization in the 71 jurisdictions where homosexual conduct is still a crime, ensuring access to HIV/AIDS treatments, and building the economic case for inclusion.
We had remarkable speakers lined up and exciting plans for a new public-private fund to support LGBT groups in countries where they need our help. There was enthusiasm from governments and organizations planning to attend, often indicating they would bring new announcements or commitments to progress LGBT rights. We aimed to drive real action globally, and one major government had already indicated that they would hold a successor event to take agreed initiatives forward.
The conference's cancellation is damaging to the government and to the U.K.'s global reputation. But it is also an act of self-harm by the LGBT lobby. Having orchestrated the boycott which brought the event down, Stonewall now claims to be "truly sad that the government does not feel in a position to run the UK's first global LGBT+ conference," adding that this shows a lack of concern for equal rights. Crocodile tears will be of little consolation to brave human rights defenders in countries where the right to wave a rainbow flag without being arrested is a distant dream.
LGBT groups were understandably dismayed, as was I, when a promised conversion therapy ban was suddenly dropped and then only partially reinstated just hours later. The bill will no longer extend to trans people, reflecting concern that more time is needed to ensure that legitimate therapies to help young people with gender dysphoria are not inadvertently criminalized. I believe such concerns can be allayed. Helping people come to terms with who they are is not the same as setting out to take them in one direction or the other — that is not therapy, it is ideology, and it can do irreparable harm.
It is quite possible that Parliament will decide to include trans people in the new law, as many other countries have done, for instance in Canada, where Conservative MPs unanimously supported the fast-tracking of a ban. But we must address the concerns and make the case for change, deploying the evidence and reassuring parliamentarians that a ban which include trans people is a safe and justifiable course to take.
Some of those who have raised their voices in Parliament about trans rights are reactionaries who opposed reforms such as equal marriage. But others are not. They are decent, middle-of-the-road politicians who supported gay rights but have genuine concerns that gender ideology may have gone too far, and that women's rights and children must be protected.
Opinion research tells us that the public is sympathetic to trans people, and wishes to be kind, but has concerns about certain issues such as the safety of women in single sex spaces and especially the fairness of trans women competing in elite women's sports. Our laws already allow for sensible balances to be struck to meet these concerns: Exemptions to the Equality Act allow single sex spaces to be protected, trans women prisoners to be placed in special wings, and sports bodies to set rules which may exclude trans competitors. Calm explanation of the facts and discussion on the right boundaries of these compromises is needed.
But social media, the rise of identity politics and the bitter polarization of every issue does not lend itself to rational discussion. When the prime minister expresses concerns, in reasonable terms, about issues such as fairness in sport, he is not being "transphobic", as Stonewall immediately branded him. Nor is he alone, and growing disquiet across the political spectrum cannot sensibly be swept aside.
In the days when it was winning, the LGBT lobby made a compelling case for change, engaging successive governments and briefing parliamentarians. Now it is organizing boycotts and shouty protests. A fortnight ago in Manchester, a protester held up a trans flag with the words "some women have penises." It is hard to imagine a surer way to lose a public argument. For days afterwards, politicians struggled to say whether they agreed, or could define what a woman is. A sensitive, complex debate is being reduced to ugly, dehumanizing talk about body parts.
Some may tell the government that this is a political opportunity for a wedge issue, but this would be deeply unwise. It is one thing to make an issue of statue-toppling and historical revisionism, another to appear to be attacking minorities and vulnerable people. It is also a misreading of public opinion. People want to hear solutions: they don't see these issues through an ideological lens.
We must not allow a descent into a political mire which is dominated by extremes and which suffocates the reasonable middle ground. Across the Atlantic, this debate has become toxic, with hideous and persecutory anti-trans laws being passed by state legislatures. That is not who we are. We have to find a way to take the heat out of this debate.
I believe we now need a Royal Commission to examine these issues dispassionately. Its members would have to be truly neutral for such an inquiry to work: It could be led by a senior judge. It would need to be set up with cross-party support and without predetermination of its direction or outcome. Weighing the evidence on contested areas such as sport, safe spaces for women, and gender identity services for children and young people — building on the work of the independent Cass review — would be a better way to detoxify the debate, protect trans people from being caught in the political crossfire, and find the common ground we need.
No one will win from a culture war on these issues, and those most harmed will be trans people who already feel stigmatized, people who are different yet just like us, human beings who deserve greater kindness than today's politics will permit.
British Prime Minster backs ban on trans swimming athletes
When the prime minster was asked whether women can be born with a penis, he replied: "Not without being a man"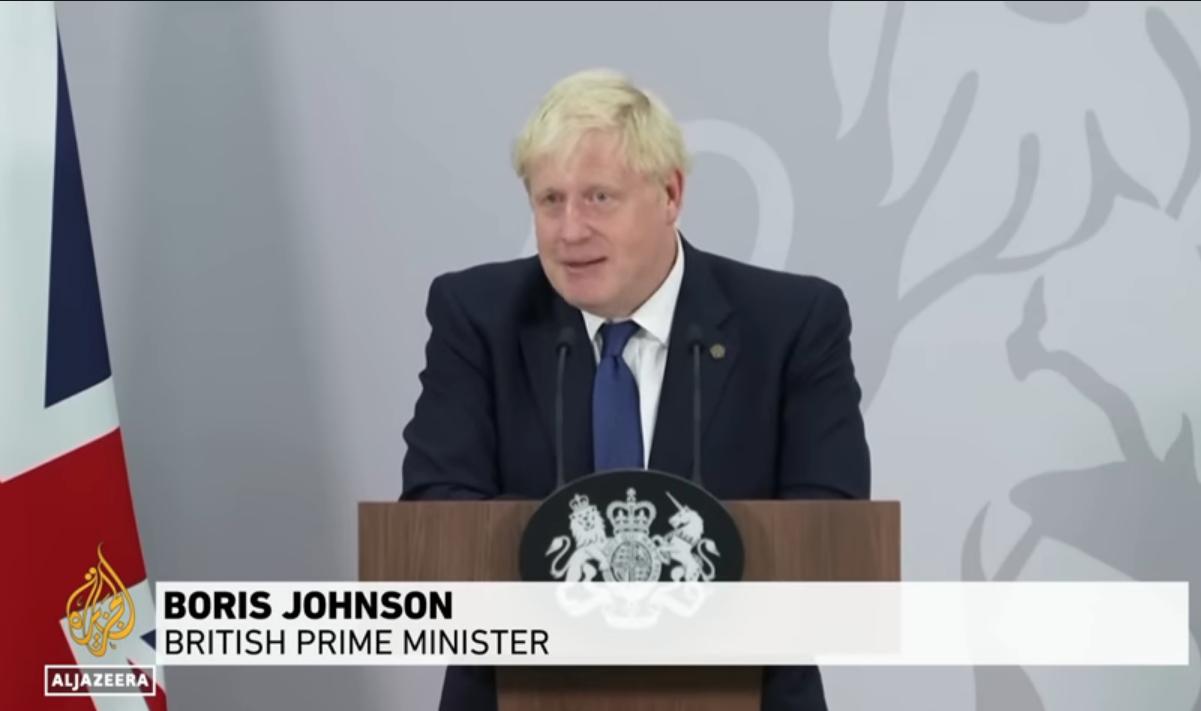 KIGALI, Rwanda – During a break in-between sessions during the first summit meeting of the Commonwealth nations since the coronavirus pandemic in the Rwandan capital this past weekend, British Prime Minister Boris Johnson was asked by a reporter about the FINA ban on trans women athletes.
The prime minster's response was that there were "particular problems" around "issues of gender."
Johnson told reporters, "Look it's very, very important that as a society we should be as understanding of everybody else as possible. I've always stood for that. When it comes to, when you start to move from issues of sexuality to issues of gender, you start to raise particular problems," he said.
In a follow-up question the prime minster was also asked whether women can be born with a penis, he replied: "Not without being a man."
"I think I've spoken of three concerns I've had in the past. They are to do with the age at which you can deem it competent to transition, the question of safe spaces for women, and the difficulties you have with sporting competitions," Johnson continued.
"These are all very difficult problems and you have to be very sensitive. But these are the areas."
Pressed on whether he backed the swimming ban, Johnson said: "I haven't studied it in detail but I see no reason to dissent. That follows from what I've previously said."
Nadine Dorries, the United Kingdom's Secretary of State for Digital, Culture, Media and Sport in a column published this past weekend by the Mail on Sunday wrote:
"I have the greatest compassion for anyone who finds themselves living in a body they don't recognise. But we can't pretend that sex doesn't matter. Sex has biological consequences. If you're born a male, and you go through puberty as a male, your body develops natural physical advantages over a woman's. That makes you stronger and faster.
"I'm setting a very clear line on this: competitive women's sport must be reserved for people born of the female sex. Not someone who was born male, took puberty blockers or has suppressed testosterone, but unequivocally and unarguably someone who was born female. I want all of our sporting governing bodies to follow that policy."
The Guardian UK noted that Dorries, said she will make it "crystal clear" to British sporting bodies that competitive women's sport must be reserved for people born of the female sex when she meets them on Tuesday to discuss their transgender policies.
Dorries will urge organisations representing football, cricket, rugby, tennis, athletics and other sports to follow the lead of Fina, the governing body of swimming, by barring from female events trans women who have "gone through male puberty."
PinkNewsUK reported Monday that since the swimming governing body FINA announced its revised trans eligibility policy, several national and international sporting administrators have followed.
The International Rugby League, FIFA and World Athletics, among others, have either temporarily banned or launched reviews into their trans inclusion policies.
British Prime Minister called out for his Pride message: 'You are a disgrace'
Johnson's Tory-led government seemingly has been more indifferent to Britain's LGBTQ+ community- Trans persons in particular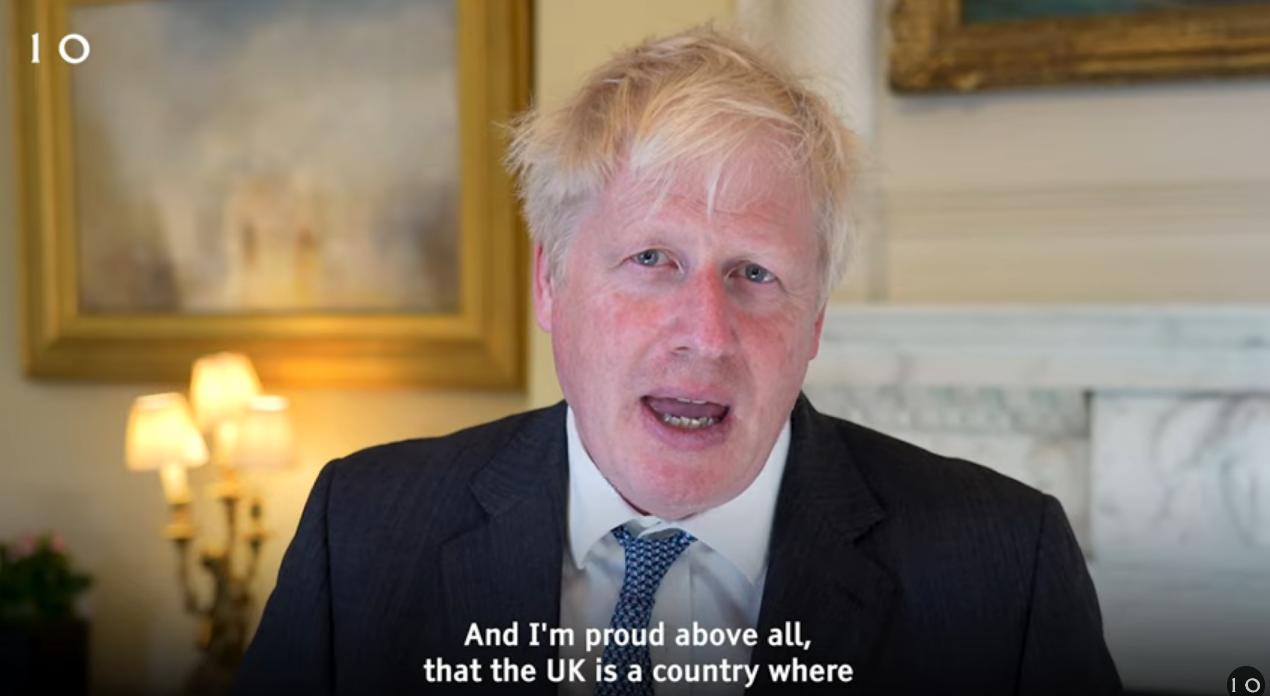 LONDON – UK Prime Minister Boris Johnson released a video message on his official Twitter and YouTube platforms celebrating Pride Month in the UK Tuesday under the social hashtag of Why #Pride Matters.
The Prime Minster said that he was "proud" at how many LGBTQ+ people have sought asylum in the UK from Afghanistan following the Taliban invasion. However, within literal minutes he was promptly criticised and in the Twitter pushback was told by one user: "You're an absolute disgrace." Another chimed in saying his remarks were hollow.
Johnson's Tory-led government seemingly has been more indifferent to Britain's LGBTQ+ community- Trans persons in particular, according to activists and the largest LGBTQ+ advocacy group, Stonewall UK.
Last Spring, in early April, Bloomberg reported more than 80 organizations pulled out of the U.K. government's international LGBTQ conference due to be held in June after Boris Johnson dropped a plan to ban so-called conversion therapy for transgender people.
One of Johnson's top ministers, Liz Truss, was accused of using LGBTQ+ rights to 'rile up her right-wing support base' PinkNewsUK reported.
As minister for women and equalities, Truss scrapped much-needed reform to the Gender Recognition Act (GRA) despite reams of evidence showing there was strong public support for changes that would make accessing legal gender recognition easier for the trans community.
She has also been criticised for her appointments to the Equalities and Human Rights Commission, and her defences of "gender critical" views.
There has also been outcry by LGBTQ+ advocacy groups and activists over the government's willingness to deport LGBTQ+ and other asylum seekers on one-way flights to Rwanda. That decision has been criticised by queer and trans advocates as "hugely concerning" and "potentially life-threatening."
Canadian LGBTQ+ news outlet Xtra reported that Queer and trans asylum seekers in the U.K. already face inhospitable conditions. Sebastian Rocca, founder of charity Micro Rainbow, which provides safe housing to LGBTQ2S+ asylum seekers and refugees in the U.K., tells Xtra in a statement: "One of the most common reasons for the Home Office to refuse asylum to LGBTQI+ people in the U.K. is because they do not believe they are LGBTQI+," adding that the policy has "potentially life-threatening consequences."
The "single young men" framing of the policy means any gay or bisexual men, transmasculine people or transfeminine people—including those seeking asylum in the U.K. for their sexual orientation or gender identity—could potentially be deported to a country with a long history of human rights violations.
In Tuesday's message the prime minister referred specifically to Afghan LGBTQ+ persons fleeing the notoriously intolerant Taliban which regained control of the country after the Biden Administration pulled the remaining armed forces out of the war-torn country last summer after nearly 21 years of conflict.
"LGBT Afghans coming to this country because we're a place that is welcoming and understands that type of intolerance is simply unacceptable in this country," Johnson said.
Why #Pride Matters. pic.twitter.com/XBj8frzPo3

— UK Prime Minister (@10DowningStreet) June 20, 2022
Johnson added: "I'm proud above all that the UK is a country where you can be however you want to be and you can love whomever you choose to love no matter who you are or where you come from or what your background is.
"So it's great to see Afghans coming to this country with that knowledge and seeing our country as a beacon of hope.
"That's why Pride Month matters so much. And I hope you have a great Pride."
Twitter was less than impressed:
Boris Johnson said gay people are 'tank top bum boys' and compared equal marriage to three men marrying a dog.

The Tory government have also deported LGBT+ people to countries where LGBT+ people are criminalised and more Tory MPs voted against same sex marriage than for it. https://t.co/cqgNBjCI87

— George Aylett (@GeorgeAylett) June 21, 2022
Hollow words from a Government who are still content with deporting LGBT+ refugees to Rwanda despite their own report stating that LGBT+ people "regularly" face "arbitrary arrest and detention by state security forces without due process." #ToriesOut https://t.co/0qB0U9irIQ

— Chris Davis 🇺🇦 (@Chris_Davis1998) June 21, 2022
You're an absolute disgrace. https://t.co/pBWcti3UbX

— Richard 🌈🏳️‍🌈 (@RJFirth) June 21, 2022
Why Pride matters | Prime Minister Boris Johnson:
Kevin Spacey formally charged with four counts of sexual assault in U.K.
The 62-year-old actor is due to make an appearance at the Westminster Magistrates' Court at 10:00 (BST) on Thursday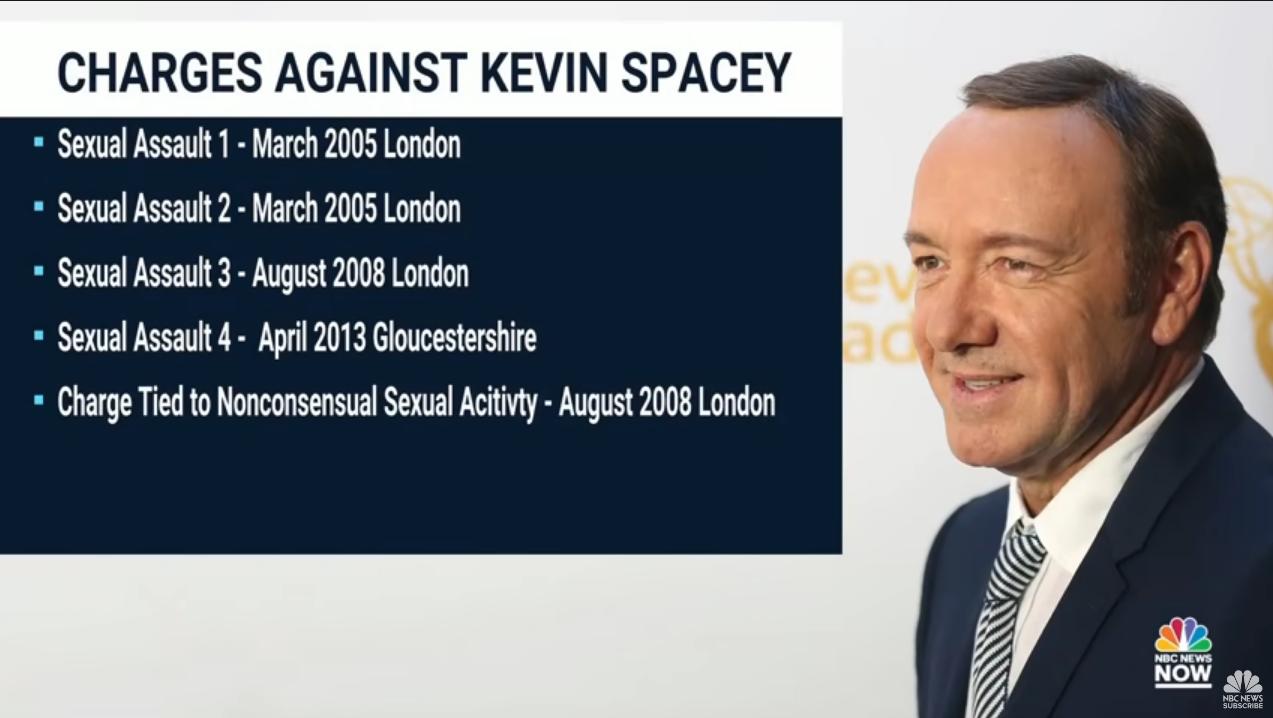 LONDON – The Metropolitan Police of London confirmed that Kevin Spacey was formally charged Monday with four counts of sexual assault against three men and additionally has also been charged with causing a person to engage in penetrative sexual activity without consent.
The 62-year-old actor is due to make an appearance at the Westminster Magistrates' Court at 10:00 (BST) on Thursday. Last month, the Crown Prosecution Service authorized charges against him.
According to the BBC the charges follow a review of evidence gathered by the Metropolitan Police. He has been charged with two counts of sexual assault on a man, now in his 40s, in London in March 2005.
He has also been charged with one count of sexual assault and one count of causing a person to engage in penetrative sexual activity without consent on a man, now in his 30s, in August 2008 in London.
Both incidents taking place when Spacey was the artistic director of The Old Vic theatre in London's West End theatre district between 2004 and 2015.
The fourth charge of sexual assault is on another man, who is also now in his 30s, in April 2013 in Gloucestershire.
The Oscar winning actor has previously stated that he would voluntarily appear before a British Court.
Allegations surfaced against Spacey in November of 2017 when The Old Vic theatre told the BBC that it had received 20 personal testimonies of alleged inappropriate behaviour by Spacey. The actor's behaviour was alleged to have ranged from making people feel uncomfortable to sexually inappropriate behaviour, an investigation by the theatre found.
The BBC reported at the time that no-one alleged rape but three people told the Old Vic they had contacted the police, while 14 of the 20 complainants were told by the investigators that they should consider going to the police.
There were 20 individual allegations and 16 were former staff, all of whom were men.
Lewis Silkin, the external law firm engaged by the theatre to conduct the investigation, said more than half the allegations were said to have taken place inside the Old Vic.
RELATED: British Prosecutors Charge Kevin Spacey With Four Counts of Sexual Assault: