Maryland General Assembly passes inclusive schools bill
"There is an important message in this legislation that taxpayer money should never fund those engaging in discrimination, bias, and hate"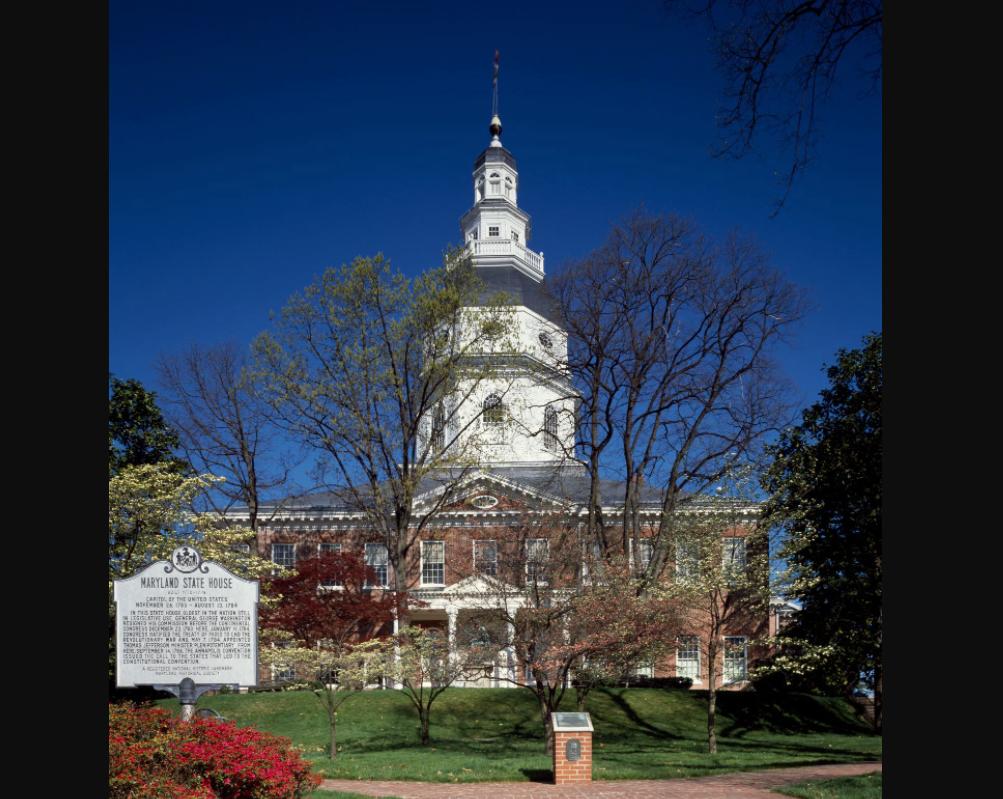 ANNAPOLIS – The Maryland General Assembly voted Monday to ban state-funded schools and county boards of education from discriminating against students on the basis of sexual orientation, gender identity race, nationality, disability, and other identity markers. 
The House of Delegates passed the Inclusive Schools Act, also known as House Bill 850, by a 96-36 margin. It is now headed to Republican Gov. Larry Hogan's desk and the governor has 30 days to either sign or veto the legislation. If he takes no action, the bill will take effect July 1. 
"After five years of introduction, me and [Sen. Cory McCray's] prohibition on discrimination in schools has reached final passage," said state Del. Jheanelle K. Wilkins (D-Montgomery County) in a Twitter post Monday evening. 
After FIVE YEARS of introduction, me & @SenatorMcCray's prohibition on discrimination in schools has reached final passage! Thank u to the House leadership for making this a priority each year as well as @FreeStateLGBTQ @MSEAeducators @disabrightsMD for their undeterred advocacy! pic.twitter.com/Vd2j3pVzeA

— Jheanelle Wilkins (@JheanelleW) April 12, 2022
Wilkins was one of the bill's sponsors. 
Should state-funded schools — pre-kindergarten, primary and secondary — and boards of education not adhere to nondiscrimination policies, they risk losing part of all their financing. The bill also prohibits retaliatory actions against students, parents and individuals who file complaints alleging discrimination.
"There is an important message in this legislation, as well, that taxpayer money should never fund those engaging in discrimination, bias, and hate," said FreeState Justice Executive Director Jeremy LaMaster in an online press release Tuesday morning.
The Maryland State Department of Education will increase general fund expenditure by $42,100 in fiscal year 2023 to accommodate provisions for the bill, according to the bill's fiscal and policy note.
The passing of the Inclusive Schools Act follows years of documented discrimination in schools around the state.
The Baltimore Sun reported in 2020 that Black students in the Carroll County Public Schools District were subjected to harassment that included being called racial slurs, bullied, caricatured when classmates asked to touch their hair, and being perceived as unsafe to be around.
"We all have to live by these certain rules and regulations in order to avoid the speculation [that] we're doing something bad," student Kelechukwu Ahulamibe told the Baltimore Sun, referring to the "rules of survival" his mother taught him to maneuver his surroundings.
Black people comprise 3.9 percent of the county's population, according to Census data. This has translated into a lack of Black students in its school system that has left some feeling like outsiders in their community.
To remedy this, public schools in the area have created student cultural organizations where marginalized children and allies can congregate and support each other. The Carroll County Public School District also has an Equity and Inclusion Outreach program available for parents and students as a resource for educational programming and accountability.
University of Maryland's LGBTQ+ students march for LGBTQ+ rights
Legislation aimed at erasing discussions about gender and sexual identity in schools has been on the rise across the country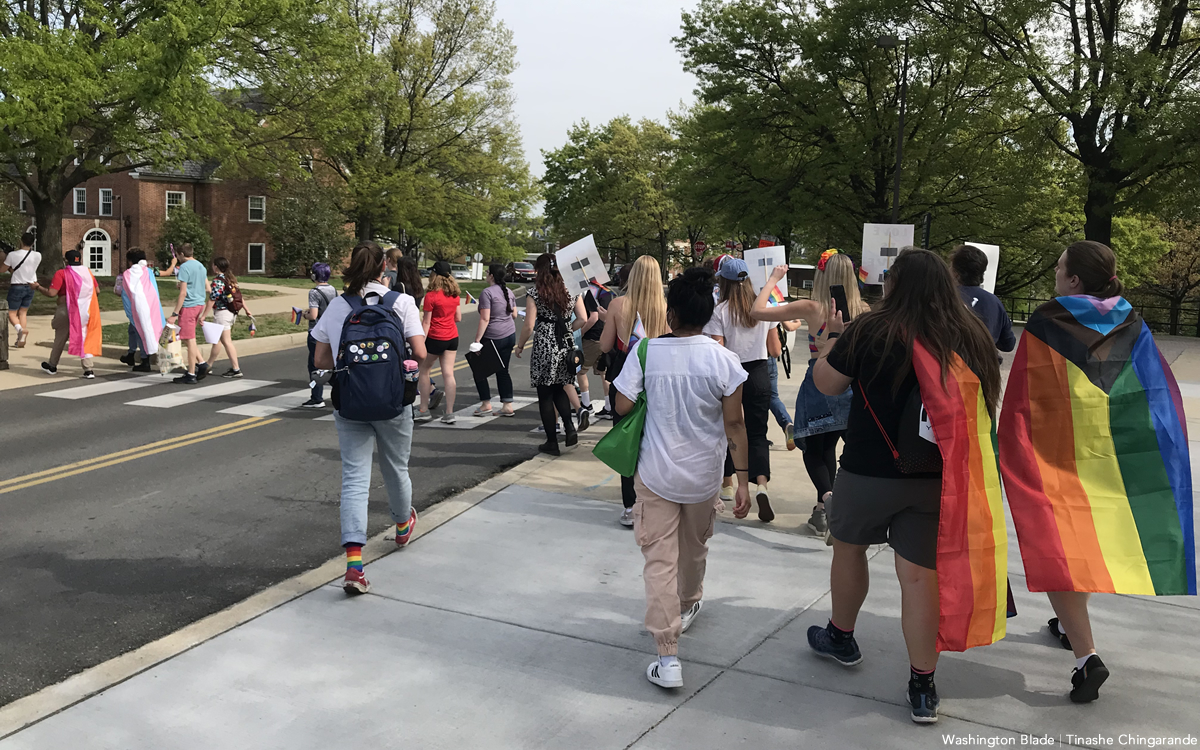 COLLEGE PARK, Md. – LGBTQ students at the University of Maryland marched across campus Saturday in response to legislation passed in many states that bars the discussion of gender identity and sexual orientation in schools.
As this happened, families from across the state were gathered all over campus to celebrate the university's annual community outreach event, "Maryland Day." 
The "Let's Say Gay Parade" began in the Adele H. Stamp Student Union, trekked through McKeldin Mall—where many Maryland Day attractions were situated—and ended in the student union. Students, parents and members of the campus community were in attendance.
"For the people who aren't at this event today, call [and email] your local representatives," said Veena Aruldhas.
Aruldhas, 23, is a senior studying information science at the university. They are also vice president of the school's Pride Alliance and also work on the Pride month committee within Multicultural Involvement Community Advocacy, a campus inclusion group.
"Show up for the people who can't speak for themselves because their rights have been infringed upon," said Aruldhas.
Legislation aimed at erasing discussions about gender and sexual identity in schools has been on the rise across the country.
Republican Florida Gov. Ron DeSantis signed the controversial "Don't Say Gay" bill in late March that bans public school teachers from providing instruction about sexual orientation and gender identity in classrooms. The bill also allows parents to sue schools that violate its prescriptions.
Ohio lawmakers also proposed a similar bill in early April that, in addition, limits education about other "divisive concepts" such as the 1619 Project, critical race theory and "any other concept that the state board of education defines as divisive or inherently racist."
While Maryland legislators this year haven't launched attacks on classroom instruction like the other two states, recent efforts to provide health equity for transgender individuals through the Trans Health Equity Act were stalled in this year's General Assembly 90-day legislative session.
Therefore, graduate student Joey Haavik, 26, believes the rise of homophobic legislation around the country escalates the need for Marylanders to review local legislation.
"This didn't get as much attention," they said in reference to the Trans Health Equity Act. Haavik is studying international education and policy and works as an advisor to campus LGBTQ organizations. "So, even though people experience many differing levels of hatred, there's many ways to advocate for our community."
State Sen. Mary Washington (D-Baltimore City), who attended the event and also gave a keynote speech, spoke on the bill's failure.
"Events like these empower us to mobilize against attacks on marginalized people in our communities," she said. "We must be relentless in the fight for a fair and just world."
House of Delegates candidate Ashanti Martinez also spoke about the bill at the event.
Martinez is a Democrat campaigning for the District 22 seat, and if elected will be the first openly gay Afro-Latino man from Prince George's County to represent the jurisdiction in the chamber.
"The [bill] vanished … [and] we want to know why," he said. "This erasure of LGBTQ folks is intentional."
Maryland school board bans 'political' LGBTQ+ flag calling it a 'gateway'
"Any youth in this county who's LGBTQ who commits suicide, that is on you," she warned. The board was unmoved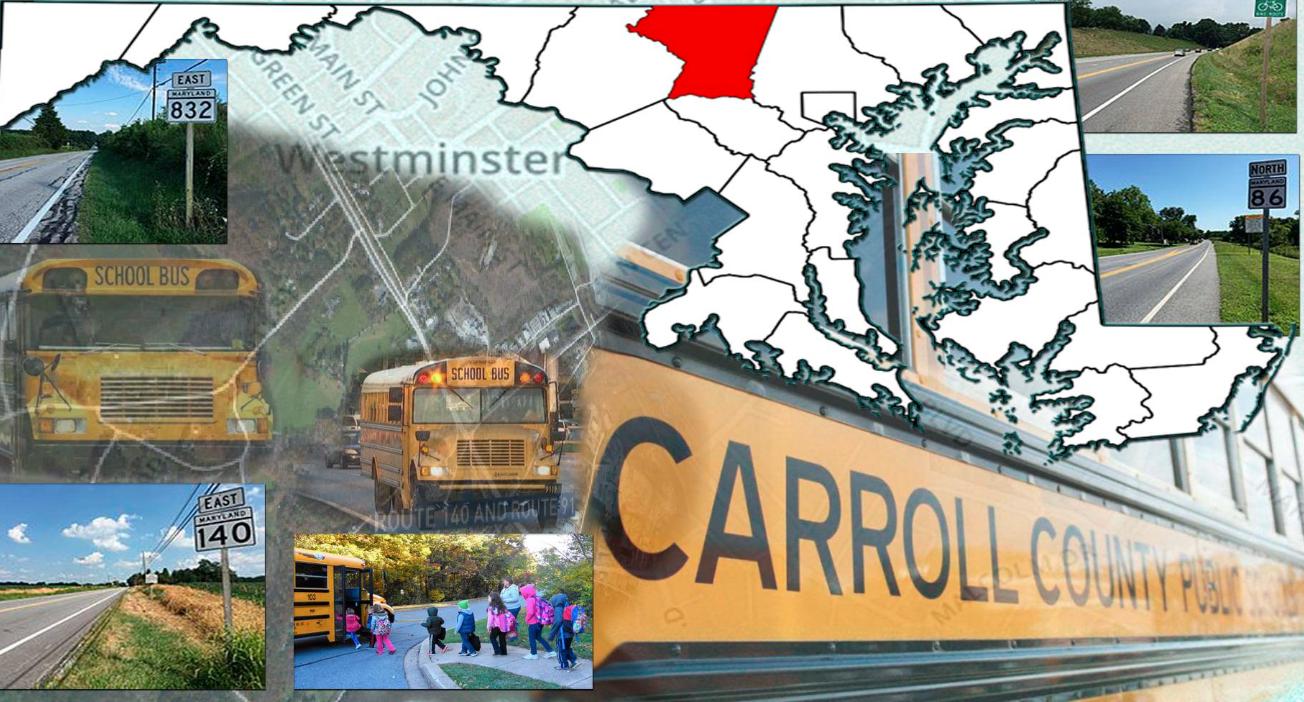 By David Badash | WESTMINSTER, Md. – A Maryland school board has banned the LGBTQ pride flag by falsely claiming it is "political," a "gateway for other flags," and even claiming ones provided by PFLAG for free to those who wanted them were "shoved down teachers' throats."
The move came in response to a local chapter of PFLAG donated "a collection of small rainbow Pride flags" to the Carroll County Public Schools district. Fox News reports "schools staff members were encouraged to display them as support for the LGBTQ community."
"These flags were shoved down teachers' throats to put on their desk – that's not inclusive," school board President Kenneth Kiler said. "That's not the way it ought to be."
School board member Tara Battaglia said, "What this does is open up a gateway for other flags to come into our schools that other people will not like."
"We've already banned the Confederate flag, and that was done a couple of years ago. … The premise behind the Pride flag was social advocacy … which is political."
Parent Caitlin Edmondson told Fox News the pride flags are "very concerning" and "being forced upon teachers. They "do not solely represent the gay community. They also represent gender identity and transgender ideology."
("Gender identity" and "transgender" are not ideologies.)
"As a parent of a 6-year-old in CCPS, it is very concerning that anyone would think it is OK to push these agendas on our youngest and most vulnerable," Edmondson added.
Fox News reports the schools superintendent made clear the flags were not "forced" on any teacher, and did not report any teacher complaining they were.
School board member Donna Sivigny during last week's meeting suggested the LGBTQ pride flag is part of a political agenda that students need "protecting" from. She also suggested the flags created a hostile work environment,
"I also respect the rights of teachers to work in a non-hostile work environment, deliver an effective lesson and support all kids in the best way that they can, but we require that they do it in a politically neutral way that creates a safe space for every student in our schools," said Sivigny, who opposed masks in schools last fall, asking, "Where's the emergency?"
She claimed, "many teachers have reached out to me saying that they've been pressured or bullied to put flags in their classroom, and that's a problem that needs to be addressed."
The right-wing local group Concerned Parents of Carroll County supported the move to ban the pride flags. They say they are working with another right-wing group, Moms for Liberty, to provide American flags for classrooms in the district.
Numerous parents spoke at last week's meeting, with several warning that LGBTQ students are at risk, including for suicide. One parent (video below) made clear board members are creating a hostile environment.
"Any youth in this county who's LGBTQ who commits suicide, that is on you," she warned. The board was unmoved.
CCPS Board of Education Meeting April 13, 2022:
********************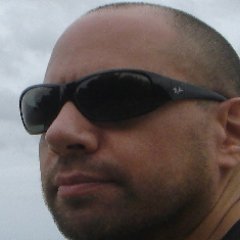 David Badash (@davidbadash) is the founder and editor of The New Civil Rights Movement, an award-winning news & opinion site.
********************
The preceding article was previously published by The New Civil Rights Movement and is republished with permission.
Family of Black gay teen killed by Baltimore Police demanding answers
"I'm angry. I'm frustrated. I'm sad because Donnell was just so full of life, and for him to no longer be here is truly depressing for me"
BALTIMORE – The family of Donnell Rochester, an 18-year-old gay Black man who was shot and killed by Baltimore Police in February, are demanding that Mayor Brandon Scott and the City's Police Commissioner Michael Harrison investigate the teenager's shooting death and also meet with the family.
Tensions are running high over Rochester's death which occurred on Feb. 19 in northeast Baltimore. According to NBC News affiliate, WBAL TV 11 News, BPD officers were on patrol when they found a car registered to Rochester. Officers got out of their car to try and stop the car Rochester was driving because of an open warrant out against him related to an armed carjacking case.
While police body camera video showed officers firing on the car, it's unclear whether Rochester drove toward officers, as police said he did, or what led up to the officers firing their weapons.
One of the major points of contention for the family is, they allege, that in the aftermath of the shooting, Rochester was left cuffed and bleeding in the street before officers transported him to a local hospital where he died as a result of the gunshot injuries.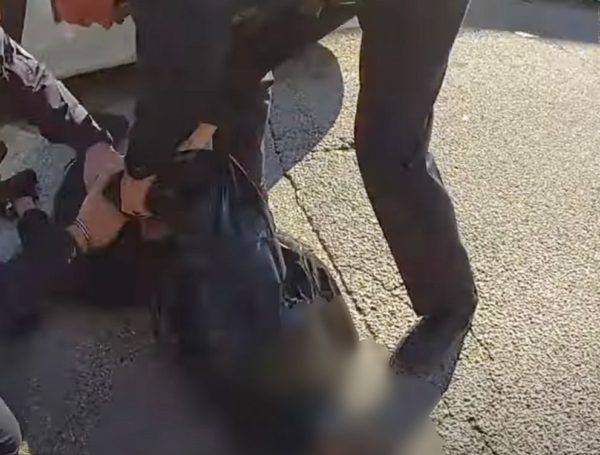 In the bodycam footage released by the Baltimore Police Department on Feb. 25, from the four officers involved in the incident, shows that two of the officers fired at Rochester's vehicle.
Officers are seen getting out of their cars and approaching on either side of Rochester's car. Another officer was also in front of the car. Police claim that Rochester drove forward toward an officer, and that's when they opened fire.
(The video is graphic and age restricted LINK: https://www.youtube.com/watch?v=QIzZ6V-R0UQ)
In the portions of video showing the aftermath of the shooting, one officer asks; "Where are you hit at?" He then repeats the question as the other officers try to find the wound. Rochester has trouble responding to the officer: "Are you OK?" another officer asks. "No," Rochester seems to say.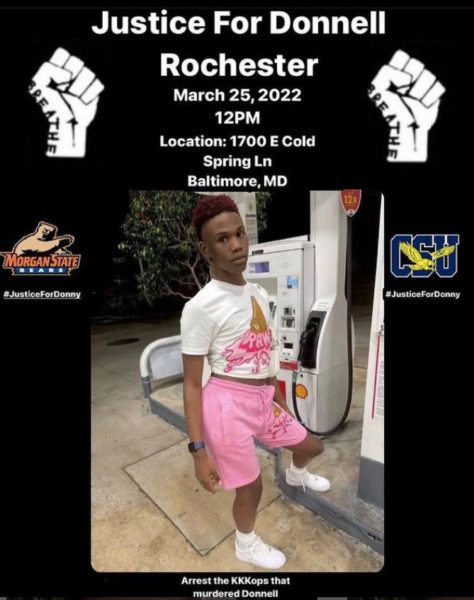 Last month, Morgan State University students, who organized the rally, along with nearly a hundred demonstrators gathered outside Baltimore's City Hall demanding that the come out and speak with family members who have called for the arrest of the officers involved in the shooting.
Markia Jackson, Rochester's aunt, told local media that the family is disputing the police version of events. In an interview with WBAL TV11, Jackson said she watched the video and found her nephew made no attempt to drive at the officers, saying it was the officer who put themselves in front of the car and then fired.
"He was not trying to hit anyone. That officer tried to place himself in front of that car," Jackson said.
Jackson said the officers failed to save Rochester and take him to a hospital immediately after the shooting.
"Donnell is still supposed to be here, probably just recuperating. They let him bleed out on that ground, telling him to 'just breathe, bro, breathe, bro.' How can you say that when he's on the ground scared for his life?" Jackson said.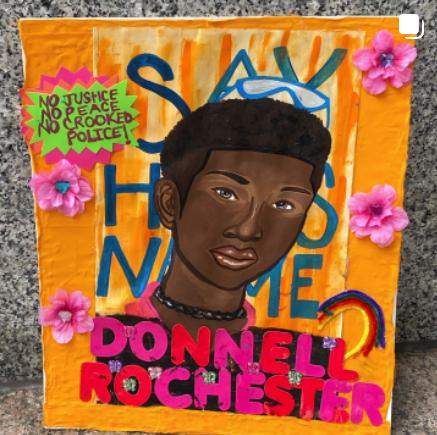 Jackson also said the video shows how scared Rochester was and that he did not deserve to die.
"I'm angry. I'm frustrated. I'm sad because Donnell was just so full of life, and for him to no longer be here is truly, truly depressing for me. It's truly depressing for me, it is," Jackson said.
Jackson said they have not heard anything from the city on where the case stands since February.
11 News reported that 2 officers have been placed on administrative leave.