LA County to order return of masks on public transit, ride share & at LAX
The new health order will apply to trains, buses, taxis and ride-hailing services, as well as airports, bus terminals and train stations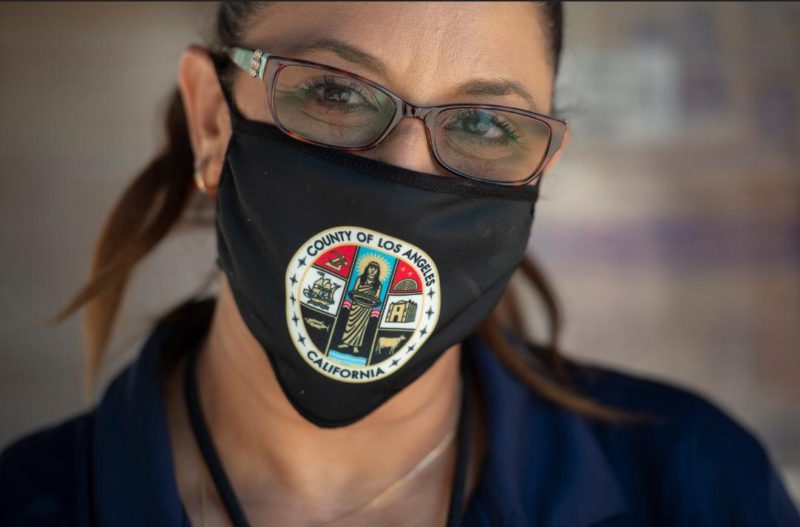 LOS ANGELES – The Los Angeles County Department of Public Health is issuing a new Health Officer Order to note that masking in all public transit within LA County and in LA County indoor transportation hubs continues to be required.
The new health order, which takes effect at 12:01 a.m. Friday, will apply to trains, buses, taxis and ride-hailing services, as well as airports, bus terminals and train stations, according to Public Health Director Barbara Ferrer.
Ferrer told reporters during an online briefing on Thursday that the order is based on the Centers for Disease Control and Prevention's opinion that mask-wearing on transit remains an essential step in preventing spread of COVID-19.
"They are experts," Ferrer said. "They made a determination that at this point having that requirement in place is necessary for the public's health, and that resonates with us."
Earlier this week, U.S. District Judge Kathryn Kimball Mizelle, a Trump appointee in Tampa, Florida, had ruled that the CDC had exceeded its authority in issuing the mask-wearing mandate on the nation's transportation systems and issued a nation-wide injunction.
The U.S. Department of Justice, at the request of the CDC, on Wednesday filed an appeal. The CDC issued a statement saying it continues to believe that requiring masks in indoor transportation settings "remains necessary for the public health."
"CDC will continue to monitor public health conditions to determine whether such an order remains necessary," a spokesperson for the CDC said in a statement. "CDC believes this is a lawful order, well within CDC's legal authority to protect public health."
In response to Judge Mizelle's ruling, KABC 7 News reported that public transportation agencies across Los Angeles County announced that masks would become optional, including aboard Metrolink commuter trains and on Los Angeles County Metropolitan Transportation Authority buses and rail lines. Los Angeles International Airport and Hollywood Burbank Airport also announced that masks were optional.
In Thursday's press conference, LA County Public Health's Ferrer explained that she's "really, really sorry" that the new county order will likely create confusion among residents feeling a sense of "whiplash" due to rapidly changing rules.
But she noted that the CDC never changed its recommendations regarding mask-wearing on public transit, and said the Florida court ruling was made by "a federal judge with little experience in public health" who questioned the CDC's authority.
According to Public Health, given the rapid rise of the more infectious BA.2 subvariant, targeting public transportation is an absolute must as those settings are almost always crowded, putting people in cramped environments with sometimes-little to no ventilation, making them perfect breeding grounds to spread the virus.
While BA.2 is blamed for rising case numbers, those cases still have not led to a spike in hospitalizations due to the virus. In fact, hospitalizations have continued to trend downward. But Ferrer said that doesn't diminish the risk of new and potentially more dangerous variants of the virus developing the more it circulates.
The virus "is still equated with significant illness for some people," she said. "It still can cause, even for people who experience mild illness when the first get infected, it can still cause for a good percentage of people 'long COVID.'"
LA Mayor Garcetti volunteers at Project Angel Food's Thanksgiving
For many of the celebrities joining Project Angel Food's Thanksgiving Day volunteers the day was about sharing the experience with family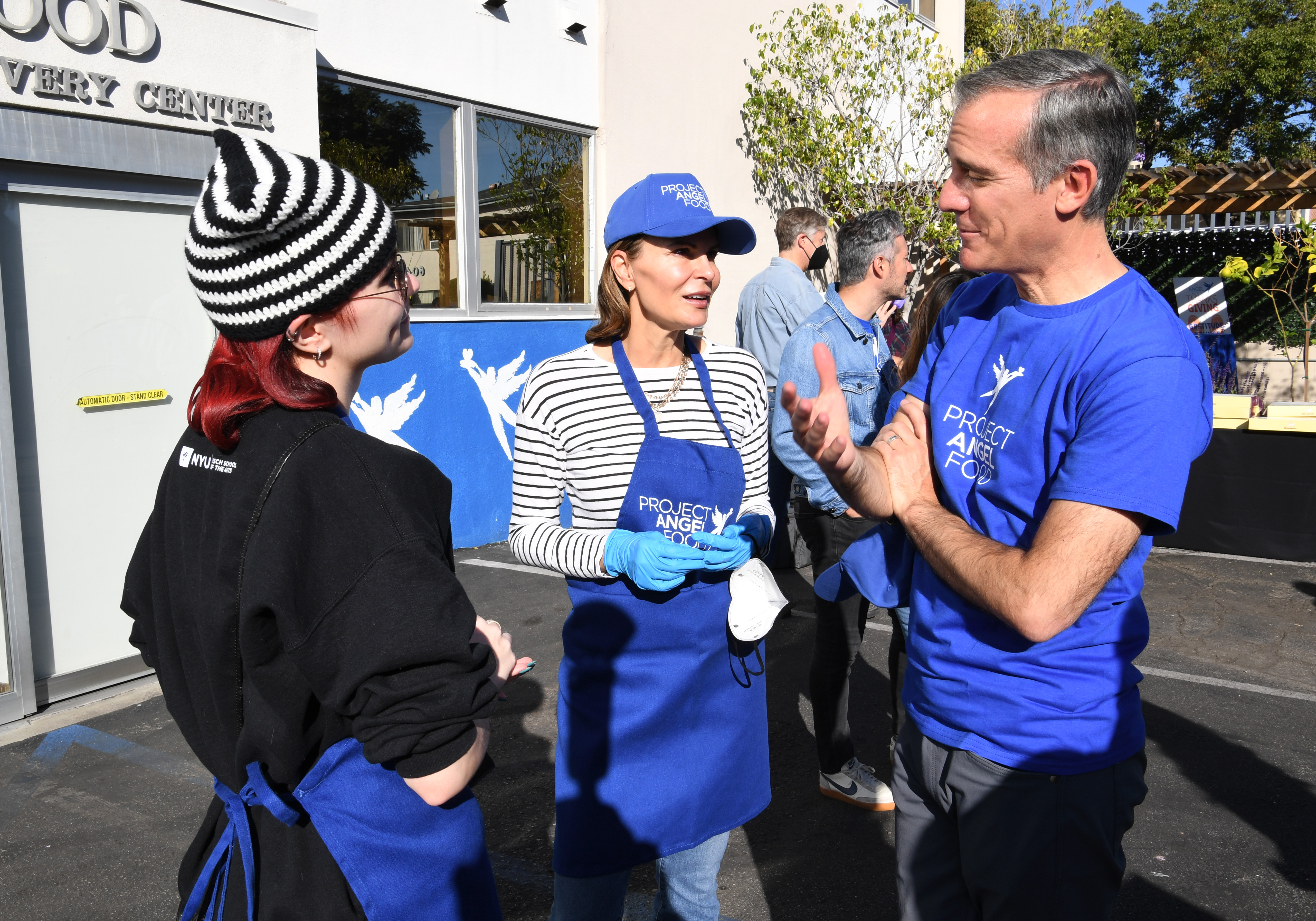 LOS ANGELES – In the early morning hours of Thanksgiving Day, Mayor Eric Garcetti joined Project Angel Food CEO Richard Ayoub, celebrity supporters and 225 volunteers and staff to prepare and deliver 7,400 meals on Thanksgiving Day to seriously ill and housing insecure people throughout 4,700 square miles of L.A. County.
"Mayor Eric Garcetti epitomizes what it is to be part of a community and lift one another through compassion and service. As he rolled up his sleeves and helped plate meals, he brought attention that while this is a day most of us are surrounded by people we love, we need to remember that some people don't have that," Project Angel Food CEO Richard Ayoub said. "He reminded us that no Angeleno should be alone and with a warm smile, a conversation and a meal, our volunteers can change the entire day for our clients, become angels in the City of Angels," Ayoub added.
For many of the celebrities joining Project Angel Food's Thanksgiving Day volunteer pool, the day was about sharing the experience with family. Volunteers included Lisa Rinna and husband Harry Hamlin; "Weird Al" Yankovic with his wife Suzanne and daughter Nina.
Also volunteering was Out actor and singer Cheyenne Jackson and husband Jason Landau with their twins Willow and Ethan. Jackson said the couple brought the children because, "I want to teach my kids to be grateful and thankful for everything that we have, and when you have the capability to give to other people, do it."
He also talked about the death of friend Leslie Jordan, a Project Angel Food supporter who died exactly one month earlier. "He was one of my best friends and it hit me really, really hard like so many people," he said.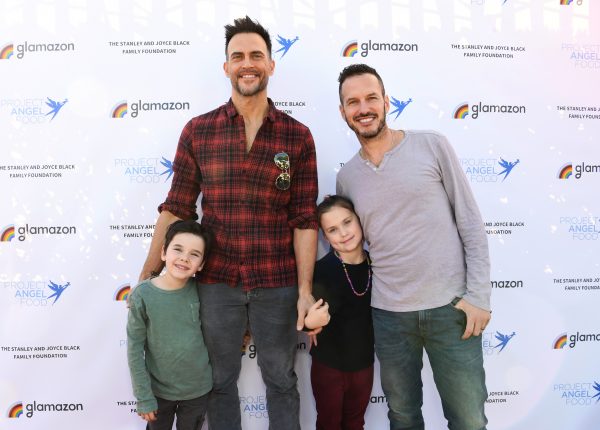 American Idol favorite Ava Maybee with her mother, and Melissa Rivers with son Cooper Endicott, continuing her mother Joan Rivers' legacy of volunteering on Thanksgiving.
Avatar: The Way of Water star Trinity Bliss brought her parents just weeks before the December 16 release of the highly anticipated film. "I'm so honored to work alongside so many people to bring a warm, delicious, tasty meal to people in need."
Of her much-anticipated film, Avatar: Way of Water, Trinity added, "Avatar was amazing, but I think Avatar: The Way of Water is going to be just so much more dramatic and be an experience people are going to need to experience in theaters."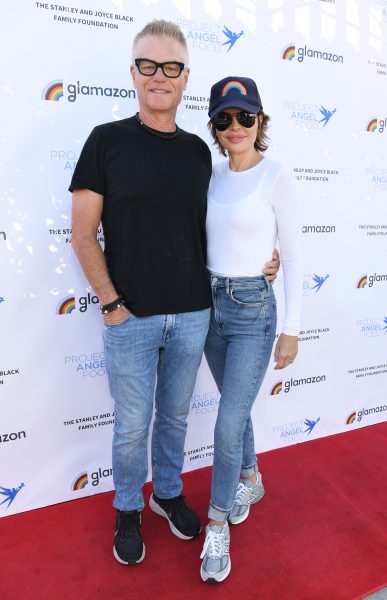 Lisa Rinna reflected on the fact that Project Angel Food is the primary source of food for most of its clients. "It's so important because that is going to be their only meal of the day." her husband Hamlin added, "to have the opportunity to give back is amazing."
Other celebrities included Eileen Davidson (RHOBH, Days of Our Lives), Peter Porte (Days of Our Lives), Juan Pablo Di Pace (DWTS, Fuller House), Olympian Tai Babilonia, Tim Bagley (Gracie & Frankie, Will & Grace), Michael Hitchcock (The Resort, Crazy Ex-Girlfriend), Lawrence Zarian (The Kelly Clarkson Show), Marc Malkin (Variety), James Wallington and Will Jardell (Amazing Race Season 32 winners), Romeo Escobar (Survivor 42 runner-up), and parenting author Donna Tetreault.
The 7,400 meals being delivered on Thanksgiving included 1,600 traditional turkey dinners to critically ill men, women, children and their caregivers, 5,600 Medically Tailored Meals and breakfasts regularly scheduled for Thursday delivery, and another 200 meals were provided to Project Angel Food community partner PATH for residents for two of PATH's Interim Housing and Permanent Supportive Housing sites.
Volunteers provided contactless "drive-by" pick-up of the meals which were then delivered to Project Angel Food clients. Traditional Thanksgiving dinners consisted of roasted turkey, root vegetables, stuffing, gravy, cranberry sauce and a slice of pumpkin cheesecake. Vegetarian meals were also provided.
The meal was sponsored by the Stanley and Joyce Black Family foundation with Glamazon (Amazon's affinity group for the LGBT+ community) sponsoring the volunteer event.
Project Angel Food CEO Richard Ayoub noted that Project Angel Food strives to end food insecurity and improve health outcomes of critically ill men, women and children in Los Angeles with Medically Tailored Meals, delivered with care and compassion.
Over 2,500 clients are fed daily. Project Angel Food delivers 1.3 million meals each year.