Earth Day; Newsom at groundbreaking for world's largest wildlife crossing
Gov. Newsom proposing $50 million for wildlife crossings, including $10 million in new funding for the Wallis Annenberg Wildlife Crossing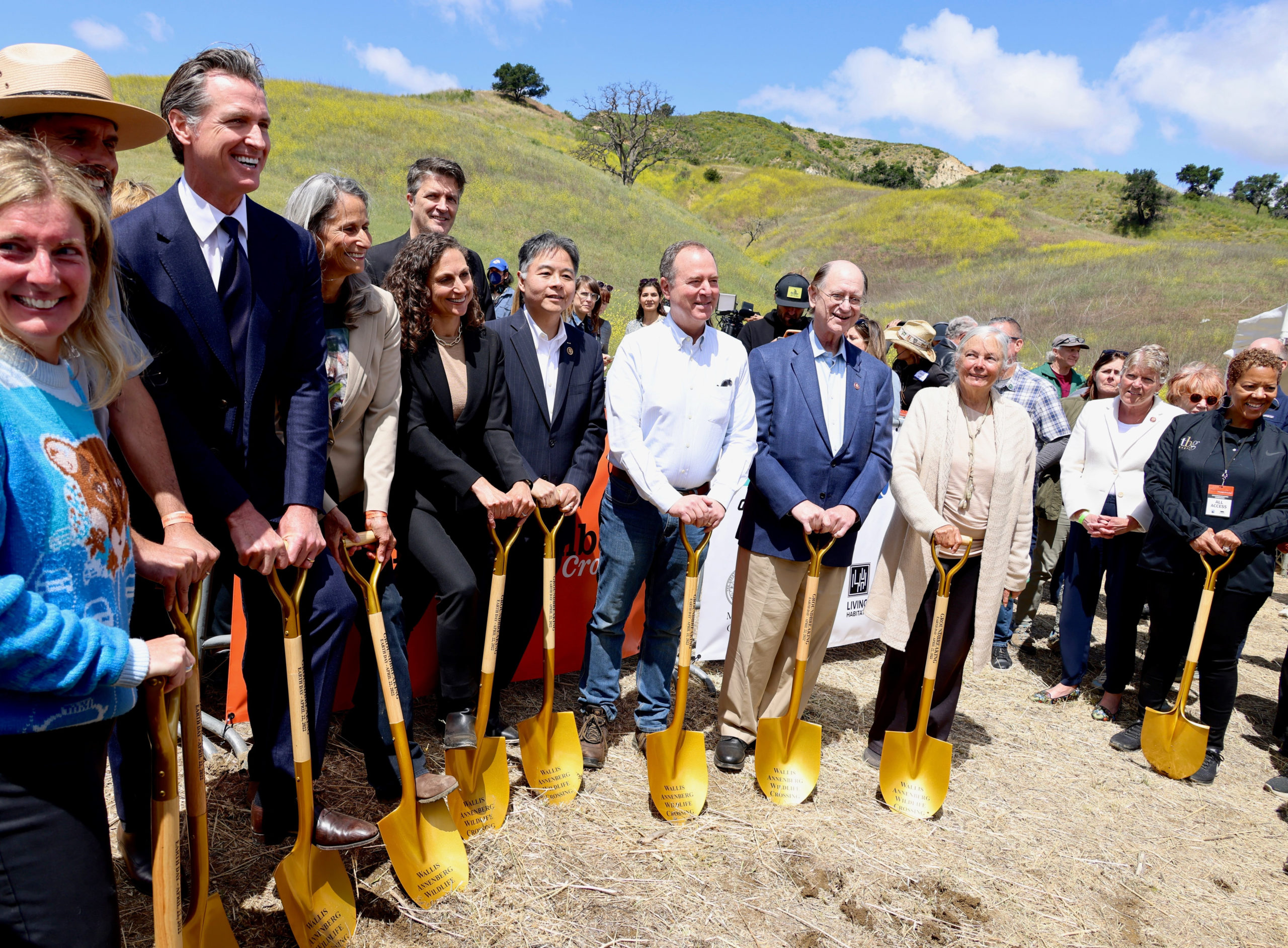 LOS ANGELES – Today on Earth Day, Governor Gavin Newsom joined the groundbreaking of the world's largest wildlife overpass, the Wallis Annenberg Wildlife Crossing, which will provide a vital bridge for mountain lions and other Santa Monica Mountain wildlife to roam safely between two large areas of habitat.
The state today also announced the launch of strategies to achieve California's first-in-the-nation 30×30 conservation goal and better manage our natural and working lands to combat climate change and protect our communities and ecosystems.
Governor Newsom has put forward a historic $37.6 billion climate package – more than what most other countries are spending – to protect all Californians from the costs and impacts of climate change, while accelerating efforts to reduce the dependence on big polluters and fossil fuels.
"No challenge poses a greater threat to our way of life, prosperity, and future as a state than climate change," said Governor Newsom. "With our rich natural heritage on the front lines of this crisis, California is building on our global climate leadership with bold strategies that harness the power of nature to fight climate change and protect our communities and ecosystems. Strong partnerships across the board will be critical to these efforts, and the project we're lifting up today is an inspiring example of the kind of creative collaborations that will help us protect our common home for generations to come."
Underscoring the critical importance of wildlife crossings, a mountain lion was struck and killed just yesterday on the 405 freeway. The Wallis Annenberg Wildlife Crossing will span 10 lanes of Highway 101 and an adjacent road, improving wildlife connectivity to support biodiverse ecosystems.
The state has provided $58 million in funding for the public-private conservation project, which is being facilitated by Caltrans, while philanthropy has raised more than $34 million in funding. In partnership with the Legislature, the Governor last year advanced $105 million to fund wildlife crossings, and is this year proposing an additional $50 million for this priority – including $10 million in new funding for the crossing in Liberty Canyon.
Moving to protect mountain lions and other wildlife, the Governor in 2020 signed legislation prohibiting the use of second-generation anticoagulant rodenticides, which are known to cause chronic growth and reproduction issues.
Earlier this week, the California High-Speed Rail Authority and the Santa Clara Valley Habitat Agency announced the award of a $3.125 million grant to study the Pacheco Pass wildlife overcrossing near the near the San Jose to Merced high-speed rail project section.

The Pathways to 30×30: Accelerating Conservation of California's Nature strategy and Natural and Working Lands Climate Smart Strategy released today respond directly to the Governor's nature-based solutions executive order, which identified California's lands as a critical yet underutilized sector in the fight against climate change.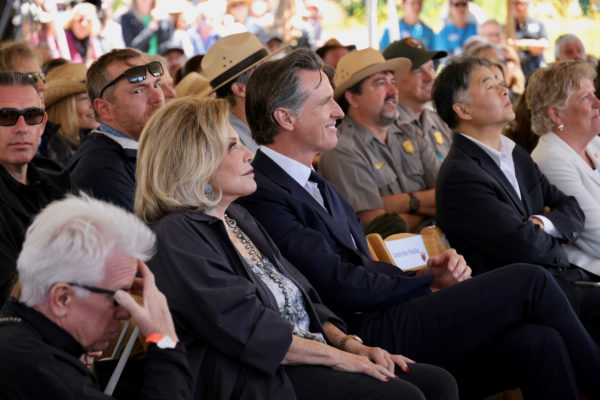 These lands cover 90 percent of California's 105 million acres, and can remove and store carbon emissions, limit future carbon emissions into the atmosphere, and buffer climate impacts. Climate-smart management of our lands also safeguards public health and safety, protects food and water supplies, and enhances equity.

Pathways to 30×30 outlines a strategy to achieve the state's first-in-the-nation goal to conserve 30 percent of California's lands and coastal waters by 2030 in order to protect biodiversity, expand access to nature and tackle climate change.
Scientists from around the world agree that conserving one-third of the planet by 2030 is needed to combat climate change, protect people from climate impacts that are already here, and to limit the mass extinction of plant and animal life. It also represents a historic opportunity to strengthen our connection to nature, especially for communities that have historically lacked access, and to build partnerships with Native American leaders and groups to steward lands and waters.

California has conserved 24 percent of its land and 16 percent of coastal waters. To reach 30 percent by 2030, the state's strategy lays out several concurrent pathways, including accelerating regionally-led conservation, buying strategic lands for conservation and access, expanding voluntary conservation easements, and aligning investments to maximize conservation benefits.
Empowering local and regional partners is essential to achieve this target, and the strategy establishes a 30×30 Partnership to organize this coordination and collaboration. Partners include federal agencies, California Native American tribes, county governments, land trusts, resource conservation districts, environmental conservation non-governmental organizations, and others.

The Natural and Working Lands Climate Smart Strategy establishes California's approach to meeting our climate change goals through improved management of our lands. Healthy landscapes can remove and store carbon, limit future greenhouse gas emissions into the atmosphere, and buffer climate impacts.
Unhealthy landscapes have the opposite effect – they release more greenhouse gas than they store and worsen climate risks to people and nature. The strategy defines eight landscape types that California will better manage, including forests, farms, communities, and wetlands. It highlights priority nature-based solutions that combat climate change and help meet California's broader environmental, economic, and social objectives. The strategy also charts near-term actions and underscores partnerships as essential to all of this work.

To advance the 30×30 and Climate Smart Lands initiatives, the Governor's proposed budget includes a $768 million spending plan over two years, with nearly $600 in the 2022-23 budget. Today the Governor previewed how he is proposing to spend this funding in the May Revision. Significant investments include:
$275 million (over two years) to fund projects that will deliver climate benefits and protect biodiversity, including voluntary conservation acquisitions and easements.
$161 million (over two years) to support regional action through investments in Natural Community Conservation Planning programs and projects funded through state conservancies.
$100 million for the Tribal Nature-Based Solutions Program announced in March at the California Truth & Healing Council meeting.
$90 million for inland wetlands restoration, which delivers multiple benefits including sequestering greenhouse gas emissions, protecting habitat, and advancing economic opportunity. This complements funding directed to coastal wetlands in last year's climate package ($500 million).
$50 million to enable more wildlife crossings like the Wallis Annenberg Wildlife Crossing breaking ground today.
$30 million (over two years) to accelerate the uptake of climate-smart land management practices across California's diverse landscape, including farms, forests, and community green spaces.
$7.5 million (over two years) to support a compost permitting pilot program that will help local government entities and facilities locate and permit small and medium sized compost facilities, diverting more organic waste away from landfills and into the creation of healthy soils.
The two strategies were shaped by over a year of public engagement. More than 4,100 Californians provided direct input through more than a dozen public meetings, regionally-based workshops, expert topical panels on key concepts such as equity and science, and comments on draft strategies.
2nd Recall effort against LA County District Attorney George Gascón fails 
The 520,050 valid petition signatures fell short of the 566,857 required to place the recall question on the ballot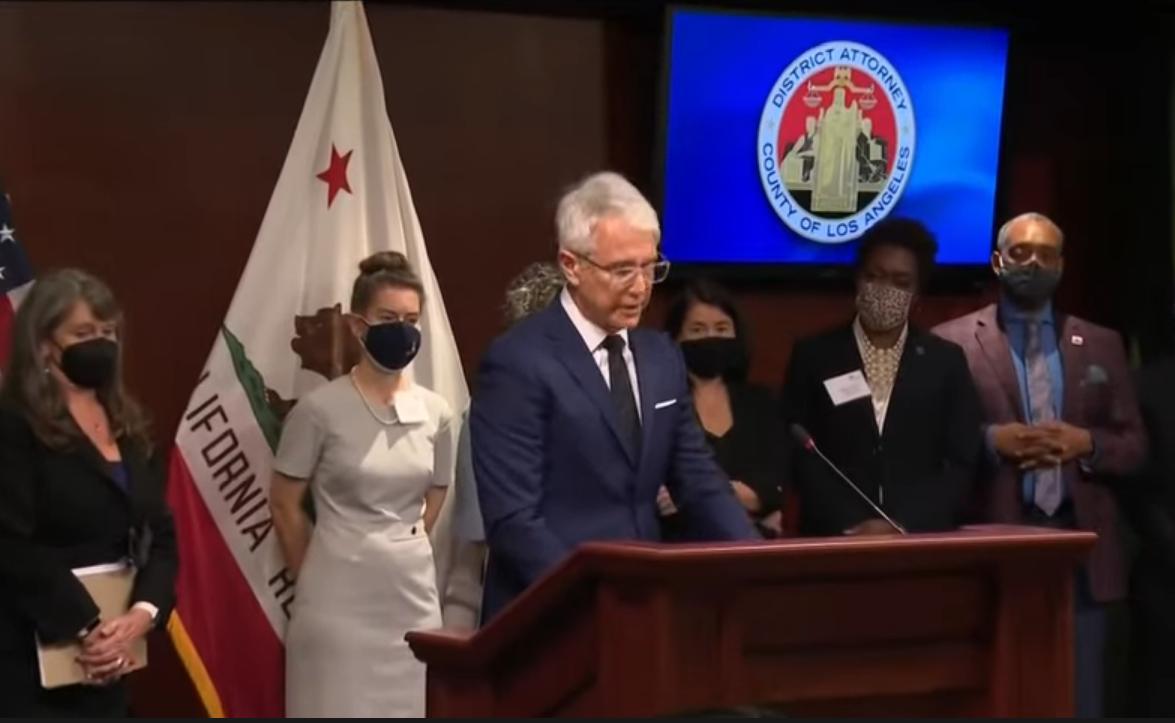 LOS ANGELES – The second effort to recall Los Angeles County District Attorney George Gascón was rejected Monday after the LA County Registrar-Recorder/County Clerk's office announced recall organizers had fallen short of the requisite validated signatures needed to qualify for the November elections ballot.
A spokesperson for Dean C. Logan, the Registrar-Recorder/County Clerk, said that recall organizers had submitted a total of 715,833 petition signatures, of which 195,783 of the signatures were invalid and another 45,000 were duplicate signatures. The remaining 520,050 valid petition signatures fell short of the 566,857 required to place the recall question on the ballot.
KTLA reported that organizers halted their first recall attempt last fall after they were unable to gather the necessary signatures by the end of October.
Gascón, 67, was elected in 2020 on a pledge to reform the county's criminal justice system. Since he took office, juveniles are no longer being charged as adults, sentencing enhancements that he says lead to mass incarceration have been eliminated and cash bail for nonviolent felony offenses has ended. Misdemeanors associated with substance abuse and mental illness are also being diverted out of the criminal justice system, both KTLA and the Los Angeles Times have reported.
Gascón's policies have provoked criticism from Los Angeles County Sheriff Alex Villanueva, as well as officers from the Los Angeles Police Department and others from the 88 jurisdictions within the County.
Recall organizers contend that his policies favor criminal defendants and have contributed to a significant rise in crime rates reported across the County.
Project Angel Food's Lead With Love 3 telethon pulls in a new record
The evening was a triumph, as the broadcast became the highest grossing night in the telethon's three-year history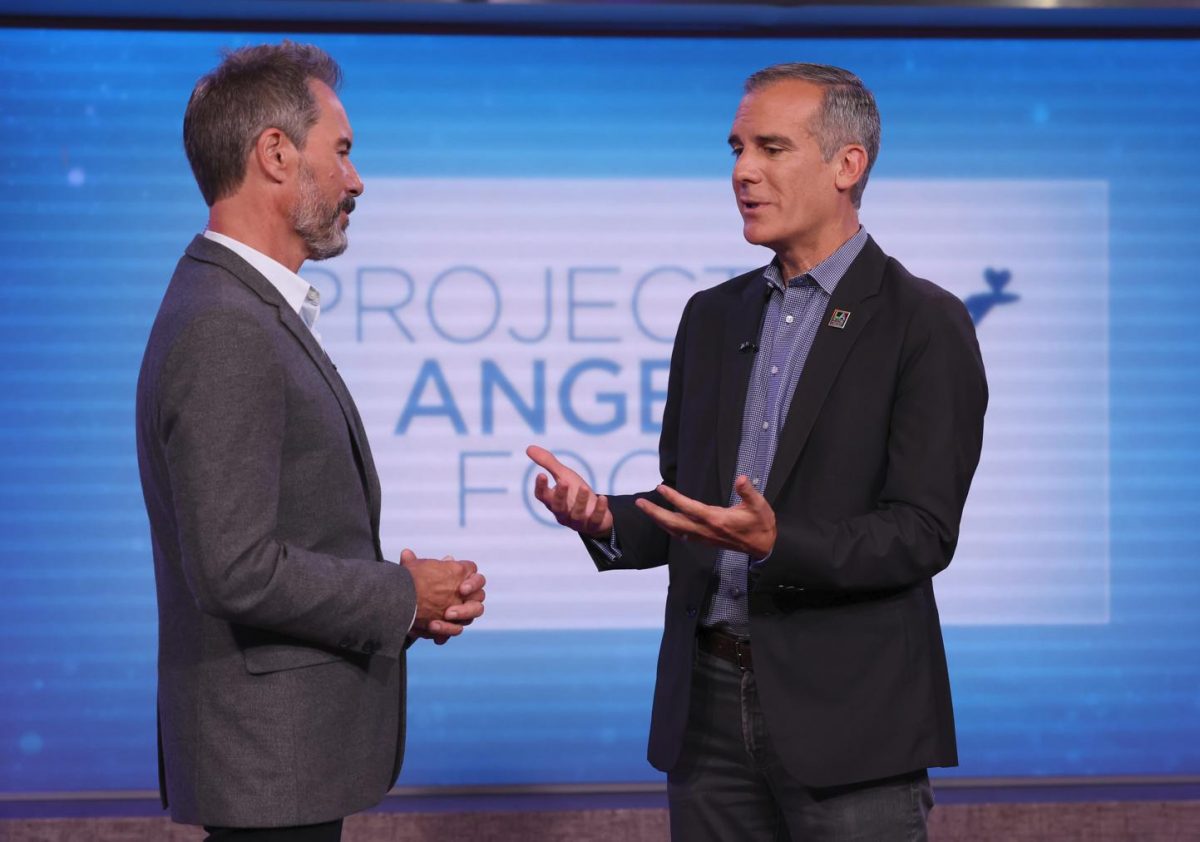 LOS ANGELES – The Saturday telethon hosted by KTLA 5 to benefit the Hollywood based charity Project Angel Food was a massive success according to its organizers pulling in $1,172,970.00 which exceeded the event's sponsored by City National Bank goal by 17%.
KTLA 5 and Project Angel Food noted the evening was a triumph, as the broadcast became the highest grossing night in the telethon's three-year history. Project Angel Food CEO Richard Ayoub reflected, "With inflation and rising food insecurity among L.A.'s critically ill population, it is so encouraging to see Los Angeles step up to help us rise to the challenge."
Project Angel Food feeds critically ill men, women, and children in Los Angeles County. The organization delivers Medically Tailored Meals, with care and compassion, directly to the client's homes. More than 2,500 vulnerable Angelenos are fed daily, with over 1.2 million meals delivered each year.
Oprah Winfrey opened the show, Richard Gere made a rare television appearance, and Lori Loughlin made her first non-acting television appearance in more than three-and-a-half-years.  The night was filled with fan favorites, celebrity messages, an All-Star Phone Bank of celebrities taking donor calls, and musical performances.
Will & Grace star Eric McCormack and KTLA Morning News anchor Jessica Holmes returned to host the annual televised event and were joined by Loni Love and Alec Mapa who also returned as dynamic co-hosts.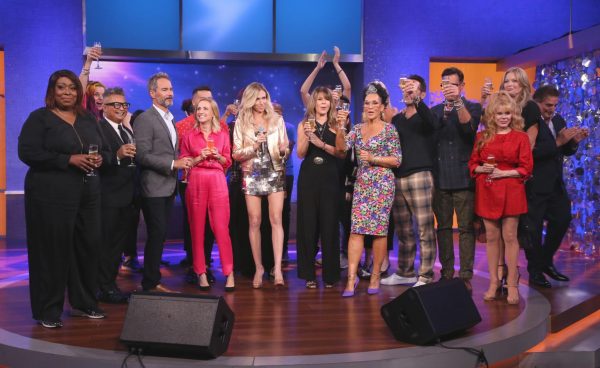 Highlights included:
Lori Loughlin, who has volunteered with Project Angel Food since January 2021, appearing a "day in the life of a Project Angel Food volunteer" package in which she said of the organization, "It is a community, it is a family, and all the people that work here are so wonderful. They have welcomed me with such open arms at a time when I was feeling particularly down and broken. That's how I found a home here, and that's what I feel like they did for me, and that's why I'm so proud to be here and working with this organization, because they really do care. It's really a community."
Oprah Winfrey's stirring opening, kicking off the show with this message: "When we find a way to serve other people, we see how compassion and empathy can really make a lasting, positive impact by showing up for somebody else."   
Richard Gere announcing a $75,000 matching grant from the Herb Ritts Foundation, saying, "Herb was one of my dearest, closest friends and when he passed away in 2002, from complications from HIV/AIDS, it was completely devastating for all of us. And he wanted his foundation to continue the work he had been doing helping people."
A hysterical Will & Grace reunion in which Eric McCormack's Will & Grace co-star Sean Hayes feigned audio issues and insulted McCormack's gray hair and beard.
A Charlie's Angels reunion with Jaclyn Smith and Cheryl Ladd.
Four "Mystery Guests" included Cybill Shepherd, who left McCormack flabbergasted with revealing she knew Elvis Presley, "in the Biblical way," Charo, 13-time Grammy Award winner Chaka Kahn, and Los Angeles Mayor Eric Garcetti, who discussed delivering meals with Project Angel Food.
The television debut of Debbie Gibson's new song "Cheers" from her upcoming Christmas album which closed the show, and Taylor Dayne's live performance of "I'll Be Your Shelter."
Loni Love "flipping her wig" when Rock 'N Roll legend Stevie Nicks called in a surprise $25,000 donation.
Presenting sponsor City National Bank's Linda Duncombe, Executive Vice President, Chief Marketing, Digital and Product Officer, delivering a $100,000 check to McCormack, Project Angel Food CEO Richard Ayoub, and Holmes.
Pauley Perrette, who was on hand to introduce a musical performance, bringing with her a $9,000 donation.
Executive produced by television veteran, Brad Bessey, along with Michael Levitt, Ayoub, KTLA's Marcus Smith and Jacob Burch, and Mark McBride, sponsorships, the live two-hour fundraising special was jam-packed with surprises, energy and fun. Bessey says, "Over dinner with Eric several months ago, he mentioned in passing he would love our show to have more of a 'variety feel' this year, so we ran with it. I think we delivered with humor and heart." 
The All-Star Phone Bank, emceed by Mapa, created the most unpredictable and entertaining segments of the night with Melissa Peterman, Michelle Visage, Kim Coles, Jai Rodriguez, Beth Hall, Mary-Margaret Humes, Lawrence Zarian, and Gregory Zarian talking to donors throughout the night and creating comedy chaos along the way.
In addition to Dayne and Gibson's live performances, musical highlights included Pat Benatar and Neil Giraldo performing "We Belong," Sarah McLachlan performing, "I Will Remember You," Five for Fighting performing, "World," and Josh Groban performing, "Angels."
Celebrity messages flooded in from supporters Bryce Dallas Howard, Sharon Stone, Whoopi Goldberg, Eugene Levy, Gloria Estefan, Karamo, Holland Taylor, Henry Winkler, Fran Drescher, Tyler Henry, Danny Pino, Cheryl Burke, Rachel Lindsay, Ross Mathews, and Jonathan Del Arco.

Donations are still being accepted for LEAD WITH LOVE 3, at angelfood.org/love.
To learn more about Project Angel Food, please visit www.angelfood.org.
KTLA & Project Angel Food kick off 3rd Lead with Love telethon Saturday
The stars will be out on Saturday night for 'Lead with Love 3,' sponsored by City National Bank, & airs live on KTLA 5 from 7 to 9 p.m.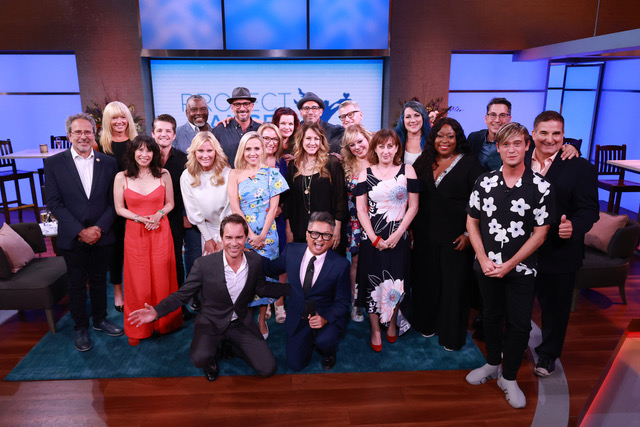 LOS ANGELES – The annual telethon in support of Project Angel Food's vital work of feeding critically ill men, women, and children in Los Angeles County returns this Saturday, July 23. The organization prepares and delivers over one million Medically Tailored Meals each year.
The telethon, which premiered as the coronavirus pandemic gripped the nation and especially Southern California, has raised over $2 million for the charity. This year the stars will be out on Saturday night for 'Lead with Love 3,' which is sponsored by City National Bank, and which airs live on KTLA 5 from 7 to 9 p.m. including celebrities like 2022 Primetime Emmy Award nominees Sheryl Lee Ralph of "Abbot Elementary" and Henry Winkler of "Barry."
Janene Drafs, Vice President, and General Manager of KTLA 5, noted; "This show gets better and better every year, and we are thrilled to extend our relationship with Project Angel Food. KTLA has a 75-year tradition of being there for L.A., so providing this very special program to connect our community of viewers with Project Angel Food's work serving the most vulnerable in our community at large is what being "L.A.'s Very Own" is all about."
Also appearing will be Richard Gere, who will be presenting a gift from the Herb Ritts Foundation, and Oprah Winfrey, as well as music from Josh Groban, Sarah McLachlan and Five for Fighting, among many other talented musicians who will perform at KTLA's studios in Hollywood.
Project Angel Food's CEO Richard Ayoub reflected, "While this year's show promises to be our most entertaining yet, we are in urgent need of donations to help combat the rising cost of fuel and food. Everyone is feeling the pinch at the pump or at the grocery store. But multiply that by the 2,400 people we feed every day, driving to all corners of L.A. County's 4,700 square miles. The need is great, and we appreciate KTLA and City National Bank's confidence in extending our telethon through at least 2024."
More than 2,500 clients are fed daily, with over 1.2 million meals delivered each year by Project Angel Food, which has a Four-Star Charity Navigator rating and has been declared an essential service by Los Angeles Mayor Eric Garcetti.
To learn more about Project Angel Food visit angelfood.org.