Man arrested & charged with threats against LGBTQ+ community
Allegedly targeted Springfield-based Merriam-Webster, Inc. & other institutions & individuals with threats to commit anti-LGBTQ violence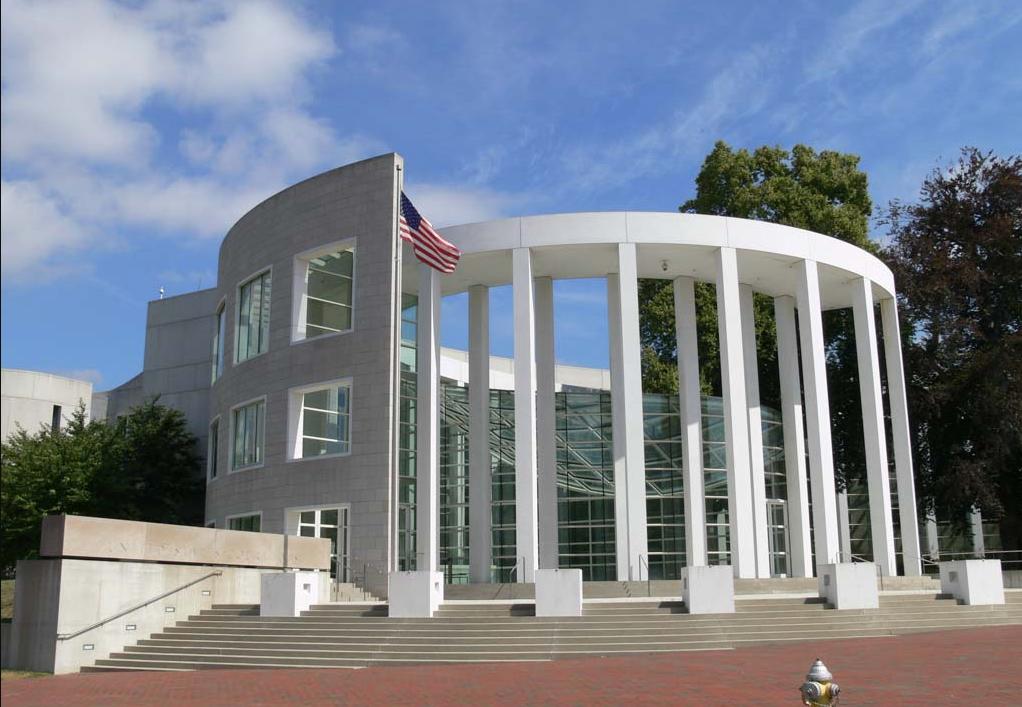 BOSTON – A California man was arrested on Tuesday, April 20, 2022 and charged in federal court in Springfield, Mass. in connection with making threats against Merriam-Webster, Inc.
Jeremy David Hanson, 34, of Rossmoor, Calif., was charged by criminal complaint with one count of interstate communication of threats to commit violence. Hanson was released on conditions following an initial appearance in federal court in the Central District of California. Hanson will appear before U.S. District Court Magistrate Judge Katherine A. Robertson in federal court in Springfield on April 29, 2022.
"Hate-filled threats and intimidations have no place in our society," said United States Attorney Rachael S. Rollins. "We believe Hanson sent a multitude of anonymous threatening and despicable messages related to the LGBTQ community that were intended to evoke fear and division. My office and our law enforcement partners will not tolerate threats against members of our communities, no matter what corner of the internet they're sent from. Perpetrators will be identified, arrested, and held accountable in federal court."
"Jeremy Hanson is accused of making hate-fueled threats of violence that crossed a line," said Joseph R. Bonavolonta, Special Agent in Charge of the FBI Boston Division. "Everyone has a right to express their opinion, but repeatedly threatening to kill people, as has been alleged, takes it to a new level. We are always going to pursue individuals who try to intimidate and isolate members of our community by inciting violent, hateful acts. Threats to life are most certainly not protected speech and they cause real fear in victims. Rest assured, the FBI will do everything we can to bring to justice anyone who commits these criminal acts."
According to the criminal complaint, between Oct. 2 and Oct. 8, 2021, Springfield-based Merriam-Webster, Inc. received various threatening messages and comments demonstrating bias against specific gender identities submitted through its website's "Contact Us" page and in the comments section on its webpages that corresponded to the word entries for "Girl" and "Woman." Authorities later identified the user as Hanson. As a result of the threats, Merriam-Webster closed its offices in Springfield and New York City for approximately five business days.
Specifically, it is alleged that on Oct. 2, 2021, Hanson used the handle "@anonYmous" to post the following comment on the dictionary's website definition of "female": "It is absolutely sickening that Merriam-Webster now tells blatant lies and promotes anti-science propaganda. There is no such thing as 'gender identity.' The imbecile who wrote this entry should be hunted down and shot."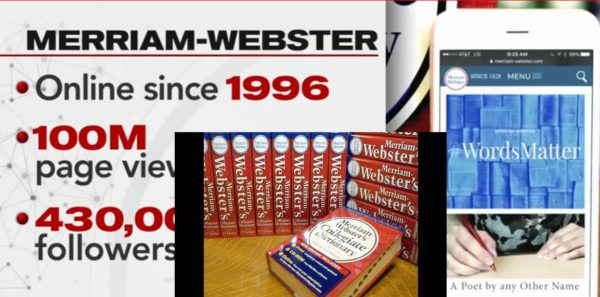 Hanson also allegedly sent the following threatening message via the website's "Contact Us" page: "You [sic] headquarters should be shot up and bombed. It is sickening that you have caved to the cultural Marxist, anti-science tranny [sic] agenda and altered the definition of 'female' as part of the Left's efforts to corrupt and degrade the English language and deny reality. You evil Marxists should all be killed. It would be poetic justice to have someone storm your offices and shoot up the place, leaving none of you commies alive."
It is further alleged that on Oct. 8, 2021, Hanson posted another threatening comment on the dictionary's website and a threatening message via the "Contact Us" page that threatened to "bomb your offices for lying and creating fake…".
The investigation identified numerous related threats, including to the American Civil Liberties Union, Amnesty International, Land O' Lakes, Hasbro, Inc., IGN Entertainment, the President of the University of North Texas, two professors at Loyola Marymount University and a New York City rabbi.
Individuals or entities who believe they may be victims of this crime should contact the U.S. Attorney's Office at (888) 221-6023.
The charge of interstate transmission of communications to injure the person of another provides for a sentence of up to five years in prison, three years of supervised release and a fine of $250,000. Sentences are imposed by a federal district court judge based upon the U.S. Sentencing Guidelines and statutes which govern the determination of a sentence in a criminal case.
Southern Utah Drag Stars file lawsuit over drag show permit denial
Plaintiffs argue City of St. George unlawfully discriminated against them in violation of their rights under the U.S. & Utah constitutions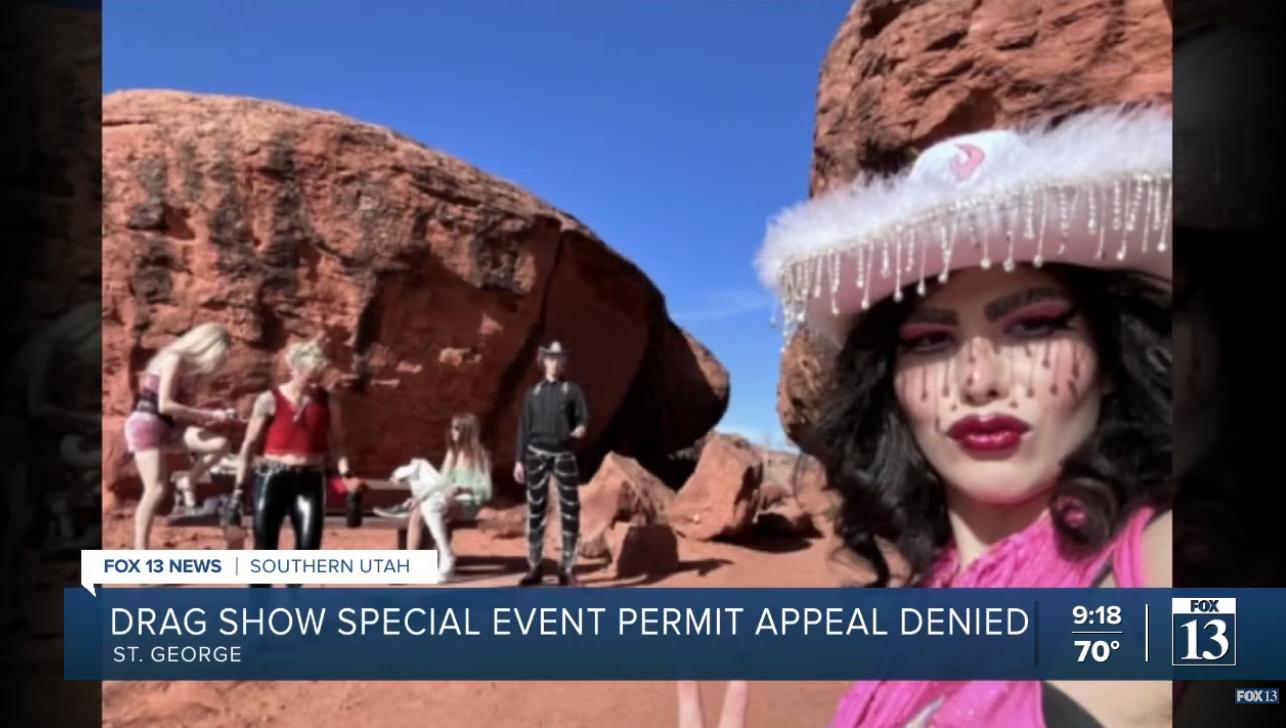 ST. GEORGE, Utah — Today, the Southern Utah Drag Stars (Drag Stars) filed a lawsuit against the city of St. George, Utah, which denied the organization a special events permit for a family-friendly drag show.
The city's refusal to grant a permit is part of a years-long effort to target drag performances and LGBTQ+ pride events in violation of the First and 14th Amendments, as well as the Utah Constitution. Legal counsel intends to seek a preliminary injunction to allow Drag Stars to host its family-friendly drag show in June.
On March 3, Mitski Avalōx applied for a City of St. George special events permit to host a family-friendly drag event, Allies & Community Drag Show Festival, at J.C. Snow Park. A few weeks later, the city denied her application, alleging that she violated its advertising ordinance, an obscure local rule which prohibits advertising for special events until the city grants a permit.
The advertising ordinance was not routinely enforced, in part because it is unworkable – permits are typically not issued until the day of or the day before events, making advertising an event practically impossible.
Drag Stars appealed the city's permit denial and at the hearing at least one city council member acknowledged that the advertising ban is not enforceable, but the city nonetheless denied Drag Stars' appeal
To make matters worse, while Avalōx's application was pending, St. George decided to suspend considering any new special event permits for six months, denying Drag Stars the opportunity to submit a new permit application after the initial rejection.
The city later exempted "city sponsored" events from the six month ban on new permit applications, creating a scheme whereby city officials selectively grant permits to favored events while denying all others. St. George's special events policies discriminate against drag performances and are so opaque that no one can know what is allowed and what is not.
"Requiring drag performers to meet unreasonable standards to receive a permit, or denying them these permits without legitimate justification, is censorship," said Valentina De Fex, Senior Staff Attorney with the ACLU of Utah. "Our lawsuit challenges the attempt by elected officials, who must uphold the rights guaranteed in the U.S. Constitution and Utah State Constitution, to push subjective viewpoints of what they deem appropriate." Regarding the impact of this case, De Fex stated, "With this filing we continue our commitment to stop efforts to discriminate against and silence LGBTQ+ and gender-diverse individuals in Utah."
"Drag is dance, fashion, and music — it is also deeply rooted in political speech — all protected by the First Amendment," said Emerson Sykes, Senior Staff Attorney with the ACLU Speech, Privacy, and Technology Project. "This is the latest offense in a larger pattern of attacks discriminating against gender-diverse and LGBTQ+ people and their rights in Utah and throughout the country."
Just last year, lawmakers in six states proposed bills to ban drag. Under some of these bills, a business would be considered a "sexually oriented enterprise" – and therefore be subject to strict zoning requirements and fees – just for letting female comedians wear pants or male magicians grow their hair out. Drag performers and host venues across the country have had no choice but to move to higher security or cancel performances altogether.
Governmental attempts to restrict drag performances claim to protect children from so-called obscene material. However, drag is not obscene, and restricting access to a supportive community only causes more harm to trans and LGBTQ+ youth, who are already at a higher risk of depression and suicide.
"The city of St. George is violating the First Amendment rights of Drag Stars and discriminating against them through a façade of permits and ordinances that have never been applied in this manner with any other group or organization," said Jeremy Creelan, Partner at Jenner & Block. "LGBTQ+ performers are entitled to protections under the First and Fourteenth Amendments, and we are asking the court to protect these fundamental rights and put a stop to this deeply troubling attack on free expression."
Related: