First ever LGBTQ+ advisory board to the LA County DA's office sworn-in
The Board will advise the District Attorney's Office regarding policies, priority issues, and best practices related to LGBTQ+ Angelenos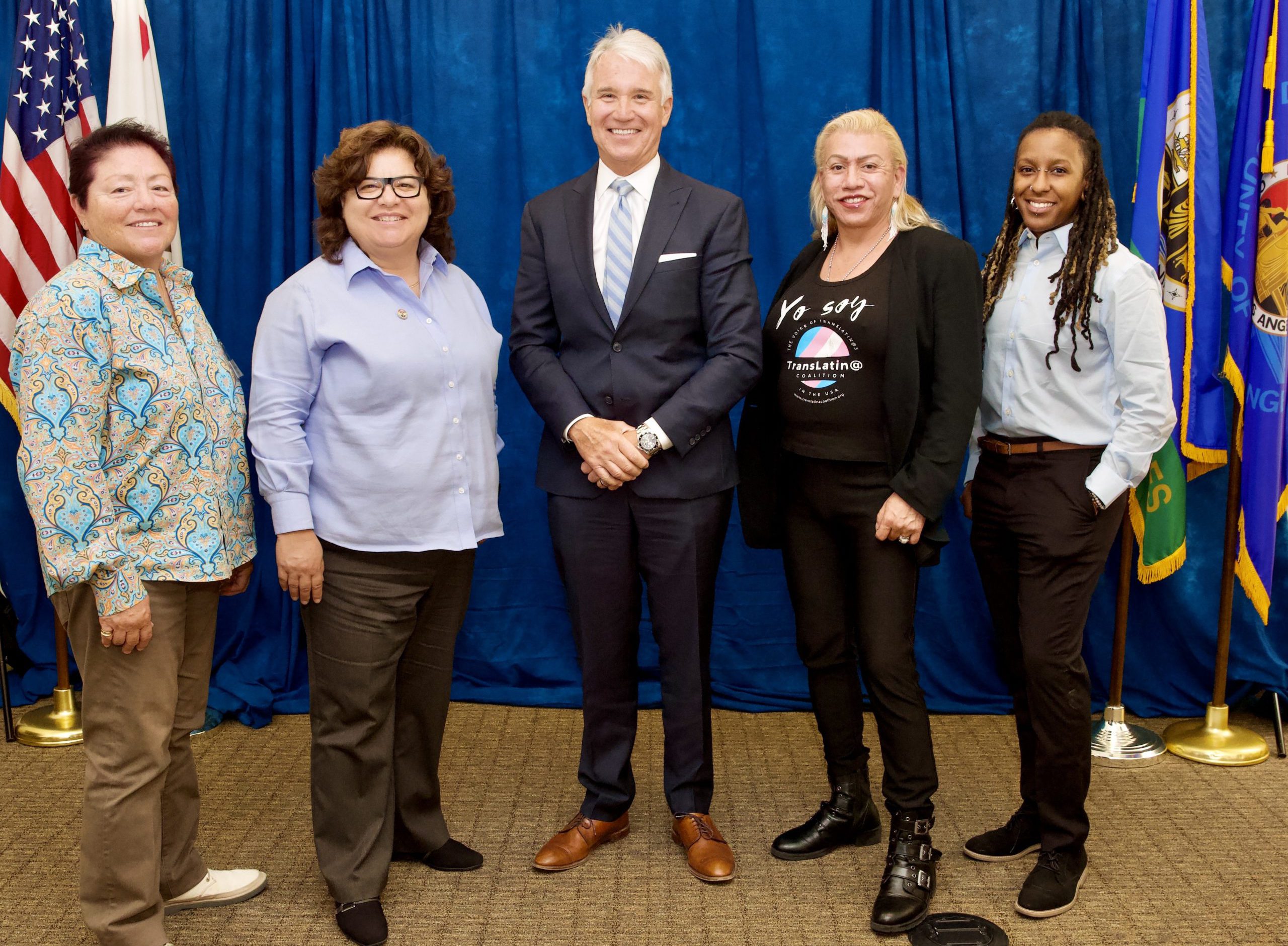 LOS ANGELES – Los Angeles County District Attorney George Gascón announced Tuesday the creation of the office's first-ever LGBTQ+ Advisory Board, one of several Advisory Boards that will provide valuable community input into his work building a safer and healthier county for all.
"The contributions that lesbian, gay, bisexual, transgender and queer people have made to society make up a rich part of U.S. history. Sadly, LGBTQ+ people have long been subjected to public hostility, discrimination, and violence," Gascón said. "This new Advisory Board creates a precedent for this office to truly listen and learn from the LGBTQ+ community and inform my policies."
The Board will advise the District Attorney's Office regarding policies, priority issues, and best practices related to LGBTQ+ Angelenos and the criminal justice system. The Advisory Board will meet regularly, seek input from the greater community, and provide regular feedback on improvements to better serve LGBTQ+ residents and all those who come into contact with the office, as well as improve diversity and inclusion within the office itself.
The LGBTQ+ Advisory Board members include:
• Bamby Salcedo, Chair (she/her/ella) is the President and CEO of the [email protected] Coalition, a nationally recognized organization that advocates for and addresses the issues of transgender Latinas throughout the United States. Salcedo is a passionate and celebrated transgender Latina activist and has collaborated with local and national organizations to establish services and visibility for numerous LGBTQ+ issues and topics.
• Vincent Jones, Vice-Chair (he/him) is the CEO of the The Citizen Jones Companies, a collection of socially minded businesses created with the spirit of doing good, having fun and helping others do the same. He is a recognized leader in the LGBTQ+ community for his work in philanthropy, non-profits, politics, government, communications, travel and social entrepreneurship.
• Allison Blaylock (she/her) is the President of the OUTreachCenter in Lancaster. She also advocates for the awareness and ending of domestic violence within the LGBTQ+ community through the Los Angeles LGBT Center's STOP program.
• Chela Demuir (she/her) is the Founder of the "TransGivingDinner," a dinner with all the traditional trimmings of a holiday meal that is now celebrated in various states across the country. Demuir is also a founding member of Trans Pride LA and Unique Woman's Coalition.
• Ari Gutiérrez Arámbula, MBA (she/her/ella) is an Advocate for the Latinx LGBTQ+ community. Through her career in marketing and advertising, Gutiérrez Arámbula has been able to influence her business, communications and political networks to empower Latinx LGBTQ+ people and their families, as well as producing the Latino LGBTQ+ Pride Festival and co-founding the HONOR Political Action Committee and the Latino Equality Alliance.
• Joey Hernández (they/them) is Director of Policy and Community Building Department at the Los Angeles LGBT Center. Hernández has engaged in LGBTQ+ rights advocacy for over 15 years and they currently direct the Center's policy advocacy, grassroots community organizing, and international programs to protect and expand the rights of the LGBTQ+ community.
• Skylar Myers (they/them) is a Victims Rights Advocate for the Anti-Violence Project at the Los Angeles LGBT Center. Myers' work with the LGBTQ+ community has involved serving as a homeless youth advisor and mentor and empowering marginalized and often victimized communities for more than a decade.
• Brad Sears, J.D. (he/him) is the Founding Executive Director and David Sanders Distinguished Scholar of Law & Policy at the Williams Institute and is the Associate Dean of Public Interest Law at UCLA Law. Sears has published a number of research studies, primarily on discrimination against LGBTQ+ people and people living with HIV; taught courses on LGBTQ+ and disability law at various law schools; and has testified before Congress and state legislatures, authored amicus briefs in key court cases, helped to draft state and federal legislation and has been frequently cited by national media.
• Stella Ursua (she/her/hers) is the Board President/Chair at the LGBTQ+ Center Long Beach and Programs & Partnerships Manager of GRID Alternatives-Greater Los Angeles. Ursua can be found in equity-challenged and/or environmentally disadvantaged communities, working to build more awareness for social issues such as LGBTQ+ rights, environmental health, green neighborhoods and careers, and ensuring that all community members have access to the programs, services, education, knowledge and skills that will help them thrive.
LA Mayor Garcetti volunteers at Project Angel Food's Thanksgiving
For many of the celebrities joining Project Angel Food's Thanksgiving Day volunteers the day was about sharing the experience with family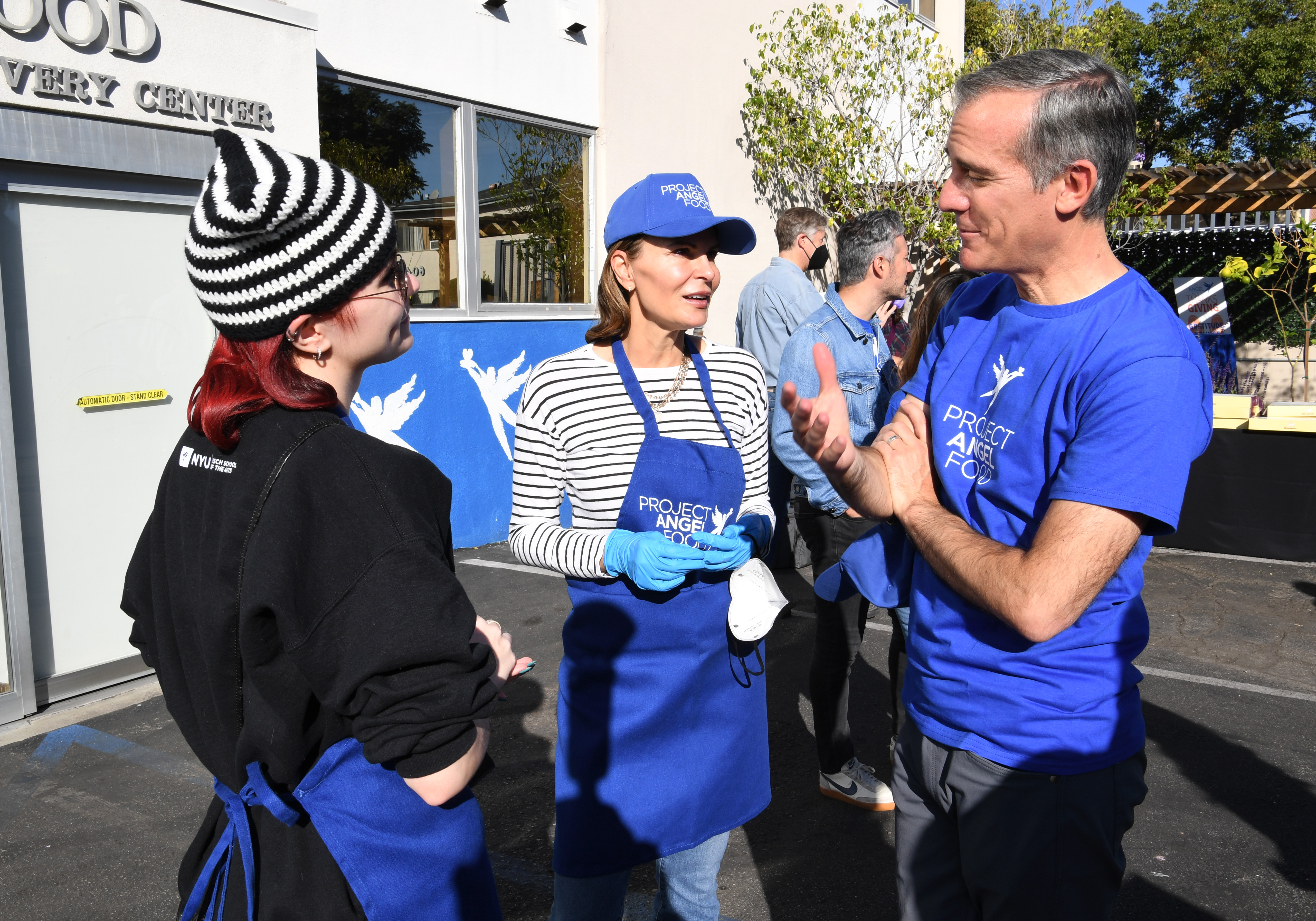 LOS ANGELES – In the early morning hours of Thanksgiving Day, Mayor Eric Garcetti joined Project Angel Food CEO Richard Ayoub, celebrity supporters and 225 volunteers and staff to prepare and deliver 7,400 meals on Thanksgiving Day to seriously ill and housing insecure people throughout 4,700 square miles of L.A. County.
"Mayor Eric Garcetti epitomizes what it is to be part of a community and lift one another through compassion and service. As he rolled up his sleeves and helped plate meals, he brought attention that while this is a day most of us are surrounded by people we love, we need to remember that some people don't have that," Project Angel Food CEO Richard Ayoub said. "He reminded us that no Angeleno should be alone and with a warm smile, a conversation and a meal, our volunteers can change the entire day for our clients, become angels in the City of Angels," Ayoub added.
For many of the celebrities joining Project Angel Food's Thanksgiving Day volunteer pool, the day was about sharing the experience with family. Volunteers included Lisa Rinna and husband Harry Hamlin; "Weird Al" Yankovic with his wife Suzanne and daughter Nina.
Also volunteering was Out actor and singer Cheyenne Jackson and husband Jason Landau with their twins Willow and Ethan. Jackson said the couple brought the children because, "I want to teach my kids to be grateful and thankful for everything that we have, and when you have the capability to give to other people, do it."
He also talked about the death of friend Leslie Jordan, a Project Angel Food supporter who died exactly one month earlier. "He was one of my best friends and it hit me really, really hard like so many people," he said.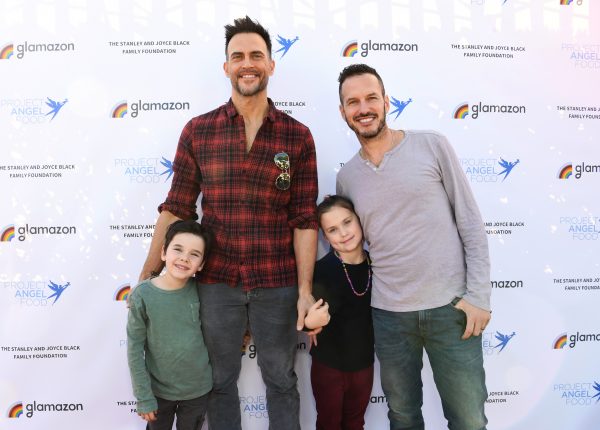 American Idol favorite Ava Maybee with her mother, and Melissa Rivers with son Cooper Endicott, continuing her mother Joan Rivers' legacy of volunteering on Thanksgiving.
Avatar: The Way of Water star Trinity Bliss brought her parents just weeks before the December 16 release of the highly anticipated film. "I'm so honored to work alongside so many people to bring a warm, delicious, tasty meal to people in need."
Of her much-anticipated film, Avatar: Way of Water, Trinity added, "Avatar was amazing, but I think Avatar: The Way of Water is going to be just so much more dramatic and be an experience people are going to need to experience in theaters."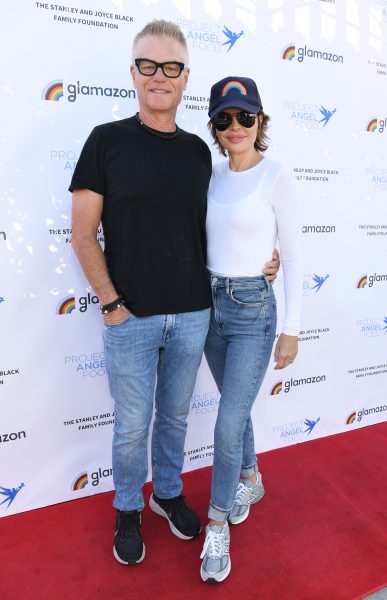 Lisa Rinna reflected on the fact that Project Angel Food is the primary source of food for most of its clients. "It's so important because that is going to be their only meal of the day." her husband Hamlin added, "to have the opportunity to give back is amazing."
Other celebrities included Eileen Davidson (RHOBH, Days of Our Lives), Peter Porte (Days of Our Lives), Juan Pablo Di Pace (DWTS, Fuller House), Olympian Tai Babilonia, Tim Bagley (Gracie & Frankie, Will & Grace), Michael Hitchcock (The Resort, Crazy Ex-Girlfriend), Lawrence Zarian (The Kelly Clarkson Show), Marc Malkin (Variety), James Wallington and Will Jardell (Amazing Race Season 32 winners), Romeo Escobar (Survivor 42 runner-up), and parenting author Donna Tetreault.
The 7,400 meals being delivered on Thanksgiving included 1,600 traditional turkey dinners to critically ill men, women, children and their caregivers, 5,600 Medically Tailored Meals and breakfasts regularly scheduled for Thursday delivery, and another 200 meals were provided to Project Angel Food community partner PATH for residents for two of PATH's Interim Housing and Permanent Supportive Housing sites.
Volunteers provided contactless "drive-by" pick-up of the meals which were then delivered to Project Angel Food clients. Traditional Thanksgiving dinners consisted of roasted turkey, root vegetables, stuffing, gravy, cranberry sauce and a slice of pumpkin cheesecake. Vegetarian meals were also provided.
The meal was sponsored by the Stanley and Joyce Black Family foundation with Glamazon (Amazon's affinity group for the LGBT+ community) sponsoring the volunteer event.
Project Angel Food CEO Richard Ayoub noted that Project Angel Food strives to end food insecurity and improve health outcomes of critically ill men, women and children in Los Angeles with Medically Tailored Meals, delivered with care and compassion.
Over 2,500 clients are fed daily. Project Angel Food delivers 1.3 million meals each year.