LA Sheriff denies LA Times reporter subject of criminal probe
Villanueva backs off claims he ordered criminal probe of LA Times journalist after the LASD cover-up in abuse case is exposed
LOS ANGELES – During a press conference on Tuesday, Los Angeles County Sheriff Alex Villanueva forcefully disputed allegations raised by a Los Angeles Times report that he ordered and orchestrated a cover-up of an incident where a deputy knelt on a handcuffed inmate's head. The Sheriff noted that the reporter, who used leaked video and documents, was part of the LASD criminal investigation into the matter.
Reaction to Villanueva's remarks was swift with the Times' top editor condemning those comments accusing him of an illegal "attempt to criminalize news reporting."
"Sheriff Alex Villanueva's attack on Alene Tchekmedyian's First Amendment rights for doing newsworthy reporting on a video that showed a deputy kneeling on a handcuffed inmate's head is outrageous," Executive Editor Kevin Merida said in a statement. "We will vigorously defend Tchekmedyian's and the Los Angeles Times' rights in any proceeding or investigation brought by authorities."
Los Angeles NBC News affiliate KNBC 4 noted the Times's general counsel sent a letter to the sheriff protesting the investigation. Hours later NBC4 reported that the sheriff backed off when he clarified in a series of tweets that his agency has "no interest in pursuing, nor are we pursuing, criminal charges against any reporters."
"Resulting from the incredible frenzy of misinformation being circulated, I must clarify at no time today did I state an LA Times reporter was a suspect in a criminal investigation. We have no interest in pursuing, nor are we pursuing, criminal charges against any reporters," the sheriff wrote adding;
"We will conduct a thorough investigation regarding the unlawful disclosure of evidence and documentation in an active criminal case. The multiple active investigations stemming from this incident will be shared and monitored by an outside law enforcement entity."
The he took aim at the Times writing: "What should be of interest is the fact the LA Times refuses to acknowledge their reporting, and the account of a disgruntled employee, were thoroughly debunked during today's press conference."
NBC4 reported the incident with the inmate occurred in a county courthouse on March 10, 2021 — two days after jury selection began for the trial of Derek Chauvin, the former Minneapolis police officer who was convicted of murder for pressing his knee against George Floyd's neck for up to 9 1/2 minutes.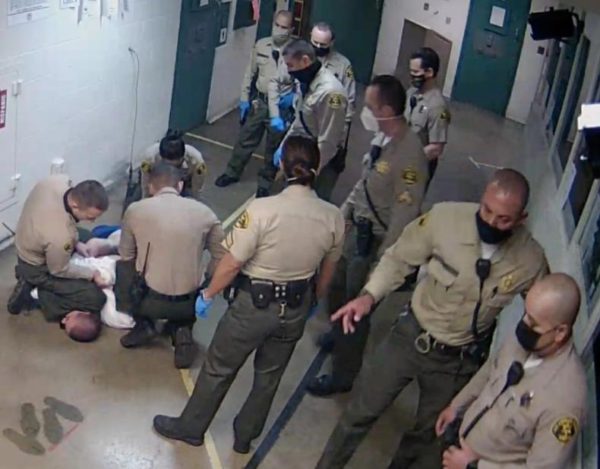 The video shows Deputy Douglas Johnson directing inmate Enzo Escalante to move up against a wall in the courthouse. Escalante swings at Johnson and punches him repeatedly in the face. Three other deputies help Johnson wrestle Escalante to the ground and handcuff him.
The LA Times reported that Johnson had his knee on Escalante's head for more than three minutes, even after the inmate had been handcuffed, placed face-down and did not appear to be resisting. Escalante — who was awaiting trial on murder and other charges — was taken to the hospital for treatment of minor injuries.
Johnson was removed from duty months later and is under criminal investigation, Villanueva said during Tuesday's news conference. No charges have been filed against the deputy.
On Monday a 21 year veteran of the LASD, Commander Allen Castellano, filed a whistleblower lawsuit in which he claims that he immediately sent the video of the March 10, 2021 incident, which was obtained by media outlet the LAist, up the chain of command to Assistant Sheriff Robin Limon.
The suit says Limon watched the video with Villanueva and Undersheriff Tim Murakami on or about March 15 — many months before when the sheriff has previously said he viewed the incident. Castellano's lawyer, Vincent Miller, said in an interview with LAist that Limon told Castellano she had watched the tape with the sheriff and undersheriff.
Villanueva, who oversees the nation's largest sheriff's department, is up for reelection and Castellano's lawsuit claims the sheriff retaliated against Castellano the day after the investigation began by opening an internal affairs investigation into his handling of the initial administrative investigation into the video the LAist noted.
L.A. County Sheriff Targets Reporter After Cover-Up Exposed:
Brandon Tsay; hero who disarmed Monterey Park shooter honored
The White House announced that President Joe Biden has invited Tsay to be his guest at the State of the Union Address on February 7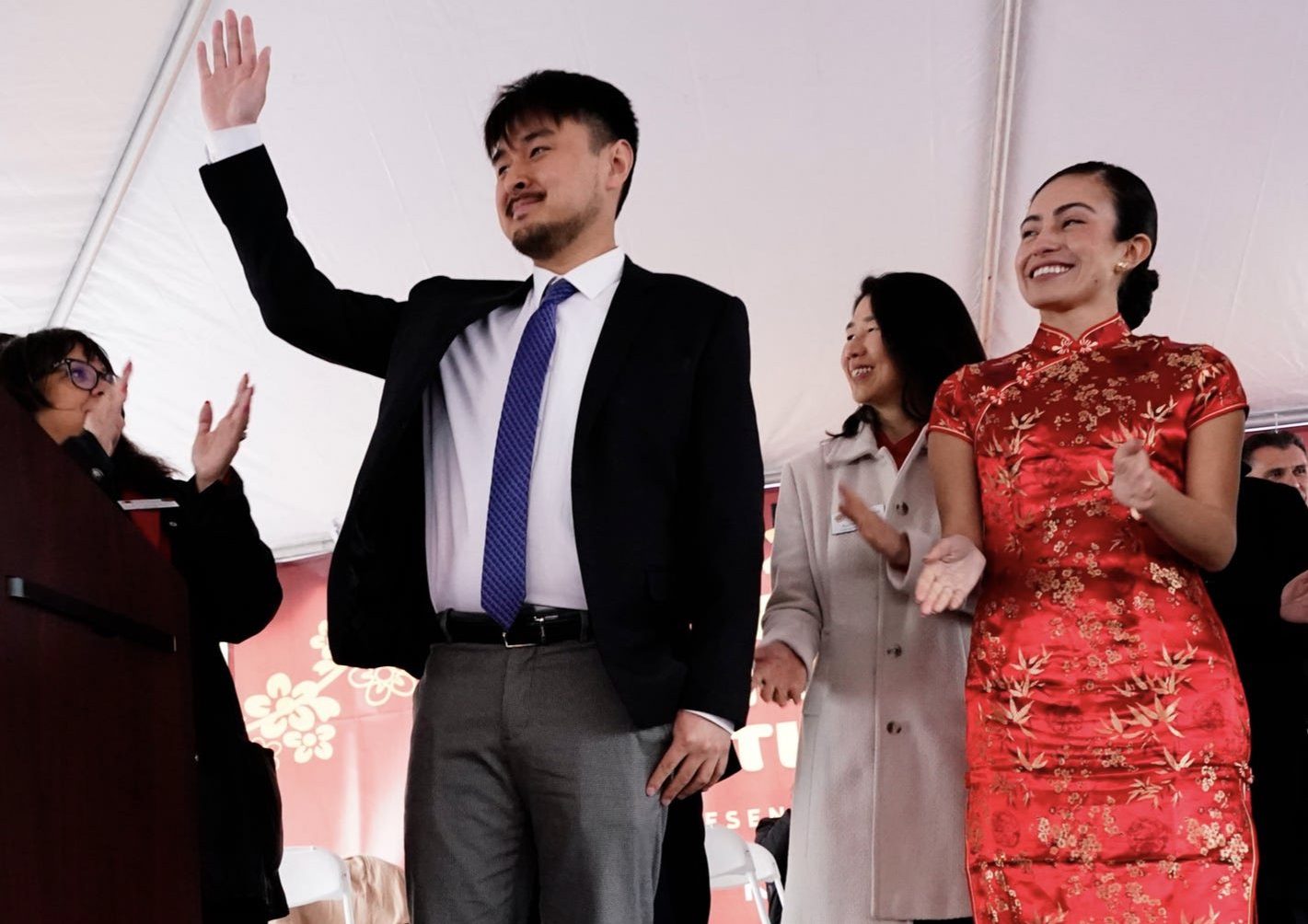 ALHAMBRA, Calif. – The City of Alhambra honored Brandon Tsay, the hero who disarmed the Monterey Park shooting suspect, at a ceremony this past Sunday. Tsay, 26, was awarded a medal of courage from the Alhambra Police Department. 
The White House also announced that President Joe Biden has invited Tsay to be his guest at the State of the Union Address on February 7.
In a surveillance video, Tsay is seen struggling to take a weapon away from the deceased suspect, Huu Can Tran, in the lobby of his family's dance studio, the Lai Lai Ballroom, in Alhambra eventually gaining control of the gun causing Tran to flee.
In an interview with ABC News anchor Robin Roberts in an interview last Monday on "Good Morning America," Tsay told Roberts that the gunman was "looking around the room" as if he was "looking for targets — people to harm."
"That's when I turned around and saw that there was an Asian man holding a gun. My first thought was I was going to die here, this is it."
"He started prepping the weapon and something came over me," Tsay said. "I realized I needed to get the weapon away from him. I needed to take this weapon, disarm him or else everybody would have died."
"When I got the courage, I lunged at him with both my hands, grabbed the weapon and we had a struggle," he added. "We struggled into the lobby, trying to get this gun away from each other. He was hitting me across the face, bashing the back of my head."
The Los Angeles County Sheriff's Robbery-Homicide division is piecing together the facts as to why Tran killed 11 people and wounded nearly a dozen others others in the mass shooting at the Star Ballroom in Monterey Park before traveling to the Lai Lai Ballroom.
"The carnage would have been so much worse had it not been for Brandon Tsay," California U.S. House Representative Judy Chu whose District includes Monterey Park said Sunday during the ceremony.
Rep. Chu also presented Tsay with a certificate of congressional recognition, calling his story "was so amazing" that she noted she had asked him to be her guest at the State of the Union address on Feb. 7. According to the congresswoman though, barely an hour after her request to him, the President called Tsay to personally invite him to be his guest.
According to the White House, the president in the call told Tsay: "I wanted to call to see how you're doing and thank you for taking such incredible action in the face of danger. I don't think you understand just how much you've done for so many people who are never going to even know you. But I want them to know more about you.
"You have my respect," Biden added. "You are America, pal. You are who we are — no, no, you are who we are. America's never backed down, we've always stepped up, because of people like you."
There was also a highly visible law enforcement presence at Sunday's event, held during the city's own Lunar New Year Festival.