The days Los Angeles burned, the 1992 riots legacy 30 years later
"One of the most astounding things about the 1992 Los Angeles riots was the response of the LAPD, which is to say no response at all"
LOS ANGELES – It was a Wednesday, a verdict from the jury in Simi Valley in the case of four Los Angeles Police Department officers charged in the brutal beating of a Black man after a felony traffic stop the previous year was expected at any moment and tensions were running high in LA's minority neighborhoods.
Rodney King, who was on parole for robbery, was beaten by LAPD officers during his arrest after a high-speed chase on March 3, 1991, for driving while intoxicated on the 210 freeway. When LAPD and California Highway Patrol cruisers finally stopped him, King was ordered out of the car.
What happened next was caught on video by a bystander as four LAPD officers then kicked him repeatedly and beat him with their batons for approximately 15 minutes. The video showed that more than a dozen other officers stood by, watching and some even were commenting on the beating.
King's injuries resulted in skull fractures, broken bones and teeth, and permanent brain damage.
The graphic video of the attack was broadcast into homes in Southern California and then across the nation and worldwide provoking outrage and calls for the immediate removal of then LAPD Chief Darryl Gates.
Emotions ran so high that the trial of the four officers who were arrested on brutality and other criminal charges was ordered moved to Ventura County after a state appellate court panel ruled that political fallout and community anger was such that the officers could not get a fair hearing in Los Angeles because of "excessive publicity and a highly charged political climate," the Los Angeles Times noted, and so the trial was moved. Simi Valley was more convenient geographically than Alameda County, a venue the prosecution preferred.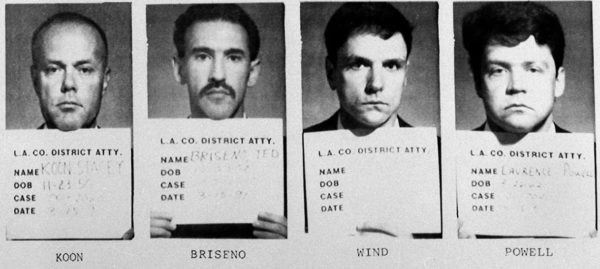 The trial got underway in early February of 1992 and in the last week of April the jury got the case. On April 29, 1992, a jury consisting of 12 residents from the distant suburbs of Ventura County — nine white, one Latino, one biracial, one Asian — found the four officers not guilty.
The acquittals were announced around 3 p.m. and less than three hours later, the unrest began.
A news helicopter piloted by Trans reporter-photo journalist Hanna Zoey Tur, who was then working for Los Angeles News Service/KCOP 13 TV, caught what arguably became the epic ground center in what would become a series of moving crowds of rioters spreading civil disturbances and massive property damage over the seven day period starting that afternoon on the 29th, lasting until May 4, 1992 when authorities ultimately regained control of both the City and County.
The civil unrest had commenced with gatherings of angered Angelenos especially Black residents not long after the verdict had been announced. But by 5:30 pm mobs had started to roam the streets of South Central LA with some limited property damage and vandalism. Then at around 6:46 pm, a truck entered the intersection at Florence and Normandie.
Tur and her Los Angeles News Service/KCOP 13 chopper crew caught what happened next and the live feed from the helicopter was broadcast to the nation and the world. A group of Black men who came to be known as the "L.A. Four" grabbed the 39-year-old truck driver, Reginald Oliver Denny and dragged him out of the truck.
Denny was beaten with fists, kicked, and struck with a cinder block, one man hurled a five-pound oxygenator at Denny's head and the other kicked him and hit him with a claw hammer. While the beating continued Tur and her chopper continued to circle the scene Tur noting on air that there were virtually no LAPD units within sight of the attack.
After the beating ended, some men threw beer bottles at the unconscious body and a man searched Denny's back pockets, taking his wallet. The attackers were chased off by locals who ran to assist the badly injured truck driver.
Denny suffered a fractured skull and impairment of his speech and his ability to walk, for which he underwent years of rehabilitative therapy.
The rioting spread to other sections of the city as residents set fires, looted and destroyed liquor stores, grocery stores, retail shops and fast food restaurants. Light-skinned motorists — both white and Latino — were targeted; some were pulled out of their cars and beaten.
There was more than the Rodney King case that exacerbated racial tensions in LA that Spring.
The same month as Rodney King's beating the year before, a Korean store owner in South Los Angeles had shot and killed a 15-year-old African-American girl named Latasha Harlins, who was accused of trying to steal orange juice. It was later discovered Harlins was clutching money to pay for the juice when she was killed. The store owner received probation and a $500 fine, NPR reported in 2017.
The incident heightened tensions between Koreans and African-Americans, and intensified the black community's frustration with the criminal justice system.
The other contributing factor was that the LAPD was seen by the city's minority populations as little more than an army of occupation. In a 2017 in an interview with NPR's Grigsby Bates, lawyer and civil rights activist Connie Rice said; "What we had was aggressive paramilitary policing with a culture that was mean and cruel, racist and abusive of force in communities of color, particularly poor communities of color." 
"It was an open campaign to suppress and contain the black community," she added noting; "LAPD didn't even feel it was necessary to distinguish between pruning out a suspected criminal where they had probable cause to stop and just stopping African-American judges and senators and prominent athletes and celebrities simply because they were driving nice cars."
When 911 calls about the violence started coming in, LAPD units were not deployed immediately. In fact LAPD Chief Gates announced early in the afternoon of April 29 that his officers had the situation under control.
"One of the most astounding things about the 1992 Los Angeles riots was the response of the LAPD, which is to say no response at all," says author Joe Domanick, who has studied and written about the riots, in an interview with NPR's Grigsby Bates.
That night, Gates went to speak at a fundraiser in West Los Angeles and reportedly ordered cops to retreat. Police did not respond to incidents of looting and violence around the city until almost three hours after the original rioting broke out.
For the rest of the night, the scene at Florence and Normandie repeated itself with rioters across the city. Just before 9 p.m. that night, Mayor Tom Bradley called for a state of emergency, and California Gov. Pete Wilson ordered 2,000 National Guard troops to report to the city.
On May 1, the third day of the riots, Rodney King himself attempted to publicly appeal to Los Angeles residents to stop fighting. He stood outside a Beverly Hills courthouse with his lawyer and asked "People, I just want to say, you know, can we all get along? Can we get along?"
Ultimately there were 50 plus riot-related deaths including 10 people who were shot and killed by LAPD officers and National Guardsmen. More than 2,000 people were injured, and nearly 6,000 alleged looters and arsonists were arrested.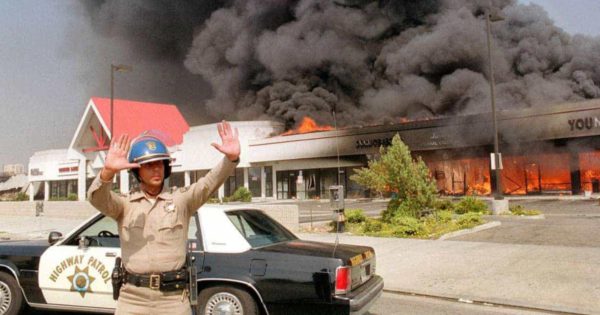 More than 1,000 buildings were damaged or destroyed, and approximately 2,000 Korean-run businesses were also damaged or destroyed. In all, approximately $1 billion worth of property was destroyed.
The Arlington, Virginia based think-tank the Rand Corporation found of those arrested during the riots, 36 percent were African-Americans and 51 percent were Latinos.
The Rodney King beating and the riots that came out of social issues that still have not been resolved as most recently evidenced by the Black Lives Matter movement propelled by ongoing killings of unarmed Black men by law enforcement agencies across the nation.
The relationship between the Black community and law enforcement remains frigid. According to a Los Angeles Times analysis, Black people make up less than 10 percent of the population in L.A. County, but 24 percent of law enforcement killings.
The economic disparities that concerned Black people in 1992 also persist today, including vast wealth inequality that affects multiple nonwhite groups. Remnants of the uprising still stand in the form of wrecked buildings never repaired.
The Los Angeles Times noted on Thursday that for all the strides that have been made since the 1992 L.A. riots, many Angelenos believe their city may still be a powder keg, according to a survey by the Thomas and Dorothy Leavey Center for the Study of Los Angeles at Loyola Marymount University.
The share of L.A. residents who expect that another wave of "riots and disturbances" will occur has hit the highest peak since the survey launched in 1997, with 68% saying it was either very or somewhat likely. Nearly 40% believe race relations in the city have worsened over the last four years.
Cecil Rhambo, the police chief at the Los Angeles International Airport, who is currently running to replace Los Angeles County Sheriff Alex Villanueva, in an interview with NBC News journalist Curtis Bunn said that some elements of Black life have improved over the last three decades, but not so much that an unpopular verdict involving a Black person and white law enforcement would not ignite another explosion of emotions onto the streets.
"There's always a potential for riots or an uprising in the future," he said. "Right now, inflation is running amok, largely in part due to what's happening around the world that we can't control. Covid hasn't gone away. And so, I think there's always an opportunity for things to get so bad that people repeat history."
That history can be repeated, Rhambo said, because the potential for violence against Black people by law enforcement — with no one held accountable — remains strong.
"We just want to stop being mistreated by the police," he said. "It's just a basic common decency of how we treat people. That was the tipping point in 1992. If the George Floyd verdict had been different, I would not have been surprised if something happened. In the 1965 Watts riots and in '92, it was the perfect storm that led to the violence. We have a perfect storm going on now that creates this powder keg. So there's always a potential for that in the future."
27 Photos of the Horrific 1992 Los Angeles Riots:
*********************
Additional reporting from NPR, The Los Angeles Times, and NBC News Los Angeles
Trans remembrance vigil held at LA LGBT Center
"We refuse to let violence rob us of the possibility to gather, to love each other, and to dream together in solidarity"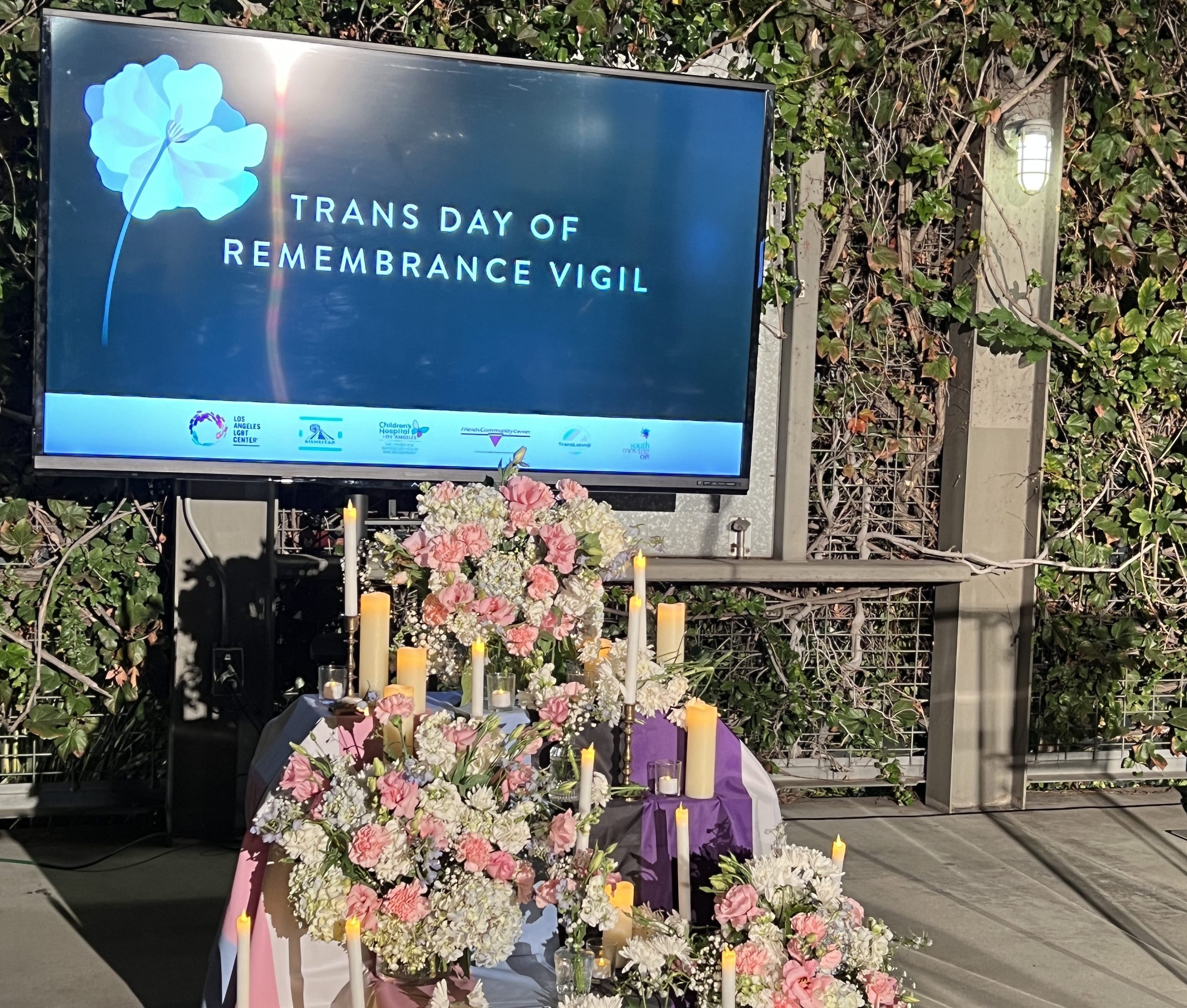 HOLLYWOOD – A Trans Remembrance Vigil was held at the Los Angeles LGBT Center on Monday, November 21st.
Candles and white, pink, and lavender flowers mounted on tiers draped by a trans flag adorned the center stage. A large monitor served as the focal point of the evening above the memorial display.
The Trans Chorus of Los Angeles started the ceremony with an acapella performance. Following the song of hope and redemption, opening remarks were given at the pulpit by the Anti-violence project manager for the LGBT center, Mariana Morroquin, and representatives from the Trans Wellness Center, Bienstar Human Services, Children's Hospital of Los Angeles, Friends Community Center, APAIT, and [email protected]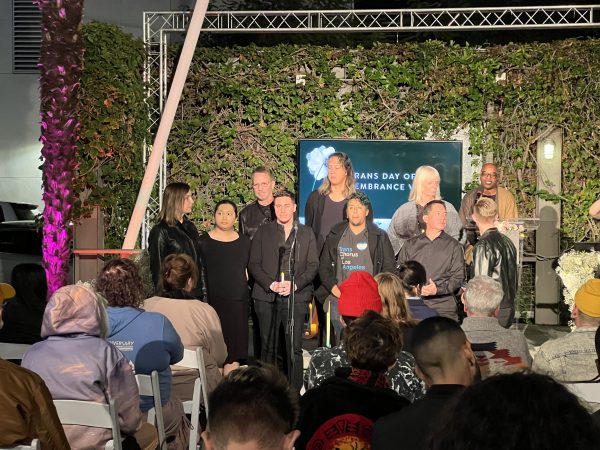 "I think it is very important to acknowledge our partners," said Morroquin, somberly addressing the seated audience of about one hundred and fifty. "We know that hate is real. A lot of us have seen hate pretty close. We are very grateful to have you. We open our arms to receive your love and your support. The way we support each other is by providing jobs, providing spaces for us, and providing opportunities. Because hate is out there. We need this space. We need to welcome everyone. I want you to keep that in your heart. And tomorrow, when we get back to work, let us open our hearts and our minds. Don't make decisions for us. Invite us to those tables. We know what we need. We've been doing this forever. We are going to keep fighting because this is what we do." 
She then added, "We refuse to let violence rob us of the possibility to gather, to love each other, and to dream together in solidarity. We gather because we must remember what is worth fighting for. For now, we commemorate. We tell the stories of the ones we lost. For tonight, that will be enough." 
One by one, members of the audience approached the pulpit to read the names and stories of a multitude of trans people whose deaths were the tragic result of hate crimes. The photos, names, and ages of the victims were displayed on the center-stage monitor.
"My name is Nikai David," said one speaker, the photo of a pale, curly-haired young lady displayed behind them. "I am a model and social media influencer who aspired one day to own my own clothing boutique. I had just celebrated my birthday a week before I was shot in Oakland California, on December 4th, 202. I was thirty-three years old."
Stories of these deaths included shootings by assailants, police, and family members, brutal beatings, and stabbings. The bodies of these victims were found in their homes, in garbage cans, and on streets where they were left, still dying, among other locations.
The final name read was Daniel David Aston, who died in the recent Club Q mass shooting.  This year, TDOR came on the heels of the senseless massacre in Colorado Springs that left five members of the LGBTQ+ community dead and 25 injured. 
Reverend Valerie Spencer gave an impassioned closing speech, first inviting the audience to take several deep breaths in unison.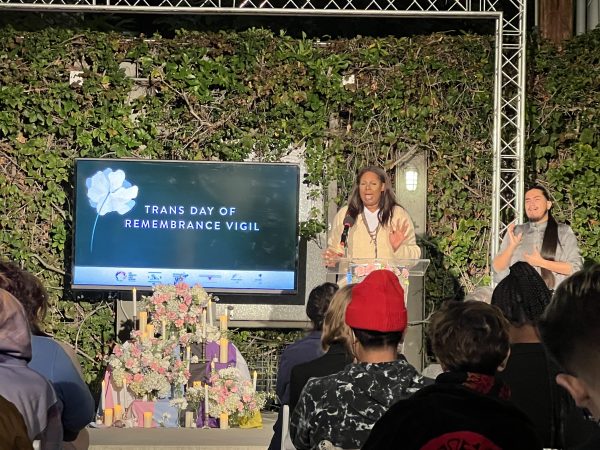 "We will mourn our family, our siblings," said Reverend Spencer, "but we are not having our primary focus on the violent conclusion of their life. We are choosing to see them and know them and celebrate them in the full context of their living. For they were fierce and powerful people."