Two lively, entertaining new books from Deaf creators
DiMarco's memoir and Novic's 'True Biz' give visibility to oft-ignored community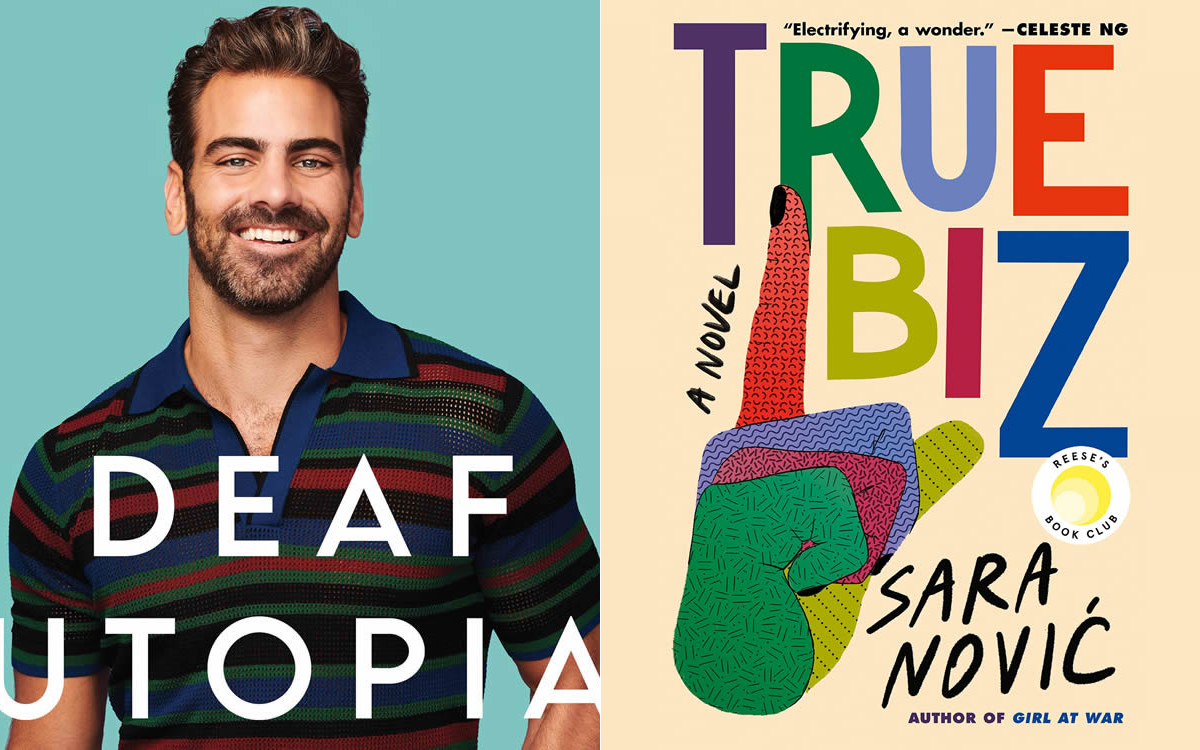 'Deaf Utopia: A Memoir–and a Love Letter to a Way of Life'
By Nyle DiMarco
c.2022, William Morrow
$22.99/336 pages
'True Biz'
By Sara Novic
c.2022, Random House
$27/388 pages
In the 1970s, while riding the T in Boston, a man tried to get my attention. He seemed to be talking animatedly with his hands. Knowing nothing about sign language, I thought he might be drunk. I ignored him, unfolded my white cane and got off at my stop. I'm legally blind, but have some vision. But, I don't always recognize people whom I've met.
Later that day, I learned that the fellow on the T's name was Fred and that he was Deaf. He'd seen me at a party and was signing hi to me. Fred, I'm so sorry for my rudeness!
Then, aside from the sad-sack Deaf character in the novel and movie of the same title "The Heart Is a Lonely Hunter," Deaf people, like queer people, largely, weren't present in books, movies, TV – anywhere in pop culture. Except as victims, villains or metaphors for loneliness or deviance.
Thankfully, after decades. this is changing. As Troy Kotsur, said of "the Deaf community, the CODA [children of Deaf adults] community and the disabled community," when he became the first male Deaf actor to win an Oscar, "This is our moment."
Today, Deaf and disabled people, queer and non-queer, from models to artists to filmmakers to authors are pop culture creators and icons. Two of the most lively, entertaining, moving books out now are by Deaf creators.
"Deaf Utopia" is a fascinating memoir by Nyle DiMarco with Robert Siebert. DiMarco, 32, is proudly Deaf and queer. His parents and grandparents are Deaf. He knows how to keep your attention. His stories range from his first kiss with a man to auditions with reality show execs (who want him, a Deaf guy whose native language is American Sign Language to "use his voice") to harrowing accounts of being abused by his father.DiMarco is an activist, producer, actor, and model. In 2014, he became the second male winner and first Deaf contestant on cycle 22 of "America's Next Top Model."
In 2015, DiMarco, with his professional dance partner Peta Murgatroyd won the Mirrorball Trophy on season 22 of ABC's "Dancing with the Stars." His acting credits include roles on "Difficult People," and "Switched at Birth." DiMarco, a Gallaudet University graduate and Washington, D.C. resident, was executive producer of the Netflix docuseries "Deaf U."
Growing up, he and his twin brother Nico had "gotten a taste of the cruelty of hearing people toward the Deaf when childhood bullies mocked our signing," DiMarco writes.
As with queer people who are mocked as children, DiMarco as he got older came to see that bullying could "take more harmful and sinister forms: blatant oppression and discrimination."
He learned from his mother that in 1995, five years after the Americans with Disabilities Act was passed, his grandfather was denied an interpreter when he was in the hospital. When he went into surgery, his family didn't know if his "life was in danger," DiMarco writes.
The Deaf community isn't immune to homophobia. As a youth, DiMarco was told the story of an acclaimed, handsome Deaf track sprinter. After marrying a woman, having two children and living the life of the "picture-perfect" family man, he killed himself.
Years later, DiMarco discovered that the legendary athlete was gay, when he met the sprinter's Deaf European out male lover. The athlete told his lover that he couldn't come out.
"I wondered how long it would be before I saw him again," the athlete's lover told DiMarco, "I never did. Soon after that, he took his own life."
Despite these sad stories, "Deaf Utopia" is far from a downer. It is filled with moments of pride and exuberance from DiMarco's mom being there when he and Murgatroyd were awarded the Mirrorball Trophy to when he was asked to be an executive producer of "Deaf U."
Coming out, DiMarco had to deal with homophobia and being excluded from the queer community because he's Deaf. He met a lot of "cool" gay people at LGBTQ events and he spoke in American Sign Language at the 2016 Human Rights Campaign annual dinner.
Yet, "my new gay acquaintances were hearing and didn't know ASL," DiMarco writes.
But he didn't give up. With time and patience, DiMarco taught hearing queer people ASL, and hearing LGBTQ people began to include him in their conversations.
"Deaf Utopia" has entertaining dish about what it's like behind the scenes of reality shows. But it's not a celeb tell-all.
The memoir is an exhilarating mix of stories of DiMarco's life and intriguing narratives of Deaf culture. Take just one thing "Deaf Utopia" made me get for the first time: silent movies, with no spoken dialogue, were accessible to Deaf people.
If you're hearing, you'll likely be surprised by one sobering story of Deaf history: Alexander Graham Bell was instrumental in having sign language, the native language of Deaf people, banned from schools for the Deaf.
If you like reality shows, dancing and parties laced with queerness and Deaf culture, "Deaf Utopia" is the book for you.
"True Biz" is the dazzling new novel by Sara Novic, a brilliant Deaf writer. Like DiMarco, Novic, author of "Girl at War" and "America Is Immigrants," is proud of being Deaf.
"To be a member of the Deaf community has been a great source of joy in my life," she writes in an "author's note," "it has made me a better writer, thinker, parent, and friend."
Schools for Deaf people have been vitally important for Deaf culture, language and community.
"True Biz" is set at the fictional River Valley School for the Deaf. Riverdale is facing closure. The novel's main characters are February Waters, the headmistress, and two teenage students Austin and Charlie.
February is a CODA (child of Deaf adults). She and her hearing wife Melanie love each other. But like many marriages, their marriage has its strains. February must deal with everything from teen sex to Riverdale's impending closure.
Austin is a proud Deaf teen. His family has been Deaf for generations. Nothing shakes up his life until he meets up with Charlie, a new student.
Novic is a master of creating characters that burn themselves into your heart. Charlie, who is Deaf, will tug at your heart the most. Her divorced parents are hearing. Her folks won't let Charlie communicate in American Sign Language. Charlie attends mainstream schools where she meets no Deaf people. Her mom insists that she have a cochlear implant.
When she fails academically, Charlie is sent to Riverdale. Adjusting is hard for her because the Riverdale students communicate with ASL. She has to quickly learn to sign. February asks Austin to help her fit in.
You'll miss and root for these characters after reading this page-turning novel. You'll want February and her wife to stay together and good things to happen to Austin and Charlie.
"True Biz" is an American Sign Language idiom. In English, it means "seriously" or "for sure."
Seriously, read "True Biz."
The Blade may receive commissions from qualifying purchases made via this post.
Cunningham's 'Day' is one of the best books of the year
Characters are resilient, even hopeful, in the midst of disease, death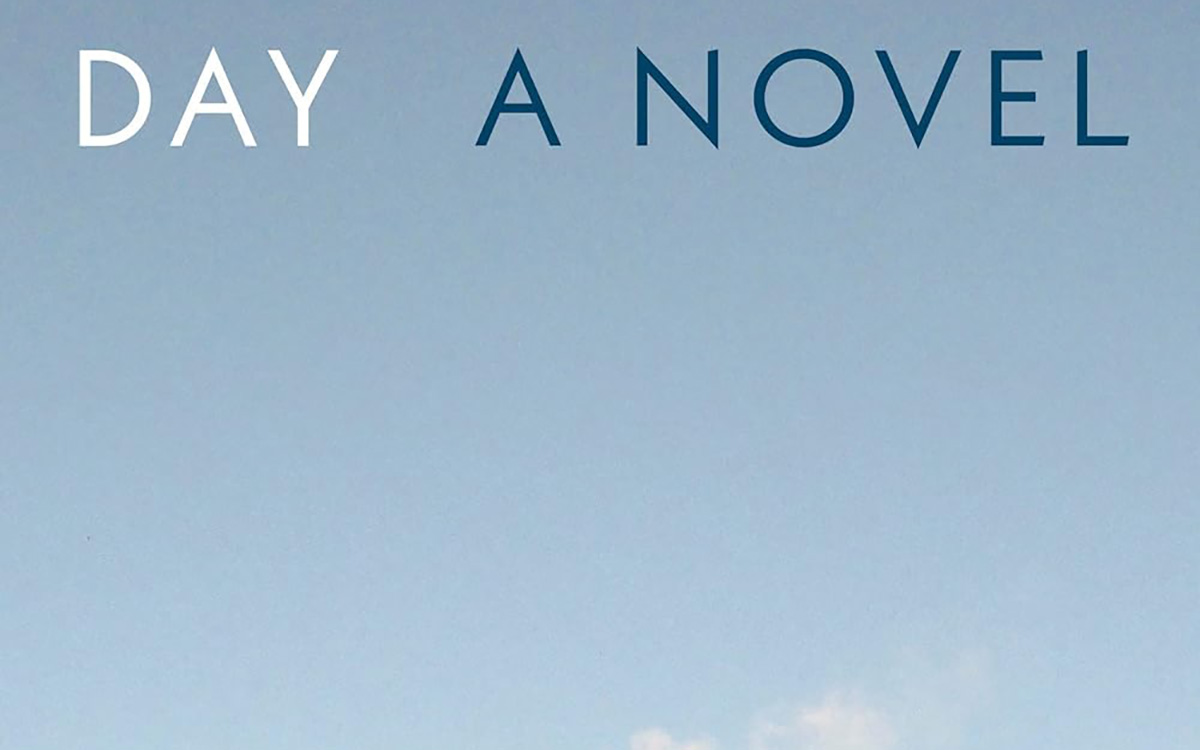 'Day'
By Michael Cunningham
c. 2023, Random House
$28/273 pages
"She always had the feeling that it was very, very dangerous to live even one day," Virginia Woolf, the groundbreaking, queer, gender-bending, feminist, novelist and essayist, writes in "Mrs. Dalloway" of Clarissa, a society woman, wife of a Parliament member and mother, who's giving a party on a June day in 1920s London.
Since the pandemic, at the height of the AIDS epidemic, during the Lavender Scare, going back to the dawn of time, who, especially if they're queer, hasn't often felt like Clarissa? Even on lovely June days.
"Day," a new novel by Michael Cunningham, his first novel since "The Snow Queen" in 2014, beautifully and eerily reflects this feeling. Its characters are fearful and fragile, yet, resilient, even hopeful, in the midst of disease and death.

Like "Mrs. Dalloway," "Day," takes place during one day – April 5. Only, the day is spread over three years.
The morning of the day is in April 2019 – before the pandemic. When no one's talking about, let alone heard of, COVID.
The afternoon of the day is in April 2020 – at the height of the pandemic. Before the COVID vaccines have been developed. When everyone (except low-income, essential workers) is locked down by themselves or with their loved ones.
The evening of the day is in April 2021 when people, wondering what to make of the "new normal," are beginning to emerge from the pandemic.
As it is in several of Cunningham's novels, the main characters of "Day," are a family (along, with a few friends and relations, who are supporting characters).
As with "Mrs. Dalloway," and with Cunningham's luminous "The Hours," in "Day," the city, New York, and the passing of time, itself, are characters.
"A man pulls up the metal shutter of his shoe repair shop," Cunningham writes in "Day," "A young woman, ponytailed, jogs past a middle-aged man who, wearing a little black dress and combat boots, is finally returning home."
Dan, his wife Isabel, and their two children — five-year-old Violet and 10-year-old Nathan — live in a brownstone in Brooklyn. Dan is a musician. He's had his struggles with cocaine and has performed in a rock band. Now, he does a lot of house husband/child care tasks as Isabel, a photo editor, works hard to keep her magazine from dying.
Isabel's charming younger gay brother lives in their attic loft. It's a New York City real estate/break up thing. Robbie, a sixth grade school teacher, has just broken up with his boyfriend. He can't afford to live on his own. He questions why, 15 years ago, he decided against going to medical school.
Dan and Isabel decide that Robbie has to move out and find a place of his own because their kids are too old to share a bedroom.
Though, "Day" references George Eliot, it's a 21st-century narrative. When Robbie, after the virus (never explicitly called COVID) enters the world, gets stuck in Iceland, he develops Wolfe, an idealized version of himself on Instagram.
You never see the word "COVID" or "pandemic" in "Day." Yet it's clear that a virus (likely COVID) has entered the characters' world. Their world, as with real life at the time, has reminders of AIDS. Rob develops a cough that's reminiscent of a symptom at the height of the AIDS epidemic.
Dan and Isabel's marriage is becoming strained. They are both in love with Robbie. Thankfully, it's not what you think! It's not a lust thing. Robbie represents something ideal to them.
Few have more evocatively channeled the sensibility and style of Woolf than Cunningham.
Woolf – her awareness that a novel about a day featuring nothing more than a woman giving a party; a man, at a street corner, taking off his hat to greet a woman he knows; or a wife trying to calm her husband, a "shell-shocked" World War I vet; can be as interesting as murder-and-battle-filled fiction – is as tightly etched in Cunningham's DNA as a pair of skinny jeans.
As a teenager in Pasadena, Calif., he devoured Virginia Woolf's novels as avidly as his friends turned on to Jimi Hendrix and Janis Joplin, Cunningham told me when I interviewed him for the Blade before the release of "The Hours," the 2002 movie of his Pulitzer Prize-winning novel of the same name.
("The Hours" was adapted into an opera with the same name in 2022.)
But Cunningham, who is married to psychotherapist Ken Corbett and Professor of the Practice in Creative Writing at Yale University, is no mere imitator of Woolf.
The alchemy of Cunningham's talent is his own. "Day" was well worth waiting almost a decade for. It's one of the best books of this or any year.
The Blade may receive commissions from qualifying purchases made via this post.