LA's Union Station adds security after complaints about homeless attacks
Police patrolling the transit system experienced a sharp uptick in crimes involving the homeless with a higher percentage at Union Station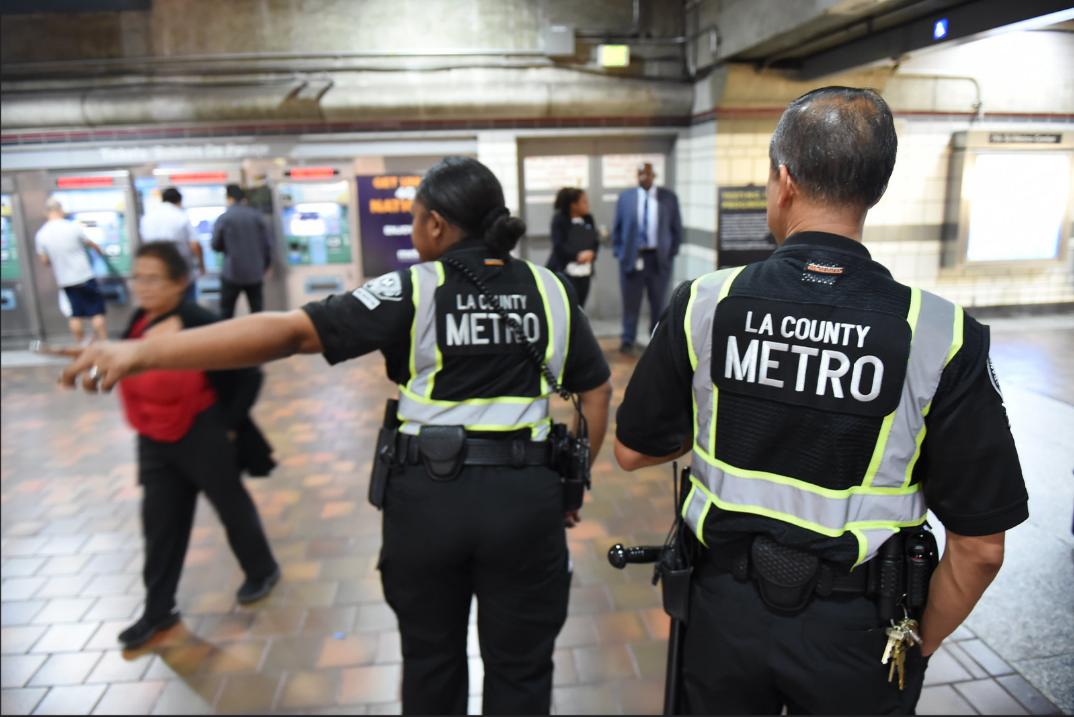 LOS ANGELES – The Los Angeles County Metropolitan Transportation Agency has added more security to Union Station, after staff and the SEIU United Service Workers Union which represents caretakers working there, demanded that the agency take steps to protect workers from ongoing assaults by some of the homeless population living near the station.
"These workers are essential workers, and they should not have to fear for their lives every time they punch in to keep our region's premier transit station clean for its many patrons," said Los Angeles County Supervisor Janice Hahn, who also serves on the LA Metro Board of Directors.
"This is a good first step," said Alejandra Valles, a spokesperson for SEIU United Service Workers West, which represents caretakers working there. "But there is no fix. This is a long-term problem that requires long-term solutions."
According to a source at Metro with knowledge of the security issues within the system and who asked to remain unidentified, the Los Angeles Police Department, Los Angeles Sheriff's Department and the Long Beach Police Department who have the current contracts to patrol Metro's transit system, have experienced a sharp uptick in incidents involving homeless people on transit properties but with a higher percentage of assaults at Union Station.
During the pandemic, the station became a haven for homeless men and women, many with serious mental health problems.
Last week, the Los Angeles Times described widespread fear among low-wage workers at the transit hub who were often mocked and threatened while working. A caretaker was beaten with a club in the bathroom last year where homeless men and women often bathe or use drugs.
During the first two months of this year, violent crime at the station has increased by 94% compared to the same period last year and property crime has doubled.
"Safety is still our top priority," Metro spokesman David Sotero said in a statement late Thursday. He said the agency works with law enforcement, social services providers and private security "to increase physical security at Union Station and combat criminal activity."
The Los Angeles Times also reports violent crime is up 94%. Union Station is owned by Metro and the Los Angeles Police Department patrols the property, but in small numbers and not at night.
Private security at the station hasn't stopped the attacks experienced by janitors, SEIU president David Huerta told KABC 7 last week. "Our understanding, and through the workers' testimony, is that when the call the police, the police escort the folks off the premises and those folks come right back," said Huerta. "This is a center point of Los Angeles, the same way that the airport is a center point of L.A. You can see plenty of secured officers at the airport. There needs to be more resources put here to ensure workers can work in safety."
#HappeningNow @SEIU members are protesting working conditions at Union Station in downtown Los Angeles, where employees tell us they don't feel safe because of the large homeless population that frequents the transportation hub. Some janitors have been attacked @ABC7 pic.twitter.com/acDQc2w8eV

— Josh Haskell (@abc7JoshHaskell) May 5, 2022
From Monday, Metro will check that customers have business at the station and kick out anyone who engages in illegal activities. The entrances to the southern and northern gardens where the homeless often rest will be closed. Psychiatric teams will be deployed at the station, in addition to reinforced patrols. And all employees will receive quarterly training in de-escalating tense and potentially dangerous situations.
Deputy Chief of the LAPD Transit Services Bureau Donald Graham declined to say how many officers were deployed but said the department has doubled its resources at Union Station and is now working with private security to coordinate responses.
LA Mayor Garcetti volunteers at Project Angel Food's Thanksgiving
For many of the celebrities joining Project Angel Food's Thanksgiving Day volunteers the day was about sharing the experience with family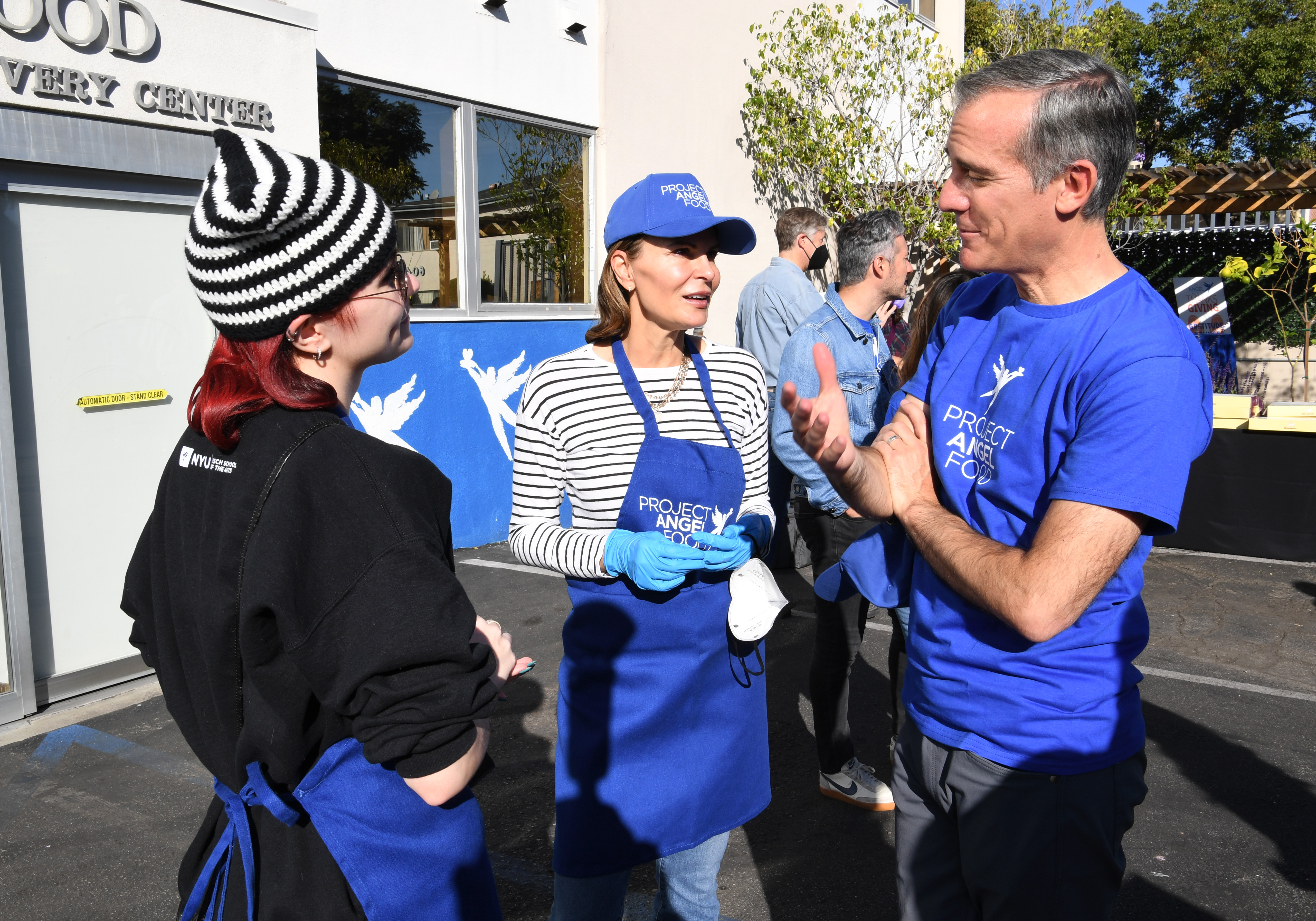 LOS ANGELES – In the early morning hours of Thanksgiving Day, Mayor Eric Garcetti joined Project Angel Food CEO Richard Ayoub, celebrity supporters and 225 volunteers and staff to prepare and deliver 7,400 meals on Thanksgiving Day to seriously ill and housing insecure people throughout 4,700 square miles of L.A. County.
"Mayor Eric Garcetti epitomizes what it is to be part of a community and lift one another through compassion and service. As he rolled up his sleeves and helped plate meals, he brought attention that while this is a day most of us are surrounded by people we love, we need to remember that some people don't have that," Project Angel Food CEO Richard Ayoub said. "He reminded us that no Angeleno should be alone and with a warm smile, a conversation and a meal, our volunteers can change the entire day for our clients, become angels in the City of Angels," Ayoub added.
For many of the celebrities joining Project Angel Food's Thanksgiving Day volunteer pool, the day was about sharing the experience with family. Volunteers included Lisa Rinna and husband Harry Hamlin; "Weird Al" Yankovic with his wife Suzanne and daughter Nina.
Also volunteering was Out actor and singer Cheyenne Jackson and husband Jason Landau with their twins Willow and Ethan. Jackson said the couple brought the children because, "I want to teach my kids to be grateful and thankful for everything that we have, and when you have the capability to give to other people, do it."
He also talked about the death of friend Leslie Jordan, a Project Angel Food supporter who died exactly one month earlier. "He was one of my best friends and it hit me really, really hard like so many people," he said.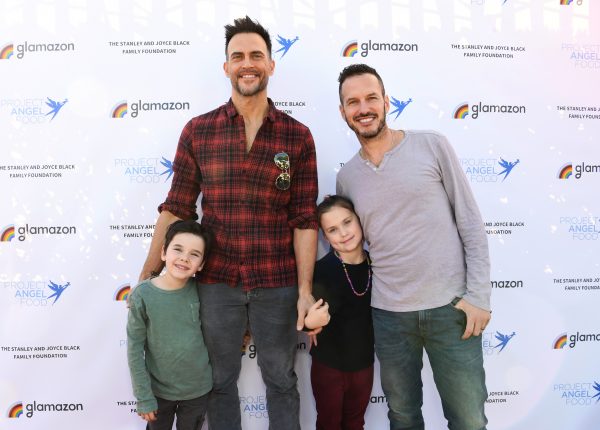 American Idol favorite Ava Maybee with her mother, and Melissa Rivers with son Cooper Endicott, continuing her mother Joan Rivers' legacy of volunteering on Thanksgiving.
Avatar: The Way of Water star Trinity Bliss brought her parents just weeks before the December 16 release of the highly anticipated film. "I'm so honored to work alongside so many people to bring a warm, delicious, tasty meal to people in need."
Of her much-anticipated film, Avatar: Way of Water, Trinity added, "Avatar was amazing, but I think Avatar: The Way of Water is going to be just so much more dramatic and be an experience people are going to need to experience in theaters."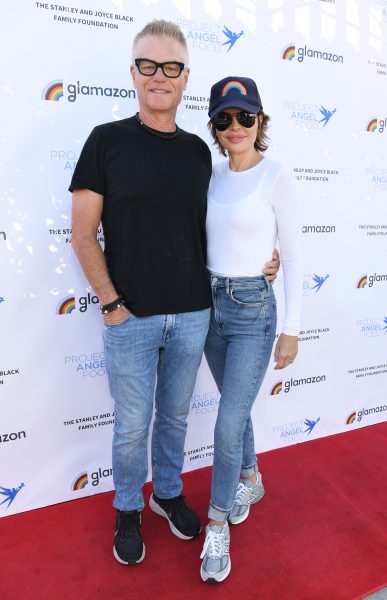 Lisa Rinna reflected on the fact that Project Angel Food is the primary source of food for most of its clients. "It's so important because that is going to be their only meal of the day." her husband Hamlin added, "to have the opportunity to give back is amazing."
Other celebrities included Eileen Davidson (RHOBH, Days of Our Lives), Peter Porte (Days of Our Lives), Juan Pablo Di Pace (DWTS, Fuller House), Olympian Tai Babilonia, Tim Bagley (Gracie & Frankie, Will & Grace), Michael Hitchcock (The Resort, Crazy Ex-Girlfriend), Lawrence Zarian (The Kelly Clarkson Show), Marc Malkin (Variety), James Wallington and Will Jardell (Amazing Race Season 32 winners), Romeo Escobar (Survivor 42 runner-up), and parenting author Donna Tetreault.
The 7,400 meals being delivered on Thanksgiving included 1,600 traditional turkey dinners to critically ill men, women, children and their caregivers, 5,600 Medically Tailored Meals and breakfasts regularly scheduled for Thursday delivery, and another 200 meals were provided to Project Angel Food community partner PATH for residents for two of PATH's Interim Housing and Permanent Supportive Housing sites.
Volunteers provided contactless "drive-by" pick-up of the meals which were then delivered to Project Angel Food clients. Traditional Thanksgiving dinners consisted of roasted turkey, root vegetables, stuffing, gravy, cranberry sauce and a slice of pumpkin cheesecake. Vegetarian meals were also provided.
The meal was sponsored by the Stanley and Joyce Black Family foundation with Glamazon (Amazon's affinity group for the LGBT+ community) sponsoring the volunteer event.
Project Angel Food CEO Richard Ayoub noted that Project Angel Food strives to end food insecurity and improve health outcomes of critically ill men, women and children in Los Angeles with Medically Tailored Meals, delivered with care and compassion.
Over 2,500 clients are fed daily. Project Angel Food delivers 1.3 million meals each year.