LA trans sex offender arrested for murder & robbery in Kern County
Tubbs continues to serve her Los Angeles County sentence, while being prosecuted on an unrelated robbery charge in Kern County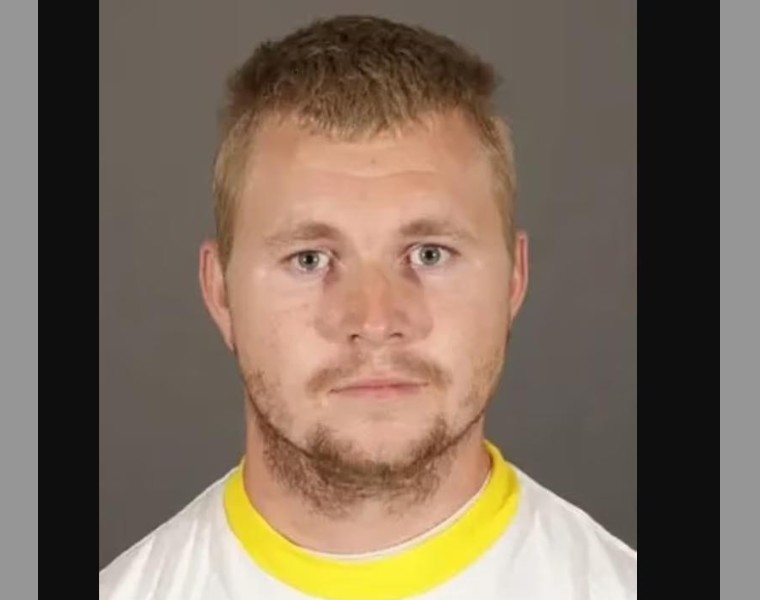 BAKERSFIELD – An individual convicted of violently sexually assaulting a 10-year-old girl in a Palmdale Denny's restaurant restroom in 2014, was arraigned Tuesday afternoon in Kern County on charges of felony murder and robbery in an unrelated case.
Hannah Tubbs, 27, who identifies as a trans female, is charged under her birth name in the most recent charges which stem from the Kern County case in 2019.
Tubbs appeared in a Kern County courtroom in Bakersfield to face charges connected to the April 21, 2019 death of Michael Clark.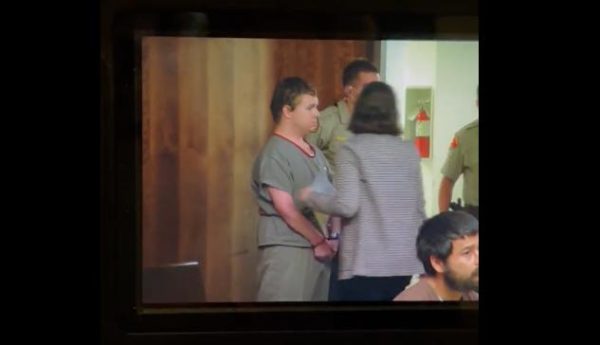 Tubbs is being held in Kern County jail on $1 million bond and is being detained in the men's section. Kern County prosecutors are referring to her as James Edward Tubbs.
BREAKING: James (Hannah) Tubbs just appeared in a Kern County courtroom. Public defender tried to object media attendance, judge overruled. Tubbs pleaded not guilty to robbery and murder charge. Bail set at $1 million. Next court date May 20th. @FoxNews pic.twitter.com/ss4Yk8AKpm

— Alexandria Hernandez (@AlexandriaHrndz) May 10, 2022
Tubbs has a long criminal history in addition to the sex offender conviction in Los Angeles. She was arrested on a 2019 battery charge in Idaho, where in that case her DNA was matched in a national database relative to the LA County case for which she was arrested in November of 2021. Tubbs in 2020 was convicted of assault with a deadly weapon other than a firearm in Kern County, according to Kern County court records.
Ricardo Santiago, a spokesman for the LA County District Attorney's Office, said Tubb's transfer from the juvenile facility to Kern County jail was based on a 2019 warrant that was approved by a judge.
"District Attorney George Gascón is committed to protecting the public and especially our children," Santiago told The Post on Monday. "In this case, Hannah Tubbs continues to serve her Los Angeles County sentence, while being prosecuted on an unrelated robbery charge in Kern County. … A no bail warrant has been obtained in the Los Angeles County case so officials here will be notified if she is released from Kern County."
She was at the center of a controversy after Los Angeles County Superior Court Judge Mario Barrera sentenced Tubbs to a LA County youth facility for two years in isolation.
That ruling provoked widespread outrage over Gascón policies in regard to prosecution of juveniles for major felonies. When he took office in December of 2020, he announced a wide-reaching agenda of reforms for the Los Angeles County District Attorney's office which included he will stop charging juveniles as adults.
In the Tubbs case, Judge Barrera stated that essentially, under current legislation, a person who commits a crime as a juvenile and is jailed in a juvenile facility once they turn 19, the court has no authority to transfer that person to an adult facility.
"This court will not disregard what the legislature has put onto it as a limitation," he said.
Since the case remained in juvenile court, Tubbs will not be required to register as a sex offender. Tubbs could have been sentenced to almost a decade in prison if she was tried and convicted as an adult.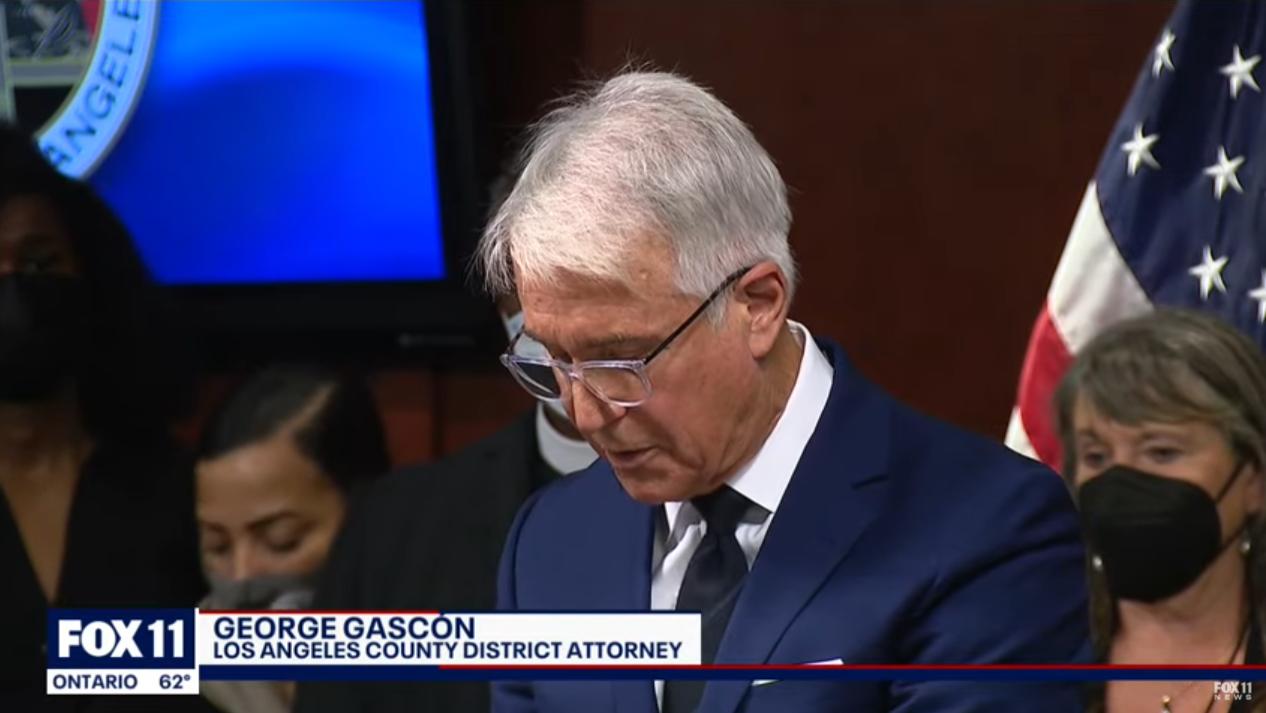 As pressure mounted on Gascón, in an interview with LAist reporter Frank Stoltze, the LADA said, "We now have a year under our belt. We have seen the things that are not necessarily working as well as I would prefer."
Going forward, Gascón said decisions on juvenile cases will be made on "a case-by-case basis" and "at the highest levels" of his office.
His position however, abruptly changed when it was learned by his staff that Fox News had obtained a jailhouse recording of Tubbs bragging about getting off lightly.
Fox reported that the explicit recordings of Tubbs reveal her admitting it was wrong to attack a little girl but gloating over the light punishment.
"She boasted that nothing would happen to her after she pleaded guilty and then laughed that she won't have to go back to prison or register as a sex offender. She also made explicit remarks about the victim that are unfit to print."
"I'm gonna plead out to it, plead guilty," Tubbs says in one recording. "They're gonna stick me on probation, and it's gonna be dropped, it's gonna be done, I won't have to register, won't have to do nothing."
"You won't have to register?" her father later in the conversation. "I won't have to do none of that," Tubbs replies.
"So what are they going to do to you then?" He asks. "Nothing," Tubbs says in reply, then laughs.
In an email to the Los Angeles Times, Gascón said his approach was incorrect: "The complex issues and facts of her particular case were unusual, and I should have treated them that way."
Triple A: Gas price averages drop below $5 & may move lower
The average price for self-serve regular gasoline in California is $4.90, which is 21 cents lower than last week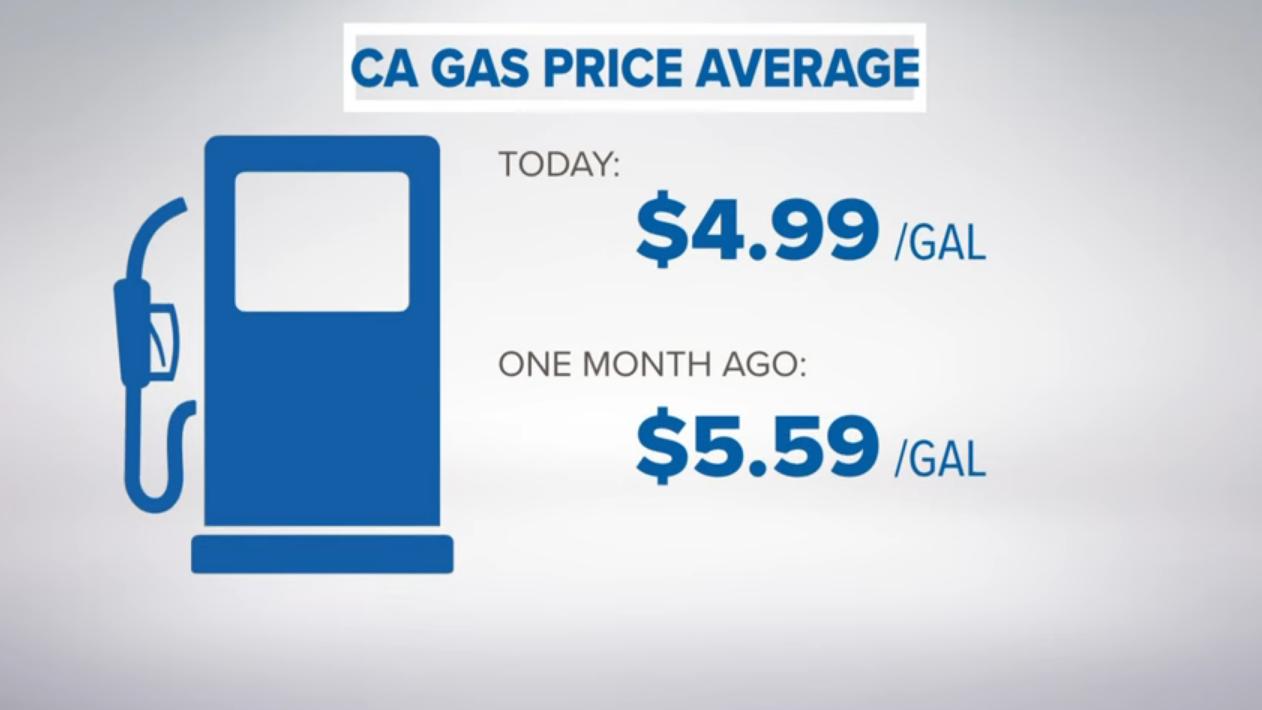 LOS ANGELES – Most areas of Southern California now have average gas prices of less than $5 a gallon after additional hefty price declines in the last week, according to the Auto Club's Weekend Gas Watch.
The average price for self-serve regular gasoline in California is $4.90, which is 21 cents lower than last week. The average national price is $3.47, which is 12 cents lower than a week ago.
The average price of self-serve regular gasoline in the Los Angeles-Long Beach area is $4.97 per gallon, which is 21 cents lower than last week, 63 cents lower than last month, and 26 cents higher than last year. In San Diego, the average price is $4.94, which is 21 cents lower than last week, 63 cents lower than last month, and 28 cents higher than last year.
On the Central Coast, the average price is $4.95, which is 20 cents lower than last week, 62 cents lower than last month, and 31 cents higher than last year. In Riverside, the average per-gallon price is $4.84, which is 20 cents lower than last week, 60 cents lower than last month, and 21 cents higher than a year ago. In Bakersfield, the $5.28 average price is 11 cents lower than last week, 50 cents lower than last month, and 63 cents higher than a year ago today.
"Despite a record number of Southern California travelers hitting the road for Thanksgiving, average pump prices have dropped below $5 a gallon for the first time since early March," said Auto Club spokesperson Doug Shupe. "Oil Price Information Service reports a substantial drop in demand statewide and high unleaded gas inventories. This week Los Angeles wholesale gasoline prices reached their lowest level of 2022, and if that trend holds, we should see additional pump price reductions. The least expensive gas station prices today are about $4.10 a gallon, so it's possible we will see stations charging less than $4 a gallon soon."
The Auto Club reminds drivers of the following tips to save money on gas:
If you use premium unleaded fuel, make sure it is required for your vehicle, not just recommended. The Auto Club's Automotive Research Center found that vehicles with recommended premium fuel performed safely with regular unleaded gasoline.
Make sure your tires are properly maintained and inflated to the correct level.
Maintain your car according to the manufacturer's recommendations. Regular service will ensure optimum fuel economy.
Avoid "jackrabbit" starts and hard accelerations. These actions greatly increase fuel consumption.
Slow down and drive the speed limit. Fuel economy peaks around 50 mph on most cars, then drops off as speed increases. Reducing freeway speeds by 5 to 10 mph can increase fuel economy by as much as 14%.
Use cruise control on the highway to help maintain a constant speed and save fuel. However, never use cruise control on slippery roads because you could lose control of the vehicle.
Minimize your use of air conditioning.
Avoid extended idling to warm up the engine, even in colder temperatures. It's unnecessary and wastes fuel.
Remove unnecessary and heavy items from your car.
Minimize your use of roof racks and remove special carriers when not in use.
Download the AAA App to find the cheapest gas prices near you.
The Weekend Gas Watch monitors the average price of gasoline. As of 9 a.m. on Dec. 1, averages are:
Related- Gov. Newsom caused gas price decline under $5, says California Energy Commission: