First woman to lead a branch of the military confirmed by Senate
While women have served as service branch secretaries- Fagan would be the first servicewoman to serve as the leader of a military branch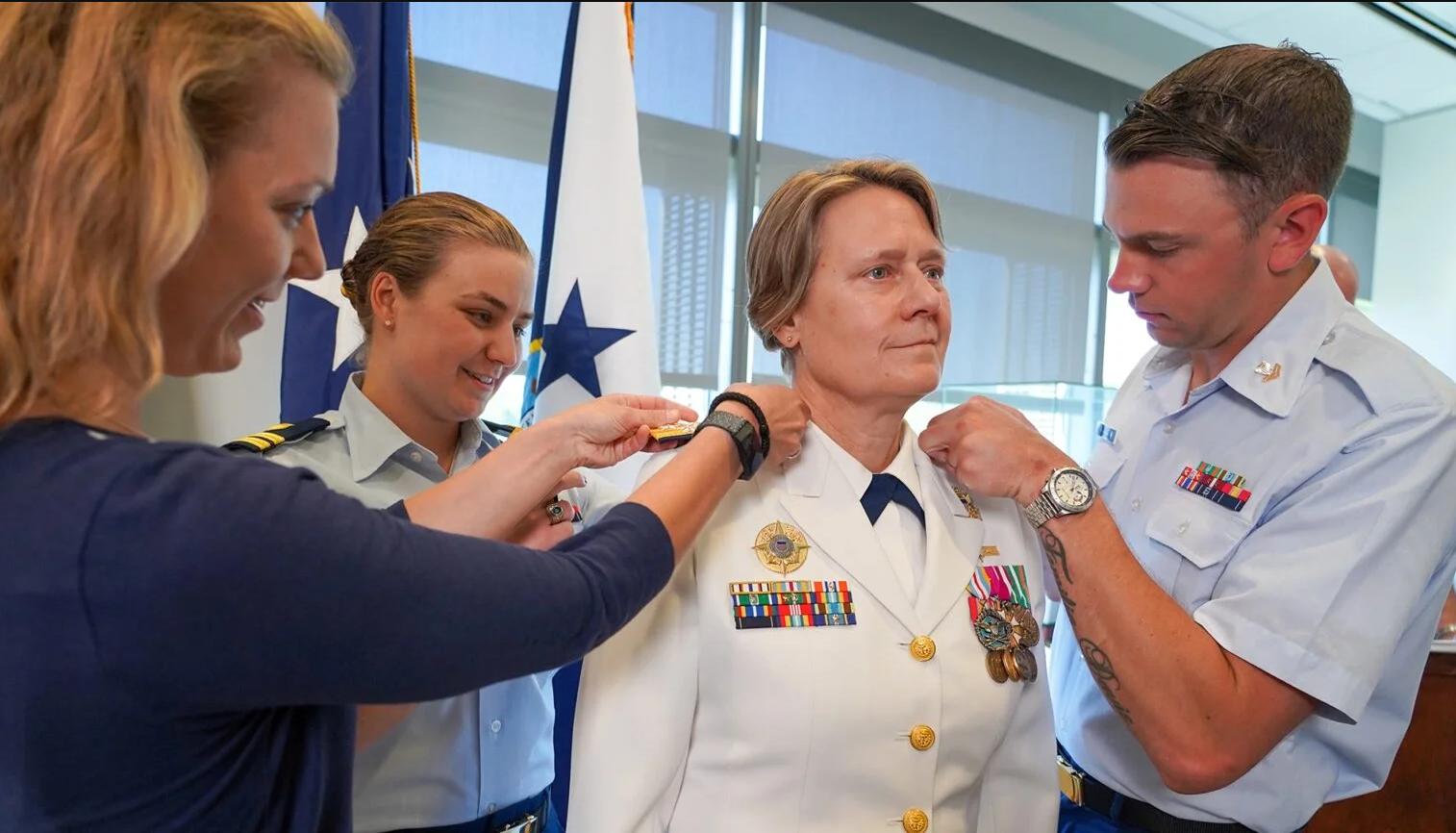 WASHINGTON – The Senate has confirmed Admiral Linda L. Fagan as the 27th Commandant of the United States Coast Guard. The current Commandant Admiral Karl L. Schultz is set to retire at the end of this month. President Joe Biden nominated Fagan to lead the service, a military branch that operates within the U.S. Department of Homeland Security in peacetime this past month.
Fagan, promoted to the rank of four-star Admiral in June of 2021, is the Coast Guard's first woman to serve as a four-star flag officer and currently serves as the service's Vice-Commandant.
Task & Purpose magazine noted that while women have served as service branch secretaries — Christine Wormuth is the current Secretary of the Army — Fagan would be the first servicewoman to serve as the leader of a military branch.
In a statement issued Thursday, President Biden congratulated her.
"It is with deep pride that I congratulate Admiral Linda L. Fagan on her confirmation by the Senate as Commandant of the U.S. Coast Guard. Admiral Fagan is the Coast Guard's first woman to hold the rank of four-star admiral. Today, she again makes history not only as the first woman to lead the Coast Guard—but also as the first woman Service Chief of any U.S. military service. Admiral Fagan's leadership, experience, and integrity are second to none, and I know she will advance the Coast Guard's mission to ensure our nation's maritime safety and security.
My administration is committed to seeing more qualified women in senior leadership and command roles; making sure women can succeed and thrive throughout their military careers. Today, Admiral Fagan's confirmation as Commandant of the U.S. Coast Guard signals to women and girls across our nation they have a place in protecting their country at the highest level."
The admiral is a1985 graduate of the Coast Guard Academy in New London, Connecticut and over the course of career spanning 36 years she has served on seven continents, the Coast Guard's New York Sector, Commander First Coast Guard District in Boston, Coast Guard Defense Force West, Coast Guard Pacific Area, as well as stints as the service's headquarters in Washington D.C. apart from her post as Vice-Commandant and duty at sea aboard the only heavy icebreaker in the Coast Guard's inventory, the USCG Cutter Polar Star.
It wouldn't be the first milestone for Fagan to achieve in the Coast Guard. When she was promoted to vice commandant in 2021, she became the first-ever four-star admiral in the branch. In an interview with "CBS This Morning" that year, she described nearly being pulled from her first sea deployment, as the ship's executive officer was hesitant to have her aboard as the only woman in the crew.
She also noted her commitment to helping the Coast Guard continue to recruit and retain women, including her own daughter, in its ranks. "We've made a lot of progress in the junior ranks, we need to keep making progress," she said.
Pentagon celebrates Pride, LGBTQ+ progress & Trans visibility
The event took place in the Pentagon auditorium under the theme of "All Together" & highlighted progress for LGBTQ people serving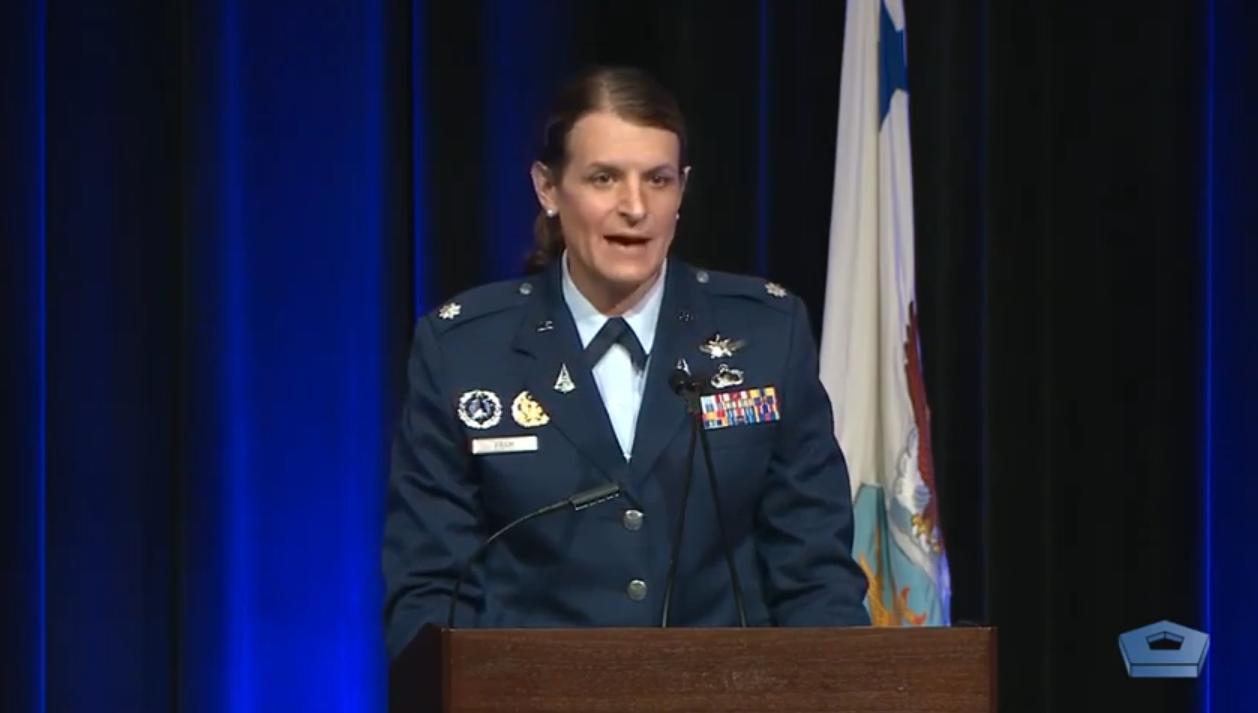 ARLINGTON, Va. – Transgender visibility in the U.S. military was on full display on Tuesday during the Pentagon's annual event recognizing Pride month, which this year featured two transgender speakers in prominent positions in the aftermath of the Biden administration lifting the transgender military ban.
The event — hosted in coordination with DOD Pride, the affinity group for LGBTQ employees and service members within the Defense Department — took place in the Pentagon auditorium under the theme of "All Together" and highlighted progress in stripping away barriers previously preventing LGBTQ people from serving in their roles, such as "Don't Ask, Don't Tell" and the transgender military ban.
Lt. Col. Bree Fram, who's transgender and deputy chief of acquisition polices and processes at U.S. Space Force, said she often feared she would no longer be able to serve in uniform based on the "whim of executive orders." But two months ago when she disclosed to colleagues she was having surgery to treat cancer, she received overwhelming support.
"That's the spirit of all together: Leadership was behind me because they would have been behind any member of the team going through one of the scariest moments of their life," Fram said. "They know that each of us brings value to the team and that all of us are worthy of the support needed to be our best selves."
Fram, co-leader of the transgender policy team within the Department of the Air Force's LGBTQ initiative team, recounted the experience of a transgender service member whose colleagues refused to use her personal pronouns and began putting them in her email signature in defiance of military policy. Although colleagues had initially sought to ban her from the network, Fram said a supervisor stepped in to revise and allow the service members to continue using them in emails.
"So for all of you out there, I ask you to set out your symbols of pride, share your pronouns in your email, particularly if you're a person who doesn't think they need to," Fram said. "Initiate difficult conversations about racial and gender barriers and share a bit of your vulnerability in a way that draws others in."
Shawn Skelly, who's transgender and assistant secretary of defense for readiness, also spoke and drew heavily from President Biden's proclamation for Pride month to discuss the challenges still facing LGBTQ people after years of progress.
"America's formative promise to itself remains today tangibly unfulfilled for too many Americans," Skelly said. "And remarkably, for the LGBTQ+ Americans of today, we're increasingly at specific, targeted risk, which includes those serving within this department."
Under Secretary of the Air Force Gina Ortiz Jones, who's a lesbian, also spoke and remarked on the progress seen in the military since she was forced to sign a document as a cadet of "Don't Ask, Don't Tell" prohibiting her from participating in homosexual acts.
"I knew exactly what that meant: I knew that my opportunity to get an education. I knew that my opportunity to serve our country. I knew my opportunity to die for our country or maybe all of that would go away, just because at the time we did not have enough leaders with the courage to say anybody ready and willing to serve their country should have the opportunity to do so," Jones said.
Jones recounted a story after she took office in the Biden administration and wanted to set up a photo shoot with other LGBTQ service members who had served under "Don't Ask, Don't Tell." To her surprise on the day of the shoot, Jones said, many younger service members too young to remember the law showed up and were part of the photograph.
"But I leaned over and I said, 'Hey, you know, what's going on here? Some of these folks look a little too young to serve,"" Jones said. "And they said, 'Oh no, many of these folks wanted to be part of the picture because they are serving because 'Don't Ask Don't Tell' was repealed … So it really shows you what is possible when you're willing to do the hard work that talent in our country among those serving — the talent we are able to tap into — if we are willing to remove those barriers to ensure folks can serve to their full potential."
The top defense official present was Kathleen Hicks, who promoted the Defense Department as having a commitment to advancing policies and programs aimed at developing "a leadership pipeline of diverse talent and create pathways for everyone at DOD to realize their potential."
"We know that organizational climates affect our workforces' experiences," Hicks said. "More to the point it affects our warrior readiness. Therefore, we are directing initiatives to improve leader skill development and foster more effective inclusive team environments."
Hicks said the Defense Department is in the final stages of developing a diversity, equity, inclusion and accessibility plan, which she said will direct activities within the department and identify priorities within the coming year.
Among those in attendance at the event were British Ambassador to the United States Karen Price; Secretary of the Navy Carlos del Toro; Rep. Mark Takano (D-Calf.); Maj. Gen. Leah Lauderback, director of intelligence, surveillance and reconnaissance for U.S. Space Force; White House Director of Presidential Personnel Gautam Raghavan; and Ruben Gonzalez, special assistant to the president for White House Domestic Agency Personnel.
Pentagon Officials Speak at Pride Ceremony:
On this Memorial Day 2022, a look back & a remembrance
This Memorial Day 2022 in remembrance of all LGBTQ+ Americans who wore the uniform & fought to defend the nation let us honor them all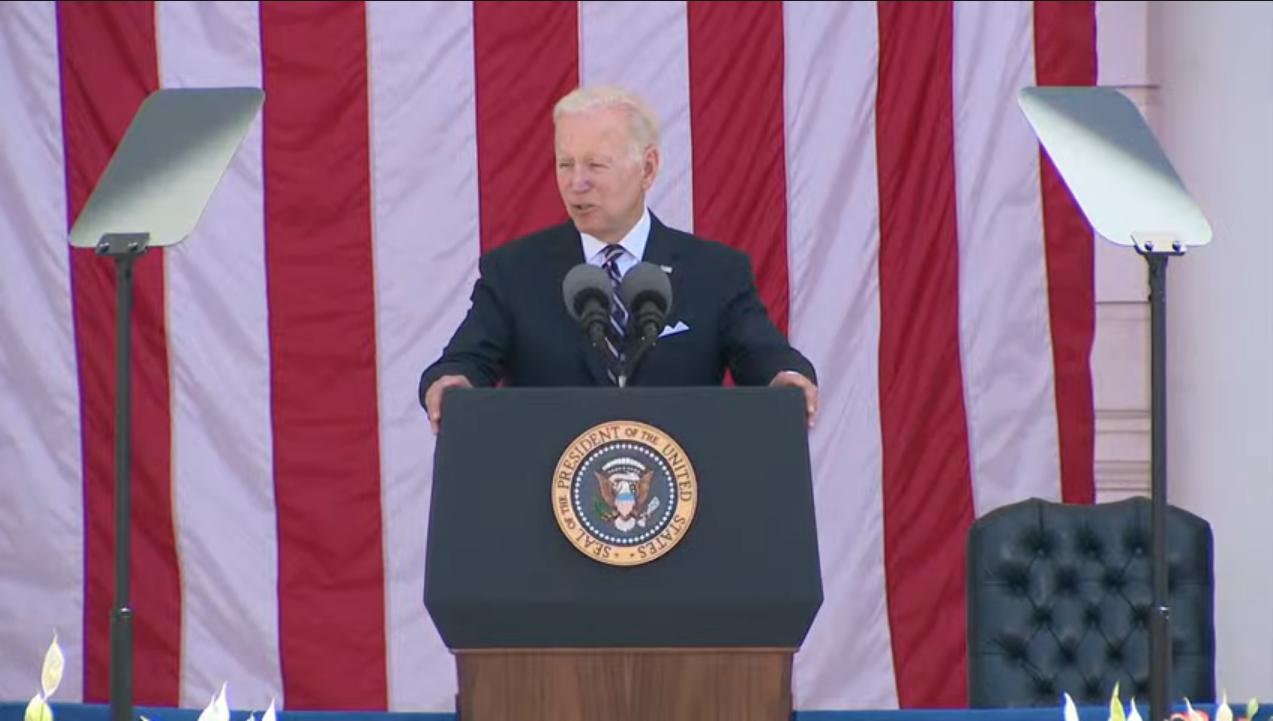 LOS ANGELES – On September 20, 2011, the discriminatory "Don't Ask-Don't Tell" ban on gay and lesbian service members was officially consigned to the dustbin of history. For nearly 17 years that ban prohibited gay, lesbian and bisexual Americans from serving in the armed forces of the United States, codifying the message that discrimination was acceptable.
In July of 2017, former President Trump in a series of Tweets banned transgender Americans from serving in the armed forces. Those tweets later became codified U.S. policy by April 2019 after several court battles all the way to the U.S. Supreme Court.
On January 25, 2021, President Joe Biden signed an executive order overturning the Trump-Pence administration's discriminatory ban on transgender service, which was crafted with members of the extreme anti-LGBTQ group Family Research Council and right-wing think tank the Heritage Foundation.
A Pentagon report summarizes the history of LGBTQ in the military prior to the Clinton era ban of Don't Ask, Don't Tell through to modern day:
It wasn't until 1982 that the military enacted a policy explicitly banning gay men and lesbians from their ranks. Before that, however, same-sex relations were criminalized and cause for discharge. And in the early 1940s, it was classified as a mental illness, disqualifying gay men and lesbians from service.
In 1993, the "don't ask, don't tell" policy went into effect allowing closeted LGBTQ people to serve in the military. Under the policy, service members would not be asked about their sexual orientation, but would be discharged for disclosing it. Eighteen years later, Congress repealed the policy, allowing openly gay, lesbian and bisexual people to serve in the military.
Another barrier was lifted in 2013 when spousal and family benefits were extended to same-sex married partners in the military. After ending temporarily in 2016, the ban on transgender individuals was again rescinded in 2021, allowing those who don't identify with their biological gender to enlist and serve in the armed forces.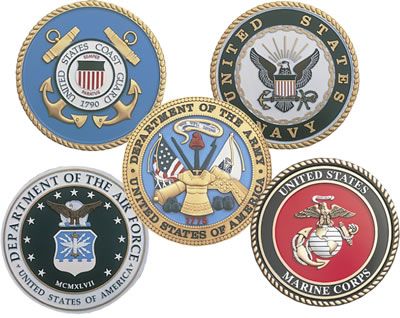 For LGBTQ+ military personnel and their families there are still obstacles. This past week it was learned that a draft policy is circulating among top officials of the U.S. Army that would allow soldiers to be able to request a transfer if they feel state or local laws discriminate against them based on gender, sex, religion, race or pregnancy. Pentagon sources say that there is good chance that a Department of Defense review for all services could possibly follow.
The reason for the policy has been the overt hostility by Republican lawmakers in nearly thirty one states over the past three years introducing, passing, and then getting signed into law measures that specifically target LGBTQ+ people in areas including erasure of LGBTQ+ people in grammar and secondary education, barring trans youth from playing on sports teams that match their gender identity, and a probable overturn of Roe v. Wade dramatically impacting women's rights in their healthcare especially reproductive choices.
In those years prior to open service after 2011 and before the 'Don't Ask-Don't Tell' era there was one extremely brave American Vietnam War veteran, the first documented gay service member to purposely out himself to the U.S. military to fight the ban on gays, and perhaps the best-known openly gay man in the United States of America in the 1970s next to San Francisco Supervisor Harvey Milk, himself a veteran of the U.S. Navy.
In 1955, Milk resigned from the Navy at the rank of lieutenant, junior grade, forced to accept an "other than honorable" discharge and leave the service rather than face a court-martial because of his homosexuality.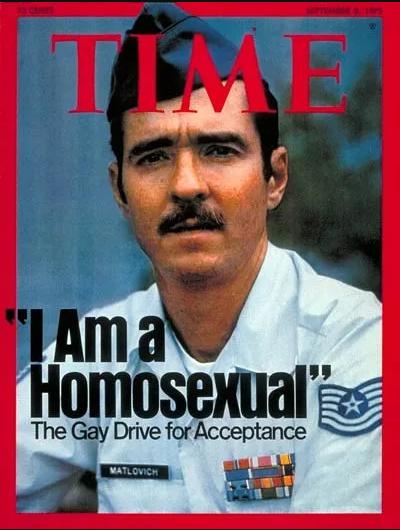 That man was U.S. Air Force Technical Sergeant Leonard Matlovich.
Matlovich, encouraged by another military veteran and prominent gay rights activist, Franklin Kameny who served in the U.S. Army throughout World War II in Europe, Outed himself as he and Kamney challenged the military's ban on homosexuals serving.
Wikipedia notes that his fight to stay in the United States Air Force after coming out of the closet became a cause célèbre around which the gay community rallied. His case resulted in articles in newspapers and magazines throughout the country, numerous television interviews, and a television movie on NBC. His photograph appeared on the cover of the September 8, 1975, issue of Time magazine, making him a symbol for thousands of gay and lesbian servicemembers and gay people.
Prior to Matlovich's case there were literally tens of thousands who stayed in the closet, serving in in uniform in silence with only glimpses of their true selves captured in candid photographs and kept secretly in most instances only to be discovered years later by family members or even as just curios in antique stores or online marketplaces.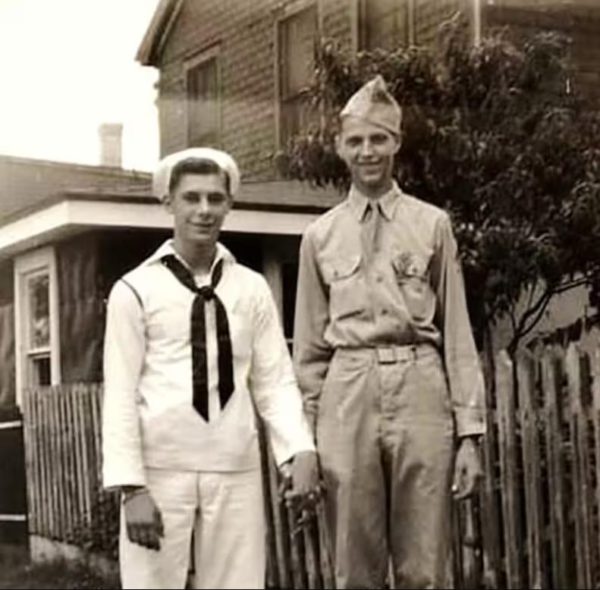 On this Memorial Day 2022, in remembrance of all of the LGBTQ+ Americans who wore the uniform of their country and fought to enshrine the freedoms and rights that they- themselves didn't directly benefit from and some, who like Leonard Matlovich were wounded and awarded the Purple Heart and other medals, let us honor them all.
This reporter wrote a story in 2013, two years after the repeal of Don't Ask-Don't Tell, about the legacy of the service of one set of those long ago gay military personnel which follows.
For a lost soldier…
By Brody Levesque | ARLINGTON, Va. — Every year that I have lived and worked in this city I have always gone to Arlington National Cemetery to observe the Memorial Day ceremonies.
Afterward, I wander through the grounds, just to watch, maybe to listen, but mostly to contemplate on the sacrifices made by those brave souls whose final resting place has become hallowed ground — a literal garden of stones.
Arlington's rolling hills are a place of extraordinary beauty, a fitting repository for the memory of the living history of the United States. Names from the history books leap off the pages as one strolls through the grounds: "Byrd, Taft, Lincoln, Kennedy, Rickover, Marshall, Pershing," followed by the names of the thousands of soldiers, sailors, airmen, and coast guardsman who gave their lives to secure the freedoms promised by the American Constitution.
In his remarks today, President Barack Obama reminded Americans they must honor the sacrifices of their military service members, particularly as U.S. combat roles change and the nation's involvement in Afghanistan is winding down.
Adding that Arlington "has always been home to men and women who are willing to give their all … to preserve and protect the land that we love," the President praised the selflessness that "beats in the hearts" of America's military personnel.
Obama's words stuck with me as I walked along through the ocean of gravestones, pausing occasionally to read the names, the inscriptions, and wonder what each person was like.
Scattered throughout the graves proudly marked with miniature American flags fluttering in the bright noontime sunlight, I observed families, loved ones, and friends who had come to honor their fallen.
Then I happened upon one grey haired older gentleman standing quietly in front of a headstone, obviously lost in his thoughts. As I tried to unobtrusively move around him, he look up at me and smiled.
I greeted him, and he greeted me back. He saw my press credentials hanging from my neck and asked whom I worked for.
I told him, momentarily wondering what type of reception I'd receive as, let's face it, the LGBTQ community still has its detractors, and to my shock, he looked back at me, with tears forming in his eyes.
"You're gay?"
"I am," I answered.
"Lot of changes since I was a, a kid," he trailed off. I pointed at headstone and quietly asked if the person was a friend or a family member.
"He's my, well was my best bud, yeah, I dunno…"
The gentleman looked stricken and it was certainly not my intention to interview him, impromptu or not. But yet I sensed that something was left hanging so I took the plunge and asked him for a few details, if he didn't mind sharing them. As it turns out, that's exactly what he wanted… to share, to have a conversation about the person whose grave we were standing over.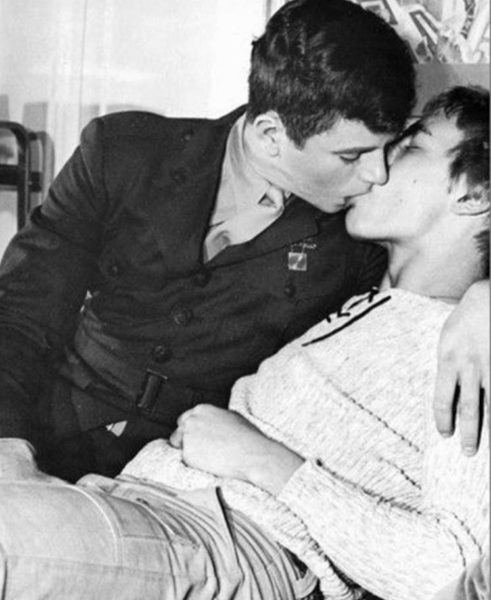 The two men had grown up in eastern Ohio, in a small rural farming community. They played football, went fishing, did farm work, and discovered that after a few failed attempts at pursuing the fairer sex, their real romantic interests laid in each other.
By the time they had graduated from high school, the Vietnam conflict had escalated and, rather than wait to be drafted, they decided to join the U.S. Marines together. They went to boot camp, and not long after graduation, found themselves on troop planes headed for Vietnam.
"We were lucky," he said, "We both got assigned to the 2nd Battalion, 26th regiment."
But good luck turned sour as their battalion found itself in the middle of one of the nastiest battles of the 1968 Tet Offensive in the battle for Khe Sanh.
"I lost him that morning," he told me, pointing at the inscribed date of death on the simple white marker — February 7, 1968. "He was just 19."
The tears came freely and I waited. Then we talked some more.
He told me that after he lost his love, "I went straight and got married." Just a fews years ago, he lost his wife to cancer.
He has grandkids that he says will never know the truth — he just can't be open with them, but at the same time, never does a day go by that he doesn't think about and mourn the loss of his friend, his partner — and the promise of what might have been.
"I was glad to see DADT end," he told me. "At least some other couples won't have to hide like we did."
I thanked him for his service and his time talking with me and walked away reflecting on all of the unknown LGBT military folk buried around me who, like that lost soldier, suffered in silence and hid, yet still believed in a greater good of which they ultimately gave their lives for their country.
As the American nation celebrates this solemn holiday, let us not forget them.
Addendum:
REMARKS BY PRESIDENT JOE BIDEN AT THE 154TH NATIONAL MEMORIAL DAY OBSERVANCE
Arlington National Cemetery, Arlington, Virginia
The President:
They lie here in glory and honor — in quiet rows in Arlington, in cemeteries in Europe that I visited and many of you have, in graves across our country, in towns large and small — America's beloved daughters and sons who dared all, risked all, and gave all to preserve and defend an idea unlike any other in human history: the idea of the United States of America.

And today, as a nation, we undertake a sacred ritual: to reflect and to remember. Because if we forget the lives that each of those silent markers represent — mothers, fathers, siblings, spouses, children — if we forget what they sacrificed, what they made so that our nation might endure strong, free, and united, then we forget who we are — who we are.

Ladies and gentlemen, our First Lady and the love of my life, Jill; Vice President Harris and the Second Gentleman; Secretary Austin; General Milley; the Joint Chiefs of Staff, Cabinet members; Gold Star families, most importantly; and survivors: Today we renew our sacred vow — it's a simple vow: to remember. To remember.

Memorial Day is always a day where pain and pride are mixed together. We all know it, sitting here. Jill and I know it. Today is the day our son died.

And, folks, for those who have lost a loved one in the service of our country, if your loved one is missing or unaccounted for, I know the ceremonies reopen that black hole in the center of your chest that just pulls you in, suffocates you.

As I said, seven years ago today, our son, Major Beau Biden, took his last breath at Walter Reed. A major in the Delaware Army National Guard, he insisted on deploying to Iraq
with his unit for a year when he was attorney general. He came home a decorated soldier, a Bronze Star, Legion of Merit, and Delaware's Conspicuous Service Cross.

He didn't die in the line of duty. He came home from Iraq with cancer. It was a horrific cancer that stole us from him, stole — and him from us.

But still, it always feels to me on Memorial Day — I see him, not as he was the last time I held his hand, but the day I pinned his bars on him as a second lieutenant.

I see him with me down at the Delaware Memorial Bridge hugging all the Gold Star families.

Days like this bring back, before your eyes, their smile and their laugh. And the last conversation you had, each of you know it.

The hurt can be overwhelming. But for so many of you, as is with Jill and me, the hurt is wrapped around the knowledge
that your loved one was part of something bigger — bigger than any of us.

They chose a life of purpose. It sounds corny, like a Memorial Day speech, but I mean it from the bottom of my heart. They chose a life of purpose.

They had a mission. And above all, they believed in duty; they believed in honor; they believed in their country.

And still today, we are free because they were brave. We live by the light of the flame of liberty that they kept burning. And so a part of them is still with us no matter how long ago we lost them.

And as hard as it is for many to believe, especially those whose loss is still raw, I promise you the day will come when the memory of your loved one, your patriot, will bring a smile to your lip before it brings a tear to your eye. That's when you know you're going to make it.

Today, America's ser- — American service members stand watch around the world, and, as many of you know, often at great personal risk.

And this Memorial Day, we know the memory is still painful
of all the fallen who lost their lives during the last two decades in combat. Each of them leaving behind a family, a community. Hearts broken by their absence, and lives that will never be the same.

We see in the hundreds of graves here in Section 60, at Arlington, a reminder that there's nothing low-risk or low-cost about war for the women and men who fight it.

7,054 American military members gave their lives over 20 years of our Iraq and Afghan conflicts. Untold others died of injuries and illness connected to their service and these wars.

And the enduring grief borne by the survivors is a cost of war that we'll carry as a nation forever.

And so, to every Gold Star family, to every survivor and family member and caregiver: This grateful nation owes you as well as that person you lost.

And we can never repay the sacrifice, but we will never stop trying. We'll never fail in our duty to remember: With their lives, they bought our freedom.

And so, with our lives, we must always live up to their example — putting service before self; caring for our neighbors as ourselves; working fervently to bring our union just that much closer to fulfilling the founding creed, as the Secretary said, that all men and women are created equal.

I've often said that, as a nation, we have many obligations. But the only one that is truly sacred — the only truly sacred obligation we have — is to prepare and equip those women and men we send into harm's way, and care for them and their families when they return home and when they don't.

This is an obligation that unites Americans and brings us together — to make sure the women and men who are willing to lay down their lives for us get the very best from us in return.

I want to acknowledge that we're making progress in key areas like the comprehensive, bipartisan legislation that is advancing in Congress that will deliver healthcare services and benefits to veterans and their survivors impacted by toxic exposures.

We don't know how many Americans and service members may have died because of what they were exposed to on the battlefield. The toxic smoke from burn pits near where they were based — burn pits that incinerated the wastes of war, medical and hazardous material, jet fuel, and so much more.

But we have a duty to do right by them. And I am determined to make sure that our brave service families and members that served alongside them do not wait decades for the care and benefits that they deserve. And that's why — that's why we're working so hard to find out what the facts are. Where we can still save lives, we have to act.

All of us also have a duty to renew our commitment to the foundational values of our nation, in their honor — for those are the values that have inspired generation after generation to service.

On Friday, I spoke at the graduation and commissioning of — ceremony of the U.S. Naval Academy. I had an opportunity to do that before as well. It was a remarkable experience again, an honor, looking out at those young men and women — newly commissioned officers — embarking on a life of service.

They hold before them the example of the heroes who have gone before them — many of you are family members — heroes who have answered duty's call at Lexington and Concord, Antietam and Gettysburg, Belleau Woods and thee Battle of the Bulge, in Korea and Vietnam and Afghanistan, Iraq, and so many other places around the world — so many of whom never returned home, including the legacy of all those held prisoners of war or who are still missing in action.

To be here today, soon after that joyful celebration at the Academy, is a bracing reminder of all that we ask of our service members and their families — for it's on the strong shoulders and noble spirits of our service members that our freedom is built, our democracy sustained.

And in this moment, when a war of aggression is once more being waged by Russia to snuff out the freedom, the democracy,
the very culture and identity of neighboring Ukraine, we so — we see so clearly all that's at stake.

Freedom has never been free. Democracy has always required champions.

And, today, in the perennial struggle for democracy and freedom, Ukraine and its people are on the frontlines fighting to save their nation.

But their fight is part of a larger fight that unites all people. It is a fight that so many of the patriots, whose eternal rest is here in these hallowed grounds, were part of.

A battle between democracy and autocracy, between liberty and repression, between appetites and ambition of a few
who forever seek to dominate the lives and liberties of many.

A battle for essential democratic principles — the rule of law, free and fair elections, freedom to speak and write and to assemble, freedom to worship as one chooses, freedom of the press — principles that are essential for a free society.

You've heard this a lot. You've heard this a lot over the years, but we're now realizing how real it is around the world in so many countries as I speak. These are the foundations of our great experiment, but they are never guaranteed, even here in America.

Every generation has to defeat democracy's mortal foes. And into every generation, heroes are born, willing to shed their blood for that which they and we hold dear.

Ladies and gentlemen, today we remember and we reaffirm: Freedom is worth the sacrifice. Democracy is not perfect; it's never been good — perfect. But it's worth fighting for; if necessary, worth dying for.

It's more than just our form of government, it is part of the very soul of America. The soul of America.

Our democracy is our greatest gift as a nation, made holy by those we've lost along the way. Our democracy is how we undertake the constant work of perfecting the union — and we have not perfected it, but we've never stopped trying; of opening the doors wider of opportunity and prosperity and justice for people everywhere.

Our democracy is how we endure through every challenge, overcome every obstacle we faced through the last 246 years of self-government, and how we've come back stronger than before.

We must never walk away from that. We must never betray
the lives laid down to make our nation a beacon to the world —
a citadel of liberty and justice for everybody.

This is the mission of our time. Our memorial to them
must not be just a day when we pause and pray, it must be a daily commitment to act, to come together, to be worthy of the price that was paid.

May God bring comfort to all those who mourn. May God bless our Gold Star families and survivors. And please, God, protect our troops.

God bless America and all of you. Thank you.
'Drag Queen Story Hour' axed by USAF base- Sen. Rubio takes credit
"I don't know if anything can bring back the events though- most of the queens are enlisted," one person posted on social media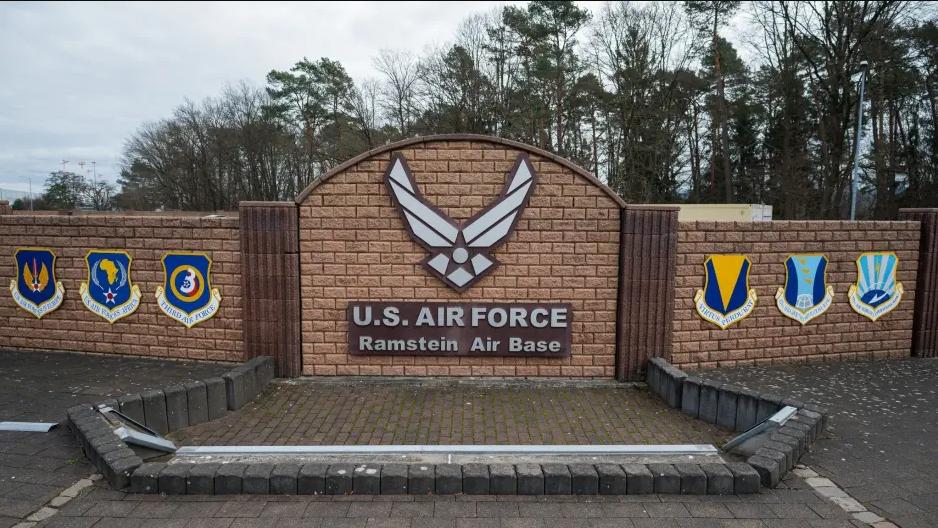 RHINELAND-PALATINATE, Germany – A drag queen story scheduled to be held at the library in honor of Pride month at Ramstein Air Base was abruptly cancelled by the command staff of the 86th Airlift Wing on Thursday.
According to Stars & Stripes, the 86th Air Wing's public affairs sent a statement to a radical-right anti-LGBTQ+ news outlet in Canada, The Post Millennial, which had requested comment to its article about the event and also accused the Air Force of pushing a more "woke" agenda among servicemen.
"An advertisement was posted to the base library social media page before the event had completed Ramstein's established processes for special observance coordination and approval. The advertisement has been removed and the event will not take place. Ramstein leaders strive to foster a culture based on inclusion where all people are treated with dignity and respect, regardless of their political views, color of their skin, or sexual orientation. The base's established processes will ensure all future special observance events are
properly reviewed and approved prior to advertisement."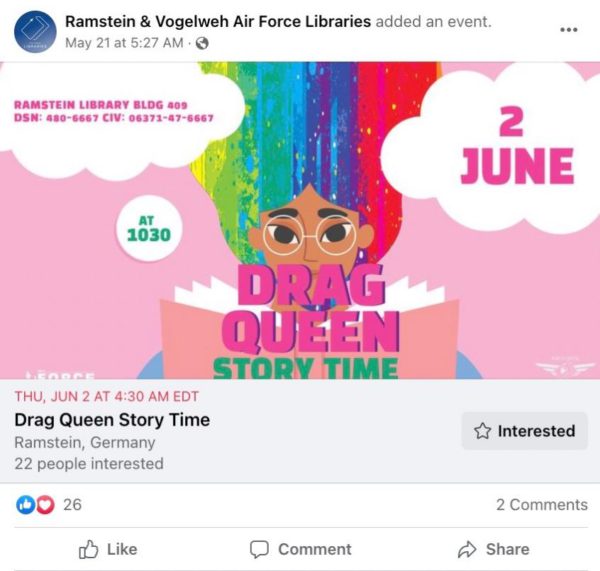 The Post Millennial's story framed its reporting using hard-line right terms and descriptions of the LGBTQ+ community; "Drag Queen Story Hour has become a phenomenon in recent years, with men dressing up in clownish, garish costumes of women to read to children- Many drag queens have sexualized names, like Penny Tration."
The conservative outlet also reported that one mom of a toddler, whose husband is stationed at the base, told The Post Millennial that while she often takes her child to the library for story time, she was "shocked to see the Ramstein Air Force Base Library plans to hold an official drag queen story hour for children."
"I find it wholly inappropriate that the MILITARY of all places will be using public funds to sexualize children," she said.
According to Stars & Stripes, the cancellation of the drag queen book reading drew mixed opinions from the Kaiserslautern Military Community, which encompasses Ramstein. With tens of thousands of Defense Department personnel and their families, it is the largest U.S. military community overseas.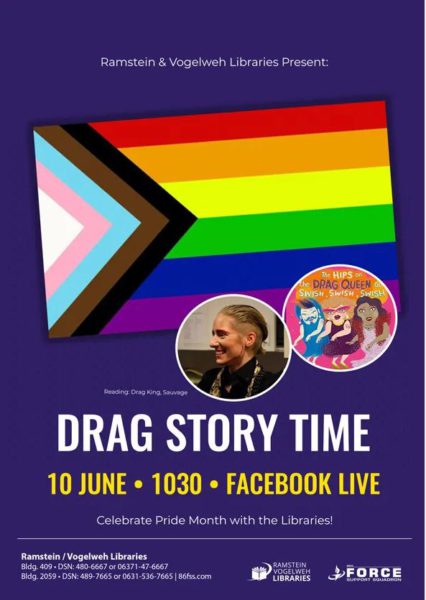 An opponent of the wing's decision launched a petition at www.change.org to try toget the event reinstated.
"Now more (than) ever we need to show our support to our enlisted members and spouses in the face of blatant discrimination," wrote the petition organizer, named Natalie Oyer, who described herself as spouse to a transgender wife.
"I don't know if anything can bring back the events though," Oyer wrote. "Most of the queens are enlisted."
Stars & Stripes also reported that the 86th Airlift Wing, axed a separate drag karaoke event scheduled to be held at the base enlisted club, according to community members posting on social media sites.
In a press release Friday, Florida Republican U.S. Senator Marco Rubio took partial credit for the cancellation.
Rubio (R-FL) sent a letter to U.S. Air Force Secretary Frank Kendall regarding the Air Force Library at Ramstein Air Force Base, Germany hosting a "Drag Queen Story Time" event for young children of servicemembers. Rubio urged him to cancel the event, discipline the staff involved in planning and hosting the event, and respond to questions on whether other installations both at home and around the world have done similar events. Following receipt of Rubio's letter, the Air Force canceled the event.
"The last thing parents serving their nation overseas should be worried about, particularly in a theater with heightened geopolitical tensions, is whether their children are being exposed to sexually charged content simply because they visited their local library," Rubio wrote.
The 86th Airlift Wing's publics affairs office at Ramstein AB and the U.S. Air Force Public Affairs office at the Pentagon have not responded to a request for comment.