Maryland lesbian couple hope law requires Christian school to enroll son
"She also said that she learned that the Grace Academy has admitted students with same-sex parents in the recent past"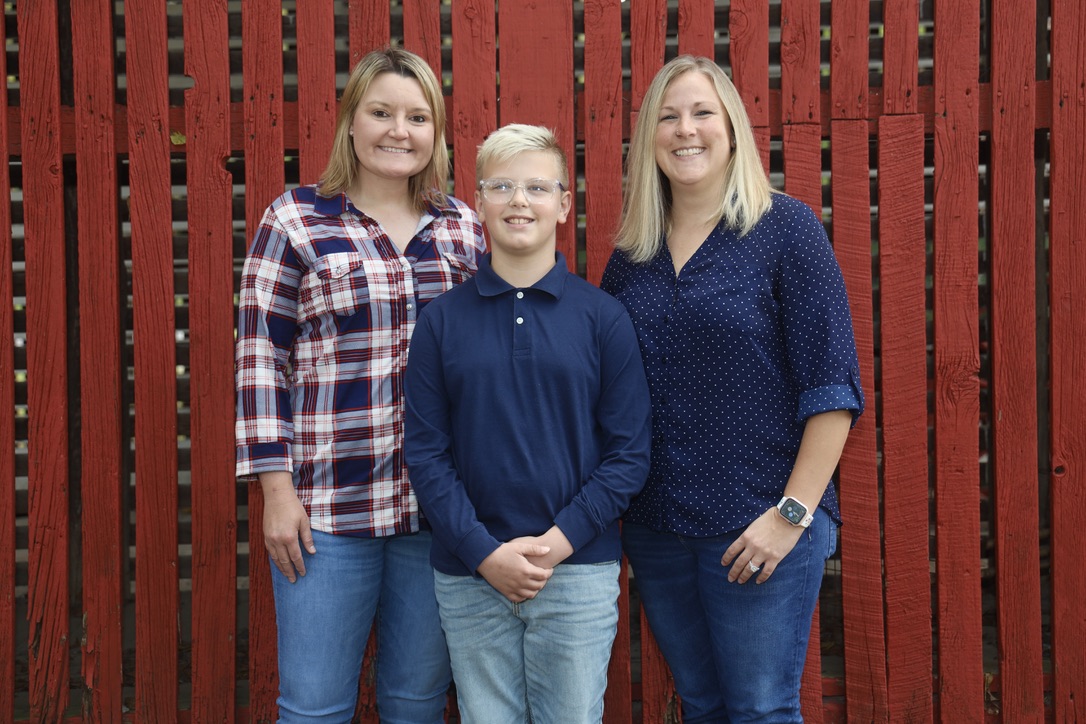 WASHINGTON COUNTY, Md. – A lesbian couple is hopeful that Maryland's nondiscrimination laws will require the Grace Academy, a private non-denominational Christian school in Hagerstown, Md., to reverse its decision earlier this month to deny admission to their 11-year-old son Brayden.
Jennifer Dane and her partner and fiancé Megan Stratton point to a May 8 letter from the academy's upper school principal saying, "We regret to inform you that, due to a lifestyle counter to the Biblical worldview we teach, we have decided to deny enrollment to Grace Academy" for Brayden.
The two women say the letter followed an interview they had with the principal in question, Mark Koontz, Jr., in which he initially expressed support for Brayden's enrollment but quickly changed his tune when the women asked him about the school's anti-bullying policy. According to a report by the Advocate, Koontz said he couldn't control Grace Academy's community reaction to a student with two moms and he would have to consult with the school's director about admitting Brayden.
When school officials received word that Dane and Stratton might file a discrimination complaint against the school, Grace Academy director Greg Whitley sent an email to the couple saying their sexual orientation wasn't the reason for the school's denial of admission for Brayden.
According to the Advocate, Whitley claimed that a lack of regular church attendance, prayers, and family devotions conflicted with the school's "worldview" and that this was the "lifestyle" issue referred to in the earlier letter.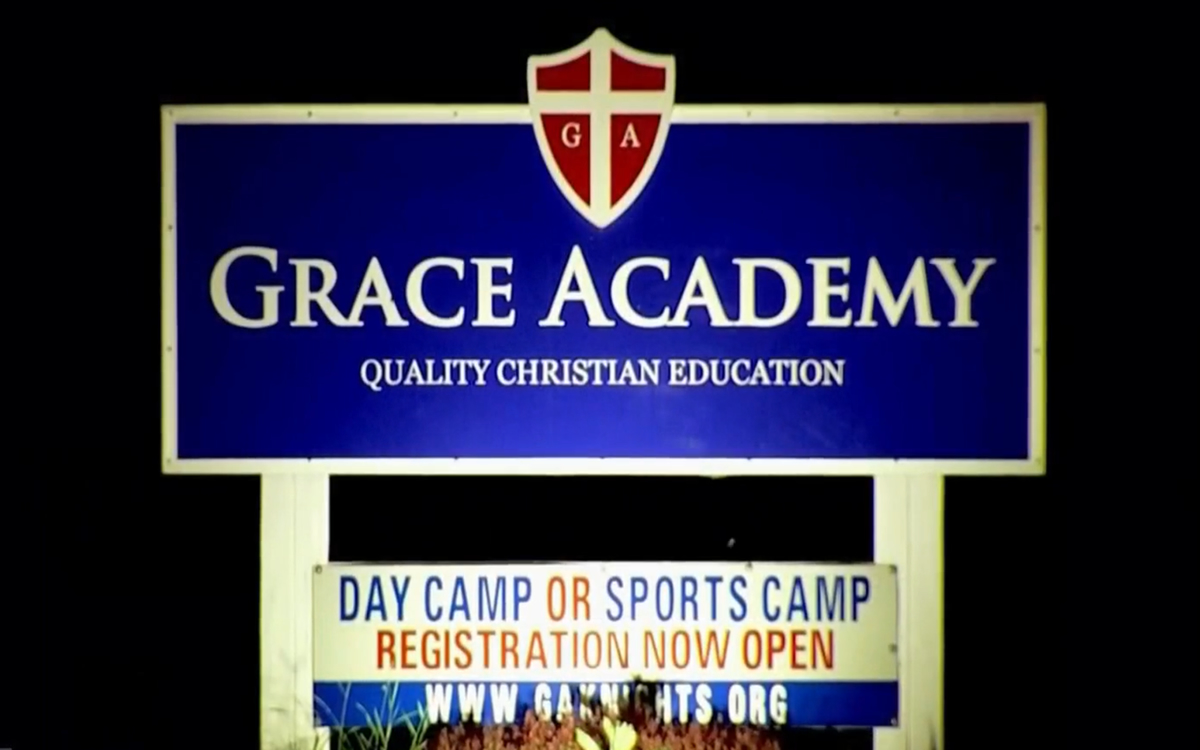 Dane told the Washington Blade this week that she and Stratton strongly dispute the school's denial that it refused admission to Brayden for reasons other than his parents' sexual orientation based on what he told them during their interview. Dane said the couple told Koontz in the interview that Brayden is a practicing Christian who prays and reads the Bible and that he attended another Christian school before the family moved to a different part of Hagerstown resulting in his enrollment in a public school, which he currently attends.
The couple has since learned that Grace Academy has received federal and state school funding in the past and may have lost its state funding under a specific program for not complying with certain requirements. Dane said she also learned that the school in the recent past has admitted students with same-sex parents.
The Advocate reports that a spokesperson for U.S. Rep. David Trone (D-Md.), whose district includes Hagerstown, said Trone strongly objects to Grace Academy's decision to deny admission to Brayden and that Trone's staff is investigating the matter.
Dane said she heard that the state Department of Education may also be investigating whether the school is currently receiving state education funds and whether receiving such funds requires the school to comply with the state law barring discrimination based on sexual orientation.
The Blade, meanwhile, has been unable to immediately reach spokespersons for the Maryland State Board of Education and the State of Maryland Commission on Civil Rights, to determine whether a religious school like the Grace Academy is bound by the state's nondiscrimination laws that prohibit discrimination based on sexual orientation and gender identity. The federal nondiscrimination law and some state laws include an exemption for religious institutions.
"That's what we're trying to figure out," said Dane, who said she and Stratton were waiting to hear back from attorneys they have called to find out if they have grounds to file a discrimination complaint under state or county law.
Dane said the two have learned that Grace Academy has received federal and state education funds under various programs, which could require that it comply with state nondiscrimination laws as a condition for receiving state funds.
A spokesperson for the school couldn't immediately be reached early this week for comment.
A message by school officials sent out Monday night to parents, which was provided to the Blade, detailed the school's position on the controversy:
Dear Grace Families,
In lieu of a recent situation regarding a denied enrollment, Grace Academy has found itself to be in opposition with the individuals who sought admission. Since having been denied, the individuals involved have taken further action, including going to the media. The Board of Directors and the Administration Team are aware of the circumstances and are taking the necessary steps to conclude this matter in a way that will be honorable to God while upholding the Christian Values that we hold dear. At this moment, we would ask that you hold the Board and the Administration in prayer, that they would be led by God's wisdom throughout this process.
We thank you all for your continued support and belief that Grace Academy is the institution that will both educate your children, but also aide in their ability to stand for Christ.
If you have need to seek further information, please contact Mr. Whitley, our Head of School.
God Bless,
Grace Academy Board of Directors and Administration
Arrest in anti-LGBTQ+ vandalism in Prince George's County, Maryland
Takoma Park man charged with hate-related malicious destruction of property for allegedly spray painting "groomer" on two library buildings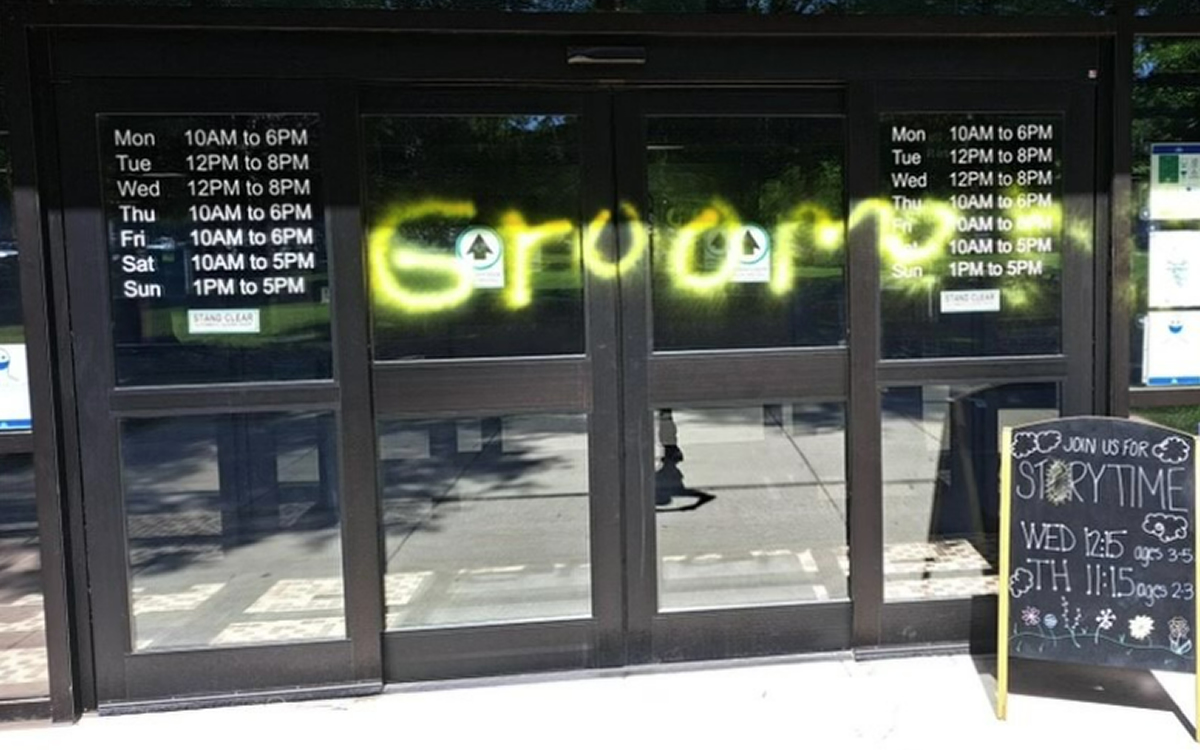 GREENBELT, Md. – Prince George's County, Md., police on Thursday charged a Takoma Park, Md., man with two counts of hate-related malicious destruction of property for allegedly spray painting in large yellow letters the word "groomer" on two public library buildings of the Prince George's County Memorial Library System.
A June 16 statement released by P.G. police states that Charles Southerland, 30, of Takoma Park allegedly carried out the vandalism at the Greenbelt Branch Library at 11 Crescent Rd., Greenbelt, Md., on June 4 and at the New Carrollton Branch Library at 7414 Riverdale Rd., New Carrollton, Md., on June 9.
"The preliminary investigation revealed Southerland spray-painted the word 'groomer' on the exteriors of both buildings," the P.G. County police statement says. "He has confessed to the incidents," the statement continues. "Anyone with information on Southerland is encouraged to call 301-699-2601," it says.
Organizations monitoring hate groups in the United States have said anti-LGBTQ organizations and individuals have for the last few years used the term "groomer" to describe their claims that LGBTQ people attempt to "groom" school children as a means of recruiting them into homosexuality and to transition.
"From what we can tell, that's one of the kinds of dog whistle words that the anti-LGBTQ+ extremists are using this year," said Nicholas Brown, a spokesperson for the P.G. library system. "There's been some national news coverage about that word specifically," he said.
In a statement released shortly before P.G. police announced they had made an arrest in the vandalism incident, the P.G. public library system condemned the vandalism and said it would not waiver from its commitment to maintaining "welcoming spaces for LGBTQ+ customers and their allies," which some observers have suggested could have been the reason the suspect targeted the two library buildings.
"The Library is nationally recognized for its outreach and programs in support of LGBTQ+ inclusion through staff leadership and partnerships with a wide range of local government and non-profit partners," the library system's statement says.
Brown said he wasn't at liberty to disclose how police linked Southerland to the vandalism incidents. But in response to a question from the Washington Blade, he said the library system has a video surveillance system in place that monitors both the interior and exterior of all its buildings.
It couldn't immediately be determined whether Southerland had appeared in court following his arrest and whether he will be held or released pending trial.
Baltimore rowhouse fire investigated as potential anti-LGBTQ+ hate crime
The house fire resulted in damages to multiple houses and sent a 30-year-old woman and 57-year-old man in the hospital in critical condition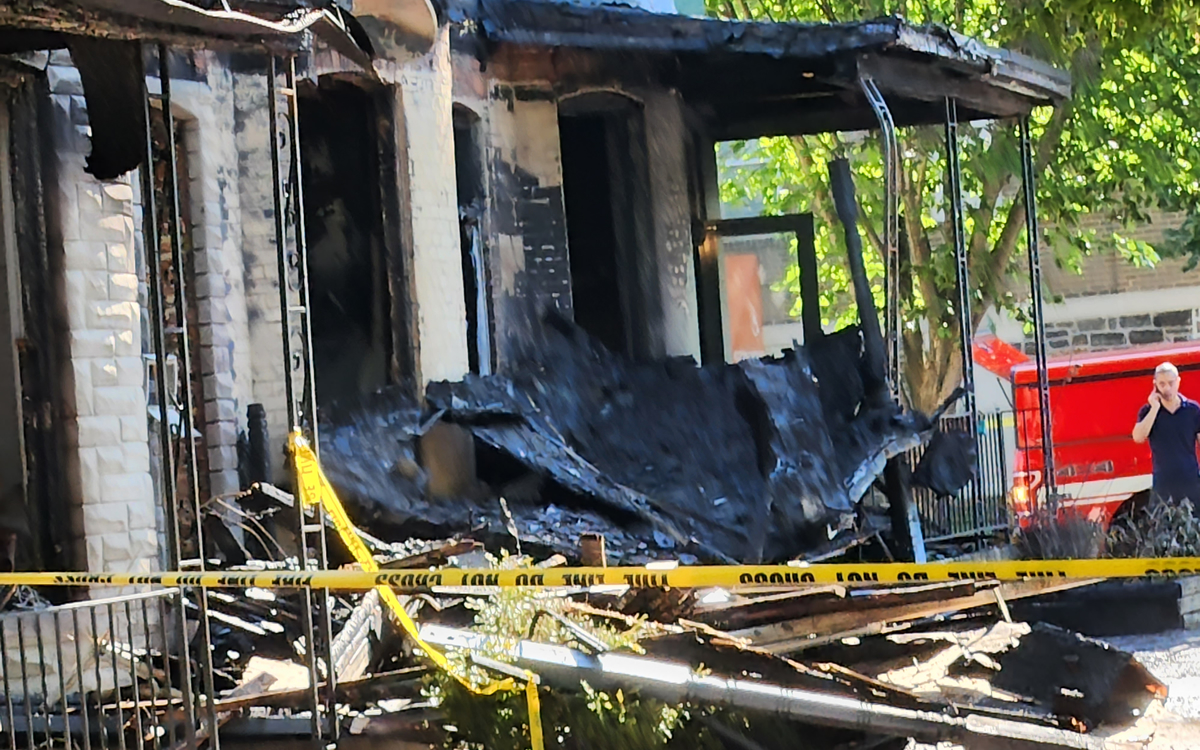 BALTIMORE – Baltimore city police are investigating a fire that injured three people as a potential anti-gay hate crime.
Firefighters and police were called to a home on East 31st Street in North Baltimore's Waverly neighborhood on Wednesday at 4:30 a.m. and found two separate fires. A home sporting Pride décor was set on fire, which injured three people, and the Pride flag on a house across the street was also ablaze.
The house fire resulted in damages to multiple houses and sent a 30-year-old woman and 57-year-old man in the hospital in critical condition, and a 74-year-old man in the hospital in serious condition. According to a press release sent to the Washington Blade by Baltimore Mayor Brandon Scott's office, the 30-year-old woman has since been released from the hospital, but the men remain hospitalized in critical and serious condition.
In photos of the scene shared by the Baltimore Fire Department, one home appeared to be completely burnt out, and an adjacent home appeared to have sustained considerable fire damage. According to the Fire Department, all the houses' residents made it out, but the motives behind the blaze remain unconfirmed.
"I have been on the scene, spoken with residents, and received updates from BCFD and BPD on the investigation status," Scott said. "At this point, we cannot confirm that this was a hate crime. However, my agencies will bring every appropriate resource to bear to get to the bottom of this tragic event. Regardless, I continue to stand in solidarity with our LGBTQ+ community."
According to Scott's press release; the Bureau of Alcohol, Tobacco and Firearms and the FBI are assisting in a joint operation between the city of Baltimore, the Baltimore City Police Department and the Baltimore Fire Department to investigate the causes and origins of the fire.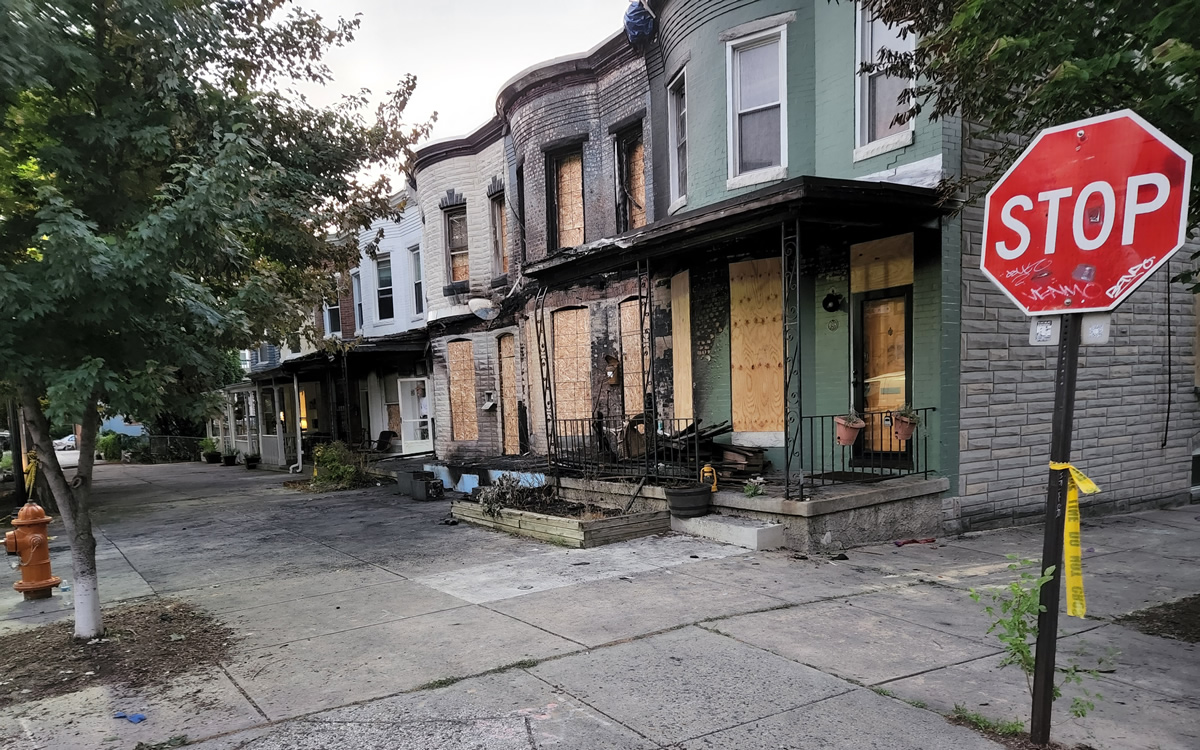 This is not the first time Pride flags have burned in Baltimore.
Just over a month ago, a man was caught on camera lighting rainbow flags on fire, resulting in a police investigation. In the aftermath of that incident, the neighborhood rallied in support of the LGBTQ+ community, ordering more than 100 Pride flags to give out to residents. After this more recent — and more damaging — fire, Police Commissioner Michael S. Harrison reaffirmed the city's commitment to protecting its residents from hateful acts.
"It is completely unacceptable that there are now lives at risk and homes destroyed due to the actions of persons who have no regard for the lives and property of others," Harrison said. "While we are still working to determine the details and motives for these incidents, I want to say that the BPD, the city and our communities will not tolerate any criminal behavior of any sort, let alone actions that may stem from hatred, bias and other bigoted attacks."
Maryland school district bans Pride Flag
One parent stated she believed that the presence of Pride flags and discussions of sexuality and gender identity could end up harming students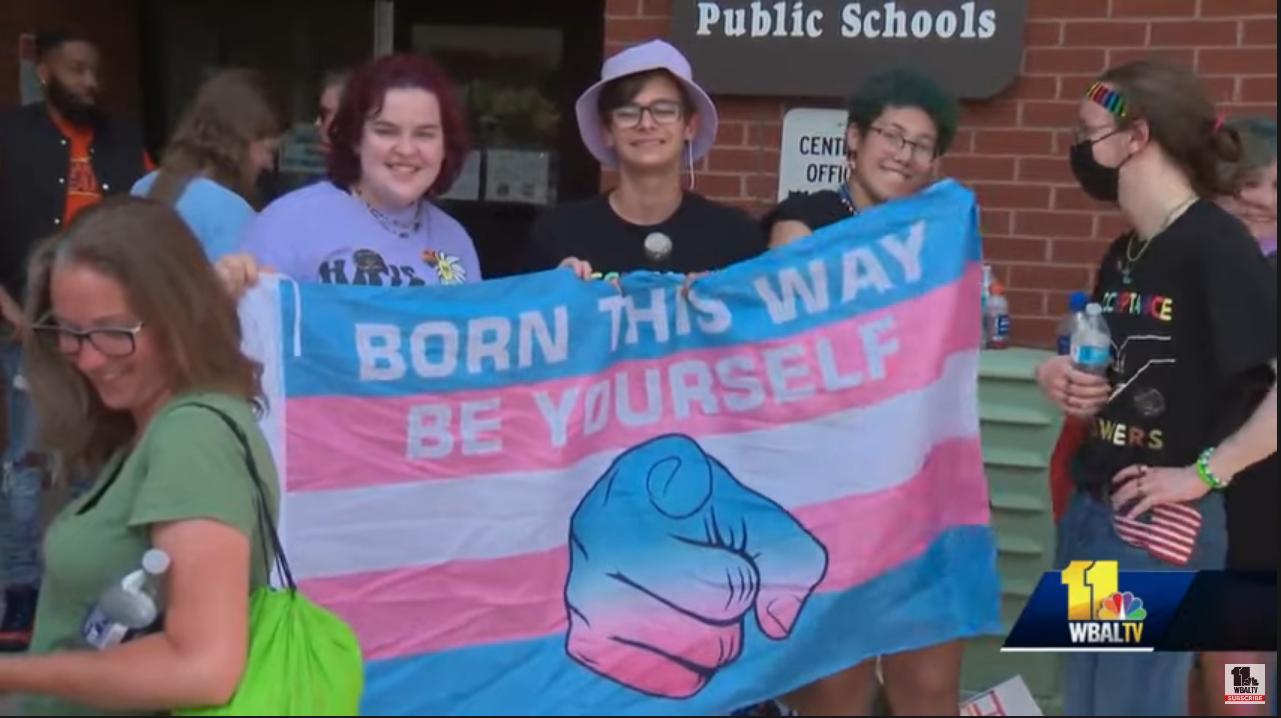 WESTMINISTER, Md. – The Carroll County Board of Education adopted a policy on Wednesday that prohibits Pride flags from being displayed in schools under its jurisdiction.
Under the new policy, which the board adopted by a 4-1 vote margin, flags that are not specifically included in its language cannot be "flown, posted or affixed" to school buildings and facilities. The language signals that, although the policy does not explicitly mandate a ban on Pride flags, such flags cannot be displayed, as they are not included in the list of flags that the policy permits.
Patricia Dorsey, the only board member to vote against the policy, expressed her disapproval of the measure to the board during the meeting.
"I think that we're doing them a disservice if we do not include saying that, 'Yes, let's just go ahead and have their safe spaces designated by the flags in the classroom,'" Dorsey said.
In public comments made to the school board for their meeting; parents, faculty and members of the community made impassioned arguments against the new policy.
"The students of color and the students of [the] LGBTQ [community] are bullied in this school system on a regular basis," one public commenter said. "We have students that have come in here and talked to you specifically about the fact that they have tried to commit suicide because of the way they are treated in this school system. I do not find [these to be] acceptable policies."
However, other members of the public came out in support of the new policy, believing Pride flags to have no place in school spaces.
One parent stated how she believed that the presence of Pride flags and discussions of sexuality and gender identity in the classroom could end up harming students rather than helping them.
"It overstimulates a curiosity that [students] are not remotely able to comprehend yet and could further their curiosities, potentially causing harm to themselves or others out of pure confusion," the parent said.
The commenter asserted such conversations and displays of support should be kept private and away from the classroom.
"Allies can be made and known and shared in a separate setting with an appointed advocate equipped with the correct resources to properly address these issues with our children who are struggling with them," she said.
The separation from and neutrality on the topic of Pride flags and discussions in schools has been echoed by multiple members of the board who voted in favor of the policy.
Board member Tara Battaglia told the Washington Blade how she believed voting for the policy would achieve fairness among those in the county's schools.
"Schools should always be a neutral environment and welcoming to all students," Battaglia said.
Dorsey and other members of the public who chose to speak during the meeting denied the notion that allowing the display of Pride flags in schools was an inherently political or destructive gesture, framing it, rather, as a gesture of humanity.
"We've got students who are saying, 'See me, see me, look at me for who I am, accept me for who I am,'" Dorsey said.
The adoption of the policy has since gained attention from across the state, with multiple statewide candidates for office responding to the decision.
Former Maryland Attorney General Doug Gansler, who is running for governor, took to Twitter the day after the meeting, sharply criticizing the policy.
"This is shameful, regressive, and exactly the wrong message to be sending to our LGBTQ+ youth, who deserve a learning environment that welcomes them for who they are," Gansler wrote. "Also, this is begging for a constitutional challenge. I call on the school board to reconsider."
Just hours later, former Democratic National Committee chair and fellow gubernatorial candidate Tom Perez referred to the decision as "utterly disgraceful."
"Our classrooms — and every community across Maryland — should be a welcoming, safe place that empowers every person to be who they are," Perez wrote. "At a time when our LGBTQ+ youth face incredible challenges, we need to do all we can to support them."
As concerns among national and state advocates rise over the future of LGBTQ students' access to affirming spaces and conversations in schools, advocates in Carroll County and around the country continue to convey a message of humanity.
"We've heard a lot of voices from the students that we really do have to acknowledge," Dorsey said. "Let's just see them, let's hear them and let's validate them for who they are."
Debate on possible ban on flags in Carroll County Public Schools: