Maryland school district bans Pride Flag
One parent stated she believed that the presence of Pride flags and discussions of sexuality and gender identity could end up harming students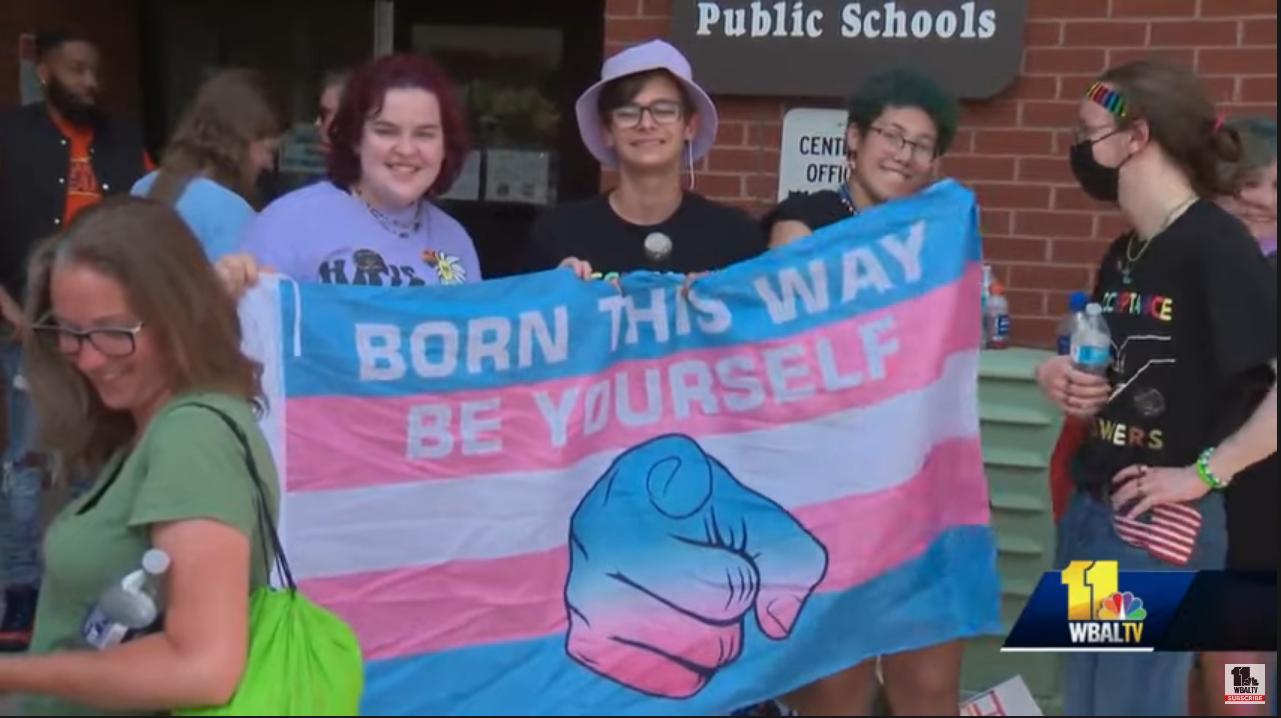 WESTMINISTER, Md. – The Carroll County Board of Education adopted a policy on Wednesday that prohibits Pride flags from being displayed in schools under its jurisdiction.
Under the new policy, which the board adopted by a 4-1 vote margin, flags that are not specifically included in its language cannot be "flown, posted or affixed" to school buildings and facilities. The language signals that, although the policy does not explicitly mandate a ban on Pride flags, such flags cannot be displayed, as they are not included in the list of flags that the policy permits.
Patricia Dorsey, the only board member to vote against the policy, expressed her disapproval of the measure to the board during the meeting.
"I think that we're doing them a disservice if we do not include saying that, 'Yes, let's just go ahead and have their safe spaces designated by the flags in the classroom,'" Dorsey said.
In public comments made to the school board for their meeting; parents, faculty and members of the community made impassioned arguments against the new policy.
"The students of color and the students of [the] LGBTQ [community] are bullied in this school system on a regular basis," one public commenter said. "We have students that have come in here and talked to you specifically about the fact that they have tried to commit suicide because of the way they are treated in this school system. I do not find [these to be] acceptable policies."
However, other members of the public came out in support of the new policy, believing Pride flags to have no place in school spaces.
One parent stated how she believed that the presence of Pride flags and discussions of sexuality and gender identity in the classroom could end up harming students rather than helping them.
"It overstimulates a curiosity that [students] are not remotely able to comprehend yet and could further their curiosities, potentially causing harm to themselves or others out of pure confusion," the parent said.
The commenter asserted such conversations and displays of support should be kept private and away from the classroom.
"Allies can be made and known and shared in a separate setting with an appointed advocate equipped with the correct resources to properly address these issues with our children who are struggling with them," she said.
The separation from and neutrality on the topic of Pride flags and discussions in schools has been echoed by multiple members of the board who voted in favor of the policy.
Board member Tara Battaglia told the Washington Blade how she believed voting for the policy would achieve fairness among those in the county's schools.
"Schools should always be a neutral environment and welcoming to all students," Battaglia said.
Dorsey and other members of the public who chose to speak during the meeting denied the notion that allowing the display of Pride flags in schools was an inherently political or destructive gesture, framing it, rather, as a gesture of humanity.
"We've got students who are saying, 'See me, see me, look at me for who I am, accept me for who I am,'" Dorsey said.
The adoption of the policy has since gained attention from across the state, with multiple statewide candidates for office responding to the decision.
Former Maryland Attorney General Doug Gansler, who is running for governor, took to Twitter the day after the meeting, sharply criticizing the policy.
"This is shameful, regressive, and exactly the wrong message to be sending to our LGBTQ+ youth, who deserve a learning environment that welcomes them for who they are," Gansler wrote. "Also, this is begging for a constitutional challenge. I call on the school board to reconsider."
Just hours later, former Democratic National Committee chair and fellow gubernatorial candidate Tom Perez referred to the decision as "utterly disgraceful."
"Our classrooms — and every community across Maryland — should be a welcoming, safe place that empowers every person to be who they are," Perez wrote. "At a time when our LGBTQ+ youth face incredible challenges, we need to do all we can to support them."
As concerns among national and state advocates rise over the future of LGBTQ students' access to affirming spaces and conversations in schools, advocates in Carroll County and around the country continue to convey a message of humanity.
"We've heard a lot of voices from the students that we really do have to acknowledge," Dorsey said. "Let's just see them, let's hear them and let's validate them for who they are."
Debate on possible ban on flags in Carroll County Public Schools:
Anti-LGBTQ+ GOP candidate wins Maryland gubernatorial primary
Cox, a member of the Maryland House of Delegates who Trump has endorsed, defeated Schulz, who Republican Gov. Larry Hogan backed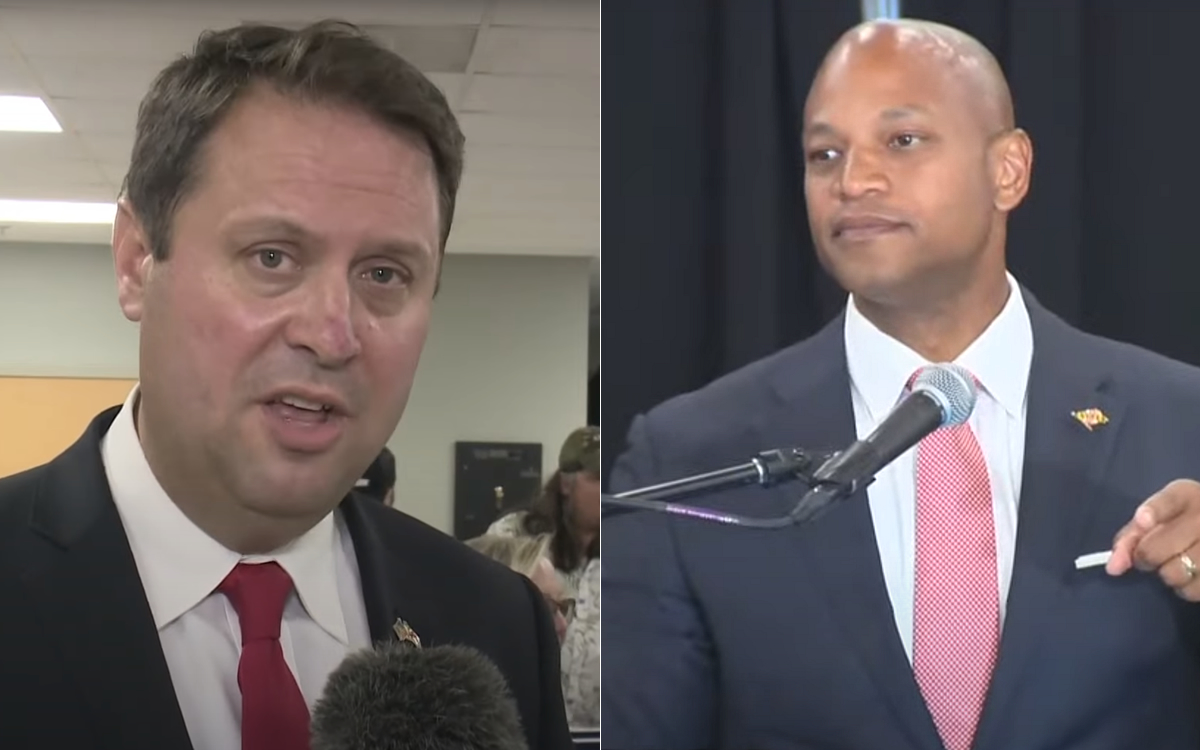 ANNAPOLIS – State Del. Dan Cox (R-Frederick County) on Tuesday defeated former Labor and Commerce Secretary Kelly Schulz in the Maryland Republican gubernatorial primary.
Cox, an anti-LGBTQ member of the Maryland House of Delegates who former President Donald Trump has endorsed, defeated Schulz, who Republican Gov. Larry Hogan backed, by a 56.2-40.3 percent margin.
Unofficial election results that include early voting and Election Day ballots indicate Wes Moore, former Democratic National Committee Chair Tom Pérez and Comptroller Peter Franchot are ahead in the Democratic gubernatorial primary. A state law does not allow the Maryland State Board of Elections to begin counting mail-in ballots until 10 a.m. on Thursday.
Congressman Anthony Brown on Tuesday defeated former Maryland first lady Katie Curran O'Malley in the Democratic primary for attorney general by a 59.6-40.4 percent margin. Brown will face former Anne Arundel County Council member Michael Peroutka in the general election.
"A heartfelt thank you to Maryland voters for putting their faith in me," said Brown in a statement his campaign released early Wednesday. "Our campaign's message has resonated with voters and tonight's results prove it. An attorney general can either be a champion for progress or a defender of the status quo. I'm running for attorney general to dismantle barriers because the status quo isn't working for Marylanders."
State Del. Brooke Lierman (D-Baltimore City) will face off against Republican Harford County Executive Barry Glassman in the race to succeed Franchot as state comptroller.
Mizeur, Ivey win primaries
Democratic U.S. Sen. Chris Van Hollen on Tuesday easily won his primary, and is expected to win re-election in November.
Heather Mizeur easily defeated David Harden in the Democratic primary in Maryland's 1st Congressional District that includes all of the state's Eastern Shore. Mizeur, who was a member of the House of Delegates from 2007-2015, would be Maryland's first openly lesbian member of Congress if she defeats Republican Congressman Andy Harris in November.
Former Prince George's County State's Attorney Glenn Ivey defeated former Congresswoman Donna Edwards by a 51.2-35.2 percent margin in the race to succeed Brown in the 4th Congressional District. Ivey will face off against Republican Jeff Warner in the general election.
Anti-LGBTQ state Del. Neil Parrott (R-Washington County) won the Republican primary in the 6th Congressional District. The Washington County Republican will face off against Democratic Congressman David Trone in November.
"In his time in Annapolis, the main thing Neil Parrott has accomplished is building a reputation for ineffectiveness," said Trone on Wednesday in an email to supporters. "He's been named one of the least effective legislators in our state. Rather than getting results for his constituents, he's focused on advocating for hate-filled policies — like requiring people with HIV to get tattoos, taking away rights from same-sex couples and more."
House Majority Leader Steny Hoyer, who represents the 5th Congressional District, easily defeated his primary challenger. Congressmen Jamie Raskin, Kweisi Mfume, John Sarbanes and Dutch Ruppersberger also won their respective Democratic primaries on Tuesday.
"I am honored to have been selected by (Maryland's 5th Congressional District) to be their nominee for Congress in the general election this November," tweeted Hoyer on Wednesday. "As congressman I will continue working hard to bring resources and opportunities back to our district."
I am honored to have been selected by #MD05 to be their nominee for Congress in the general election this November. As Congressman I will continue working hard to bring resources and opportunities back to our district. https://t.co/Xw0GCZ8uqE pic.twitter.com/7HowOpgIQm

— Steny Hoyer (@StenyHoyer) July 20, 2022
Gay, lesbian General Assembly incumbents, candidates ahead
State Del. Gabriel Acevero (D-Montgomery County), who is the House of Delegates' first openly gay Afro-Latino member, is currently second among the four Democrats who are running in Legislative District 39. State Del. Lisa Belcastro (D-Baltimore County) is third among the three Democrats running in Legislative District 11B.
State Del. Luke Clippinger (D-Baltimore City) is second among the six Democratic primary candidates in Legislative District 46. State Del. Bonnie Cullison (D-Montgomery County) is currently second among four Democrats who are running in Legislative District 19.
State Del. Anne Kaiser (D-Montgomery County) is currently first among the five Democrats who are running in Legislative District 14.
Kris Fair is first among the seven Democratic primary candidates in Legislative District 3, while Joseph Vogel is currently third among the four candidates in his race in Legislative District 17. Ashanti Martinez is fourth among the six Democratic primary candidates in Legislative District 3.
The top three candidates in each race will advance to the general election.
State Sen. Mary Washington (D-Baltimore City) on Tuesday was unopposed in Legislative District 43
Newsom pardons Maryland man for 1967 gay sex conviction
Newsom's decision to approve a pardon came after Pachnowski, with the help of his lawyer, submitted an application for the pardon last fall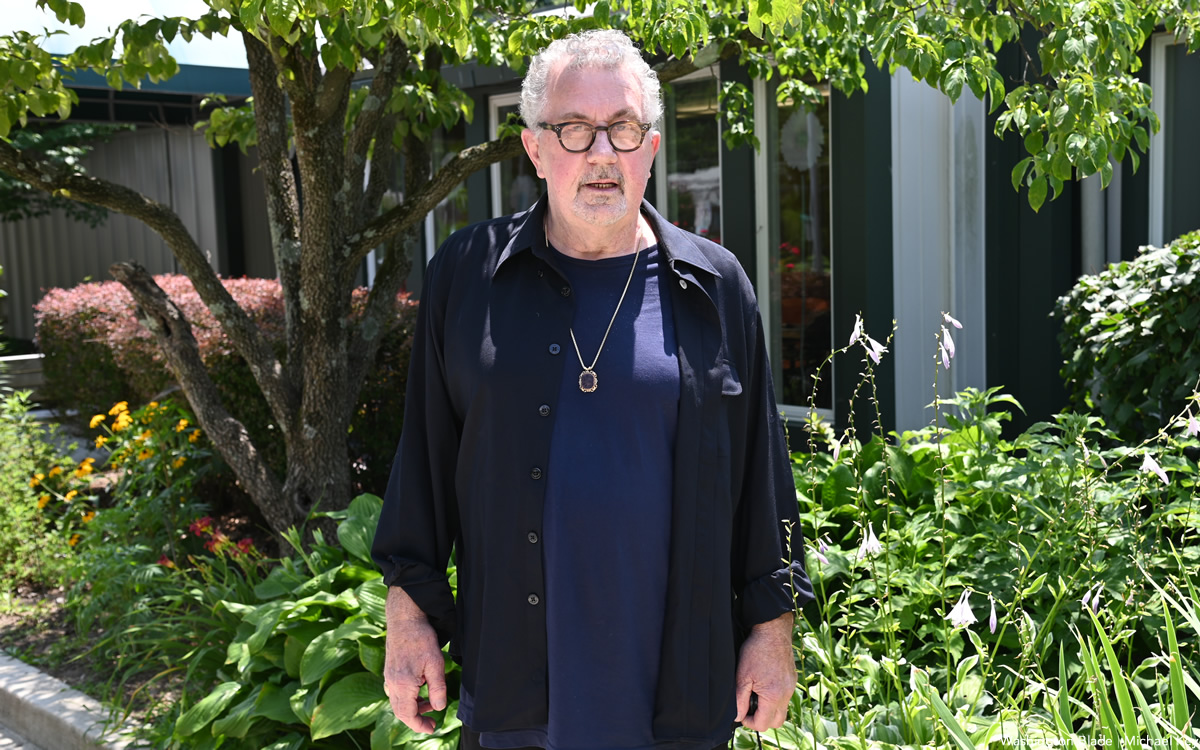 SILVER SPRING, Md. – California Gov. Gavin Newsom on July 1 granted a pardon for an 82-year-old gay Maryland man for his conviction in Orange County, Calif. in 1967 on a charge of lewd conduct after he was caught having sex with another man in a car parked in a secluded area in Long Beach.
Newsom's decision to approve a pardon for Henry Pachnowski, who currently lives in Silver Spring, Md., came after Pachnowski, with the help of his lawyer, submitted an application for the pardon last fall in which he explained the circumstances of his arrest more than 54 years ago.
"I engaged with consensual intimacy with a male partner in a deserted industrial area in his car and was caught by a security guard who said we had gone against 'God and nature,'" Pachnowski stated in his pardon application form sent to the governor's office.
"He turned us into the police, and I pleaded guilty to a lewdness charge in exchange for the dropping of a 'sex perversion' charge," Pachnowski states in the application. "A pardon would not only recognize and remedy the injustice that I suffered from being targeted and convicted because of my sexuality, it would also ensure that I do not face any future obstacles, such as employment and housing-related ones, stemming from this conviction."
The pardon granted by Newsom for Pachnowski was one of 17 gubernatorial executive pardons he issued on July 1, according to a statement released by his office. In his official declaration pardoning Pachnowski, Newsom explains the circumstances surrounding Pachnowski's arrest and conviction and his reason for granting the pardon.
"On August 24, 1967, the Superior Court of California, County of Orange, sentenced Mr. Pachnowski to three years of probation and 10 days in jail for misdemeanor solicit lewd act," Newsom states.
"Mr. Pachnowski was convicted and sentenced pursuant to a charge commonly used, and used in this case, to punish men for engaging in consensual adult sexual conduct with other men, criminalizing them based on stigma, bias, and ignorance," he states in the pardon declaration. "With this act of executive clemency, I acknowledge the inherent injustice of the conviction," Newsom states.
"By the laws of this state it is proper that I, as Governor of the State of California, give testimony that Mr. Pachnowski merits this pardon," Newsom wrote in his declaration, adding that under California's constitution and statutes he grants to Henry Pachnowski "a full and unconditional pardon for the above case."
Pachnowski, who along with his parents, is a Nazi Holocaust survivor, said he applied for the pardon at the advice of his attorney, who had been helping him renew his permanent U.S. residence status after decades of uncertainty as a "stateless" person.
He told the Blade in an interview on Wednesday that he was born in Germany in 1940 after his parents, who are from Poland, were taken against their will to Germany following the Nazi takeover of Poland, where they were placed in a forced labor camp. After surviving the dangers in Nazi Germany during World War II, Pachnowski said he and his family remained in Germany until 1951 when they immigrated to the U.S.
But because he couldn't claim citizenship legally from Poland or Germany, his decades of living in the U.S. have been marked with uncertainty, he said, from an immigration standpoint.
Jayesh Rathod, a professor with the Immigrant Justice Clinic at American University's Washington College of Law, has been serving as Pachnowski's attorney. Rathod told the Blade that after several years of interactions with U.S. immigration officials, Pachnowski was in the final stages of having his permanent U.S. residence status renewed and should be receiving his long sought Green Card.
Although a misdemeanor arrest like the one Pachnowski faced back in 1967 would not likely prompt immigration officials to deny his request for permanent residency, Rathod said he and others working on Pachnowski's immigration case thought it would be best to seek a pardon for the conviction.
"We just wanted to get it off the record, both because of the immigration reason but also because we felt morally and legally it was an improper and unjust prosecution," Rathod said.
"And I think it's just great that the governor did this," said Rathod. "It's so important to kind of correct all these wrongs against the LGBTQ community," he said. "Although it's a relatively minor conviction, obviously it's really significant for him and it's important for the community."
Neighborhood recovers after possible hate-crime fire in Baltimore
"What we do know is that they [fires] were all intentionally set. What we don't know is if this is a hate crime"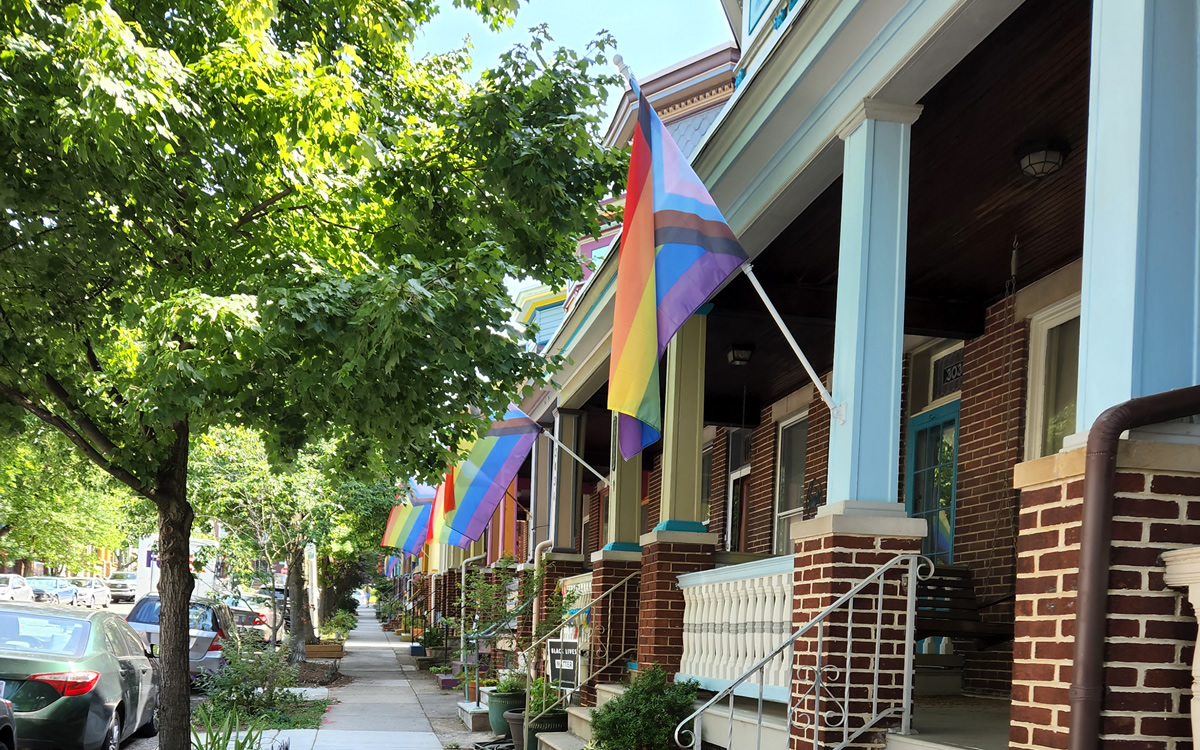 BALTIMORE – One month after a fire damaged multiple homes and hospitalized three people in North Baltimore's Abell neighborhood, the investigation into the blaze remains ongoing.
The city of Baltimore and the Baltimore City Police Department are working with the FBI and the Federal Bureau of Alcohol, Tobacco, and Firearms to investigate the fires. At this time, no person of interest has been named, and the fires, while determined to be intentionally set, have not yet been ruled a hate crime.
"In terms of the investigation, there were four fires that morning in the same area: a dumpster fire, a car fire, this fire, and one down the street. The house fire and the one down the street from it had Pride flags involved," Council member Odette Ramos, who represents the Abell neighborhood, told the Blade. "What we do know is that they were all intentionally set. What we don't know is if they are all related, and we don't know yet if this is a hate crime. We really have the best of the best working on this … they are working diligently."
As of last week, all three victims were out of the hospital and doing well, and according to Ramos, all the homeowners whose houses were damaged in the blaze have begun rebuilding.
"I'm grateful that they are digging in and ready to get back to the neighborhood," she said. "The community came together to support the homeowners and raised about $15,000 at a recent fundraiser that I think the whole city attended … It was really nice to see."
The Baltimore Peabody Heights Brewery hosted the fundraiser on June 23, with the goal of raising $5,000, and according to the Abell community Instagram, the fundraiser ended up raising $18,000 to go toward the homeowners' rebuilding efforts.
Ramos said that investigators are also looking into potential links between the June 15 fire and other fires intentionally set in the same area a week or two prior. Although the clearance rate for arson is low — around 30% — Ramos said that the neighborhood has been proactive about sending in tips and that residents remain hopeful.
In response to the fires, many Abell residents are showing solidarity by displaying Pride flags, and part of the sidewalk was painted in rainbow colors.
"We don't know that it was a hate crime, but for many members of our community, it really felt like it. And so, we have been really proud of our community — everybody has a Pride flag and everybody is making sure folks feel safe and welcomed," Ramos said. "This neighborhood was one of the first neighborhoods to be welcoming to the LGBTQ community in Baltimore City, and we want to keep it that way."