Eric Strong angling to become LA County's first Black Sheriff
"One of the most concrete things, other than changing the policies, are the mindset and culture. Otherwise we'll continue to have it"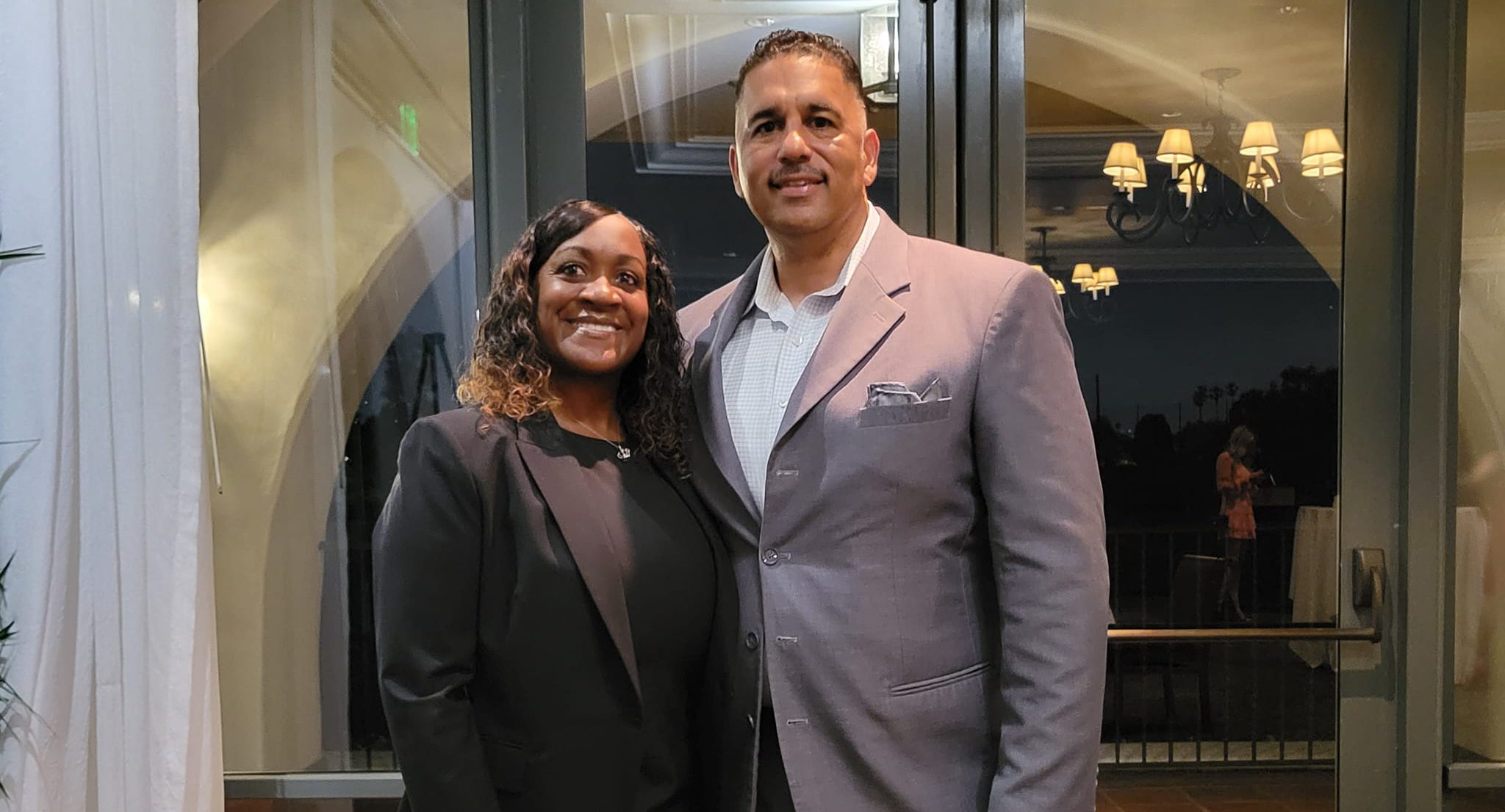 INGLEWOOD – In an exclusive interview with The Los Angeles Blade Thursday, Eric Strong discussed his candidacy to be elected as the next Los Angeles County Sheriff and detailed reforms he would bring to the Los Angeles County Sheriff's Department, (LASD) which has been beleaguered by scandal and corruption in recent years. 
Should incumbent Sheriff Alex Villanueva, who took office in 2018, fail to capture 50 percent of the vote in the upcoming primary election on June 7, he will square off against Strong and seven other candidates on the ballot in November.
Dramatic reforms within the LASD are necessary to effectuate any real change, said Strong, who emphasized that the LASD's many problems did not start with Villanueva's tenure.
"There's a lot on the inside that needs to be changed," he said, "to make the biggest impact on the outside."
As the county grapples with crises involving public safety, addiction and the unhoused, Villanueva has been accused of "running the LASD," which is the largest in the nation, "like a prison yard."
Racially motivated violence by LASD deputies was described in a 2020 article by The GuardianUK as "a reign of terror." That same year, Max Huntsman, the LA County inspector general, accused Villanueva of fostering a "code of silence" and stonewalling investigations of a tattooed gang of deputies called the Banditos, who have assaulted non-member deputies within the department and perpetuated a culture of favoritism, racism, sexism and violence.
Villanueva sent a cease-and-desist letter earlier this year demanding that the Los Angeles County Board of Supervisors stop using the term "deputy gangs." During a press conference last September, the sheriff said that he worked alongside a group called the Cavemen when working on patrol in East LA and, "There was no difference between what I did and what they did."
In the 1980s and 90s, the Cavemen were known to sport tattoos that sometimes depicted house flies, each meant to represent a violent incident against a civilian. Villanueva's undersheriff, Timothy Murakami, was also a member of the gang.
Gang activity within the LASD by deputies has been associated with allegations of rigged promotions, pay-to-play schemes and other types of favoritism. Villanueva has also been accused of covering up an incident where a deputy knelt on an inmate's neck, and he has attacked his critics and political enemies, including by baselessly calling Huntsman a "Holocaust denier."
Villanueva also sought to launch a criminal investigation into a Los Angeles Times reporter who had written an in-depth series of articles detailing some of the Sheriff's questionable actions. He later walked that back in a public statement after protest by the Times and other LA Media outlets.
Strong said he is the only candidate who pledged not to build additional detention facilities in response to the County's homelessness crisis; the only candidate who pledged not to take money from the police union; the only candidate who led investigations of deputy gangs while working in internal affairs at LASD, and the only candidate who did not switch his party affiliation from Republican to Democrat before entering the race.
Strong has over 30 years of experience in law enforcement, having served in the Compton Police Department before joining the LASD, where he is currently serving as a supervisory lieutenant. He has been commander of multiple bureaus, as well as on multiple executive level committees, including as executive chairman of the Shooting Analysis Committee. "I've spoken out many times" about misconduct and corruption at LASD, he said.
Strong added the other seven candidates in the sheriff's race have baggage: some, like a former LASD deputy and the current LAX Police Chief Cecil Rhambo, have close ties to the current regime, having done nothing to reform the LASD when serving in leadership positions under conditions where promotions are awarded based on loyalty and favoritism.
Others have disciplinary records over their unjustified use of force, including shootings. Bob Luna was formerly chief of police for the City of Long Beach, during which time gay men were entrapped in sting operations. (Dismissing the charges of lewd conduct and indecent exposure, an LA County Superior Court judge said, "The arbitrary enforcement of the law as seen in this case undermines the credibility of our legal system, eroding public confidence in our ability to achieve just results.")
Along with Rhambo, Strong is one of two candidates in the race who, if elected, would become the County's first Black sheriff. Having grown up in LA County, Strong said he has "experienced law enforcement at its worst," having been roughed up and having suffered the incarceration and deaths of family members at the hands of law enforcement.
A graduate of the FBI National Academy at Quantico, Strong has received awards for his handling of some of the department's most infamous internal affairs investigations, including the Quiet Cannon Case in 2010 involving a deputy gang known as the 3000 Boys.
Strong lives in Inglewood with his wife Sidra, who is also a deputy in the LASD. They have three grown children, ages 24, 22 and 21.
Strong proposes major reforms to LASD
Deputy gangs have been allowed to persist at LASD for over 50 years, Strong said, because there has never been a message from the top that it needs to stop, let alone a sincere effort by a Sheriff or leadership at the department to investigate and disband them.
"My message is, this is going to stop," he said. "Today." Gang members' abuse and harassment of non-members at LASD is not just an internal issue, Strong said. "How can we expect [officers involved in gang activity] to treat the community with respect, dignity and compassion when they can't even do that on the inside to themselves?"
Another significant change he would implement is to change the conditions under which deputies are eligible for promotions to bring the LASD in line with the best practices utilized by other departments across the country, and then petition the Board of Supervisors to change the county charter so reforms cannot be undone by a future Sheriff.
This would mean adding educational requirements, leadership or managerial experience and a testing process administered by an entity outside the LASD, he emphasized.
"I want somebody from the outside to be part of the review process. If I say 'this person is qualified to be commander or chief,'" other people should have input, "whether it's a board of supervisors, an oversight committee, the Office of the Inspector General, community stakeholders, or even a panel of other law enforcement executives."
Strong added he would review promotions and, where necessary, have individuals step back from their duties until they receive adequate training to bring them in line with what's required to serve in the positions to which they may have been promoted in the absence of requisite merit and experience.
Current policies allow anyone who has served two years in their current position to be promoted in rank – an insufficiently high bar that, in many cases, was not met by the deputies promoted by Villanueva. The reason for Strong's focus on this issue is twofold: the current system facilitates favoritism and gang culture, incentivizing LASD personnel to undermine each other and to never speak out against policies and practices of their superiors. And it also keeps deputies siloed off from exposure to new ideas, approaches and experience they would glean from training administered by other departments.
Racism, and racially motivated use of excessive force, are also issues that stem from the messaging and culture at LASD, Strong said. He said changing the mindset and culture will be a top priority – coupled with civilian oversight "in every individual station" to keep the Department accountable.
Strong related a story of how, when serving as a unit commander reviewing civilian complaints, there was a case involving a black man in South LA who, pulling into his driveway after returning home from work, was threatened and treated with hostility by LASD deputies. Their justification, which was supported by a lieutenant, was that there had been shootings on that street.
"I said, 'what do you do when you get home from work and pull into your driveway?'" There was no apology by the officers, whose actions that day showed their lack of discernment, Strong said, which is reinforced by the higher-ups who have the same attitudes and biases.
"One of the most concrete things, other than changing the policies, are the mindset and culture." Otherwise, "we'll continue to have it," Strong added.
Heat Advisory issued as temps expected to be in triple digits
LA County will see hot & breezy conditions Monday. High temperatures will reach 90 degrees. Temperatures at night will fall to 64 degrees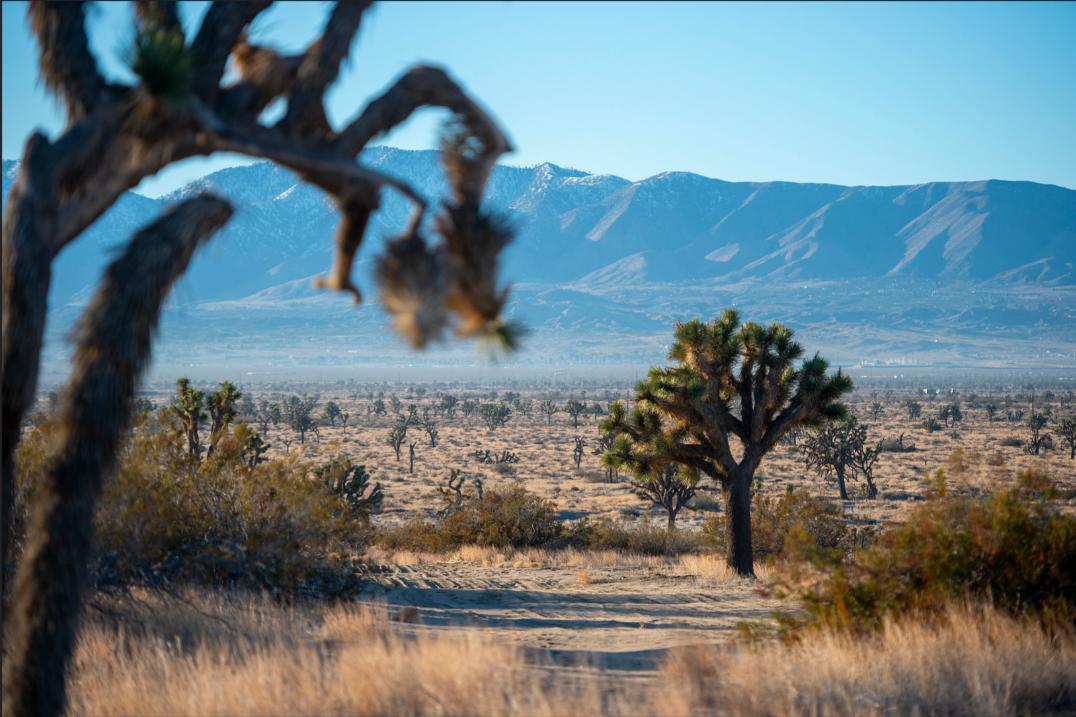 LOS ANGELES – The National Weather Service issued a heat advisory warning for most of Southern California on Monday. Temperatures while remaining lower in the 80s and 70s in the coastal areas are expected to exceed triple-digits for most of the inland areas in the region.
Los Angeles and Orange counties will see hot and breezy conditions Monday. High temperatures will reach 90 degrees. Temperatures at night will fall to 64 degrees.
The valleys and Inland Empire will be very hot and windy Monday as temperatures soar to 105 degrees. Evening temperatures will drop to 72 degrees.
Beaches will see temperatures rising to 78 degrees amid breezy conditions on Monday. Overnight lows will dip to 64 degrees.
Look for a 20% chance of thunderstorms in the mountain communities on Monday, with temperatures reaching a high of 89 degrees. Temperatures will fall to 55 degrees at night.
Desert conditions will be sunny and windy on Monday, with temperatures expected to rise to 104 degrees. Nighttime temperatures will drop to 69 degrees.
Detailed Forecast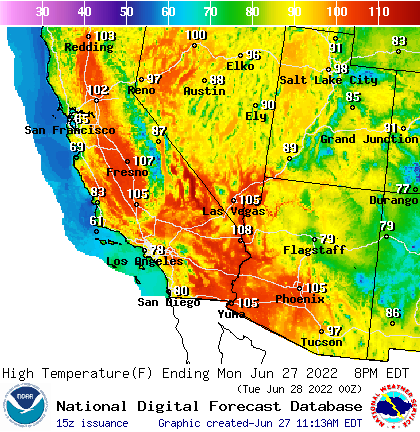 Today
Sunny and hot, with a high near 106. East northeast wind 10 to 15 mph becoming north northwest in the afternoon. Winds could gust as high as 20 mph.
Tonight
Clear, with a low around 69. Northwest wind 5 to 15 mph becoming east northeast after midnight. Winds could gust as high as 20 mph.
Tuesday
Sunny and hot, with a high near 104. Southeast wind around 10 mph becoming northwest in the afternoon. Winds could gust as high as 15 mph.
Tuesday Night
Clear, with a low around 68. West northwest wind 5 to 15 mph becoming east southeast after midnight. Winds could gust as high as 20 mph.
Wednesday
Sunny and hot, with a high near 98. East southeast wind 5 to 10 mph becoming west 10 to 15 mph in the afternoon. Winds could gust as high as 20 mph.
Wednesday Night
Clear, with a low around 62. Breezy.
Thursday
Sunny, with a high near 94.
Thursday Night
Clear, with a low around 58.
Friday
Sunny, with a high near 92.
Friday Night
Clear, with a low around 57.
Saturday
Sunny, with a high near 90.
Saturday Night
Clear, with a low around 56.
Sunday
Sunny, with a high near 89.
LA County Public Health confirms community transmission of Monkeypox 
Public Health is offering the JYNNEOS vaccine in a targeted manner to reach individuals at higher risk of monkeypox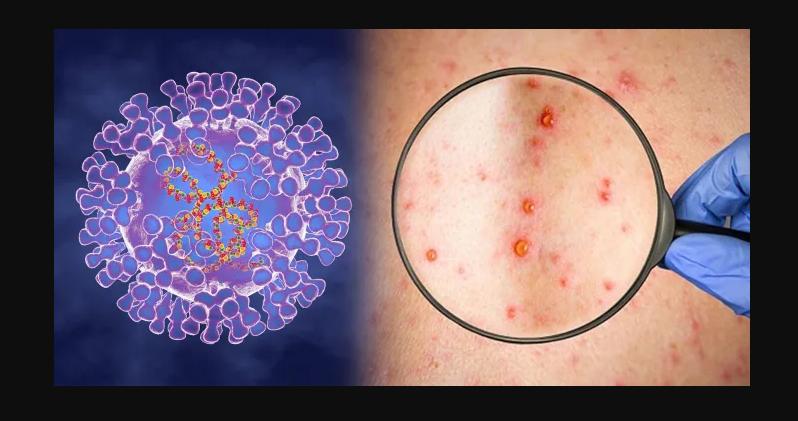 LOS ANGELES – Los Angeles County Department of Public Health has confirmed local transmission of monkeypox in LA County, as some of the more recent of the 22 cases of monkeypox in LA County thus far have no history of international or out-of-state travel. There have been no hospitalizations or deaths.
Anyone can get and spread monkeypox, but some of the recent cases identified have been among gay, bisexual, and other men who have sex with men who attended large events where the exposure to monkeypox may have occurred. Public Health is working with event organizers to notify attendees of potential exposure.
While supplies of monkeypox vaccine are limited, Public Health is offering the JYNNEOS vaccine in a targeted manner to reach individuals at higher risk of monkeypox. This includes people who are known close contacts to someone diagnosed with monkeypox and individuals who attended an event where they may have had skin-to-skin contact with someone who later tested positive for monkeypox virus. The vaccine is being used in these cases to reduce the risk of developing monkeypox.
As vaccine supply increases, Public Health will focus on making the monkeypox vaccine available for other high-risk groups in efforts to prevent widespread community transmission.
Monkeypox does not spread easily between people. The spread of monkeypox from person to person can occur through contact with body fluids, monkeypox sores, items that have been contaminated with fluids or sores (like clothing or linens), or through prolonged exposure to respiratory droplets. Because of this, transmission may also occur during sex through skin-to-skin and other intimate contact.
LA County encourages persons who experience symptoms consistent with monkeypox (such as characteristic rashes or lesions), persons who traveled to countries where monkeypox cases have been reported or persons who have had close contact, including sexual contact, with someone who has a similar rash or received a diagnosis of suspected or confirmed monkeypox, to contact their health care provider for a risk assessment. Those who do not have a regular provider should call 2-1-1 for assistance.
NBC News: LA's DA Gascon under pressure from rising violent crimes
Violent crime is spiking in the streets of Los Angeles as robberies in broad daylight, heists on train tracks and homicides are on the rise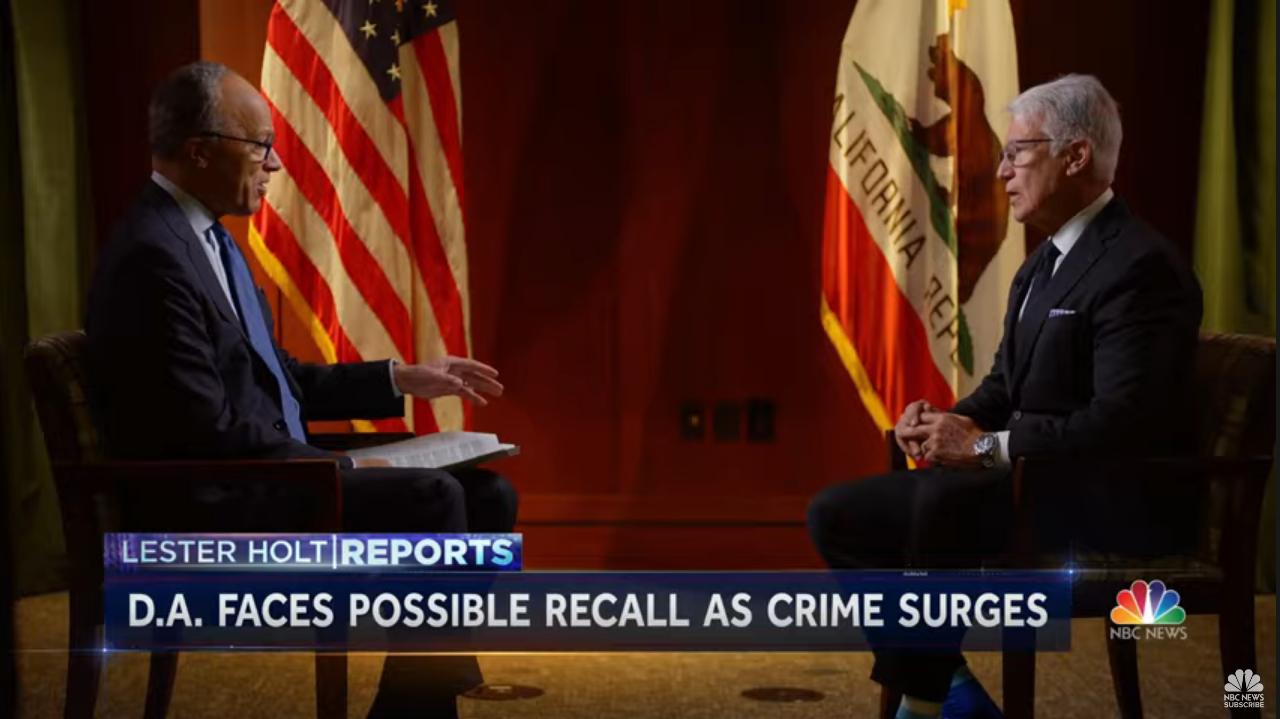 LOS ANGELES – (NBC Nightly News) – Violent crime is spiking in the streets of Los Angeles as robberies in broad daylight, heists on train tracks and homicides are on the rise. Many long-time residents are more worried than ever. LA District Attorney George Gascon took office in late 2020, riding a wave of support for criminal justice reform but now, that support seems to have eroded as the crime surge continues.