Assemblymember Santiago: Up food access to undocumented Californians
A study from the Food4All Coalition, in partnership with UCLA research, 45% of undocumented Californians face food insecurity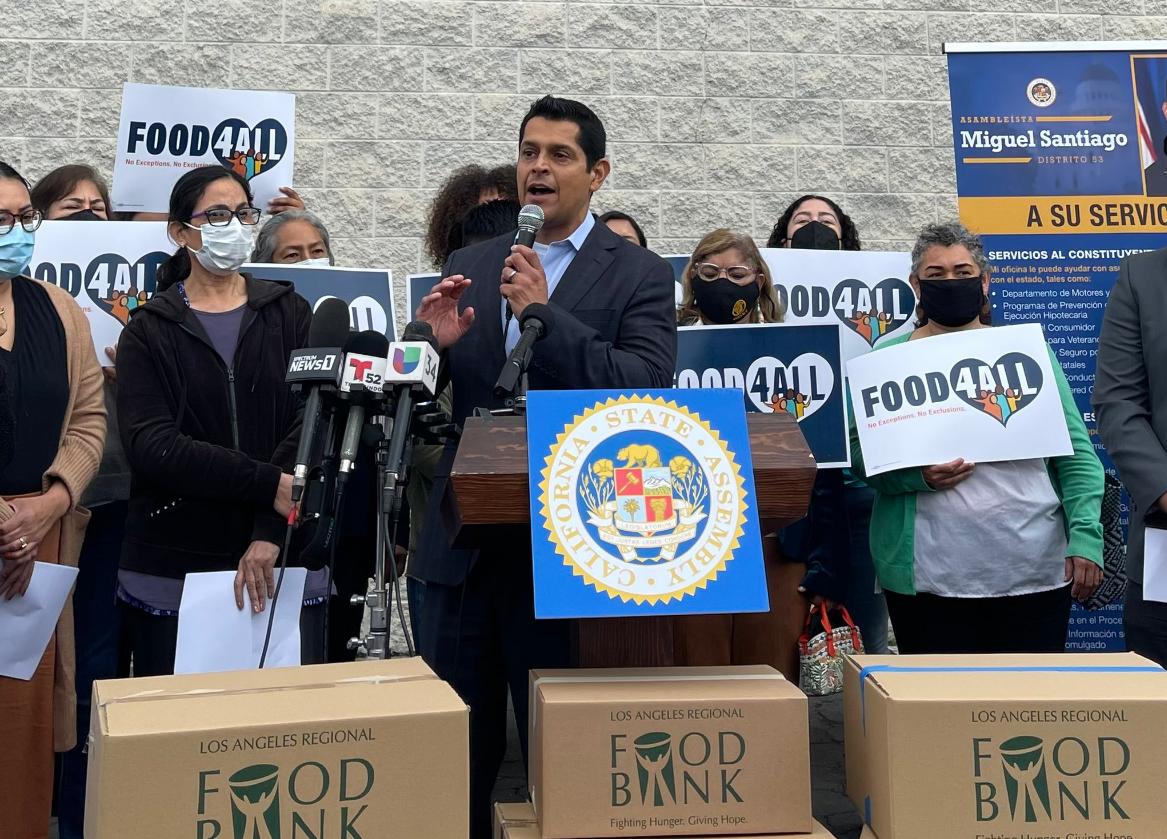 LOS ANGELES – The sharply rising costs of food, housing, gasoline, coupled with the inflation rate hovering at 8.3% has many Californian scrambling to supplement their access to food. The cost for food alone in the Southern California region has risen 1% from February 2022 to March 2022, and food prices were 8.8% higher than in March 2021.
Governor Gavin Newsom had previously announced in January that he intended to extend CalFresh public food assistance programs in the budget to include undocumented immigrants ages 55 and over, a move advocates including state Assemblymember Miguel Santiago, who represents the 53rd District covering parts of downtown L.A. applauded as a first step in curbing food insecurity for millions of low-income Californians.
At the beginning of the month in Newsom's revised budget the governor removed exclusions to the California Food Assistance Program for Californians 55 and older, regardless of immigration status.
Santiago, joined by the Food4All Coalition, the LA Regional Food Bank, the California Immigrant Policy Center, Gender Justice LA, and Nourish California gathered for a ' Food4All" rally Friday in Los Angeles to ensure that all ages are to be included in Newsom's revised proposal.
"If you qualify for CalFresh program, you should have the ability to obtain the dollars to be able to feed your kids," said Santiago.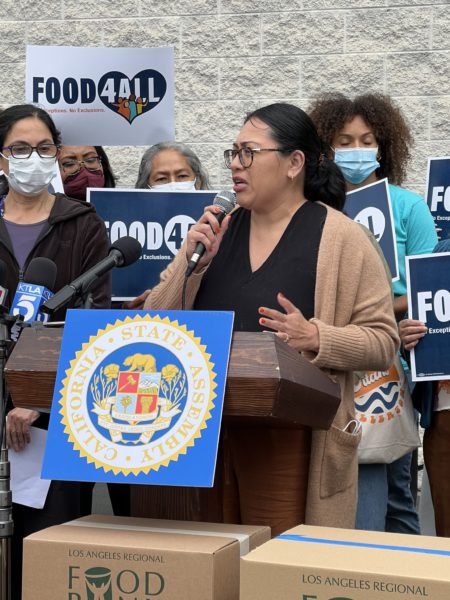 Betzabel Estudillo, a senior advocate with Nourish California told the rally attendees; "This campaign has been years in the making. We appreciate the governor's proposal, but the need is greater. Nearly half of undocumented Californians face food insecurity. It's even worse for children – 2 out of every 3 are going hungry."
Currently, all undocumented people are ineligible for CalFresh benefits. Only certain low-income immigrants that have lived in the U.S. for at least five years, including those admitted for humanitarian reasons and those with permanent residence, may be eligible for the benefits. Immigrants who receive disability-related assistance or benefits and children under 18 years old with permanent residency are also eligible, regardless of their entry date.
Newsom's proposals would revise those CalFresh benefits restrictions.
According to a study from the Food4All Coalition, in partnership with UCLA Center for Health Policy Research, 45% of undocumented Californians face food insecurity.
"We're pushing for a budget that includes over $500 million to be able to feed those who are the hungriest in the state of California," said Santiago.
Newsom has until the end of June to finalize the budget.
With rising food costs, we're having a rally so all Californians, regardless of immigration, can access food!

Great joining @LAFoodBank, @Nourish_CA, @GJLAScoop, @CALimmigrant and the Food4All Coalition! pic.twitter.com/RVaarljKET

— Miguel Santiago (@SantiagoAD53) May 20, 2022
Brandon Tsay; hero who disarmed Monterey Park shooter honored
The White House announced that President Joe Biden has invited Tsay to be his guest at the State of the Union Address on February 7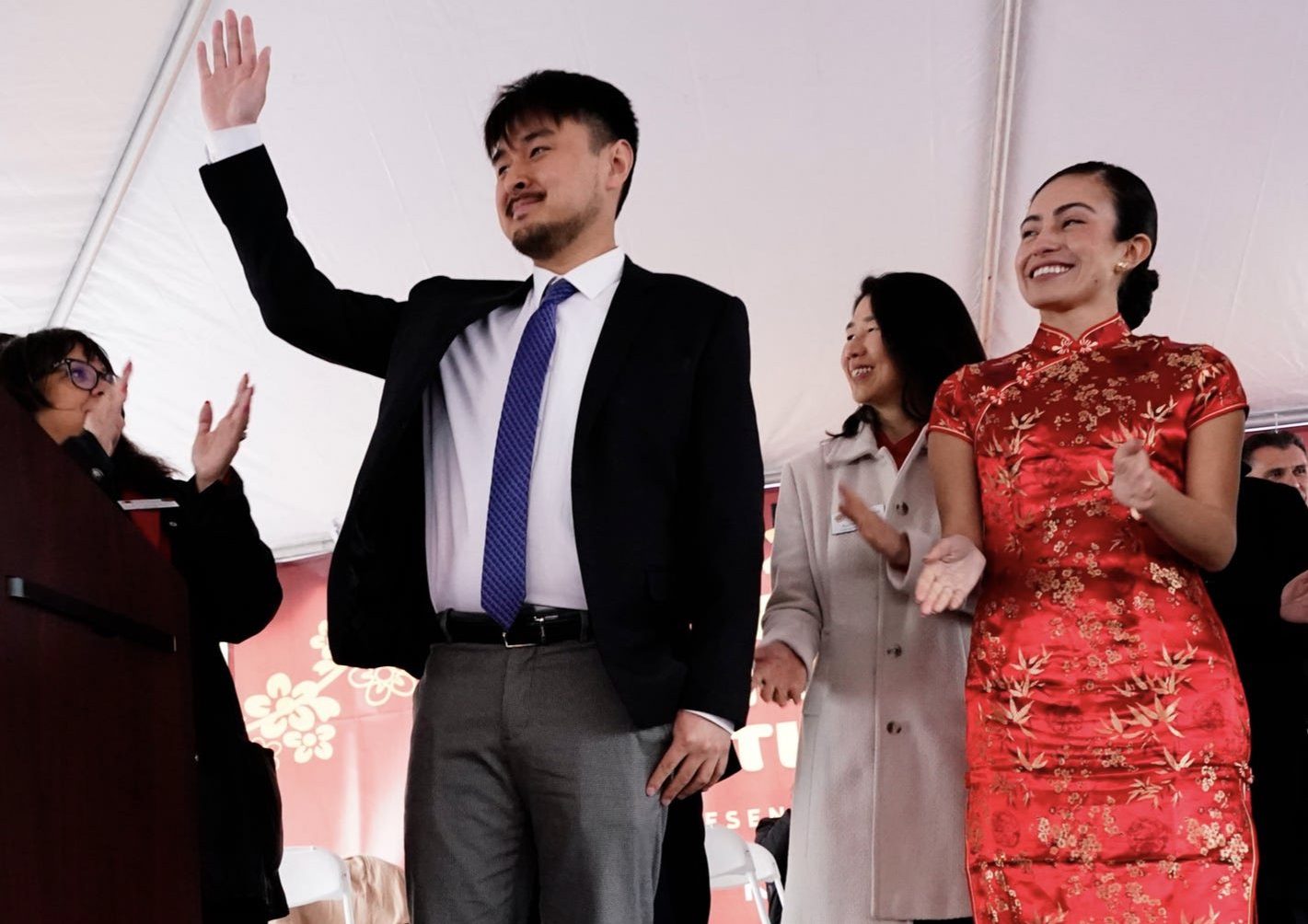 ALHAMBRA, Calif. – The City of Alhambra honored Brandon Tsay, the hero who disarmed the Monterey Park shooting suspect, at a ceremony this past Sunday. Tsay, 26, was awarded a medal of courage from the Alhambra Police Department. 
The White House also announced that President Joe Biden has invited Tsay to be his guest at the State of the Union Address on February 7.
In a surveillance video, Tsay is seen struggling to take a weapon away from the deceased suspect, Huu Can Tran, in the lobby of his family's dance studio, the Lai Lai Ballroom, in Alhambra eventually gaining control of the gun causing Tran to flee.
In an interview with ABC News anchor Robin Roberts in an interview last Monday on "Good Morning America," Tsay told Roberts that the gunman was "looking around the room" as if he was "looking for targets — people to harm."
"That's when I turned around and saw that there was an Asian man holding a gun. My first thought was I was going to die here, this is it."
"He started prepping the weapon and something came over me," Tsay said. "I realized I needed to get the weapon away from him. I needed to take this weapon, disarm him or else everybody would have died."
"When I got the courage, I lunged at him with both my hands, grabbed the weapon and we had a struggle," he added. "We struggled into the lobby, trying to get this gun away from each other. He was hitting me across the face, bashing the back of my head."
The Los Angeles County Sheriff's Robbery-Homicide division is piecing together the facts as to why Tran killed 11 people and wounded nearly a dozen others others in the mass shooting at the Star Ballroom in Monterey Park before traveling to the Lai Lai Ballroom.
"The carnage would have been so much worse had it not been for Brandon Tsay," California U.S. House Representative Judy Chu whose District includes Monterey Park said Sunday during the ceremony.
Rep. Chu also presented Tsay with a certificate of congressional recognition, calling his story "was so amazing" that she noted she had asked him to be her guest at the State of the Union address on Feb. 7. According to the congresswoman though, barely an hour after her request to him, the President called Tsay to personally invite him to be his guest.
According to the White House, the president in the call told Tsay: "I wanted to call to see how you're doing and thank you for taking such incredible action in the face of danger. I don't think you understand just how much you've done for so many people who are never going to even know you. But I want them to know more about you.
"You have my respect," Biden added. "You are America, pal. You are who we are — no, no, you are who we are. America's never backed down, we've always stepped up, because of people like you."
There was also a highly visible law enforcement presence at Sunday's event, held during the city's own Lunar New Year Festival.