'Fire Island' delivers pride, prejudice, and a whole lot more
Ambitious opus a cut above usual efforts of mainstream queer cinema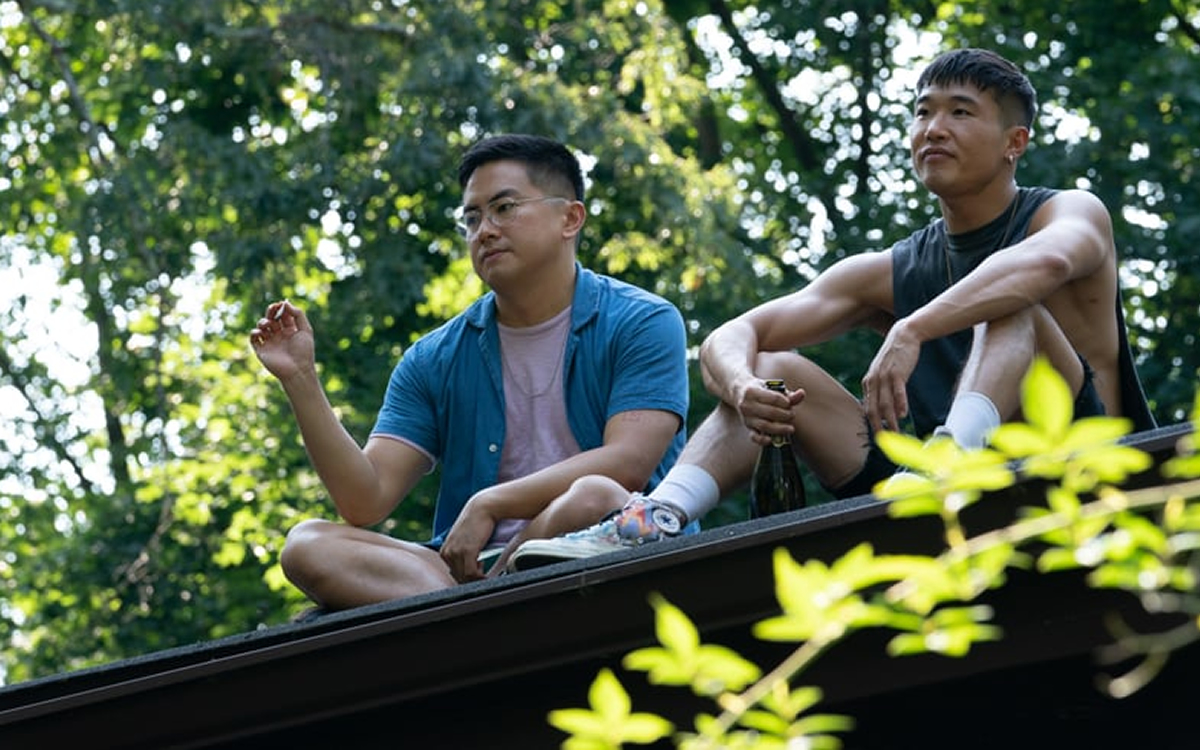 There's a reason why the work of Jane Austen strikes such a chord with members of the queer community.
The 19th-century author – a woman in an age when literature was overwhelmingly the province of men – is still renowned for her sharp observations about the manners, mores, and social hierarchies of her age, and the double-edged style that blended her satirical commentary with full-hearted romanticism. These qualities have an inherent relevance for anyone who lives in a society that relies on codified assumptions about the "natural order" of things to keep them forever on the outside, and it's hard to imagine a description that sounds more like the experience of being queer than that.
That's why "Fire Island" – the highly anticipated film from screenwriter/star Joel Kim Booster and director Andrew Ahn, which begins streaming on Hulu June 3 – is so much more than just another rom-com. Loosely adapted from Austen's "Pride and Prejudice," it finally gives the millions of queer fans who adore Austen's shrewd, bemusing, and ultimately breathlessly romantic saga what they may not have even realized they've always wanted – an unabashedly, unapologetically gay version of the story that's as inclusive and heartfelt as we deserve.
In Booster's updated vision of the novel, the rural countryside of Regency England is exchanged for the titular modern gay mecca, and the Bennet sisters become a band of queer friends vacationing there at a house owned by their lesbian "mama" Erin (Margaret Cho). At the center is Noah (Booster), whose plans to enjoy a week of promiscuous sex in The Pines are put on hold when he vows to use his savvy for gay social and sexual politics to help his bestie Howie (Bowen Yang) get laid first. At first, that mission seems all but accomplished when Howie attracts the attention of sweet and handsome Charlie (James Scully), who is on the island with his own group of friends; but thanks to the intricate interplay of classism and social etiquette that dictates the "rules of engagement" by which they must play, complications soon get in the way. Not least among these obstacles is the interference of Charlie's aloof buddy Will (Conrad Ricamora), whose dour attitude and presumed snobbishness spark an intense feeling of disdain from Noah – though it's not long before another kind of intense feeling is developing between them faster than you can say "Mr. Darcy."
Conceptually, there are a lot of reasons why this book-to-movie translation works. The importance of family to the plot easily extends to families that are "chosen," and it's probably unnecessary to say that the author's take on the social pretensions of her own time and community fits like a glove into a story about contemporary gay culture. The fortunes of the characters here are no less governed by class distinctions and economic privilege, and the oft-inadvertent hypocrisy that inevitably reveals itself as they try to make the "right" connections with each other is just as blatant; given the fact that four of the principal players are Asian, and numerous others are people of color, ethnic identity takes its place alongside financial status and comparative "hotness" as one of the many shallow and discriminatory factors that drive wedges between members of what might otherwise be a united community – all themes that should strike a chord for modern LGBTQ viewers.
"Fire Island" goes beyond simply being a good adaptation, however. Booster's inventive and erudite script – and for that matter the film itself, thanks to Ahn's fluid and versatile direction, which flows confidently and effortlessly between the observational and immersive as needed to deliver an elevated aesthetic of pure cinema – is an impressive and wholly original work of art in itself.
While it hits the main points of the original, it's not slavish to Austen's plot, and instead creatively conflates, reinterprets, and re-imagines situations and characters to bring its observations to a modern audience – particularly in the way it transposes the financial disparities of Austen's world into the modern day by weaving the language and behavior of varying class and privilege into almost everything that happens. It also cannily picks up the pace; while the novel takes place across several seasons, events in "Fire Island" are compressed to a matter of days – something perfectly feasible in the faster-paced world of 2022, and especially in a geographic setting where, as multiple characters point out, "time seems to work differently."
While it gives plenty of nods to its 19th-century literary origins along the way, it keeps itself firmly rooted in the "new, now, next" present with a barrage of pop references, a parade of right-on-target queer fashion, and a dizzying array of infectiously familiar contemporary music. Best of all, perhaps, it's genuinely funny, and peppers its dialogue with cheekily self-referential comedy – Yang's character even has some jokes about "Saturday Night Live" – in a way that subtly invites us to feel like a member of this fun-loving group ourselves. None of these things feel like compromises, nor do they pander to the age of the short attention span; instead, they are expressions of modern queer identity that feel as much like celebration as they do satire.
Much of this arises from the way it treats its characters. The movie never judges them – even when they are judging each other – and presents them with the kind of humanistic compassion that can sometimes only be recognized by reading between the lines. For this, the talented cast deserves endless kudos.
Booster and Yang, close friends in real life as well as on the screen, give star-making individual turns while also presenting an onscreen "buddy" chemistry that gives the movie a giant heart and keeps it from ever becoming cynical. As their romantic counterparts, Ricamora (who already proved his chops on "How to Get Away With Murder"), enters full leading man bloom with his thoughtful, less-is-more performance, while Scully makes his too-good-to-be-true rich white boy character utterly believable from start to finish. Cho gives us the ultimate "earth mother" every gay boy wishes they had, while representing the grounding presence of a whole generation of queer elders who gained wisdom living messy lives even before there was such a thing as Grindr; and Nick Adams deserves mention for being so quintessentially hateful as the kind of "mean girl" gay snob we all know and sometimes wish we didn't.
All these qualities and more make Booster and Ahn's ambitious opus a cut above the usual efforts of mainstream cinema to communicate with queer audiences – an auspicious distinction for the first gay romance from a major Hollywood studio. How straight viewers respond to it is yet to be seen – but for at least one queer reviewer, watching it conjured tears of joy, not because it resonates so deeply with authentic lived experience (though it certainly does) but simply because it exists. Here, at last, is the "gay rom-com" we've been waiting for, one that is so comfortable and genuine in its own skin that it's free to rise above both parts of that label to become simply a great movie.
We'd like to think Jane Austen would be proud.
Surviving Voices: The Black Community & AIDS
"When white people get a cold, black people get pneumonia.' …if white people are getting the plague, what in the hell are we going to get?"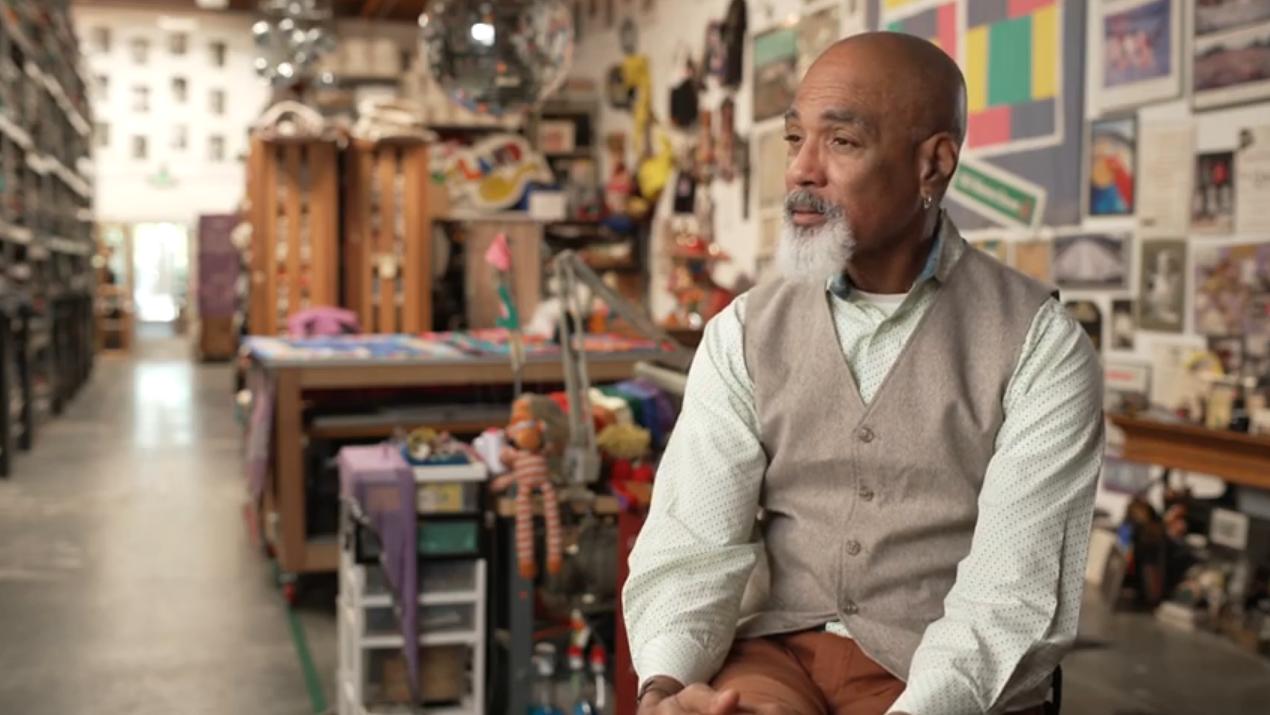 SAN FRANCISCO – The National AIDS Memorial has released its latest mini-documentary, "The Black Community & AIDS," the seventh film in its oral history project.  
The Black Community & AIDS" chronicles the personal stories of nearly two dozen survivors and advocates from across the U.S. who are thriving, sharing their hopes and struggles about the HIV/AIDS epidemic, and its disproportionate impact on the Black community.
The film opens with powerful words from Phill Wilson, Founder of the Black AIDS Institute, who says, "My grandmother used to say, 'When white people get a cold, black people get pneumonia.' And so I thought…if white people are getting the plague, what in the hell are we going to get?"
In addition to the mini-documentary, viewers can watch individual interview segments which provide candid, deeper conversations with the film participants.
Advocate Tori Cooper says, "To talk about HIV in the Black community in present day, you have to really look at the history of HIV and Black people. Black people have been villainized and stigmatized around not just having an HIV diagnosis but as being pushers of the virus. That stigma that was perpetuated 40 years ago still exists and still impacts the way society thinks about people who are living with HIV."
Dr. Dázon Dixon Diallo, Founder and President of SisterLove, the first women's HIV, Sexual Reproductive Justice organization in the southern U.S., "For this epidemic, men opened the door…on the advocacy, on the activism. But what I'm clear about is that it will be the women who close the door on this epidemic. Because once women own it, we change things, and when we change things, we change things for everybody."
Sharing her truth and powerful story, advocate Sharron Chatman emotionally says, "My mother made me eat off of paper plates and forks and that was hurtful because it was my Mom. Mothers aren't supposed to reject or feel that way towards their child. Through SisterLove, I began to understand that me being HIV positive was no longer fearful in my life. I wasn't afraid anymore. I became a warrior."
These powerful stories are just a few of the important topics the film addresses with interviewees who openly discuss the stigma, shame, and the complex, intersecting and multilayered prejudices that persist today and how so many survivors are thriving, living with pride, dignity and advocating for justice, equal access to care, and an end to the epidemic.
"The Black Community & AIDS" was produced and directed by Jörg Fockele. Chevron, a long-standing partner of the National AIDS Memorial, is the presenting partner, providing major funding annually during the past five years for the program.
"These films really bring to the forefront the power of storytelling and the lessons that can be taught for current and future generations," said Huma Abbasi, General Manager, Health & Medical at Chevron. "Our long-time support for this program is part of our commitment to sharing the very human experiences that have shaped four decades of the AIDS epidemic. These stories demonstrate the devastating impact that continues today, the hope and the work that still lies ahead."
Community partners include the San Francisco AIDS Foundation, Black Brothers Esteem, the New York City LGBT Community Center, Oasis Florida, W.O.M.E.N. Inc., GLAAD, MOBI, GMHC, Frontline Legal Services, Native Son, SisterLove, AIDS Project of the East Bay, Positive Women's Network and Thrive SS.
"This mini-documentary speaks to the work of the National AIDS Memorial in addressing the impact of HIV/AIDS in the Black community and the issues of stigma, discrimination and otherism that still exist today, four decades into this epidemic," said Chief Executive John Cunningham. "We are so appreciative to the survivors and advocates featured in this film who shared their stories and whose work is helping make a difference in changing the statistics and helping to finally curb the disproportionate impact of this epidemic in the Black community."
Prior to its official release, "The Black Community & AIDS" was exclusively featured at several major film festivals and HIV/AIDS events throughout the country, including Frameline, SF Queer Film Fest, New York City Black Pride, Positive Living Conference, and Atlanta Black Pride. The film was recognized for its powerful storytelling, including being honored with the prestigious Jury Award at SF Queer Film Fest. The film will also be shown as part of the National AIDS Memorial Change the Pattern initiative that is partnering with Southern AIDS Coalition and Gilead Sciences to bring the AIDS Memorial Quilt to the South as a teaching tool with Quilt displays and programming to reimagine the fight to end HIV.
Created in 2015, this multi-year AIDS oral history project helps ensure that stories and lessons of the epidemic are captured, curated, and retained for future generations. Additional featured films include "Substance Users, the Recovery Community & AIDS", "The Transgender Community & AIDS," "The A&PI Community & AIDS," "Women & AIDS," "The National Hemophilia Community & AIDS," and "The San Francisco Leather Community & AIDS."
The 17-minute film can be viewed on the National AIDS Memorial website and its YouTube channel.
Surviving Voices 2022 – The Black Community & AIDS:
After months of hype, 'Bros,' 'My Policeman' ready to debut
Fall film season offers big-budget rom-com, a trans Pinhead, and more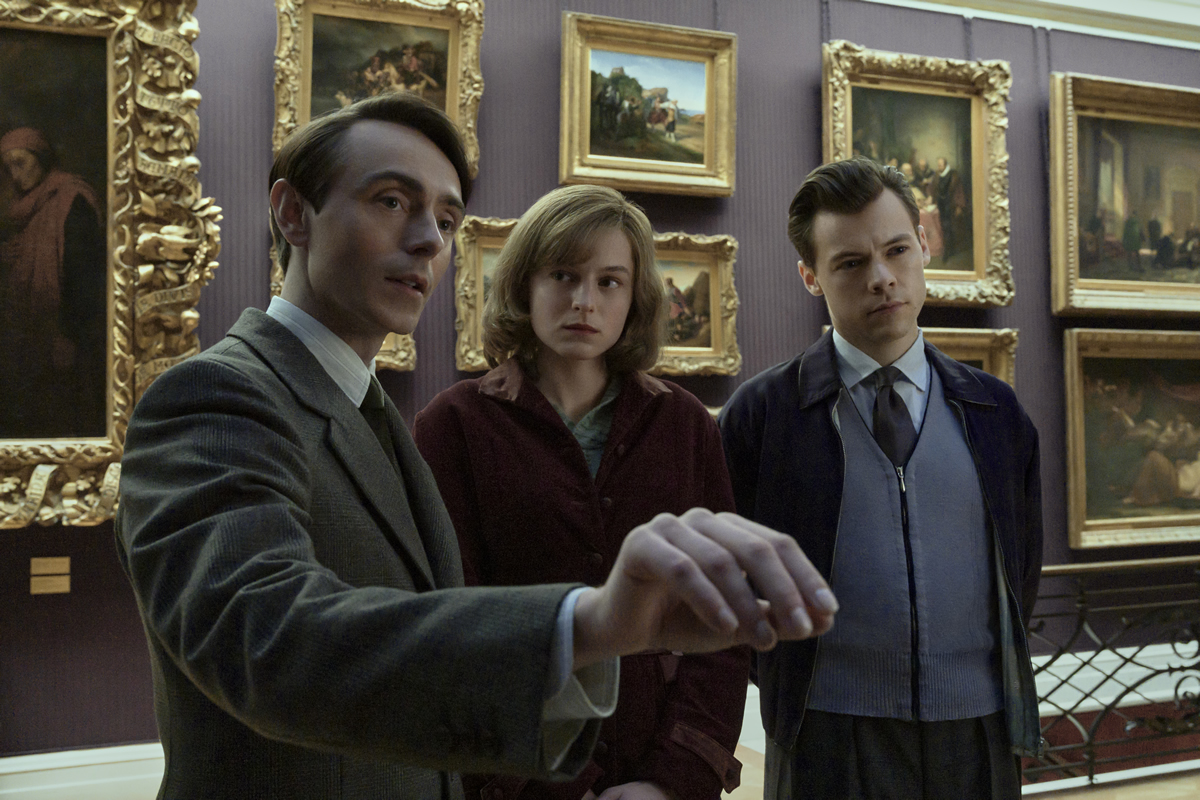 This has been a year with an unprecedented number of big titles featuring LGBTQ characters and stories, and given the amount of regressive backlash our community continues to receive from the socially conservative (i.e. bigoted homophobic) crowd, that's a comforting thing. As we push closer to the year's close, there are admittedly fewer stand-out offerings on deck for queer viewers – but the ones that are on their way give us plenty to look forward to, anyway. Our list of titles to look for is below:
BLONDE (Sept. 16)
Marilyn Monroe is a Hollywood icon who always held a special place in the hearts of the LGBTQ community; maybe it has something to do with being exploited for her talent and beauty while still being marginalized in a hetero-masculine world. Whatever the reason, queer film buffs should be keen to see this screen adaptation of Joyce Carol Oates' classic bestselling novel, which boldly fictionalizes Monroe's life and re-imagines it as a parable about the fate of women in a culture that treats their bodies as a commodity. Following Monroe from her volatile childhood, it blurs fact and fiction as it charts her rise to stardom, emphasizing the ever-widening split between her public and private personas that led to her tragic end. Written and directed by Andrew Dominik, the film stars Cuban actress Ana de Armas as Marilyn, with Bobby Cannavale, Adrien Brody, Julianne Nicholson, Xavier Samuel, and Evan Williams; it premieres in theaters on the 16th, followed by a debut on Netflix – which produced it – on Sept. 28.
PETER VON KANT (Sept. 21)
Already given a limited theatrical release on Sept. 2, this French romantic drama from writer/director François Ozon was the opening film at February's Berlin Film Festival and has been eagerly awaited by hardcore film geeks ever since. The reason? It's a reinterpretation of the play by Rainier Werner Fassbinder, "The Bitter Tears of Petra von Kant," which the legendary queer filmmaker himself originally adapted for the screen in 1972 to create a revered classic of European cinema that broke ground for its depiction of same-sex relationships. Now, Ozon has re-imagined the story by swapping the gender of its protagonist – which changes everything yet nothing in this S&M-tinged tale of narcissistic hedonism and obsessive desire. It stars Denis Ménochet in the title role, with an ensemble of players that features Isabelle Adjani, Khalil Gharbia, Stéfan Crépon, and Aminthe Audiard – as well as Hanna Schygulla, the German film legend who also appeared in Fassbinder's original movie. You might still be able to find a big screen showing somewhere near you, if you're lucky. Otherwise, don't worry; you'll be able to find it streaming VOD from starting on Sept. 22.
THE DREAMLIFE OF GEORGIE STONE (Sept. 22)
We don't often include short films in our preview lists – an oversight we frequently find ourselves regretting – but this one deserves your attention. Spanning 19 years, it tells the story of Georgie, an Australian transgender teen, and follows her on her journey to adulthood as she helps to change laws, affirms her gender, and finds her voice along the way. Directed by Maya Donna Newell ("Gayby Baby") as an effort to push back against Australian conservative voices who pointed at children like herself, who grew up with queer and trans parents, as an argument against the country's movement for marriage equality, it's the result of a six-year collaborative process (with Georgie and her mom, Rebekah Robertson) that only lasts for 29 minutes – but it's 29 minutes of inspirational, queer-affirming content you'll want to experience.
BROS (Sept. 30)
Certainly the buzziest LGBTQ title of the year, the ferociously funny Billy Eichner's rom-com about two commitment-challenged men and their attempt to have a relationship has already gotten us excited for its debut by way of a teaser trailer full of laugh-out-loud moments. Written by Eichner, who also stars (opposite rom-com veteran Luke Macfarlane), it's the first time an openly gay man has been able to co-write and star in his own major studio film; not one to be content with that milestone, he went a step further by casting every principal role – even the heterosexual ones – with queer actors. Apart from these notable points, it will be interesting to see how a queer-themed romance will succeed with mainstream audiences; but there are many purely entertaining reasons to look forward to this Nicholas Stoller-directed romp, which also features TS Madison, Monica Raymund, Guillermo Diaz, Guy Branum, Amanda Bearse, Bowen Yang, Benito Skinner, Matthew Wilkas, Jai Rodriguez, Dot-Marie Jones, and a host of other familiar queer faces. It's worth mentioning that veteran comedy filmmaker Judd Apatow was co-executive producer (alongside Stoller and Eichner), but though his pedigree is appreciated as a part of the joint effort it took to get this history-making Hollywood romance to the screen, it's bursting with so much talent already that his involvement is only icing on the cake.
HELLRAISER (Hulu, Oct. 7)
Clive Barker's 1987 classic horror film (based on his 1986 novella, "The Hellbound Heart") gets a few new twists in this remake by director David Bruckner, which will premiere on Hulu as part of the streaming platform's "Huluween" celebration. In this re-imagined and updated version, the story follows a drug-addicted young woman who comes into possession of an ancient puzzle box, learning too late that its purpose is to summon a group of sadistic supernatural beings called the Cenobites from the hellish dimension they call home. Inherently queer from the start (Barker himself, who serves as one of the executive producers on the new film, has long been openly gay), this iteration doubles down with its casting of trans actress Jamie Clayton ("Sense8") as its sinister main antagonist – affectionately known as "Pinhead" by fans. She's joined by a cast that includes Odessa A'zion, Adam Faison, Brandon Flynn, Aoife Hinds, Jason Liles, Yinka Olorunnife, Goran Visnjic, and Hiam Abbass.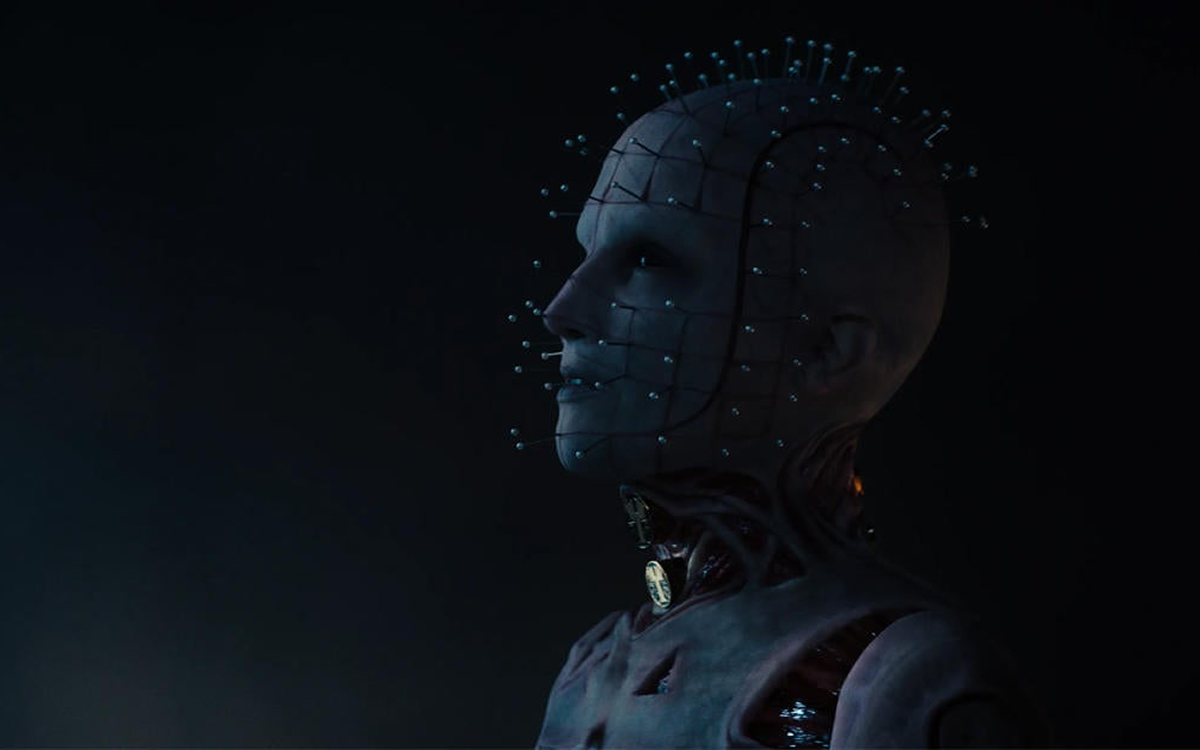 MY POLICEMAN (Oct. 21)
Last up (but definitely not least) is this hotly anticipated adaptation of Bethan Roberts novel about forbidden love and changing social conventions, which stars "It-Boy" of the day Harry Styles as Tom, a policeman in 1950s Britain at the center of a romantic triangle in which he splits his conflicted love between teacher Marion (Emma Corrin) and museum curator Patrick (David Dawson). The story spans four decades, fast-forwarding to the 1990s to give the now-older trio (Linus Roache, Gina McKee, and Rupert Everett) a last chance to repair the emotional damage of the past. Directed by Michael Grandage, this visually elegant, heart-stopping portrait of three people caught in the shifting tides of history might be the most "prestigious" title on our list. Whether or not it's worthy of the hype that accompanies its pop-singer star, whose perceived sexual fluidity (he's never labeled his sexuality, and continues to avoid doing so even two years into a relationship with actor-turned-filmmaker Olivia Wilde) continues to tantalize queer fans, is something we'll have to wait until Oct. 21 – or Nov. 4, when producer Amazon makes it available for streaming on Prime – to find out.
Director sheds light on George Michael's struggle with the closet
'Balancing desire for artistic perfection with the struggle with demons'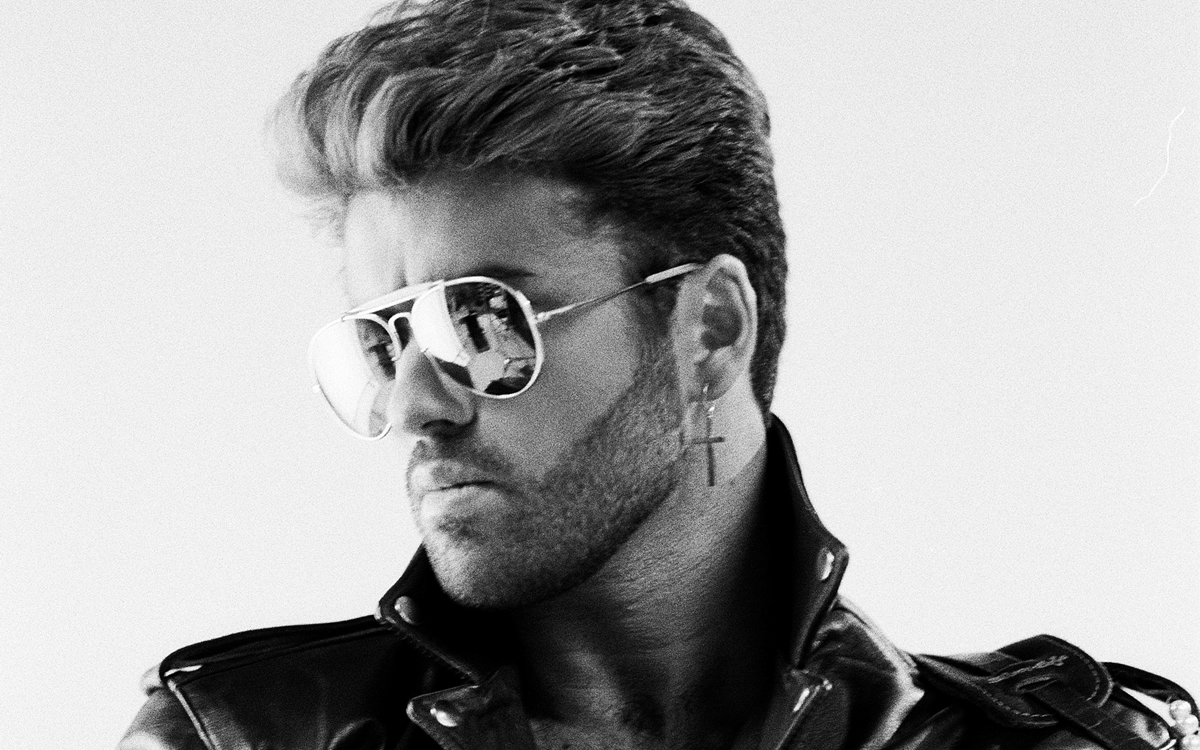 Of all the great songs the late George Michael left as a legacy, "Careless Whisper" is certainly among the greatest – and yet, ironically, he never really liked it.
"He said he was ashamed of it," says Simon Napier-Bell, who was Michael's manager during the WHAM! years. "It had come to him in a moment, and he liked to sit and think about everything he wrote, what he wanted to say. This one just popped out, and it was like, 'Fuck me, I've given away my inner self and I didn't even know I was doing it.'"
Napier-Bell, now 80, is a music industry veteran with a long roster of legendary clients. In recent years, he's turned to making documentaries – and his latest effort, "George Michael: Portrait of An Artist," provides a comprehensive look at the life of his now-iconic former client. And yes, it deals with the proverbial elephant in the room – Michael's 1998 "lewd conduct" entrapment arrest for cruising in a Beverly Hills men's room.
In the film, which documents the musician's public and private lives side-by-side and sheds insight on the difficult balancing act he tried to maintain between his star image and his authentic self, the incident is just part of Michael's larger story. It's a key moment, however. For a younger generation, Michael's "notorious" bathroom incident often overshadows his musical legacy, and some judge him harshly for remaining closeted through so much of his career. As Napier-Bell – an out and proud gay man himself – told the Blade, they couldn't view him any more harshly for it than he did himself – but in the 1980s, if he wanted the level of stardom he was capable of achieving, he had no choice but to keep his sexuality hidden.
"Every artist has the problem of balancing their desire for artistic perfection with the needs of the industry and the struggle with their own demons," says the director. "People say stars are uncompromising, but it's the very opposite – the music industry DEMANDS compromise. George had a dislike of having to compromise, and a lot of guilt for not coming out, which he knew he ought to do."
Though his documentary doesn't get granular about the timeline of Michael's coming out process, the filmmaker claims the singer toyed with the idea in his earliest days of success yet held back when it became clear his record label would not allow it. Instead, says Napier-Bell, he planned to build his career and then come out when he was already a star. But then, as the director remembers, AIDS happened.
"Young people today really don't understand," he says. "I recall standing in the balcony of Heaven, THE huge gay club in London at the time, with Paul Gambaccini [a UK broadcast celebrity and author who appears in the film], and he pointed down at the enormous crowd of dancing people pressed together and said to me, 'Do you realize that nearly half of these guys are going to be dead in five years?' It was such an outrageous thing to say, you wanted to think maybe four or five of them might get it – but he was absolutely right."
With fear of the disease setting back gay acceptance on both sides of the Atlantic – "If you knew someone was gay in the 1990s you stayed away from them," he recalls, "not just straight people but other gays as well" – Michael remained in the closet.
Still, for many in the public, his sexuality was no secret. Despite the heteronormative image he continued to project, millions of queer fans recognized his truth and related to him for it, and many of his straight female followers sensed it, too. Napier-Bell recalls talking to girls at George's gigs and asking if they fancied him. "They would say 'Oh, he's fabulous! But that's not really possible, is it?'"
It was not until 15 years later that Michael's closet door was finally flung open by that Beverly Hills arrest. With his secret exposed, there was no reason to hide anymore. He tried to turn the moment to his favor, seizing the opportunity to come out proudly and advocate against homophobic law enforcement policies that targeted gay men for having consensual sex; the world, however, was not quite ready then to embrace his attempt at a sex-positive stance, and both his image and career sustained lingering damage.
Though he can't know for sure and has no information to confirm his suspicion, Napier-Bell believes Michael intended – "at a highly conscious subconscious level, just near the top of the subconscious, I should think" – to get caught.
"When I was managing him with WHAM!, he was going to gay clubs – and it wasn't because he wanted sex, because he was getting that anyway. He was doing it because he really wanted to be outed – you could see it – but didn't know how to come out."
Later, Michael would often flaunt his queerness in public. "He would be giving an interview, and Kenny [Goss, his longtime partner] would be off camera and say to him, 'I'm going now, darling' and he would say, 'Oh, see you at home, put the kettle on,' and blow him a kiss.' He wanted to show that it was just like being straight, just like being married."
The arrest, intentional or not, may have liberated him from the closet once and for all, but it also tarnished him in the eyes of many of his LGBTQ fans. "He did a huge amount of good by projecting a positive image," says Napier-Bell, "but then he complicated it with defending cruising and not being monogamous. He never got to a simple position on all that, did he?"
Michael would continue to be in the public eye, but his star faded steadily – partly, Napier-Bell believes, because he encouraged it to do so – and he struggled with substance abuse. He died at 53 in 2016, officially of heart disease.
Reflecting now, Napier-Bell believes that Michael's star has "gotten bigger" since his death, something he says is "rare for any musical artist," in large part because of the inner conflicts that haunted his life and found expression in his songs.
"All his struggles – being trapped in the closet, his boyfriend dying of AIDS, his disastrous ending – give us something we can identify with. We project our happy lives when we leave the building, when we're social. He didn't just come out about sex, he came out about being fucked up, about his life being difficult. We need people to talk about these things, and to have all that angst projected through his life and his songs is very comforting, for everybody.
"People say it was sad, but life doesn't have a happy end," Napier-Bell says. "If you've written one of the three biggest Christmas songs in history, it's not a bad day to die. And his overall canon is pretty dang good. I think he would have been happy with that outcome."
"George Michael: Portrait of an Artist" is available on demand from Amazon Prime Video, Apple iTunes, and Google Play.