New drought restrictions go into effect today
Residents across SoCal will have to limit how much they water their yards under new restrictions placed in response to the drought

LOS ANGELES – The effort to conserve water during the long-term drought California in kicks off today with new restrictions in areas of Southern California served by the Metropolitan Water District.
The 6 million people affected are customers of the Los Angeles Department of Water and Power, Calleguas Municipal Water District, Inland Empire Utilities Agency, Las Virgenes Municipal Water District, Three Valleys Municipal Water District and the Upper San Gabriel Valley Municipal Water District.
In a press conference last month, MWD General Manager Adel Hagekhalil called for a 35% reduction in water use following California's driest-ever start to the year. More than 97% of the state is now under severe, extreme or exceptional drought, according to the U.S. Drought Monitor. Many of the region's most critical reservoirs are at half capacity or less.
Here are the new rules as reported by KTLA:
Rules for L.A. residents
For LADWP customers in L.A., residents will only be able to water their yards two days per week starting Wednesday.
Customers with street addresses ending in odd numbers may water only on Mondays and Fridays, and customers with even numbered street addresses may water on Thursdays and Sundays.
And all outdoor watering is prohibited from 9 a.m. to 4 p.m.
Watering with sprinklers is limited to one cycle of up to 8 minutes per watering day for typical, non-conserving residential nozzle sprinkler systems, or two 15-minute cycles per watering day for conserving nozzle sprinkler systems.
However, hand watering with a self-closing shut-off nozzle on the hose is allowed any day of the week before 9 a.m. or after 4 p.m.
City officials also require that all leaks are repaired in a timely manner and there is no runoff onto streets, driveways and gutters.
Residents also shouldn't be watering sidewalks, walkways, driveways or parking areas, LADWP officials said.
LADWP said it will be patrolling the streets of Los Angeles to "educate Angelenos on the days of the week watering restrictions and to enforce the ordinance."
More details on LADWP's watering restrictions can be found here.
What happens if you don't follow the rules?
LADWP says that for a first offense, customers are given a "warning in the form of water conservation tips and printed educational material to raise customer awareness."
But subsequent violations may result in fines that range from $200 to $1,200, according to LADWP.
Officials said no one would get monetary citations without a prior warning.
Which areas in SoCal are affected by watering restrictions?
All or part of the below cities and communities are dependent on water from the State Water Project and will be affected by the Metropolitan Water District's outdoor watering restrictions:
• Agoura Hills
• Arcadia
• Avocado Heights
• Azusa
• Baldwin Park
• Bassett
• Bradbury
• Calabasas
• Camarillo
• Canoga Park
• Chatsworth
• Chino
• Chino Hills
• City of Industry
• Claremont
• Covina
• Culver City
• Duarte
• El Monte
• Encino
• Fontana
• Granada Hills
• Hacienda Heights
• Irwindale
• La Puente
• La Verne
• Los Angeles
• Mission Hills
• Monrovia
• Montclair
• Moorpark
• Newbury Park
• North Hills
• North Hollywood
• North Whittier
• Northridge
• Oak Park
• Ontario
• Oxnard
• Pacific Palisades
• Pacoima
• Panorama City
• Playa del Rey
• Playa Vista
• Point Mugu NAWC
• Port Hueneme
• Port Hueneme CBC Base
• Porter Ranch
• Rancho Cucamonga
• Reseda
• Rialto
• Rosemead
• San Gabriel
• Sherman Oaks
• Simi Valley
• Somis
• South El Monte
• South Pasadena
• Spy Glass Hill
• Studio City
• Sun Valley
• Sunland
• Sylmar
• Tarzana
• Temple City
• Thousand Oaks
• Tujunga
• Universal City
• Upland
• Valinda
• Valley Village
• Van Nuys
• Venice
• West Covina
• West Hills
• West Hollywood
• Westlake Village
• Whittier
• Winnetka
• Woodland Hills
Different water suppliers will have different watering schedules and limits for customers.
For example, in Glendale, residents have already been restricted to watering their lawns just twice a week, on Tuesdays and Saturdays, for no more than 10 minutes. The limits have been in place since February.
President Biden speaks about gun control in Monterey Park
Also signed executive order improving federal coordination supporting victims, survivors, families & communities affected by mass shootings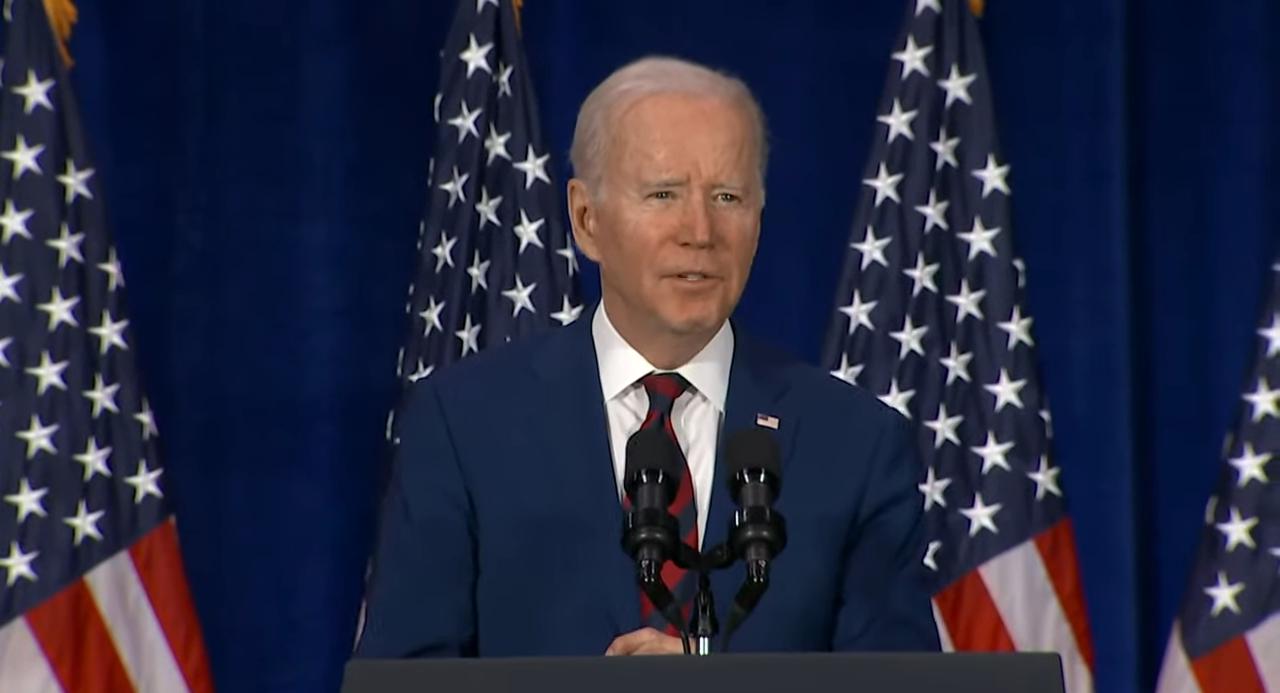 MONTEREY PARK, Calif. – President Joe Biden today spoke to an audience of survivors of the Lunar-New Year mass-shooting at the Star Ballroom in Monterey Park on January 22, 2023. Also in the audience was elected officials including Los Angeles County Supervisor Hilda Solis and U.S. Senator Alex Padilla (D-Calif.) who also spoke to those in attendance.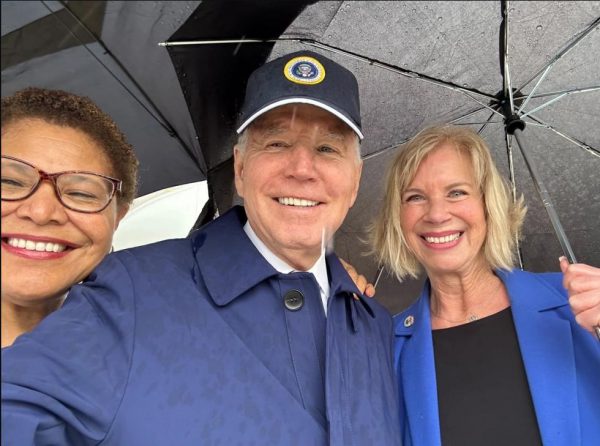 Earlier, the president had been greeted upon arrival at LAX in the driving rain by Los Angeles Mayor Karen Bass and LA County Supervisor Janice Hahn along with Brandon Tsay, the hero who disarmed the Monterey Park shooting suspect at his family's Lai Lai Ballroom, in Alhambra. Tsay was an honored guest of Biden's at the State of the Union address in Washington last month.
The president in his remarks acknowledged Rep. Judy Chu, a former Mayor of Monterey Park, who was also in attendance. Prior to his speech, Biden had met with the survivors and families of victims of the mass-shooting where a gunman shot 20 people, killing 11. He also met with the first responders from that day.
"To the families of victims who spend time — I get a chance to meet with today and whom Vice President Harris spent time with a few weeks ago, I'm here on behalf of the American people to mourn with you, to pray with you, to let you know you're loved and not alone." Biden said.
Later the president paid tribute to the victims in a brief biographical mention. He also acknowledged Tsay, who was in the audience saying: "[…] we saw that strength in Brandon Tsay, who met me at the airport, whom Jill and I have gotten to know. Twenty minutes after the rampage at Star Ballroom, Brandon saw the same shooter walk into his family's own dance studio just two miles away, pointing a gun at him. In an instant, he found the courage to act and wrestled the semi-automatic firearm away. Brandon saved lives. He protected the community."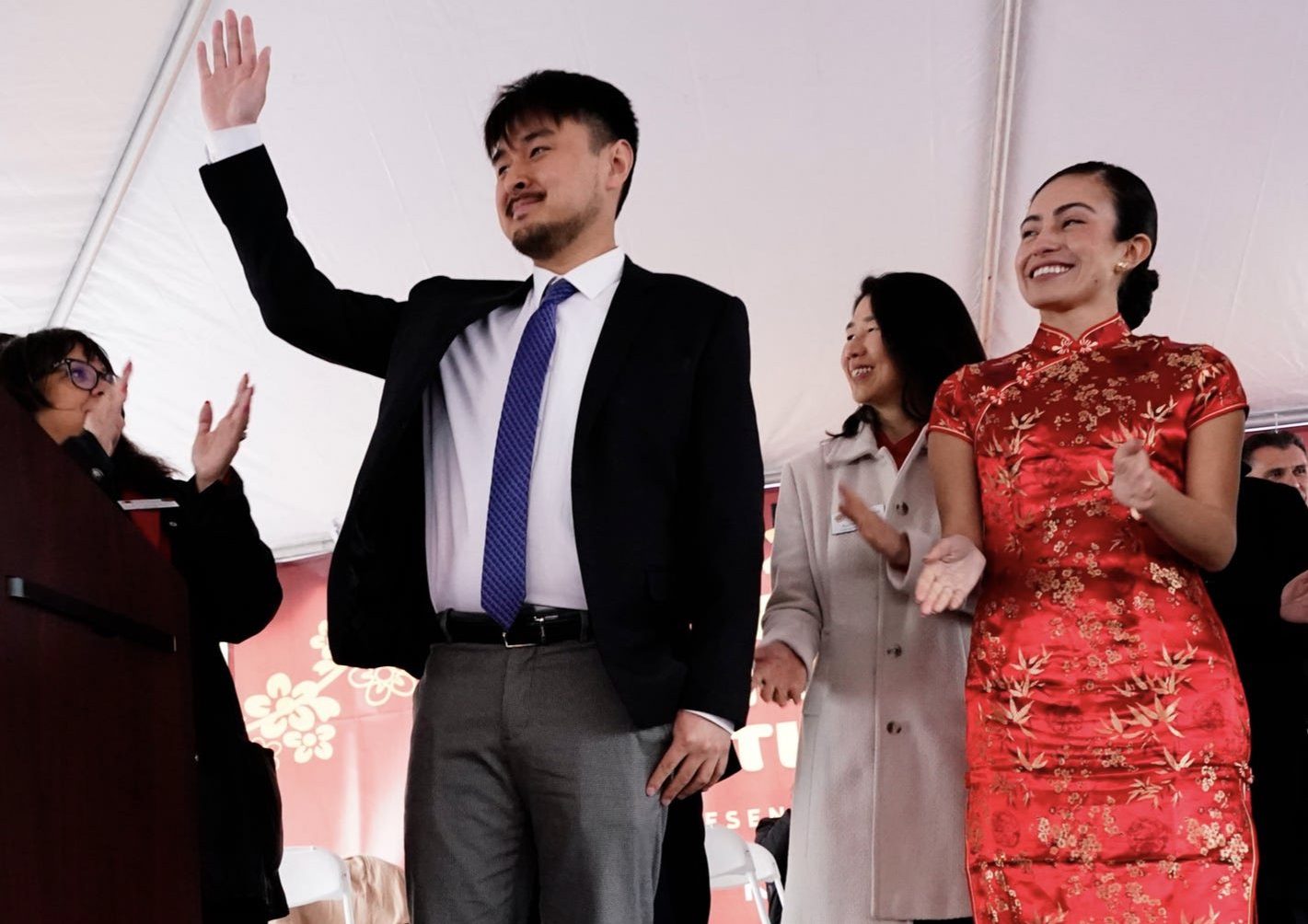 The president also took the opportunity to announce he had signed another gun control measure in an executive order:
"First, this executive order helps keep firearms out of dangerous hands, as I continue to call on Congress to require background checks for all firearm sales. (Applause.) And in the meantime — in the meantime, my executive order directs my Attorney General to take every lawful action possible — possible to move us as close as we can to universal background checks without new legislation.

I just — it's just common sense to check whether someone is a felon, a domestic abuser, before they buy a gun.

The executive order also expands public awareness campaigns about the "red flag" orders — the laws — which my son, when he — before he died — Attorney General of Delaware — was a great proponent of it and instituted it. So more parents, teachers, police officers, health providers, and counselors know how to flag for the — a court that someone is exhibiting violent tendencies, threatening classmates, or experiencing suicidal thoughts that make them a danger to themselves and others and temporarily remove that person's access to firearms.

And it promotes — this executive order — safe storage for firearms, something every responsible gun owner agrees with.

The second thing it does — the executive order ramps up our efforts to hold the gun industry accountable. It's the only outfit you can't sue these days. It does that by calling out for an independent government study that analyzes and exposes how gun manufacturers aggressively market firearms to civilians, especially minors, including by using military imagery.

And it directs the Attorney General to public release — publicly release Alcohol, Tobacco, and Fam- — and Firearms inspection reports of firearms dealers who were cited for violation of the law. (Applause.) That way, policymakers can strengthen laws to crack down on these illegal gun dealers and the public can avoid purchasing from them.

Third, the executive order improves federal coordination to support victims, survivors, and their families and communities affected by mass shootings the same way FEMA responds to your natural disasters in California and all around the nation. And it will help folks recover and build after wi- — that — they help folks recover and build after wildfires and superstorms and droughts.

For example, we need to provide more mental health support and grief — for grief and trauma — (applause) — and more financial assistance when a family loses the sole breadwinner or when a small business shuts down due to a lengthy shooting investigation."

The Associated Press reported Biden has only limited power on guns to go beyond bipartisan legislation passed by Congress last summer after the killings last year of 10 shoppers at a Buffalo, New York, grocery store and 19 students and two teachers at a Uvalde, Texas, elementary school.
Tuesday's action does not change U.S. government policy. Rather, it directs federal agencies to ensure compliance with existing laws and procedures — a typical feature of executive orders issued by presidents when they confront the limits of their own power to act without cooperation from Congress.
Biden, in the order, acknowledged Congress' opposition, but said, "In the meantime, my administration will continue to do all that we can, within existing authority, to make our communities safer."
The order directs the Cabinet to work on a plan to better structure the government to support communities suffering from gun violence. The plan calls on Attorney General Merrick Garland to shore up the rules for federally licensed gun dealers so they know they are required to do background checks as part of the license.
Prior to Biden's speech, U.S. Senator Alex Padilla (D-Calif.) spoke to the audience.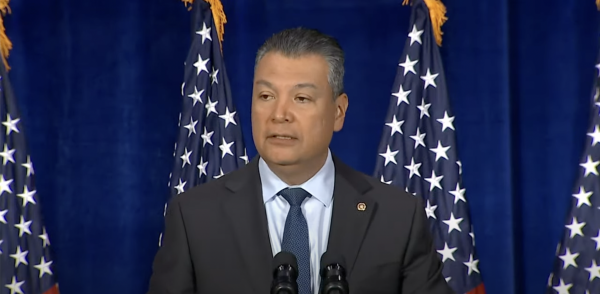 During his remarks, Padilla recalled the tragedy that took place in Monterey Park and honored the lives of those lost that day. He also applauded the president for the new Executive Order issued to expand background checks, further analyze the marketing of guns to children, and increase resources for communities in the wake of mass shootings. Padilla then called on Congress to pass more gun safety legislation to reduce gun violence.
"We have a gun violence epidemic in America," said Padilla. "The gun industry continues to work overtime to create a culture of chaos, because to them, American lives are worth less than the profits they make on the guns that they sell. […] But last year, under President Biden's leadership, Congress broke the stranglehold of the gun lobby when we passed meaningful gun safety legislation for the first time in nearly three decades. […] We can [continue to] honor those who were taken from us, by taking action to prevent future incidents of gun violence; we can and must save lives."
Governor Gavin Newsom today issued the following statement on President Biden's visit to Monterey Park and newly announced federal executive actions to reduce gun violence:
"California is grateful for President Biden's efforts today to strengthen our gun laws and make our streets, schools, and communities safer," said Newsom. "Simply put, it's the right thing to do. While some Republican leaders are focused on endangering our children and making law enforcement's job harder, California and the Biden Administration have worked to save lives and end the epidemic of gun violence that has plagued our nation for too long. Now, it's time for Congress to step up and do their job."
In a statement the governor's office noted:
With gun violence claiming the lives of over 110 Americans a day, California's nation-leading gun safety laws serve as a valuable blueprint for other states and Congress to save lives. California's gun safety laws work. In its most recent scorecard, California ranked as the #1 state for gun safety by the Giffords Law Center, and in 2021, the state saw a 37% lower gun death rate than the national average. According to the CDC, California's gun death rate was the 44th lowest in the nation, with 8.5 gun deaths per 100,000 people – compared to 13.7 deaths per 100,000 nationally, 28.6 in Mississippi, 20.7 in Oklahoma, and 14.2 in Texas.
WATCH: Biden & others speak about gun control in Monterey Park: