Boys & Girls Club holds the 2nd annual San Gabriel Valley Pride March 
Boys & Girls Clubs WSGV is a trailblazing youth organization. The Club does a phenomenal job of celebrating Pride 365 days a year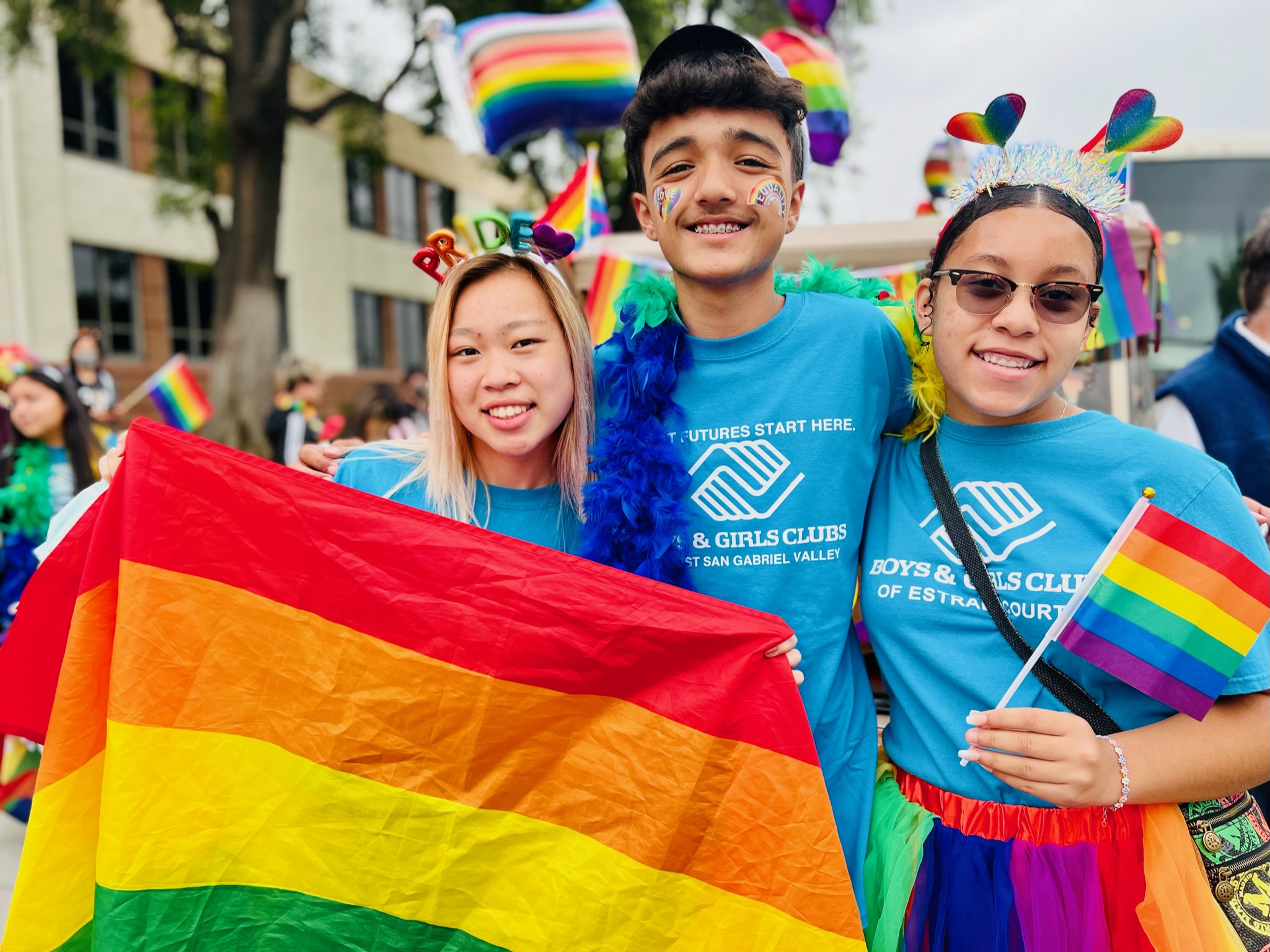 MONTEREY PARK – The Boys & Girls Clubs of West San Gabriel Valley & Eastside had hosted the 2nd annual San Gabriel Valley Pride March at the beginning of Pride Month on June 4 in Monterey Park. The march featured 400+ Boys & Girls Club youth, staff and community members supporting a positive, inclusive environment for all.
The march was co-hosted with the City of Monterey Park and Alhambra Teachers Association. After the march, Club kids participated in the LGBTQ+ Resource Fair which included music, giveaways, artwork and more.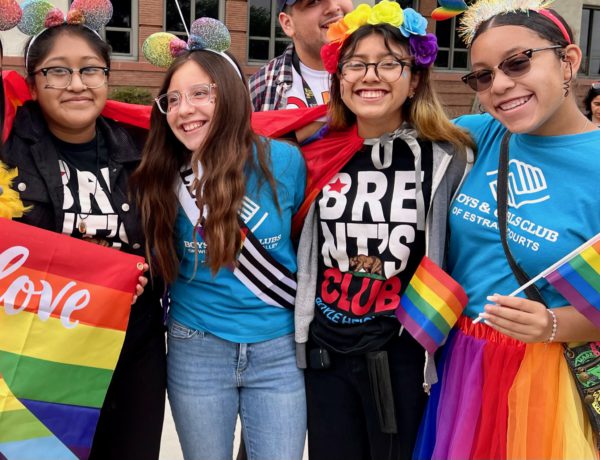 "We know young people thrive when they feel a sense of belonging, and our Clubs provide a safe, positive environment for all. Our goal is to create a space for kids to feel comfortable and ultimately become productive citizens," said JR Dzubak, CEO of Boys & Girls Clubs of West San Gabriel Valley & Eastside. "We're proud to support the diversity of our Club youth, families, staff and community members and work toward a more inclusive future."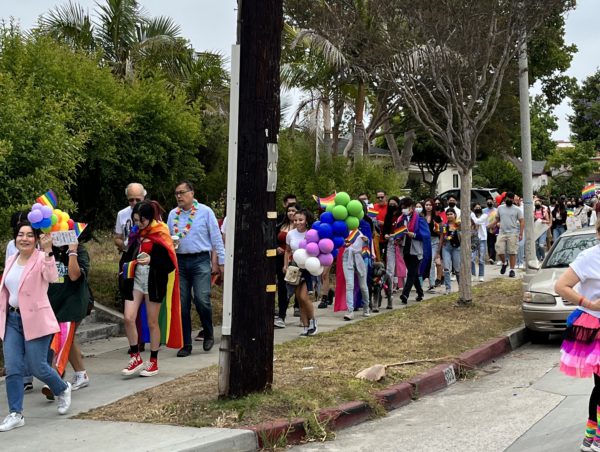 The March was first organized last year by Angel Silva, a former Club youth member and current Club employee, who as an Out gay 20-year-old has progressed from struggling over his sexual orientation as an adolescent to becoming a valued employee of Boys & Girls Club WSGV.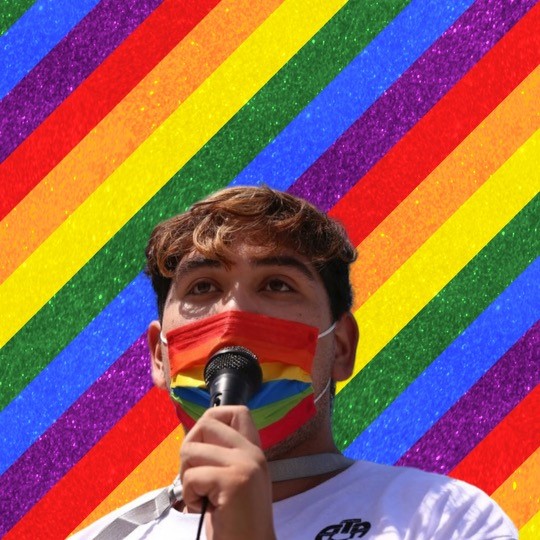 Silva has created more inclusive programming such as DNA (Definitions Not Applicable), which is an alliance program that fosters conversations, resources and events in support of LGBTQ+ Club youth and their allies.
Silva created the DNA program with input from Club teens and in coordination with the Club's Director of Wellness and Licensed marriage and family therapist, Nick Koontz. Silva and the Club are expanding DNA's impact and reach and plan to partner with other LGBTQ+ groups.
When Silva joined Boys & Girls Clubs WSGV in 3rd grade in 2011, he never thought that he would grow up to become the Club's leading LGBTQ+ advocate as a proud, Out gay man.
As a child, he was constantly bullied throughout school and always struggled with his identity. Boys & Girls Club WSGV was there for Angel and provided support and resources – the Club became his second family.
While he was in denial for many years about his sexuality, in 2017, Silva got the courage to come out to Club staff as gay. The Club was a safe haven to be himself and also helped him get information, guidance and tips on how to come out to his family.
In June 2020, right after graduating high school, JR Dzubak – the CEO of Boys & Girls Clubs of WSGV – asked Silva to be the person to raise the first Pride flag outside the Club.
In June 2021, Silva and Club staff launched the first ever Pride March in San Gabriel Valley in partnership with Alhambra Teachers Association and the City of Monterey Park (it was actually a lunch between Silva and his Alhambra elementary school teacher that sparked the idea of creating this March to show support for LGBTQ+ members in the San Gabriel Valley community, and Boys & Girls Club WSGV provided the funding and planning).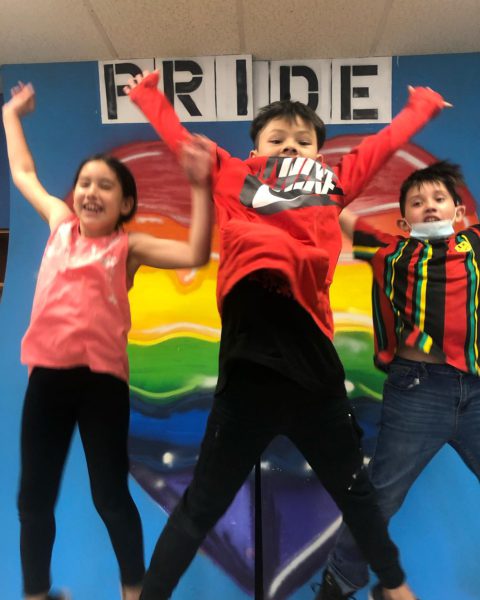 "Boys & Girls Clubs of West San Gabriel Valley is a trailblazing youth organization. The Club does a phenomenal job of celebrating Pride 365 days a year, 24/7. That's the honest truth," said Silva. "Since I was a young child, the Club has been there for me and always has encouraged me to be myself. Now as an employee at the Club, I'm so excited to create more inclusive programming and help others the way the Club helped me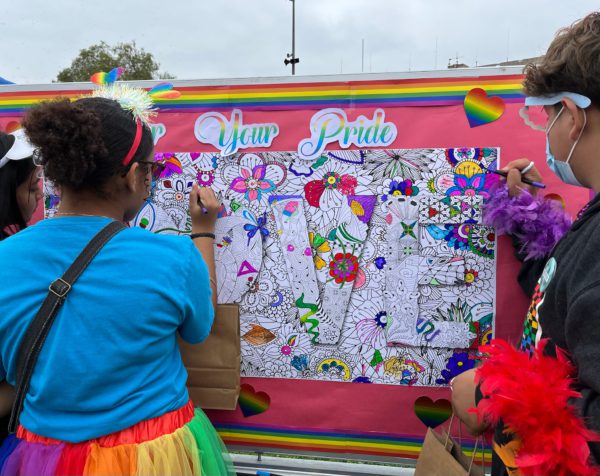 LA Mayor Garcetti volunteers at Project Angel Food's Thanksgiving
For many of the celebrities joining Project Angel Food's Thanksgiving Day volunteers the day was about sharing the experience with family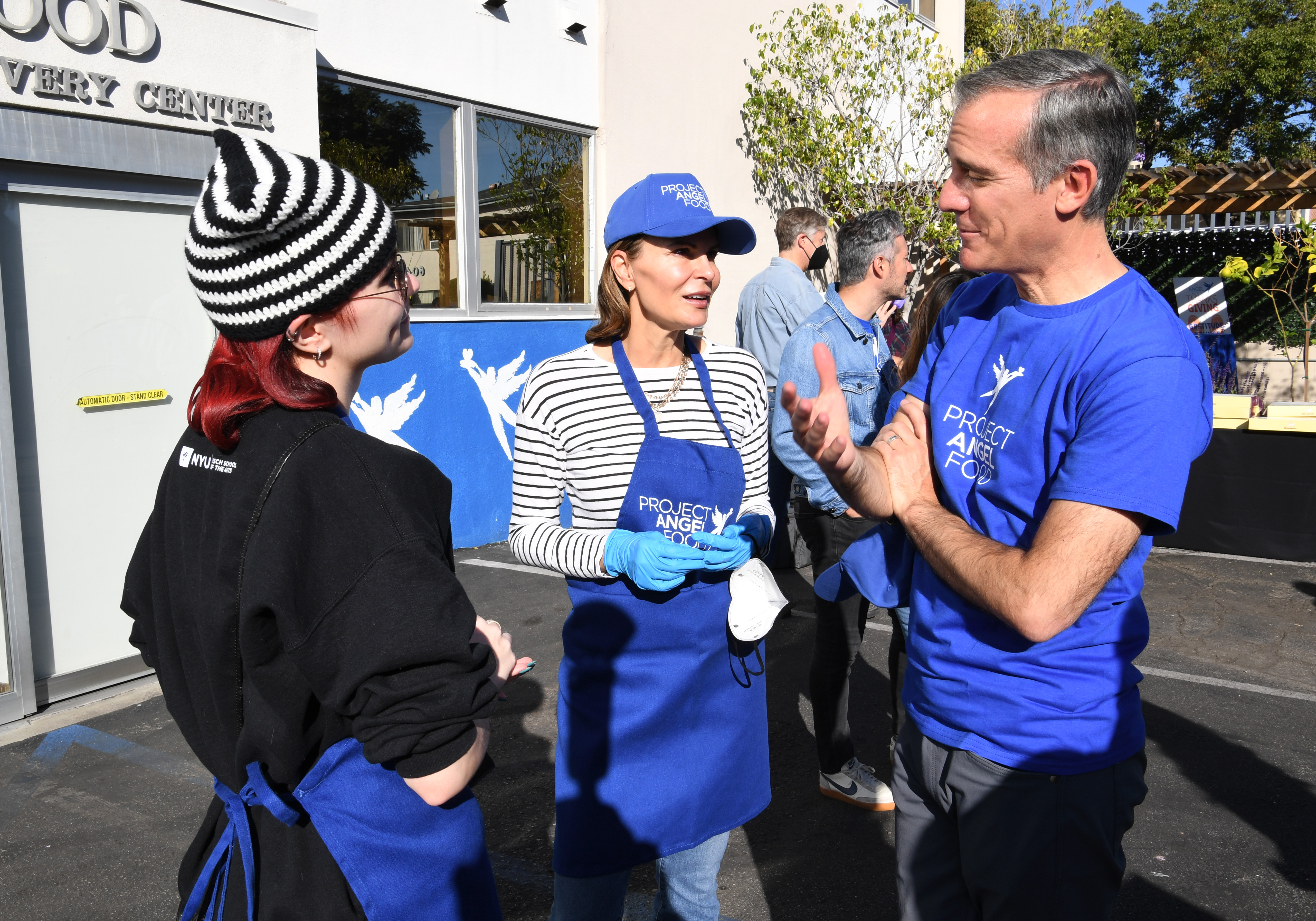 LOS ANGELES – In the early morning hours of Thanksgiving Day, Mayor Eric Garcetti joined Project Angel Food CEO Richard Ayoub, celebrity supporters and 225 volunteers and staff to prepare and deliver 7,400 meals on Thanksgiving Day to seriously ill and housing insecure people throughout 4,700 square miles of L.A. County.
"Mayor Eric Garcetti epitomizes what it is to be part of a community and lift one another through compassion and service. As he rolled up his sleeves and helped plate meals, he brought attention that while this is a day most of us are surrounded by people we love, we need to remember that some people don't have that," Project Angel Food CEO Richard Ayoub said. "He reminded us that no Angeleno should be alone and with a warm smile, a conversation and a meal, our volunteers can change the entire day for our clients, become angels in the City of Angels," Ayoub added.
For many of the celebrities joining Project Angel Food's Thanksgiving Day volunteer pool, the day was about sharing the experience with family. Volunteers included Lisa Rinna and husband Harry Hamlin; "Weird Al" Yankovic with his wife Suzanne and daughter Nina.
Also volunteering was Out actor and singer Cheyenne Jackson and husband Jason Landau with their twins Willow and Ethan. Jackson said the couple brought the children because, "I want to teach my kids to be grateful and thankful for everything that we have, and when you have the capability to give to other people, do it."
He also talked about the death of friend Leslie Jordan, a Project Angel Food supporter who died exactly one month earlier. "He was one of my best friends and it hit me really, really hard like so many people," he said.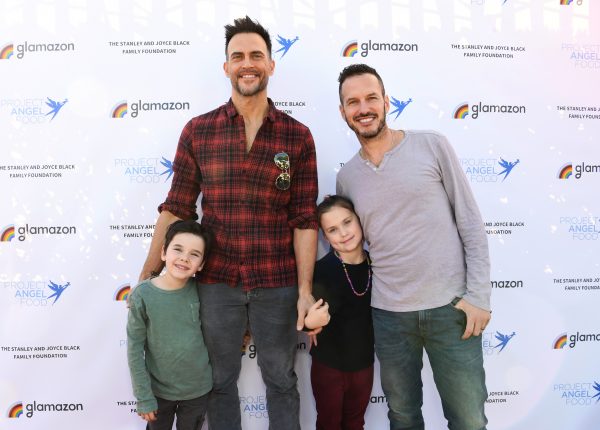 American Idol favorite Ava Maybee with her mother, and Melissa Rivers with son Cooper Endicott, continuing her mother Joan Rivers' legacy of volunteering on Thanksgiving.
Avatar: The Way of Water star Trinity Bliss brought her parents just weeks before the December 16 release of the highly anticipated film. "I'm so honored to work alongside so many people to bring a warm, delicious, tasty meal to people in need."
Of her much-anticipated film, Avatar: Way of Water, Trinity added, "Avatar was amazing, but I think Avatar: The Way of Water is going to be just so much more dramatic and be an experience people are going to need to experience in theaters."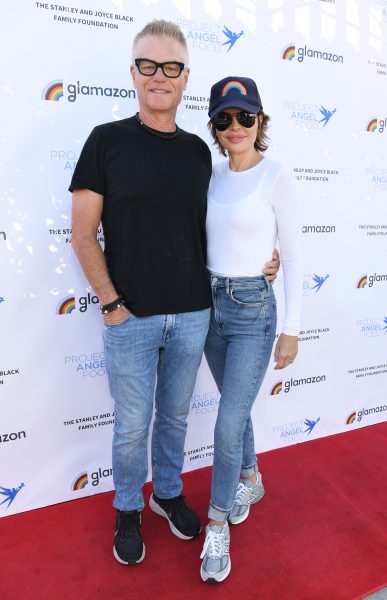 Lisa Rinna reflected on the fact that Project Angel Food is the primary source of food for most of its clients. "It's so important because that is going to be their only meal of the day." her husband Hamlin added, "to have the opportunity to give back is amazing."
Other celebrities included Eileen Davidson (RHOBH, Days of Our Lives), Peter Porte (Days of Our Lives), Juan Pablo Di Pace (DWTS, Fuller House), Olympian Tai Babilonia, Tim Bagley (Gracie & Frankie, Will & Grace), Michael Hitchcock (The Resort, Crazy Ex-Girlfriend), Lawrence Zarian (The Kelly Clarkson Show), Marc Malkin (Variety), James Wallington and Will Jardell (Amazing Race Season 32 winners), Romeo Escobar (Survivor 42 runner-up), and parenting author Donna Tetreault.
The 7,400 meals being delivered on Thanksgiving included 1,600 traditional turkey dinners to critically ill men, women, children and their caregivers, 5,600 Medically Tailored Meals and breakfasts regularly scheduled for Thursday delivery, and another 200 meals were provided to Project Angel Food community partner PATH for residents for two of PATH's Interim Housing and Permanent Supportive Housing sites.
Volunteers provided contactless "drive-by" pick-up of the meals which were then delivered to Project Angel Food clients. Traditional Thanksgiving dinners consisted of roasted turkey, root vegetables, stuffing, gravy, cranberry sauce and a slice of pumpkin cheesecake. Vegetarian meals were also provided.
The meal was sponsored by the Stanley and Joyce Black Family foundation with Glamazon (Amazon's affinity group for the LGBT+ community) sponsoring the volunteer event.
Project Angel Food CEO Richard Ayoub noted that Project Angel Food strives to end food insecurity and improve health outcomes of critically ill men, women and children in Los Angeles with Medically Tailored Meals, delivered with care and compassion.
Over 2,500 clients are fed daily. Project Angel Food delivers 1.3 million meals each year.