Trans swimmer breaks silence says goal is 'to swim at Olympic trials'
First-ever Out transgender NCAA Division I national swimming champion Lia Thomas is now pursuing her law degree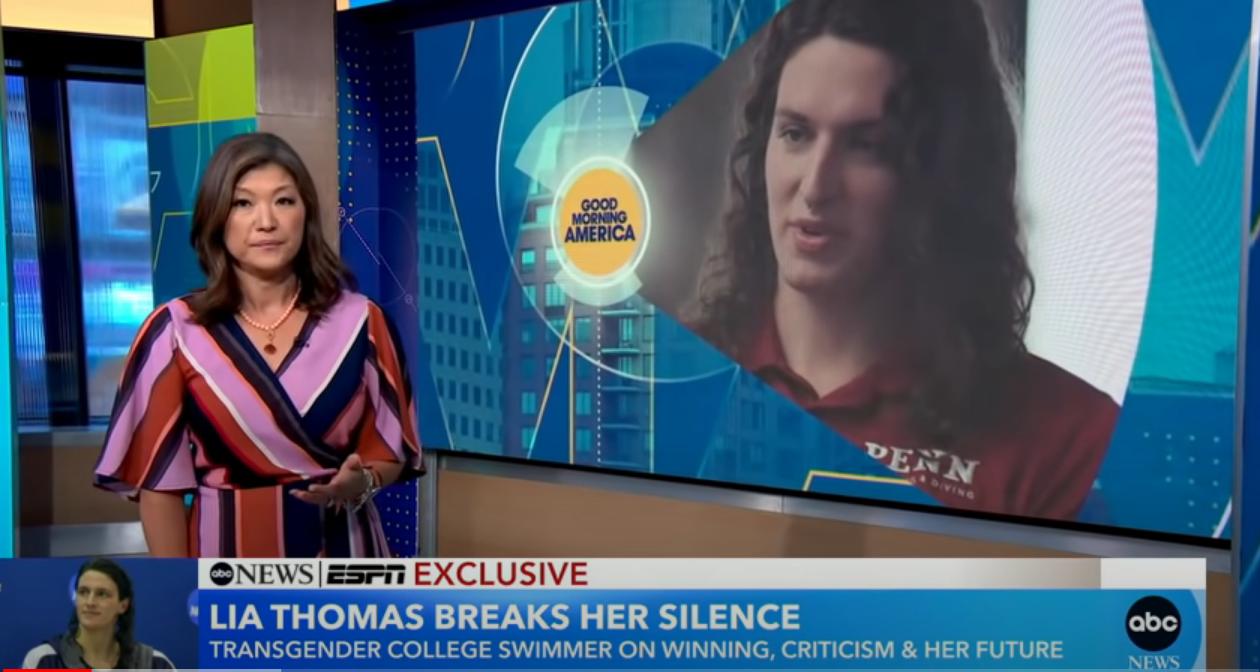 NEW YORK – After months of nasty headlines and boos hurled her way at the mere mention of her name, Lia Thomas can finally live her life away from the spotlight, and enjoy her first summer as just another college graduate.
So, what does the out transgender champion do? She's granted her first media interviews since her historic NCAA victory, telling reporters she's headed to law school and she also plans to take the laps necessary to win Olympic gold. 
"I intend to keep swimming," Thomas told ABC News correspondent Juju Chang Tuesday on "Good Morning America." "It's been a goal of mine to swim at Olympic trials for a very long time, and I would love to see that through."
In addition to Chang, the native of Austin, Texas, also agreed to answer questions from ESPN sportswriter Katie Barnes, who is the first out LGBTQ+ journalist to be granted this opportunity.
The Los Angeles Blade repeatedly requested an interview with Thomas, before, during and after she competed at the National Championships in Atlanta. Barnes was there, too, and as they reported, Thomas flat-out refused to appear at the traditional winner's news conference. She gave only two interviews during her historic run: The first went to a SwimSwam podcaster in December, and the only other one was live on the pool deck with ESPN, immediately after Thomas won the 500-freestyle in March.
Barnes, who is nonbinary, asked the UPenn grad for her perspective on the ongoing national debate over trans girls and women competing with cisgender girls and women in school sports.
"The biggest misconception, I think, is the reason I transitioned," Thomas said. "People will say, 'Oh, she just transitioned so she would have an advantage, so she could win.' I transitioned to be happy, to be true to myself."
Thomas, who swam on the Penn men's swimming team for three seasons, then took a gap year during the COVID-19 pandemic, which canceled college swimming, said she began her medical transition in May 2019 following her sophomore year. By the time she joined the women's swim team as a fifth year senior in 2021, she had undergone 30-months of hormone replacement therapy.
Republican legislators who have copy-pasted bills banning trans student-athletes across the country have invoked Thomas's name, claiming laws were needed to protect the sanctity of women's sports, even in states where no out trans students competed.
Thomas told ESPN the threat is entirely imaginary.
"Trans women competing in women's sports does not threaten women's sports as a whole," Thomas told Barnes. "Trans women are a very small minority of all athletes. The NCAA rules regarding trans women competing in women's sports have been around for 10-plus years. And we haven't seen any massive wave of trans women dominating."
The rules are changing, however. USA Swimming updated its trans participation policy in February to require evaluation of eligibility for trans women by a three-person panel, and 36 months of testosterone suppression; More months than Thomas had undergone. However, the NCAA opted to not impose that policy for its 2022 swimming and diving championships, and Thomas merely had to comply with the previous policy: A demonstrated testosterone level below 10 nanomoles per liter.
Critics of the NCAA have proposed trans women should compete separately from cis women. Thomas told Barnes she objects to that so-called solution.
"If you say, like, you can compete, but you can't score or you're in an extra lane nine, that's very othering towards trans people," said Thomas. "And it is not offering them the same level of respect and opportunity to play and to compete."
She told them it comes down to this: Trans women are women.
"It's no different than a cis woman taking a spot on a travel team or a scholarship. It's a part of athletics, where people are competing against each other. It's not taking away opportunities from cis women, really. Trans women are women, so it's still a woman who is getting that scholarship or that opportunity," she said.
Besides looking to the Olympic trials, Thomas said she will attend grad school in the fall and plans to focus on civil rights and public interest law.
"Having seen such hateful attacks on trans rights through legislation, fighting for trans rights and trans equality is something that I've become much more passionate about and want to pursue," said Thomas. 
Watch ESPN's report on Lia Thomas by clicking here.
Swimmer Lia Thomas breaks silence about backlash, future plans – GMA
The voice of Los Angeles Dodgers baseball, legendary Vin Scully has died
"The game is the thing, not me," he told The LA Times in 1998. "I am just a conduit for the game. I am the guy between the expert & the fan. I am not the expert"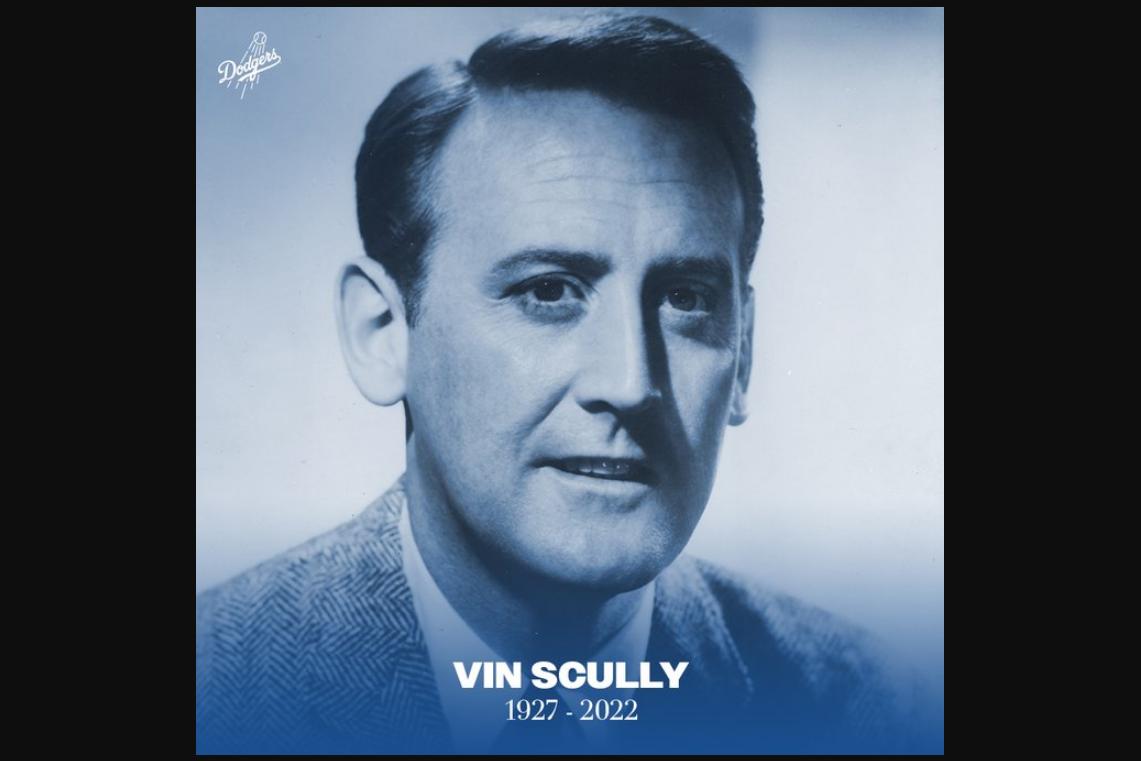 LOS ANGELES – The iconic phrase "It's time for Dodgers baseball" voiced by Vin Scully, ringing out at the home of the Los Angeles Dodgers for over 60 years was termed "the heartbeat of the Dodgers," by the team as it sadly announced the legendary broadcaster's passing at age 94 Tuesday.
"We have lost an icon," said Dodger President & CEO Stan Kasten. "The Dodgers' Vin Scully was one of the greatest voices in all of sports. He was a giant of a man, not only as a broadcaster, but as a humanitarian. He loved people. He loved life. He loved baseball and the Dodgers. And he loved his family. His voice will always be heard and etched in all of our minds forever. I know he was looking forward to joining the love of his life, Sandi. Our thoughts and prayers go out to his family during this very difficult time. Vin will be truly missed."
California Governor Gavin Newsom expressed his condolences Tuesday evening after the news broke of Scully's death. In a statement the Governor said:
"Vin Scully was a master of his craft. A native son of New York, his unmistakable voice will forever be synonymous with Los Angeles.
When the Dodgers moved from Brooklyn in 1958, Vin came with them. For more than six decades, he provided the soundtrack for generations of baseball fans. He was a master storyteller whose calls had an unparalleled musical quality that was a source of comfort for millions.
Over his remarkable career, Vin consistently demonstrated the remarkable ability to improvise poetry, a true artist whose love for the game rang through every Dodgers broadcast. He was quite simply the greatest of all time, and will be sorely missed not just by his family and friends but by millions of baseball fans."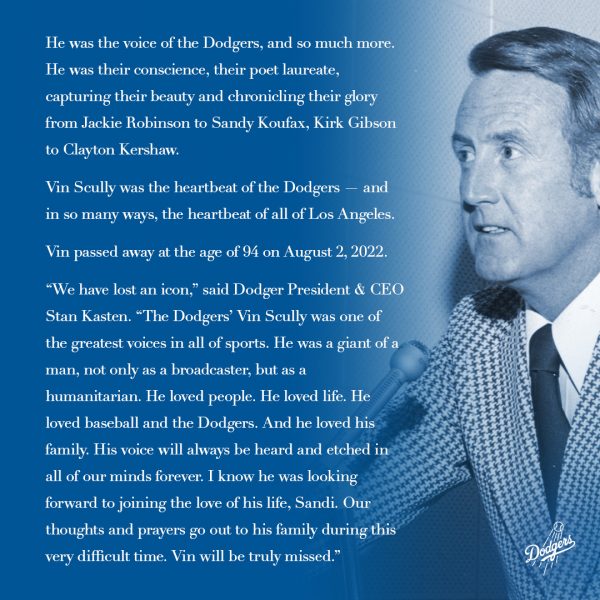 LA's hometown station KTLA 5 reported that Vincent Edward Scully was born on Nov. 29, 1927, in Bronx, New York. He began his legendary career at Fordham University, where he worked on the school paper and for the college radio station.
He latched onto the then-Brooklyn Dodgers in the 1950s and followed the team to the West Coast where he would become synonymous with Dodgers baseball for the next 67 season.
Scully retired from calling Dodgers games after the 2016 season, eight years after announcing his original plans to step away from the game he loved.
He was a MLB Hall of Fame inductee in the 1980s, becoming one of only a handful of announcers to receive the honor. In 2016 he was awarded the Presidential Medal of Freedom by President Barack Obama.
Earlier this year, he was awarded the Baseball Digest lifetime achievement award.
California U.S. Senator Alex Padilla remembered the Dodger broadcaster in a statement:
"Angela and I join Los Angeles—and baseball fans around the world—in mourning the passing of Vin Scully. From Opening Day to the World Series and every inning in between, for generations of fans, Vin Scully's voice meant it was time for Dodger baseball. Growing up in the San Fernando Valley in the 1980s, I spent many evenings dreaming of playing baseball in the major leagues while Vin's voice narrated the action.
"Vin's unparalleled storytelling and love of sports allowed him to transcend baseball. Many fans recall Vin's unique calls on some of the most memorable football games and golf tournaments of the 20th Century.
"While he became a legend for his talents behind the microphone, he will be remembered best for his decency beyond the broadcast booth. A few years ago, as California's Secretary of State, I had the opportunity to introduce Angela and our boys to Vin at a voter registration event before the game. He was incredibly gracious to my family, as he was to all fans. He always made time for fans—regardless of age or occupation—whenever and wherever he met them. Vin Scully was truly an ambassador for the Dodgers, Los Angeles, and the entire sport of baseball. Our hearts go out to the entire Scully family."
In a Facebook post, Out Dodgers executive Erik Braverman expressed his sadness at the passage of the team's legendary broadcaster:
August 3, 2022
From KTLA:
The LA Sparks donate shoes to homeless youth honoring Brittney Griner
The shoe drive was originally an initiative by Griner to help those in need in the Phoenix metropolitan area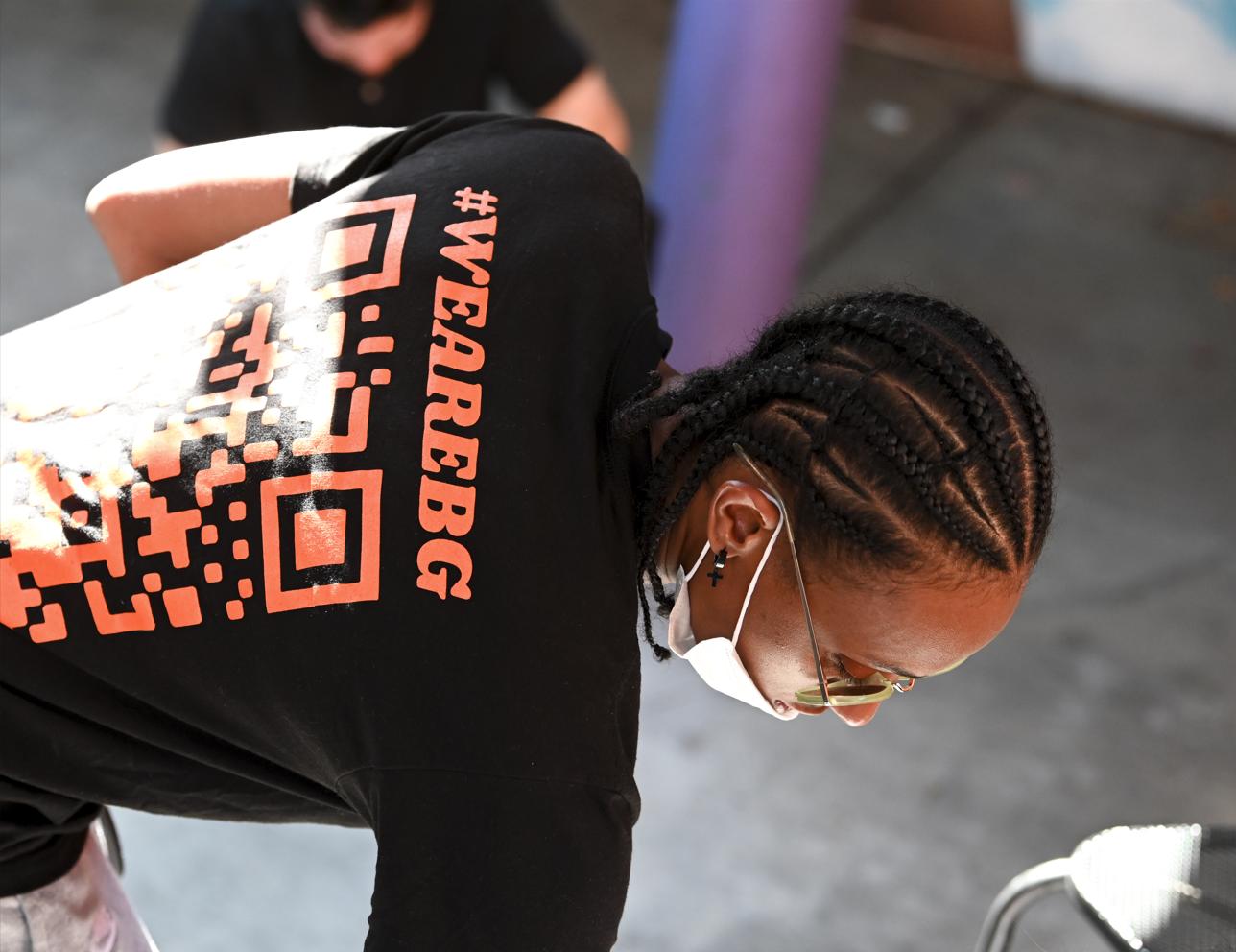 HOLLYWOOD – Led by Los Angeles Sparks guard Brittney Sykes, the WNBA championship team's executive staff donated dozens of pairs of shoes to Covenant House California for children experiencing homelessness this past Monday.
The shoes were donated, in part, to honor WNBA Phoenix Mercury star Brittney Griner who currently remains detained in Russia.
The shoes were collected throughout the WNBA season in collaboration with Griner's team, the Phoenix Mercury, and her annual Heart and Sole Shoe Drive. As the Mercury visited all 12 cities with WNBA teams, people were encouraged to bring new or lightly used shoes to be donated to local causes. The nonprofit HavASole also contributed to the shoe drive.
The shoe drive was originally an initiative by Griner to help those in need in the Phoenix metropolitan area.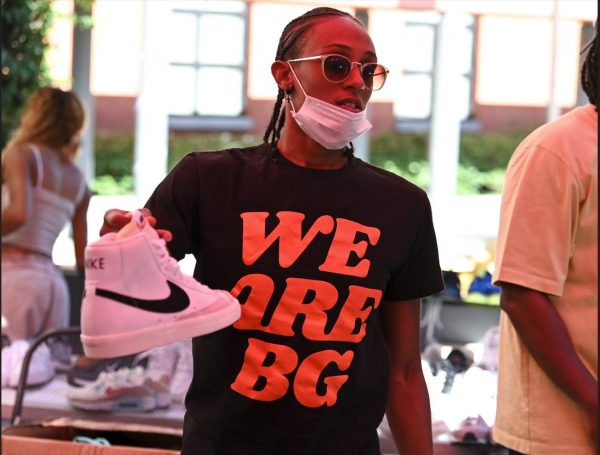 As Griner remains detained in Russia, the drive was expanded throughout the league in her honor. The local shoe drive was held in Los Angeles on July 4 when the Sparks and Mercury faced off in the Crypto.com arena, KTLA reported.
Covenant House California (CHC) is a non-profit youth shelter that provides sanctuary and support for youth experiencing homelessness, ages 18-24. In their mission statement the organization notes: "We believe that no young person deserves to be homeless; that every young person in California deserves shelter, food, clothing, education … and most importantly, to be loved."
CHC provides a full continuum of services to meet the physical, emotional, educational, vocational, and spiritual well-being of young people, in order to provide them with the best chance for success in independence.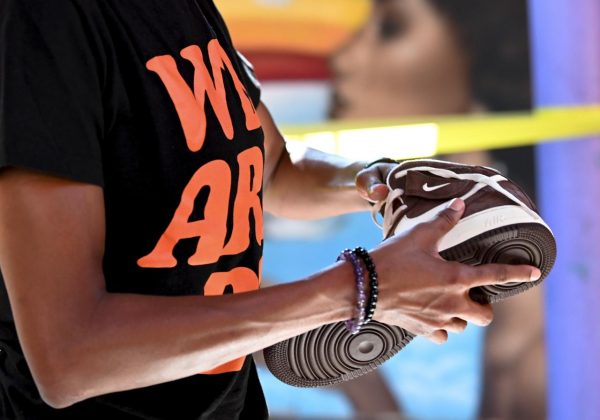 Officials at Moscow's Sheremetyevo Airport in February detained Griner — a Phoenix Mercury center and two-time Olympic gold medalist after customs inspectors allegedly found hashish oil in her luggage. The State Department has determined that Russia "wrongfully detained" her.
"I'd like to plead guilty, your honor, but there was no intent," Griner told a Moscow judge during the second hearing in her trial, according to the New York Times. "I didn't want to break the law."
President Joe Biden and Vice President Kamala Harris spoke with Cherelle Griner earlier this month and U.S. Chargé d'Affaires Elizabeth Rood delivered a letter from the president to the WNBA star in answer to a letter Griner had written to Biden pleading for his assistance in gaining her freedom.
Secretary of State Antony Blinken after Brittney Griner's guilty plea reiterated the Biden administration remains committed to securing her release.
"We will not relent until Brittney, Paul Whelan, and all other wrongfully detained Americans are reunited with their loved ones," tweeted Blinken.
Los Angeles to host 2028 Olympic Summer Games July 14 through 30th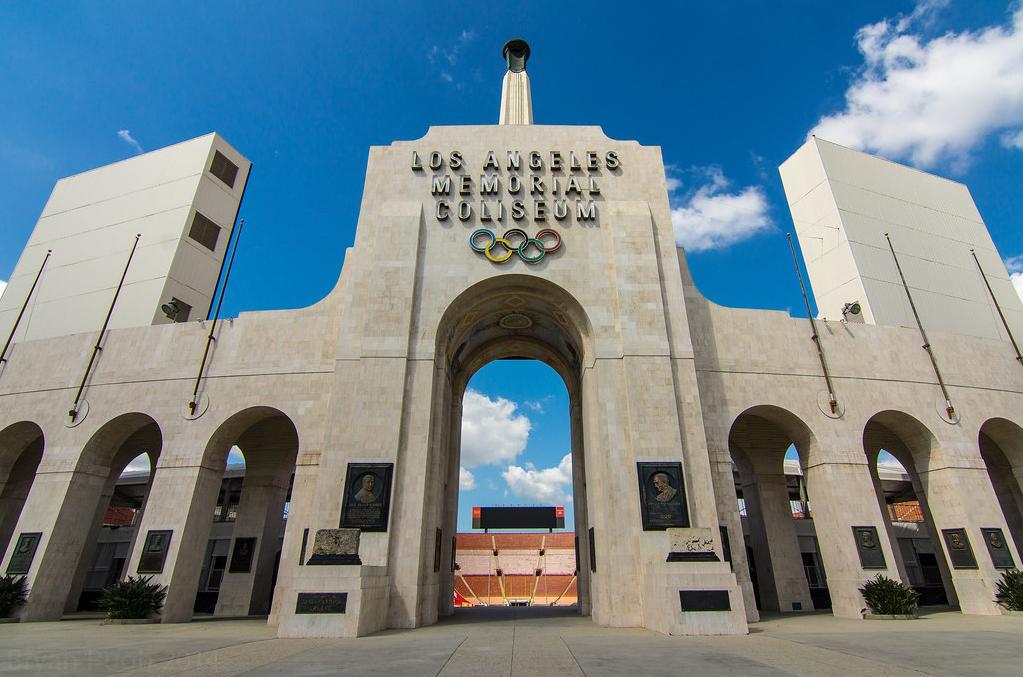 LOS ANGELES – In a news conference Monday, Los Angeles Mayor Eric Garcetti, International Olympic Committee president Thomas Bach alongside IOC member Nicole Hoevertsz, the Los Angeles Olympic coordination commission chair, announced that the City will play host to the Summer Games in 2028.
The Games will begin with a dual opening ceremony at the Coliseum and SoFi Stadium on July 14, 2028, and continue through July 30. The Paralympics will follow, starting on Aug. 15. There will be venues across Southern California for the various international sporting events and completions.
"With set dates in hand, Los Angeles is ready and excited to host the Olympics for the third time and the Paralympics for the first time in history," said Mayor Garcetti. "The Games represent a once in a lifetime opportunity for LA — a bold investment throughout our communities with equity and progress as the main focus. This will bring vast opportunity into every corner of the city ensuring a lasting legacy for future generations of Angelenos."
"Los Angeles is a special place for sport," Hoevertsz remarked. She had competed in the 1984 Summer Olympic Games, which were also held in Los Angeles, as athlete in the synchronized swimming competition for Aruba.
"It's wonderful to see the continued progress of the LA28 Games and especially terrific to witness the positive impact the Games can have on the community well before the Olympic flame ever reaches American soil. We have much to continue to plan and celebrate as we prepare to deliver the beauty and excitement of sport to the world. The confirmation of the Games dates now gives LA a firm deadline when it will need to be ready to welcome the world."
The Orange County Register reported that LA 2028 will receive at least $2 billion from the IOC, up from $1.7 billion had the city hosted the 2024 Games and the largest payout ever to an Olympic host city. Los Angeles also will receive the IOC's 20 percent share of the 2028 Games surplus. With the deal, LA 2028 will receive 80 percent of those Olympics' surplus. LA 2028 initially projected a $166.1 million surplus in 2015 documents, an estimate considered conservative by several longtime Olympic bid analysts.