San Francisco Pride & Police Officers Pride Alliance broker compromise
The compromise was announced at Mayor London Breed's ceremonial raising of the Pride flag on the balcony outside her office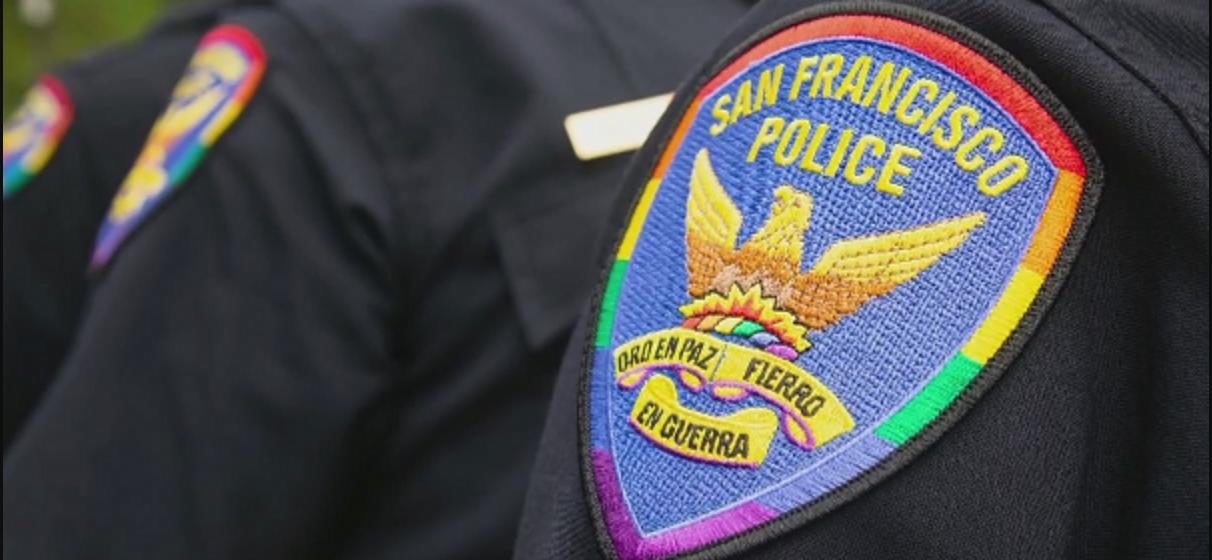 SAN FRANCISCO – The governing board of San Francisco Pride and the leadership of the San Francisco Police Officers Pride Alliance worked out a compromise that allows for the participation of some officers in the parade to march in uniform.
It was also announced that San Francisco Mayor London Breed would participate in the parade. The Mayor had withdrawn her support after the Pride committee ruled that the city's LGBTQ+ law enforcement contingents are banned from participating in the Pride parade wearing their uniforms. The Mayor noted in a statement at the time:
"I love the Pride Parade, and what it means for our LGBTQ community and for our city. It's one of my favorite events of the year. However, if the Pride Board does not reverse its decision, I will join our city public safety departments that are not participating in the Pride Parade," the Mayor said in a statement.
"I've made this very hard decision in order to support those members of the LGBTQ community who serve in uniform, in our Police Department and Sheriff's Department, who have been told they cannot march in uniform, and in support of the members of the Fire Department who are refusing to march out of solidarity with their public safety partners," Breed added.
 ABC7 Bay Area reporter Lyanne Melendez, who had covered the ongoing controversy for the station tweeted out the news of the compromise as it broke Thursday.
A compromised has been reached. Police chief and command staff will march in full uniform while others will march in casual attire. #pride parade. pic.twitter.com/aNAz45u69Y

— Lyanne Melendez (@LyanneMelendez) June 2, 2022
San Francisco Pride's Carolyn Wysinger, President Of the Board of Directors, SF Pride and Suzanne Ford, Interim Executive Director, SF Pride and the San Francisco Police Officers Pride Alliance spokesperson Officer Kathryn Winters, in a dual statement issued Thursday noted:
"Pride grew out of conflicts between LGBTQ communities and police at Compton's Cafeteria and Stonewall Inn. Ever since then, we have attempted to bridge that divide. That is why we are grateful to have reached a compromise solution today. It shows everyone is working in the spirit of Pride to come together! We have agreed that all first responders will march together in one contingent. Most law enforcement officers marching will be in casual dress. Police and fire department command staff will march in their class AA uniforms as regulated. There will be a small number of LGBTQ officers in uniform providing security for the contingent."
"In addition to the agreement reached surrounding law enforcement officers marching in Pride, San Francisco Pride and the San Francisco Police Officers Pride Alliance have also agreed to continue work that builds on the foundations laid by our conversations over the last two years. The San Francisco Police Officers Pride Alliance will work with Chief William Scott's office to reinvigorate the Chief's LGBTQ Police Advisory Forum, working with San Francisco Pride to ensure that community members selected for the forum represent the diversity of San Francisco's LGBTQ+ community. San Francisco Police Officers Pride Alliance and San Francisco Pride, over the next year, will host a series of community discussions bringing together the LGBTQ+ community and LGBTQ+ officers. These discussions will take place in San Francisco LGBTQ+ communities in order to ensure that the forums are accessible to all."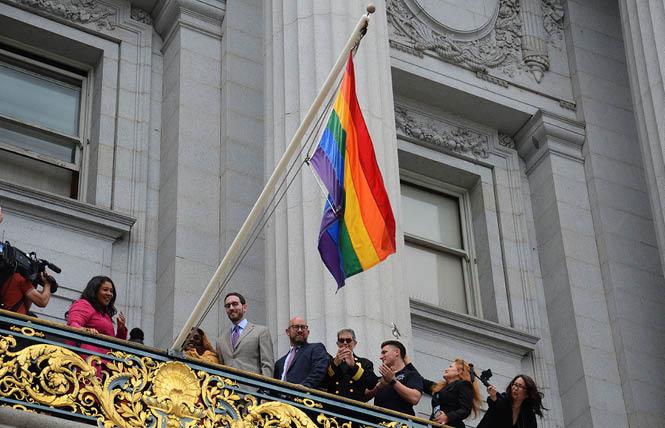 Journalists Eric Burkett and Cynthia Laird from The Bay Area Reporter, San Francisco's LGBTQ+ newspaper and media outlet reported:
The compromise was announced at Mayor London Breed's ceremonial raising of the Pride flag on the balcony outside her office, overlooking the front entrance of City Hall.
"I have a very, very big happy announcement today," Breed said in a presentation following the flag raising. "I almost want to cry, I'm so happy. But I, along with our LGBTQ public safety officials will be marching in Pride this year."
At that point, the assembly comprising LGBTQ community leaders, members of SF Pride, law enforcement, and city officials burst into applause. The mayor continued, acknowledging that her decision not to march had probably hurt some people.
"I want to first apologize to the many members of the LGBTQ community who were hurt by the decision that I made to stand by our various public safety officials of the LGBTQ community. And I apologize for not also recognizing the hurt and pain that I know some feel as a result of their own interactions and engagements with law enforcement."
She called the compromise one all parties in the dispute could be proud of, adding "the understanding and respect from both sides is a symbol of love, bringing us together."
The compromise resulted from an almost impromptu discussion facilitated by a local restaurateur, Manny Yekutiel, a gay man who owns Manny's, a hybrid cafe and community space in the Mission district. Yekutiel, 31, also serves on the San Francisco Municipal Transportation Agency board.
Distressed by how the dispute between law enforcement and SF Pride seemed to be escalating, Yekutiel decided to offer his cafe as a place to meet. After calling representatives from both sides of the dispute last weekend, they agreed that Sunday to meet the evening of June 1 to further discuss the matter.
"I decided to reach out to both Suzanne Ford and Officer Winters and see if they can come here and see if we could work something out together in person," he said, referring to the interim executive director of SF Pride and a leader in the police pride alliance.
Yekutiel not only hosted the event, he said, but served as moderator.
"I asked the question at the end of this really beautiful conversation between the two of them where folks spent an hour sharing their experiences and their stories and their perspective on the issue," he said. "I asked them what they needed to see in order to make a compromise, what would a compromise look like to be able to get everyone to march together."
He added that "a compromise was proposed and in the room, it was not accepted, but it seemed that we were able to actually find a path forward that allowed officers to feel comfortable marching and, prior, to allow them there. And so I stopped in the middle of the conversation. I said, did this just happen? Is this OK with you? Is this OK with you?"
The conversation between the two sides continued the following day and wrapped up just hours before the flag-raising ceremony.
End of stalemate
The deal brings to an end a stalemate that started May 23 when members of the San Francisco Police Officers Pride Alliance stated they would not participate in the parade because the board that oversees the Pride parade had instituted a policy whereby they could not march in uniform.
That policy, first adopted in September 2020, was because SF Pride board President Carolyn Wysinger and former SF Pride Executive Director Fred Lopez "concluded that in 2021 we cannot welcome the participation of the San Francisco Police Department's Pride Alliance — which is to say, uniformed SFPD officers marching as a Parade contingent."
The SF Pride leaders said the organization was "disappointed and frustrated" following a 2019 incident when police used force against anti-police and anti-corporate protesters who blocked the parade route for almost an hour.
Due to the COVID pandemic, this year is the first time the policy is being tested because there was no in-person Pride parade in 2021.
In last month's announcement, the police officers alliance was joined in solidarity by LGBTQ members of the San Francisco Fire Department and San Francisco Sheriff's Department. Breed and gay District 6 Supervisor Matt Dorsey then said they would skip the parade if SF Pride did not reverse its decision.
In a text to the B.A.R. Thursday, Dorsey wrote "Yes!" when asked if he would now march in the parade.
The flag-raising ceremony was attended by SF Pride leaders, including Wysinger and Ford, lesbian Fire Chief Jeanine Nicholson, and others.
"Here in San Francisco, we embrace our diverse communities to ensure that everyone can live freely as who they are," Breed stated. "While other states attack the rights of LGBTQ individuals, here in San Francisco, we fly the Pride flag proudly to celebrate the history and honor the accomplishments of this community. Today reflects and the entire month of June reflects the strength of the LGBTQ community and our city's commitment to LGBTQ rights and equality."
While the city's LGBTQ cultural districts had previously said that would not send representatives to the flag-raising, Aria Sa'id, president and chief strategist of the Transgender District, was in attendance.
"When they reached out to me and said they had reached an agreement that their board was satisfied with, it was enough for us at the Transgender District in particular," said Sa'id. "Because it's not our event but we wanted to support another trans-led organization that puts on one of the largest festivals in San Francisco every single year." (SF Pride leader Ford is a transgender woman.)
Noting the agreement had come together rather quickly, Sa'id said, "We just got alerted an hour before" the flag-raising ceremony, and they just walked over from their offices in the Tenderloin.
Gay state Senator Scott Wiener (D-San Francisco) also attended the event at City Hall.
"The LGBTQ flag raising at City Hall is always a banner moment kicking off Pride Month in San Francisco," Wiener stated. "Particularly now — with so many vicious political attacks against LGBTQ youth around the country — San Francisco must be a beacon of hope for our community. The rainbow flag represents the hope, safety, and joy that San Francisco has come to mean for the LGBTQ community."
LGBTQ+ journalists assoc. honor sports editor Christina Kahrl
Out Trans San Francisco Chronicle sports editor to receive 2023 Jeanne Córdova Award. She is the 1st out trans sports writer in the nation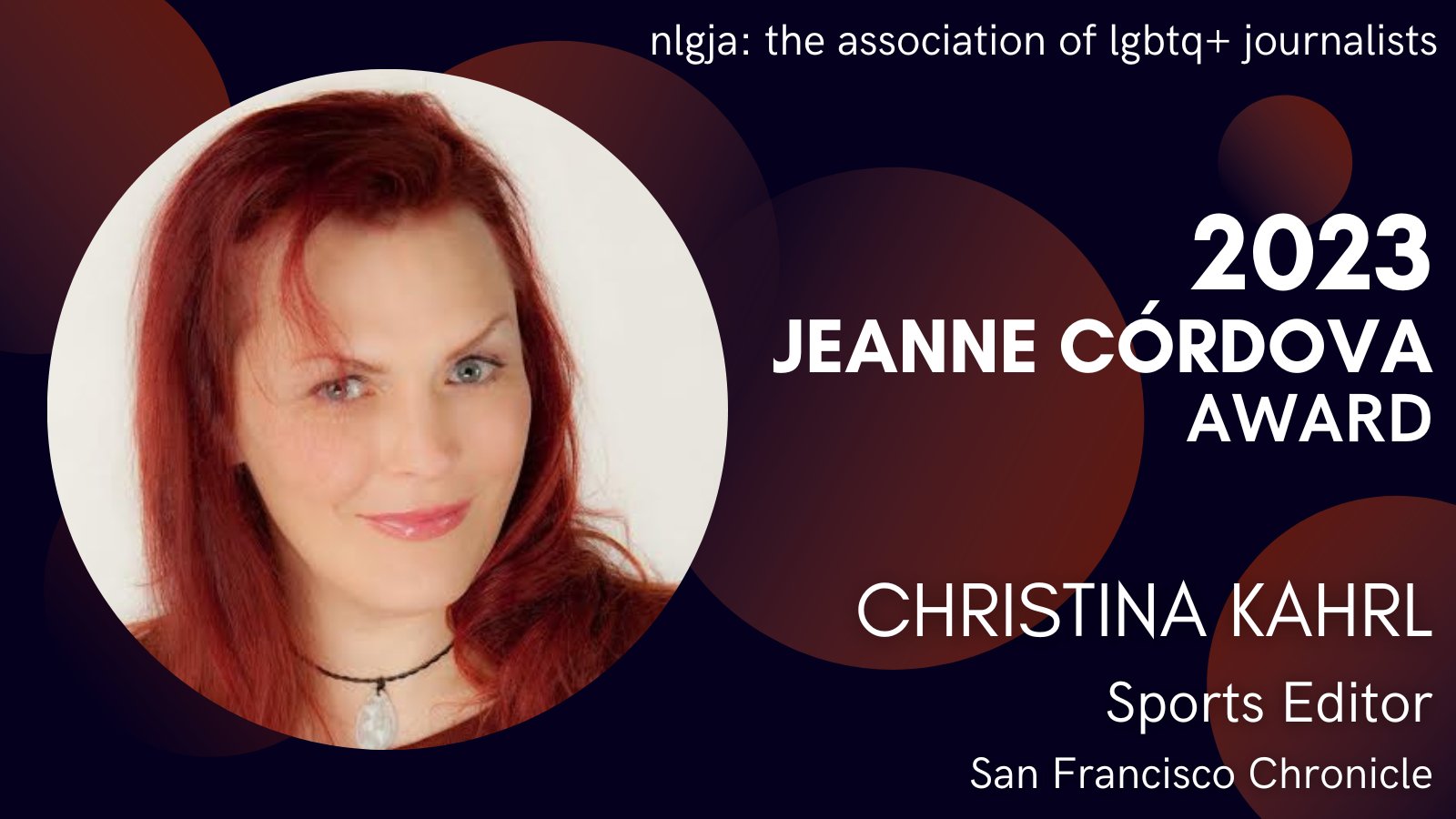 PHILADELPHIA — The NLGJA: The Association of LGBTQ+ Journalists announced Wednesday its recipient of the prized Jeanne Córdova Award at its convention here next month will be Christina Kahrl, the trailblazing sports editor of the San Francisco Chronicle.
It's especially significant that this honor, which recognizes LGBTQ+ women in the media, will for the first time be awarded to an out transgender woman journalist, who as of this month has been Out 20 years.
"This is an extraordinary honor, knowing the impact Jeanne Córdova had in life and to this day," Kahrl posted on social media. "Accepting it is not a case of looking back on my career with satisfaction, but a challenge to be worthy of it in everything I have yet to do.
Córdova was a journalist and the editor and publisher of Lesbian Tide, which chronicled the 1970s lesbian feminist movement. The award named for her celebrates the achievement of an LGBTQ+ woman for a current body of work in journalism and/or opinion, with an emphasis on, but not exclusively coverage of, issues of importance to the LGBTQ+ community, in any medium and on any platform.
Kahrl is the first out trans editor at a major metropolitan media outlet, and a sports journalism superstar. The Chronicle hired her away from ESPN in 2021 after a decade-long career as a sportswriter and editor, highlighted by being inducted into the National Gay & Lesbian Sports Hall of Fame in 2013 and the Chicago LGBT Hall of Fame in 2014.
In 2008, the Baseball Writers' Association of America welcomed her as one of the first four internet-based writers to join the organization, as well as its first out trans member. The association votes each year on which players should be named to the National Baseball Hall of Fame in Cooperstown, N.Y.
And Kahrl did all of this as the woman she is, the first out transgender sports writer in the nation.
"I started coming out to friends and family and began my transition in 2002," Kahrl told the Los Angeles Blade. "I was out publicly by August 2003," she said.
"At that point, nobody had tried to pursue a career as a sportswriter while also being trans," Kahrl wrote for a magazine published by her alma mater, University of Chicago, in 2015. "Unlike sexuality, this wasn't something that could remain my own business: I had done a lot of TV work, particularly Cubs and White Sox postgame shows on CLTV, and a national book tour every spring for the new Baseball Prospectus annual. Folks were going to notice."
Readers of The Chronicle have certainly noticed her talent in her brief time as one of the few women named to run the sports section of a major daily newspaper. The paper has already received multiple nominations and awards for its sports columnists, investigative reporting, breaking sports news as well as for its digital coverage of the Giants, A's, 49ers and more.
While Kahrl has written for some other illustrious news brands including the Washington Blade, Sports Illustrated, Slate, Cosmopolitan and Playboy, she launched her sportswriting career in 1996, when she co-founded the baseball analytics bible, Baseball Prospectus, devoted to the statistical analysis of baseball. The organization has pioneered several statistical tools that have become hallmarks of modern baseball analysis.
Her roles at Baseball Prospectus grew from columnist to executive editor and managing editor of its bestselling annual season guide. In addition, Kahrl helped launch the careers of a number of baseball journalists as well as two general managers in Major League Baseball.
She was also the acquisitions editor for Brassey's Sports, focusing on sports analytics and history in baseball, pro football, basketball, motor sports, golf and tennis.
Outside sports journalism, Kahrl has worked as an advocate for civic equality for transgender Americans, helping to reform Chicago police policy on trans individuals and training police departments throughout the Midwest in cooperation with the Department of Justice. She helped organize the public observation of Transgender Day of Remembrance in Chicago and received the Pride Community Service Award from Cook County in 2015 for her work as an activist for the Chicago transgender community. Kahrl has served on the boards of Equality Illinois, Illinois Gender Advocates and GLAAD, and is a Lifetime Member and former National Board director of NLGJA: The Association of LGBTQ+ Journalists.
"We are thrilled to honor Christina Kahrl with the Jeanne Córdova Award for her outstanding contributions to journalism," said the organization's executive director, Adam Pawlus, in a statement. "Her pioneering spirit has been instrumental in making the world of sports journalism more inclusive of LGBTQ+ voices and perspectives, and the industry is better for it."