Massive Progress Pride flag in New York debuts with Ballet Hispánico
The Progress Pride Flag places emphasis on inclusion & progression with colors representing marginalized communities of color & trans people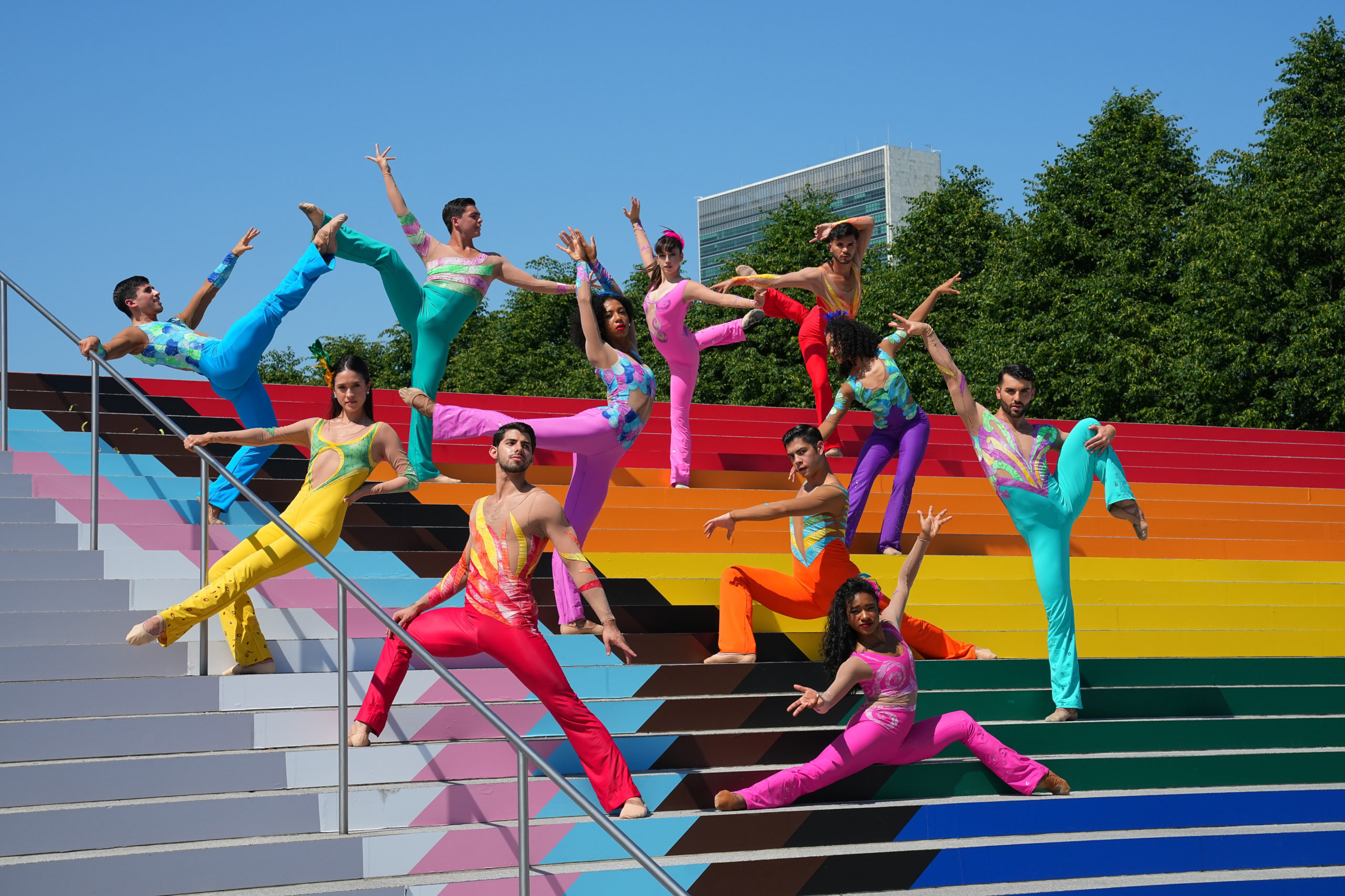 NEW YORK CITY – The installation of the largest Progress Pride Flag in New York State was celebrated at the FDR Four Freedoms State Park on Roosevelt Island, NYC this week, with dancers from with Ballet Hispánico. Sponsored by the Four Freedoms Park Conservancy, in partnership with New York State Office of  Parks, Recreation and Historic Preservation, the flag measures more than 100 feet long by 30 feet wide.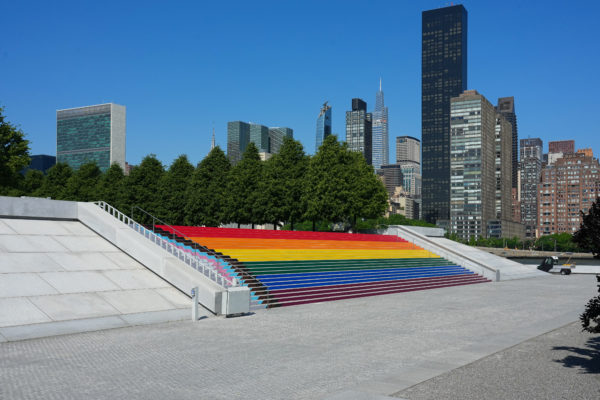 The 2022 Progress Pride Flag places greater emphasis on inclusion and progression with  added colors representing marginalized LGBTQIA+ communities of color and transgender communities.
The installation of the largest Pride Flag in New York State is a reminder of the  importance of the Four Freedoms as articulated in Franklin Roosevelt's January 1941 State of the Union speech.
This year,  FFPC invited Ballet Hispánico, the country's leading Latinx dance company to launch this year's Progress Pride Flag  installation. Dance is a cherished form of expression that aligns with the Conservancy's mission.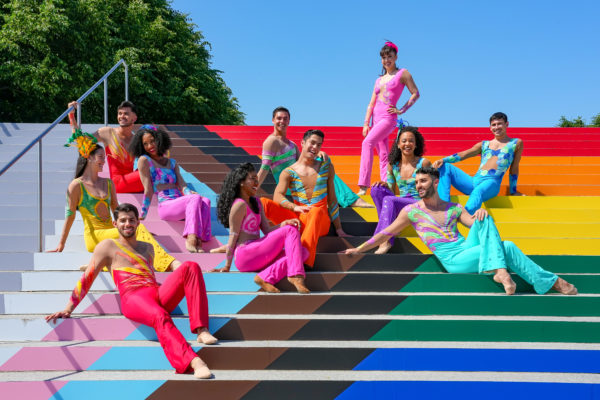 "Four Freedoms Park Conservancy's mission is singular and simple: we create public programs, commission public art and  produce installations to ignite conservations about basic human rights. President Franklin Roosevelt in 1941, articulated these,  in what now seems stunningly prescient: Freedom of Speech and Expression, Freedom of Worship, Freedom from Want and  Freedom from Fear. This is what The Progress Pride Flag stands for – inclusion means inclusion in all the freedoms from economic security to freedom from fear and of course freedom of expression," said Howard Axel, CEO Four Freedoms Park  Conservancy. "Could there be an organization more suited to express the Freedoms than Ballet Hispánico – one of the  nation's great cultural treasures that combines artistic excellence with advocacy? I hope this flag inspires New Yorkers to get  outside with Pride!"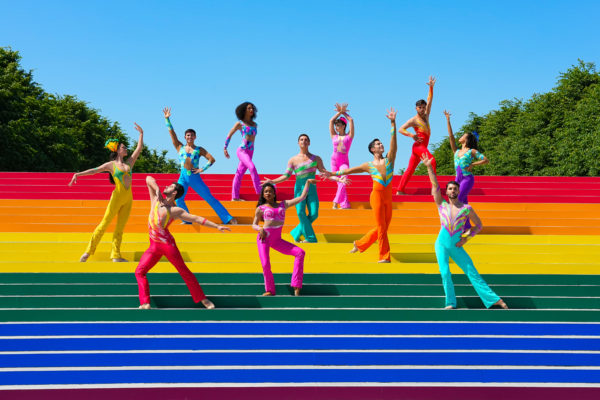 The FDR Four Freedoms State Park is one of the nation's only monuments dedicated to essential human freedoms; the Park's Progress Pride Flag installation serves as both a symbol of solidarity with the LGBTQIA+ community and a reminder of the collective progress needed to achieve these freedoms. The installation is part of a series of special public offerings to commemorate the 10th anniversary of the State Park, which opened to the public in 2012.
"Ballet Hispánico is thrilled to have been selected to help launch the 2022 Progress Pride Flag, an installation which aligns  with our mission of representation, inclusion, and accessibility through culture and dance," said Ballet Hispánico Artistic  Director and CEO Eduardo Vilaro. "As an organization that is deeply involved in community engagement and education, and  grounded in our rich history in New York City, it is as honor to be able to participate in something meant to be enjoyed by  all."
"We are proud to send this bold message of inclusion and acceptance at FDR Four Freedoms State Park," said New York State Parks Commissioner Erik Kulleseid. "Thanks to the Four Freedoms Park Conservancy for helping to make the park welcoming and open to all – and highlighting again what it means to be free."
Visitors are encouraged to post their photos on social media using #4Freedomspark #NYStateParks Entrance to the Park is free to the public and it is open Wednesdays through Mondays from 9:00 a.m. until 7:00 p.m. and is  closed on Tuesdays.
The Park is accessible via the Tramway at East 60th St. and Second Avenue, F train to Roosevelt Island  stop, NYC Ferry (Astoria Route), Q102 bus from Queens and by car (no on-site parking available). Click here for detailed  directions.
**********************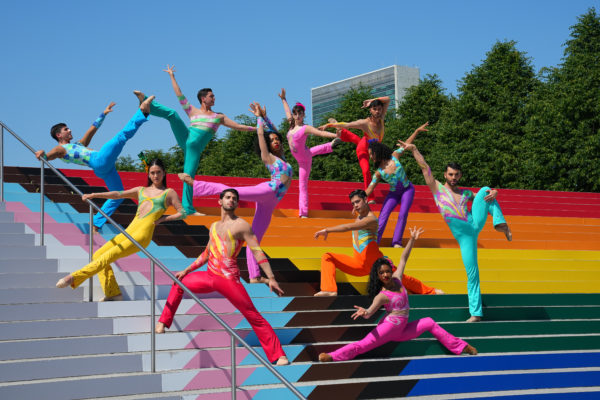 For fifty years Ballet Hispánico has been the leading voice intersecting artistic excellence and advocacy and is now the largest  Latinx cultural organization in the United States and one of America's Cultural Treasures. Ballet Hispánico brings  communities together to celebrate and explore Latino cultures through innovative dance productions, transformative dance  training, and enduring community engagement experiences.
National Medal of Arts recipient Tina Ramirez founded Ballet  Hispánico in 1970, at the height of the post-war civil rights movements. From its inception Ballet Hispánico focused on  providing a haven for Black and Brown Latinx youth and families seeking artistic place and cultural sanctuary.
By providing  the space for Latinx dance and dancers to flourish, Ballet Hispánico uplifted marginalized emerging and working artists, which  combined with the training, authenticity of voice, and power of representation, fueled the organization's roots and trajectory. 
In 2009, Ballet Hispánico welcomed Eduardo Vilaro as its Artistic Director, ushering in a new era by inserting fresh energy to  the company's founding values and leading Ballet Hispánico into an artistically vibrant future.
Today, Ballet Hispánico 's New  York City headquarters house a School of Dance and state-of-the-art dance studios for its programs and the arts community.  From its grassroots origins as a dance school and community-based performing arts troupe, for fifty years Ballet Hispánico has  stood as a catalyst for social change.
Ballet Hispánico provides the physical home and cultural heart for Latinx dance in the  United States. Ballet Hispánico has developed a robust public presence across its three main programs: its Company, School of  Dance, and Community Arts Partnerships.
Through its exemplary artistry, distinguished training program, and deep-rooted  community engagement efforts Ballet Hispánico champions and amplifies underrepresented voices in the field.
For fifty years  Ballet Hispánico has provided a place of honor for the omitted, overlooked, and oppressed. As it looks to the next fifty years  and beyond, Ballet Hispánico seeks to empower, and give agency to, the Latinx experience and those individuals within it.
For  more information, visit www.ballethispanico.org. Follow Ballet Hispánico on Facebook, Instagram and Twitter.
NYC councilman's house vandalized by anti-drag protestors
Councilmember Erik Bottcher published a series of Twitter posts revealing photos of anti-LGBTQ vandalism at his home and his office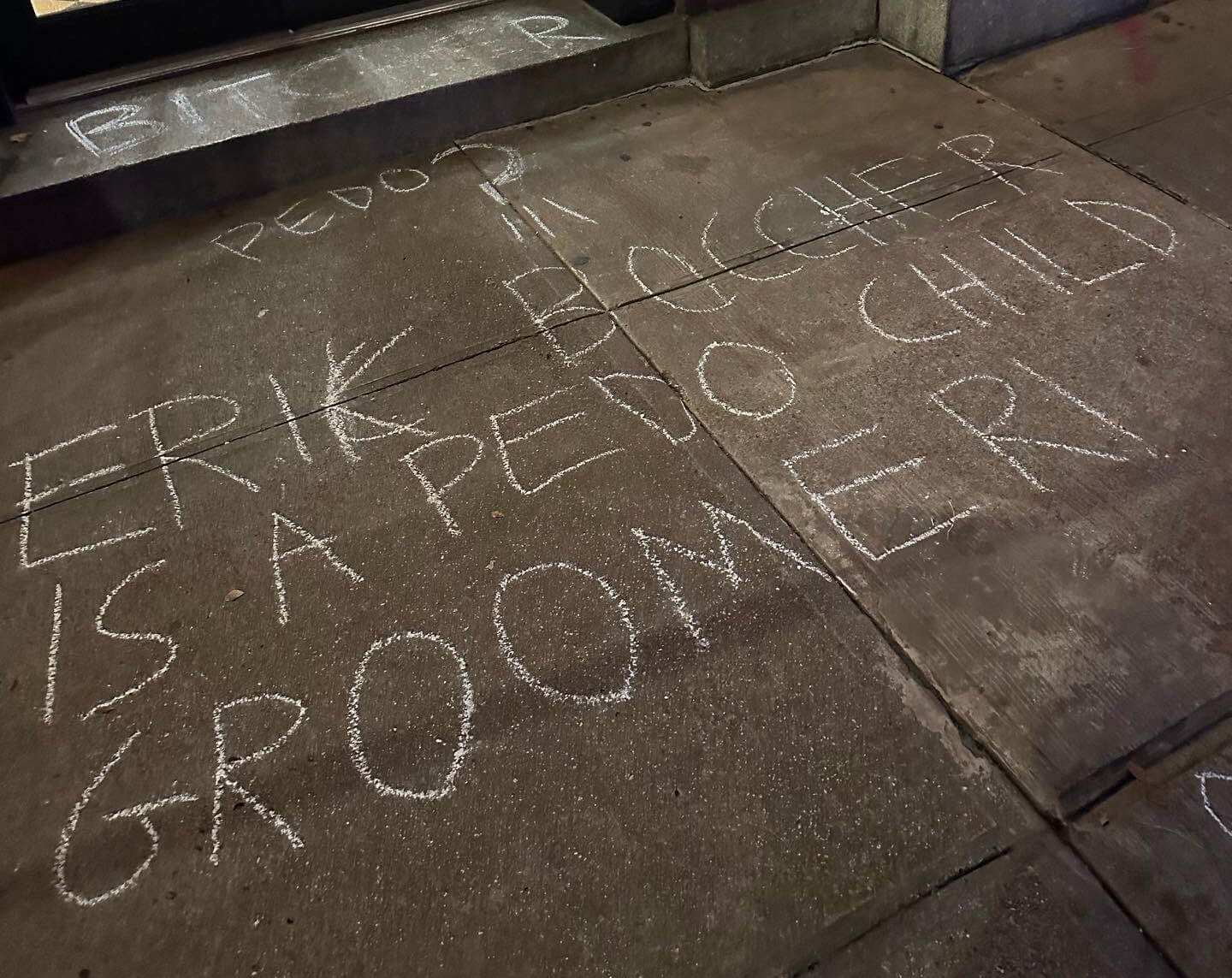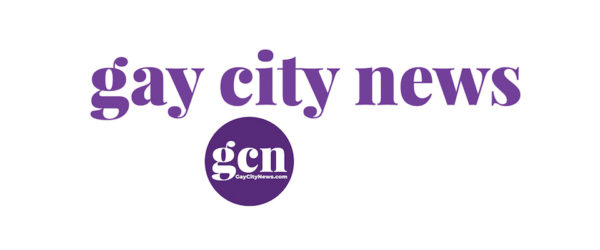 By Matt Tracy | NEW YORK CITY – Councilmember Erik Bottcher of Manhattan published a series of Twitter posts on December 19 revealing photos of anti-LGBTQ vandalism at his home and his office, where bigots scrawled slurs like "groomer" and hurled threats such as "we want Erik."
And yet, the incident could have been even worse: Bottcher said the vandals "gained entry" into his apartment, which prompted his building's super to call the police.
Two women — 44-year-old Erica Sanchez and 27-year-old Anna Morgan — were arrested for allegedly vandalizing his home and office, according to the NYPD.
They allegedly entered Bottcher's office building at West 30th Street at 3 p.m. in the afternoon and wrote "Bitcher" on the walls. The alleged vandals then went to Bottcher's apartment building and wrote messages like "child predator" and "OK groomer" on the sidewalk. One of the messages on the sidewalk accused Bottcher of being a "pedo child groomer."
The baseless accusations against Bottcher represented the latest example of the nationwide resurgence of the term "groomer" as a homophobic slur hurled at gay men. In New York City, Queens Councilmember Vickie Paladino has unapologetically used the term on social media when criticizing drag story hour.
The scary scene at Bottcher's home and work unfolded two days after he was in attendance at a drag story hour event and tweeted about protesters disrupting it.
"Tonight the Drag Story Hour protesters came to my apartment building and gained entry," said Bottcher, whose City Council district encompasses Chelsea, Hell's Kitchen, Greenwich Village, West SoHo, Hudson Square, Times Square, Garment District, Flatiron, and Upper West Side. "My super called the cops and two of them were arrested for trespassing. This is pure hate, unmasked. If they think this is going to intimidate us, they're mistaken. Our resolve is strengthened."
Just two hours prior to that tweet, Bottcher had posted on Twitter about the vandalism targeting his office. He blamed that vandalism on "Gays Against Groomers," a group of extremists known for targeting drag story hour events with anti-LGBTQ rhetoric and for routinely mocking gender-affirming environments for youth.
"Today people who call themselves 'gays against groomers' vandalized the hallway outside our district office," Bottcher said. "We will not be cowed. We will not be silenced. We will continue to stand up against hate."
One day after the vandalism took place, Bottcher posted a video clip that he said showed the alleged assailants harassing people outside of his apartment building.
Video of the Drag Story Hour protesters physically attacking one of my neighbors last night. pic.twitter.com/sqoGc8dWyZ

— NYC Council Member Erik Bottcher (@ebottcher) December 20, 2022
Elected officials representing every level of government flocked to social media to show support for Bottcher. Two out state lawmakers who represent Bottcher's area, Assemblymember Deborah Glick and State Senator Brad Hoylman, were among those speaking on Twitter.
"It's ironic that hatred is being directed at one of the most decent and likable city council members there is," Hoylman wrote. "David, me and our daughters Silvia and Lucy stand with you @ebottcher during this season of lights."
Glick, responding to Bottcher's tweet about his apartment building, wrote, "Sorry for the harassment @GOP rhetoric has empowered ignorant & hateful jackasses — they're determined to turn back the clock — But we are never going back. @NYPDPC needs to up their focus on all hate crimes."
Another out state lawmaker, State Senator Jabari Brisport, tweeted: "Sorry Erik this is so disgusting. Here for you."
Bottcher's City Council colleagues also stood in solidarity with him, including members of the LGBTQIA+ Caucus.
"This is vile," wrote Councilmember Chi Ossé of Brooklyn. "I'm so sorry you had to deal with this my friend. Here for you always!!!"
"Want to reiterate my solidarity to you Erik," Councilmember Lynn Schulman of Queens, also a member of the LGBTQIA+ Caucus, said in a Twitter post. "The Council as a whole gave funding to Drag Queen Story Hour, and this could happen to any one of us. We must stand together in unison to support you and stand up against hatred.
City Council Speaker Adrienne Adams called the attack "a dangerous and a serious violation of privacy."
"The 'protesters who did this must continue to be held accountable for their disgusting actions," the speaker wrote. "We stand with you, @ebottcher. We will never allow hate to prevail."
The governor and mayor jumped to Bottcher's side on Twitter, as well.
"I'm so sorry you experienced this, Erik," Governor Kathy Hochul wrote. "We are all standing with you. We will never tolerate this disgusting and hateful behavior in New York."
Mayor Adams described the attacks on Bottcher's home and office as "outrageous."
"Erik, you stand up for our city every single day and these cowardly bigots have no place here," Adams wrote. "Thank you to the NYPD for your quick work and sending the message that this hate will not go unchallenged."
New York's attorney general, Letitia James, tweeted: "This bigotry is disgusting. I'm glad you're safe @ebottcher, and I'm standing with you."
Congressmember Jerrold Nadler, who was the lead sponsor of the marriage equality bill that was signed into law this month, also spoke up for Bottcher.
"I stand with my friend @ebottcher, Drag Queen Story Hour, and the LGBTQ+ community against this disgusting display of hate," Nadler said. "Elected officials have a responsibility to condemn this false, dangerous rhetoric that's being used as a new way to discriminate against the community."
I stand with my friend @ebottcher, Drag Queen Story Hour, and the LGBTQ+ community against this disgusting display of hate.

Elected officials have a responsibility to condemn this false, dangerous rhetoric that's being used as a new way to discriminate against the community. https://t.co/BPeM3gwHxo

— Rep. Nadler (@RepJerryNadler) December 20, 2022
Gays Against Guns, an advocacy group that has pushed for gun control since the aftermath of the Pulse massacre in 2016, wrote, "We stand with you, Erik. Sending us all our love and support. This is a hate crime."
********************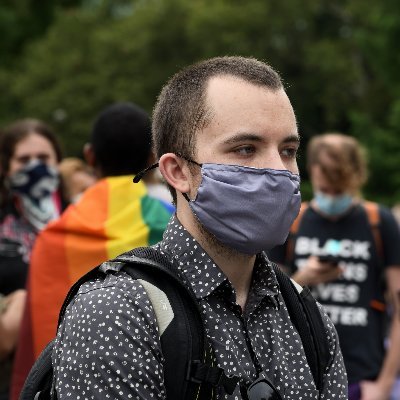 Matt Tracy is Gay City News' editor-in-chief.
The preceding piece was originally published by Gay City News and is republished with permission.