Pentagon celebrates Pride, LGBTQ+ progress & Trans visibility
The event took place in the Pentagon auditorium under the theme of "All Together" & highlighted progress for LGBTQ people serving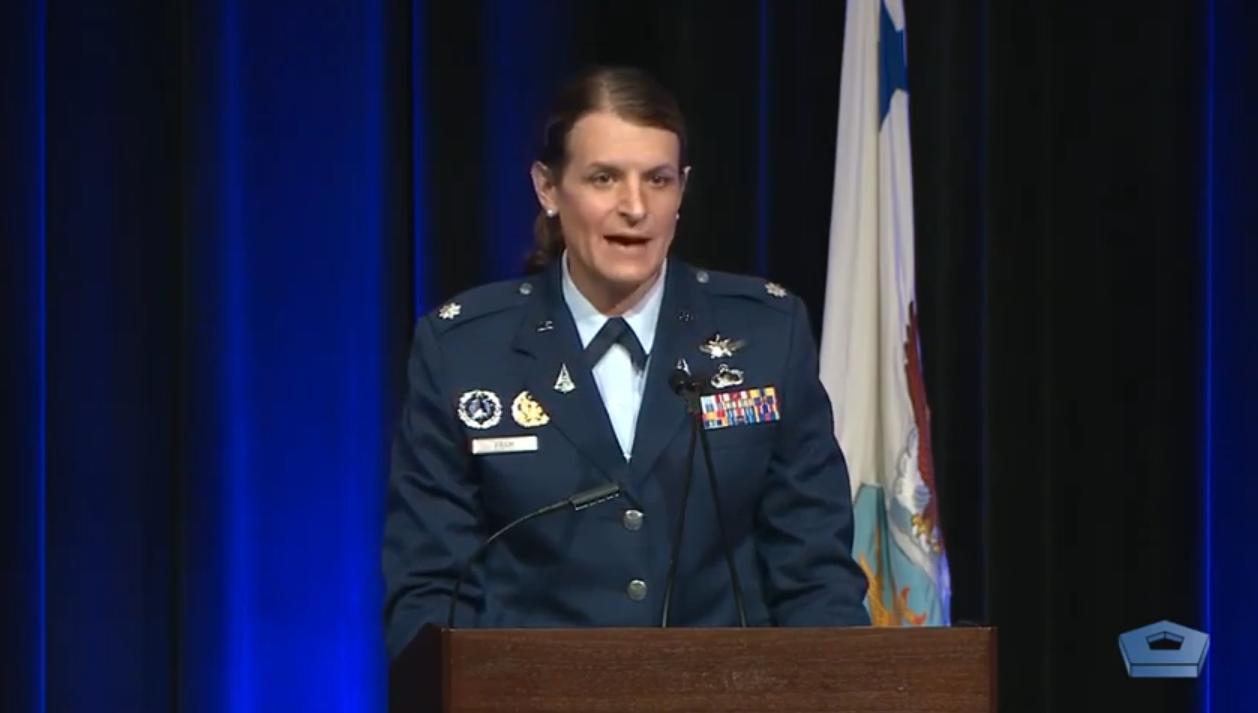 ARLINGTON, Va. – Transgender visibility in the U.S. military was on full display on Tuesday during the Pentagon's annual event recognizing Pride month, which this year featured two transgender speakers in prominent positions in the aftermath of the Biden administration lifting the transgender military ban.
The event — hosted in coordination with DOD Pride, the affinity group for LGBTQ employees and service members within the Defense Department — took place in the Pentagon auditorium under the theme of "All Together" and highlighted progress in stripping away barriers previously preventing LGBTQ people from serving in their roles, such as "Don't Ask, Don't Tell" and the transgender military ban.
Lt. Col. Bree Fram, who's transgender and deputy chief of acquisition polices and processes at U.S. Space Force, said she often feared she would no longer be able to serve in uniform based on the "whim of executive orders." But two months ago when she disclosed to colleagues she was having surgery to treat cancer, she received overwhelming support.
"That's the spirit of all together: Leadership was behind me because they would have been behind any member of the team going through one of the scariest moments of their life," Fram said. "They know that each of us brings value to the team and that all of us are worthy of the support needed to be our best selves."
Fram, co-leader of the transgender policy team within the Department of the Air Force's LGBTQ initiative team, recounted the experience of a transgender service member whose colleagues refused to use her personal pronouns and began putting them in her email signature in defiance of military policy. Although colleagues had initially sought to ban her from the network, Fram said a supervisor stepped in to revise and allow the service members to continue using them in emails.
"So for all of you out there, I ask you to set out your symbols of pride, share your pronouns in your email, particularly if you're a person who doesn't think they need to," Fram said. "Initiate difficult conversations about racial and gender barriers and share a bit of your vulnerability in a way that draws others in."
Shawn Skelly, who's transgender and assistant secretary of defense for readiness, also spoke and drew heavily from President Biden's proclamation for Pride month to discuss the challenges still facing LGBTQ people after years of progress.
"America's formative promise to itself remains today tangibly unfulfilled for too many Americans," Skelly said. "And remarkably, for the LGBTQ+ Americans of today, we're increasingly at specific, targeted risk, which includes those serving within this department."
Under Secretary of the Air Force Gina Ortiz Jones, who's a lesbian, also spoke and remarked on the progress seen in the military since she was forced to sign a document as a cadet of "Don't Ask, Don't Tell" prohibiting her from participating in homosexual acts.
"I knew exactly what that meant: I knew that my opportunity to get an education. I knew that my opportunity to serve our country. I knew my opportunity to die for our country or maybe all of that would go away, just because at the time we did not have enough leaders with the courage to say anybody ready and willing to serve their country should have the opportunity to do so," Jones said.
Jones recounted a story after she took office in the Biden administration and wanted to set up a photo shoot with other LGBTQ service members who had served under "Don't Ask, Don't Tell." To her surprise on the day of the shoot, Jones said, many younger service members too young to remember the law showed up and were part of the photograph.
"But I leaned over and I said, 'Hey, you know, what's going on here? Some of these folks look a little too young to serve,"" Jones said. "And they said, 'Oh no, many of these folks wanted to be part of the picture because they are serving because 'Don't Ask Don't Tell' was repealed … So it really shows you what is possible when you're willing to do the hard work that talent in our country among those serving — the talent we are able to tap into — if we are willing to remove those barriers to ensure folks can serve to their full potential."
The top defense official present was Kathleen Hicks, who promoted the Defense Department as having a commitment to advancing policies and programs aimed at developing "a leadership pipeline of diverse talent and create pathways for everyone at DOD to realize their potential."
"We know that organizational climates affect our workforces' experiences," Hicks said. "More to the point it affects our warrior readiness. Therefore, we are directing initiatives to improve leader skill development and foster more effective inclusive team environments."
Hicks said the Defense Department is in the final stages of developing a diversity, equity, inclusion and accessibility plan, which she said will direct activities within the department and identify priorities within the coming year.
Among those in attendance at the event were British Ambassador to the United States Karen Price; Secretary of the Navy Carlos del Toro; Rep. Mark Takano (D-Calf.); Maj. Gen. Leah Lauderback, director of intelligence, surveillance and reconnaissance for U.S. Space Force; White House Director of Presidential Personnel Gautam Raghavan; and Ruben Gonzalez, special assistant to the president for White House Domestic Agency Personnel.
Pentagon Officials Speak at Pride Ceremony:
HIV-positive soldier commissioned with U.S. Army National Guard
More than 50 people who attended were family members, friends, LGBTQ rights advocates, and fellow service members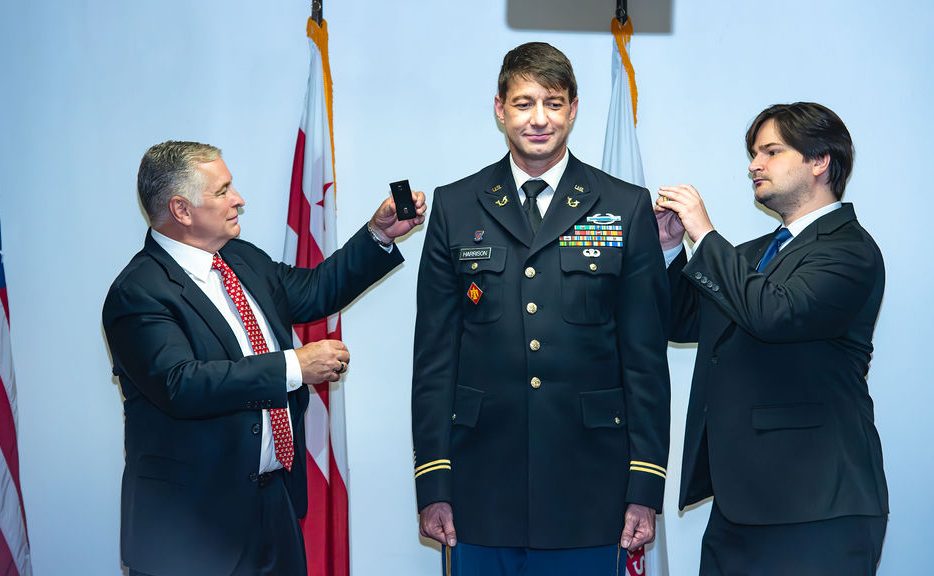 WASHINGTON – Gay D.C. attorney Nicholas Harrison, a longtime member of the U.S. Army National Guard, was officially commissioned as a First Lieutenant in the D.C. Army National Guard at an Aug. 5 ceremony.
The ceremony at the D.C. National Guard Armory located next to RFK Stadium took place a little over a year after Harrison, who was diagnosed with HIV in 2012, successfully challenged the military's longstanding policy of banning soldiers with HIV from becoming commissioned officers in a lawsuit initially filed in 2018.
In what LGBTQ and AIDS activists consider a landmark ruling, the U.S. District Court for the Eastern District of Virginia handed down a decision in April 2022 declaring the military's HIV restrictions unconstitutional. The decision ordered the U.S. Department of Defense to discontinue its policy of refusing to deploy and commission as officers members of the military with HIV if they are asymptomatic and otherwise physically capable of serving.
Two months after that ruling, the Biden administration announced it would not contest the court ruling in an appeal, and a short time later U.S. Secretary of Defense Lloyd Austin issued a memorandum announcing changes in the military policy that would allow members of the military with HIV to be deployed and become officers in accordance with the court ruling.
The memorandum states that individuals "who have been identified as HIV positive, are asymptomatic, and who have clinically confirmed undetectable viral load will have no restrictions applied to their deployability or to their ability to commission while a service member solely on the basis of their HIV-positive status."
Kevin Jennings, CEO of Lambda Legal, the LGBTQ litigation organization that represented Harrison in his lawsuit and who attended Harrison's commissioning ceremony, called the court ruling and the Biden administration's decision not to appeal the ruling an important advancement in efforts to remove barriers to people with HIV who wish to serve in the military.
"Today is a historic day in Washington, D.C., as we witness the commissioning of Nick Harrison," Jennings and Lambda Legal Senior Attorney Kara Ingelhart said in a statement. "Although the journey to wearing his officer's bars took several years, Nick's perseverance, along with his legal team and other involved service members, helped to realize his dream of becoming an officer in the District of Columbia Army National Guard," Jennings and Ingelhart said.
Among the more than 50 people who attended Harrison's commissioning ceremony were family members, friends, LGBTQ rights advocates, and fellow service members.
Serving as master of ceremonies at the event was Dr. Joshua Fontanez, chair of the board for the Modern Military Association of America, the nation's largest organization representing LGBTQ military service members, their spouses, family members, and veterans. The association joined Lambda Legal in supporting Harrison's lawsuit to overturn the military's HIV policy.
Donald Cravins Jr., the U.S. Under Secretary of Commerce for Minority Business Development, administered the oath of office commissioning Harrison to the rank of First Lieutenant.
And Jennings of Lambda Legal and Baraq Stein, Harrison's partner, performed the ceremonial "Pinning of Rank" by attaching the lieutenant's rank insignia on each side of the shoulder of the Army uniform that Harrison was wearing at the ceremony.
"This commissioning ceremony, steeped in long-standing military tradition, is intentionally focused on honoring the network of support and inspiration that brought me to this juncture," Harrison said in remarks following his official commissioning.
"My own path has been far from conventional, leading me into the heart of a storm that allowed me to become part of a larger narrative – challenging the military's discriminatory HIV policies through a landmark court case brought by Lambda Legal and the Modern Military Association of America," he said.
A native of Oklahoma, Harrison joined the U.S. Army in September 2000 at the age of 23, at the time he was about to enter his third year as a student at the University of Central Oklahoma. He said he served for three years as an airborne paratrooper with a Parachute Infantry Regiment in Anchorage, Alaska.
After completing his initial enlistment in the Army, he resumed his university studies while joining the Oklahoma National Guard. He graduated in May 2005 with a bachelor's degree and "proceeded to Oklahoma City University's law school," he told the Blade in a statement.
In March 2006, while enrolled in law school, he was deployed to Afghanistan with the Oklahoma National Guard's 45th Infantry Division, he recounted in his statement. Upon his return, he said he had to restart his law school studies at the University of Oklahoma in August 2007.
After receiving a law degree and Master of Business Administration degree he was deployed once again, this time to Kuwait and Iraq. "On my return, I passed the bar and began job hunting, which led me to Washington, D.C. in July 2013," he says in his statement.
In October of 2013, he transferred his National Guard membership from Oklahoma to D.C. by joining the D.C. National Guard, where he was assigned to a military police company with the rank of sergeant, he said. During that same year, he was selected for a Judge Advocate General position, which involves duties similar to a civilian judge.
Having been diagnosed with HIV the previous year, he requested a waiver from the military's HIV policy that would have allowed him to take on his new JAG position. But his request was turned down, prompting him to initiate a campaign to challenge what he and many others believed to be an outdated policy denying fully capable people with HIV from serving in positions as military officers.
A short time later, through support from Lambda Legal and an organization that later became the Modern Military Association of America, he filed his lawsuit challenging the military's HIV policy that has led to what his supporters are calling the landmark event on Aug. 5 during which he became a commissioned officer.
Harrison, however, said the Army has interpreted the changed HIV rules in a way that has forced him to take his case once again to court to challenge a decision by Army officials to have him reapply to join the National Guard under the new policy rather than commission him as an officer retroactively based on his 23 years of military service.
Having to reapply, Harrison told the Washington Blade, would require him to serve in the National Guard for another eight years, even though he became eligible to retire in 2020. He has contested the decision to require him to reapply before the same court that overturned the military's discriminatory HIV policy and before the Army Board for the Correction of Military Records, which he says has the authority to "rectify" the Army's position on reenlistment.
Jennings of Lambda Legal said at Harrison's commissioning ceremony that Harrison's ongoing dispute with military officials indicates that some details related to Harrison's case must still be worked out.
"But today we really should just celebrate Nick's perseverance," Jennings told the Blade. "His determination, and the fact that he has made history has paved the way for thousands of people."
In his remarks following his commissioning, Harrison said among the lessons he has learned in his many years in the military is the need to be respectful of the military as an institution and to engage in "respectful disagreement" when at odds with others.
"When I chose to don the uniform, to become part of an institution that has had its share of failures, it was not a decision made lightly," he said. "I embarked on this journey because I believe in the potential for change from within, in the power of standing up from within a marginalized community to serve, protect, and defend a nation that doesn't always reciprocate in kind," he told the gathering.
Harrison currently serves as managing partner for the downtown D.C. law firm Harrison-Stein.