Think tank shuts down: Study shows little LGBTQ impact on military
After 24 years of researching LGBT military service bans, the Palm Center announced September 19 it was closing its doors on September 25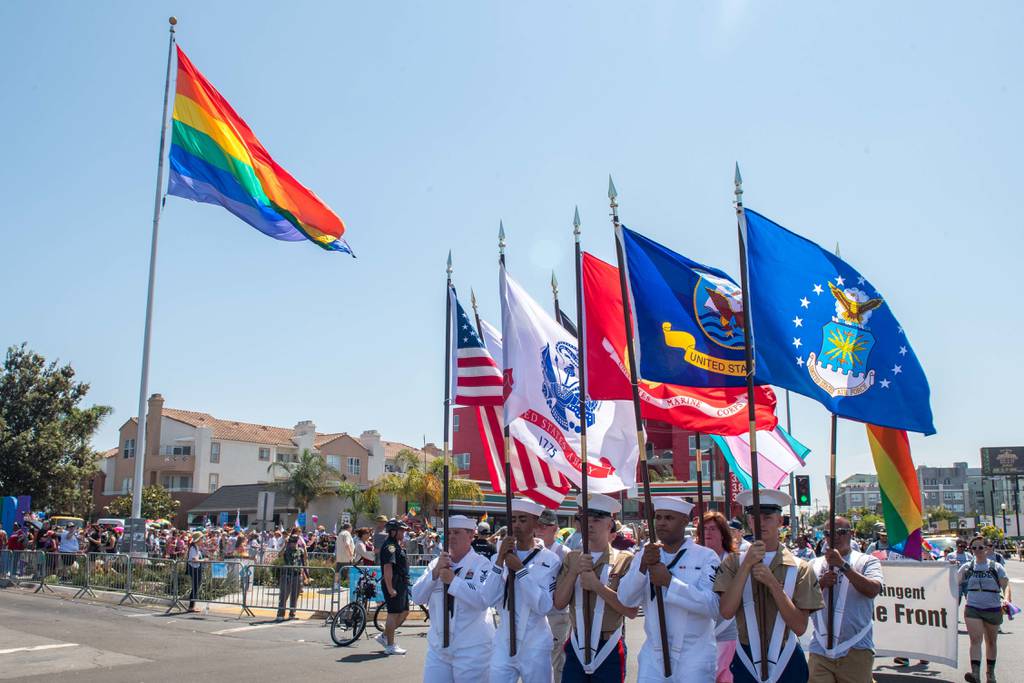 GOLETA, Ca. – The Palm Center, a think tank founded in 1998 at the University of California, Santa Barbara, which researched military policy concerning LGBTQ service members, most notably during the ongoing policy debates that led to the repeal in 2011 of the Clinton era policy known as "don't ask, don't tell," (DADT) announced it is shutting down.
After 24 years of researching LGBT military service bans, the independent research institute, which worked with numerous partner organizations carving out a research niche that involved conducting and publicizing studies that were leveraged to overturn two longstanding bans on service by openly LGBT troops, announced September 19 it was closing its doors on September 25.
In press statement released the Palm Center listed some of its accomplishments:
Spearheading hard-hitting communications campaigns grounded in research, such as uncovering data on Arabic linguists fired for being gay and discovering that the Pentagon was sending gay troops to war, only to fire them upon their return from battle
Paving the way for repeal of the military's transgender ban by dismantling medical arguments that sustained discrimination, and receiving White House recognition for being one of the organizations most responsible for helping the military lift its transgender ban
Cultivating support for inclusion from top leaders such as former Chairmen of the Joint Chiefs of Staff and former U.S. Surgeons General
Conducting 65 research studies, many of which were published in top peer-reviewed as well as military journals
"Few organizations figured out how to move the needle on military opinion so effectively as the Palm Center," said U.S. Navy Admiral Mike Mullen, then-chairman of the Joint Chiefs of Staff, after the repeal of "don't ask, don't tell."
"Its research and policy guidance were invaluable in showing that inclusive service was not complicated and would not harm readiness," he said. "The Palm Center reframed the national conversation over LGBT military service, using facts and research to conclusively demonstrate that inclusion makes our armed forces, and our country, stronger."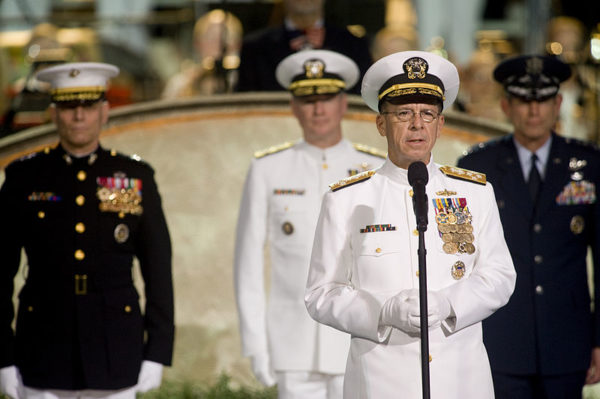 Mullen, who became an LGBTQ hero when, as Chair of the Joint Chiefs of Staff, he testified before the Senate Armed Services Committee in support of repealing the harmful anti-gay Don't Ask, Don't Tell (DADT) policy.
"Mr. Chairman, speaking for myself and myself only, it is my personal belief that allowing gays and lesbians to serve openly would be the right thing to do," Mullen said. "No matter how I look at the issue, I cannot escape being troubled by the fact that we have in place a policy which forces young men and women to lie about who they are in order to defend their fellow citizens."
"For me, personally, it comes down to integrity — theirs as individuals and ours as an institution," he said. "I also believe that the great young men and women of our military can and would accommodate such a change," continued Mullen. "I never underestimate their ability to adapt."
Earlier this month the Palm Center highlighted a 196-page document, published in 2021 by the Joint History and Research Office, which provides support to the Chairman and Vice Chairman of the Joint Chiefs of Staff and to the Joint Staff, that found that opposition to open service by gay, lesbian, and bisexual troops was based on overblown fears among both military leadership and the rank and file.
The study also found that found that concerns about combat effectiveness and unit cohesion were basically unfounded.
The study began in 2012, Joint Chiefs of Staff spokesman Joe Holstead told Military Times this week, in recognition of "the historical significance of the 2010 decision to repeal 'don't ask, don't tell,' " and released ― but not publicized ― in April 2021.
The study, "Repealing Don't Ask, Don't Tell: A Historical Perspective from the Joint Chiefs of Staff," is a public document that appears to mirror a 2016 classified report with the same title. It is unclear why the report was originally classified. The Palm Center sought comment from the Joint History and Research Office but did not receive a response.
"Time and again, opponents of equality have claimed that inclusion would harm America's most important institutions and threaten the nation itself," said Aaron Belkin, director of the Palm Center. "And time and again, that's turned out to be false. This official military study makes clear the yawning gap between fearmongering and reality, and should guide dialogue about similar claims in the present, such as fears that inclusion for transgender Americans is somehow a threat to our society."
The report describes dramatic fears of harm to readiness during the 2009-10 lead-up to the ban's repeal, and contrasts them with consistent findings of no impact. A section entitled, "A Nonissue," reports that some of the service chiefs who had opposed repeal or predicted harm to unit cohesion and effectiveness, conceded that their concerns were unfounded, and that readiness concerns were often based on misperceptions and stereotypes.
General James Amos, Commandant of the U.S. Marine Corps and the most vociferous opponent of inclusion in the upper ranks of the military, had told Congress at the time that repeal "has strong potential for disruption at the small unit level as it will no doubt divert leadership attention away from an almost singular focus on preparing units for combat."
Yet "two months later, General James Amos told reporters that the policy change had been a 'non-event'" and that he was "very pleased" with how the policy change had gone.
Similarly, when the military's combatant commanders were asked to assess the impact of repeal on readiness, effectiveness, cohesion, recruiting, and retention two months after the ban ended, they "reported no impact on any of these categories."
Gen. Martin Dempsey, Chairman of the Joint Chiefs of Staff after Mullen, told Defense Secretary Leon Panetta in 2013 (two years after repeal) that he agreed with the combatant commanders' conclusion that the policy change had "no impact" in undermining readiness.
HIV-positive soldier commissioned with U.S. Army National Guard
More than 50 people who attended were family members, friends, LGBTQ rights advocates, and fellow service members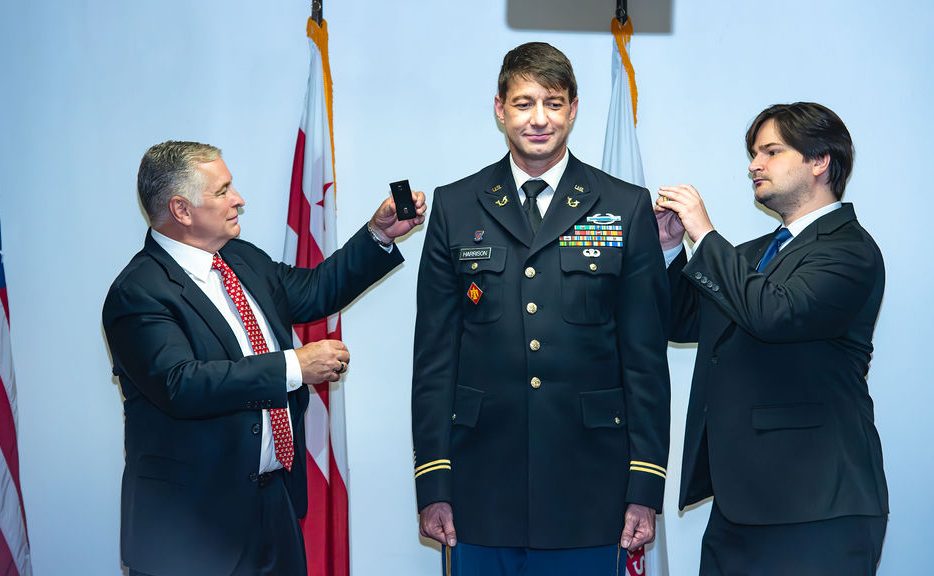 WASHINGTON – Gay D.C. attorney Nicholas Harrison, a longtime member of the U.S. Army National Guard, was officially commissioned as a First Lieutenant in the D.C. Army National Guard at an Aug. 5 ceremony.
The ceremony at the D.C. National Guard Armory located next to RFK Stadium took place a little over a year after Harrison, who was diagnosed with HIV in 2012, successfully challenged the military's longstanding policy of banning soldiers with HIV from becoming commissioned officers in a lawsuit initially filed in 2018.
In what LGBTQ and AIDS activists consider a landmark ruling, the U.S. District Court for the Eastern District of Virginia handed down a decision in April 2022 declaring the military's HIV restrictions unconstitutional. The decision ordered the U.S. Department of Defense to discontinue its policy of refusing to deploy and commission as officers members of the military with HIV if they are asymptomatic and otherwise physically capable of serving.
Two months after that ruling, the Biden administration announced it would not contest the court ruling in an appeal, and a short time later U.S. Secretary of Defense Lloyd Austin issued a memorandum announcing changes in the military policy that would allow members of the military with HIV to be deployed and become officers in accordance with the court ruling.
The memorandum states that individuals "who have been identified as HIV positive, are asymptomatic, and who have clinically confirmed undetectable viral load will have no restrictions applied to their deployability or to their ability to commission while a service member solely on the basis of their HIV-positive status."
Kevin Jennings, CEO of Lambda Legal, the LGBTQ litigation organization that represented Harrison in his lawsuit and who attended Harrison's commissioning ceremony, called the court ruling and the Biden administration's decision not to appeal the ruling an important advancement in efforts to remove barriers to people with HIV who wish to serve in the military.
"Today is a historic day in Washington, D.C., as we witness the commissioning of Nick Harrison," Jennings and Lambda Legal Senior Attorney Kara Ingelhart said in a statement. "Although the journey to wearing his officer's bars took several years, Nick's perseverance, along with his legal team and other involved service members, helped to realize his dream of becoming an officer in the District of Columbia Army National Guard," Jennings and Ingelhart said.
Among the more than 50 people who attended Harrison's commissioning ceremony were family members, friends, LGBTQ rights advocates, and fellow service members.
Serving as master of ceremonies at the event was Dr. Joshua Fontanez, chair of the board for the Modern Military Association of America, the nation's largest organization representing LGBTQ military service members, their spouses, family members, and veterans. The association joined Lambda Legal in supporting Harrison's lawsuit to overturn the military's HIV policy.
Donald Cravins Jr., the U.S. Under Secretary of Commerce for Minority Business Development, administered the oath of office commissioning Harrison to the rank of First Lieutenant.
And Jennings of Lambda Legal and Baraq Stein, Harrison's partner, performed the ceremonial "Pinning of Rank" by attaching the lieutenant's rank insignia on each side of the shoulder of the Army uniform that Harrison was wearing at the ceremony.
"This commissioning ceremony, steeped in long-standing military tradition, is intentionally focused on honoring the network of support and inspiration that brought me to this juncture," Harrison said in remarks following his official commissioning.
"My own path has been far from conventional, leading me into the heart of a storm that allowed me to become part of a larger narrative – challenging the military's discriminatory HIV policies through a landmark court case brought by Lambda Legal and the Modern Military Association of America," he said.
A native of Oklahoma, Harrison joined the U.S. Army in September 2000 at the age of 23, at the time he was about to enter his third year as a student at the University of Central Oklahoma. He said he served for three years as an airborne paratrooper with a Parachute Infantry Regiment in Anchorage, Alaska.
After completing his initial enlistment in the Army, he resumed his university studies while joining the Oklahoma National Guard. He graduated in May 2005 with a bachelor's degree and "proceeded to Oklahoma City University's law school," he told the Blade in a statement.
In March 2006, while enrolled in law school, he was deployed to Afghanistan with the Oklahoma National Guard's 45th Infantry Division, he recounted in his statement. Upon his return, he said he had to restart his law school studies at the University of Oklahoma in August 2007.
After receiving a law degree and Master of Business Administration degree he was deployed once again, this time to Kuwait and Iraq. "On my return, I passed the bar and began job hunting, which led me to Washington, D.C. in July 2013," he says in his statement.
In October of 2013, he transferred his National Guard membership from Oklahoma to D.C. by joining the D.C. National Guard, where he was assigned to a military police company with the rank of sergeant, he said. During that same year, he was selected for a Judge Advocate General position, which involves duties similar to a civilian judge.
Having been diagnosed with HIV the previous year, he requested a waiver from the military's HIV policy that would have allowed him to take on his new JAG position. But his request was turned down, prompting him to initiate a campaign to challenge what he and many others believed to be an outdated policy denying fully capable people with HIV from serving in positions as military officers.
A short time later, through support from Lambda Legal and an organization that later became the Modern Military Association of America, he filed his lawsuit challenging the military's HIV policy that has led to what his supporters are calling the landmark event on Aug. 5 during which he became a commissioned officer.
Harrison, however, said the Army has interpreted the changed HIV rules in a way that has forced him to take his case once again to court to challenge a decision by Army officials to have him reapply to join the National Guard under the new policy rather than commission him as an officer retroactively based on his 23 years of military service.
Having to reapply, Harrison told the Washington Blade, would require him to serve in the National Guard for another eight years, even though he became eligible to retire in 2020. He has contested the decision to require him to reapply before the same court that overturned the military's discriminatory HIV policy and before the Army Board for the Correction of Military Records, which he says has the authority to "rectify" the Army's position on reenlistment.
Jennings of Lambda Legal said at Harrison's commissioning ceremony that Harrison's ongoing dispute with military officials indicates that some details related to Harrison's case must still be worked out.
"But today we really should just celebrate Nick's perseverance," Jennings told the Blade. "His determination, and the fact that he has made history has paved the way for thousands of people."
In his remarks following his commissioning, Harrison said among the lessons he has learned in his many years in the military is the need to be respectful of the military as an institution and to engage in "respectful disagreement" when at odds with others.
"When I chose to don the uniform, to become part of an institution that has had its share of failures, it was not a decision made lightly," he said. "I embarked on this journey because I believe in the potential for change from within, in the power of standing up from within a marginalized community to serve, protect, and defend a nation that doesn't always reciprocate in kind," he told the gathering.
Harrison currently serves as managing partner for the downtown D.C. law firm Harrison-Stein.