The Politics of Monkeypox
Break out your ACT UP attitudes – shit's getting real – again so be vigilant against political thugs and bullies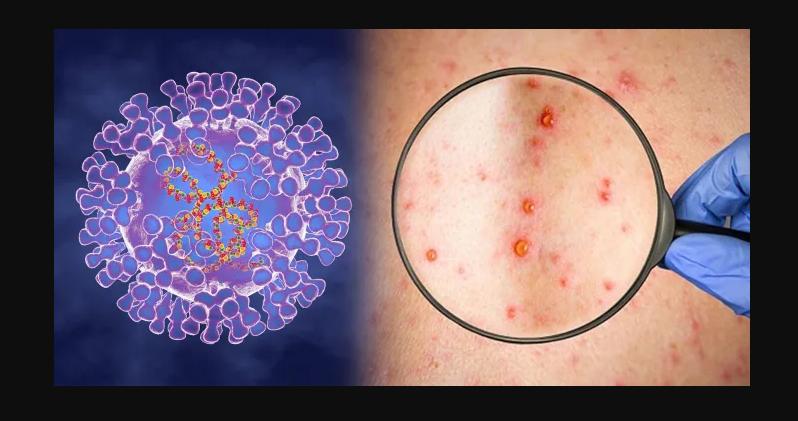 LOS ANGELES – Be Vigilant. Donald Trump's confederacy of thugs have disrupted and threatened violence at Pride events across America nearly a dozen times in recent weeks — as if the massacre at the Pulse Nightclub and the proud MAGA insurrection at the US Capitol on January 6 weren't enough.
They are aided and abetted by an army of "Christian" spinmeisters who are always asserting anti-LGBTQ+ allegations to inspire hostility and denigrate the very idea of LGBTQ+ Pride and Equality. Just look at their inhumane attacks on trans kids. Would Jesus do that?
And now there's Monkeypox. The World Health Organization (WHO) and the Centers for Disease Control (CDC) have been sounding alarms and flashing red lights about the growing health emergency.
The CDC reports: "Monkeypox spreads through direct contact with body fluids or sores on the body of someone who has monkeypox, or with direct contact with materials that have touched body fluids or sores, such as clothing or linens. It may also spread through respiratory secretions when people have close, face-to-face contact. In the current monkeypox outbreak, we know that those with disease generally describe close, sustained physical contact with other people who are infected with the virus. We continue to study other possible modes of transmission, such as through semen."
And there, so to speak, is the rub. The spectre of a pox on gay men is irresistible fodder for our enemies to produce stigma and ugly propaganda. A new "gay plague" is a wet dream for the Proud Boys who disrupted a Drag Queens Story Hour and more intersectional reason for white nationalist groups like the Patriot Front to riot at Pride events in the name of curing the disease.
By looking up insignias and attire it looks like these men are all fascist Patriot Front members. @kxly4news https://t.co/T9CiQ0HH1W pic.twitter.com/QsqYwJwQao

— Aodhan Brown (@_ab_photojourn) June 11, 2022
We've heard this before. "The poor homosexuals — they have declared war upon nature, and now nature is exacting an awful retribution," infamous anti-gay commentator Patrick Buchanan wrote May 24, 1983 in the New York Post.
Moral Majority pitchman Rev. Jerry Falwell debated MCC founder and prominent gay activist Rev. Troy Perry on whether AIDS was God's punishment for homosexuality. Hell, no, wrote MCC Rev. Stephen Pieters (famously interviewed by evangelical Tammy Fay Bakker) in The Body:
"The idea that HIV/AIDS is a punishment from God is based on three faulty assumptions: that homosexual acts are sinful, that God causes suffering, and that God punishes sin with disease. These false assumptions result from a particular way of looking at society, sexuality, and how God works in the world."
So steel yourself for the disgusting slings and arrows about to be shot our way as scapegoats in the culture war over monkeypox.
But we've been here before, too. In the early 1980s, HIV/AIDS was called G.R.I.D. (Gay-Related Immune Deficiency). Before the self-empowerment movement conceived and publicized by Michael Callen, Richard Berkowitz and Dr. Joseph Sonnabend and before the Denver Principles ignited the power of organizing, people with AIDS were called "victims" at the mercy of intentionally ignorant government bureaucrats. ACT UP brought self-empowerment to the streets and into the newsrooms and living rooms of everyday people.
If Monkeypox is used as a cudgel against the community of men who have sex with men (MSM), it will be time to ACT UP and fight again.
So, here's what you need to know to protect yourself against the Monkeypox virus, which is rarely deadly, but nonetheless seriously as unpleasant as shit:
The illness begins with:
Fever
Headache
Muscle aches
Backache
Swollen lymph nodes
Chills
Exhaustion
Within 1 to 3 days (sometimes longer) after the appearance of fever, the patient develops a rash, often beginning on the face then spreading to other parts of the body.
Lesions progress over 2-4 weeks into unsightly scabs before simply falling off, producing some scaring. In Africa, monkeypox has been shown to cause death in as many as 1 in 10 persons who contract the disease but death rates in the recent European and American outbreak have so far been zero.
This is not a gay disease nor is it a sex-panic but it is hitting our community hard and we must protect ourselves and each other.
And that means educating ourselves and asking questions. For instance, PReP, which is a hugely successful and lifesaving drug that prevents transmission of HIV, does nothing at all to protect against Monkeypox, which can be transmitted through skin-to-skin contact by hugging or even sharing the clothes of someone with the virus.
One huge difference between now and the old AIDS days is that now the government is trying hard to work with us. That may change in November if Trump's Republicans takeover Congress. And it's not just federal.
Today, most LGBTQ protections are through some federal laws and policies but most are through a patchwork of state and local laws that are being undermined rapidly by a right-wing attempting to destroy the gains we have made. Surely, by now you've heard how we're "groomers," a spooky 1950s term that means pedophile. Soon we'll once again be "diseased pariahs."
So what should the community, the business and institutions that serve us do?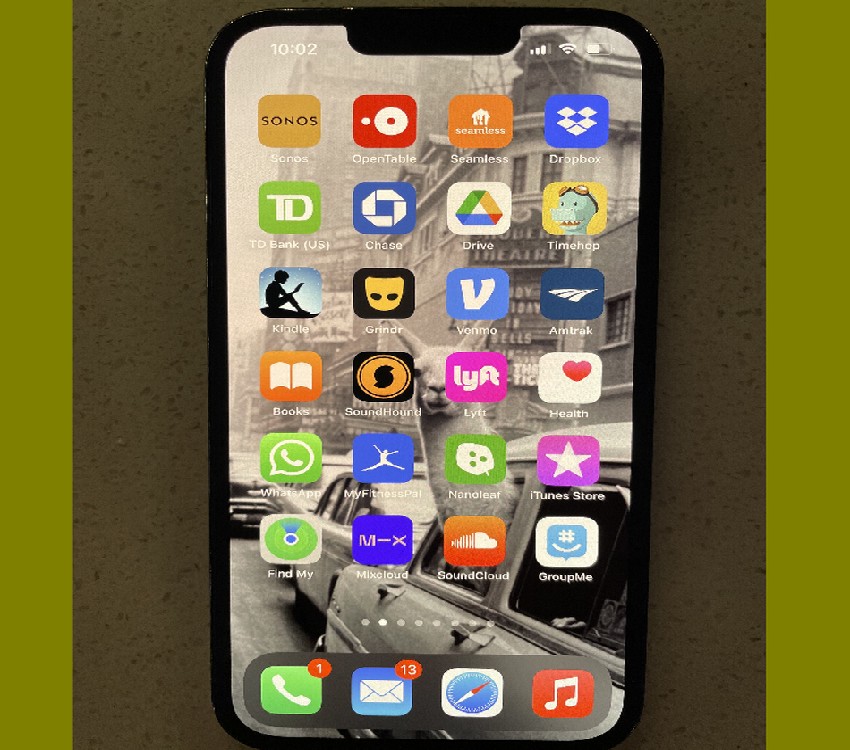 Be proactive. Grindr, Sniffies and Scruff and in-person sex businesses should not only promote safer sex practices but link to credible CDC/WHO information about monkeypox, including the risk of contracting the disease. Community organizations and healthcare agencies should add a monkeypox section on their website and take the lead on promoting information about how to protect ourselves.
Social media companies have a particular responsibility to prevent disinformation and I call in them to monitor Monkeypox conversations to reduce misinformation.
But here's the most important thing: I call on you to fight back and be vigilant against political thugs and bullies, to care for yourself, for your partners, friends, neighbors – and, as a critical precaution — keep your monkey paws wrapped before you serve it up.
We can get through this if we empower ourselves and take care of each other, again.  
Learn more about monkeypox:
https://publichealth.jhu.edu/2022/what-you-need-to-know-about-monkeypox
https://www.cdc.gov/poxvirus/monkeypox/index.html
https://www.cdph.ca.gov/Programs/CID/DCDC/Pages/Monkeypox.aspx
http://publichealth.lacounty.gov/acd/docs/MonkeypoxFAQ.pdf
********************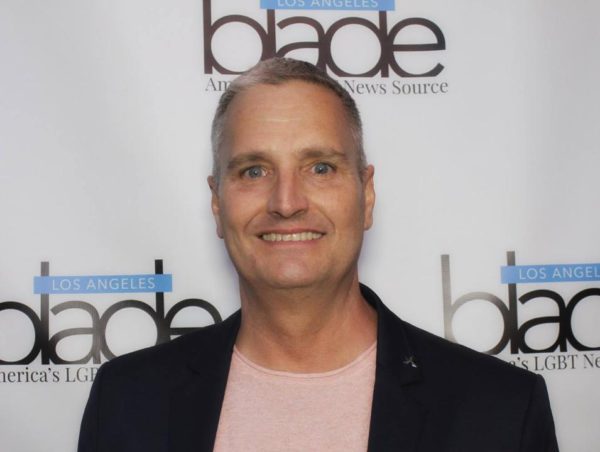 Troy Masters is the founder & publisher of the Los Angeles Blade.
Primary elections June 7: The Los Angeles Blade's endorsements
The Los Angeles Blade is listing its first round of endorsements in local, state-wide races & key races here in Southern California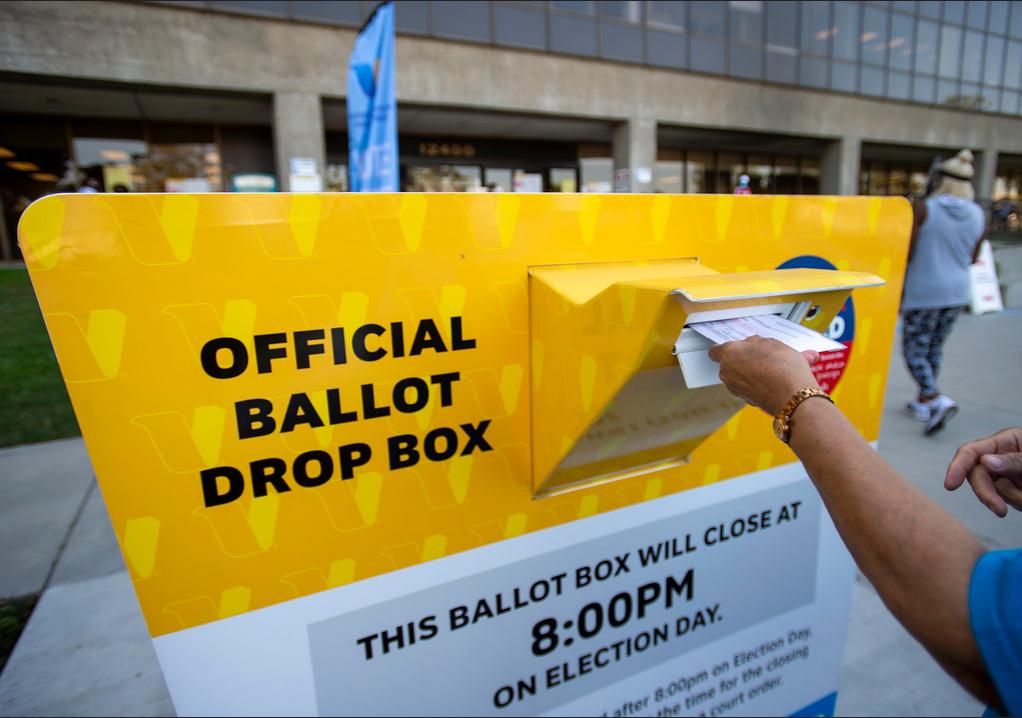 LOS ANGELES – These are uncertain times that demand greater voter engagement and participation in the process to elect officials at all levels even more this election cycle as Angelenos and their fellow Southern Californians head to the polls.
Recent polling has shown that the primary issues of homelessness, rising costs in mortgages, rent, food, gasoline and inflationary effects post-pandemic are driving voter's focus.
Voters also are very focused on rising crime rates across the Southland, especially violent crime. The Public Policy Institute of California, from a study executed last year by the non-profit, showed that data from four of California's major cities—Los Angeles, Oakland, San Diego, and San Francisco—show increases in property and violent crime numbers in 2021.
More disturbing was a trend of a troubling increases in homicides in these cities were up by about 17% in 2021.
In the greater Los Angeles County area, retail smash and grab gangs struck the business community repeatedly with what one source at the Los Angeles Area Chamber of Commerce described as "seemingly brazen impunity unhindered by response from either the Los Angeles County Sheriff's Department or the Los Angeles Police Department."
Voters are demanding action and are dissatisfied with what they view as a lack of responsiveness and are holding both parties accountable.
This election cycle, for the first time with the exception of this paper's endorsement of Governor Gavin Newsom during the recall drive effort last September, the Los Angeles Blade is listing its first round of endorsements in races for offices and in particular key races here in Southern California.
The election cycle this year nationwide takes on graver meaning for the LGBTQ+ community as trans rights are under attack, numerous jurisdictions are attempting to ban LGBTQ+ themed books and in classrooms several states have passed 'Don't Say Gay' laws with other states considering following that path. LGBTQ+ Californians need to be on guard against political encroachment that would potentially remove protections against loss of those hard fought rights.
(In recent weeks the Los Angeles Blade has been publishing a series of 'Viewpoints' from candidates who have been endorsed by the paper.)
Some housekeeping:
All California active registered voters will receive a vote-by-mail ballot for the June 7, 2022, Primary Election.
Return your vote-by-mail ballot by mail with prepaid postage as long as it's postmarked on or before Election day and received by June 14, 2022, or in-person to a secure ballot drop box, to a voting location or your county elections office by 8:00 p.m. on June 7, 2022.
In-person voting locations will offer voter registration, replacement ballots, accessible voting machines, and language assistance to those who need it.
Vote centers open in all Voter's Choice Act counties on May 28, 2022.
Your primary Election ballot will include candidates for U.S. Senate, Governor, Lieutenant Governor, Secretary of State, Controller, Treasurer, Attorney General, Insurance Commissioner, Member of State Board of Equalization, State Superintendent of Public Instruction, U.S. Representative in Congress, State Senator, State Assembly Member, as well as other local candidates.
There are two contests for U.S. Senate on this ballot. You can vote for both contests.

One for a 6-year term ending January 3, 2029; and
One for the remainder of the current term ending January 3, 2023
The Los Angeles Blade's picks
In the race for Los Angeles County Sheriff the Los Angele Blade endorses Eric Strong.
In the race for Mayor of the City of Los Angeles the Los Angele Blade endorses Rep. Karen Bass
In the following local races the Los Angele Blade endorses:
Los Angeles County Assessor: Jeffrey Prang
Los Angeles City Attorney: Kevin James
Los Angeles City Controller: Rob Wilcox
Los Angeles City Council, District 3: Bob Blumenfield
Los Angeles City Council, District 5: Jimmy Biblarz
Los Angeles City Council, District 7: Monica Rodriguez
Los Angeles City Council, District 9: Curren Price
Los Angeles City Council, District 11: No Consensus
Los Angeles City Council, District 13: Mitch O'Farrell
Los Angeles City Council, District 15: Tim McOsker
Los Angeles County Supervisor 1 – Hilda Solis
Los Angeles County Supervisor 3 – Lindsey Horvath
LA County Superior Court Judge
Seat 3: Tim Reuben
Seat 60 – Sharon Ransom
Seat 67 – Elizabeth Lashley-Haynes
Seat 70 – Holly Hancock
Seat 90 – Melissa Lyons
Seat 118 – Klint McKay
Seat 151 – Patrick Hare
Seat 156 – Carol Elswick
| | | | |
| --- | --- | --- | --- |
| LA Unified School District 2 – Dr. Rocío Rivas | | | |
| | | | |
| LA Unified School District 4 – Nick Melvoin | | | |
| | | | |
| LA Unified School District 6 – Kelly Gonez | | | |
| | | | |
| Long Beach Mayor | | Rex Richardson | |
| | | | |
| Long Beach City Council 1 | | | |
| | | | |
| Long Beach City Council 5 | | Megan Kerr | |
| | | | |
| Long Beach City Council 9 | | Dr. Joni Ricks-Oddie | |
| | | | |
| Long Beach Prosecutor | | | |
| | | | |
| Beverly Hills City Council | | | |
| | | | |
| Glendale City Council | | Dan Brotman and Elen Asatryan | |
| | | | |
| Glendale USB B | | Ingrid Gunnell | |
| | | | |
| Pasadena City Council 7 | | Jason Lyon | |
| | | | |
| Pasadena City College Board of Trustees, Area | | Alton Wang | |
| | | | |
| William S. Hart Union School Board | | Andrew Taban | |
| | | | |
| | | | |
| | | | |
| | | | |
| | | | |
| Orange County Assessor | | Rick Foster | |
| | | | |
| Orange County District Attorney | | Pete Hardin | |
| | |
| --- | --- |
| State Senate District 20 – Caroline Menjivar | |
| | |
| State Senate District 22 – Susan Rubio | |
| | |
| State Senate District 24 – Ben Allen | |
| | |
| State Senate District 26 – Maria Elena Durazo | |
| | |
| State Senate District 28 – Lola Smallwood-Cuevas | |
| | |
| State Senate District 30 – Henry Bouchot | |
| | |
| Assembly District 20 – Jennifer Esteen, RN | |
| | |
| Assembly District 21 – James H Coleman | |
| | |
| Assembly District 28 – Joe Thompson | |
| | |
| Assembly District 30 – John Drake | |
| | |
| Assembly District 39 – Andrea Rosenthal | |
| | |
| Assembly District 40 – Pilar Schiavo | |
| | |
| Assembly District 43 – Luz Rivas | |
| | |
| Assembly District 44 – Laura Friedman | |
| | |
| Assembly District 46 – Jesse Gabriel | |
| | |
| Assembly District 48 – Blanca Rubio | |
| | |
| Assembly District 49 – Mike Fong | |
| | |
| Assembly District 51 – Rick Chavez Zbur | |
| | |
| Assembly District 52 – | |
| | |
| Assembly District 53 – Freddie Rodriguez | |
| | |
| Assembly District 54 – Miguel Santiago | |
| | |
| Assembly District 55 – Isaac Bryan | |
| | |
| Assembly District 56 – Lisa Calderon | |
| | |
| Assembly District 57 – Reggie Jones Sawyer | |
| | |
| Assembly District 62 – Anthony Rendon | |
| | |
| Assembly District 64 – Elizabeth Alcantar | |
| | |
| Assembly District 65 – | |
| | |
| Assembly District 66 – Al Muratsuchi | |
Statewide Constitutional Offices:
Governor: Gavin Newsom
Lieutenant Governor: Eleni Kounalakis
Attorney General: Rob Bonta
Insurance Commissioner: Ricardo Lara
Secretary of State: Shirley Weber
Controller: Ron Galperin
Superintendent of Public Instruction: Tony Thurmond
Treasurer: Fiona Ma
Board of Equalization, District 1: Braden Murphy
Board of Equalization, District 2: Sally Lieber
U.S. Senate:
Full Term: Alex Padilla
Short Term (ending January 3, 2023): Alex Padilla
U.S. House of Representatives:
Congressional District 2: Jared Huffman
Congressional District 3: Dr. Kermit Jones
Congressional District 4: Mike Thompson
Congressional District 6: Ami Bera
Congressional District 7: Doris Matsui
Congressional District 8: John Garamendi
Congressional District 9: Josh Harder
Congressional District 10: Mark DeSaulnier
Congressional District 11: Nancy Pelosi
Congressional District 12: Barbara Lee
Congressional District 14: Eric Swalwell
Congressional District 15: Kevin Mullin
Congressional District 16: Anna Eshoo
Congressional District 17: Ro Khanna
Congressional District 18: Zoe Lofgren
Congressional District 19: Jimmy Panetta
Congressional District 21: Jim Costa
Congressional District 23: Derek Marshall
Congressional District 24: Salud Carbajal
Congressional District 25: Raul Ruiz
Congressional District 26: Julia Brownley
Congressional District 27: Christy Smith
Congressional District 28: Judy Chu
Congressional District 29: Tony Cárdenas
Congressional District 30: Adam Schiff
Congressional District 31: Grace Napolitano
Congressional District 32: Brad Sherman
Congressional District 33: Pete Aguilar
Congressional District 34: Jimmy Gomez
Congressional District 35: Norma Torres
Congressional District 36: Ted Lieu
Congressional District 37: Sydney Kamlager
Congressional District 38: Linda Sánchez
Congressional District 39: Mark Takano
Congressional District 40: Dr. Asif Mahmood
Congressional District 41: Will Rollins
Congressional District 42: Robert Garcia
Congressional District 43: Maxine Waters
Congressional District 44: Nanette Barragán
Congressional District 45: Jay Chen
Congressional District 46: Lou Correa
Congressional District 47: Katie Porter
Congressional District 49: Mike Levin
Congressional District 50: Scott Peters
Congressional District 51: Sara Jacobs
Congressional District 52: Juan Vargas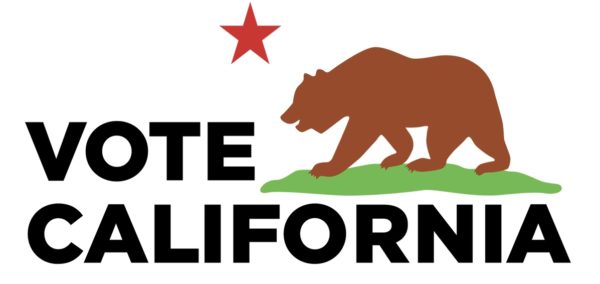 California Senate:
Senate District 2: Mike McGuire
Senate District 6: Paula Villescaz
Senate District 8: Dave Jones
Senate District 10: Aisha Wahab
Senate District 14: Anna Caballero
Senate District 18: Steve Padilla
Senate District 20: Daniel Hertzberg
Senate District 24: Ben Allen
Senate District 26: María Elena Durazo
Senate District 28: Lola Smallwood-Cuevas
Senate District 34: Tom Umberg
Senate District 36: Kim Carr
Senate District 38: Catherine Blakespear
Senate District 40: Joseph C. Rocha
California Assembly:
Assembly District 2: Jim Wood
Assembly District 4: Cecilia Aguiar-Curry
Assembly District 6: Kevin McCarty
Assembly District 10: Eric Guerra
Assembly District 11: Lori Wilson
Assembly District 12: Sara Aminzadeh
Assembly District 14: Buffy Wicks
Assembly District 16: Rebecca Bauer-Kahan
Assembly District 17: Matt Haney
Assembly District 18: Mia Bonta
Assembly District 19: Phil Ting
Assembly District 20: Shawn Kumagai
Assembly District 21: James Coleman
Assembly District 22: Jessica Self
Assembly District 23: Marc Berman
Assembly District 24: Alex Lee
Assembly District 25: Ash Kalra
Assembly District 26: Evan Low
Assembly District 27: Esmeralda Soria
Assembly District 28: Gail Pellerin
Assembly District 29: Robert Rivas
Assembly District 30: Dawn Addis
Assembly District 35: Leticia Perez
Assembly District 37: Gregg Hart
Assembly District 38: Steve Bennett
Assembly District 39: Andrea Rosenthal
Assembly District 41: Chris Holden
Assembly District 42: Jacqui Irwin
Assembly District 43: Luz Rivas
Assembly District 44: Laura Friedman
Assembly District 46: Jesse Gabriel
Assembly District 47: Christy Holstege
Assembly District 49: Mike Fong
Assembly District 50: Eloise Gómez Reyes
Assembly District 51: Rick Chavez Zbur
Assembly District 52: Wendy Carrillo
Assembly District 54: Miguel Santiago
Assembly District 55: Isaac Bryan
Assembly District 56: Lisa Calderon
Assembly District 57: Reggie Jones-Sawyer
Assembly District 58: Sabrina Cervantes
Assembly District 60: Corey Jackson
Assembly District 61: Tina McKinnor
*SPECIAL ELECTION* Assembly District 62: Tina McKinnor
Assembly District 62: Anthony Rendon
Assembly District 63: Fauzia Rizvi
Assembly District 64: Elizabeth Alcantar
Assembly District 65: Mike Gipson
Assembly District 66: Al Muratsuchi
Assembly District 69: Josh Lowenthal
Assembly District 70: Diedre Thu-Ha Nguyen
Assembly District 74: Chris Duncan
Assembly District 76: Brian Maienschein
Assembly District 78: Chris Ward
Assembly District 79: Akilah Weber
Assembly District 80: Georgette Gómez
*SPECIAL ELECTION* Assembly District 80: Georgette Gómez
LGBTQ+ candidates in other local election races:
Alameda County Board of Supervisors, District 3 : Rebecca Kaplan
Anaheim Union High School District, TA 1: Billie Joe Wright
Contra Costa County Board of Supervisors, District 4: Ken Carlson
Contra Costa County Clerk-Recorder: Devin Murphy
Covina City Clerk: Drew Aleman
El Cerrito City Council: Carolyn Wysinger
Fresno City Council, District 1: Annalisa Perea
Hart Union High School District, TA 2: Andrew Taban
Monrovia City Council: Sashary Zaroyan
Monterey City Council, District 1: Thomas Wong
Palm Springs City Council, District 3: Ron deHarte
Pasadena City Council, District 7: Jason Lyon
Pasadena Community College Board of Trustees, District 7: Alton Wang
Riverside County Board of Education, TA 2: Dr. Eric J. Mooney
Sacramento City Council, District 1: Nate Pelczar
San Diego City Council, District 2: Dr. Jen Campbell
San Dimas City Council, District 2: Eric Nakano
San Francisco County Board of Supervisors, District 8: Rafael Mandelman
San Jose City Council, District 3: Omar Torres
San Leandro City Council, District 1: Celina Reynes
San Leandro Unified School District Board of Trustees, Area 2: James Aguilar
San Mateo County Board of Supervisors, District 3: Laura Parmer-Lohan
Santa Cruz County Board of Supervisors, District 4: Jimmy Dutra
Sonoma County Superintendent of Schools: Dr. Amie Carter
Sunnyvale City Council, District 5: Richard Mehlinger
Vallejo City Unified School District Board of Education: John Fox
West Basin Municipal Water District Director, Division IV: Scott Houston
The road ahead as the Los Angeles Blade hits the 5 year mark
Making a difference is the credo of the paper and is the underlying mission mandate by its publisher and editors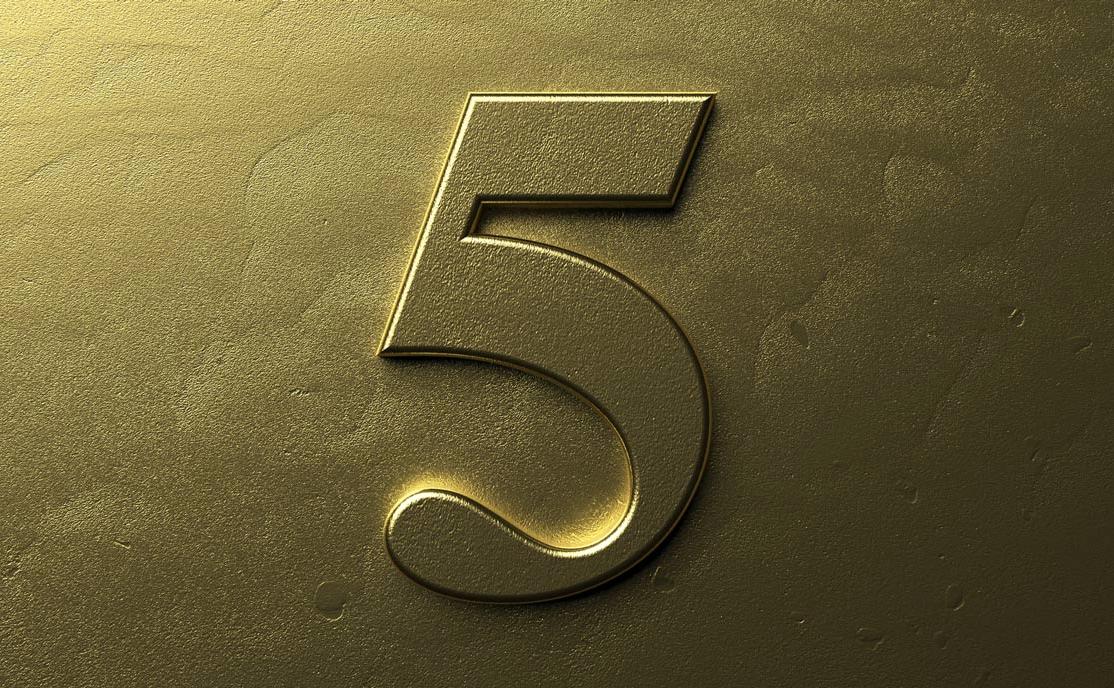 LOS ANGELES – According to numerology, the number five symbolizes freedom, curiosity, and change – a desire to have adventures and explore new possibilities. Five years ago this month for transplanted New Yorker Troy Masters his new adventure was to start up another LGBTQ+ publication. Joining him in the quest to explore new possibilities was veteran award-winning West Hollywood-based LGBTQ+ journalist Karen Ocamb.
Partnering with America's oldest LGBTQ+ newspaper, The Washington Blade, adapting 'Blade' as part of its masthead, Masters and Ocamb set out to ensure that the voices of greater Los Angeles' LGBTQ+ community were amplified with the launch of the Los Angeles Blade.
The modern reality is that although new journalistic ventures are launched continuously on the internet yearly, legacy media like newspapers and broadcasters are often struggling to adapt to a new communications environment. Masters and Ocamb believed strongly that media startups with a loyal community have the ability to succeed as long as they work hard, evolve and stay focused on the correct course.
The key though was a "loyal community" and the Blade set out to build a solid and mutually beneficial relationship with Los Angeles' LGBTQ+ community.
An ancient proverb reads: The proof of the pudding is in the eating, which has been often been shortened to 'the proof is in the pudding.' What that meant was that you had to try out food to know whether it was good. News is not unlike food insofar as it too is 'consumed' and the loyalty of readers/viewers/listeners relies on that very principle.
Along the way come examples of 'proof' as evidenced last fall by now former Los Angeles Blade editor Karen Ocamb being awarded Journalist of the Year for 2020 at the 63rd annual Los Angeles Press Club's Southern California Journalism Awards gala.
The LA Press Club judges noted in their decision bestowing the award, "Karen Ocamb's passionate reporting of the struggles of the LGBTQ community and journalists covering LGBTQ issues during the pandemic earns her a Print Journalist of Year award."
She was also a runner-up in two other categories securing second place in 'Pandemic Reporting Digital' (Online) with awardee Jon Regardie, Los Angeles Magazine, "A Month Inside the COVID-19 War Room with Mayor Eric Garcetti" securing first place. (Karen Ocamb, Los Angeles Blade, "Seeking Truth in the War on the Coronavirus")
Ocamb also secured second place in the category of 'Commentary: on political, social, cultural, investigative, judicial, economic or other serious subjects.'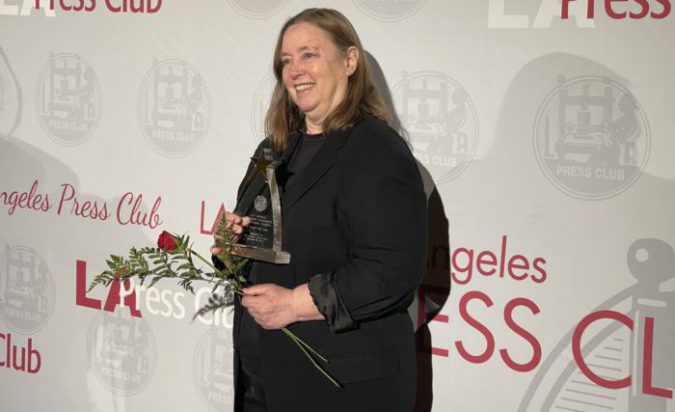 Making a difference is the credo of the paper and is the underlying mission mandate by its publisher and editors. In 2022, Masters was honored by the City of West Hollywood with the prestigious Rainbow Key Award for his role in establishing the Los Angeles Blade and for leading "Pride Walk," an unofficial Pride celebration during June 2021's COVID shutdown.
Dedication to community — a sense of belonging and being part of the more than just the media landscape in Los Angeles and Southern California as a whole — sometimes led the Blade to cover stories that have had far reaching impact in the United States and abroad.
As the government of Afghan President Ashraf Ghani collapsed and he fled the country in August of 2021, chaos had descended on the Afghan capital city. Among the Americans who were trapped in the suburban areas of Kabul under Taliban control was Josie Thomas, 32, a transgender government contractor for the U.S. State Department and former U.S. Air Force Sergeant. Thomas, along with several others, was trapped at the diplomatic support facility known as Camp Alvarado located on the outskirts of the capital city's airport.
Thomas, in a series of text messages provided to the Blade on background by a colleague of hers, relayed that she and others were aware of the immediate presence of the Taliban insurgents, which was communicated at the exact time Afghan security forces abandoned their posts. The texts also expressed frustration at the lack of communication regarding the lack of a presence of U.S. military forces to assist.
The Blade in turn reached out to U.S. officials at both the U.S. State Department and the Pentagon, which ultimately led to one of her colleagues communicating with Thomas receiving a text from her stating that elements of the United States Army's 82nd Airborne Division had arrived at the Camp Alvarado diplomatic support facility. She was then airlifted out the next day.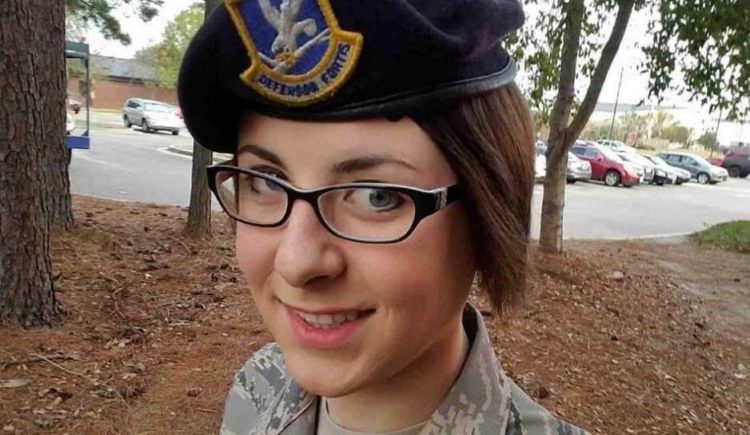 Ocamb was indefatigable in her pursuit of stories that made a difference and contributed to the well being of the LGBTQ+ community. Her coverage of the battle over former President Trump's ban on transgender people in military service was comprehensive and nuanced.
One of the most read and shared articles was her piece titled 'Trump's trans military ban now policy,' which detailed the harsh reality of the policy and the far-reaching negative impact it would have, especially on the trans community.
In July 2020, at the same time the parent company's White House reporter Chris Johnson won the GLAAD Award for Outstanding Newspaper Article, Ocamb received a special recognition award from GLAAD. "After initially starting her career at CBS News and producing the 1984 Olympics in Los Angeles, Ocamb joined the LGBTQ press in the 1980s after more than 100 friends died from AIDS," GLAAD noted, adding, "she has since become a leading force and champion for LGBTQ media. She is known for her smart, fair, and professional writing style as well as her staunch dedication to shining the spotlight on underreported LGBTQ people and issues."
True to that spirit mentioned by GLAAD, Ocamb, in another top-trafficked and read piece covered the story of West Hollywood's Louise Hay, an advocate for unconditional love and forgiveness during the height of the AIDS crisis, who died of natural causes at age 90. "Louise Hay and her Hay Ride gave spiritual support and acceptance to so many in the early days of the AIDS epidemic," says gay former Entertainment Tonight executive producer Brad Bessey. "She was so important to our movement—preaching love over fear and healing, hope and heart over hopelessness."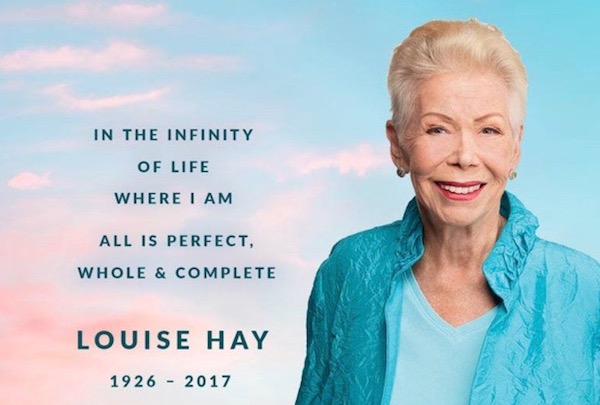 Beyond the journalistic efforts of Ocamb and the other writers, including me, the current editor and a veteran journalist, the Los Angeles Blade reached out with community events it sponsored and promoted.
On June 27 of last year for example, the Los Angeles Blade honored and recognized the achievements of LGBTQ+ students, faculty, staff, and administrators of the Los Angeles Community College District, (LACCD) as about 75 invited guests gathered at West Hollywood's Le Parc Suite Hotel's Skydeck rooftop lounge and pool area to celebrate the LGBTQ+ students, and celebrate the creation of a scholarship program between the Los Angeles Blade and LACCD.
Previously the Blade had highlighted LACCD as it held its second annual 'Lavender' graduation ceremony noting the critical support that the LACCD renders the LGBTQ+ community's economically disadvantaged students.
Sometimes though news can also be a sobering reminder of the challenges that the LGBTQ+ community faces daily. Closer to home, a dynamic young person who had assisted publisher Masters at LA Pride in 2018, Casey Hoke, a transgender artist, activist and national public speaker dedicated to helping others combat marginalization, died in Pomona, according to a family statement on his Facebook page. It was later revealed he had died as the result of suicide.
Masters reported the death himself writing: "My younger brother Casey Hoke passed away yesterday in the Los Angeles, CA area," Hoke's brother Ryan Benjamin Hoke said in a statement. "My family is heartbroken. We ask for privacy, but at the same time want to make sure Casey's friends and connections know."
Ryan Benjamin Hoke later told the Los Angeles Blade: "Casey lost his battle with mental illness."
Hoke, 21, was well known in the national trans community, particularly among the younger generation for his dedication to the LGBTQ community, especially in his art and in art history. He was also a Point Foundation scholar and worked closely on trans rights with GLSEN.
Hoke came out as a transgender male in high school and worked as an organizer and peer educator at his high school's Gay/ Straight/ Transgender Alliance.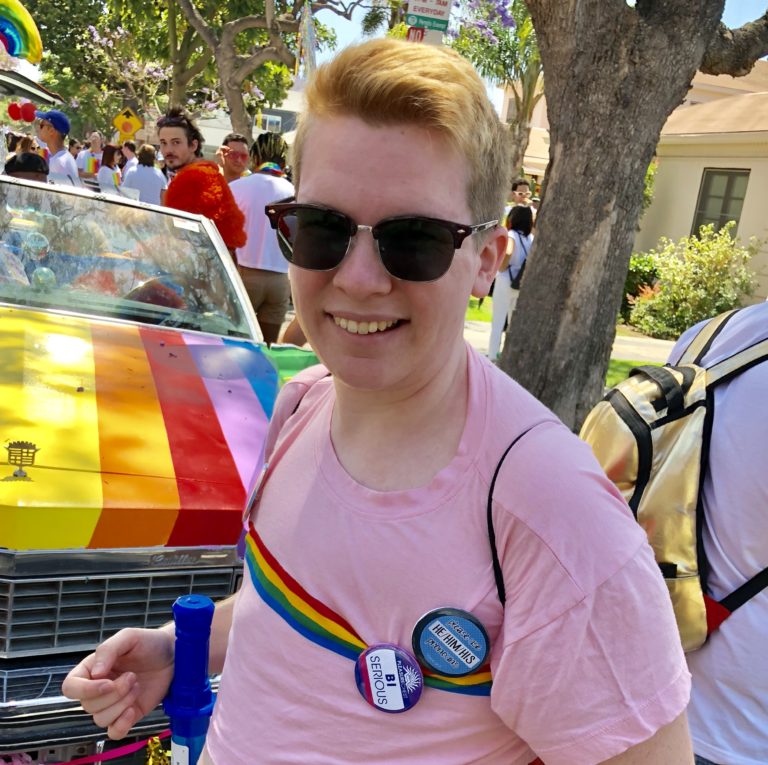 Reaching and building a core audience/readership in today's digital age is difficult at best and a virtual nightmare at worst. Yet, since 2017, the Blade has built an increasingly loyal and interactive base.
In the era of a two-year long coronavirus pandemic, which nearly caused the Blade to cease publication as advertising revenue dried up, that loyalty brought forth a unique partnership with the Ariadne Getty Foundation.
The focus of Ariadne Getty Foundation has been shoring up LGBTQ organizations, such as the Los Angeles LGBT Center and GLAAD. Getty joined the board of directors of the latter in 2016 and last year at the World Economic Forum in Davos she pledged $15 million to the organization, which focuses on media and how Americans as a culture can rewrite the script for LGBTQ acceptance.
The Blade kept publishing and in fact was the only LGBTQ+ publication in the United States to publish daily stories about the coronavirus pandemic. In addition to Ocamb's reporting, I worked to establish a de facto 'virtual' Blade Sacramento Capital Bureau, attending every press conference held by Gov. Gavin Newsom and Dr. Mark Ghaly the Secretary of the California Health & Human Services Agency and then writing daily articles to inform readers as to the latest and often critical updates on the battle with COVID-19.
Standing out in the reporting was the fact the COVID-19 pandemic revealed deep-seated inequities in health care for communities of color and amplified social and economic factors that have contributed to those communities being hit hardest. Additionally, there was virtually no collection of data for the LGBTQ+ community.
That lack of data collection frustrated and angered State Sen. Scott Wiener, (D-SF) who authored a bill last year that passed through the legislature and was signed by Newsom last fall that mandates gathering sexual orientation and gender identity data related to COVID testing in California. The Blade with its reporting and presence at the aforementioned press conferences along with Wiener's staff kept the pressure up to get that law passed.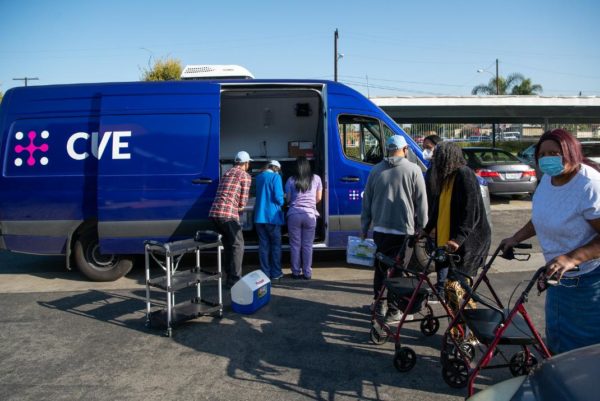 "We're one year into the pandemic, and LGBTQ people continue to be erased in our public health response to COVID-19 — similar to our invisibility throughout history. No government is successfully tracking COVID-19 cases in the LGBTQ community, despite a law I wrote mandating that California do so," Weiner told the Blade. "And, we now know that LGBTQ people are more vulnerable to COVID-19. We've also just learned that vaccination demographic data doesn't include LGBTQ data. It is simply shocking that in 2021, progressive health agencies continue to forget about our community," he added.
The Blade has also combined forces with other publications in unique media partnerships in much smaller markets that have resulted in critical stories receiving notice that is well deserved. One such story was titled 'Gay university student critically injured while passenger on Amtrak' written by Bob Conrad, editor and publisher of ThisIsRenoMedia LLC.
Aaron Salazar was on an Amtrak train traveling from Denver to Portland, but mysteriously ended up in a coma at a Nevada trauma hospital instead. According to the Truckee California Police Department's Detective-Sergeant Danny Renfrow, sometime shortly before noon on May 15, following Salazar's text message, the 22-year-old gay Portland State University junior was found in critical condition by railroad workers lying beside the Union Pacific Railroad's right-of-way property within the town's corporate limits.
Along the U.S.-Mexico border, Richard Montenegro Brown, editor of the Calexico Chronicle and Holtville Tribune, longtime community newspapers, wrote of the still unsolved murder of Oliver or Poe Black, a "two-spirit" transgender male of Wyandot Native American descent, in the Slab City area of the Imperial Valley.
The two-part series in the Blade was a comprehensive look at a troubling case detailing that months after the body of a 21-year-old transgender man, Poe Delwyn Black, was pulled from a canal north of Slab City riddled with stab wounds, investigators have shifted the theater of the murder probe in two directions: Black's home state of Tennessee and the Pacific Northwest.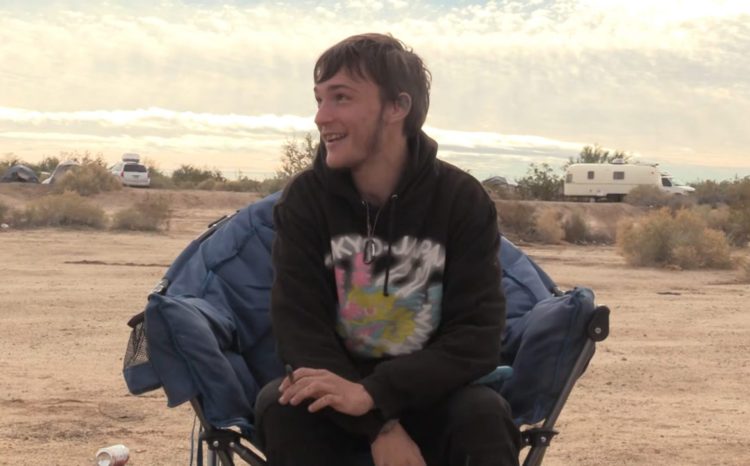 Probably though the best indicator of the worth of the Blade as an integral part of the community over the past 5 years is borne out by the statistics:
• 234 issues
• Millions of copies distributed in print
• 2,350 advertising pages
• 6,000,000 pageviews online
• 3,000 percent increase in web traffic over past year
• 8,448 articles published
• 14 in-person live events
• 300+ editorial contributors
• 100s of photographers
As the Blade marks its fifth year and looks to the future, there is a solid base of its accomplishment, as according to respected professional journalism data, information, publicity, and portfolio site for the media, Muck Rack, the Los Angeles Blade ranks 26th in the Top 50 of all LGBTQ+ Media organizations globally in traffic online and in the Top 30 LGBTQ publications in the U.S., the Blade is number 17.
The future is good, in fact if the Blade was celebrating a 5th wedding anniversary the appropriate gift would be something crafted from wood. Instead, the Blade will simply 'knock on wood,' celebrate and then move forward.
Why say Gay? Out? Trans? Lesbian? Etc? It's about erasure and equality
This has nothing to do with the sexual aspects of their lives but virtually does have everything to do with who they love and who they are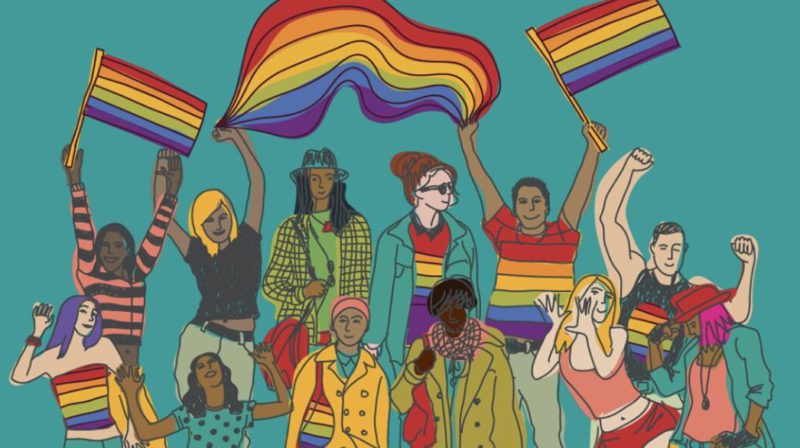 LOS ANGELES – Everyday one of my tasks is to quickly go through the comments left by our readership to gauge their reactions, be informed by their viewpoints, maybe get a laugh, or in the case of the haters /trolls zap their ignorant butts by hitting the delete key.
That said, I've noticed that the following comment and its sentiments have increased in frequency as of late;
"Is there really no way to simply celebrate the talent without labeling the sexual identification of these amazing athletes ???? I'm so tired of posts that feed off of info that tries to exploit and target personal information. This world gets more "snarky" and judgmental every day."

Carol Wolf Cacchione
The variance on that comment's theme covers a broad spectrum of human engagement. The truth put simply is the obvious- The Los Angeles Blade is Southern California's LGBTQ+ News Source. The Blade is also a national marquee news source for not just the LGBTQ+ community writ large but its allies and families as well.
The LGBTQ+ community is in a fight for its very existence as school boards and library's across the United States are facing down calls to ban books or materials that mention LGBTQ+ characters, plotlines, or stories.
In the states of Florida and Tennessee Republican lawmakers are attempting to pass legislation that would make mention of LGBTQ+ people a violation of the rules. The proposed laws are colloquially referred to as 'Don't Say Gay.'
In Alabama, a state Senate committee passed a measure on to the full Senate for a vote that would make treatment of Trans youth under the age of 18 by a Doctor or healthcare provider a felony.
In over 15 other states laws are being proposed or have been passed that would ban participation of Trans youth in sports that align with their gender identity. This is met by an alarming rate in LGBTQ+ youth considering or actually committing suicide.
Simply put, this publication and ALL media must identify members of the LGBTQ+ community because they are a persecuted and maligned segment of humanity which need to be recognized. This has nothing at all to do with the mechanics of the sexual aspects of their lives but virtually does have everything to do with who they love and who they are. It's about role models, it is about history, but it is most assuredly about preventing erasure and ensuring equity and equality.
So the next time you are about to leave the what does [fill-in-the-blank] have to do about it comment? The answer is everything and if you are unable to understand that then I'd ask you do not leave a comment at all rather than blatantly display your ignorance, or callous disregard, which ever it is, for your fellow humans.
***********************
Brody Levesque is the Out Editor of the Los Angeles Blade and a veteran journalist.