"BEING Trans" visual reunion episode
BEING Trans is a six-part unscripted doc-reality podcast series that follows four transgender individuals living in Los Angeles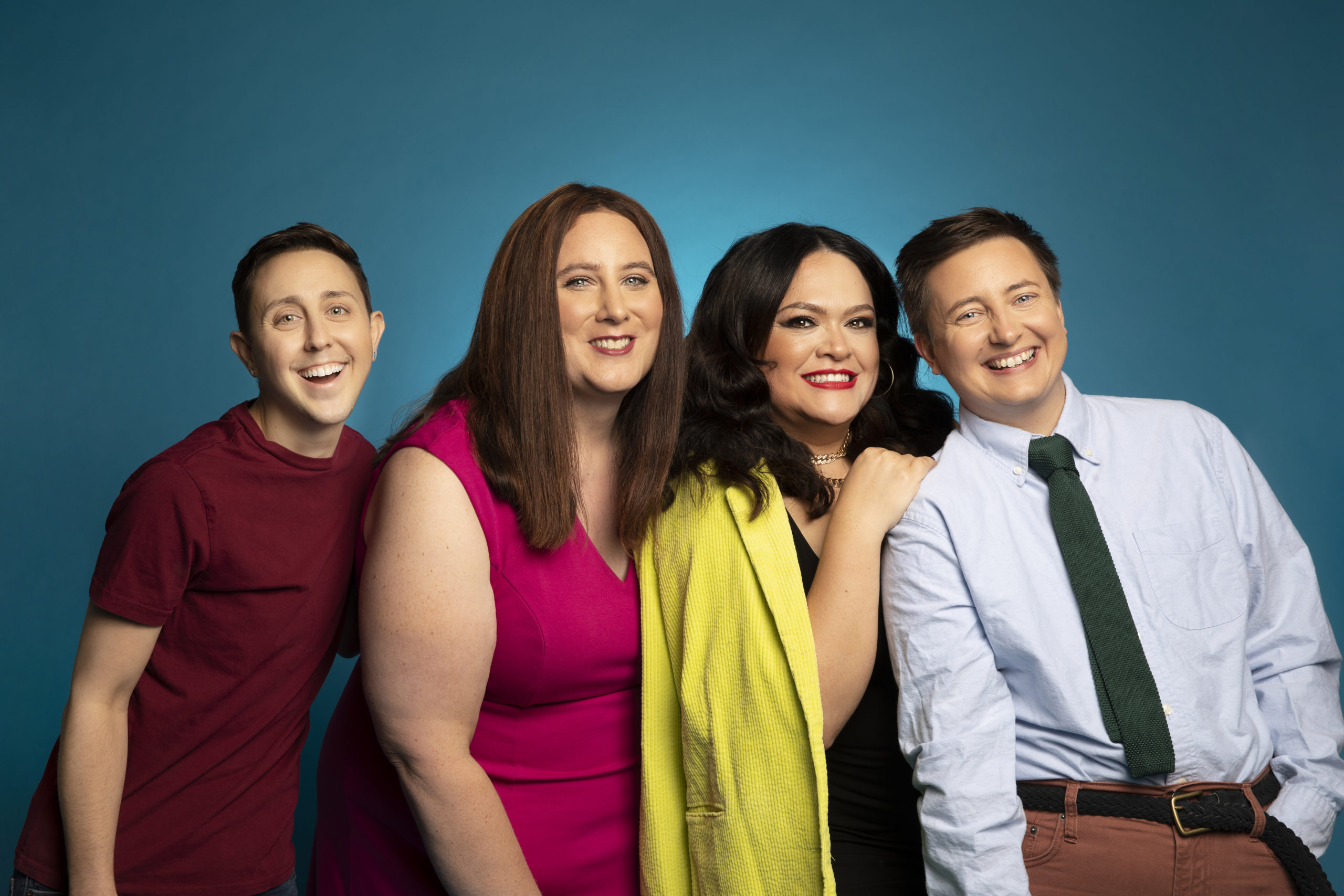 LOS ANGELES – BEING Trans, the debut audio reality podcast series from Lemonada Media and BEING Studios is now complete with a visual reunion episode. BEING Trans is a six-part unscripted doc-reality podcast series that follows four transgender individuals living in Los Angeles.
The four cast members, Jeffrey, Sy, Mariana and Chloe, sit down with one of the show's producers to discuss their feelings about making the podcast, how it turned out, and share an update on their lives since it was recorded.
Over the course of three months, the crew — led by reality TV expert Kasey Barrett (MTV's The Real World, Keeping Up With the Kardashians, Born This Way) — recorded hundreds of hours of live conversations, experiences and intimate moments with cast members as they lived them, providing a uniquely unfiltered look at their daily lives.
Throughout the season, you'll meet Jeffrey, a transgender man and standup comic navigating his career as well as his relationship with his partner, Emma. You'll meet Mariana, a trans woman from Guatemala who is tackling tough issues at a local LGBTQ center along with her coworker Kadence. You'll meet Chloe, who's new to Los Angeles, and new to dating as a trans woman. And you'll meet Sy, who's figuring out their relationship and family dynamics with their husband Robert since coming out as trans non-binary. Dating, parenting, doctor visits, career quandaries, parties — you'll get to hear them all.
"I've spent my whole career in unscripted television, and the opportunity to translate that into an audio format was too exciting to pass up," said BEING Studios Executive Producer Kasey Barrett. "Over the course of taping, we fell in love with this incredible cast, and I think our listeners will too. A crew with no lights or cameras really creates an intimate environment, allowing listeners to truly feel like they are walking in another person's shoes."
"One of our core values at Lemonada is empathy. We know building empathy works best when we are immersed, entertained, and in love with characters and people. Last spring, we brought Kasey on to work with us to marry the best of reality TV with the best of audio, and BEING Studios was born," shares Lemonada CEO and co-founder
The full reunion conversation can be seen HERE, and the entire series can now be binged HERE.
Homophobic & racist posts were left in Disneyland social media hack
The hack which occurred at around 4:30 a.m. Pacific, was allegedly committed by an individual who claimed his name was "David Do"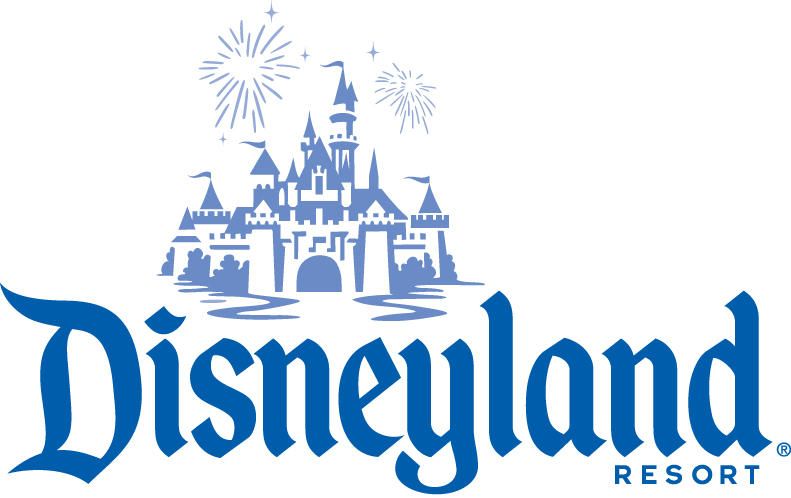 BURBANK – A spokesperson for Disney Parks, Experiences and Products, Inc., acknowledged that the company's Disneyland Facebook and Instagram pages had been hacked in the early morning hours on Thursday with a series of homophobic and racist posts.
In a statement released by the company confirming the hack, a spokesperson said; "Disneyland Resort's Facebook and Instagram accounts were compromised early this morning. We worked quickly to remove the reprehensible content, secure our accounts, and our security teams are conducting an investigation."
The hack which occurred at around 4:30 a.m. Pacific, was allegedly committed by an individual who claimed his name was "David Do" and he referred to himself a "super hacker."
Disneyland's Instagram account has 8.4 million followers and regularly posts photos from attractions at the park and photos of guests, including families and young children.
From KABC 7 Los Angeles:
FCC asks Apple & Google to remove TikTok app from their stores
Its pattern of surreptitious data practices that are documented show TikTok is non-compliant with app store policies and practises

WASHINGTON – In a series of tweets Tuesday, Federal Communications Commissioner Brendan Carr disclosed a letter sent to both Apple and Google's parent company Alphabet asking the two tech giants to remove TikTok from their app stores over his concerns that user data from the wildly popular social media platform is disclosed and used by bad actors in China.
In his letter dated June 24 to Apple CEO Tim Cook and Alphabet CEO Sundar Pichai, Carr noted that because of its pattern of surreptitious data practices documented in reports and other sources, TikTok is non-compliant with the two companies' app store policies and practises.
"TikTok is not what it appears to be on the surface. It is not just an app for sharing funny videos or meme. That's the sheep's clothing," he said in the letter. "At its core, TikTok functions as a sophisticated surveillance tool that harvests extensive amounts of personal and sensitive data."
Carr stated that if the companiest do not remove TikTok from their app stores, they should provide statements to him by July 8.
The statements should explain "the basis for your company's conclusion that the surreptitious access of private and sensitive U.S. user data by persons located in Beijing, coupled with TikTok's pattern of misleading representations and conduct, does not run afoul of any of your app store policies," he said.
Carr was appointed by former President Trump in 2018 to a five-year term with the FCC.
TikTok is not just another video app.
That's the sheep's clothing.

It harvests swaths of sensitive data that new reports show are being accessed in Beijing.

I've called on @Apple & @Google to remove TikTok from their app stores for its pattern of surreptitious data practices. pic.twitter.com/Le01fBpNjn

— Brendan Carr (@BrendanCarrFCC) June 28, 2022
In March of this year, California Attorney General Rob Bonta announced a nationwide investigation into TikTok for promoting its social media platform to children and young adults while its use is associated with physical and mental health harms to youth.
The investigation will look into the harms using TikTok can cause to young users and what TikTok knew about those harms. The investigation focuses, among other things, on the techniques utilized by TikTok to boost young user engagement, including strategies or efforts to increase the duration of time spent on the platform and frequency of engagement with the platform.
TikTok's computer algorithms pushing video content to users can promote eating disorders and even self-harm and suicide to young viewers. Texas opened an investigation into TikTok's alleged violations of children's privacy and facilitation of human trafficking last month.
TikTok has said it focuses on age-appropriate experiences, noting that some features, such as direct messaging, are not available to younger users. The company says it has tools in place, such as screen-time management, to help young people and parents moderate how long children spend on the app and what they see, the Associated Press reported.
"We care deeply about building an experience that helps to protect and support the well-being of our community, and appreciate that the state attorneys general are focusing on the safety of younger users," the company said. "We look forward to providing information on the many safety and privacy protections we have for teens."
TikTok has also had a problematic relationship with the LGBTQ+ community. Recently The Washington Post confirmed that the 'Libs of TikTok,' an influential anti-LGBTQ account regularly targets LGBTQ individuals and their allies for harassment from its more than 640,000 Twitter followers while serving as a veritable wire service for Fox News and the rest of the right-wing media to push anti-LGBTQ smears.
Libs of TikTok regularly targets individual teachers and their workplaces – releasing their personal information that includes school and individual names as well as social media accounts, and leading its audience to harass the schools on social media.
A year ago, an investigation by Media Matters found that TikTok's "For You" page recommendation algorithm circulated videos promoting hate and violence targeting the LGBTQ community during Pride Month, while the company celebrated the month with its #ForYourPride campaign.
Numerous LGBTQ+ content creators have shared stories with the Blade about TikTok's seemingly arbitrary algorithms that target otherwise benign content that is not listed outside of the platform's polices and removed the content. In many cases restoring the posts after appeals or in the worst case scenarios banning the users.
Facebook banning users who post that abortion pills can be mailed
When Facebook started removing these posts is unclear. But Motherboard confirmed the social media platform removed such posts on Friday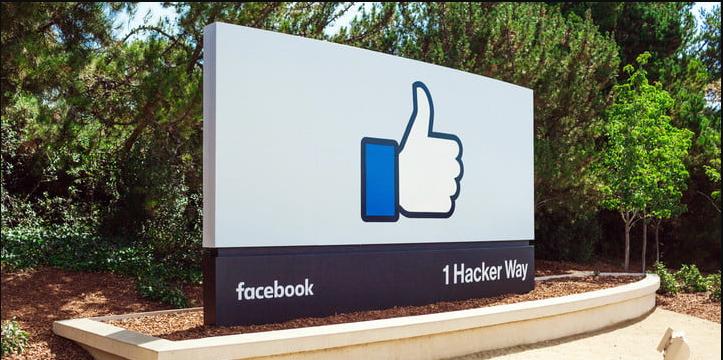 MENLO PARK, Ca. – Social media giant corporation Meta's Facebook platform has removed posts and has banned some users who wrote posts detailing that abortion pills can be mailed in the wake of the U.S. Supreme Court decision Friday that overturned Roe v. Wade.
Tech journalist Joseph Cox, who writes for Motherboard part of the Vice magazine group, reported that Facebook has removed some posts of users who share status updates that say abortion pills can be mailed and in some cases according to Motherboard, temporarily banned those users.
When exactly Facebook started removing these and similar posts is unclear. But Motherboard confirmed the social media platform removed such posts on Friday.
New: Facebook is removing posts and temporarily banning people who say that they will mail abortion pills to those who need it, or even just state the fact they can be mailed. In 2021 the FDA made it possible and legal to send abortion pills via mail https://t.co/MPipm5jmgq

— Joseph Cox (@josephfcox) June 27, 2022
Motherboard had communicated with one user had shared a status that read- "I will mail abortion pills to any one of you. Just message me," who then told the publication in an email:
"I posted it at 11 a.m. and was notified within a minute that it was removed. I was not notified until I tried to post later that I was banned for it."
Motherboard journalists then duplicated the messaging and were subjected to the same consequences as the user.
The post was flagged within seconds as violating the site's community standards, specifically the rules against buying, selling, or exchanging medical or non-medical drugs. The reporter was given the option to "disagree" with the decision or "agree" with it. After they chose "disagree," the post was removed.
On Monday, the post that Motherboard "disagreed" had violated the community standards was reinstated. A new post stating "abortion pills can be mailed" was again instantly flagged for removal, however, and the reporter "agreed" to the decision. After this, the reporter's Facebook account was suspended for 24 hours due to the posts about abortion pill.
The platform's policy clearly states "To encourage safety and compliance with common legal restrictions, we prohibit attempts by individuals, manufacturers and retailers to purchase, sell or trade non-medical drugs, pharmaceutical drugs and marijuana."
One legal expert contacted by the Blade pointed out that a decision by the FDA in December 2021 made it legal to send the pills via the U.S. Postal Service.
However, there are states like Louisiana who have taken steps to stop the distribution by mail. Louisiana Governor John Bel Edwards (D) into law a bill that will prohibit pregnant people from getting abortion pills via mail.
Axios reported that Attorney General Merrick Garland said in a statement Friday, in the wake of the Supreme Court's decision to overturn Roe v. Wade, that states cannot ban mifepristone, a medication that is used to bring about an abortion, based on disagreement with the federal government on its safety and efficacy.
"In particular, the FDA has approved the use of the medication Mifepristone. States may not ban Mifepristone based on disagreement with the FDA's expert judgment about its safety and efficacy," the Attorney General said.
As part of efforts to limit abortion access, some states have taken action to block the use of telehealth for abortion. Six states, Arizona, Arkansas, Missouri, Louisiana, Texas, and West Virginia, have passed laws specifically banning telehealth for abortion provision. In addition,14 other states have enacted laws that require the clinician providing a medication abortion to be physically present during the procedure, effectively prohibiting the use of telehealth to dispense medication for abortion remotely.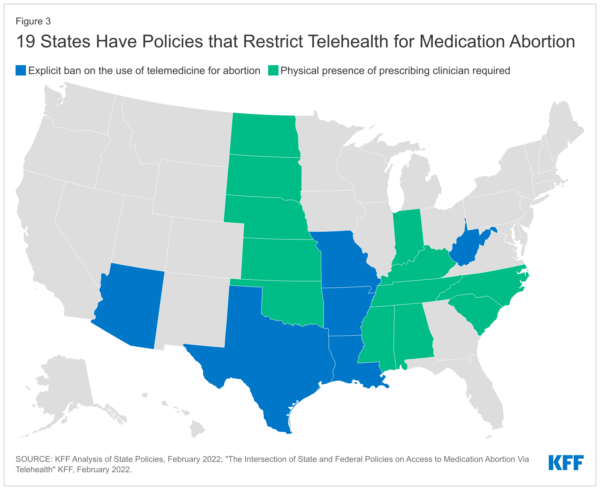 The question for social media platforms is what can be 'policed' especially in the wake of the Roe v. Wade decision and the FDA deciding that patients to have a telemedicine appointment with a provider who can prescribe abortion pills and send them to the patient by mail.
Meta Vice-President for Meta/Facebook/Instagram Andy Stone responded in a Tweet to Huffington Post Editor Phillip Lewis's post on banning users over the abortion pills writing:
"Content that attempts to buy, sell, trade, gift, request or donate pharmaceuticals is not allowed. Content that discusses the affordability and accessibility of prescription medication is allowed. We've discovered some instances of incorrect enforcement and are correcting these."
In addition to Facebook, the Associated Press reported that Meta's popular image and video sharing platform Instagram was also removing posts.
The AP obtained a screenshot on Friday of one Instagram post from a woman who offered to purchase or forward abortion pills through the mail, minutes after the court ruled to overturn the constitutional right to an abortion. "DM me if you want to order abortion pills, but want them sent to my address instead of yours," the post on Instagram read. Instagram took it down within moments.
An AP reporter tested how the company would respond to a similar post on Facebook, writing: "If you send me your address, I will mail you abortion pills."  The post was removed within one minute. The Facebook account was immediately put on a "warning" status for the post, which Facebook said violated its standards on "guns, animals and other regulated goods." Yet, when the AP reporter made the same exact post but swapped out the words "abortion pills" for "a gun," the post remained untouched.
Content that attempts to buy, sell, trade, gift, request or donate pharmaceuticals is not allowed. Content that discusses the affordability and accessibility of prescription medication is allowed. We've discovered some instances of incorrect enforcement and are correcting these.

— Andy Stone (@andymstone) June 27, 2022
The Los Angeles Blade has reached out to Meta/Facebook for a comment.