Kane's cuisine: Going hog wild over this pork dinner perfect for summer
LA Blade staff writer Christopher Kane shares his love and passion of cooking writing in his weekly Sunday column
What happens when you have a pandemic and a bored stay-at-home political reporter with extra time on his hands? LA Blade staff writer Christopher Kane decided that he would pursue his second love and passion of cooking and now he's sharing the results in his weekly Sunday column.
WASHINGTON – I would never cast aspersions on barbecued pulled pork, no matter whether it's prepared in the North Carolinian, South Carolinian, Texan, Tennessean, Missourian, Kentuckian, or Alabaman, or Korean fashion.
Over the years, human beings have devised so many ways to infuse deliciousness into fatty cuts of braised meat, and I say we should celebrate them all. 
Speaking as a North Carolinian, if I may make a clumsy analogy, the prospect of my swearing allegiance to the state's vinegar-based style of barbecue was about as likely as my becoming a devoted Carolina Panthers or Duke basketball fan (which is to say not likely at all.) Folks, it's simply too hot to get all worked up over some silly football game or argue over which regional variation of barbecue is best. 
Anyway, pork shoulder, however delightful when bathed in a tangy sauce or smoked and massaged with a dry spice rub, is more than capable of shining bright all on its own. In the spirit of open mindedness, I present for your humble consideration a pulled pork dish that is an alternative to barbecue (in all of its forms and iterations).
Apart from the simple fact that it's delicious, making this dish will help you better understand and appreciate the pork shoulder's flavor – an essential step toward becoming a master barbecue chef. 
Season a three to four-pound pork shoulder with three to four teaspoons of salt and a generous amount of black pepper, ideally but not mandatorily 24-hours ahead of time
In a large, lidded pot, brown the meat on high heat with a tablespoon vegetable oil, cooking on both sides for eight to 10 minutes starting with the fat side down. Remove and set aside the meat and then drain all but one tablespoon of fat 
Halve an orange and cut two heads of garlic crosswise. Place them cut side down in the pan along with a handful of sprigs of thyme, a few bay leaves, a teaspoon crushed red pepper flakes, and two tablespoons whole coriander seeds
Cook for a couple of minutes until the garlic and oranges are lightly browned. Then, add two cups water and one cup fresh orange juice (I bought mine from Whole Foods because I didn't feel like juicing five oranges)
Deglaze the pot with a wooden spoon, scraping up any fond from the bottom, and transfer to an oven preheated to 325°. Cook for three to four hours 
Transfer meat to a cutting board and either slice or shred it. Add the juice and zest of two limes to the pot, along with the thick stems from a bunch of cilantro (reserving the tenderer stems and leaves for garnish)
Use a wooden spoon to mix the ingredients in the pot, and then pour the mixture over the meat using a strainer to catch the solid bits. Garnish with cilantro and serve with the oranges to squeeze over the pork if desired.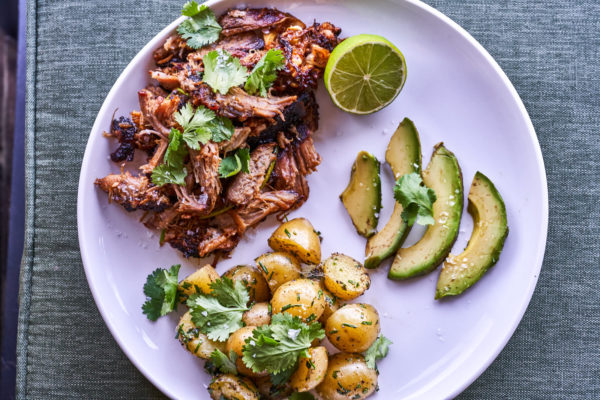 Kane's Cuisine: Amatriciana, one of the four pastas of Rome
LA Blade staff writer Christopher Kane shares his love and passion of cooking writing in his weekly Sunday column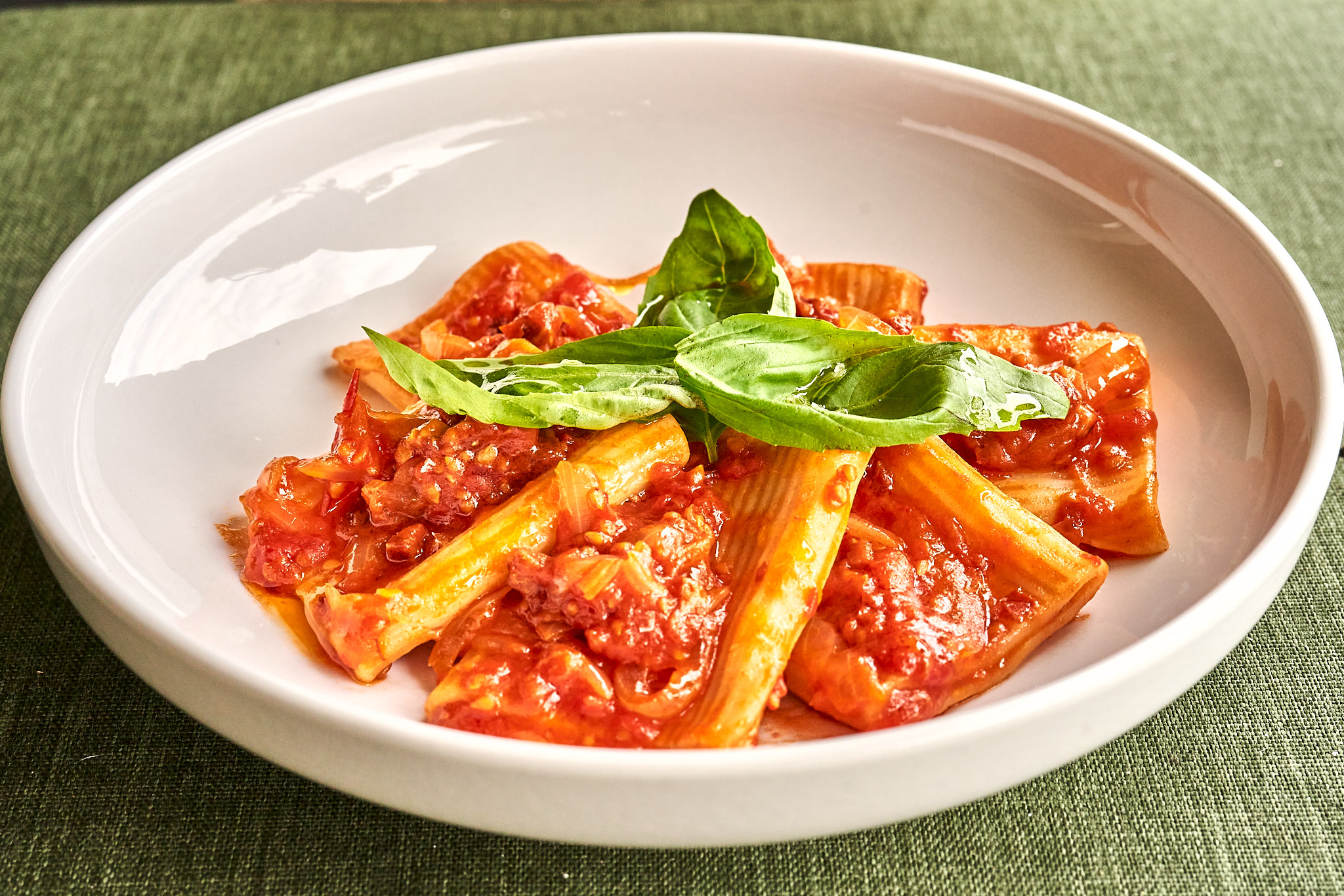 The LA Blade's intrepid Washington D.C.-based political reporter snarks his way through another delicious weekly recipe while dishing tea on other subjects…
WASHINGTON – The head cold or upper respiratory infection or whatever it is that I'm suffering from has worsened over the last 24 hours and I feel like complete garbage. So, what have I turned to for comfort on this weekend afternoon?
That's right, NyQuil chicken.
But afterwards, a bowl of warm noodles (followed by a bowl of cold ice cream) all while re-watching Dance Moms. Look, if you can't handle me at my worst, that is completely understandable because I am a monster.
Today, we're making one of the four pastas of Rome, amatriciana. I made some modifications that Italians might not approve of, but I don't care. Oh, you learned everything there is to know about the Italian culinary arts from your study abroad? I don't think so.
| | |
| --- | --- |
| | "When I was in Lazio, our Pecorino Romano was crafted by local cheesemakers who raised sheep on the hillside, playing Giuseppe Verdi's operas for at least four hours per day. These farmers, who were all named Salvatore, would sooner have eaten their own shoes than tasted an amatriciana prepared with canned tomatoes. Calling what they serve here in America 'pasta' is an insult. And don't even get me STARTED on how much better the coffee is in Italy…" |
Bring a large pot of heavily salted water to a boil 
In a large skillet or fry pan with a couple tablespoons olive oil, cook 4 ounces guanciale or pancetta, cut into ½ – inch cubes, on medium-low for about 15 minutes, stirring occasionally 
Increase the heat slightly and add a sliced onion and cook for about 5-8 minutes. Add two teaspoons red pepper flakes and cook for an additional 30 seconds to one minute
Add a 28-ounce can of tomatoes (crushed, or whole and then crushed by hand or with a wooden spoon). Add a dash of fish sauce and season to taste with salt. Cook for about 20 minutes and set aside
In your pot of boiling water, cook a 12-ounce box of pasta – whatever kind you like –until a few minutes before al dente (refer to package directions for cook times). Reserve one cup pasta water, strain the noodles and set aside 
Add the pasta and half the reserved pasta water to your pan with the sauce. Cook for a further 3-4 minutes, stirring to make sure the noodles are evenly coated and the sauce is thickened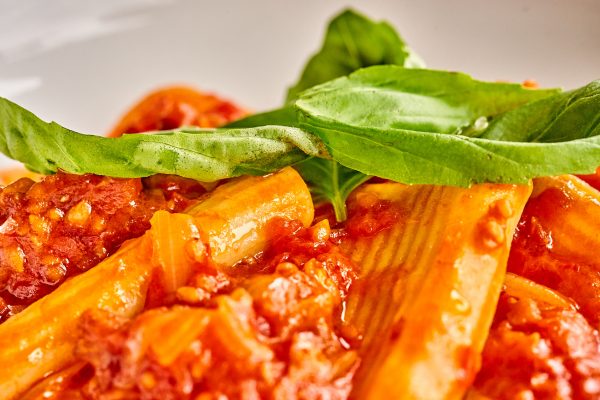 Optional but encouraged: Season with flaky salt, black pepper, grated raw garlic, more red pepper flakes, a drizzle of olive oil, and garnish with basil 
Kane's Cuisine: potato salad doesn't have to be boring
LA Blade staff writer Christopher Kane shares his love and passion of cooking writing in his weekly Sunday column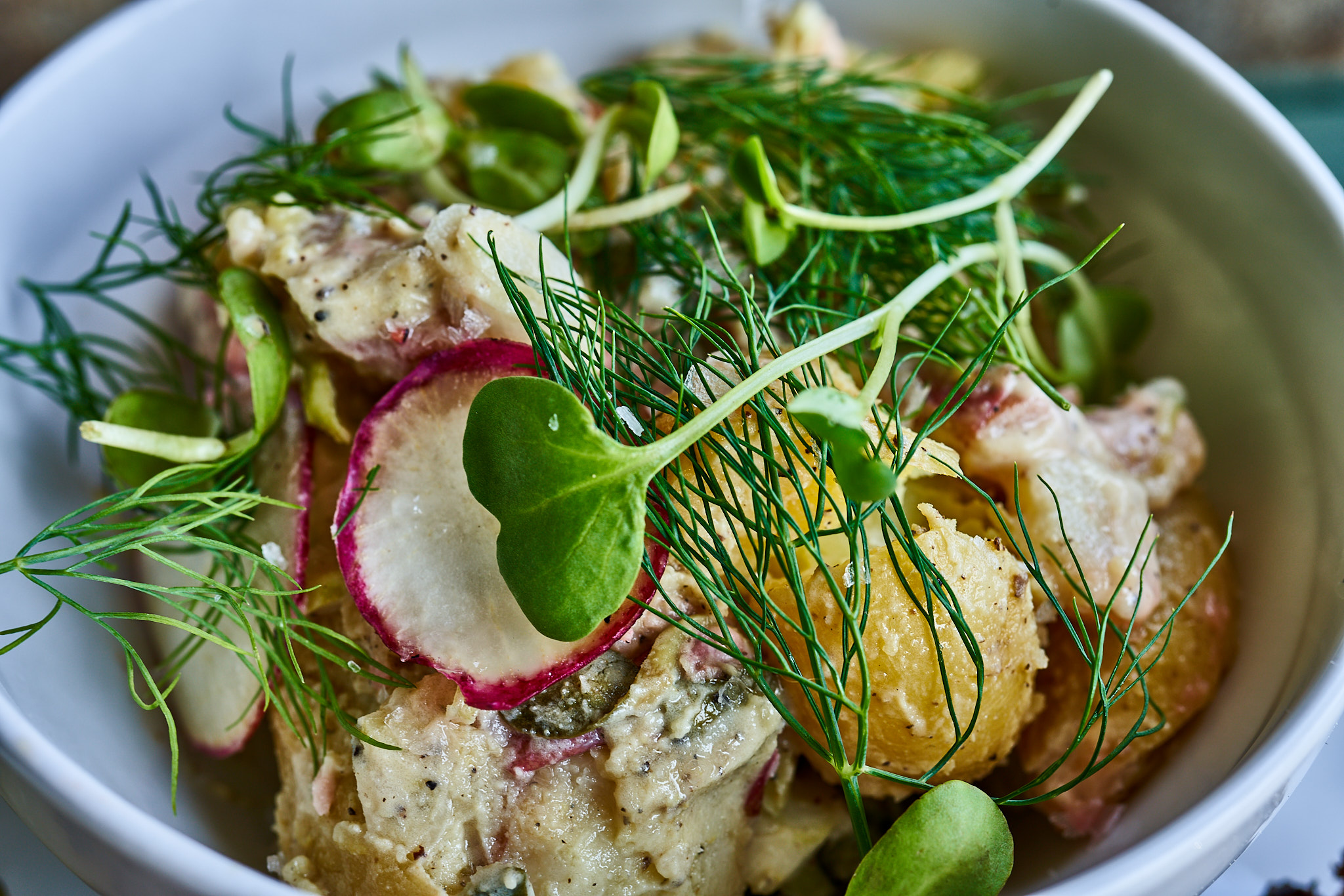 The LA Blade's intrepid Washington D.C.-based political reporter snarks his way through another delicious weekly recipe while dishing tea on other subjects…
WASHINGTON – Is anyone ever that jazzed about potato salad? Always the side dish but never the bride, it's somehow simultaneously the most omnipresent but least memorable food brought to a barbecue or potluck situation. Friends, I'm here to tell you there's a better way. 
To make my point, I should have done just the potato salad and not distracted you with the fried chicken pictured therewith. If you would like to make the fried chicken, I used the same recipe from my August 14 column.
What makes this potato salad so special? Everything. It's so much more than mayonnaise and boiled spuds. It's got tangy citrus, salty umami-rich anchovies, fresh dill. Your German immigrant ancestors could never. Sorry.
Oh, another thing: For those of us who are not infants and still have use of our teeth, I do not understand the appeal of any food that doesn't have some texture. Another issue I have with other potato salads but not this one, which has a delightful crunch.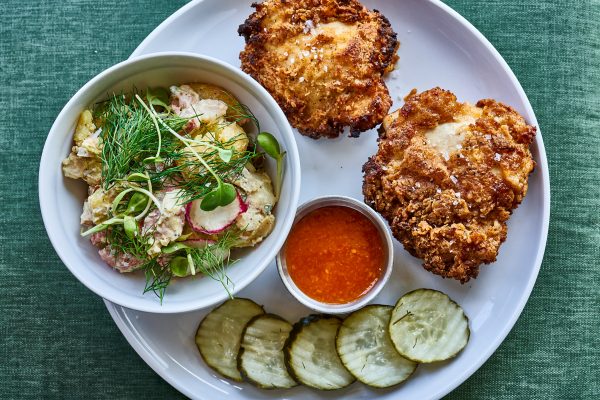 Bring this to a potluck and it will be gone faster than the Queen's spirit traveled to Trisha Paytas's baby. I need to get off Twitter because it's rotting my brain. Also, when looking up the spelling of Paytas's name, I discovered she named the baby Malibu Barbie. Don't really have further comment on that matter but I thought you should know, too.
Boil two pounds baby potatoes in three quarts of water with one cup of salt cup (yes, you read that right) until they can be easily pierced with a fork, or about eight to ten minutes. Strain out and discard the water 
Smash and peel a few garlic cloves, adding a pinch of salt as you mash them into a paste. Chop a few anchovy filets and mash them into a paste, too. Combine your pastes and mash them together until their color and texture is uniform
Add paste to a large bowl with a third cup mayonnaise, a tablespoon Dijon mustard, and a teaspoon black pepper, whisking to combine. Continue whisking as you slowly add two tablespoons olive oil and the juice from one lemon. Season with salt
When the potatoes are cool enough to handle, smash them lightly into a cutting board with your palm so they split open but aren't totally mashed (does that make sense?) Add them to the dressing mixture, tossing evenly to coat
Add six to eight thinly sliced radishes, a few scallions, or chives, radish and sunflower microgreens, and an ungodly amount of fresh dill. Some of the ingredients in this step are optional. The dill is not. Season again with salt and black pepper
Kane's Cuisine: Look at these buns, hun
LA Blade staff writer Christopher Kane shares his love and passion of cooking writing in his weekly Sunday column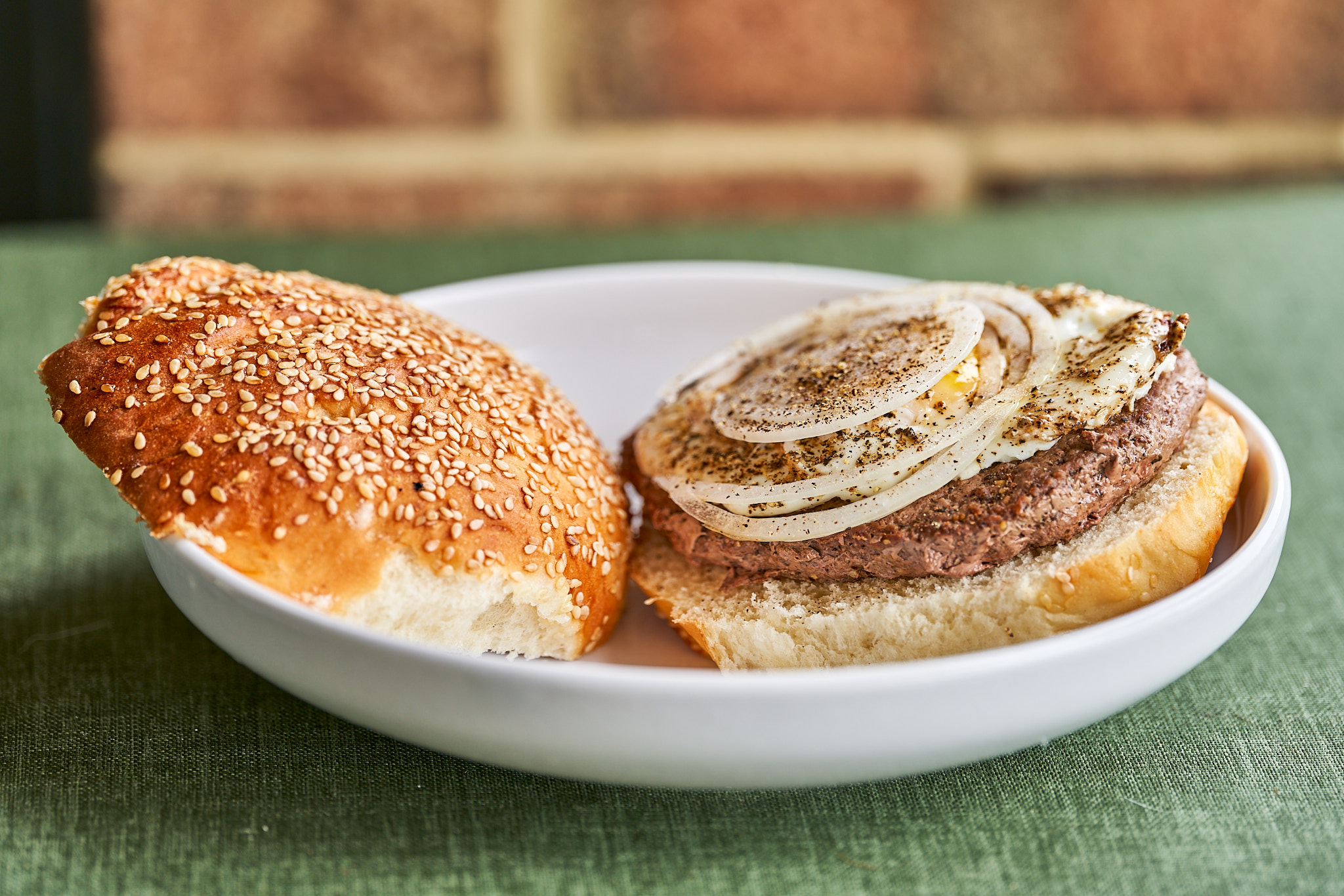 The LA Blade's intrepid Washington D.C.-based political reporter snarks his way through another delicious weekly recipe while dishing tea on other subjects…
WASHINGTON – God has given me many blessings, but a mad thicc juicy booty is not among them. It's just lower back to upper thigh. I am instantly uncomfortable in a wooden chair. There is no cushion (including for the pushin'). I'm a bottom without a bottom.
No matter, because in my 30s I've learned embrace what I've got (as well as what I don't got).
Today, we're making buns. Famously, I love eating and hate exercise, so of course I'm talking about baking rather than doing squats.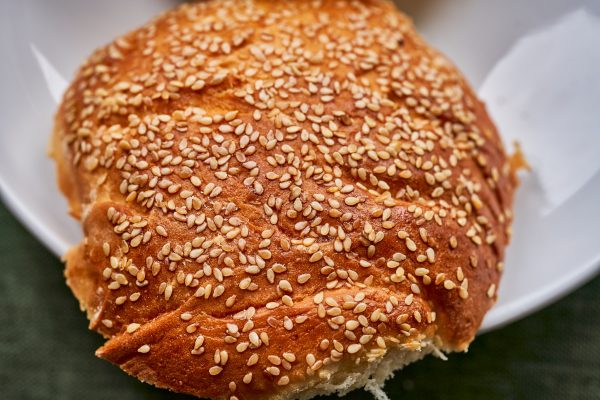 And with these buns, we're going to make unbelievably tasty burgers.
Baking time:
In the bowl of a stand mixer, whisk together one packet (0.25-ounce) active dry yeast, a half cup all-purpose flour, and one cup warm water, allowing it to foam up (about 10 minutes)
Whisk in one egg, four tablespoons unsalted butter, two tablespoons granulated white sugar, and 1.5 teaspoons salt. Add three more cups all-purpose flour
With a dough hook in the stand mixer, knead on low speed for 6 minutes or so
Form the dough into a round shape, use a pastry brush to lightly coat the bowl in olive oil, return the dough to the bowl, turning it to evenly coat with oil, cover the bowl with aluminum foil, and allow to rise in a warm place for two hours 
Transfer dough to lightly floured surface and shape into a rectangle measuring about 5" by 10" and about a half-inch thick. Cut into 8 equal pieces and form each into a round disc shape
Transfer buns to a baking sheet lined with parchment paper. Lightly dust them with flour, cover with cling wrap and allow to rise for an hour
Lightly brush the buns with an egg wash (whisk in about a tablespoon of milk or cream) and sprinkle with sesame seeds. Bake at 375° for 15 minutes 
Burger time: I really don't care what you put on your burger. Use the buns for pulled pork sandwiches if you want. I will, however, share some facts:
I dressed mine with an egg, sunny side up, and raw onion. It was delicious.
When it comes to cheese on my burger, I do not want aged Wisconsin cheddar or camembert from lower Normandy; this is a job for which Kraft Singles American slices are uniquely qualified. GTFOH with anything fancier.
If you're wondering why your burgers never taste as good as those served in restaurants (including fast-food joints) it's because you're under-salting them. I cannot stress this enough. 1 teaspoon per pound of meat. It will seem like too much salt. It's not.
Black pepper is the only seasoning other than salt that you should be using for the meat. The other ingredients with which you're dressing the burger are doing the heavy lifting, flavor-wise.
Minimize your handling of the ground beef. shape your burgers gently and tenderly.
There is no "secret" to a really juicy burger.
They are no less delicious when cooked on the stovetop rather than the grill.