Newsom & LGBTQ Caucus lift up California's fight for equality 
Governor joins LGBTQ Caucus 20th anniversary Pride celebration, announces signature of AB 1741 to honor victims of transphobia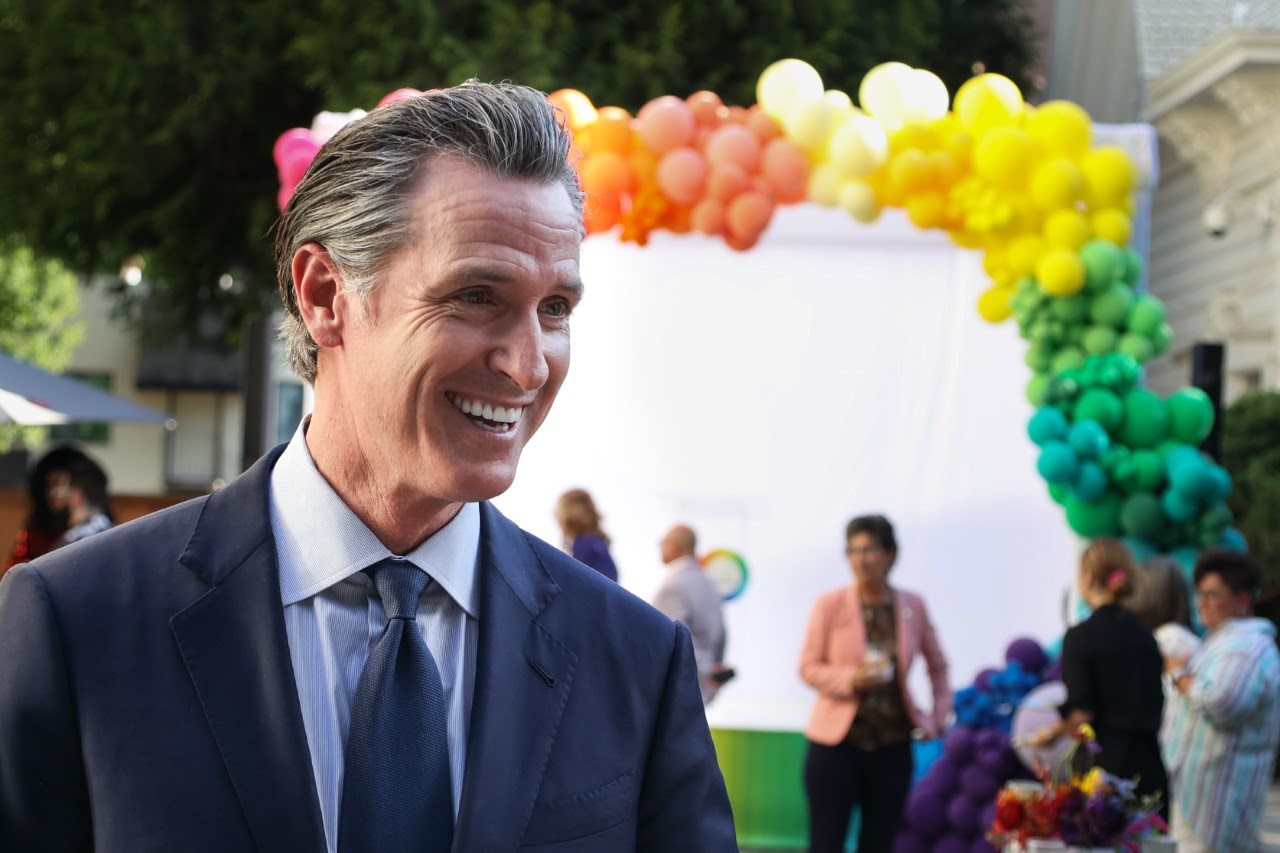 SACRAMENTO – Governor Gavin Newsom and First Partner Jennifer Siebel Newsom today joined members of the California Legislative LGBTQ Caucus at the historic Governor's Mansion for the Caucus's 20th anniversary Pride celebration and to highlight California's leadership on LGBTQ rights.
"In California, we fight for and celebrate our LGBTQ community's right to live their lives out loud," said Governor Newsom. "I'm proud to stand with our LGBTQ Caucus today and lift up their commitment to advancing equality, freedom and acceptance. As we push back on the forces of hate that seek to undo our progress, California will continue to lead the way to a better, fairer future for all."
"I'm so proud to live in California where we understand the value of diversity and support and embrace everyone who lives here," said First Partner Siebel Newsom. "We're committed to supporting members of the LGBTQ community to live as their most authentic selves and will fight to safeguard the policies that protect those rights. Alongside the Governor and the LGBTQ Caucus, I encourage us all to continue to lead with California's values of respect, equality, kindness, and acceptance because that's the California Way and the best way forward."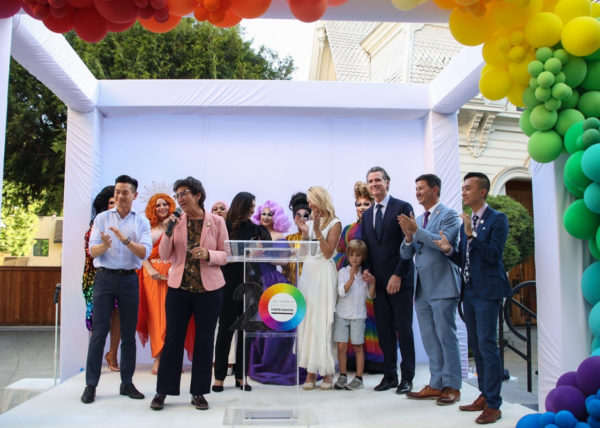 Governor Newsom today announced that he has signed AB 1741 by Assemblymember Evan Low (D-Campbell), an LGBTQ Caucus priority bill that designates November 20 as "Transgender Day of Remembrance" to honor those who have been killed as a result of transphobia. The Governor also signed AB 421 by Assemblymember Christopher M. Ward (D-San Diego), which makes technical changes to the procedures for changing gender and sex identifiers on official documents, such as a marriage certificate.
California was the first state in the country to officially form a caucus of openly-LBGTQ state legislators and continues to lead in advancing policies that create safer, more inclusive communities. Governor Newsom has signed a number of measures to advance these efforts, including AB 493 to develop a training program for educators to better support LGBTQ youth; SB 932, which ensures comprehensive data collection to understand how COVID-19 is impacting the LGBTQ community; AB 2218 to establish the Transgender Wellness and Equity Fund to provide grants for programs focused on trans-inclusive health care; AB 1094 to collect data on an individual's sexual orientation or gender identify in cases of violent death to help inform prevention efforts; and SB 1255 to end the practice of insurance companies discriminating against individuals because of their HIV status.

In 2020, the Governor appointed Justice Martin Jenkins to serve as the first openly gay man on the California Supreme Court, and this year appointed Sacramento County Superior Court Judge Andi Mudryk, the first openly transgender person to serve on the state's judicial bench. Shortly after taking office, the Governor launched a new initiative to pardon people who were prosecuted in California for being gay.
California to build more housing; Student housing bill signed
Legislation signed today will create much-needed new housing units aimed at helping middle and low income Californians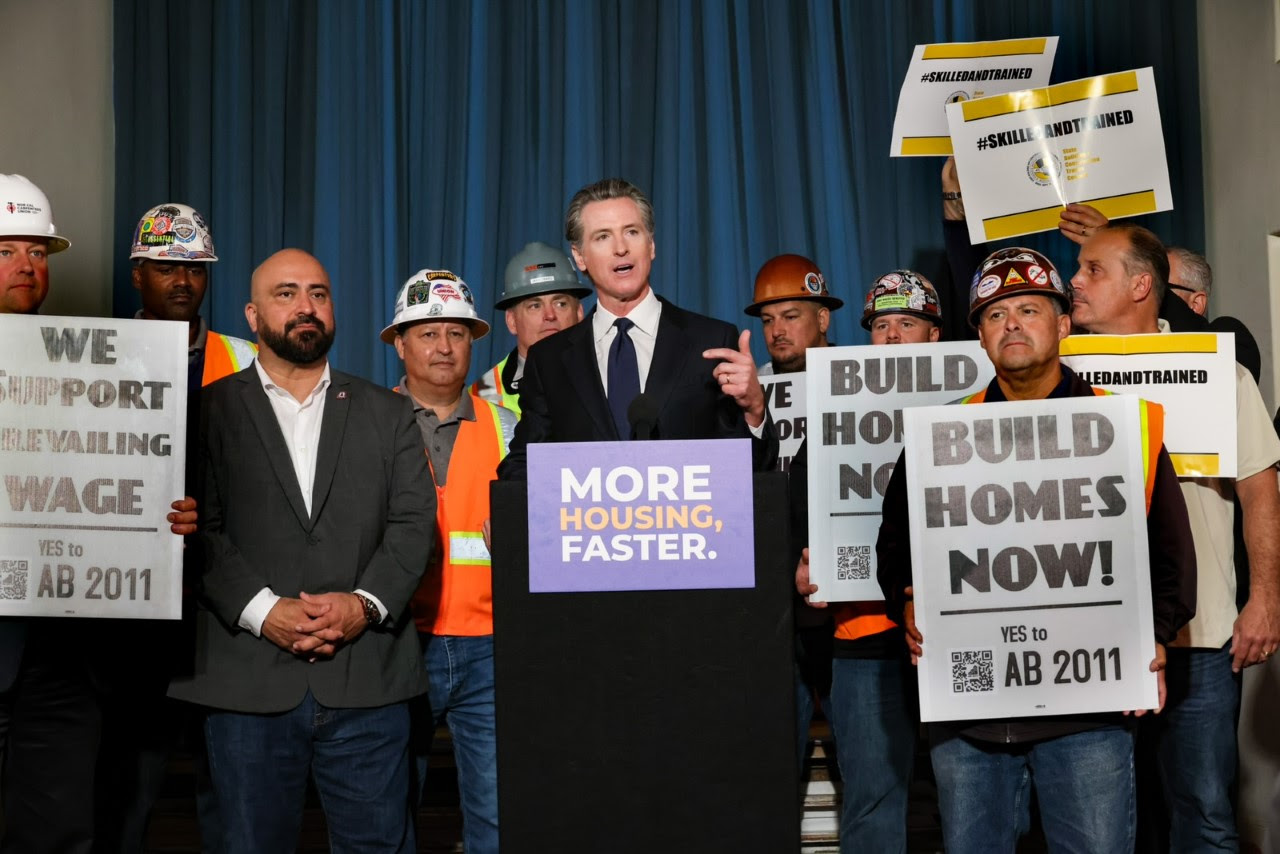 SAN FRANCISCO – Building on California's historic efforts to tackle the housing crisis, Governor Gavin Newsom today signed legislation to streamline the housing approval process in California and create thousands of good paying jobs. Governor Newsom also announced $1 billion in awards to 30 shovel-ready projects through the California Housing Accelerator – creating 2,755 new homes for Californians.
"California has made historic investments and taken unprecedented actions to tackle the state's housing crisis over the past four years," said Governor Newsom. "But we recognize there's more work to do – this package of smart, much-needed legislation will help us build new homes while rebuilding the middle class. I'm thankful for the leadership of the Legislature for stepping up to meet this moment to help address the affordability crisis that stretches across the entire nation."
Governor Newsom signed the housing package alongside legislative, local, housing, and labor leaders, at the future site of an affordable housing community in San Francisco.
"SB 6 and AB 2011 are game changers when it comes to producing desperately needed housing for all income levels," said Senate President pro Tempore Toni Atkins. "These two bills are the culmination of many years of work to find solutions that streamline the regulatory process and ensure that workers building homes are being paid a fair wage. I applaud Senator Anna Caballero and Assemblymember Buffy Wicks for their dynamic teamwork and tireless dedication to serving their communities, and our state. I'm grateful to Governor Newsom for signing these bills, and to Senate Majority Leader Mike McGuire, Speaker Anthony Rendon, and our labor partners for helping make this victory possible. With these laws in place, we will soon see more building and more jobs, and more families will be able to achieve the California Dream."
"Today's signings demonstrate that we can make real progress on improving California's housing outlook, despite the many challenges we face," said Assembly Speaker Anthony Rendon. "In particular, AB 2011 shows what can be accomplished when disparate advocates team up on a critical goal. And, of course, the Assembly is proud to have been able to team up with the Senate and the Governor to make this all a reality."
AB 2011 by Assemblymember Buffy Wicks (D-Oakland) and SB 6 by Senator Anna Caballero (D-Merced) together will:
Help create much-needed new housing units for low and middle income Californians by allowing housing to be built in underutilized commercial sites currently zoned for retail, office, and parking uses.
Generate thousands of jobs with health benefits and good wages – and encourage apprenticeships.
Increase use of public transit by building housing near existing transit or near corridors for new transit.
Newsom also signed into law Senator Scott Wiener's (D-San Francisco) legislation to address the student and faculty housing shortage, Senate Bill 886.
SB 886, the Student and Faculty Housing Act, streamlines and accelerates student and faculty housing production across the state and increases the supply of housing so more students and faculty can live on campus. SB 886 gives more students the opportunity to attend California's public colleges and universities. The legislation exempts from CEQA student and faculty housing projects built on land owned by UC, CSU, or community colleges. CEQA, at times, has been used to stop or delay new student housing from being built.
SB 886 effectively provides UC, CSU, and CCC the same ability to create new student and faculty housing that many cities already have through state housing streamlining laws.
"For far too long, California's college students have been sleeping in their cars, crashing on friend's couches, or forced to stay in motels because their schools simply can't build enough housing for them," said Senator Wiener. "But today is a new day for students and faculty struggling to find stable housing. Schools will be able to build on-campus housing more quickly and easily. College is a path to the middle class for so many low-income Californians – but college will never be truly accessible if students are worrying about where they'll sleep, rather than their grades. SB 886 will have a tangible impact for so many."
California's lack of student housing drives college students into homelessness. According to a 2021 report by the Legislative Analyst's Office, 5% of UC students are currently experiencing homelessness. That number rises to 16% when those living in hotels or transitional housing are included. For CSU students, the rate of homelessness during the academic year is 10%. With over 280,000 students currently enrolled in UCs and 485,000 in CSUs, this means that over 60,000 students at four-year universities in California are currently facing homelessness, with even more facing housing insecurity.
The statistics are even more jarring for our community college system. In a 2019 survey of 40,000 California community college students, 19% of students had been homeless in the last year while 60% had experienced housing insecurity. With 1.8 million Californians currently attending community college, this means over 1 million community college students in this state alone are unable to find an adequate and affordable place to live while pursuing a degree.
The lack of student housing also impacts California's urgent need to expand access to public higher education for California youth. The UC system, for example, received record amounts of applications in 2021 and has expanded enrollment as demand has increased. The growth in admissions, combined with decades of limited housing development, has left campuses without the necessary shelter for their students or staff. Schools have revoked housing guarantees, and housing waitlists continue to grow. In the fall of 2021 alone, 13 CSU campuses reported having 8,700 students on waitlists for housing, while 8 UC campuses reported 7,500 students – a combined total of over 16,000 students unable to gain access to housing through the university they attend.
Although half of CSUs and all UCs have added housing capacity since 2015, the rate at which these projects are ready to be inhabited has not matched the rise in admissions. One issue facing potential housing projects for students and faculty is the prevalence of CEQA appeals and lawsuits.
CEQA requires state and local agencies to evaluate and disclose the significant environmental impacts of projects they approve and to avoid or mitigate those impacts if possible. CEQA is a critically important law that protects the environment from projects such as refineries that pollute natural resources and jeopardize health, especially for historically marginalized and underserved populations.
However, the CEQA process is subject to appeals and lawsuits that can increase project costs and create delays for reasons completely unrelated to the environment. It's not unusual for it to take three to four years and millions of dollars to resolve a single lawsuit, while pre-lawsuit appeals regularly take six months to resolve. The delays and excessive costs associated with CEQA can slow down projects, or even prevent proposals from moving forward.
Using CEQA to delay or halt student and faculty housing projects has greatly impacted California campuses, increasing the cost of living in and around campuses, pushing thousands of students and staff into housing insecurity or homelessness. Moreover, increasing on-campus student and faculty housing is inherently environmentally beneficial, as students and faculty can walk to work or school, rather than driving long distances due to the extreme cost of housing.
To qualify for this exemption, projects must be on a UC, CSU, or CCC campus, utilize prevailing wages and a skilled and trained workforce, not utilize land demarcated as farmland, wetlands, or a very high fire hazard severity zone, and not result in the demolition of rent-controlled or affordable housing. Additionally, projects must be consistent with Long Range Development Plans or Master Plans that have been certified on or after January 1, 2018, have a transportation demand management program, and mitigate all construction impacts. Projects cannot result in any net additional emissions of greenhouse gasses.
To qualify for this exemption, each building within a development be LEED Platinum certified, have no more than 33% of the square footage be used for dining, academic or student support spaces, and have a maximum of 2,000 units or 4,000 beds. Projects must be located within half a mile of a major transit stop, half a mile of the campus boundary, or have 15% lower per capita VMT. Lead agencies must hold at least one hearing – with public notice – for a project.
Newsom signs laws, further fortifies California abortion protections
"California is a Reproductive Freedom state and all are welcome to seek the care they want or need here in California"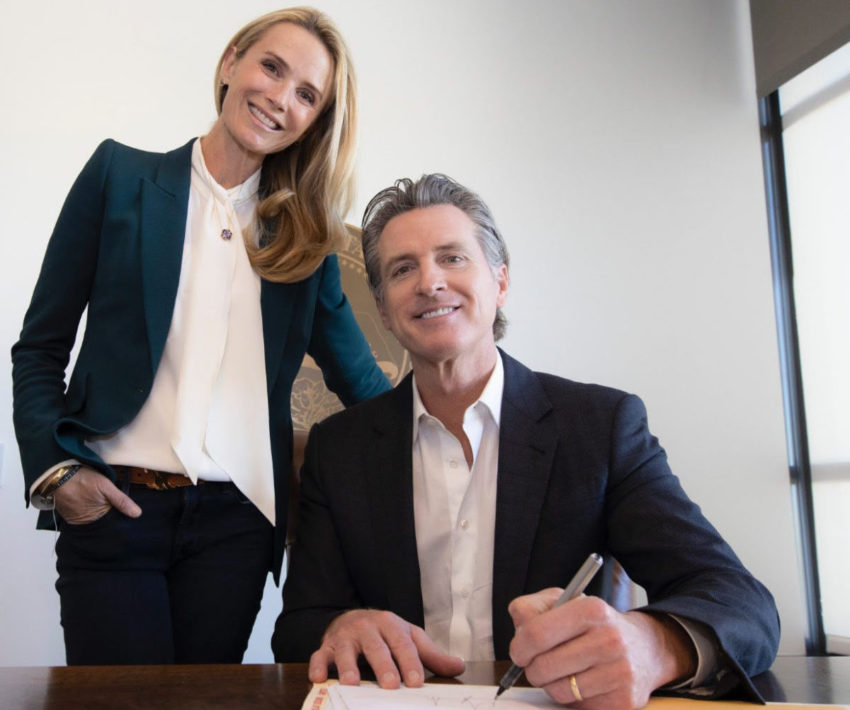 SACRAMENTO – As other states throughout the country outlaw abortion and criminalize patients and doctors, California continues to lead the nation's fight for reproductive health care access and privacy.

Today, Governor Gavin Newsom signed additional bills into law to further protect people from legal retaliation and prohibit law enforcement and corporations from cooperating with out-of-state entities regarding lawful abortions in California, while also expanding access to contraception and abortion providers in California.

"An alarming number of states continue to outlaw abortion and criminalize women, and it's more important than ever to fight like hell for those who need these essential services. We're doing everything we can to protect people from any retaliation for accessing abortion care while also making it more affordable to get contraceptives," said Governor Newsom. "Our Legislature has been on the frontlines of this fight, and no other legislative body in the country is doing more to protect these fundamental rights – I'm proud to stand with them again and sign these critical bills into law."

The package signed today includes:
PROTECTIONS FROM CRIMINAL & CIVIL LIABILITIES: AB 2223 by Assemblymember Buffy Wicks (D-Oakland) helps to ensure that pregnancy loss is not criminalized, prohibiting a person from being criminally or civilly liable for miscarriage, stillbirth, abortion, or perinatal death due to causes that occurred in utero.
KEEPS MEDICAL RECORDS PRIVATE: AB 2091 by Assemblymember Mia Bonta (D-Oakland) prohibits a health care provider from releasing medical information on an individual seeking abortion care in response to a subpoena or request from out-of-state.
PROHIBITS COOPERATION WITH OUT-OF-STATE ENTITIES: AB 1242 by Assemblymember Rebecca Bauer-Kahan (D-Orinda) prohibits law enforcement and California corporations from cooperating with out-of-state entities regarding a lawful abortion in California. It also prohibits law enforcement from knowingly arresting a person for aiding in a lawful abortion in California.
EXPANDS BIRTH CONTROL ACCESS: SB 523 by Senator Connie Leyva (D-Chino) expands birth control access – regardless of gender or insurance coverage status – by requiring health plans to cover certain over-the-counter birth control without cost sharing. It also prohibits employment-related discrimination based on reproductive health decisions.
MORE HEALTH CARE PROVIDERS: SB 1375 by Senate President pro Tempore Toni G. Atkins (D-San Diego) expands training options for Nurse Practitioners and Certified Nurse-Midwives for purposes of performing abortion care by aspiration techniques.
"During this unprecedented time, I'm grateful to the Governor and the California Legislature for taking critical measures to protect a woman's right to choose and to enshrine the right to reproductive freedom into California's constitution," said First Partner Jennifer Siebel Newsom. "No person should be denied access to contraceptive services and abortion care because of a lack of resources or a fear of retribution. And we will not accept the status quo of rendering women powerless to determine their own destiny. In California, we trust women, we believe in women, and we see their value beyond their reproductive capabilities."

"My colleagues and I saw the imminent danger headed for national abortion access more than a year ago and have spent every day since working to not only protect reproductive rights, but expand them. Our package of bills ensures that all Californians, and anyone who needs to come here, will receive the essential health care they need and the respect they deserve. Creating laws is like a marathon and today, we are only able to cross the finish line because of months of hard work, and leadership from the Legislative Women's Caucus and our partners on the California Future of Abortion Council." – Senate President pro Tempore Toni Atkins.
In addition to the bills detailed above, the Governor also signed into law:
AB 657 by Assemblymember Jim Cooper (D-Elk Grove): Expedites licensure for health care practitioners that come to California to provide abortion care services.
AB 2626 by Assemblymember Lisa Calderon (D-Whittier): Prohibits specified licensing boards from suspending or revoking a license solely for performing an abortion in accordance with the licensee's practice act.
AB 2205 by Assemblymember Wendy Carrillo (D-Los Angeles): Requires Covered California plans to report annually the total amounts of funds collected in special accounts for abortion care which was established under the ACA to hold premium payment of $1 per member per month and from which claims for abortion care must be paid.
SB 1142 by Senator Anna Caballero (D-Merced) and Senator Nancy Skinner (D-Berkeley): Requires the establishment of an abortion care services website and an evaluation of the Abortion Practical Support Fund.
SB 1245 by Senator Sydney Kamlager (D-Los Angeles): Establishes a reproductive health pilot project in LA County to support innovative approaches and collaborations to safeguard abortion access.
AB 1918 by Assemblymember Cottie Petrie-Norris (D-Laguna Beach): Creates the CA Reproductive Health Scholarship Corps to recruit, train and retain a diverse workforce of health care professionals who will provide reproductive health services in underserved areas of the state.
AB 2134 by Assemblymember Dr. Akilah Weber (D-San Diego): Establishes the CA Reproductive Health Equity Program which will provide grants to providers who provide uncompensated care to patients with low-incomes and those who face other financial barriers.
AB 2586 by Assemblymember Cristina Garcia (D-Bell Gardens): Establishes the CA Reproductive Justice and Freedom Fund to support CBOs in providing comprehensive reproductive/sexual health education, inclusive of abortion care, to disproportionately impacted communities.
The Governor previously signed SB 245 to eliminate cost-sharing for abortion services and AB 1666, which seeks to protect those in California from civil liability for providing, aiding, or receiving abortion care in the state.
"As extreme politicians across the country pursue personal political agendas seeking to restrict and criminalize people seeking and providing abortion services – essential health care that should be available to people where they live and when they want or need it – California is showing what is possible when leaders listen to experts, facts, science and from the people who are directly impacted," said Jodi Hicks, President and CEO of Planned Parenthood Affiliates of California. "Patients and providers across California and the country are living in a state of fear and confusion as we collectively try to navigate this new post-Roe reality. Today's bold and comprehensive actions provide reassurance to all that California is a Reproductive Freedom state and all are welcome to seek the care they want or need here in California."
"California continues to take historic steps towards its promise to be a Reproductive Freedom state – not just protecting access to abortion care in the face of Roe v. Wade being overturned, but moving forward centering equity and expanding access to help people, regardless of where they call home, get the essential care they want or need here in California. This bill package, in addition to the $200+ million in new funding, will go a long way in helping people seeking care in California and the community organizations and providers already on the ground doing the work across the state. By signing this bill package, Governor Newsom is putting an exclamation mark on a year-long effort by California reproductive health, rights, and justice leaders and policymakers to prepare and respond to the U.S Supreme Court overturning 50 years of precedent and eliminating the federally protected right to abortion." – Steering Committee of the California Future of Abortion Council.
"California is committed to upholding and expanding protections that ensure reproductive health care is a right and not a privilege. The legislative package signed into law today strengthens the budget actions taken by the Governor earlier this summer to protect and expand reproductive care in California, while also breaking down barriers that have caused historic inequities in access and the health outcomes of our most vulnerable communities," said Secretary of the California Health & Human Services Agency, Dr. Mark Ghaly. "We stand ready to deliver on this vision of a Healthy California for All, which protects the health and wellbeing of anyone seeking critical reproductive services in California."
These actions build upon California's nation-leading actions to cut costs, expand access and strengthen protections for abortion care:
California advances pay equity and supporting women
Additional measures signed by the governor expand supports for victims of domestic violence and sexual assault
SACRAMENTO – Governor Gavin Newsom and First Partner Jennifer Siebel Newsom today met with leaders from the Legislative Women's Caucus to highlight a package of priority legislation signed by the Governor to strengthen California's commitment to advancing gender equity and protecting the rights of women.
The measures signed by the Governor include SB 1162 by Senator Monique Limόn (D-Santa Barbara), which requires employers to make salary ranges for positions available to applicants and employees and expands pay data reporting requirements to better identify gender and race-based pay disparities.
"California has the strongest equal pay laws in the nation, but we're not letting up on our work to ensure all women in our state are paid their due and treated equally in all spheres of life," said Governor Newsom. "These measures bring new transparency to tackle pay gaps, end discriminatory pricing of products based on gender and expand supports for survivors of abuse and assault. I thank the Legislative Women's Caucus for their leadership and partnership in building a more equitable California for all."
"To achieve a California for ALL WOMEN, we must dismantle the patriarchal systems that have barred women from access to equal pay, secure housing, fair prices on goods, and support services and privacy after a sexual assault," said First Partner Jennifer Siebel Newsom. "These bills will move us in the right direction, and I am grateful to the California Legislative Women's Caucus and Governor Newsom for their continued partnership in working to move the needle forward to true gender equality in California."
"Over the last two years, the Legislative Women's Caucus has been working tirelessly to help reverse the devastating impacts the COVID-19 pandemic has had on women, especially women of color. The reality is that these issues existed long before the pandemic, but the pandemic further exacerbated and highlighted the work we need to do to lift up all women, especially low-income women of color, and has given us a greater sense of urgency," said Assemblymember Cristina Garcia (D-Bell Gardens), Chair of the California Legislative Women's Caucus. "Governor Newsom's actions to sign a diverse package of bills that are leading with a lens on equity will make a positive difference for women, children, and families across the state and ensures we are rebuilding a system that better values women and everything they bring to the table."

Advancing pay equity and combating gender-based price discrimination

SB 1162 requires employers to make pay scale information available to employees and included in job postings. Building on a measure the Governor signed in 2020 to identify patterns of wage disparities through mandated statewide pay data reporting, SB 1162 expands state pay data reporting requirements, which include employee sex, race and ethnicity information, to cover contracted employees.

Governor Newsom also signed AB 1287 by Assemblymember Rebecca Bauer-Kahan (D-Orinda) which eliminates the discriminatory "pink tax" by prohibiting different prices for goods based purely on what gender they are marketed to. AB 1287 allows for price differences when there is a significant difference in the cost or time to produce a particular good.

Supporting victims of domestic violence and sexual assault

In addition, Governor Newsom signed AB 1467 by Assemblymember Sabrina Cervantes (D-Riverside), which supports survivors by requiring sexual assault and domestic violence counselors at public colleges to be independent from the Title IX office and prohibits these counselors from releasing the identity of a victim without permission.

AB 2185 by Assemblymember Dr. Akilah Weber (D-San Diego) provides domestic violence victims access to free medical evidentiary exams by Local Sexual Assault Response Teams or other qualified medical evidentiary examiners.

SB 1017 by Senator Susan Talamantes Eggman (D-Stockton) increases eviction protections for survivors of domestic violence, sexual assault, human trafficking and other serious crimes.
A full list of bills the Governor announced signing can be found below:
AB 1287 by Assemblymember Rebecca Bauer-Kahan (D-Orinda) – Price discrimination: gender.
AB 1467 by Assemblymember Sabrina Cervantes (D-Riverside) – Student safety: sexual assault and domestic violence procedures and protocols: sexual assault and domestic violence counselors.
AB 2185 by Assemblymember Dr. Akilah Weber (D-San Diego) – Forensic examinations: domestic violence.
SB 1017 by Senator Susan Talamantes Eggman (D-Stockton) – Leases: termination of tenancy: abuse or violence.
SB 1162 by Senator Monique Limόn (D-Santa Barbara) – Employment: Salaries and Wages.
The Governor earlier this month signed AB 32, a Women's Caucus priority measure that expands health care access by permitting health care providers to establish new Medi-Cal patients via telephone call and other audio-only methods.