Karen Bass & her LGBTQ staff discuss commitment to equity & justice
"Diversity is something you have to do consciously," Bass said. "I always look at my staff and [ask myself] 'who's missing?'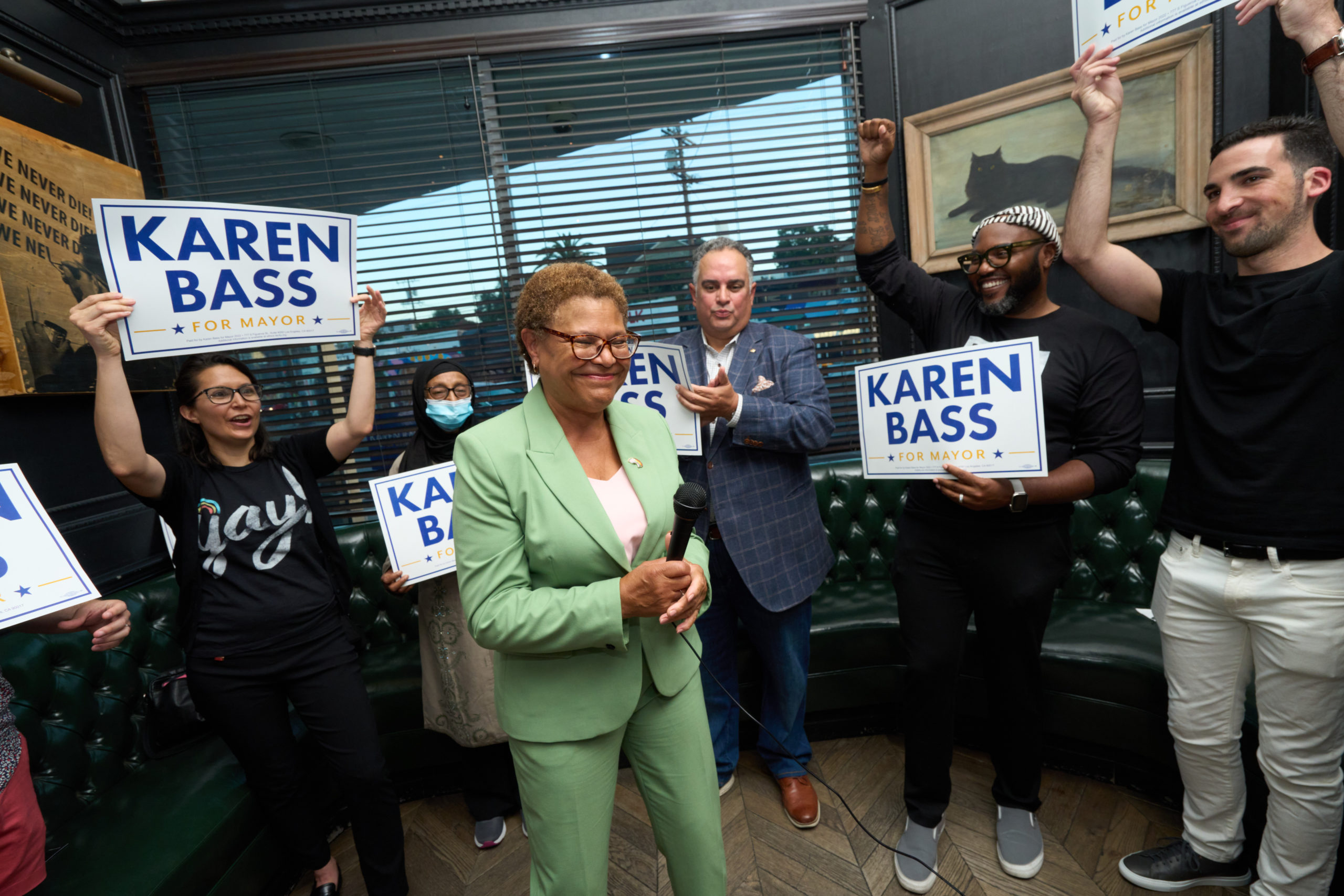 LOS ANGELES – U.S. Rep. Karen Bass (D-CA), a leading candidate to become the next mayor of the city Los Angeles, has hired LGBTQ+ folks with diverse backgrounds to leadership positions on her Congressional staff and in her mayoral campaign because of "their dedication to fighting for social and economic justice," Bass told the Los Angeles Blade over the phone Thursday morning.
"Diversity is something you have to do consciously," she said. "I always look at my staff and [ask myself] 'who's missing?' to make sure we have representation. I think it's really important to approach it that way."
Meanwhile three senior members of Bass's staff, all of whom identify as LGBTQ+ – Senior Advisor and Policy Director Joey Freeman, Campaign Manager Jenny Delwood, and Chief of Staff Darryn Harris — spoke to The Blade about their personal relationships with the Congresswoman. 
They also highlighted what they described as a throughline in Bass's adherence to principles of equity and justice, beginning with her early career as a nurse and physicians' assistant through to her candidacy for mayor of Los Angeles.
Bass is slated to square off against billionaire real estate developer Rick Caruso in the November 8 election to replace term-limited incumbent Los Angeles Mayor Eric Garcetti. The two candidates advanced from the June 7 primary elections, having each received less than 50% of the vote.
A longtime ally of the LGBTQ+ community, Bass kicked off her "LGBTQ+ for Bass affinity group" Wednesday night at the historic Black Cat restaurant in Silver Lake.
Bass has been a mentor to the next generation of LGBTQ+ leaders on her staff.
When it comes to her staff, Bass said, "I see my role as helping to develop their leadership and helping to support them however I can."
"I was able to be my full self here; fully black, fully gay," said Harris, Bass's chief of staff, who has known the Congresswoman for his entire adult life and served in multiple positions before being appointed to lead her congressional office.
"When you have a boss who's that supportive of you, it helps in so many different ways," he said. "Not only with the work we do, but also it was one of the things that helped deepen our friendship and deepen our mutual trust, because I was able to bring my whole self to work."
Delwood, Bass's campaign manager, has also known the Congresswoman for more than a decade and served in multiple positions before her appointment to lead her mayoral campaign. As a human being, as a professional, and as a lesbian, Delwood said Bass has embraced every part of who she is.
"The Congresswoman has been not only a boss, but also a mentor," Delwood said. "I started working for her as a fellow/intern in 2007 in the California Assembly, and she and I have built a very strong relationship over the years. She is part of my extended family, now."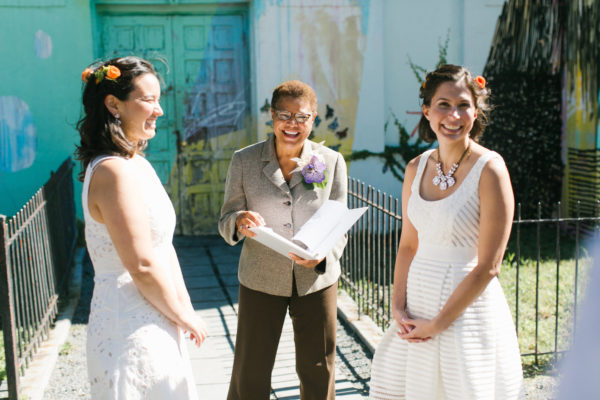 Beginning with her early career in healthcare, Bass has been an ally of the LGBTQ+ community
"When I went to school to be a physicians' assistant in the early 1980s," Bass said, the virus that would become known as HIV/AIDS began to emerge, disproportionately impacting gay men. "It was unbelievable, in the first few years of the epidemic, how [badly] these patients were treated," she said.
In her work treating patients, and as a full-time clinical instructor at the University of Southern California's Keck School of Medicine, Bass pushed for better treatment of HIV/AIDS patients, practicing what she preached.
"From that time on, she's been standing for and with the community," said Freeman, Bass's senior advisor and policy director, who identifies as gay.
"She was on the ground floor of the HIV AIDS epidemic," Delwood said, "providing medical care for people with HIV/AIDS when folks were steering clear of and being discriminatory [against those who were positive]." From those early days of her career, Delwood said, "Congresswoman Bass has been in deep solidatiry with the LGBTQ community."
"It wasn't just gay men with HIV," said Zach Seidl, Bass's communications advisor, "but trans folks, too."  In the best of cases, doctors would greet HIV/AIDS patients in hazmat suits; in the worst, refusing treatment, Seidl said. Bass, meanwhile, insisted she needed to help them, he added.   
Bass believes in consulting people who will be directly impacted by policy
Policymakers often speak with subject matter experts without consulting those who will be directly impacted, Bass said. It's an oversight the Congresswoman has been careful to avoid.
For example, Bass told the Blade she visited a federal prison yesterday morning to hand out copies of draft legislation that concerns women in the criminal justice system, inviting incarcerated women to read and share comments or input by email.
This will extend to her work as mayor, Freeman said. If elected, Bass will be charged with selecting staff, commission members, and general manager appointments, roles where she will ensure LGBTQ+ people are well represented, because this is how she prefers to govern – by consulting with people who are directly affected by policy.
Working so closely with Congresswoman Bass, "I have the opportunity to see that every single day," Harris said, "Ordinary people influencing public policy at state, federal, and – soon – the citywide level" under her leadership.
Bass believes the most effective way to create lasting change is to work with community members and to bring forward solutions that are community driven, Delwood agreed. "In order to actually solve homelessness or address crime in LA or deal with our lack of affordable housing, it's imperative" to work with a variety of stakeholders from the community as well as in the county, state, and federal government, she said.
Bass and her staff have big plans to address problems afflicting Los Angelinos
"I could have stayed in Congress to fight for a leadership spot," said Bass, who was reported as a front runner for President Joe Biden's vice president during his 2020 electoral campaign. But there are crises in Los Angeles, she said, pointing to the latest figures on the city's unhoused population as an example.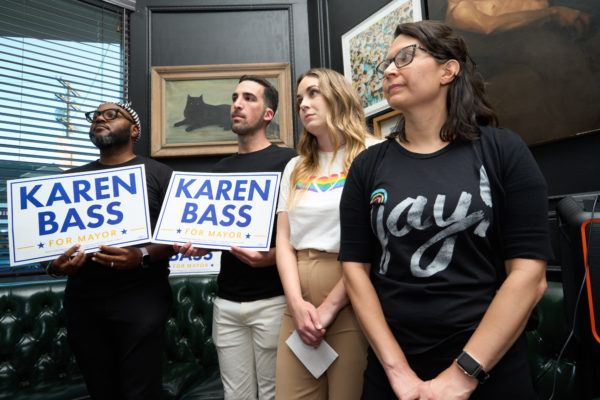 It was the second time in her career that Bass was faced with such a decision, she said. "I was a full-time faculty member of the medical school" when Los Angeles began to experience a crack-cocaine epidemic in the late 1980s and early 1990s.
"I was mortified at how the city was responding to crack cocaine and gang issues," Bass said. "These were health, social, and economic issues, but the response of policymakers was to criminalize everything and everyone in South LA."
Leaving USC, Bass formed the Community Coalition and began her work as a community organizer. "I worked to prevent the city from locking everyone up, and to steer people away from gangs," the Congresswoman said. "And then I looked for how we organize people to fight for drug treatment instead of incarceration for those who were addicted."
Likewise, Bass said, the current moment calls for coalition building and working across the government to improve the lives of Angelenos and effectuate just policymaking for, especially, vulnerable communities.
Members of Bass's staff pointed to how the Congresswoman could be particularly effective as mayor on issues of homelessness, LGBTQ+ rights, child welfare reform, foster care reform, housing affordability, and violence against Black trans people.
"Forty percent of young people on the streets are LGBTQ+," said Delwood. "Being able to address that is a top priority of the congresswoman as well as our entire team." Many children land in the foster care system because of discrimination over their sexual orientation or gender identities, she said, and while LGBTQ+ adoptive or foster parents are greeted with "open arms" in LA, such is not the case in many other parts of the country.
As Mayor, in coordination with the Los Angeles County Board of Supervisors, Bass will be able to champion foster youth, reform the child welfare system, and prove to the rest of the country how successful LGBTQ adoptive and foster parents can be, Delwood said.
Freeman agreed. There is a lot of overlap, he said, with issues concerning the foster care system, with high rates of homelessness among LGBTQ+ youth, with the housing crisis. "What we need to do to address homelessness and prevent future homelessness is to tackle the root cause," Freeman said. "Are LGBTQ youth receiving the support they need?"
Congresswoman Bass "has deep relationships with folks here, in DC, and in Sacramento, so when you're dealing with challenges in LA, she knows how to go in there and how to pool the resources in order to solve them," Harris said.
Harris highlighted Bass's community organizing and coalition building roots, arguing she is the best candidate to represent all of Los Angeles as the city's mayor.
One issue Harris said he is eager to see Bass's leadership in addressing is the high rates of murder and violent crime against members of the LGBTQ+ community, particularly Black trans people. "I'm excited to see how she would be able to ensure that they are safe, tracking some of those federal dollars to ensure that they have protections against domestic and sexual violence," he said.
Antonio Villaraigosa Leadership Award to San Diego's Mayor Gloria
The award is presented to a mayor who has exhibited an outstanding commitment to bringing diverse communities together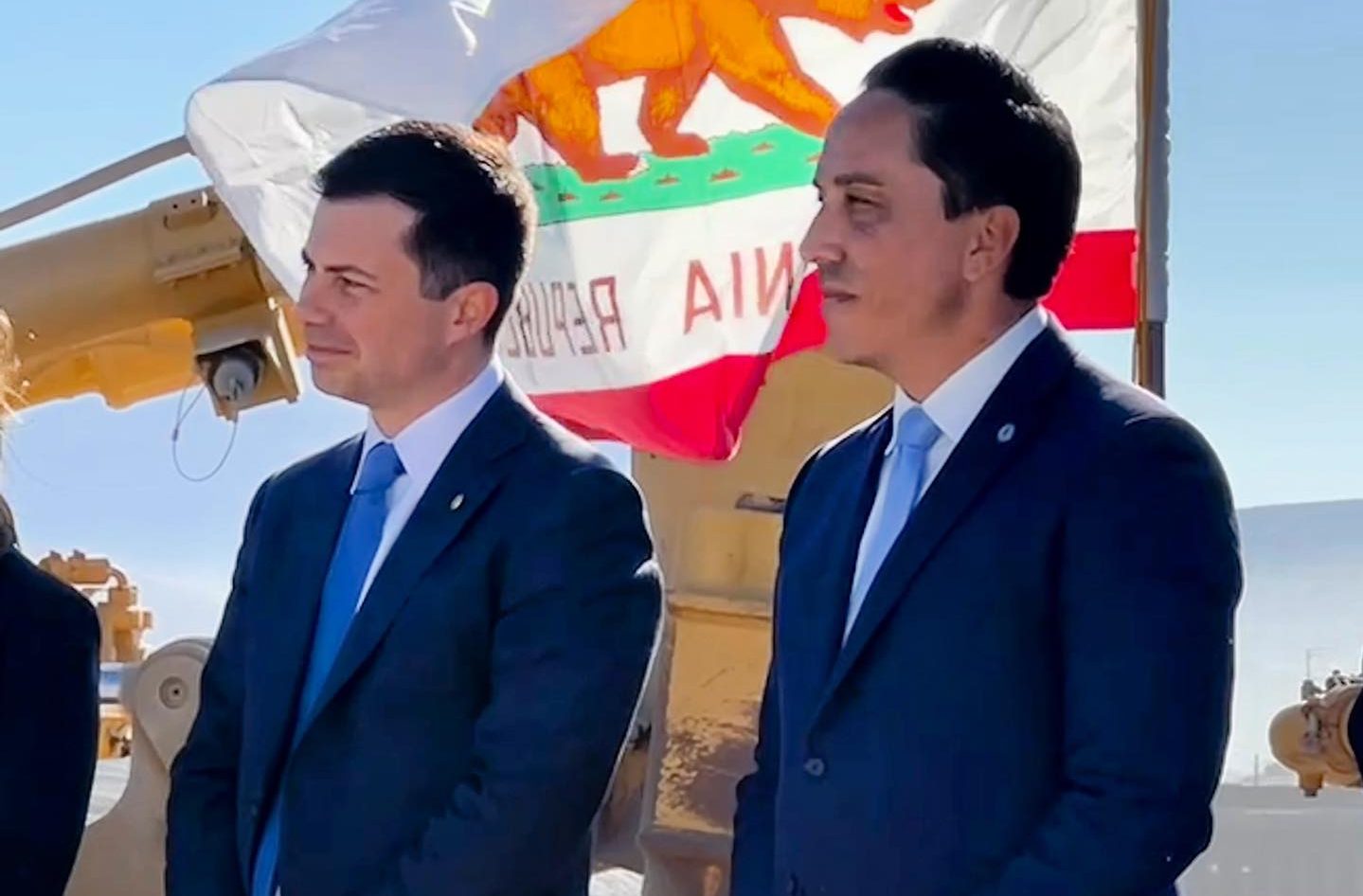 WASHINGTON — On January 18th Mayor Todd Gloria of San Diego will be presented with the Antonio Villaraigosa Leadership Award at the 37th Tribute to Mayors Signature Event. 
The Tribute to Mayors is an annual event put on by the Latino Leaders Network, which was founded by former Clinton administration Assistant to the President and Director of Intergovernmental Affairs at the White House, Mickey Ibarra, as a unique platform for prominent Latino leaders to share their personal stories of overcoming obstacles to achieve success. 
The Antonio Villaraigosa Leadership Award is presented to a mayor from a city with a significant Latino population who has exhibited an outstanding commitment to bringing diverse communities together.
Antonio Ramón Villaraigosa served as the 41st Mayor of Los Angeles from 2005 to 2013. Before becoming mayor, he was a member of the California State Assembly (1994–2000), where he served as the Democratic Majority Leader (1996–98), and the Speaker of the California State Assembly (1998–2000).
Gloria began his career at San Diego County's Health and Human Services Agency. He then went on to serve as District Director for United States Congresswoman Susan A. Davis. In 2008, Gloria was elected to the San Diego City Council. In 2016, he ran and was elected to the California State Assembly to represent the 78th Assembly District.
While serving in the Assembly Gloria went on to become the Assistant Majority Whip and eventually Majority Whip. Then in 2020 he was elected Mayor of San Diego, making history across a spectrum of significant firsts as in addition to being the first openly gay person to lead the city, Gloria, "the son of a hotel maid and a gardener"  became the first person of color to occupy the Mayor's chair. He is a third-generation San Diegan of Filipino, Native American, Puerto Rican, and Dutch descent.
In a coronavirus pandemic affected zoom-style virtual inauguration ceremony, presided over by the President pro Tempore of the California State Senate Toni Gayle Atkins, Gloria was sworn in as the 37th mayor of the City of San Diego on Thursday, December 10, 2020 before the San Diego City Council.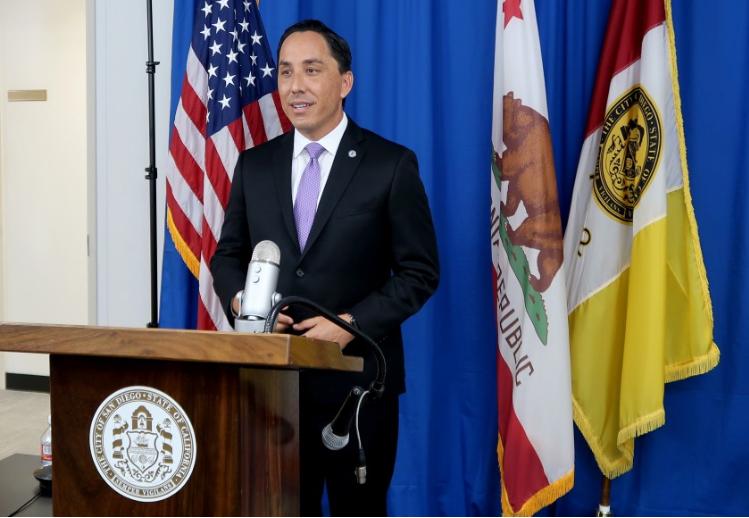 "Getting an award in Mayor Villaraigosa's name is really meaningful to me," Gloria told the Blade. "I was the nerdy kid who would watch C-SPAN and read the newspaper when I was young. I was very aware of Mayor Villaraigosa and his service leading his city that is just a few hundred miles north from where I grew up here in San Diego. There is a saying that if you haven't seen it you can't be it. The fact that I had this charismatic and energetic leader of a city not too far away meant that I could identify with him. He and others like him created that opportunity for me to see what I was interested in trying to become in terms of a public servant, and so it feels in someway poetic to receive this award."
Receiving an award that celebrates diversity and inclusion is particularly poignant for the Mayor, as he feels that while San Diego has an incredibly diverse population, inclusion in its political sphere is only just starting to turn a corner for the better. 
"I hold a sanction to being the first person of color elected mayor of my city," said Gloria. "I was elected in 2020 I think that's somewhat remarkable when you consider that San Diego is a very diverse city we are a border city we literally lie on the US Mexican border. We are on the pacific rim, and yet no one has broken this barrier until I was given the opportunity to do so just two years ago."
Much as he was inspired by LA's Mayor Villaraigosa in his youth, Gloria hopes that that he can serve as an inspiration to the next generation of diverse leaders. 
"People like myself who are given this opportunity have to stay strong. you have to remember you are not there on your own behalf. You are there on behalf of a whole community. Some may look up to me the way I looked up to Mayor Villaraigosa if I am able to show people what a person of color can do leading the 8th largest city in the country. It is a challenge, but it is also an opportunity. My friend and mentor, Vice President Harris, always says that you may be the first to do some thing, but you should not be the last. That is my goal."
"I love San Diego," said Gloria. "I was born and raised here. I am a third generation San Diegan. I love this town, and I was taught that it was my responsibility to leave it better than I found it, and so I've chosen to spend my entire career serving this community in the county of San Diego, as congressional aide as a council member, as a state legislator, and, now, as a mayor."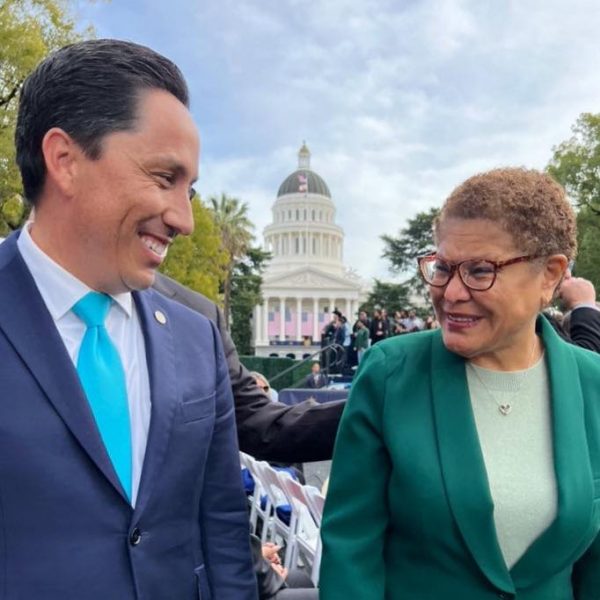 The lesson of leaving something behind better than you found it comes from the teachings of Gloria's parents he tells the Blade.
"My parents were blue-collar folks," recalled the Mayor. "When I was growing up, my mom was a hotel maid and my dad was a landscaper. These two hard-working, modest people didn't have generational wealth or the financial ease to help us. They just had good humble values that they tried to instill in me and my brother."
Gloria recounted a story from his childhood where his parents' moral compass inadvertently lead him to his political career.
"Growing up, we often didn't have a car. We had to borrow other people's cars. Obviously, we didn't have enough money, and I can remember vividly having to wash those cars and fill them with gas and having to get the buckets and sponges and soap and water. That all has expense attached to it, and so I said, 'If we are borrowing cars because we don't have money, then why are we spending money on washing them and filling the tanks up with gas?' The answer that my parents gave us was, 'This is what we have to do. We are borrowing these cars and we can't return them dirty or with an empty tank.' This left an impression on me. I don't think my parents intended it this way, but it really was this admonition to get into public service.'
"Some people have to wake up every day and punch a time clock. I just have to wake up and make the city a better place. I think that's a wonderful mission and I feel grateful for this opportunity. That is why I do this work."