Singapore government will not prosecute 'people engaging in gay sex'
BBC asked Home Affairs Minister K Shanmugam about sodomy law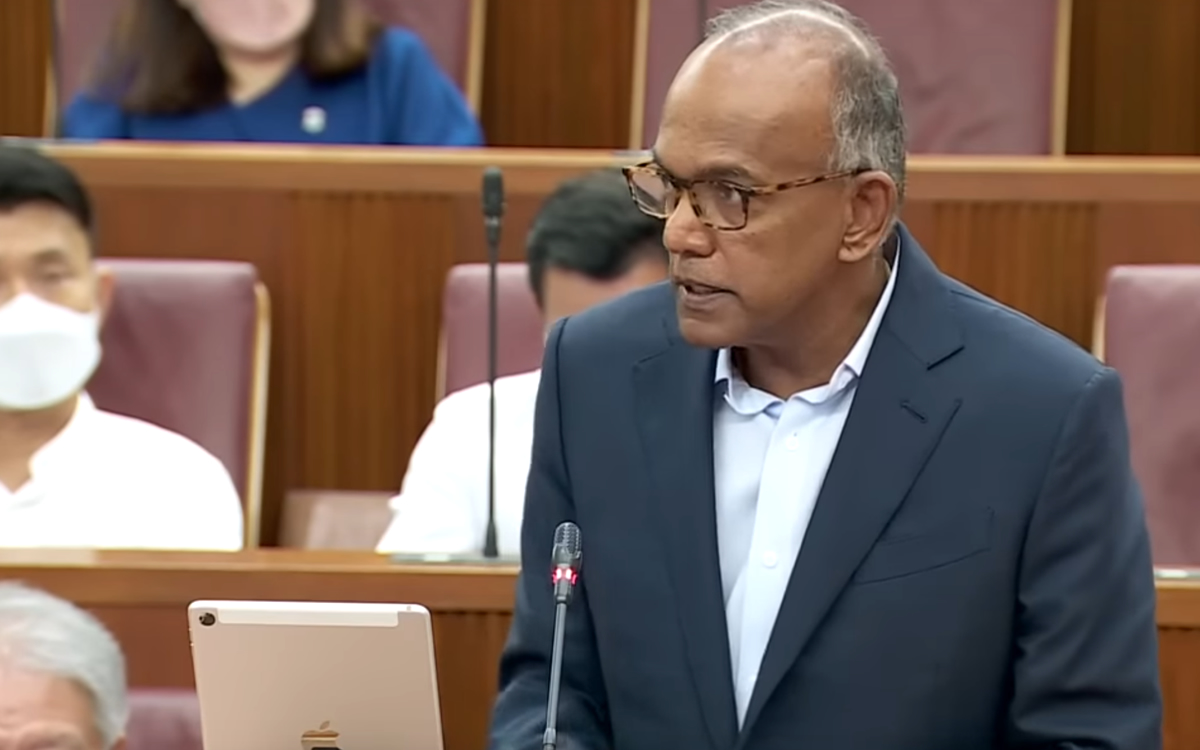 SINGAPORE — A Singapore government minister last week said his country will not prosecute anyone under a colonial-era law that criminalizes consensual same-sex sexual relations.
"People engaging in gay sex will not be prosecuted, even though there is this old piece of law which makes gay sex among males an offense," said Home Affairs Minister K Shanmugam on June 29 during an interview on BBC's "HARDtalk" program. "The attorney general has confirmed that position and the Supreme Court has said that the government's position is legal for us."
Singapore is among the dozens of countries in which consensual same-sex sexual relations remain criminalized.
The country's Court of Appeal in February upheld a lower court decision that dismissed three lawsuits against Section 377A of Singapore's penal code. Shanmugam acknowledged a "significant proportion of our population — the middle ground as it were — don't want that law repealed."
"Attitudes are shifting somewhat, but still Singapore government can't ignore those views, so we have arrived at this sort of messy compromise the last 15 years and we have taken this path because these issues are difficult," he said. "They are not easily settled and we have made clear that LGBTQ+ individuals are entitled to live peacefully without being attacked or threatened."
"This is a compromise that we have arrived at because of where our society is and if you believe in a democracy you've got to take into account where your main ground is," added Shanmugam.
Shanmugam spoke with the BBC less than a week after the U.S. Supreme Court overturned Roe v. Wade. Shanmugam during the interview specifically referenced Justice Clarence Thomas and his assertion the U.S. Supreme Court should reconsider its rulings in the Obergefell and Lawrence cases that extended marriage equality to same-sex couples and the right to private, consensual sex.
"Our approach: Deal with these issues in Parliament," said Shanmugam. "I've said earlier this year that we are relooking at our laws and our laws have to change and keep pace with the times and the Singaporean way we are engaging in a wide set of consultations to try and arrive at some set of landing."
Singapore high court dismisses sodomy law challenges
Advocacy groups expressed disappointment over decision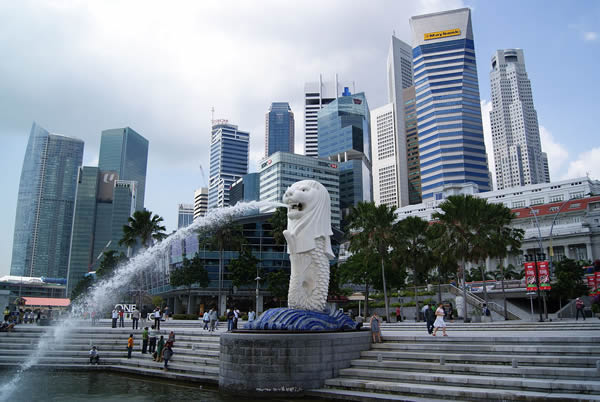 SINGAPORE — Singapore's highest court on Monday upheld a lower court's decision to dismiss three challenges to a law that criminalizes sexual relations between men.
While delivering the judgment, given by a bench of five judges, Chief Justice Sundaresh Menon of the Singapore Court of Appeal said that the appeals are not about "whether (Section) 377A (of the penal code) should be retained or repealed, that being a matter beyond our remit."
"Nor are they about the moral worth of homosexual individuals," said Menon. "In the words of our prime minister, Mr. Lee Hsien Loong, homosexual individuals are 'part of our society' and 'our kith and kin.'"
The appeal court went ahead and said the appeals are also "not about the fundamental nature of sexual orientation, whether immutable or not, which is an extra-legal question well beyond the purview of the courts."
The court also suggested that political resolution of the issue is more appropriate than litigating it. The chief justice said that the advantage of the political process is its ability to accommodate divergent interests and opinions, while litigation is "not a consultative or participatory process."
"This is so for good reason because litigation is a zero-sum, adversarial process with win-lose outcomes," said Menon. "The political process, in contrast, seeks to mediate — it strives for compromises and consensus in which no one side has to lose all."
The chief justice also said that it is "unnecessary" for the court to address a constitutional issue.
"They do not face any real and credible threat of prosecution under 377A at this time," said Menon while delivering the judgment. "Therefore, (they) do not have the standing to pursue their constitutional challenges to that provision."
"We, as organizations advocating for LGBTQ+ equality in Singapore, are disappointed with the Court of Appeal's landmark ruling on Section 377A, which comes as a setback for all who were hoping for a resounding conclusion to this decades-long fight for equality," said Ready4Repeal, a Singapore-based LGBTQ rights group, in a press release. "Despite recognizing the current situation as deeply unsatisfactory for the LGBTQ+ community, the Court of Appeal has still decided to retain the law, albeit with legal assurances on its unenforceability."
Last year, three men, DJ Johnson Ong Ming, retired general practitioner Roy Tan Seng Kee, and Bryan Choong Chee Hoong, the former executive director of Oogachaga, an LGBTQ+ non-profit organization, decided to appeal against a Supreme Court's decision to dismiss their cases against Section 377A.
"While this is a small step in the right direction, this simply does not go far enough to provide real protection to the LGBTQ+ community, who continue to be impacted by the cascading effects of Section 377A," said Ready4Repeal. "The judges themselves acknowledged that even with the assurance of unenforceability, homosexual men will still be left open to police investigations as if a crime had been committed."
Ready4Repeal started a petition in 2018 to pressurize the Singaporean government on repealing the colonial-era law. The petition has received 51,047 online signatures.
Section 377A is a highly debated law in Singapore that prohibits sexual relationships between two men. According to the law, any man in public or private who commits an act of gross indecency with another male shall be punished with to years in prison.
Last year, Home Minister Affairs K Shanmugam said that everyone in Singapore will be protected regardless of community and social, religious or sexual beliefs. He also said that the government's position is clear. He also said that amendments to the Maintenance of Religious Harmony Act make it an offense to urge violence on the grounds of religion or religious belief against any person or group.
Finance Minister Lawrence Wong last year reiterated that different sections of the society have valid concerns, and it needs to be addressed.
"Tribalism is inherently exclusionary, and it's based on mutual hate: 'us' versus 'them,' 'friend' vs 'foe,'" said Wong. "Once this sort of tribal identity takes root, it becomes difficult to achieve any compromise. Because when we anchor our politics on identity, any compromise seems like dishonor."
Ankush Kumar (Mohit) is a freelance reporter, who has covered many stories for Washington Blade and Los Angeles Blade from Iran, India, and Singapore. Recently covered story for The Daily Beast. He can be reached at [email protected].
Same-sex kiss on Singapore television goes viral
Homosexuality remains criminalized in Asian city-state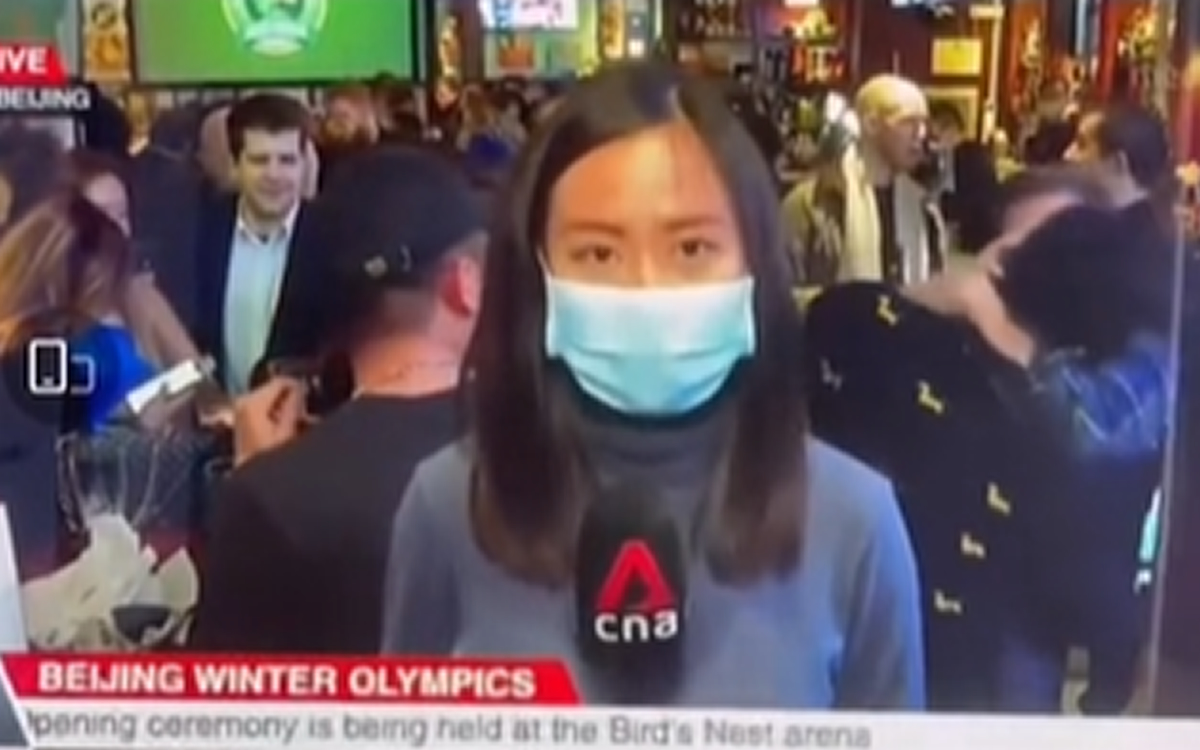 SINGAPORE — A Singapore television broadcast about the 2022 Winter Olympics in Beijing with two men kissing each other in the background has gone viral in the country where consensual same-sex sexual relations remain criminalized.
A CNA reporter was covering the opening ceremony from a bar filled with cheering fans in Beijing on Feb. 4 when two men in the background stole the show when they kissed each other during the live broadcast. Audiences and the Internet cheered the kiss and hailed it as defiance of Singapore's discriminatory law against the LGBTQ+ community.
Singapore has a restricted broadcasting code for LGBTQ+ content.
The country's colonial-era law that criminalizes relationships between two men can result in two years in prison. The statute does not apply to lesbians.
The clip of the kiss has since gone viral in Singapore.
It has been viewed about 1.5 million times on TikTok. CNA published the edited version of the report on its website, but now it appears that the channel has removed the report from its website.
CNA did not respond to the request for a comment on the issue.
"I was quite surprised that the CNA gay kiss clip went viral," said Benjamin Xue, co-founder of Youth Out Here, a support group for LGBTQ youth in Singapore. "It's rare to find any forms of LGBTQ+ affirming representation here in the free-to-air television landscape. The clip largely went viral because of TikTok, not so much on local mainstream news."
The clip is also available on YouTube, where it was viewed more than 4,500 times.
"Absolute legend," one YouTube user commented.
After the kiss ended, one man looked at the camera, which became a cheering theme for many. It was seen as an act of defiance against the country's discriminatory law.
"I am not sure if the two men kissing are Singaporeans, but it does look intentional from how one of them looked directly into the camera in an act of defiance," said Dr. Martha Tara Lee, a relationship counselor and clinical sexologist in Singapore. "This has made international news, and it is important for the world and Singaporeans to know, it is not right to make life difficult for our LGBTQ friends."
Comments on the viral TikTok clip of the kiss were largely discussing "the last look" given by one of the men into the camera.
"His face. He knew what he was doing," one user commented on TikTok.
"We should be open-minded, as time has changed," another user said.
One user went on to say that it was an "act of revolution."
"In Singapore, our mainstream media has never been so receptive to the topic of LGBTQ+. LGBTQ+ (issues) do get reported in our news or shows, but it is usually in the stereotypical and negative forms — either as sex criminals, pedophiles, drug offenders, topless rave party queers, effeminate characters, drag queens, etc.," said William Tan, a real estate advisor for Singapore's LGBTQ+ community. "The media authority's guideline is that we should not be seen promoting a positive LGBTQ+ lifestyle. What we are trying to change here is this traditional mindset of the public and to push for a positive portrayal of LGBTQ+ people in the public spaces."
The broadcasting regulatory code from Infocomm Media Development Authority, which Singapore's Communications and Information Ministry oversees, describes LGBTQ+ content as "alternative sexuality" and "the content should be sensitive to the family values." The broadcasting code also says that the content depicting homosexuality will be rated as R21 or strictly for adults who are at least 21.
Pro-LGBTQ+ speeches made by high-profile celebrities have been censored in the country under strict broadcasting regulations.
The country edited Ellen DeGeneres's show in which former President Obama appeared and praised her for the work she has done as a gay entertainment icon.
"Censorship of our LGBTQ lives shouldn't be an issue in 2022. LGBTQ people exist here in Singapore and are part of the Singaporean fabric of society," said Xue. "We are frontline workers in the hospitals, teachers in schools, and civil servants keeping this country running. We are also tax-paying citizens that should have a future to thrive, not just survive."
Mohit Kumar (Ankush) is a freelance reporter who has covered different stories that include the 2020 election in the U.S. and women's rights issues. He has also covered NASA, the European Space Agency, the Canadian Space Agency and loves to help people. Mohit is on Twitter at @MohitKopinion and can be reached at [email protected].
South Korean electronics giant pulls LGBTQ+ affirming ad after backlash
The "Listen to Your Heart" campaign promoting its Galaxy Buds2 and Watch4, featured a Muslim mother expressing support for her drag queen son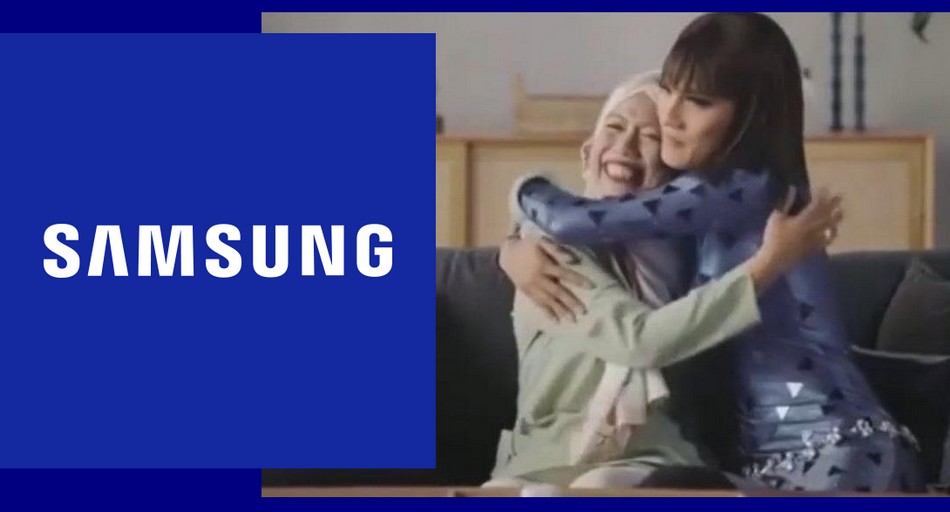 SINGAPORE – An advert campaign by South Korean electronics giant Samsung was yanked after significant backlash in this Southeastern Asian city-state from some members of its Muslim-majority community.
The ad, part of the company's "Listen to Your Heart" campaign to promote its Galaxy Buds2 and Watch4, featured a Muslim mother expressing support for her drag queen son.
The ad was meant to promote Samsung's new wearable products, like noise-cancelling earbuds and a smart watch with a heart rate monitor, the BBC reported.
The video featured several participants' reactions as they listened to heartfelt recorded messages from their loved ones. One of the pairs of participants featured a Muslim woman wearing a headscarf as she heard a message from her son, who was a drag performer.
"You are just unbothered having people looking or judging you differently, having a son that does drag," he tells her in his message.
The scene of the Muslim mother embracing her drag queen son sparked a torrent of negative commentary on virtually all social media platforms with some ad hominem remarks directed at Samsung which caused the electronics company to pull the ad.
In a Facebook post Samsung wrote;
"We acknowledge that we have fallen short in this instance, and have since removed the content from all public platforms," Samsung said. "Samsung believes that innovation and growth are driven by diversity and inclusivity. We will certainly be more mindful and thorough in considering all perspectives and viewpoints for our future marketing campaigns."
Members of the local LGBTQ+ community similarly expressed their disappointment at the ad being taken down.
"It was the first of its kind video coming from a minority group on a relationship between mother and son [and] was so affirming," Hilmi, a centre manager at local LGBTQ+ organization Oogachaga told BBC News.
"As a queer Malay man, I am saddened to see a video that expresses unconditional love [being] taken down abruptly due to societal pressure from a group of people with conservative values."
Marketing Interactive, an online Singapore-based daily news and email news service which is emailed every work day to advertising and marketing professionals in Singapore, Hong Kong, and Malaysia, interviewed Anand Vathiyar, managing director at Cheil Singapore, the ad agency Samsung partnered with.
The campaign was meant for people from all walks of life to be able to express their true feelings to their loved ones, Vathiyar said.
"What is heartening is that for everyone who is getting politically correct about this episode, there are many others, especially younger Singaporeans, who seem to get that we can do better to listen to each other with due care, empathy, respect, and consideration," Vathiyar added.
Meanwhile, in a video posted on Instagram on Thursday, the BBC noted that the son featured in the video also reassured followers that he and his mother were "doing well."
"I'm not going to talk about the comments that [were] said in [that video]," the drag performer known as Vyla Virus said.
"It was all about a mother's love in that video, nothing else was mentioned."