Cincinnati-area Trans man attacked for using women's restroom
"Dude- I'm using the right bathroom," Ruiz replied, explaining he was following the directions of the campground's owner, Rick Cross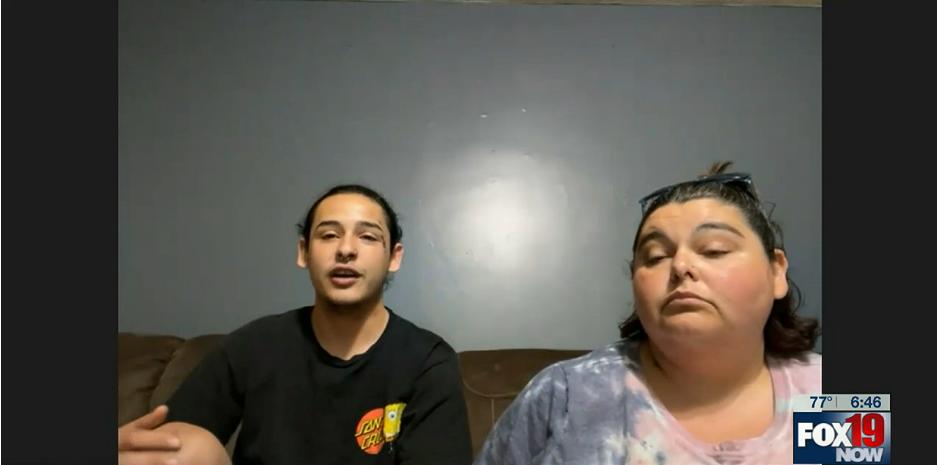 PREBLE COUNTY, Oh. — A Cincinnati, Ohio-area transgender man was attacked earlier this month for using the women's restroom at a local campground.
Cincinnati news outlet FOX 19 reported Noah Ruiz, a 20-year-old trans man, was beaten over the July 4th weekend for using the women's restroom, something he was told to do, at a Preble County campground located roughly 40 miles from the Queen City.
Ruiz told the station he was punched in the back of the head, leaving him with bruises.
The incident underscores the danger of trans people using restrooms according to their sex assigned at birth, something some state and local lawmakers want to force trans people to do. Many of the laws, including one signed by Oklahoma Gov. Kevin Sitt in May, target trans youth in schools.
The Independence Day weekend incident happened after a woman saw Ruiz in the bathroom and started shouting, he said.
"Who the [expletive] is in here?" the woman said, according to Ruiz.
After Ruiz and his girlfriend made themselves known the woman said: "No man should be in this bathroom."
"I'm transgender," he replied. "Like, I have woman body parts, and I was told to use this bathroom."
As he was walking out, Ruiz told the station, three large men approached him, grabbed him off the ground and "choked me out."
"I'll kill you, you [expletive] doing all this," one of the men said, according to FOX 19.
"Dude, I'm not, I'm using the right bathroom," Ruiz replied, explaining he was following the directions of the campground's owner, Rick Cross.
"I'm following the rules," he said.
In the end, Ruiz was left with several cuts, gashes and bruising, according to the outlet.
Police later showed up, arresting Ruiz for disorderly conduct and obstructing official business. According to Preble County Sheriff Michael Simpson, deputies weren't initially aware of the assault, noting that Ruiz was highly intoxicated and becoming belligerent.
"Noah was so upset at the time, he was trying to explain what has happened, and no one was listening to him," Ruiz's mother, Jennifer Ruiz, said, adding: "He admits to his part of getting out of hand, from screaming, yelling. He was in defense mode, and when police got there, they didn't listen to him. They just immediately started shoving him to the ground."
Ruiz's mother also said the men repeatedly used a homophobic slur.
Following his arrest, Ruiz was able to file an assault report with the sheriff's office. He told FOX 19 he wants the men held accountable.
"If we don't do something about it, who is going to do something about it?" Ruiz's mother said.
Katelyn Burns, a trans freelance journalist and MSNBC writer, said on Twitter that despite Ruiz doing what conservatives and TERFs, or trans-exclusionary radical feminists, want him to do, he was assaulted and arrested. 
TERF bathroom policies are inherently impossible to enforce and too often lead to straight up violence towards trans people. This needs to stop and common sense needs to prevail. Trans people are the best judges of where it is least likely conflict will happen when they pee.

— Katelyn Burns (@transscribe) July 9, 2022
Opponents of LGBTQ resolution pack Ohio school board meeting
"I'm not a divisive concept. I'm a teenage girl who wants to graduate from high school, go to college, get a job and live my life"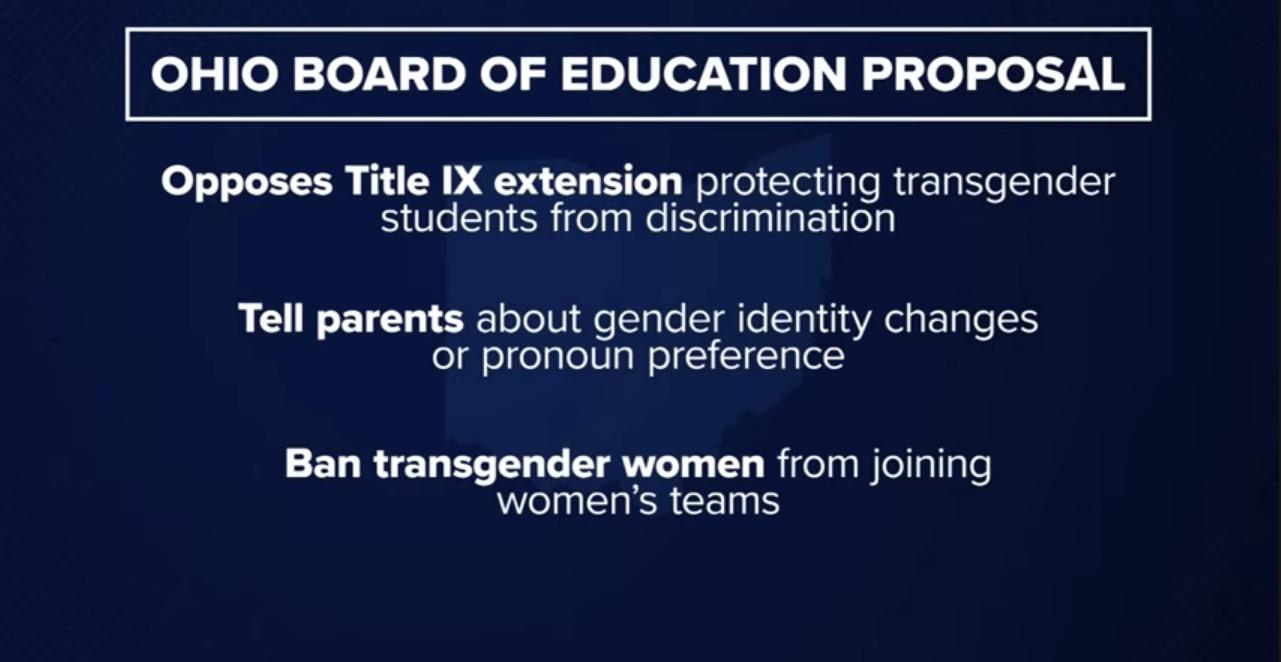 COLUMBUS, Ohio – People packed an Ohio State Board of Education meeting Tuesday, many protesting a controversial resolution that opponents say will discriminate against LGBTQ students.
The resolution, introduced by board member Brandon Shea, expresses the board's opposition to a federal law requiring schools to investigate claims of discrimination based on sexual orientation or gender identity or risk losing school breakfast and lunch funding. Those investigations could include, according to the U.S. Department of Education, denying transgender students to use gendered facilities that correspond with their gender identity, keeping transgender kids from playing sports and allowing incorrect pronouns.
It states that sex is "an unchangeable fact," adding that "[d]enying the reality of biological sex destroys foundational truths upon which education rests and irreparably damages children."
The resolution claimed the Department of Education's new Title IX regulations "would require that K-12 schools socially transition minor children to a different gender without requiring parental notification or involvement," calling it harmful.
Tuesday's meeting was packed with 61 people, according to the Statehouse News Bureau, most of whom opposed the board's resolution.
Ada Wood, a 24-year-old transgender woman, was one of them. She spoke to the board about the disproportionally high rates of poor mental health and suicide amongst transgender youth, "which, quite frankly, you would already know if you knew anything about the topics of which you are attempting change laws."
"If you pass this resolution, children will die," Wood said.
Dawn Riggs, an educator of 30-plus years from Logan, Ohio, also spoke against the resolution. She said she had experiences with LGBTQ kids in her career, adding they "knew they would be safe for at least a little while each day" in her class.
"It is no burden to use a name that we are asked to use," she said. "It is no burden to use the pronouns that are shared with us."
Conner McLaren, a transgender student, told the board: "I'm not a divisive concept. I'm a teenage girl who wants to graduate from high school, go to college, get a job and live my life. Please don't make things harder for the community I am here to represent. Don't let our school become one more bully we have to deal with."
Though many speakers spoke against the resolution, some supported it. One supporter, Allison Lindsey, worried her daughter with Down syndrome could be harmed by gender-affirming bathroom policies. According to a Williams Institute at UCLA School of Law study, there is no link between trans-inclusive policies and bathroom safety.
"Often female students with disabilities need assistance when they get older and have begun their menstrual cycles," Lindsey said. "Will I be accused of sex-based discrimination if I request that transgender women who are staff not help my daughter with her menstrual cycle at school?"
Shea did not respond to the Los Angeles Blade's request for comment. But he did respond to the criticism at the meeting.
"It's awfully burdensome and heavy handed for the federal government to force every school in the nation to adopt radical gender identity policies to continue to receive federal funds and for the record," Shea said. "It's the regulations I'm saying are burdensome, not students who trans identify." 
According to Cleveland.com, the board will vote on the resolution during its next meeting on Oct. 11-12.
Jim Obergefell wins in Democratic primary in Ohio legislative House race
Obergefell's primary win comes as the right he stood to secure has now returned to mainstream political debate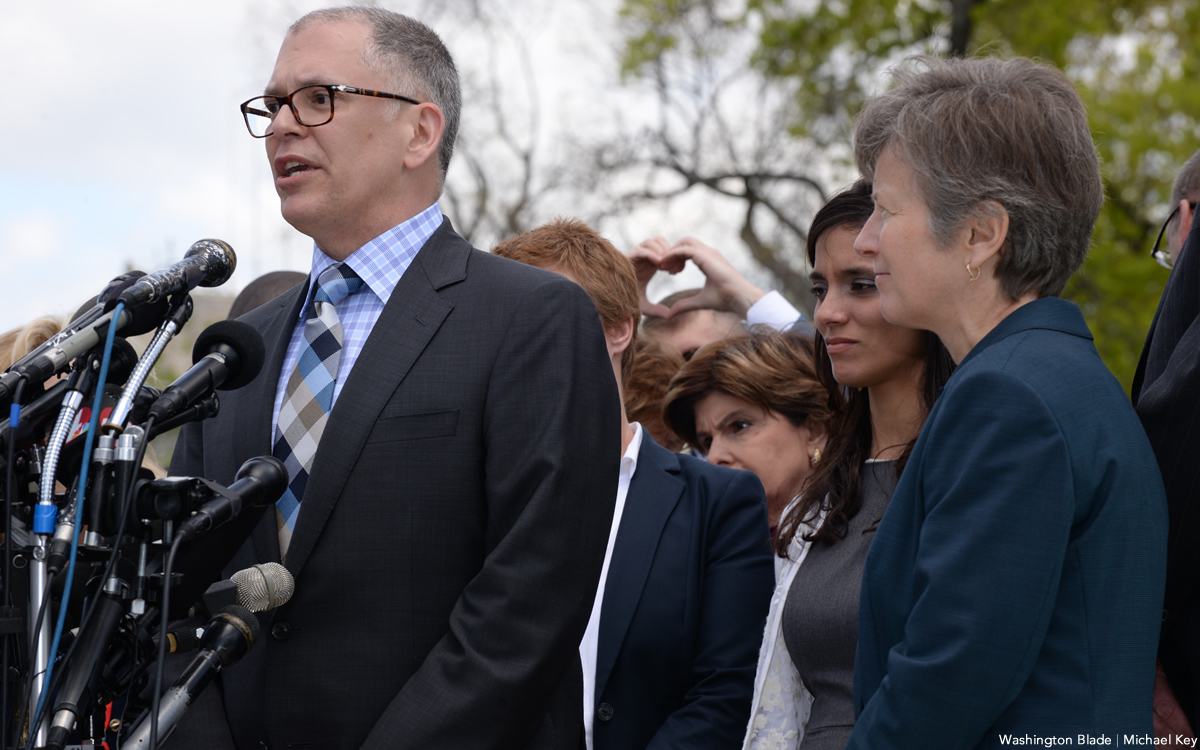 SANDUSKY, Oh. – The lead plaintiff in the 2015 U.S. Supreme Court case that extended marriage rights to same-sex couples across the country has won his Democratic primary for the Ohio House of Representatives.
Following Tuesday's primary elections in several states across the country, Jim Obergefell has secured the Democratic nomination in his bid to become the next Ohio state legislator in the 89th House District.
His nomination comes as the right he stood to secure has now returned to mainstream political debate.
Following a summer of tumultuous uncertainty over privacy-related rights like nationwide same-sex marriage, Obergefell, who lives in Sandusky, alluded to the current state of LGBTQ rights and the importance of his candidacy.
"This is a critical election for the LGBTQ community," Obergefell said in a statement after officially securing the nomination. "When I win this election, I will work hard to improve the lives of the people in the district and across Ohio by increasing jobs and opportunities, improving access to affordable healthcare and protecting our environment. With so much at stake for our nation, I will also be a voice and advocate for all Ohioans and especially underserved and marginalized communities."
With his high-profile status among the advocacy community, Obergefell has already secured the support of well-known organizations including the Human Rights Campaign and the LGBTQ Victory Fund.
"Jim Obergefell's name is already legendary in the LGBTQ+ community as the man who won marriage equality for everyone in the United States," interim HRC President Joni Madison said in a statement in mid-July. "Many people would be content with such a legacy — but Obergefell is not one to rest on his laurels."
Obergefell's years-long renown has also secured him fiscal support from around the country.
Campaign finance reports detail Obergefell having raised more $217,000 this year, with contributions from high-profile activists and philanthropists including actress Ashley Judd and Victory Institute board member Desiree Asher.
Victory Fund President Annise Parker released a statement following Tuesday's election.
"Many within the LGBTQ community look to Jim for leadership and inspiration during trying times," Parker said. "It is encouraging that his call to action for the LGBTQ community — that we must remain united in our shared fight for a more equitable future for the next generation of LGBTQ people — has been delivered on the campaign trail as a candidate himself."
And where Obergefell would provide meaningful and needed legislative support, Parker asserted, his candidacy also represents a message about LGBTQ influence in areas far outside District 89.
"We are confident that come November, he will prove a skilled legislator with the political wherewithal to get meaningful reform done," Parker said. "His success is also a rallying cry to the LGBTQ community and our allies that we won't stop organizing, we won't stop running for office and we won't back down."
Obergefell will face incumbent state Rep. D.J. Swearingen (R-Huron) in November.
Swearingen, who first assumed the office in 2019, was reelected in 2020 with more than 57 percent of the vote. Swearingen has a recorded history of voting in favor of anti-LGBTQ legislation.
Ohio Republicans pass anti-Trans sports bill in last minute move
According to Equality Ohio, throughout the policy's 10-year history, fewer than 20 Trans girls were approved to play high school girls' sports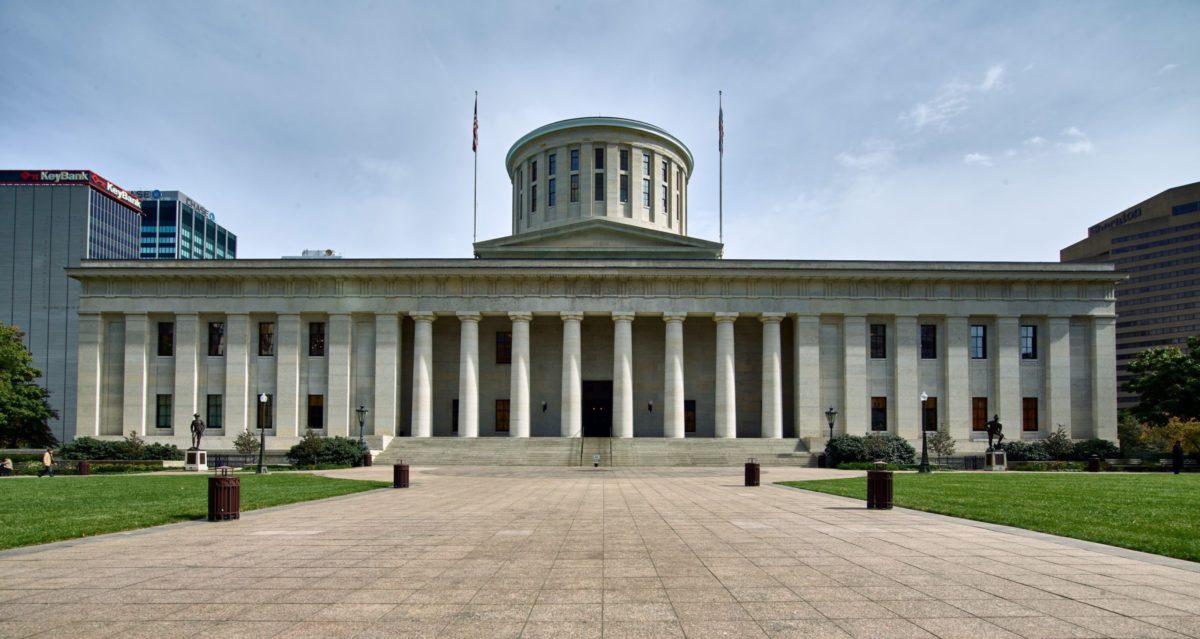 COLUMBUS – In an unexpected and eleventh-hour move, Ohio House Republicans passed Wednesday, the first day of Pride Month, a bill that would ban Transgender women and girls from participating in high school and college sports.
H.B. 61, or the "Save Women's Sports Act," wasn't supposed to make its way to the House floor Wednesday night. But Rep. Jena Powell, a Republican representing a district north of Dayton, added the language to H.B. 151, unrelated legislation that would revise Ohio's Teacher Residency Program.
In addition to the ban, the bill would also require those accused of being Trans to go through a "verification process" to check their genitals.
H.B. 151, sponsored by Republican state Rep. Don Jones, passed the House by a party-line vote of 56-28. However, the bill will not receive a vote in the Republican-dominated Senate anytime soon as Ohio lawmakers are not expected to return until November.
It's the second time Powell has sought a back door path to pass the controversial measure that Democrats and LGBTQ+ rights advocates have called anti-Trans.
In June 2021, she added the language to a bill to allow college students to profit off their name, image and likeness. At the time, Ohio Republican Gov. Mike DeWine issued a statement against the legislation.
"This issue is best addressed outside of government, through individual sports leagues and athletic associations, including the Ohio High School Athletic Association, who can tailor policies to meet the needs of their member athletes and member institutions," DeWine said.
The bill, Powell and other Republicans said, is to "protect" women's sports.
"We want every little girl to achieve her athletic dream here in the state of Ohio," Powell said.
But statewide LGBTQ+ advocacy group Equality Ohio called the move "appalling."
"The health and safety of our youth are not negotiable. This should not be a partisan issue, and we are appalled that our lawmakers are once again causing real harm to LGBTQ+ youth to score political points," Alana Jochum, executive director of Equality Ohio, said. "All Ohio youth deserve the opportunity to play on a sports team with their peers without having to hide who they are."
The Ohio High School Athletic Association (OHSAA) has a policy, which has been in place since 2015, that sets standards for the inclusion of Trans Ohioans in school sports. According to Equality Ohio, throughout the policy's 10-year history, fewer than 20 Trans girls were approved to play high school girls' sports.
The Ohio bill is the latest in a year that has seen over 300 anti-LGBTQ+ bills introduced. The legislation overwhelmingly targets Trans youth, from blocking participation in sports to baring access to gender-affirming care.
So far, two Republican governors have vetoed anti-Trans sports bills. Utah Gov. Spencer Cox and Indiana Gov. Eric Holcomb, both Republicans, vetoed legislation that barred Trans youth from participating in sports.
In the end, however, the Utah House overturned Cox's veto days later. Two Utah families filed a legal challenge in Utah state court Thursday against the legislation.