Jim Obergefell wins in Democratic primary in Ohio legislative House race
Obergefell's primary win comes as the right he stood to secure has now returned to mainstream political debate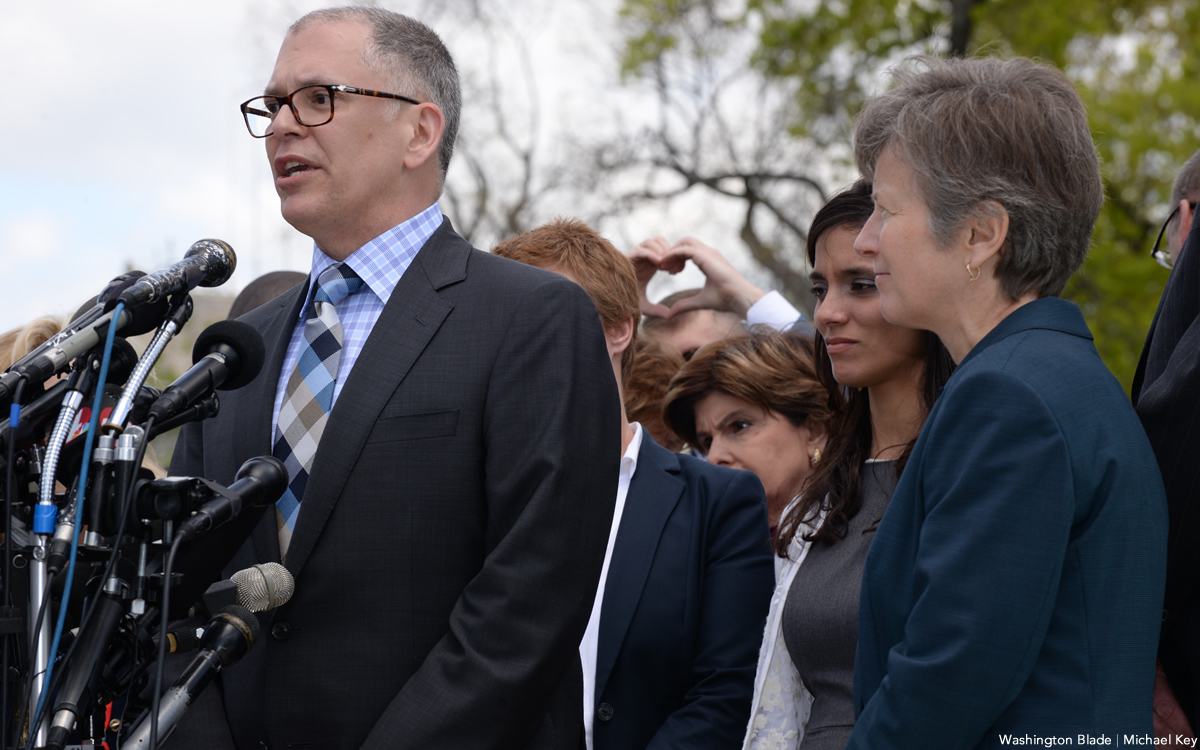 SANDUSKY, Oh. – The lead plaintiff in the 2015 U.S. Supreme Court case that extended marriage rights to same-sex couples across the country has won his Democratic primary for the Ohio House of Representatives.
Following Tuesday's primary elections in several states across the country, Jim Obergefell has secured the Democratic nomination in his bid to become the next Ohio state legislator in the 89th House District.
His nomination comes as the right he stood to secure has now returned to mainstream political debate.
Following a summer of tumultuous uncertainty over privacy-related rights like nationwide same-sex marriage, Obergefell, who lives in Sandusky, alluded to the current state of LGBTQ rights and the importance of his candidacy.
"This is a critical election for the LGBTQ community," Obergefell said in a statement after officially securing the nomination. "When I win this election, I will work hard to improve the lives of the people in the district and across Ohio by increasing jobs and opportunities, improving access to affordable healthcare and protecting our environment. With so much at stake for our nation, I will also be a voice and advocate for all Ohioans and especially underserved and marginalized communities."
With his high-profile status among the advocacy community, Obergefell has already secured the support of well-known organizations including the Human Rights Campaign and the LGBTQ Victory Fund.
"Jim Obergefell's name is already legendary in the LGBTQ+ community as the man who won marriage equality for everyone in the United States," interim HRC President Joni Madison said in a statement in mid-July. "Many people would be content with such a legacy — but Obergefell is not one to rest on his laurels."
Obergefell's years-long renown has also secured him fiscal support from around the country.
Campaign finance reports detail Obergefell having raised more $217,000 this year, with contributions from high-profile activists and philanthropists including actress Ashley Judd and Victory Institute board member Desiree Asher.
Victory Fund President Annise Parker released a statement following Tuesday's election.
"Many within the LGBTQ community look to Jim for leadership and inspiration during trying times," Parker said. "It is encouraging that his call to action for the LGBTQ community — that we must remain united in our shared fight for a more equitable future for the next generation of LGBTQ people — has been delivered on the campaign trail as a candidate himself."
And where Obergefell would provide meaningful and needed legislative support, Parker asserted, his candidacy also represents a message about LGBTQ influence in areas far outside District 89.
"We are confident that come November, he will prove a skilled legislator with the political wherewithal to get meaningful reform done," Parker said. "His success is also a rallying cry to the LGBTQ community and our allies that we won't stop organizing, we won't stop running for office and we won't back down."
Obergefell will face incumbent state Rep. D.J. Swearingen (R-Huron) in November.
Swearingen, who first assumed the office in 2019, was reelected in 2020 with more than 57 percent of the vote. Swearingen has a recorded history of voting in favor of anti-LGBTQ legislation.
Ohio BOE delays vote on rejecting federal LGBTQ policies
The resolution calls for the general assembly to "assist local districts in combatting federal overreach" & references "parental rights"
COLUMBUS, Ohio – The Ohio Board of Education sent a resolution rejecting federal LGBTQ nondiscrimination policies to the executive committee, delaying a vote on the measure advocates have called anti-LGBTQ.
The resolution, introduced by board member Brandon Shea, expresses the board's "unequivocal opposition" to a proposed Biden administration rule extending Title IX protections to LGBTQ students. In addition, it attempts to invalidate the U.S. Department of Agriculture's announcement that such interpretations will apply to its school meal program. (Ohio's attorney general, Republican Dave Yost, joined a lawsuit challenging the USDA's regulations.)
The measure, which was referred to committee in a 12-7 vote, states that sex is "an unchangeable fact," adding that "[d]enying the reality of biological sex destroys foundational truths upon which education rests and irreparably damages children."
The resolution calls for the general assembly to "assist local districts in combatting this federal overreach" and makes reference to "parental rights." It asks state legislators to ban transgender girls from female sports teams and private facilities, prohibit classroom instruction on sexual orientation and gender identity in grades K-3, and force schools to inform parents when their child changes their name or pronouns.
LGBTQ and education advocates have railed against the resolution. Honesty for Ohio Education, a nonpartisan statewide coalition that champions honest education, notes that the guidance this resolution opposes is not a rule change or change in the law.
Shea – who has not responded to the Los Angeles Blade's request for comment – defended his resolution, stressing that "time is of the essence." The measure also "acknowledges the pain experienced by those suffering with gender dysphoria" and said the "appropriate course of action to pursue for students experiencing symptoms of gender dysphoria is treatment delivered by parent-selected mental health professionals."
After four hours of testimony – which included comments from transgender people, both youth and adults, teachers, Conservative activists, politicians, parents and more – the board took the resolution up for a vote, beginning an extended debate over whether to send it to the executive committee. The motion passed, delaying a vote on the resolution.
"I want this to be done, but I want it to be done right," board member Paul LaRue said.
Supporters and opponents packed the board's Wednesday meeting to comment on Shea's resolution before the vote. In September, the vast majority of speakers were against the resolution.
First, board members heard from a string of supporters of the measure – voicing concerns over "biological males" in women's restrooms and sports. Others called transgender people a "fad," warned against "grooming" and spoke against gender-affirming surgery for minors, which is rarely offered to adolescents. The World Professional Association for Transgender Health says the surgeries should be reserved for adults.
Ohio state Rep. Gary Click, a Republican who introduced a bill limiting transgender health care earlier this year, said President Biden is trying to force an agenda on kids by "stealing their lunch money." News 5 Cleveland reported in July that Click did not speak to any transgender people before authoring, introducing or giving testimony on his legislation.
On Twitter, Equality Ohio, the state's largest LGBTQ organization, said the speakers were anti-LGBTQ. "We are currently in the back room waiting to testify," the group tweeted as supporters of the resolution spoke.
Meanwhile, demonstrators stood outside the building with transgender Pride flags and signs that read "Trans kids matter" and "This teacher loves and supports trans students." At least one demonstrator held a sign demanding the board not be "religious bullies."
The first two speakers are supporting the resolution. Here is what is happening outside right now. H/T @KarenKasler for the picture pic.twitter.com/mu9bNQOQTr

— Jo Ingles (@joingles) October 12, 2022
After the first stream of speakers, opponents of the measure began to testify – many describing how dangerous the resolution could be for LGBTQ youth. According to the Trevor Project, LGBTQ youth who had access to spaces that affirmed their identity reported lower rates of attempting suicide than those who did not. (Some speakers said the Trevor Project is not a valid source.) 
Aaron Demlow speaks passionately about how he was a trans student in Ohio.

"That was me! I was a trans student in Ohio!"

Activists have killed the bill successfully for the time being. Ohio voted to send it back to committee. pic.twitter.com/7lXun5p3ZE

— Erin Reed (@ErinInTheMorn) October 13, 2022
"I will be one of the people who would have to clean up the mess you left behind," Rev. Andy Burns, a United Methodist Church pastor from Columbus, said – adding the resolution will harm children.