Proud Boys anti-LGBTQ+ attacks not isolated incidents- likely to continue
"When hate rears its head, we all must respond, whether it's a parade in Idaho, a historic Black church in D.C., or the U.S. Capitol"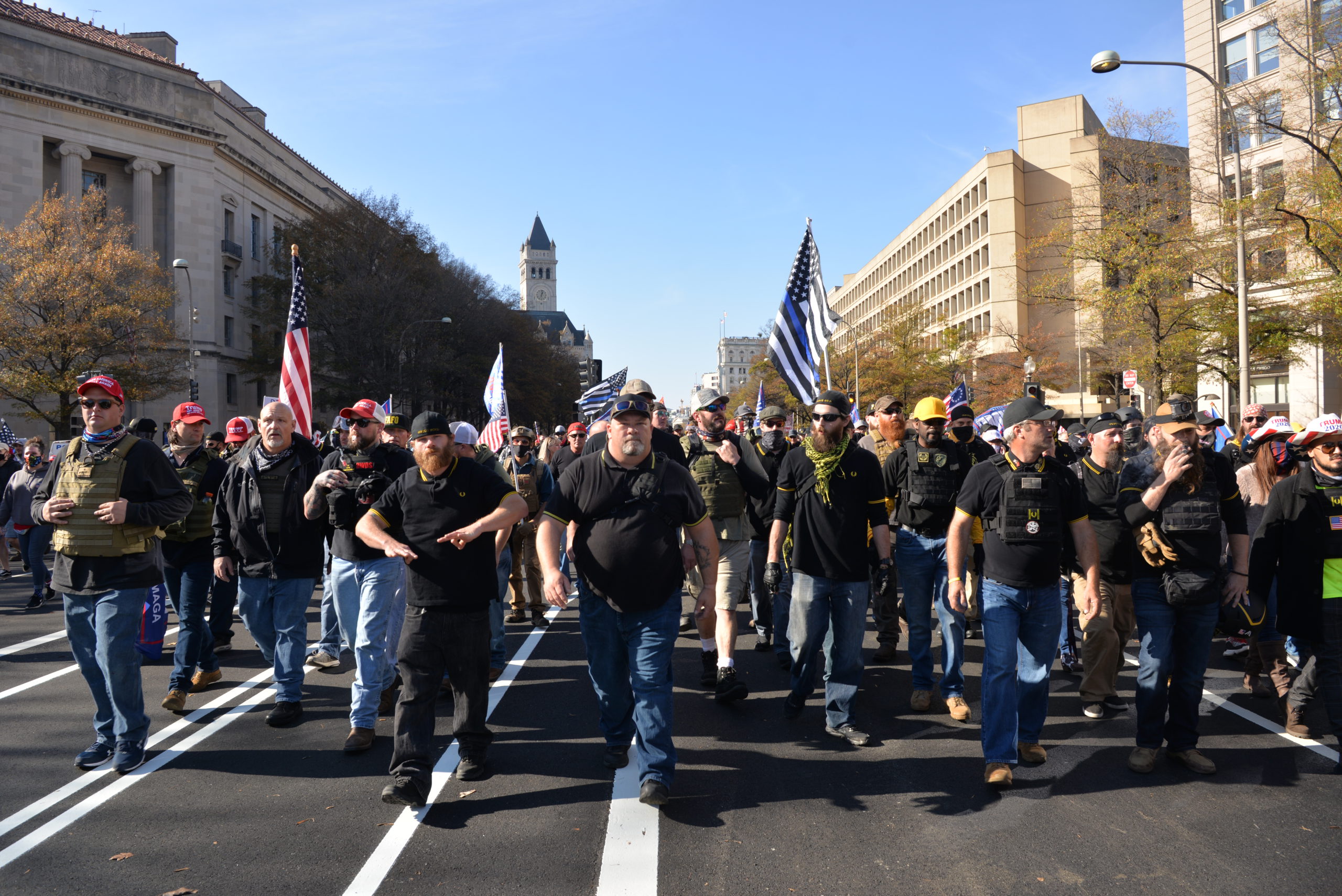 WASHINGTON – Social media has rightly been abuzz this week with new images from NASA's James Webb telescope, particularly the shot of SMACS 0723 – a stunning cluster of thousands of galaxies that was unveiled by President Joe Biden at the White House during a brief ceremony Monday evening.
It seems almost as if the image, with its whirring swirls of gaseous cosmic matter containing solar system after solar system, could constitute a whole picture of the universe, an arguably understandable underestimation of its practically incomprehensible size and life span.
What we're looking at, however, "is approximately the size of a grain of sand held at arm's length," according to NASA, "a tiny sliver of the vast universe" that existed 4.6 billion years ago, during which time the galaxies were much closer together.
The lesson serves as an important reminder of the limitations of our perceptive faculties; of our tendency to observe new phenomena without considering whether it presents a full and complete picture.
The new photographs of our cosmos happened to arrive during a week in which the Proud Boys were again were among the main characters, the primary antagonists, of the latest hearing of the House Select Committee to Investigate the January 6 Attack on the United States Capitol.
The comparison is hardly meant to suggest any parity between their relative metaphysical significance, but rather it underscores that the shot of SMACS 0723 was no more a representation of the universe in its entirety than the Proud Boys' descent on Washington last year was a complete picture of the group's reach, nor of its ambitions.
As members of the House Committee laid bare on Tuesday, the carnage wrought last January 6 by the paramilitary-clad Proud Boys – many of whom congregated in front of Harry's Bar before marching through the halls of Congress, hunting down lawmakers and assaulting police – was carried out in coordination with a network of groups like the QAnon conspiracy cult and allied domestic right-wing terrorist organizations like the Oath Keepers.
It was also not the first time. In 2017, for instance, the Proud Boys joined forces with other white supremacist, pro-Confederate, and neo-Nazi factions who gathered in Charlottesville for the deadly Unite the Right rally. A year later, members of the Proud Boys were filmed leading a vicious assault in New York City, screaming "faggot" as they repeatedly kicked a man who was curled in the fetal position on the sidewalk.
Their use of that word is no accident. In 2018, the Southern Poverty Law Center took pains to detail how while the gang's founder Gavin McInnes "often casts bigotry and slurs as some form of taboo-bending hijinks," over the last 15 years he has used the word "faggot" as an epithet signifying that which is "weak" or "unmasculine," along with as a pejorative term of contempt for gay men.
And the Proud Boys' chairman, Enrique Tarrio, visited the nation's capital a year before the insurrection, stealing a Black Lives Matter banner from a historic Black church and setting it ablaze in a right-wing rally that turned violent.
"When hate rears its head, we all must respond – whether it's outside a parade in Idaho, at a historic Black church in D.C., or on the steps of the United States Capitol," said leading Los Angeles Mayoral Candidate Rep. Karen Bass (D-CA), in an exclusive statement to The Los Angeles Blade.
The Congresswoman's mention of Idaho concerns the arrest of 31 men near a Pride event close to Coeur d'Alene, Idaho, on June 11. The suspects, armed with a smoke grenade, shields, and plans to incite a riot, were affiliated with a far-right white supremacist group, the Patriot Front, which has close ties to the Proud Boys (earlier iterations of both having appeared in the Charlottesville Unite the Right rally).
It was just one incident this summer in which LGBTQ+ people were specifically and deliberately targeted.
This summer, the Proud Boys again turned their sights on LGBTQ+ people
Just as they strode through the halls of Congress to disrupt the electoral count and demand that Democratic Reps. Nancy Pelosi and Alexandria Ocasio-Cortez surrender themselves (along with then-Vice President Mike Pence, whom they wanted to hang), members of the Proud Boys stormed libraries, Pride gatherings and other public events this summer from the East Coast to the West Coast and the Midwest.
Likewise with their activities in Washington last year, the goal of the gang was to cause disruption and instill terror.
"The Proud Boys targeting Pride parades and the LGBTQ+ community as a whole is abhorrent," Bass said to The Blade, adding that it "shows how important solidarity is."
Even those who might have witnessed the footage of members of the Proud Boys desecrating the US Capitol last year, and even those who might have been familiar with the group's homophobic, transphobic, anti-Semitic, racist, and xenophobic ideological orientation, were nevertheless surprised to see members of the gang marching through their communities this summer with messages of hate for LGBTQ+ people and their allies.
San Francisco area resident and LGBTQ+ activist Harris Mojadedi told PBS he was shocked when the Proud Boys showed up in the Bay Area on June 11 to disrupt a family friendly LGBTQ+ event.
Clad in shirts screen-printed with assault rifles, members of the Proud Boys shouted homophobic and transphobic slurs at performers who were reading to kids during Drag Queen story hour at the San Lorenzo, CA library.
"The fact that this could happen right here, it is cause for concern," Mojadedi said. "This is no longer an issue that's far away," he said. "This is — it's home. It's in our backyard."
Indeed. The parents and children who were terrorized in Wilmington, North Carolina ten days later probably also did not expect a group of 15 masked men to march through the library – with help from sheriff's deputies – disrupting for more than 90 minutes an event in which staff read stories about diverse families.
"I felt like this story time was really one of the safest places I could take my daughter for a Pride event," said one mother, according to reporting in The Los Angeles Blade. "I just felt like it's the library, it's probably pretty low-risk."
Less than a week later, in South Bend, Indiana, a staff member of the St. Joseph County Public Library's Virginia M. Tutt Branch told WVPE the Proud Boys' disruption of a Pride Month children's Rainbow Story Hour "definitely came as a shock." "We were not anticipating any problems," she said.
Similar stories have unfolded in cities from Sparks, Nevada, to Boise, Idaho, as The Blade has reported, including in LA Blade columnist James Finn's call for law enforcement to better intervene to protect LGBTQ+ people. 
It is also incumbent on us to recognize this for what it is: a coordinated assault by a group with deeply ingrained homophobia and transphobia, as well as ties to other dangerous organizations that mean us harm.
Hopefully, just as the Webb Telescope has been a boon for the astronomers and astrophysicists who study the cosmos, our meticulous and brave-faced detailing of the attacks on our communities by the Proud Boys and other right-wing terror organizations might help us to better understand them – with the aim of cutting them off at the knees.
A list of everything & everyone the right accused of grooming
A non-exhaustive list from Joe Biden to Fox News, no one was safe from the right's ongoing bigoted smear campaign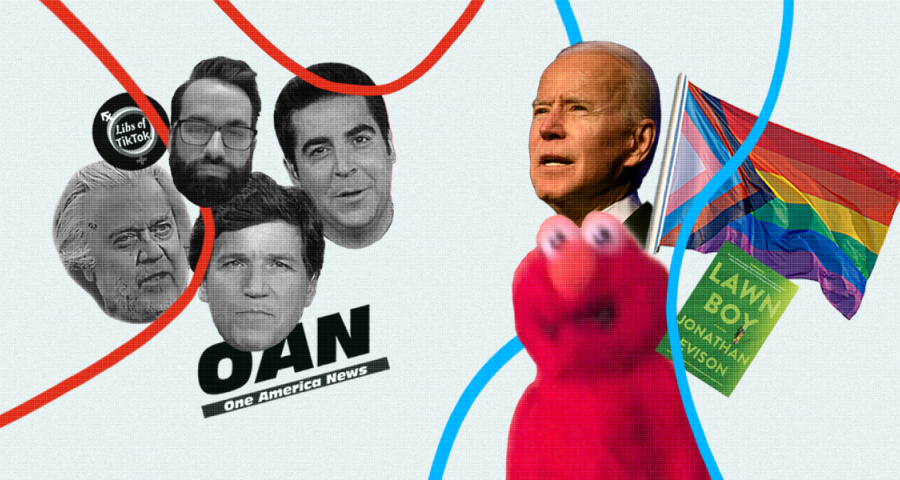 Editor's Note: Content warning: This article includes extended discussion of sexual violence and LGBTQ hate. The Rape, Abuse & Incest National Network (RAINN) operates the National Sexual Assault Hotline, which can be reached at 800-656-4673 or online via hotline.rainn.org. Trans lifeline, a hotline staffed by and created for transgender and nonbinary people, can be reached at 1-877-565-8860 or translifeline.org. The Trevor Project's crisis intervention and suicide prevention hotline for LGBTQ youth can be reached at 866-488-7386 or through thetrevorproject.org/get-help/. 
By Beatrice Mount & Alyssa Tirrell | WASHINGTON – Last year, no one — not even Elmo — dodged the right's bigoted groomer smear campaign. Accusations that individual people, organizations, and companies were engaged in widespread attempts to groom children (either sexually or into a so-called LGBTQ lifestyle) reached staggering levels in 2022, spreading from social media platforms and conservative cable all the way to representatives in Washington.
Grooming is a set of manipulative behaviors abusers use for the explicit purpose of forming a sexual relationship with minors. Right-wing media outlets and figures misappropriated the term, drawing on old and bigoted stereotypes that LGBTQ people are a sexual threat to minors in order to perpetuate hate — turning a once useful term into a de facto anti-LGBTQ slur.
This rhetoric supported dangerous bans on life-saving trans healthcare, a directive investigating parents who support their trans children, legislation revoking the parental rights of LGBTQ allies, and vague laws restricting any mention of LGBTQ people in the classroom. The smear has also contributed to a wave of anti-LGBTQ violence — including armed terrorists storming drag queen story hours and family-friendly pride events, death threats against gay politicians, and bomb threats against Children's Hospitals.
Mainstream press perpetuated the smear by platforming its architects in puff-piece profiles and articles framing LGBTQ rights as a political debate. By the time the Associated Press had officially released guidance against uncritically repeating the slur, groomer was already the right's catchall for the LGBTQ community.
Transgender People: The use of the word groomer to refer to transgender people echoes a tactic utilized in the early 2000s against gay people. Grooming was already misappropriated when applied to LGBTQ acceptance or same-sex marriage and now the right has expanded the definition even further in an effort to frame the existence of trans people as an encouragement of sexual acts. Hate spread by Rep. Marjorie Taylor Green (R-GA), right-wing influencer Will Witt, conspiracy theorist James Lindsay, and Gays Against Groomers founder Jaimee Michell, was buoyed by anti-trans coverage on Fox News that fearmongered around trans representation, healthcare, and the notion of transness.  
Drag Queens: Referring to drag performers as groomers has created the false impression that drag performance is inherently sexual or that it encourages gender dysphoria. Right-wing media figures, such as conservative podcasters Owen Shroyer and Steve Bannon, Fox News hosts Jesse Watters and Sean Hannity, and former Secretary of Housing and Urban Development Ben Carson claimed that drag performers were intentionally sexualizing children. Other figures, including OAN host Dan Ball and right-wing commentator Dominique Samuels, claimed that this alleged sexualization is an effort to indoctrinate children into leftism. In even more extreme cases, the Daily Wire's Matt Walsh encouraged or excused direct violence against drag performers. These smears have fueled a violent political atmosphere and targeted attacks. Mainstream media has noted the uptick in the presence of Proud Boys and other violent protesters outside of drag events across the country, individual drag queens have expressed concern for their own safety, and some performers have been the victims of online harassment campaigns.
Pride Parades: During Pride Month, right-wing media utilized the groomer slur to fearmonger around pride events, going so far as to doctor footage of drag performances in an effort to mobilize extremist reactions. Right-wing influencers such as Chaya Raichik, creator of Libs of TikTok, and avowed Christian fascist Kelly Neidert, targeted specific gatherings. Meanwhile, OAN's In Focus, Real America and Tipping Point segments waged a more generalized campaign of hate against pride events.  Extremism researchers and LGBTQ activists drew a direct connection between this bigoted smear campaign and the far-right extremists who protested pride parades, including the highly publicized arrest of white nationalist group Patriot Front, in which police charged dozens of members with conspiracy to riot. 
The Entire LGBTQ Community: In addition to targeting specific LGBTQ people or groups, right-wing media accounts such as Libs of TikTok, OAN personalities Landon Starbuck and Alison Steinberg, Fox News host Tucker Carlson, right-wing podcasters Tim Pool, Allie Beth Stuckey, Matt Walsh, and Freddy Silva, and conservative commentators Christopher Rufo and Dave Rubin made generalized claims against the entire LGBTQ community. Following a severe uptick in the use of the word groomer on right-wing social media accounts, evidence that the slur contributed to real-world violence against LGBTQ people, and calls for guidance from organizations, including Media Matters, some social media outlets incorporated the slur into their hate speech policies. The Associated Press eventually cautioned against uncritical use of the slur, but on social media, regulation and enforcement remain varied. 
Club Q: After the mass shooting at Club Q in Colorado Springs, right-wing figures blamed the LGBTQ community for motivating violence against themselves. They weaponized the groomer slur in a confusing response that oscillated between excusing anti-LGBTQ violence and denying any culpability right-wing media bore in stoking anti-LGBTQ sentiment. Far-right trolls subsequently harassed Club Q survivors both on and offline — dubbing the man who disarmed the shooter a groomer. The House Oversight Committee held a hearing on the rise in anti-LGBTQ extremism following the shooting, during which Republican representatives claimed that their Democratic colleagues were using the tragedy as a means of smearing the right. The hearing was followed by GAG founder Jaimee Michell slandering one witness who had appeared before the representatives as a groomer.
WATCH: Club Q shooting survivor Michael Anderson testifies before House Oversight Committee hearing on violence against LGBTQ+ community.

"Hate speech turns into hate action, and actions based on hate almost took my life…at 25 years old." pic.twitter.com/2c3QEaompc

— MSNBC (@MSNBC) December 15, 2022
Books: Alongside right-wing legislative efforts aimed at schools and libraries, 2022 saw a concerted effort to ban LGBTQ books under the guise of protecting children from grooming. Many of these policies were successfully implemented.
American Girl: American Girl released "A Smart Girl's Guide: Body Image," discussing practical and intersectional advice about body image and gender identity — which Jaimee Michell called the "definition of grooming." Others called for a boycott of American Girl for promoting "transgender ideology" to kids — or as one right-wing commentator put it, "using girls' love of dolls as a Trojan horse to teach them to destroy their bodies." American Girl stood by the book, emphasizing: 
"The content in this book was developed in partnership with medical and adolescent care professionals and consistently emphasizes the importance of having conversations and discussing any feelings with parents or trusted adults. … We are committed to delivering content that leaves our readers feeling informed, confident, and positive about themselves."
Hospitals and Doctors: Libs of TikTok instigated a series of online harassment campaigns against specific hospitals and doctors, falsely conflating gender-affirming care to mutilation, child abuse, and grooming. The effort was later amplified by other media figures such as Jesse Kelly, Matt Walsh, and Terry Schilling. Enraged followers left online comments and voicemails labeling health care providers groomers. This led to a series of bomb threats. As a result, some facilities limited either their care or the information on their websites, making it more difficult for trans people to access gender-affirming care.
Parents: Texas Gov. Greg Abbott, conservative "parody" site Babylon Bee's CEO Seth Dillon, conservative commentators Steven Crowder and Tim Young, Fox News guest Jimmy Failla, and Candace Owens contributed to claims that parents who expose their children to LGBTQ themes or supported their LGBTQ children were themselves groomers. This trend continues to fuel new legislative efforts. Gov. Abbott directed Texas state agencies to investigate parents and medical caregivers of trans youth. Florida Republicans proposed legislation criminalizing adults taking children to drag shows while Republicans in Idaho, Alabama, and Michigan proposed legislation criminalizing guardians providing gender-affirming care to their children. 
Democrats: Leading up to the 2022 midterm elections, Republicans and right-wing media figures spread anti-LGBTQ rhetoric in an effort to rally their base. Fox News host Laura Ingraham, conservative podcaster Liz Wheeler and Jesse Kelly, Steve Bannon, and Matt Walsh associated grooming with the Democratic party or the left more broadly. After the election, Media Matters noted that political attacks on LGBTQ people and supporters failed to produce the victory Republicans had promised.
President Joe Biden: In addition to the Democratic party, some right-wing media figures turned the groomer slur against individual politicians. OAN's Chanel Rion accused President Joe Biden of being the "groomer-in-chief" during a rant against gender-affirming health care. In her segment, Rion claimed that grooming was the first step in a top-down leftist strategy to "sterilize your children, abort your babies, discourage nuclear families, and encourage non-reproducing unions."
Coming out doesn't happen just once. It's a journey that needs love and courage every step of the way. Share our new film 👇 and let someone know you're their #LifelongAlly. pic.twitter.com/S5ipPxZRON

— OREO Cookie (@Oreo) April 4, 2022
By hijacking the conversation around grooming with conspiracy theories, the right has turned child abuse into a demeaning moral crusade that obscures legitimate concerns about predators with flashy fiction. Child sexual abuse is a problem outside of Hollywood, and most abusers aren't executive producers or directors — they're the acquaintances, family friends, and family members of their victims. While pretending this isn't the case may earn Owens views, it makes it harder for victims and survivors — especially queer victims and survivors — to share their story, seek justice, and heal. 
**************************************************************************
The preceding article was previously published by Media Matters for America and is republished with permission.