Twitter lets stand transphobic hate tweets by Marjorie Taylor Greene
Greene has promoted baseless QAnon conspiracy theories & has a standing record of hateful abusive comments directed towards LGBTQ people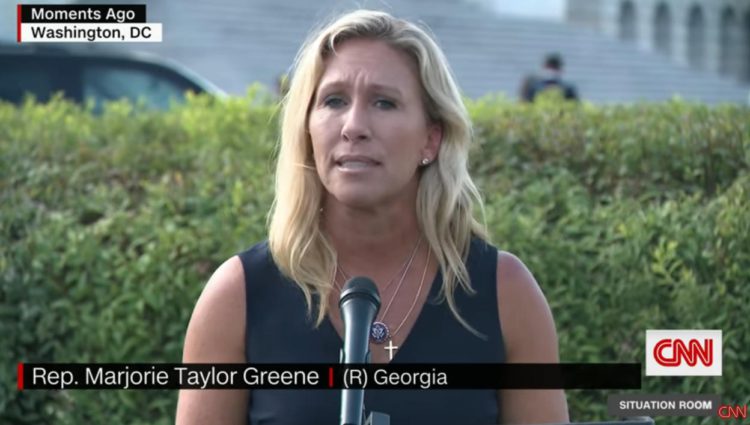 Editor's note: WARNING: The following article contains highly offensive and hate-filled transphobic material. Viewer discretion is advised.
SAN FRANCISCO – On Monday, Georgia U.S. Republican Representative Marjorie Taylor Greene launched a transphobic hate-filled tweet attack against the Assistant Secretary for Health for the U.S. Department of Health and Human Services, Admiral Dr. Rachel Levine.
Adding to the controversy, the social media platform did not remove the offending post and merely covered it up.
Here's the tweet from the Congresswoman: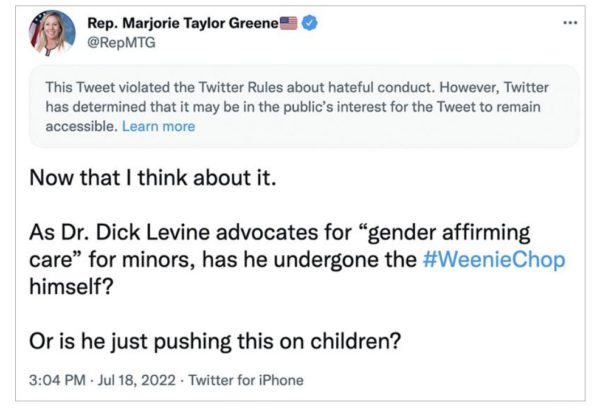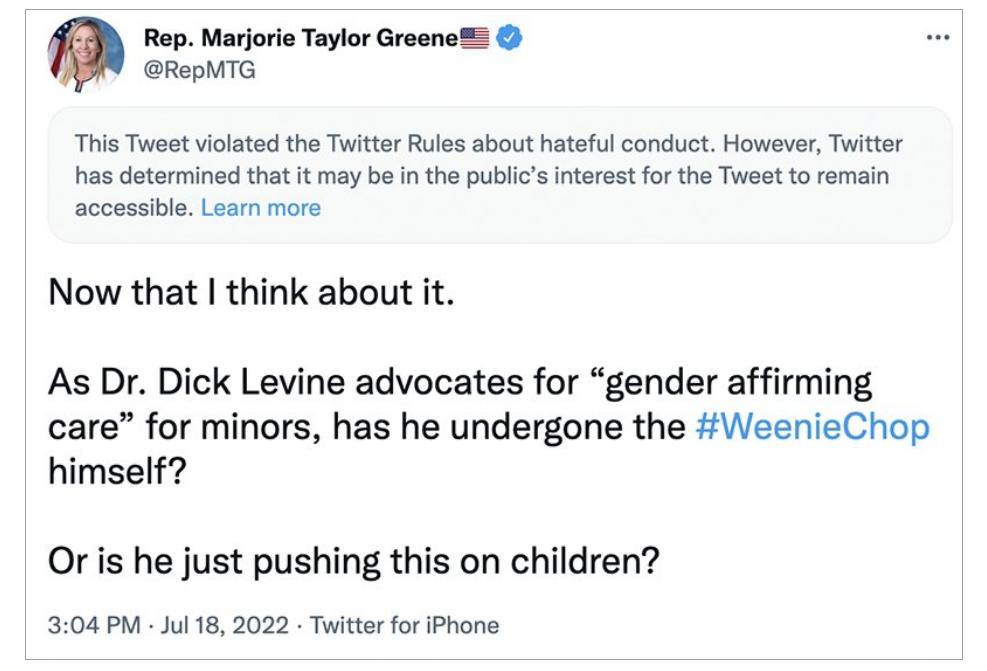 Twitter says this tweet violated rules about hateful conduct.

I can't imagine anything more hateful than promoting "gender reassignment" surgeries for children. https://t.co/65LHtYXbGw

— Rep. Marjorie Taylor Greene🇺🇸 (@RepMTG) July 18, 2022
After a firestorm of criticism from users the company stood by it's decision to only cover the post citing that leaving the post accessible was in the public interest.
A spokesperson for Twitter offered a statement verbatim to an earlier statement made to AXIOS and referred the Blade to this link. (https://help.twitter.com/en/rules-and-policies/public-interest)
"The Tweet you referenced violated the Twitter Rules on hateful conduct. However, we've determined that it may be in the public's interest for the Tweet to remain accessible and has been labeled in line with our policies."
LGBTQ+ media watchdog organization GLAAD noted:
"This account has repeatedly and intentionally violated Twitter's Hateful Conduct guidelines against targeted deadnaming and misgendering of transgender people," a GLAAD spokesperson told The Advocate in a statement reacting to Greene's tweets. "It's clear that some politicians see pushing malicious, anti-trans content on social media as part of their election strategy, even with the full knowledge that such content is violative."
The Congresswoman also attacked AXIOS for its reporting:
The corrupt DC media hates free speech, hates the contest of ideas, and hates debate. This leftist news outlet promotes CENSORSHIP & this disturbing Axios article promotes giving chemical puberty blockers to YOUNG CHILDREN! https://t.co/15EWDYVM7e

— Rep. Mary Miller (@RepMaryMiller) July 18, 2022
The Congresswoman has a lengthy record of hate filled animus towards the trans community, in July of 2021 she attacked a pair of attacks trans parents- labeling them child abusers.
Greene, who has promoted baseless QAnon conspiracy theories and has a standing record of demonization and hateful abusive comments directed towards LGBTQ people, attacked a Trans couple raising a child featured on Courteney Cox's reality show.
In a retweet of Liz Joy, a fellow Republican who is challenging Democratic U.S. Representative Paul Tonko in New York State's 20th Congressional District in the 2022 election, Greene launched into a hateful transphobic rant claiming, "This is CHILD ABUSE!!!!! This baby is in danger! Remove this child immediately. Caring for and raising children should have nothing, absolutely NOTHING, to do with fulfilling this man's unnatural fantasies. Men can NOT give birth or breast feed. They are mentally unstable."
What set Greene off was a June episode from Season 3 of 9 Months With Courteney Cox, which featured Trans couple Ahanu and Petrona. Ahanu is transmasculine and carried the child, and Petrona is a trans woman. In the episode Petrona was attempting to breastfeed the baby and being frustrated when she could not; the child is being fed with formula.
Earlier in February of 2021, she hung a transphobic sign outside her office in response to Rep. Marie Newman (D-IL) raising a transgender pride flag across the hallway in front of Newman's congressional office suite to honor her daughter, Evie Newman, who is Trans. "There are TWO genders: Male & Female. Trust The Science!" –Greene's sign read.
During the same time period, Greene launched a series of Twitter attacks and a floor speech in opposition to the Equality Act which was being debated for passage in the U.S. House.
After the debate, Newman tweeted a video of herself putting out the flag. She wrote: "Our neighbour, @RepMTG, tried to block the Equality Act because she believes prohibiting discrimination against trans Americans is 'disgusting, immoral, and evil.' Thought we'd put up our Transgender flag so she can look at it every time she opens her door."
Greene tweeted in response: "Our neighbour, @RepMarieNewman, wants to pass the so-called 'Equality' Act to destroy women's rights and religious freedoms. Thought we'd put up ours so she can look at it every time she opens her door."
Greene has previously said, "Teaching racism and promoting sex, homosexuality, & normalizing transgender to children is mental/emotional child abuse." 
She also attacked Republican Caitlyn Jenner, who was in a long-shot campaign to replace Democrat Gavin Newsom as governor of California in last Fall's recall election. "Stop promoting this man in a dress," she tweeted.
Congress: Make "X" gender marker obtainable on all travel docs
The letter was inspired by a constituent who reached out trying to get an emergency passport appointment with an X gender marker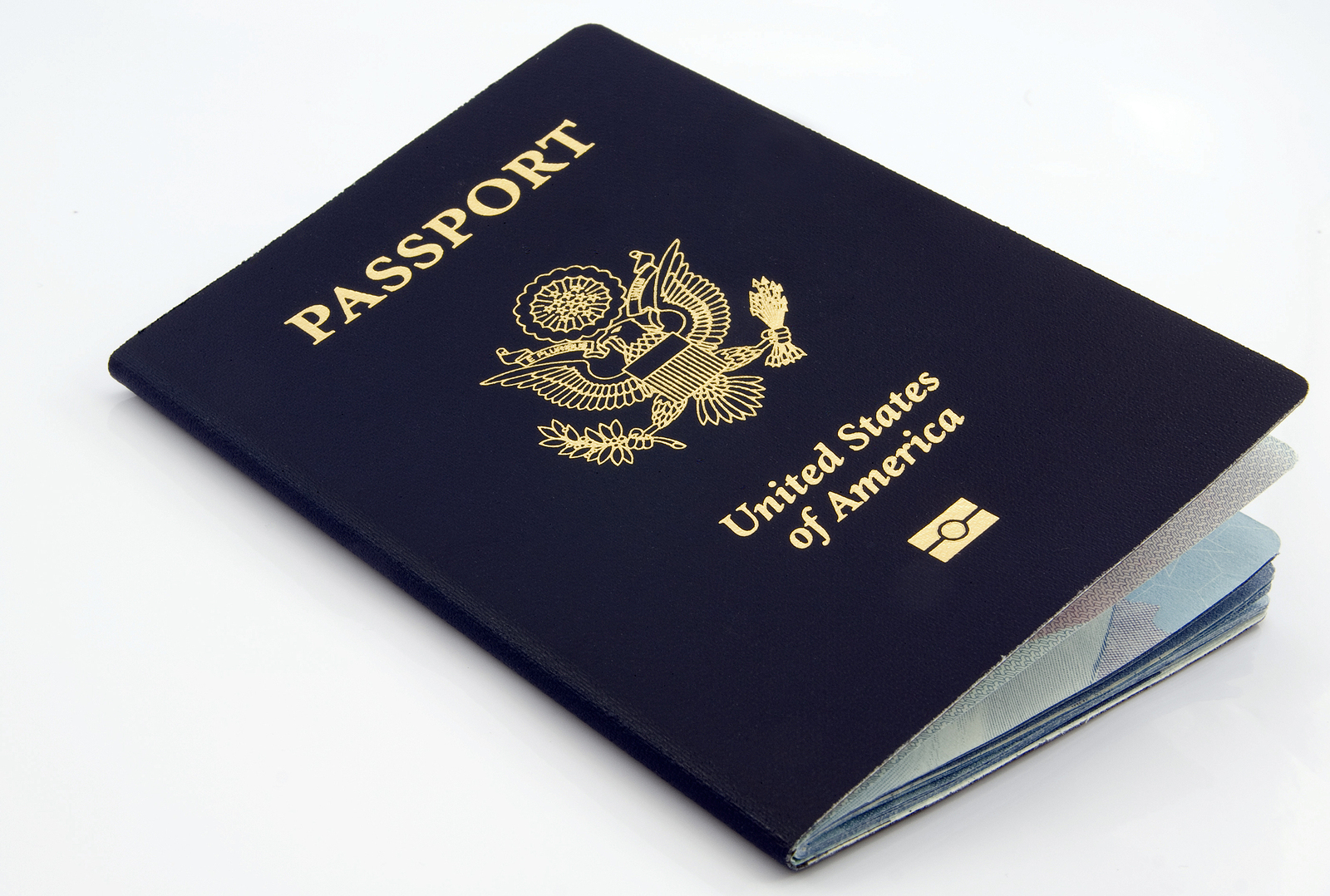 WASHINGTON – The Chair of the House Intelligence Committee Rep. Adam Schiff (D-Calif.), along with 18 fellow House Democrats sent a letter to the U.S. Departments of State and Homeland Security Tuesday encouraging them to make the "X" gender marker available for all U.S. passport applications and Trusted Travelers programs.
A spokesperson for Rep. Schiff told the Blade in an email:
"The letter was inspired by a constituent who reached out to our office trying to get an emergency passport appointment with an X gender marker – right now you can only get rush passport service with the X gender marker at one passport agency in DC, so if they had gone through the LA passport agency, they only would have been able to get a passport with the M or F gender marker. Our office was able to resolve the case successfully, but it inspired our team to figure out a legislative solution that will help LGBTQI+ individuals access these services in the future."
Last March, U.S. Secretary of State Antony Blinken announced passports with an "X" gender marker will be available starting April 11. Dana Zzyym, an intersex U.S. Navy veteran who identifies as non-binary, in 2015 filed a federal lawsuit against the State Department after it denied their application for a passport with an "X" gender marker. Zzyym last October received the first gender-neutral American passport.
In Tuesday's letter, the House members noted that while the U.S. Departments of State and Homeland Security made history by expanding the gender marker options available for U.S. passports and TSA PreCheck applications, creating a new "X" marker for individuals who identify as unspecified or another gender identity.
[…] The departments have yet to implement the "X" gender marker for their wide range of passport services and application forms, including the rush, non-routine, and Trusted Traveler programs such as Global Entry that are currently accessible to other travelers.
The letter also highlights: "As long as the Department of State fails to provide non-routine services to individuals seeking an X as their gender marker, non-binary applicants will continue to face an undue and unjust burden when pursuing international travel. The State Department's current timeline to provide these services by late 2023, with no clear date released to the public, would deny these travelers equal access for far too long. Moreover, the Department of Homeland Security's current policy limitations simply force non-binary travelers to choose a gender that does not reflect their gender identity."
The members and concerned LGBTQ+ advocacy groups who endorsed the letter are asking the State Dept. and Homeland Security to ensure.
Solidified and accelerated implementation of the "X" gender marker option for passport cards, emergency passports printed at embassies and consulates, Consular Reports of Birth Abroad (CRBAs), and on Trusted Traveler Programs forms
A public date by which the "X" gender marker will be available for applicants for all passport services and application forms
Schiff was joined by Representatives Pramila Jayapal (D-Wash.), Ayanna Pressley (D-Mass.) Eleanor Holmes Norton (D-DC), Earl Blumenauer (D-Ore.), Jim McGovern (D-Mass.), Janice Schakowsky (D-Ill.), Raúl Grijalva (D-Ariz.), Mike Quigley (D-Ill.), Suzanne Bonamici (D-Ore.), Donald Payne Jr. (D-N.J.), Dina Titus (D-Nev.), Mark Pocan (D-Wis.), Bonnie Watson Coleman (D-N.J.), Dwight Evans (D-Pa.), Lisa Blunt Rochester (D-Del.), Dean Phillips (D-Minn.), Katie Porter (D-Calif.), and Rashida Tlaib (D-Mich.).
Schiff's office also noted that this request was endorsed by COLAGE, Equality California, Equality Federation, Family Equality, GLBTQ Legal Advocates & Defenders, Human Rights Campaign, Los Angeles LGBTQ Center, National Center for Transgender Equality, and the Trevor Project.
Additional reporting by Michael K. Lavers
Senate Democrats push for expanded access to testosterone
Senators Ed Markey & Elizabeth Warren urging the Biden administration to expand access to testosterone for gender affirming hormone therapy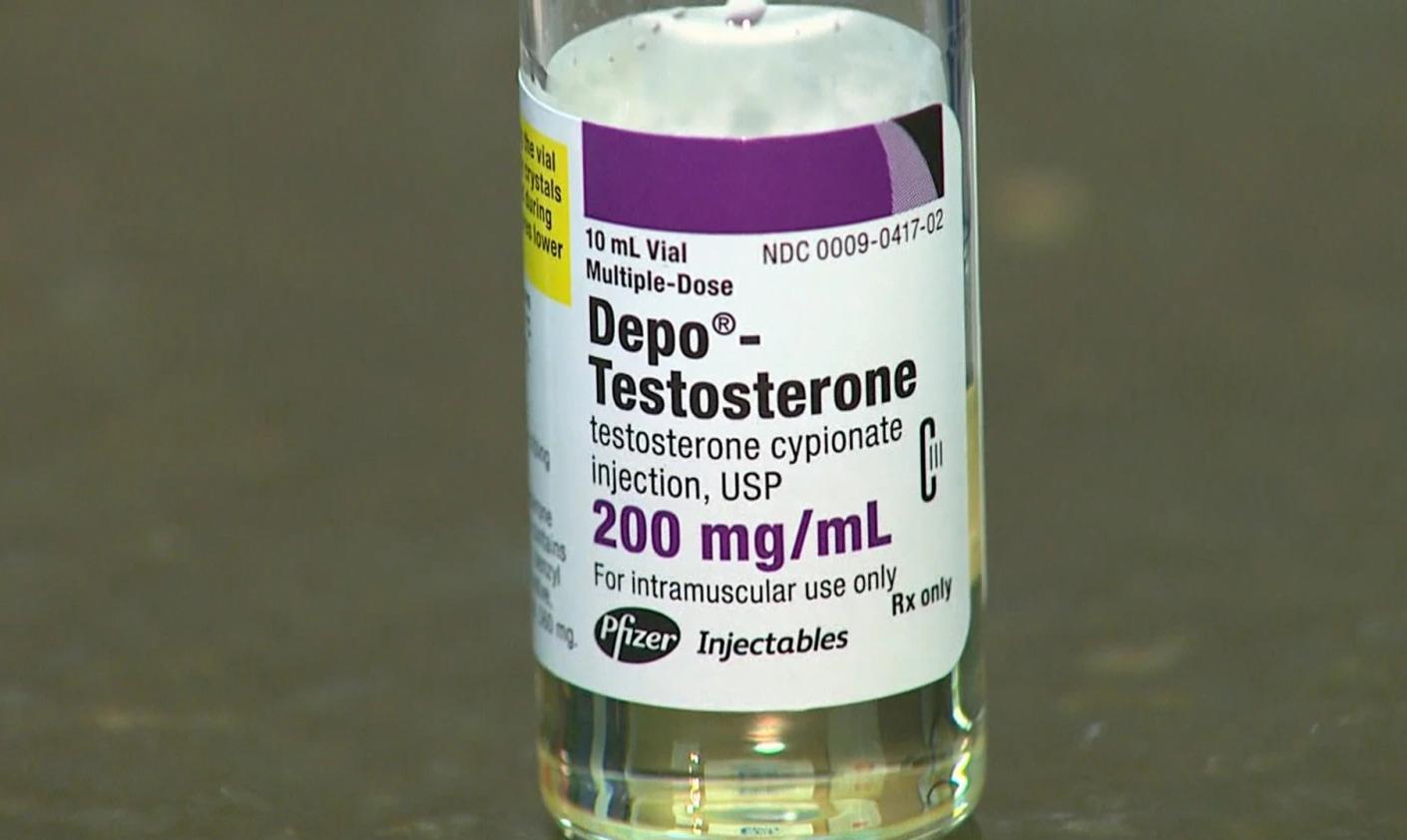 WASHINGTON – Sen. Ed Markey (D-MA) has issued a letter cosigned by fellow Democratic Massachusetts Sen. Elizabeth Warren urging the Biden administration to expand access to testosterone for gender affirming hormone therapy. 
The letter was sent on Thursday to U.S. Attorney General Merrick Garland, U.S. Department of Health and Human Services (HHS) Secretary Xavier Becerra and U.S. Drug Enforcement Administration (DEA) Administrator Anne Milgram.
A press release from Sen. Markey's office announcing the move notes that testosterone, a masculinizing hormone therapy, causes "physical changes such as suppressed menstruation, decreased estrogen production, deepened voices, and increased facial hair growth."
As such, the sex hormone is considered crucial for transgender men and transmasculine nonbinary people, but there are substantial barriers to access because the treatment was listed as a Schedule III controlled substance in 1990 over concerns with its non-medical use as anabolic steroids.
"Testosterone's Schedule III status adds barriers to medically necessary, gender-affirming care while leaving transgender people vulnerable to harassment, discrimination, and surveillance," the Senators wrote in their letter. "Rescheduling or descheduling testosterone would further the goals and policies already announced by the White House and HHS."
The lawmakers noted the Biden administration's work strengthening Section 1557 non-discrimination rulemaking and collaboration with states on broadening access to gender-affirming healthcare.
Their letter explains how the classification of testosterone makes it difficult for many patients to obtain: "Prescriptions for Schedule III and Schedule IV substances cannot be filled or refilled six months after the prescription was issued, or be refilled more than five times. On top of these requirements, states and private health insurers may impose further restrictions, such as 30-day limitations on controlled substances or limitations on mail delivery of prescriptions."
Additionally, the Senators noted rescheduling or descheduling testosterone would exempt the drug from requirements that patients see their providers in-person before it is prescribed – requirements that might be reinstated if the pandemic-era rules broadening access to telemedicine are lifted.
Because the prescription of controlled substances is documented and tracked via states' Prescription Drug Monitoring Programs, transgender people have expressed concerns that they might be outed "to their health care providers, pharmacists, family members, and other people and agencies with access to these lists," Markey and Warren wrote.
Finally, they argued, the rules governing access to testosterone may increase instances of its illicit use by transgender people – raising health and safety concerns with the lack of medical supervision or monitoring and unregulated medicines and components.
The lawmakers requested written answers and "a staff level briefing" to questions in their letter from the Justice Department and HHS by October 7. These include requests for details about the agencies' steps to begin reconsidering the Schedule III classification of testosterone and information about meetings they've had with representatives of the transgender community.
U.S. Senate Majority Leader promises same-sex marriage bill vote
Supporters have expressed optimism 10 Republican votes are present. Four Republicans have signaled they would support the bill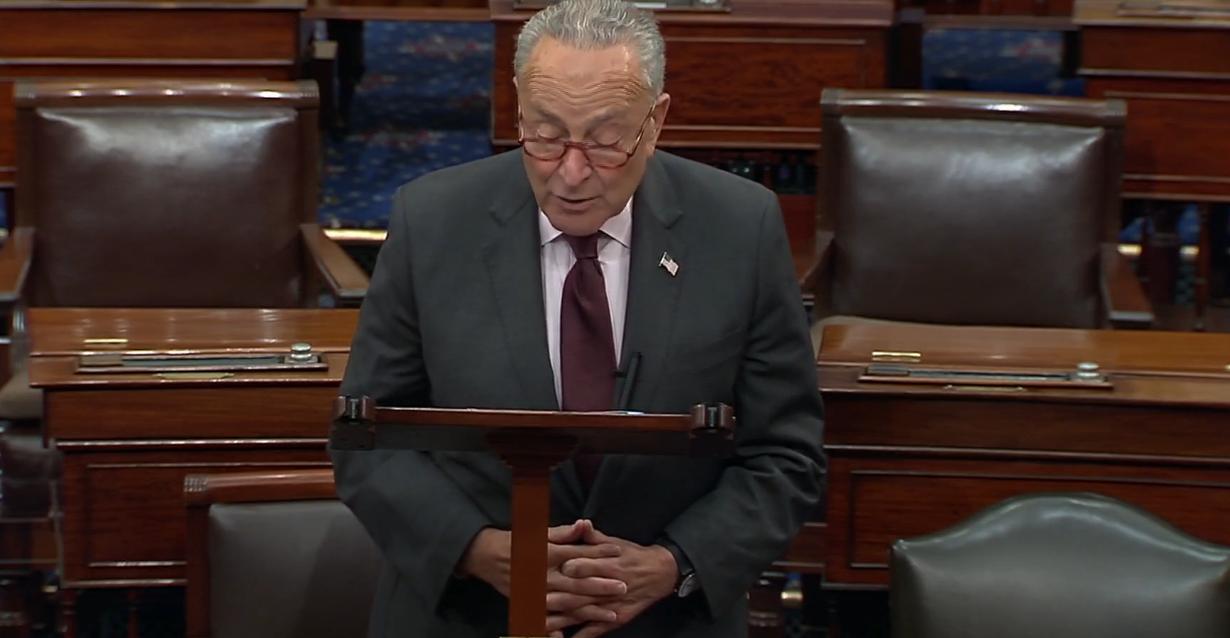 WASHINGTON – Senate Majority Leader Charles Schumer (D-N.Y.) signaled on Wednesday on vote on legislation to codify same-sex marriage would happen "in the coming weeks" as supporters express increasing confidence will have sufficient bipartisan support to pass.
Schumer made the comments under questioning from a reporter on the Respect for Marriage Act and whether 10 Republicans are present to end a filibuster on the measure.
"We all want to pass this quickly," Schumer said. "Our two leading members on this issue, Sen. [Tammy] Baldwin and [Kyrtsten] Sinema, are working with Republicans to see if there are enough votes to pass the bill. But let me be clear, a vote will happen. A vote on marriage equality will happen on the Senate floor in the coming weeks and I hope there will be 10 Republicans to support it. Yes."
The measure came up during a meeting for Senate Democrats earlier in the day, said Schumer, who added it was "a very good conversation" about same-sex marriage.
Schumer made a point to say the vote was necessary after the U.S. Supreme Court decision overturning Roe v. Wade, which led many to believe same-sex marriage would be next on the chopping block.
"Let's remember why a vote on the Respect for Marriage is necessary," Schumer said. "Millions upon millions of American women had their right taken away by the extremist MAGA Supreme Court in the Dobbs decision. And in a concurring opinion, Justice Thomas opened the door to the Supreme Court going even further. The MAGA Republicans are taking over the Republican Party and they've made it abundantly clear they're not satisfied with repealing Roe. So when some Republicans say, 'Oh, vote's unnecessary, it won't happen,' – they said the same thing about Roe and here's where we are."
Although Democratic insiders close to Senate leaders had said they were considering including the marriage bill as an amendment to a budget stopgap known as a continuing resolution, Schumer hinted he doesn't think that would be the way to go.
"We would prefer to do it as a separate bill," Schumer said. "We hope there are 10 Republicans to help us with that."
The Respect of Marriage Act wouldn't codify same-sex marriage into law per se, but would lift from the books the anti-gay Defense of Marriage Act and require states to recognize same-sex marriage performed elsewhere. The U.S. House approved the measure in July.
Supporters have expressed optimism 10 Republican votes are present. Four Republicans have signaled they would support the bill, at least in some capacity: Susan Collins (Maine), Rob Portman (Ohio), Thom Tillis (N.C.) and Ron Johnson (Wis.). Johnson, however, has changed his tune recently and said an amendment for religious accommodations is necessary.
Baldwin, the first openly lesbian elected to the Senate, has been championing the legislation and told Axios' Andrew Solender she's confident 10 Republicans votes will be there.
"I think the momentum is going in the right direction," Baldwin was quoted as saying.
Asked about specific vote timing, Baldwin reportedly said, "I would hope for next week."
White House Press Secretary Karine Jean-Pierre declined to weigh in on Wednesday when asked whether the marriage legislation should be included in the continuing resolution, although she said President Biden wants Congress to act "swiftly" on the measure.
"I know there's a legislative pathway that's being discussed currently in Congress," Jean-Pierre said. "We'll let leadership decide how to move forward with that. The President is proud is a champion of a right for people to marry. They can choose who they love, and he believes it is non-negotiable, and the Senate should act swiftly to get this to the President's desk."