Twitter lets stand transphobic hate tweets by Marjorie Taylor Greene
Greene has promoted baseless QAnon conspiracy theories & has a standing record of hateful abusive comments directed towards LGBTQ people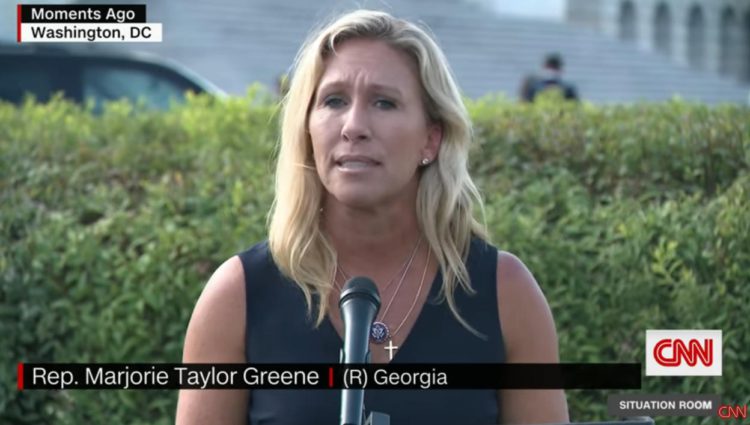 Editor's note: WARNING: The following article contains highly offensive and hate-filled transphobic material. Viewer discretion is advised.
SAN FRANCISCO – On Monday, Georgia U.S. Republican Representative Marjorie Taylor Greene launched a transphobic hate-filled tweet attack against the Assistant Secretary for Health for the U.S. Department of Health and Human Services, Admiral Dr. Rachel Levine.
Adding to the controversy, the social media platform did not remove the offending post and merely covered it up.
Here's the tweet from the Congresswoman: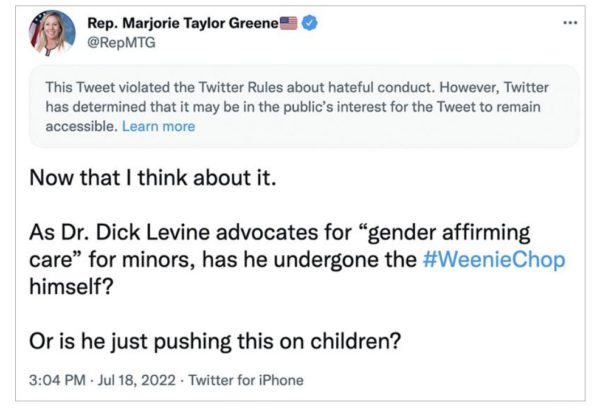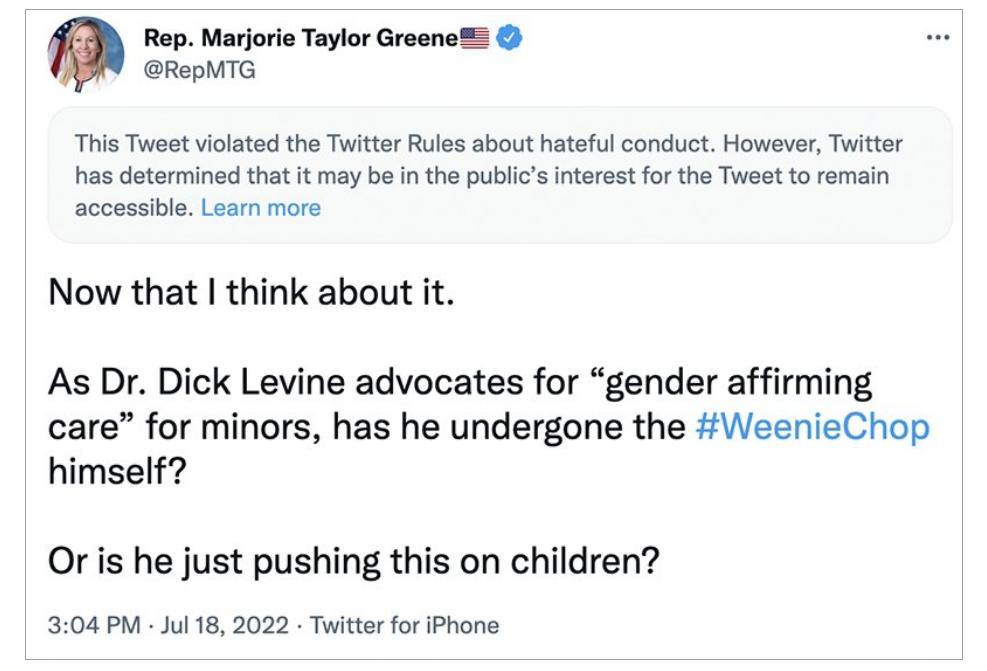 Twitter says this tweet violated rules about hateful conduct.

I can't imagine anything more hateful than promoting "gender reassignment" surgeries for children. https://t.co/65LHtYXbGw

— Rep. Marjorie Taylor Greene🇺🇸 (@RepMTG) July 18, 2022
After a firestorm of criticism from users the company stood by it's decision to only cover the post citing that leaving the post accessible was in the public interest.
A spokesperson for Twitter offered a statement verbatim to an earlier statement made to AXIOS and referred the Blade to this link. (https://help.twitter.com/en/rules-and-policies/public-interest)
"The Tweet you referenced violated the Twitter Rules on hateful conduct. However, we've determined that it may be in the public's interest for the Tweet to remain accessible and has been labeled in line with our policies."
LGBTQ+ media watchdog organization GLAAD noted:
"This account has repeatedly and intentionally violated Twitter's Hateful Conduct guidelines against targeted deadnaming and misgendering of transgender people," a GLAAD spokesperson told The Advocate in a statement reacting to Greene's tweets. "It's clear that some politicians see pushing malicious, anti-trans content on social media as part of their election strategy, even with the full knowledge that such content is violative."
The Congresswoman also attacked AXIOS for its reporting:
The corrupt DC media hates free speech, hates the contest of ideas, and hates debate. This leftist news outlet promotes CENSORSHIP & this disturbing Axios article promotes giving chemical puberty blockers to YOUNG CHILDREN! https://t.co/15EWDYVM7e

— Rep. Mary Miller (@RepMaryMiller) July 18, 2022
The Congresswoman has a lengthy record of hate filled animus towards the trans community, in July of 2021 she attacked a pair of attacks trans parents- labeling them child abusers.
Greene, who has promoted baseless QAnon conspiracy theories and has a standing record of demonization and hateful abusive comments directed towards LGBTQ people, attacked a Trans couple raising a child featured on Courteney Cox's reality show.
In a retweet of Liz Joy, a fellow Republican who is challenging Democratic U.S. Representative Paul Tonko in New York State's 20th Congressional District in the 2022 election, Greene launched into a hateful transphobic rant claiming, "This is CHILD ABUSE!!!!! This baby is in danger! Remove this child immediately. Caring for and raising children should have nothing, absolutely NOTHING, to do with fulfilling this man's unnatural fantasies. Men can NOT give birth or breast feed. They are mentally unstable."
What set Greene off was a June episode from Season 3 of 9 Months With Courteney Cox, which featured Trans couple Ahanu and Petrona. Ahanu is transmasculine and carried the child, and Petrona is a trans woman. In the episode Petrona was attempting to breastfeed the baby and being frustrated when she could not; the child is being fed with formula.
Earlier in February of 2021, she hung a transphobic sign outside her office in response to Rep. Marie Newman (D-IL) raising a transgender pride flag across the hallway in front of Newman's congressional office suite to honor her daughter, Evie Newman, who is Trans. "There are TWO genders: Male & Female. Trust The Science!" –Greene's sign read.
During the same time period, Greene launched a series of Twitter attacks and a floor speech in opposition to the Equality Act which was being debated for passage in the U.S. House.
After the debate, Newman tweeted a video of herself putting out the flag. She wrote: "Our neighbour, @RepMTG, tried to block the Equality Act because she believes prohibiting discrimination against trans Americans is 'disgusting, immoral, and evil.' Thought we'd put up our Transgender flag so she can look at it every time she opens her door."
Greene tweeted in response: "Our neighbour, @RepMarieNewman, wants to pass the so-called 'Equality' Act to destroy women's rights and religious freedoms. Thought we'd put up ours so she can look at it every time she opens her door."
Greene has previously said, "Teaching racism and promoting sex, homosexuality, & normalizing transgender to children is mental/emotional child abuse." 
She also attacked Republican Caitlyn Jenner, who was in a long-shot campaign to replace Democrat Gavin Newsom as governor of California in last Fall's recall election. "Stop promoting this man in a dress," she tweeted.
Attorney expects Santos FEC complaint will deadlock
New York Democratic Reps. Ritchie Torres and Daniel Goldman have filed a complaint against Santos to the House Committee on Ethics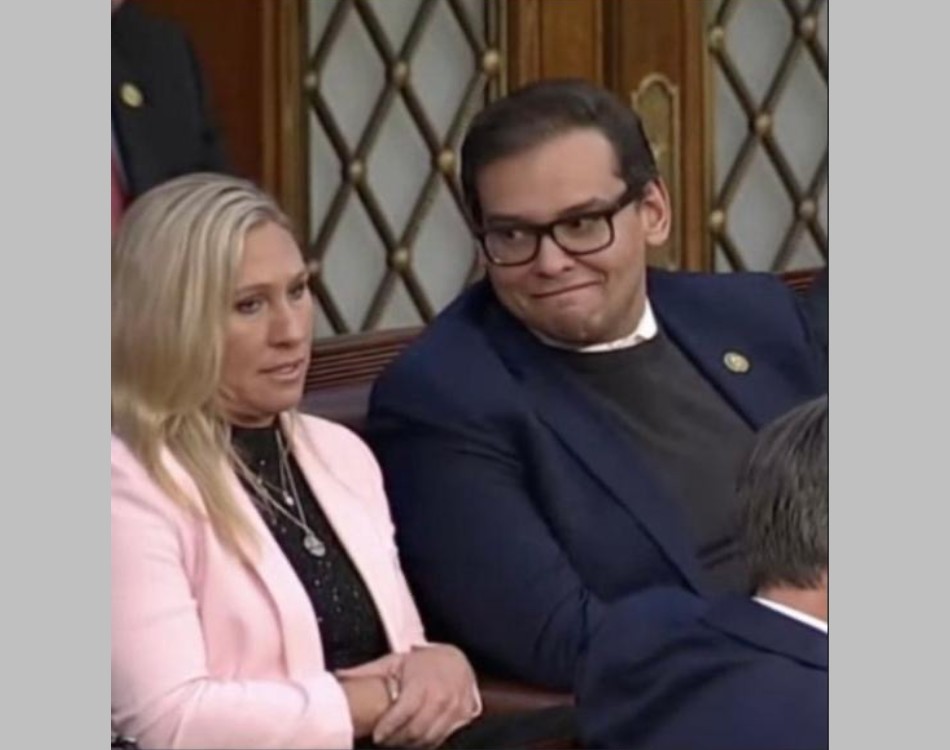 WASHINGTON – An attorney with the group that filed a complaint to the Federal Election Commission (FEC) on Monday against Republican Rep. George Santos (Ny.) said the FEC is unlikely to pursue an investigation or bring any enforcement action against the congressman or his campaign.
"There are at least 3 commissioners who are ideologically opposed to enforcing campaign finance law," Campaign Legal Center Senior Vice President and Legal Director Adav Noti told The Washington Blade by phone on Tuesday.
With a four-vote majority of the FEC's six sitting commissioners required to open an investigation, "the working assumption has to be – for every FEC complaint, no matter how egregious – that at least 3 commissioners will block an investigation," Noti said.
Noti previously served at the FEC in the Office of General Counsel, as associate general counsel for policy, and in the Litigation Division, where he argued cases before federal district and appellate courts as well as the U.S. Supreme Court, including the landmark 2010 case Citizens United v. FEC.
Notwithstanding what may happen at the FEC, Noti told The Blade the Santos case is unlike anything he had ever seen, in multiple respects.
Per the Campaign Legal Center's complaint, Santos and his 2022 campaign committee, Devolder-Santos for Congress, stand accused of engaging "in a straw donor scheme to knowingly and willfully conceal the true sources of $705,000 that Santos purported to loan to his campaign; deliberately reporting false disbursement figures on FEC disclosure reports, among many other reporting violations; and illegally using campaign funds to pay for personal expenses, including rent on a house that Santos lived in during the campaign."
Some of these allegations, which sometimes result in prosecutions, happen, unfortunately, "with some regularity," Noti said. "But I cannot think of another situation where a successful candidate turns out to have fabricated his entire campaign apparatus."
Sometimes, candidates will falsify the source of the money they received to fund their campaigns, and other times they will conceal how they spent those funds, but "I can't think of another instance where every dollar that went into a campaign and a significant portion of the dollars that were spent by that campaign appear to be fictitious, or just made up," Noti said.
Looking at the money that was funneled through the campaign, even if assuming that the dollar amounts that were reported were accurate, "we don't know where it came from, and we know where almost none of it went," Noti said.
Unfortunately, however, "Even in the highly unlikely event that the FEC does conduct an investigation or [pursue an enforcement action], it would take years," Noti said, adding that slow-rolling the process is another means by which the commissioners can prevent the agency from enforcing the law.
Nevertheless, Santos is in potential legal jeopardy. Investigations of the congressman have reportedly been opened by the U.S. Attorney's Office for the Eastern District of New York, the Nassau County District Attorney's Office, and the office of New York Attorney General Letitia James.
On Tuesday, New York Democratic Reps. Ritchie Torres and Daniel Goldman filed a complaint against Santos to the House Committee on Ethics.
Noti said the Justice Department's case would be a criminal probe into Santos's possible violations of campaign finance laws, but otherwise the FEC has sole jurisdiction over these matters, so other legal actors are likely looking into other types of financial malfeasance by the congressman.
The FEC will typically wait for the resolution of a criminal probe initiated by the U.S. Attorney's Office before proceeding with a complaint, Noti said. "If the DOJ starts investigating, they'll tell the FEC, and then the FEC will wait for the criminal investigation to conclude."
Either way, "I would be shocked if [Santos] were not seeking legal counsel," Noti said, adding that he might have a difficult time finding an attorney to represent him.
Santos has been under fire for weeks after media reports revealed the congressman had lied about virtually every aspect of his life, career, and identity.
With respect to his treatment of campaign finance laws, "What he did was intentionally deprive the public of the information that voters are entitled to before they decide who to vote for," Noti said.