Cruising: A snapshot of irresponsibility in LA as monkeypox cases climb
He responded with a laugh; "I've read that I  won't die if I get it, so what are you worried about, why do you care?"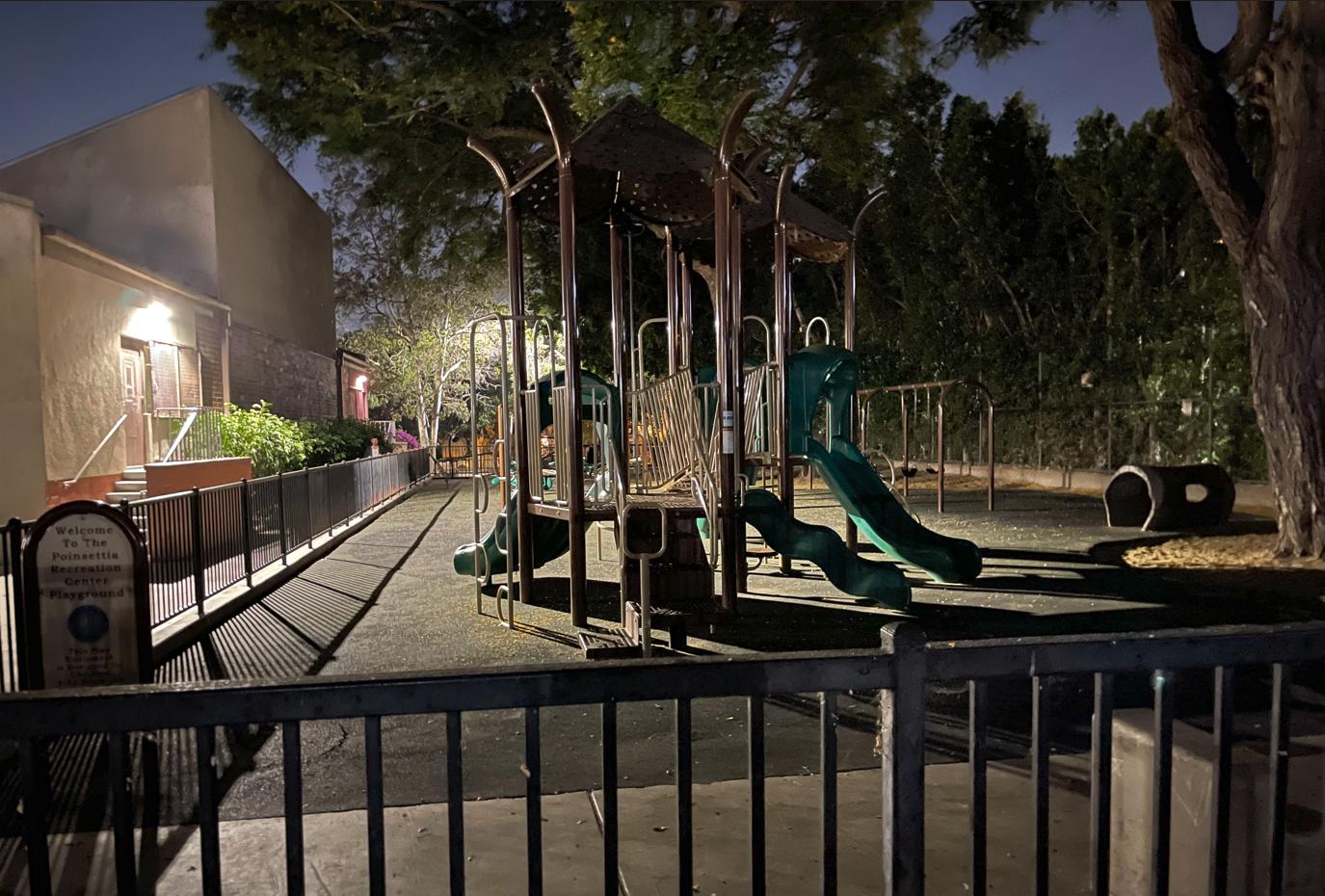 LOS ANGELES – Likely one of the oldest sexual encounter activities engaged in by primarily gay and bisexual men is out-of-doors public cruising, which the methods over the years have evolved as time marches on.
Popular phone apps are now the principal means for 'cruising' for people to engage each other in public or private sexual encounters.
These encounters can be fraught with the dangers of potential physical violence, but more-so from the dangerous spread of sexually transmitted diseases. During the late 1970's through the early 1990's, the HIV/AIDS pandemic was impacted by men seeking men for sex, cruising without taking safeguards and in some cases ignoring public health agency warnings.
As the spread of the monkeypox virus continues escalating in numbers of documented infections as reported by the U.S. Centers for Disease Control, (CDC)- affecting gay, bisexual, and transwomen, cruising and use of phone apps has emerged as targeted areas of concern for LGBTQ+ health advocacy groups and public health officials.
One app, Sniffies, which has a unique feature that invites its users to form live in-person events (including hotels, public bathrooms, and parks) led this reporter to one of dozens of well-established outdoor public cruising spots in the Los Angeles region this past week.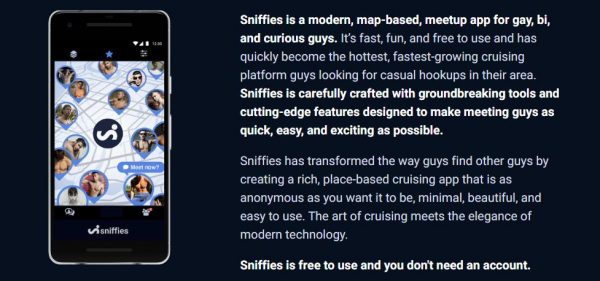 The Sniffie's app indicated that there were more than 100 people checked in to Poinsettia Park, on Wednesday, July 20, an irresistible invitation to an anonymous open air orgy:
Jayson's face was only faintly visible in the darkness of Poinsettia Park, an urban recreation center nestled between the city of West Hollywood and the Hollywood neighborhoods.
The glow of his phone screen in his left hand revealed the unmasked face of a man that appeared to be around 40 years old, his right hand shoved down the front of his sweatpants fidgeting and visibly aroused.
I couldn't help but stare and watch as he was pounced upon by 1 then 2 then 4, then 7 men who formed a cluster. There was no holding back, no hesitation and barely a word spoken as the entire group was sexually aroused and posturing as if in a mating ritual.
Even though he [Jayson] showed favor to a taller blonde guy with messy long hair, the competition for his sexual equipment continued until he moved with the blonde man to the near-by swing-set and moved into a favoured common sexual position for male breeding, luring 4 of the by then 9 men, some of them shy and innocently watching, as Jayson was consumed.
The invitation was clearly for anyone who wanted it and several partook, an event that lasted until someone noticed a man and woman nearby walking two dogs off leash.
"Trouble," someone whispered twice. "There's trouble nearby."
They scattered and joined the parades of people, all of them men, most of them on their phones pacing with purpose in circular patterns around the park on the prowl, around the main building, around the baseball diamond, lingering the outdoor weight lift machines, seeking privacy on the dozens of hidden tennis courts, the handball courts, the basketball courtside benches and, the area of the park most active of all- the monkey bars and slides where children play by day, supervised by parents who have no idea how the playground is being repurposed at night.
I saw a similar scene repeated over a dozen times during a one hour period. Group formations were everywhere throughout the park and most encounters were merely a discriminating checking out of the goods, energized briefly when new arrivals joined the scene, some could only be described as a no-holes barred orgy.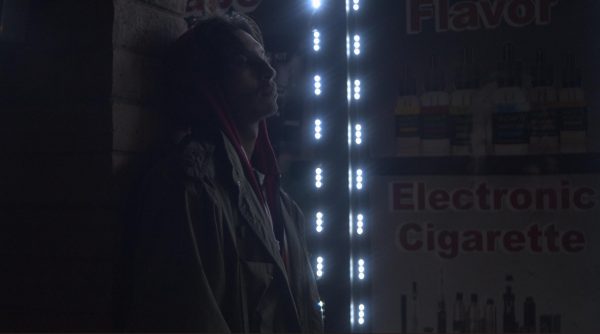 Jayson, wearing a gray hoodie and a white Covid-19 mask, sensing my energy was different from other people, approached me and introduced himself during a lull to ask if I was "a cop or something."
I told him I was not a cop- just a reporter for the Los Angeles Blade and that I was interested in checking out the scene unfolding in front of me given the news on Monkeypox and Covid. I informed him that I was not recording anything or taking photos of people and then asked him if I could speak to him. He agreed, "a little."
"They call me Jayson (no last name given) and sometimes I live with my mother and father and little brother in Riverside, sometimes I feel like I live in this park" he said. "It's safe for the most part; I've only been robbed once but that was before it became so cruisy…I think it's even safer now, a lot busier for sure."
When asked what he knew about Monkeypox, he fidgeted for a moment and adjusted his still erect equipment downward in his pants before taking his mask off. "Look! I don't have it," he said.
When asked if he understood that while he may not but others may, he responded with a laugh. "I've read that I won't die if I get it, so what are you worried about, why do you care?"
Someone approached.
"This guy is a reporter!" Jayson said. "Why are you here," said the new arrival. "No one here is hurting anyone."
Word spread that there was a reporter present and the crowd slowly diminished.
"Get the fuck out of here you old freak," said a trans woman who was watching a group of 4 engaged in group sex near the children's slide on the western side of the park..
Water was thrown and someone spit and kicked dirt at me and I was shoved.
"Monkeypox is a joke, girl. I don't know anyone who ever had it. I really don't care if I get it," replied a 20-something-year-old Black man. "I get Prep."
"I was vaccinated today," said a buff young white man wearing only shorts and combat boots, poppers in one had and an iPhone in the other. "Anyway, I'm on prep and I've had Covid, I was vaccinated 4 times against that; I just want to enjoy my life and my sexuality." He said he was 26 and his name was Brian, that he lived only blocks away in Hancock Park.
64 year old Samuel is from WeHo and said it was his first visit to Poinsettia Park, though he had been to other live Sniffies hangouts.
"I've seen this scene at Poinsettia Park get more popular on Sniffies and I wanted to see it for myself. I'm an old gay and don't get a lot of action, anymore," he laughed. "Here, people care about only one thing. If you have what they want you can play. I do," he laughed again.
When asked if he felt this kind of scene is a problem during the pandemic and during a potential new one he said, "people have been in lockdown too long, we're all exhausted and need human contact. This isn't all that awful! It's mostly about walking around and leering at one another and you might get a blow job. If you are young, hung and pretty you might get a little more."
"I love the Los Angeles Blade, but I don't know why you would be here reporting on this," another man chimed in.
The CDC reported more than 2,800 monkeypox cases and sent more than 370,000 vaccine doses to all of the U.S. states reporting cases as of Saturday. Speaking with reporters Friday, Jennifer McQuiston the Deputy Director for High Consequence Pathogens and Pathology at the CDC said the agency is now aware of at least eight cases in people who identify as cisgender women. Most cases so far have been among men who have sex with men.
The CDC Deputy Director did note that the agency had also documented cases of household transmission as well. Two cases of the monkeypox virus have been diagnosed in children.
"We became aware of these cases just this week, and we've been working with the jurisdictions to understand more about these cases," McQuiston said adding that the agency determined that both cases were "likely the result of household transmission" and "had no contact with each other."
According to the CDC, one of the children is a toddler who lives in California and the other is in an infant, not a resident of the U.S. who was "transiting through" the Washington, D.C. area when the test was done.
"There is no evidence to date that we're seeing this virus spread outside of those populations to any degree, and I think that the primary drivers for this infection in the U.S. remain in the gay, bisexual, and men who have sex with men communities right now," McQuiston added.
As the monkeypox outbreak grows, the preferred vaccine to combat it is in short supply—a problem that's only getting worse now that countries are expanding access to the vaccine. But there is a strategy that could double overnight the number of people who can be vaccinated: use a single shot instead of the recommended two, Science Journal reported on July 1, 2022.
Compelling data from monkey and human studies suggest a single dose of the JYNNEOS vaccine produced by Bavarian Nordic solidly protects against monkeypox, and that the second dose mainly serves to extend the durability of protection.
The CDC recommends that the vaccine be given within 4 days from the date of exposure for the best chance to prevent onset of the disease. If given between 4 and 14 days after the date of exposure, vaccination may reduce the symptoms of disease, but may not prevent the disease. However, when coupled with self-isolation and other prevention measures when symptoms first occur.
The CDC also notes that the JYNNEOS vaccine is being allocated to jurisdictions for use for the following individuals:
Known contacts who are identified by public health via case investigation, contact tracing, and risk exposure assessments
Presumed contacts who may meet the following criteria:

Know that a sexual partner in the past 14 days was diagnosed with monkeypox
Had multiple sexual partners in the past 14 days in a jurisdiction with known monkeypox
Dan Wohlfeiler, co-founder of Building Healthy Online Communities (BHOC), a consortium of public health leaders and gay dating website and app owners who are working together to support HIV and STI prevention online, spoke with the Blade in a phone call Saturday.
Wohlfeiler said that the key to having sex with monkeypox looming is to take precautions. That includes limiting the number of sexual partners, as well as exchanging as much information as possible with partners, utilizing profile options available on apps as well as direct conversations.
He added BHOC has comprehensive information on monkeypox to reduce risk of infection.
(See the following)
Based on available data about how MPX may be spreading in our community, BHOC has the following suggestions to keep yourself and our community as safe as possible:
Be alert and share this info. As of now, the number of MPX is small but growing quickly. Knowing this information could prevent you from getting or spreading the virus.
Ask your sex partners and people you live with about symptoms. See if they have had any unusual rashes or sores in the last 3 weeks. Even if you're into anonymous hookups, try to have a phone number or way to get in touch with someone in case you need to reach each other if either of you develop symptoms or gets diagnosed with MPX.
Consider creating a 'pod' to keep you and your sex buddies safer. Creating a pod temporarily reduces the number of hookups you have, but they can be a great way to still have the sex you like while reducing your likelihood of getting MPX. Agree to only have sex with people in your pod. Plan how you will tell each other if one of you tests positive. Start having the conversation about getting MPX vaccination when it's available in your area. Here is a resource to help you create your pod.
Make informed choices about attending large events. If you're in large crowds where people are wearing minimal clothing (like at Pride events, saunas, bathhouses, clubs), be aware of how much skin-to-skin contact you may be having. Try to minimize your contact as much as possible. Read more from CDC about attending large gatherings.
If you receive a notification from someone you had sex with or from an event organizer, take it seriously. Call your local health department to get connected to a vaccine. It also works the other way. If you are diagnosed with MPX, be sure to also let any event organizers or sex partners know so they can make sure those exposed can get care.
Notice if you develop symptoms. People are not known to be infectious until they have symptoms; but, keep in mind that someone may have sores in their throat, ass, or vagina/front hole and not know it.
Stop the spread. If you don't feel well, take a break from sex and going out to bars, gyms, clubs, and other events. If you live with someone, you may need to isolate yourself from them if you are positive for MPX.
Additional reporting by Brody Levesque
Federal authorities: 400K+JYNNEOS Monkeypox Vax doses now available
HHS noted that it has also worked to increase the availability of monkeypox tests nationwide by partnering with five commercial laboratories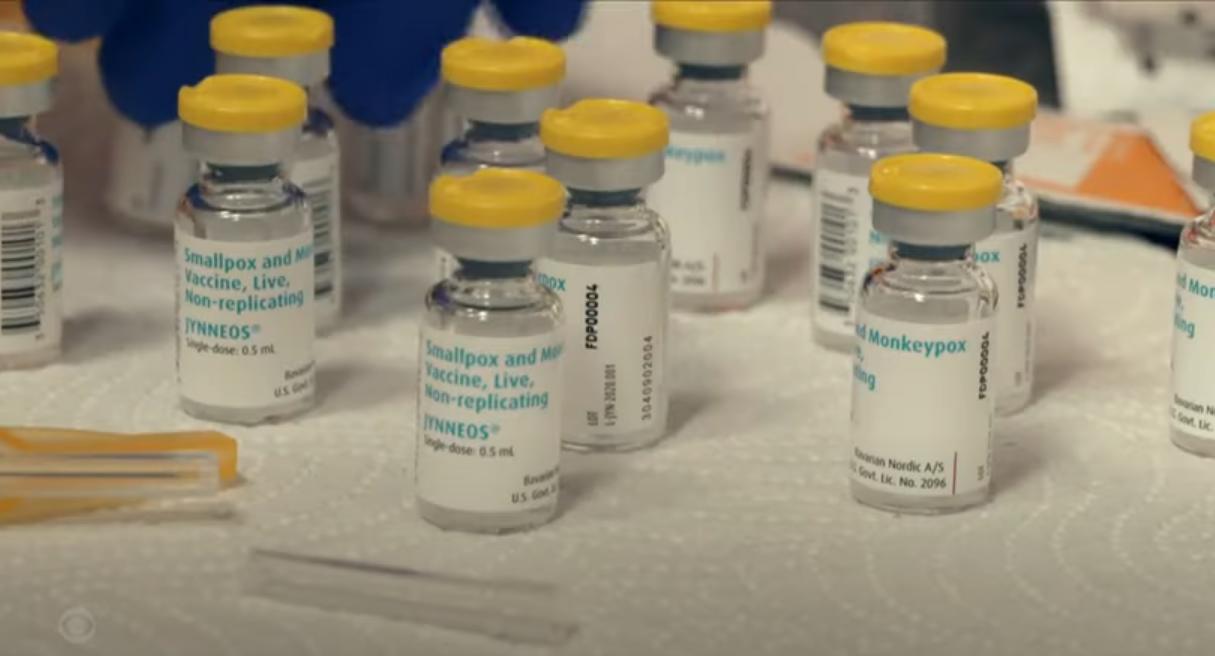 WASHINGTON – The U.S. Department of Health and Human Services (HHS), announced Monday that it is making up to 442,000 doses of the JYNNEOS vaccine available for states and local jurisdictions to order under an accelerated plan to combat the current monkeypox outbreak.  
"Ending the monkeypox outbreak is a critical priority for the Biden-Harris Administration," said HHS Secretary Xavier Becerra in a statement released by the White House.
 "Every step of the way, we have accelerated our response including by significantly increasing vaccine supply and distribution, expanding access to tests, making treatments available for free, and educating the public on steps to reduce the risk of infection. FDA's Emergency Use Authorization of intradermal injection of the JYNNEOS vaccine is allowing us to get more doses to jurisdictions faster than anticipated and will help end this national monkeypox outbreak. We will continue working with our state partners to ensure equitable and fair distribution of these vaccine doses to protect those most at risk and limit the spread of the virus."
In addition, HHS noted that it has worked to increase the availability of monkeypox tests nationwide by partnering with five commercial laboratories. Since the start of the current outbreak, testing capacity has increased to 80,000 per week – up from 6,000 per week.
The Centers for Disease Control and Prevention (CDC), has also taken action to significantly reduce the burden in accessing treatment for monkeypox by decreasing the documentation required to access the antiviral treatment TPOXX and also allowing providers to start treatment more quickly.
In New York City, the Gothamist reported LGBTQ+ activists gathered outside Senate Majority Leader Chuck Schumer's Senate district office in Manhattan on Sunday to demand better access to monkeypox testing and vaccines from the federal government.
Organizers with ACT UP New York, PrEP4All and members of the queer community that have been impacted by the monkeypox outbreak called for or an emergency use authorization of the tecovirimat, or Tpoxx vaccine, an investment in new testing that detects the virus before skin lesions appear and more educational outreach to all communities.
Medical providers in New York have called on the Biden administration to remove barriers to the antiviral to monkeypox known as Tpoxx, which aims to stop the virus from progressing once a person has already been infected – versus other vaccines typically used as a preventative measure.
Supply chain issues have plagued local health departments in the larger metropolitan areas where the largest populations of gay and bisexual men are residing. According to the CDC the principally affected group of persons infected with the virus are men who have sex with men and transgender individuals who have sex with men.
In California, the Los Angeles County Department of Public Health has nearly exhausted its limited supplies of the JYNNEOS and is anticipating resupply, but has paused its County-wide pre-registration link on its website, putting off scheduling new vaccine appointments. There are also shortages in San Francisco.
The Bay Area Reporter noted that the San Francisco Board of Supervisors interrupted its August recess on Monday to ratify the declaration and heard from Health Officer Dr. Susan Philip about how it could help the city get more of the Jynneos vaccine. (The city recently received 10,000 doses, less than is needed but way more than previous shipments.)
Monkeypox vax outages & bureaucracy impedes healthcare providers
CDC on Friday reported that the number of confirmed cases of the monkeypox virus has doubled in the past two weeks escalating to 11,177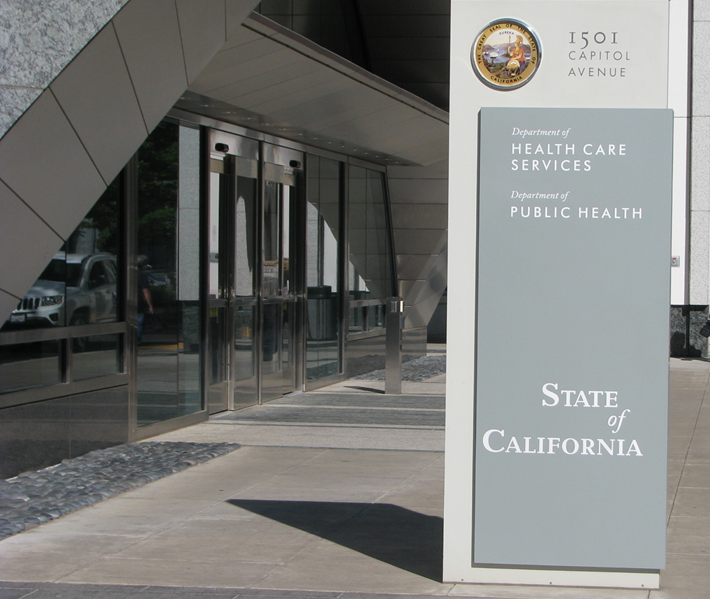 LOS ANGELES – Frustrations are mounting as the campaign to vaccinate people against infection of the monkeypox virus is derailed by a critical supply shortage of vaccine doses with added bureaucratic obstacles in getting financial reimbursement to the healthcare providers and clinics dispensing the vaccine.
The Los Angeles County Department of Public Health has nearly exhausted its limited supplies of the JYNNEOS and is anticipating resupply, but has paused its County-wide pre-registration link on its website, putting off scheduling new vaccine appointments.
In one notable example, Public Health's Monkeypox Vaccination Pop-Up Clinic at the West Hollywood Library exhausted its supply of the vaccine on Friday and ceased operations. According to a press release from West Hollywood city officials, more doses of vaccine are anticipated to be delivered by the federal government in the coming days, on a date to be determined. Once supply is reestablished, then operations will resume for the Pop-Up Clinic.
Exacerbating the crisis, the Centers for Disease Control and Prevention on Friday reported that the number of confirmed cases of the monkeypox virus has doubled in the past two weeks escalating to 11,177.
In Los Angeles County, the County Health Department said that the county's monkeypox profile is similar to the national case load increase as the disease spreads.
Complicating the issue, in an action taken earlier this week, Michelle Baass, the Director
of the California Department of Health Care Services, (DHCS) announced that Medi-Cal will only reimburse Federally Qualified Health Centers (FQHCs) for monkeypox vaccine administration when provided during a face-to-face visit with a provider.
Reacting to Baass' decision, a group of 17 healthcare providers for the LGBTQ community in California sent a letter to Director Baass expressing deep concerns regarding the seemingly arbitrary move, which ran counter to the history of state efforts during the coronavirus pandemic.
In the letter [embedded below] the signatories representing the 17 organizations stated:
"This decision will significantly hamper the ability of FQHCs to respond to the monkeypox outbreak with the speed and urgency it requires and flies in the face of Governor Newsom's declared State of Emergency.
As health care providers who serve a significant percentage of low-income LGBTQ+ Californians, we believe this decision is a flagrant example of institutionalized homophobia and we urge the department to reverse course immediately. Monkeypox vaccine administration by FQHCs should be reimbursed in the same way as COVID-19 vaccines."
The letter also stated:
"Regrettably, DHCS' announcement this week will only make it harder for many of our most
vulnerable LGBTQ+ Medi-Cal patients to be vaccinated. In the FQHC setting, monkeypox
vaccines are generally administered outside of a primary care visit by a non-billable provider.
This allows us to vaccinate a significantly greater number of patients on a daily basis.
Forcing Medi-Cal patients to have a face-to-face visit with a primary care provider will dramatically slow our current vaccination effort and make it even harder to control the current outbreak. In the time it takes for one individual to have their vitals taken and engage in a face-to-face visit with a primary care provider, FQHCs have the ability to vaccinate 15-20 people. DHCS' policy makes absolutely no sense from a public health perspective and it screams of discrimination."
Anthony Cava, a spokesman for the California Department of Health Care Services, responded to the Blade's inquiry over the facts of the letter laid out by the Healthcare provider signatories. However Cava ignored the implications of homophobia and discrimination specified in the letter:
"In response to the monkeypox public health emergency, the Department of Health Care Services (DHCS) appreciates the tremendous effort, focus, and compassion that our clinic partners are bringing to the important work of combatting this virus in their communities. Their hard work and dedication make them critical partners in our response.
DHCS is committed to working with the Centers for Medicare & Medicaid Services (CMS) to respond to monkeypox. DHCS will broadly seek federal approval to reimburse vaccine administration and applicable laboratory testing at 100 percent of the Medicare rate, once established. As part of this request, DHCS will seek federal approval to reimburse Federally Qualified Health Centers (FQHC), and similarly situated clinics that are paid an all-inclusive rate, the vaccine administration fee for vaccine-only visits, consistent with how we are reimbursing for COVID-19 vaccine-only visits. The requested federal approvals will also include reimbursement for vaccine administration performed by non-clinic providers.
At this time, DHCS has not yet received federal guidance regarding reimbursement policies for the administration of the monkeypox vaccine. However, DHCS has communicated with CMS about the urgent need for clarity. Pending the release of such guidance, we informed FQHC providers that we will reimburse them for care provided, which may include the administration of the vaccine if it is done as part of a clinic visit that includes addressing this virus."
Aaron Fox, the Director of Government Relations for the Los Angeles LGBT Center responded to the DHCS statement:
"Our community cannot wait for DHCS and CMS to continue talking. We must have action on this yesterday and we are in a Public Health crisis and government bureaucracy and inaction is unacceptable and will only result in increased suffering in our community," Fox told the Blade in a phone call late Friday.
Fox added that his perception of the government response is that while the Biden-Administration and California have declared a Public Health Emergency, in terms of immediate action taken thus far it is little more than saying, "oh look there's a house on fire," but neglecting to dial 911 and get the fire dept rolling.
The Blade also had a conversation by phone late Friday with Jim Mangia, President and CEO of St. John's Community Health, a network of community clinics in the greater Los Angeles region:
"While I applaud the spirit of the DHCS response, however, spirit alone will not stop this outbreak. DHCS has the power to make decisions about reimbursement rates and services allowable under Medi-Cal so they can set an interim rate for monkey-pox administration at the same rate it was set under COVID-19. I'll note though that it took DHCS over a year to reimburse clinics for the COVID-19 community clinic programs. We urge them to do the right thing now before its too late."
At a federal level, this last week on Tuesday, as part of a decision by Secretary of Health & Human Services Xavier Becerra to issue a determination under Section 564 of the Federal Food, Drug and Cosmetic Act to justify emergency use authorization of vaccines, the FDA also ordered a new vaccine approach.
This would change injections of the JYNNEOS vaccine from the subcutaneous route (delivery of the vaccine under the fat layer underneath the skin) to the intradermal route (delivery of the vaccine into the layer of skin just underneath the top layer).
This would allow for healthcare providers to squeeze five doses out of what used to be just one dose, which the FDA said should increase the number of vaccine doses in the national stockpile from 441,000 to more than 2.2 million.
In a letter first obtained by the Washington Post and later by the Blade, [embedded below] Paul Chaplin the President & CEO of Bavarian Nordic A/S, the sole manufacturer of the JYNNEOS Monkeypox vaccine expressed grave misgivings over HHS Secretary Becerra's plan to dilute the dosage.
"Bavarian Nordic (BN) is dedicated to assisting Governments around the globe to control the current monkeypox outbreak and is fully supportive of dose-sparing approaches, such as delaying the second vaccination. However, we do have some reservations on the ID approach, due to the very limited safety data available," Chaplin wrote.
Addressing both the reimbursement issues raised by the community clinic networks as well as the supply chain issues, California State Senator Scott Wiener told the Blade in an email,
"The Administration has been a strong partner in our effort to fight monkeypox, and we're working closely and collaboratively to ensure our response is as effective as possible. I'm confident we'll be able to resolve this issue."
Wiener (D-San Francisco) was appointed by California Senate President Pro Tem Toni Atkins (D-San Diego) to chair the newly-formed State Senate Select Committee on Monkeypox. Also appointed as members of the committee are Senators Susan Eggman (D-Stockton), John Laird (D-Santa Cruz), Rosilicie Ochoa Bogh (R-Yucaipa), Lena Gonzalez (D-Long Beach), and Richard Pan (D-Sacramento).
LADPH reported Friday that the total Monkeypox / Orthopox Confirmed Cases were 797 which
included Long Beach and Pasadena which have separate independent health departments.
| | |
| --- | --- |
| Los Angeles County (excl. Long Beach and Pasadena) | 753 |
| Long Beach | 36 |
| Pasadena | 8 |
Long Beach data as of August 11, 2022 at 12:00 AM.
Pasadena data as of August 10, 2022 at 5:30 PM.
CDC Monkeypox data table for August 12, 2022, 11,177 total cases:
| Location | Cases |
| --- | --- |
| Alabama | 30 |
| Alaska | 2 |
| Arizona | 170 |
| Arkansas | 15 |
| California | 1,945 |
| Colorado | 111 |
| Connecticut | 59 |
| Delaware | 8 |
| District Of Columbia | 328 |
| Florida | 1,085 |
| Georgia | 851 |
| Hawaii | 12 |
| Idaho | 9 |
| Illinois | 771 |
| Indiana | 78 |
| Iowa | 15 |
| Kansas | 3 |
| Kentucky | 11 |
| Louisiana | 103 |
| Maine | 3 |
| Maryland | 275 |
| Massachusetts | 202 |
| Michigan | 92 |
| Minnesota | 66 |
| Mississippi | 11 |
| Missouri | 20 |
| Montana | 2 |
| Nebraska | 15 |
| Nevada | 74 |
| New Hampshire | 15 |
| New Jersey | 293 |
| New Mexico | 16 |
| New York | 2,295 |
| North Carolina | 138 |
| North Dakota | 2 |
| Ohio | 89 |
| Oklahoma | 12 |
| Oregon | 95 |
| Pennsylvania | 298 |
| Puerto Rico | 48 |
| Rhode Island | 31 |
| South Carolina | 60 |
| South Dakota | 2 |
| Tennessee | 67 |
| Texas | 815 |
| Utah | 69 |
| Vermont | 2 |
| Virginia | 175 |
| Washington | 251 |
| West Virginia | 4 |
| Wisconsin | 31 |
| Wyoming | 0 |
Right-wing media exploit monkeypox- retread anti-vax misinformation
These anti-vax talking points are intended to stigmatize LGBTQ people by framing promiscuity as the primary driver of the disease


By Mia Gingerich | WASHINGTON – As monkeypox presents an ever-increasing threat to Americans, predominantly gay and bisexual men, conservative media figures are exploiting the global health emergency to stoke fears of the COVID-19 vaccine and related health measures and to attack queer men.
These anti-vax talking points are often invoked alongside AIDS-era rhetoric intended to stigmatize LGBTQ people by framing promiscuity as the primary driver of the disease and gay and bisexual men as culprits in — rather than victims of — the growing outbreak. This stigmatization has already reportedly resulted in violence against gay men.
During the last week of July, the U.S. reported both the fastest rise in and highest number of monkeypox cases worldwide, leading the Biden administration to declare a public health emergency on August 4. The virus, which is endemic in certain African countries, is usually rare in Europe and the U.S. However, the virus recently found its way to men who have sex with men (MSM), where it has proliferated primarily through sexual contact. The gay community has emphasized the need to warn about the risk the virus poses to MSM while not feeding into anti-gay rhetoric that depicts gay sexuality as immoral.
Despite this plea from those most affected by the ongoing health crisis, right-wing media quickly responded to the spread of monkeypox with homophobia – recalling the vilification that gay men experienced during the AIDS epidemic. In addition to being impacted by the latest right-wing media smear campaign risking targeted violence against LGBTQ people, queer men are also less likely to seek medical care for monkeypox in countries where their sexuality is stigmatized.
Conservative media figures invoke COVID-19 conspiracy theories and criticism of health measures in coverage of monkeypox
From early on in their coverage of the monkeypox outbreak, right-wing media figures used the story to renew efforts to sow vaccine hesitancy and undermine COVID-19 health measures. Some far-right figures have even spread conspiracy theories that falsely assert the COVID-19 vaccine is directly responsible for the monkeypox outbreak.
On May 24, The Daily Wire's Candace Owens said on her show that "the first person who lines up to get a monkeypox vaccine, I'm going to laugh in your face." Owens then suggested the World Health Organization, Bill Gates, and Dr. Anthony Fauci were involved in the spread of both diseases as part of "attempts at authoritarianism" and "globalism." This claim coincides with the recent conservative conspiracy theory claiming the U.S. was ceding power to the WHO.
From the May 24, 2022, edition of Daily Wire's Candace
Fox News' Sean Hannity brought anti-vax conspiracy theorist Dr. George Fareed onto the August 8 edition of his radio show, where Fareed falsely claimed "the mass vaccination with these gene therapies, COVID vaccines, have the ability to weaken the immune system and make people more vulnerable to viral infection," suggesting the vaccine could precipitate the spread of monkeypox.
Far-right blog American Greatness posted an article on August 3 promoting the work of Shmuel Shapira, an Israeli scientist pushing similar claims as Fareed. The article claimed "Twitter censored Shapira" after the platform flagged a tweet of his as misinformation. Shapira's tweet read, "It is well established the mRNA vaccines affect the natural immune system. A monkey pox outbreak following massive covid vaccination: Is not a coincidence."
Right-wing media figures have also taken advantage of the recent health crisis to reignite their crusade against public health measures implemented during the COVID-19 pandemic. Conservative commentators claim that a double standard exists between government reactions to monkeypox and COVID-19, ignoring differences in how the two diseases spread.
Podcaster Steven Crowder, amid a longer homophobic rant suggesting gay men were engaging in bestiality, claimed on August 2 that COVID-19 health measures were "politically motivated" and that masking and social distancing "didn't make any difference whatsoever." Crowder then contrasted those measures with the fact that Pride events still took place this year despite the spread of monkeypox, saying, "They won't even cancel their gay San Francisco fuckfest."
From the August 2, 2022, edition of Louder with Crowder, streamed on YouTube
An article for The Federalist titled "Americans Lost Fundamental Freedoms During Covid — But Halting Gay Orgies To Stop Monkeypox Is Too Far?" bemoaned COVID lockdowns and claimed, "We shut down the world for a virus that had no traceable transmission, it was entirely random. It really isn't too much to ask for gay men to stop engaging in orgies and public sex events for their 'mental health,' their 'self-esteem,' and to continue 'having fun.'"
On Twitter, right-wing personalities expressed a similar sentiment.
Alt-right troll Mike Cernovich tweeted his criticism of public health advocate Dr. Gregg Gonsalves: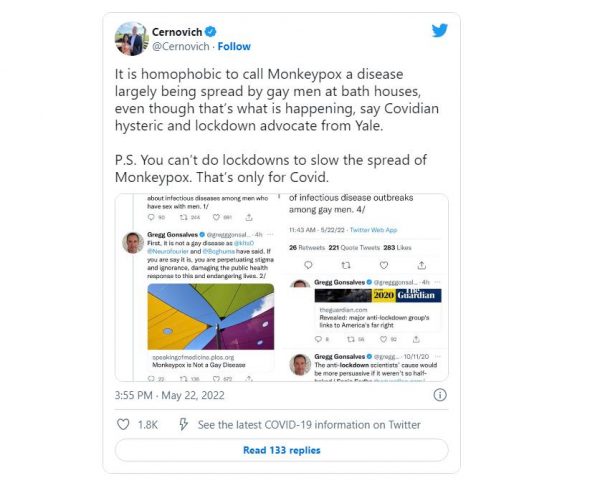 Far-right YouTuber Ian Miles Cheong continued his online anti-gay tirade on monkeypox:
They forced everyone to be apart from their dying parents and grandparents in hospitals, banned travel, and forced kids out of school and into Zoom calls, but "men who have sex with men" can't cool it for two weeks?

— Ian Miles Cheong (@stillgray) August 4, 2022
Right-wing radio host Dan O'Donnell similarly tweeted:
They shut down the entire country for COVID-19 but won't shut down the gay orgies for Monkeypox because science. https://t.co/4E2cO7chok

— Dan O'Donnell (@DanODonnellShow) August 5, 2022
Gay men are targeted with violence while right-wing media continues to depict them as threats
After the first cases of monkeypox were found among children in the U.S., LGBTQ advocates reported right-wing figures were using the news to falsely claim that gay men were guilty of abuse. This was a part of a larger attempt by right-wing media to use the monkeypox outbreak to depict LGBTQ people as a threat to society. By attempting to evoke the sort of stigmatizing rhetoric pushed during the AIDS epidemic that frames the MSM community as vectors of disease, right-wing media is feeding a culture of prejudice that has already resulted in violence against gay men.
The above-mentioned article from The Federalist fearmongered that "as gay men spread the virus within their population at startling rates, the chances of it escaping into the mundane world through close contact in stores, crowded streets, or buses increases," claiming that gay and bisexual men were spreading the disease through "truly selfish behavior [that] is endangering the rest of us."
Right-wing talk show host Erick Erickson tweeted, "'My orgy doesn't affect you,' said the man who spread monkeypox to the lady who worked at the gas station. Two weeks of no orgies to stop the spread is just too much to ask."
"My orgy doesn't affect you," said the man who spread monkeypox to the lady who worked at the gas station. Two weeks of no orgies to stop the spread is just too much to ask. But don't y'all go to church or see your grandparents. COVID is on the rise again.

— Erick Erickson (@EWErickson) August 4, 2022
On Hannity's August 8 radio show, guest Dr. Brian Tyson said the virus would "spread to the heterosexual community if we don't get a handle on the gay community to stop the transmission," and claimed "the CDC and the NIH, they're afraid to come out and tell the gay community to stop having intercourse until this pandemic goes away."
On the August 5 edition of his show, Turning Point USA's Charlie Kirk characterized the government response to monkeypox as an attempt to avoid offending "the alphabet mafia" of the LGBTQ community, saying, "You can't go after the gay community for maybe doing something they shouldn't be doing," before declaring he would "not live through another lockdown or an erosion of our civil liberties by a corrupt or usurpatious government because we're afraid to offend people. Don't care, and you shouldn't either."
From the August 5, 2022, edition of The Charlie Kirk Show, streamed on YouTube
The effects of right-wing media's misinformation about the COVID-19 vaccine put their audience at serious risk. However, these conservative figures are now jeopardizing the health of millions of LGBTQ Americans as well by seeking to stigmatize their sexuality during a public health crisis.
**********************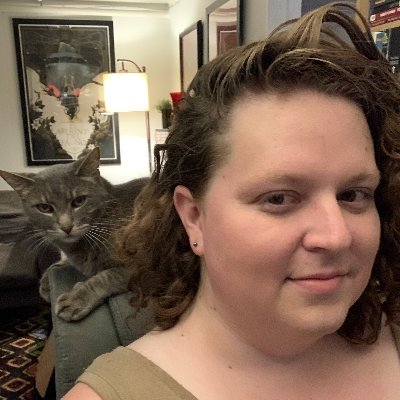 Mia Gingerich is a researcher at Media Matters. She has a bachelor's degree in politics and government from Northern Arizona University and has previously worked in rural organizing and local media.
********************
The preceding article was previously published by Media Matters for America and is republished by permission.