Project Angel Food's Lead With Love 3 telethon pulls in a new record
The evening was a triumph, as the broadcast became the highest grossing night in the telethon's three-year history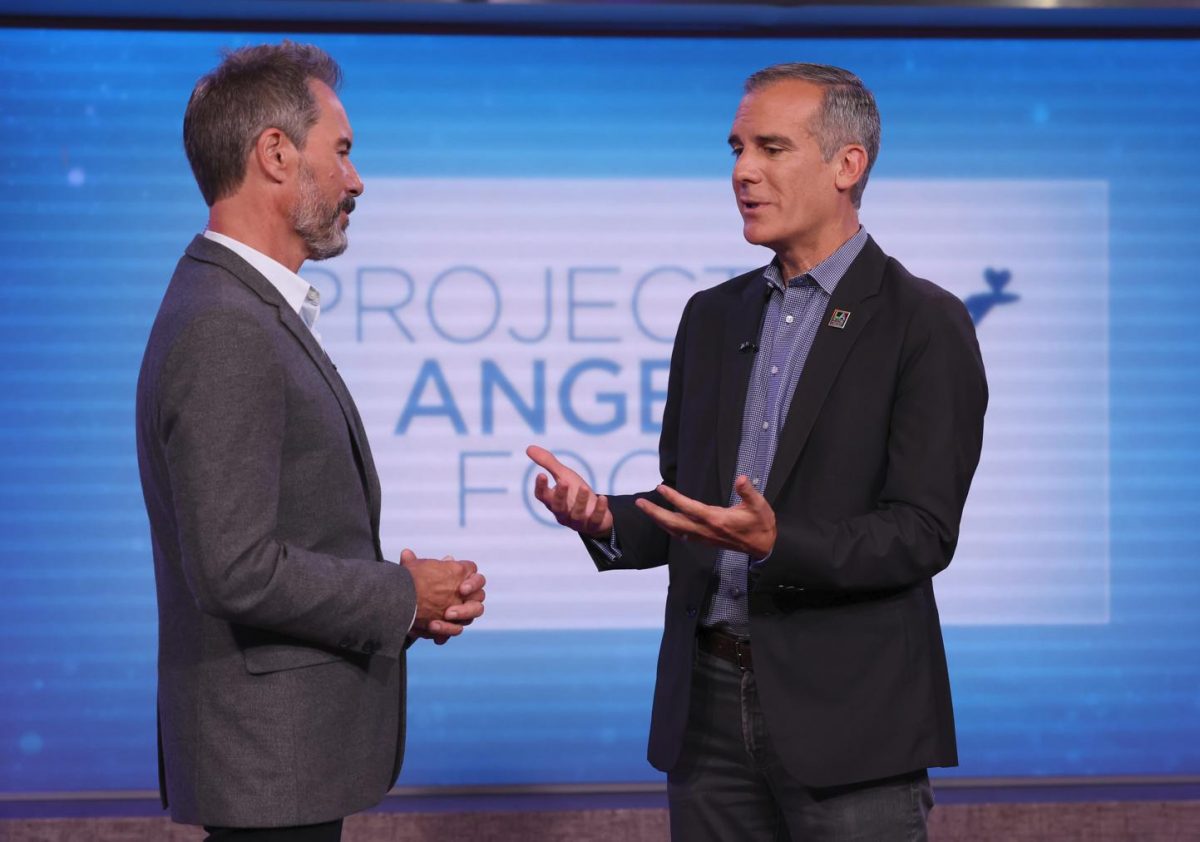 LOS ANGELES – The Saturday telethon hosted by KTLA 5 to benefit the Hollywood based charity Project Angel Food was a massive success according to its organizers pulling in $1,172,970.00 which exceeded the event's sponsored by City National Bank goal by 17%.
KTLA 5 and Project Angel Food noted the evening was a triumph, as the broadcast became the highest grossing night in the telethon's three-year history. Project Angel Food CEO Richard Ayoub reflected, "With inflation and rising food insecurity among L.A.'s critically ill population, it is so encouraging to see Los Angeles step up to help us rise to the challenge."
Project Angel Food feeds critically ill men, women, and children in Los Angeles County. The organization delivers Medically Tailored Meals, with care and compassion, directly to the client's homes. More than 2,500 vulnerable Angelenos are fed daily, with over 1.2 million meals delivered each year.
Oprah Winfrey opened the show, Richard Gere made a rare television appearance, and Lori Loughlin made her first non-acting television appearance in more than three-and-a-half-years.  The night was filled with fan favorites, celebrity messages, an All-Star Phone Bank of celebrities taking donor calls, and musical performances.
Will & Grace star Eric McCormack and KTLA Morning News anchor Jessica Holmes returned to host the annual televised event and were joined by Loni Love and Alec Mapa who also returned as dynamic co-hosts.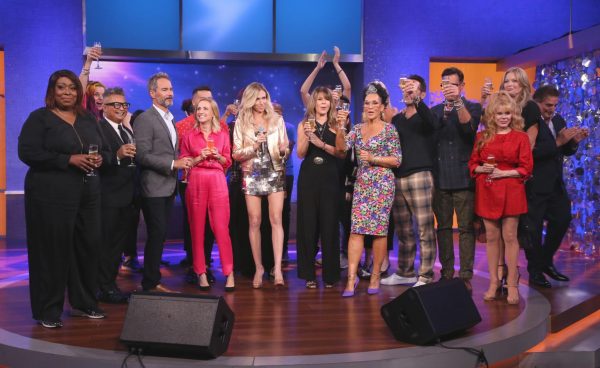 Highlights included:
Lori Loughlin, who has volunteered with Project Angel Food since January 2021, appearing a "day in the life of a Project Angel Food volunteer" package in which she said of the organization, "It is a community, it is a family, and all the people that work here are so wonderful. They have welcomed me with such open arms at a time when I was feeling particularly down and broken. That's how I found a home here, and that's what I feel like they did for me, and that's why I'm so proud to be here and working with this organization, because they really do care. It's really a community."
Oprah Winfrey's stirring opening, kicking off the show with this message: "When we find a way to serve other people, we see how compassion and empathy can really make a lasting, positive impact by showing up for somebody else."   
Richard Gere announcing a $75,000 matching grant from the Herb Ritts Foundation, saying, "Herb was one of my dearest, closest friends and when he passed away in 2002, from complications from HIV/AIDS, it was completely devastating for all of us. And he wanted his foundation to continue the work he had been doing helping people."
A hysterical Will & Grace reunion in which Eric McCormack's Will & Grace co-star Sean Hayes feigned audio issues and insulted McCormack's gray hair and beard.
A Charlie's Angels reunion with Jaclyn Smith and Cheryl Ladd.
Four "Mystery Guests" included Cybill Shepherd, who left McCormack flabbergasted with revealing she knew Elvis Presley, "in the Biblical way," Charo, 13-time Grammy Award winner Chaka Kahn, and Los Angeles Mayor Eric Garcetti, who discussed delivering meals with Project Angel Food.
The television debut of Debbie Gibson's new song "Cheers" from her upcoming Christmas album which closed the show, and Taylor Dayne's live performance of "I'll Be Your Shelter."
Loni Love "flipping her wig" when Rock 'N Roll legend Stevie Nicks called in a surprise $25,000 donation.
Presenting sponsor City National Bank's Linda Duncombe, Executive Vice President, Chief Marketing, Digital and Product Officer, delivering a $100,000 check to McCormack, Project Angel Food CEO Richard Ayoub, and Holmes.
Pauley Perrette, who was on hand to introduce a musical performance, bringing with her a $9,000 donation.
Executive produced by television veteran, Brad Bessey, along with Michael Levitt, Ayoub, KTLA's Marcus Smith and Jacob Burch, and Mark McBride, sponsorships, the live two-hour fundraising special was jam-packed with surprises, energy and fun. Bessey says, "Over dinner with Eric several months ago, he mentioned in passing he would love our show to have more of a 'variety feel' this year, so we ran with it. I think we delivered with humor and heart." 
The All-Star Phone Bank, emceed by Mapa, created the most unpredictable and entertaining segments of the night with Melissa Peterman, Michelle Visage, Kim Coles, Jai Rodriguez, Beth Hall, Mary-Margaret Humes, Lawrence Zarian, and Gregory Zarian talking to donors throughout the night and creating comedy chaos along the way.
In addition to Dayne and Gibson's live performances, musical highlights included Pat Benatar and Neil Giraldo performing "We Belong," Sarah McLachlan performing, "I Will Remember You," Five for Fighting performing, "World," and Josh Groban performing, "Angels."
Celebrity messages flooded in from supporters Bryce Dallas Howard, Sharon Stone, Whoopi Goldberg, Eugene Levy, Gloria Estefan, Karamo, Holland Taylor, Henry Winkler, Fran Drescher, Tyler Henry, Danny Pino, Cheryl Burke, Rachel Lindsay, Ross Mathews, and Jonathan Del Arco.

Donations are still being accepted for LEAD WITH LOVE 3, at angelfood.org/love.
To learn more about Project Angel Food, please visit www.angelfood.org.
LACFD Lifeguard Div. announces death of Ocean Lifeguard Derek Traeger
Trager, 28, whose guard/patrol area was the beaches of Santa Monica North, had worked for the department for the past six years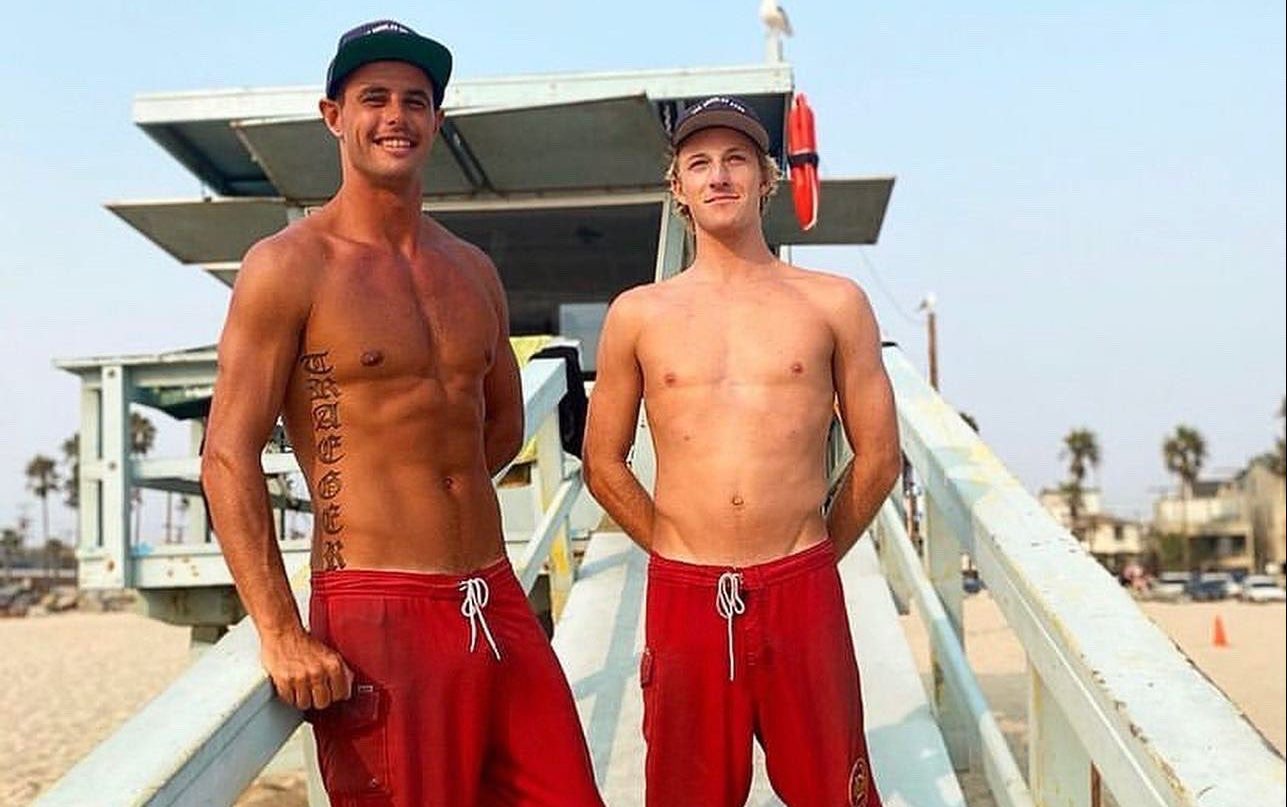 LOS ANGELES – On Monday, the Los Angeles County Fire Department, Lifeguard Division announced that the department lost an active-duty Ocean Lifeguard Derek Traeger on Sunday, August 14.
Trager, 28, whose guard/patrol area was the beaches of Santa Monica North, where the Pacific Coast Highway leads to Malibu, had died on in a freeway accident, the L.A. County coroner's office said in a statement. The cause of death was listed as blunt trauma. Details about the crash were unavailable according to the Medical Examiner-Coroner's office.
Trager had worked for the department for the past six years. It's not an easy job NBC News had noted. The county requires viable candidates to perform a 1,000-meter ocean swim and then undergo 100 hours of training — and some lifeguard organizations have had a hard time staffing up for summer.
The division is responsible for 72 miles of coastline, from the Orange County line to its border with Ventura County, and a typical year can demand 10,000 or more ocean rescues.
Traeger was born and raised in San Pedro where he learned to swim and surf. He was a LA County Junior life guard for 9 years, a Cadet for 2 years. He swam for San Pedro High School and was captain of the San Pedro High surf team. He has been a swim instructor since 2011. He was a student at California State University Long Beach, an online bio read.
Julia Almanzan, Principal Deputy Los Angeles County Counsel and the parent of a child assisted by Traeger posted a noted of gratitude on Facebook with a photo of the Ocean Lifeguard and her kid: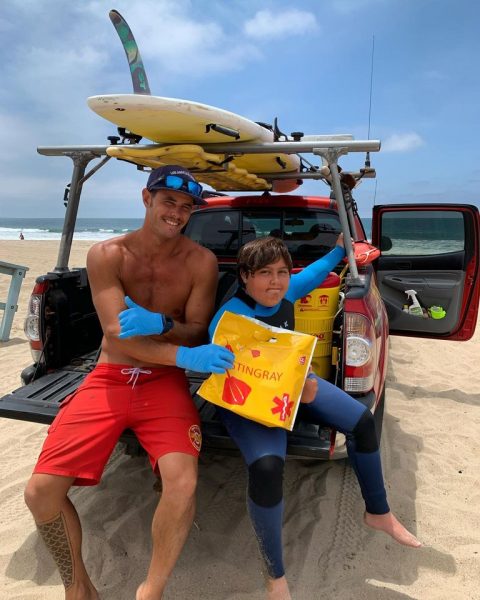 "This 28yo @lacolifeguards Derek Traeger passed away on Sunday. I only know him from his assistance in treating and caring for @lucasalexanderah in my absence during @summerofsurf at Santa Monica beach in July. Derek was really good with kids, especially mine…and really good with moms who are far away from their kids during medical emergencies. I'm so sad such a good human has left this earth too soon. May he Rest In Peace. A huge thanks to @monica.mihaly.5 @christophermihaly for also caring for Lucas pending my arrival, and capturing this helper in action. There couldn't be a better set of caring people circling Lucas at such an unfortunate time."
In a Twitter thread, the department noted;
"OL Traeger understood better than most what it means to wear the red trunks. His passion for life, art, the ocean, and his lifeguard family was evident in every moment he lived," the tweet read. "We extend our deepest condolences to the family, friends, & colleagues of OL Traeger."
(1/3) It is with great heartache the Los Angeles County Fire Department, Lifeguard Division shares the active duty death of Ocean Lifeguard Derek Traeger on Sunday, August 14, 2022. Ocean Lifeguard Traeger faithfully served the County of Los Angeles for 6 years and was last pic.twitter.com/Khbajke4Wz

— LACoLifeguards (@LACoLifeguards) August 15, 2022
(3/3) activated and services are available for family and team members.

We extend our deepest condolences to the family, friends, & colleagues of OL Traeger. More information will be shared when available.

— LACoLifeguards (@LACoLifeguards) August 15, 2022
Inaugural LA County Youth Climate Commission seeks youth leaders
"It's a fantastic opportunity for young people who are both passionate about climate change and interested in public service"
LOS ANGELES (Press Release) – Aiming to empower the region's next generation of environmental leaders, the County of Los Angeles today issued a call for young adults to serve on its inaugural Youth Climate Commission.
On the heels of major climate legislation at the federal level, the County is seeking 25 youth leaders who have a commitment to civic action that will create greater resilience in their communities.
The Board of Supervisors, responding to grass-roots activism from Los Angeles youth climate leaders, adopted an ordinance to create the Commission to inform, recommend, and advise on County goals, plans, actions, and policies related to climate change mitigation and resilience.
The panel – the first County Commission to focus exclusively on climate change – aims to amplify the perspectives and priorities of local youth, since they will be the most dramatically impacted by the ongoing climate impact during their lifetime.
"I am heartened that after years of insufficient action on climate, Congress is advancing a major climate bill that will change the game for lowering our emissions nationally," said Supervisor Hilda Solis who represents the First District and authored the ordinance. "With new federal resources, the stakes are even greater for us to ensure that the very people whose future is most impacted are at the table to effect real change."
"Despite another season of record-breaking heat and extreme weather, I remain hopeful in the next generation's unwillingness to stand idle in the face of the climate crisis. The Youth Climate Commission provides an important structural pathway for new and diverse leadership to advance equitable and bold climate solutions for the Los Angeles region" said Supervisor Holly Mitchell who represents the Second District.
"Young people all across Los Angeles County are an untapped source of energy and ideas that can, and should, influence the County's actions on climate change," said Supervisor Sheila Kuehl who represents the Third District and was the co-author of the ordinance. "I encourage young people who have a commitment to reversing climate change, protecting biodiversity, and reimagining our relationship to our planet's natural resources to consider participating on this exciting body that will help to shape LA County climate policy for years to come."
"We are already seeing the effects of climate change, but many of my colleagues and I will be long gone when the worst impacts of the climate crisis take hold. Young people are leading a movement on this issue and they are proving better at it than the generations before who have failed them. They deserve a seat at the table in shaping our County's climate policy and I encourage the young climate leaders across my district to apply to be a part of this commission", said Supervisor Janice Hahn who represents the Fourth District.
"Our County is very big, so it's important that we attract a diverse group of individuals so that we hear perspectives inclusive of different parts of our County, such as our high desert, foothill, and mountain communities," said Supervisor Kathryn Barger, who represents the Fifth District. "Many of these communities face a higher likelihood of being impacted by natural disasters due to climate change, such as wildfires and flooding. I highly recommend anyone who is interested to come forward and apply to join this new County Commission. It's a fantastic opportunity for young people who are both passionate about climate change and interested in public service."
The findings of the County's recent Climate Vulnerability Assessment, demonstrated that an estimated 56% of residents – nearly 5.7 million people — face high risk to such climate hazards as extreme heat, wildfire, inland flooding, extreme precipitation, coastal flooding, and drought.
Low-income and communities of color face a disproportionate amount of climate vulnerability as well as limited capacity to withstand and weather future threats, the study found.
The commission's recommendations will further the ongoing implementation of Our County Sustainability Plan, the most ambitious regional sustainability blueprint in the nation. Among its 159 action items is creating a fossil fuel-free L.A. County by 2050.
"We are committed to reflecting the diversity of our County in our new Youth Climate Commission. We invite young adults from marginalized communities, communities burdened by pollution, and beyond to co-create with us a future with healthy, sustainable communities by applying to serve as commissioners," said Executive Officer Celia Zavala.
Application materials are available on the website and must be submitted by Sept. 15, 2022. Interested applicants must be age 18 by Oct. 1, 2022.
2nd Recall effort against LA County District Attorney George Gascón fails 
The 520,050 valid petition signatures fell short of the 566,857 required to place the recall question on the ballot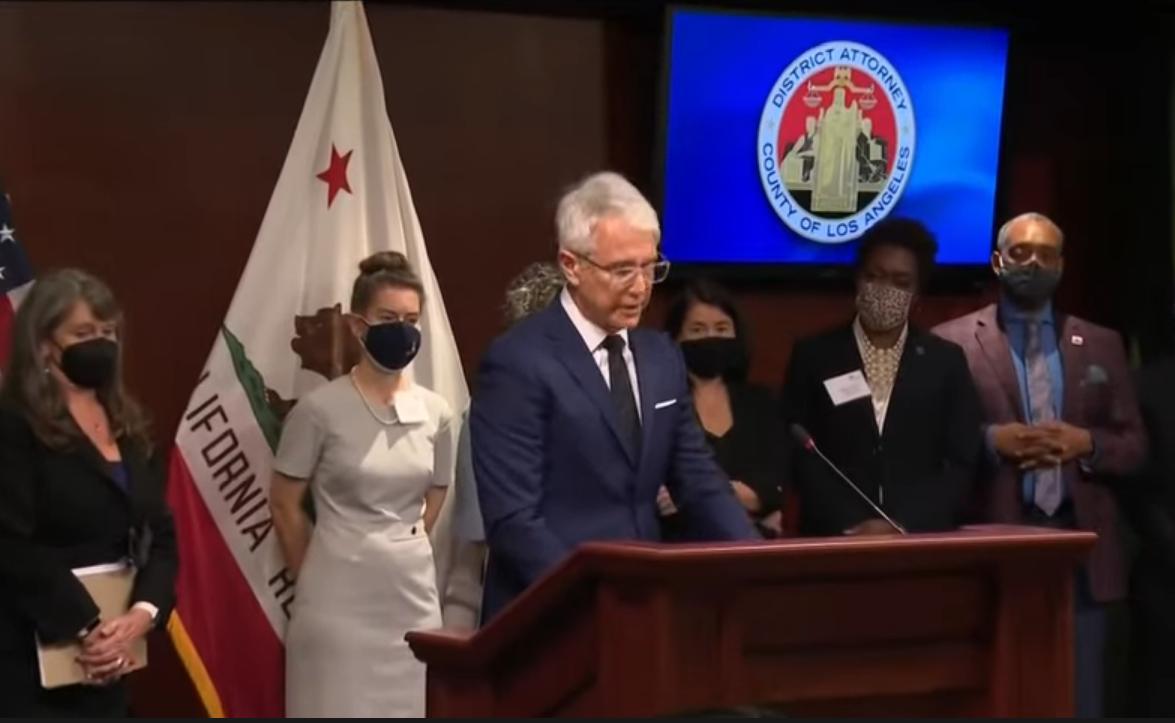 LOS ANGELES – The second effort to recall Los Angeles County District Attorney George Gascón was rejected Monday after the LA County Registrar-Recorder/County Clerk's office announced recall organizers had fallen short of the requisite validated signatures needed to qualify for the November elections ballot.
A spokesperson for Dean C. Logan, the Registrar-Recorder/County Clerk, said that recall organizers had submitted a total of 715,833 petition signatures, of which 195,783 of the signatures were invalid and another 45,000 were duplicate signatures. The remaining 520,050 valid petition signatures fell short of the 566,857 required to place the recall question on the ballot.
KTLA reported that organizers halted their first recall attempt last fall after they were unable to gather the necessary signatures by the end of October.
Gascón, 67, was elected in 2020 on a pledge to reform the county's criminal justice system. Since he took office, juveniles are no longer being charged as adults, sentencing enhancements that he says lead to mass incarceration have been eliminated and cash bail for nonviolent felony offenses has ended. Misdemeanors associated with substance abuse and mental illness are also being diverted out of the criminal justice system, both KTLA and the Los Angeles Times have reported.
Gascón's policies have provoked criticism from Los Angeles County Sheriff Alex Villanueva, as well as officers from the Los Angeles Police Department and others from the 88 jurisdictions within the County.
Recall organizers contend that his policies favor criminal defendants and have contributed to a significant rise in crime rates reported across the County.