Florida sued by LGBTQ legal & advocacy groups over "Don't Say Gay" law
"Children should not be the political fodder used to inflame hatred and bigotry for the sake of winning and holding onto power"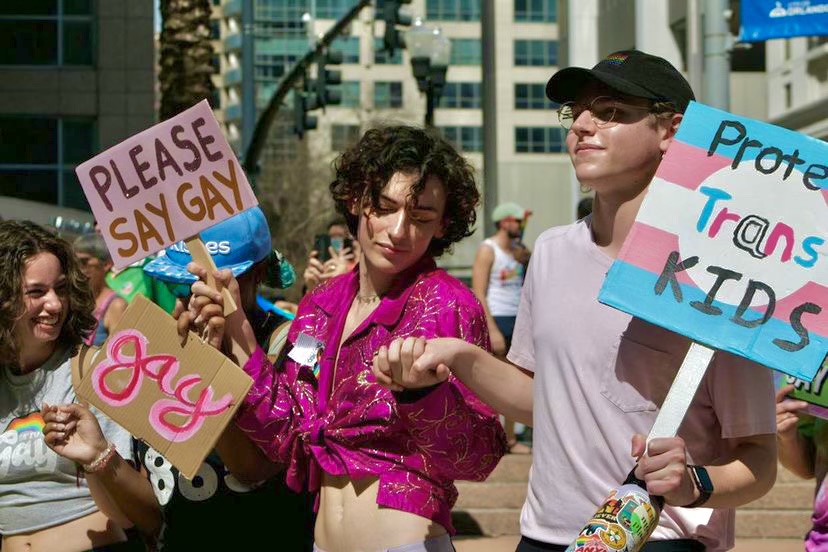 ORLANDO – On Tuesday Lambda Legal, the Southern Poverty Law Center (SPLC), Southern Legal Counsel (SLC), and private counsel Baker McKenzie filed a federal lawsuit challenging the Florida's "Don't Say Gay" law.
The suit, Cousins et al. v. The School Board of Orange County et al, filed in United Stated District Court for the Middle District of Florida Orlando Division, was filed on behalf of Jennifer and Matt Cousins and their children, 14-year-old N.C. in ninth grade, 12-year-old S.C. in seventh grade, 8-year-old M.C. in third grade, and 6-year-old P.C. in first grade, David Dinan and Vikranth Reddy Gongidi and their children, 9-year-old K.R.D. in fourth grade and 8-year-old R.R.D. in third grade,  Will Larkins, rising senior at Winter Park High School in Orange County, Florida and Centerlink, Inc. LGBTQ+ centers. 
The lawsuit argues that the law, which bans discussion of sexual orientation and gender identity in grades K-3 and restricts such discussions for students through grade 12 based on undefined standards of appropriateness, effectively silences and erases LGBTQ+ students and families. The law demands that school districts implement its terms, and it empowers any parent to directly sue the school district if they are dissatisfied with its implementation of the law.
"The purpose and effect of this breathtakingly broad law is to silence LGBTQ+ students and families, and the law's imprecision intensifies its chilling effect. Because the law invites any parent dissatisfied with a school's censorship of LGBTQ-related speech to sue the school district and collect attorney fees, it causes schools to aggressively control discussions that might trigger the type of moral objection that gave rise to this law," said Kell Olson, Lambda Legal Staff Attorney. "Already, schools have cut anti-bullying guidance for K-12 teachers and pulled books from shelves. LBGTQ+ parents are struggling to find gentle ways to explain to their children why they won't be able to talk openly about their families when they go back to the classroom in a few weeks. This discriminatory law puts students at risk and sends a message of shame and stigma that has no place in schools."
"We are deeply concerned about the negative effect that HB 1557 has upon our family. The law limits our speech and our expression. The law forces us to self-censor for fear of prompting responses from our children's teachers and classmates that would isolate our children and make them feel ashamed of their own family. It also causes irreparable harm to our children and to their development," said plaintiffs David Dinan and Vikranth Gongidi.
"I am concerned that this law will eviscerate any hope of healthy and important discussions about LGBTQ+ issues or historical events, which are already lacking in our schools. Because of the vague language of the law, closed-minded parents are emboldened to become vigilantes to force their beliefs upon other people's children by suing the school district over anything they disagree with," said plaintiff Will Larkins.
"This law will prevent our two youngest children, rising first and third graders, from discussing their older non-binary sibling in the classroom for fear of their teacher or their school getting in trouble. The law also robs them of the opportunity of discussing their family like other non-LGBTQ+ children. It's heartbreaking to know that my children may be bullied because this law paints our family as shameful. Every child deserves the right to celebrate their family in the form that it exists," said plaintiffs Jennifer and Matthew Cousins.
"Children should not be the political fodder used to inflame hatred and bigotry for the sake of winning and holding onto power," said Bacardi Jackson, interim deputy legal director for SPLC's Children's Rights Practice Group. "But that's exactly what this unconstitutional law seeks to do. The real lives and identities of all of our children and their families are not words on a page that can just be edited out, nor should they be. All of us, and our democracy, are irreparably harmed when people, and especially children, are relegated, made invisible and targeted for who they are or who they love. This law cannot stand."
"Through our work with LGBTQ+ students across the state of Florida, we are profoundly aware of the ways in which many school districts were already failing to provide a safe and affirming learning environment for LGBTQ+ students even before this new assault on their rights," said Simone Chriss, Director of the Transgender Rights Initiative at Southern Legal Counsel. "As a result of HB 1557, the hard-won protections we've fought to put in place in Florida school districts to keep LGBTQ+ students safe, such as LGBTQ+ Critical Support Guides, anti-bullying policies, and inclusive materials, are being stripped away as schools move toward censorship to avoid expensive legal challenges by anti-LGBTQ+ parents. We will fight to right this wrong, to correct this injustice, and to ensure all students have access to a safe and affirming school environment."
"The Baker McKenzie pro bono team recognizes the severe harm that HB 1557 poses to youth and families in Florida," commented Angela Vigil, Partner and Executive Director of Pro Bono at the Firm. "We are proud to be part of the legal team challenging this discriminatory law, giving these brave plaintiffs the opportunity to express the pain and fear it is causing them — and so many families throughout the state — in federal court."
Newsom on federal court allowing domestic violence abusers guns
"These three zealots are hellbent on a deranged vision of guns for all, leaving government powerless to protect its people"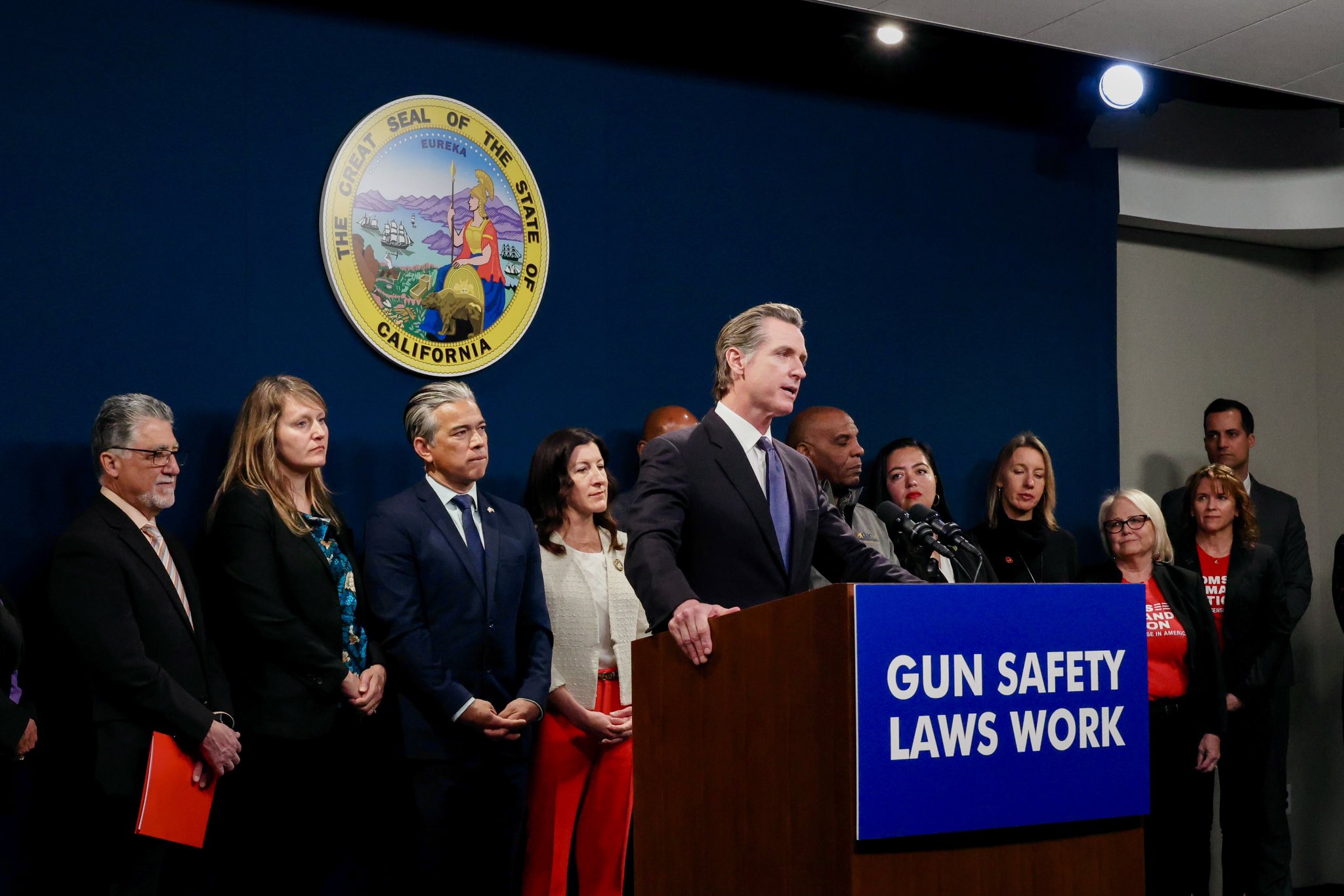 NEW ORLEANS – On Thursday, a three judge panel from the Fifth U.S. Circuit Court of Appeals, ruled that the federal law prohibiting individuals from "possessing a firearm while under a domestic violence restraining order" is unconstitutional.
Judge Cory Wilson, a Trump appointee, writing in the majority opinion in United States v. Rahimi, stated the federal law targeting those believed to pose a domestic violence threat could not stand under the Bruen test, a significant U.S. Supreme Court June 23, 2022 decision which requires that gun laws have a historical analogy to the firearm regulations in place at the time of the Constitution's framing and the Second Amendment.
CNN reported that the 5th Circuit panel was not persuaded by the historical parallels put forward by the US Justice Department, which was defending the conviction of a person who possessed a firearm while under a domestic violence restraining order that had been imposed after he was accused of assaulting his ex-girlfriend. The Justice Department argued that the domestic violence law was analogous to 17th-and 18th century regulations that disarmed "dangerous" persons.
Ian Millhiser a lawyer and constitutional expert reporting for Vox noted:
The immediate impact of this decision is that Zackey Rahimi, who "was subject to an agreed civil protective order entered February 5, 2020, by a Texas state court after Rahimi's alleged assault of his ex-girlfriend," may not be convicted of violating the federal ban on gun possession by domestic abusers.
More broadly, because the decision was handed down by the U.S. Court of Appeals for the Fifth Circuit, which presides over federal lawsuits in Louisiana, Mississippi, and Texas, this federal law can no longer be enforced in those three states.
In Sacramento, California Governor Gavin Newsom issued a statement after the judicial panel struck down the federal law:
"Now, a federal appeals court has ruled domestic abusers have the right to carry firearms. Where is the line? Who's next?
"Judge Cory Wilson, Judge James Ho, and Judge Edith Jones.
"These three zealots are hellbent on a deranged vision of guns for all, leaving government powerless to protect its people. This is what the ultra-conservative majority of the U.S. Supreme Court wants. It's happening, and it's happening right now.
"Wake up, America – this assault on our safety will only accelerate. This is serious – and it's coming to California. We are probably only weeks away from another activist judge, Judge Roger Benitez, striking down California's bans on assault weapons and large capacity magazines. California will continue to fight against these extremist judges to protect our residents' right to be free from gun violence."