How teen LGBTQ+ activist Will Larkins learned 'Florida is people like me'
Larkins' activism has done more than educate others – it's taught themself, as well. Florida cannot just be boiled down to 'rednecks & bigots'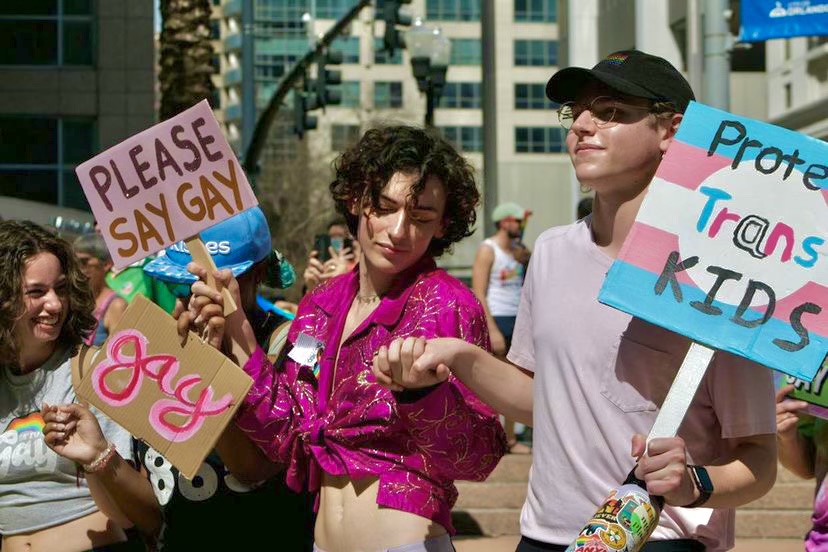 WINTER PARK, Fl. – For 17-year-old Will Larkins, moving to Florida felt like the end of the world. The California-born teen activist, whose campaigning against anti-LGBTQ+ bills has gone viral, always looked at the state as "redneck" and "bigoted."
And Larkins', who uses they/him pronouns, worst fears about Florida came true in their first months living in the state. They told the Blade in a telephone interview that their first semester at Winter Park High School in Winter Park, Florida, was "terrible."
"It was small things, but it was very constant," said Larkins. "It was comments in the bathrooms and in the hallways and at lunch."
Larkins could not dodge the name calling, whether it was whispers behind their back or slurs hurled directly at them. They went to school administrators repeatedly, but the school took no action, according to Larkins. The Blade attempted to reach Winter Park High School multiple times for additional information on anti-bullying policies, but the inquiries were not immediately returned.
In October of last year, Larkins reached their tipping point in October in the face of a series of "horrible things" taking place on the same weekend. It started with a Halloween party that Larkins and a few friends were invited to. "We were very excited," they recalled.
Dressed like a Playboy bunny in a Chanel crop top, Larkins remembers walking in and "everything seeming fine" – until it wasn't. Roughly 10 minutes after their arrival, a group of boys surrounded Larkins, shouting anti-LGBTQ+ slurs and insults.
"You're going to hell," one said, as another told Larkins to "f**k kids and animals" – an age-old insult gaining popularity in the face of a historic push for anti-LGBTQ+ legislation by right-wing politicians. (Some Republicans have used similar language in defending homophobic and transphobic bills.)
The situation continued to escalate until one threatened to physically attack Larkins if they didn't leave. "It was really scary," they said.
The next day, Larkins went out trick or treating with a different group of friends. "F**got," a classmate yelled at them.
The harassment followed Larkins to the bathroom at school the next day. As they tried to use the restroom, three boys appeared and began to make "jokes" about Larkins. "Be careful, we're homophobic," Larkins recalled them saying. "You better watch out."
Not being able to handle anymore, Larkins sought out administrators for help — one of which refused to speak with them because "she didn't feel comfortable," according to Larkins, forcing them to find another.
"It really pushed me to a bad place mentally," Larkins said. At one point, they broke down in their English teacher's classroom during lunch.
But in that dark place, Larkins found a silver lining. "I was not the only person going through this," they said.
Larkins' English teacher told them that "she had gone through very similar stuff when she was my age. The only difference was her family was very unsupportive."
"My family is supportive," Larkins said. 
This realization began the Queer Student Union at Winter Park High School, which Larkins said attempts to "make the school better." Coincidentally, as the club started, Florida Republican legislatures introduced H.B. 1557, better known by opponents as the "Don't Say Gay" law.
The bill, officially titled "Parental Rights in Education," will make classroom instruction about sexual orientation and gender identity in grades K-3 and allow parents to sue schools or teachers who violate the legislation. In late March, Florida Republican Gov. Ron DeSantis signed the bill, set to go into effect before the next school year.
However, days after DeSantis' signature, a lawsuit emerged against the measure, arguing the statute "would deny to an entire generation that LGBTQ people exist and have equal dignity."
Supporters continue to argue that the legislation is about "empowering parents" and improving the lives of children in the state.
After the bill was introduced in early January, Larkins' club began campaigning against it, starting with an email campaign to legislators in the Florida statehouse. Soon after, Larkins would begin trips to Tallahassee, speaking directly to lawmakers on the floor.
In a passionate speech to the Florida Senate Appropriations Committee, Larkins told lawmakers about the harm such a bill would cause – pointing out the already high number of mental health issues and drug abuse in the LGBTQ+ community. But Larkins told the Blade they felt unheard.
"They don't care," Larkins said. "The Republican legislators sat there, they couldn't even look me in the eye while I told them my story, and they passed the bill anyways."
One Republican Senator, Jeff Brandes, joined Democrats in voting against the bill, saying he could not "support the bill today in hopes that we can find a way to love our neighbors." But it still easily made it out of committee.
After speaking to the Senate committee, rumblings of a statewide walkout in protest of the "Don't Say Gay" bill began. Larkins recalls seeing social media posts with general information, but at Winter Park High School, everyone looked at them to be the one to organize it.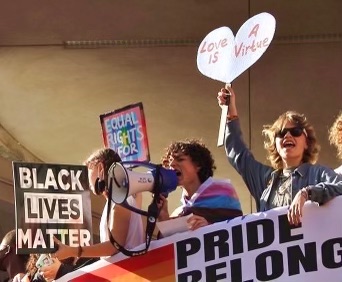 "I was very hesitant," Larkins said, explaining that they feared repercussions from the school. But "people expected me to be the one to do this," they added.
Larkins contacted their friend Maddi Zornek, and the two got the word out through social media, made posters and bought Pride flags.
"I thought it was going to flop," Larkins said. "Lo and behold, 9 o'clock hits and upwards of 600 kids walk out of class."
"It was refreshing, honestly," Larkins added. "I had dealt with so much bulls** for being openly queer and expressing myself in a gender nonconforming way. So, seeing this school, which I believed to be hateful and homophobic, chant in mass, 'we say gay' and 'trans lives matter' was so powerful."
The walkout was Larkins' first viral moment, as it garnered national attention. Larkins is trying to use that newfound attention and turn it into change.
Activism isn't foreign to Larkins; in fact, in second grade, they started a construction paper petition to get the school lunch changed. "I've always been an activist from a young age," they said.
But now, their activism means survival. "It wasn't a conscious choice," they said. "I'm doing what I have to in order to help my community and make sure that I have a safe space at school next year, and that people like me have a safe space at school next year, and that my gay little sibling also has a safe space as for next year."
Once Larkins had their eyes set on fashion school and Europe, the teen now feels like activism could be something they see themselves doing in the future. Whether or not they make a career out of advocacy is yet to be seen, but Larkins shows no signs of slowing down.
Shortly after DeSantis signed the "Don't Say Gay" bill, they went viral again. This time with a lesson about the 1969 Stonewall Riots after realizing the topic wasn't being covered in the class curriculum.
On Tuesday, Larkins stood in front of the Seminole County school board during a meeting "overrun by homophobes saying terrible things."
"I have never once learned about sexuality or gender identity in school, and that is the problem," they said.
Larkins' activism has done more than educate others – it's taught themself, as well. Florida, for example, cannot just be boiled down to "rednecks" and "bigots."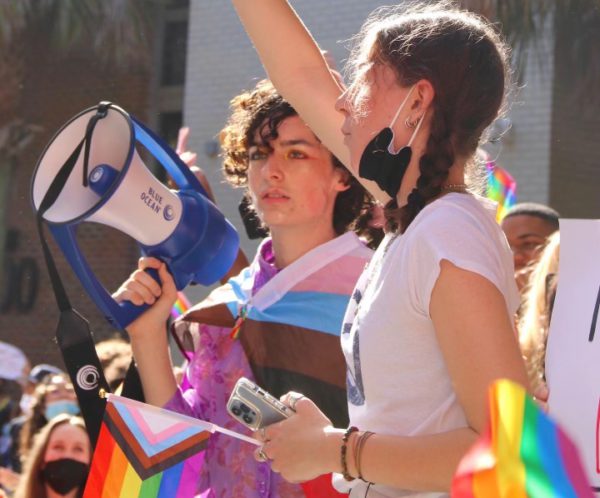 "Florida isn't Ron DeSantis. Florida isn't the Florida Legislature. Florida isn't the loud, hateful people," Larkins said. "Florida is people like me and the literal hundreds of student leaders who lead walkouts across the state of Florida. It is the thousands and thousands of people who came together after Pulse. Florida is the kids at Marjory Stoneman Douglas High School standing up for themselves and creating one of the biggest movements in modern history. That's Florida."
Hillary Clinton labels Justice Thomas 'a person of grievance'
Clinton cautioned that Thomas was also sending a signal to attack same-sex marriage, sodomy and contraception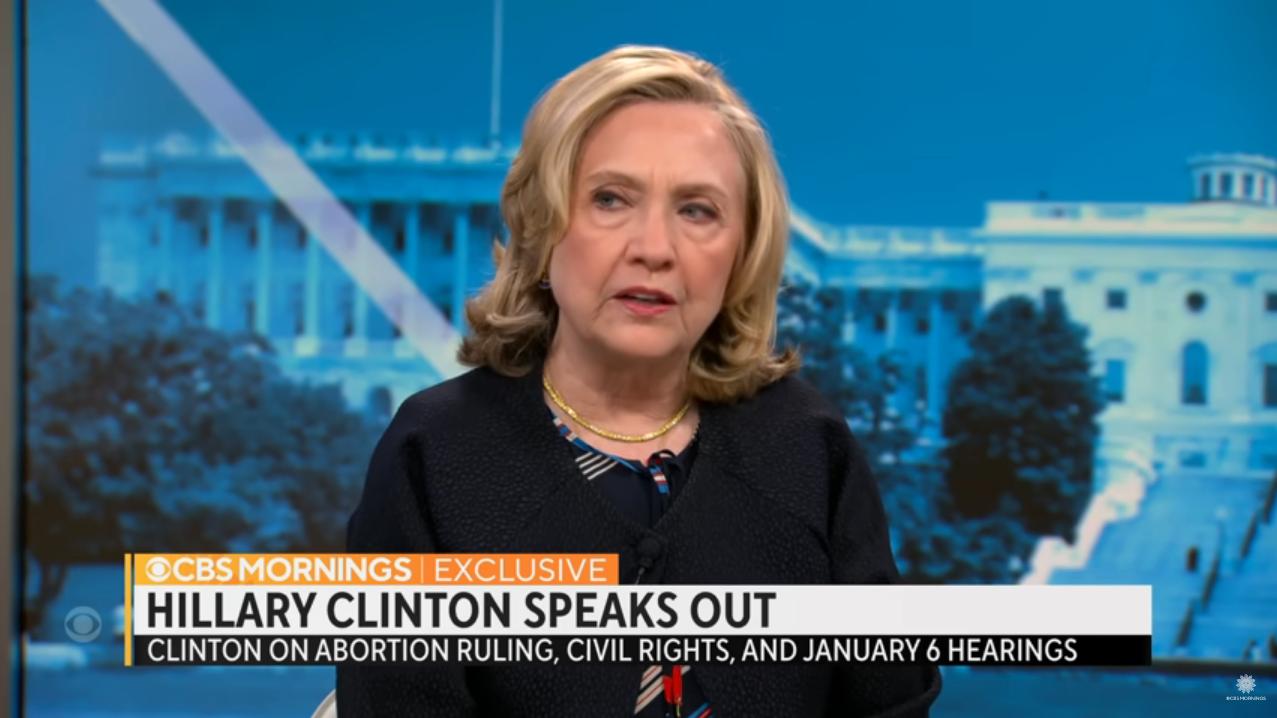 NEW YORK – In an interview with CBS News correspondent and co-anchor of CBS Mornings Gayle King, former U.S. Secretary of State Hillary Clinton reflected on last Friday's stunning yet expected overturn of landmark women's reproductive choice case Roe v. Wade.
During the interview, Secretary Clinton cautioned that Associate U.S. Supreme Court Justice Clarence Thomas was sending a signal to attack same-sex marriage, sodomy and contraception to lower federal courts and state legislatures and that he would be willing to consider cases that could target those rights.
"He has signaled in the past to lower courts, to state legislatures to find cases, pass laws, get them up," Clinton said, adding Thomas's message to conservative judicial activists has been "I may not get them the first, the second, or the third time, but we're going to keep at it."
Clinton also noted, "I went to law school with [Justice Thomas]. He's been a person of grievance for as long as I have known him — resentment, grievance, anger … Women are going to die, Gayle. Women will die."
Hillary Clinton on abortion ruling: "Women are going to die"
U.S. House Speaker hints at legislation to codify same-sex marriage rights
Pelosi suggested such legislation in a "Dear Colleague" letter on Monday to fellow members of the House Democratic caucus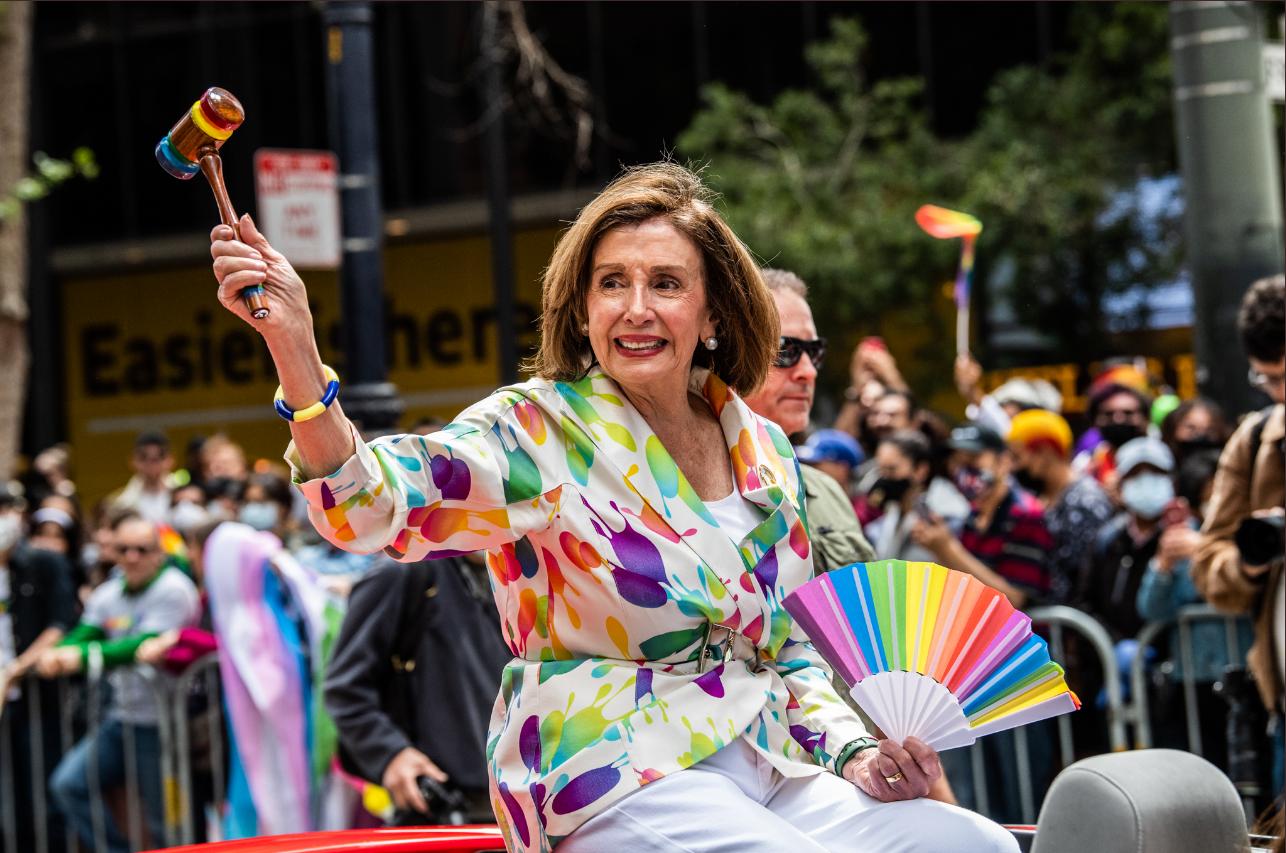 WASHINGTON – U.S. House Speaker Nancy Pelosi (D-SF) hinted at the possibility of legislation to codify the right of same-sex couples to marry, which many fear is in danger after the U.S. Supreme Court's decision overturning Roe v. Wade, as part of an effort to secure "freedoms which Americans currently enjoy."
Pelosi suggested such legislation could be in the works in a "Dear Colleague" letter on Monday to fellow members of the House Democratic caucus addressing plans for congressional action after the ruling last week in Dobbs v. Women's Health Organization, which eliminated the right for women to access an abortion.
The concurrence of U.S. Associate Justice Clarence Thomas is a core component of the letter from Pelosi, who expressed consternation about his rejection of finding unenumerated rights under the 14th Amendment of the U.S. Constitution.
"It is still appalling to me that the Chief Justice of the Supreme Court would agree that a Constitutional right does not exist if it was not spelled out explicitly and in public when the 14th Amendment was ratified over 150 years ago," Pelosi said. "While this extremist Supreme Court works to punish and control the American people, Democrats must continue our fight to expand freedom in America. Doing so is foundational to our oath of office and our fidelity to the Constitution."
Thomas said in his concurring opinion he welcomes vehicles that would allow the court to revisit other major decisions, such as the Griswold decision guaranteeing the right to contraceptives; the Lawrence decision decriminalizing sodomy for same-sex couples and others; and the Obergefell decision legalizing same-sex marriage nationwide.
Although Pelosi doesn't explicitly say she'll introduce legislation on same-sex marriage, she brought up "access to contraception and in-vitro fertilization to marriage equality," then added, "Legislation is being introduced to further codify freedoms which Americans currently enjoy. More information to follow."
"It is clear from how Donald Trump and Mitch McConnell stacked the Supreme Court that elections have ramifications," Pelosi said. "It is essential that we protect and expand our pro-choice Majorities in the House and Senate in November so that we can eliminate the filibuster so that we can restore women's fundamental rights – and freedom for every American."
Any legislation seeking to codify marriage equality would have to get around marriage being an issue administered by the states under the guidelines of the U.S. Constitution. In the past, Rep. Jerrold Nadler (D-N.Y.) has introduced the Respect for Marriage Act, which would have required the federal government to recognize same-sex marriage and states to recognize same-sex marriage performed elsewhere.
Abortion rights: California Constitutional Amendment heads to ballot
The state is expanding efforts to protect women seeking abortions or reproductive care as well as anyone assisting those women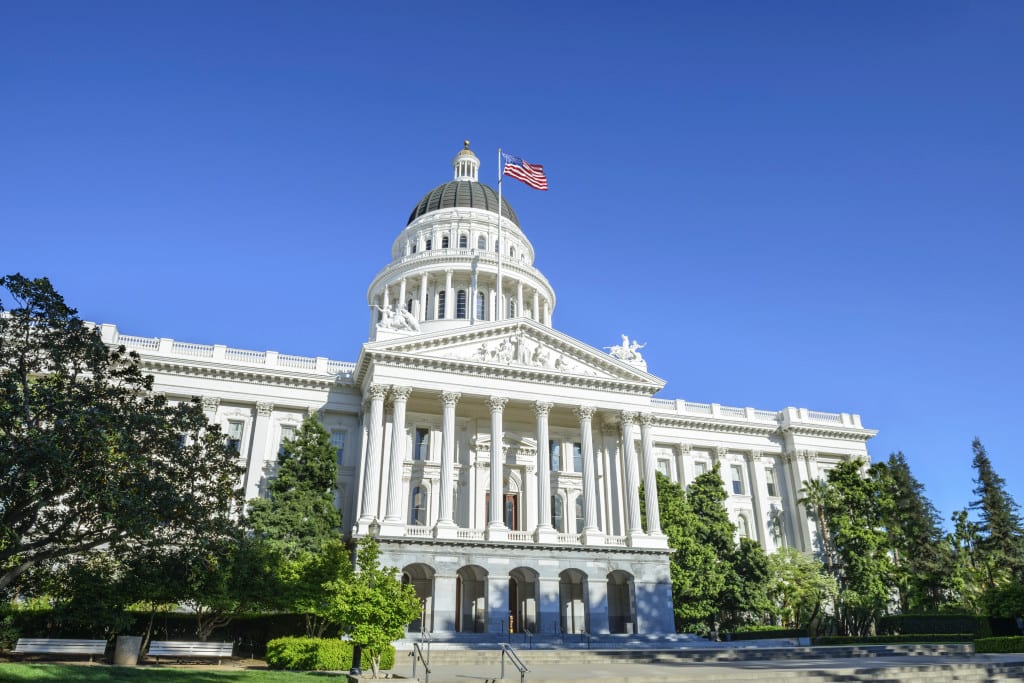 SACRAMENTO – In November, California voters will have an opportunity to amend the state's constitution to include the right to an abortion and today, Governor Gavin Newsom signed an executive order to further protect women coming to California from other states.
"California will not back down from the fight to protect abortion rights as more than half the states in this country, enabled by the Supreme Court, ban or severely restrict access," said Newsom. "We are ensuring Californians will have the opportunity this November to enshrine the right to choose in our state constitution. And we're not waiting until November to take action, today's executive order ensures that the state will not hand over patients who come here to receive care and will not extradite doctors who provide care to out-of-state patients here. In California, women will remain protected."
The order signed today prevents any information, including medical records and patient data, from being shared by state agencies or departments in response to inquiries or investigations brought by other states or individuals within those states looking to restrict access. The state is expanding efforts to protect women seeking abortions or reproductive care as well as anyone assisting those women.

SCA 10 was passed by the California State Assembly today and now heads to the November ballot.
Within hours of the U.S. Supreme Court's decision to overturn Roe v. Wade last Friday, Governor Newsom signed legislation to help protect patients and providers in California from civil liability for providing, aiding, or receiving abortion care in the state. In addition, Governor Newsom and the governors of Oregon and Washington launched a new Multi-State Commitment to defend access to reproductive health care and protect patients and providers.
The budget agreement announced yesterday includes more than $200 million in additional funding for reproductive health care services. Governor Newsom recently signed legislation eliminating copays for abortion care services and has signed into law a legislative package to further strengthen access and protect patients and providers.