DeSantis signs 'Don't Say Gay' bill- bans teaching anything LGBTQ+
DeSantis said teaching kindergarten-aged kids that "they can be whatever they want to be" was "inappropriate."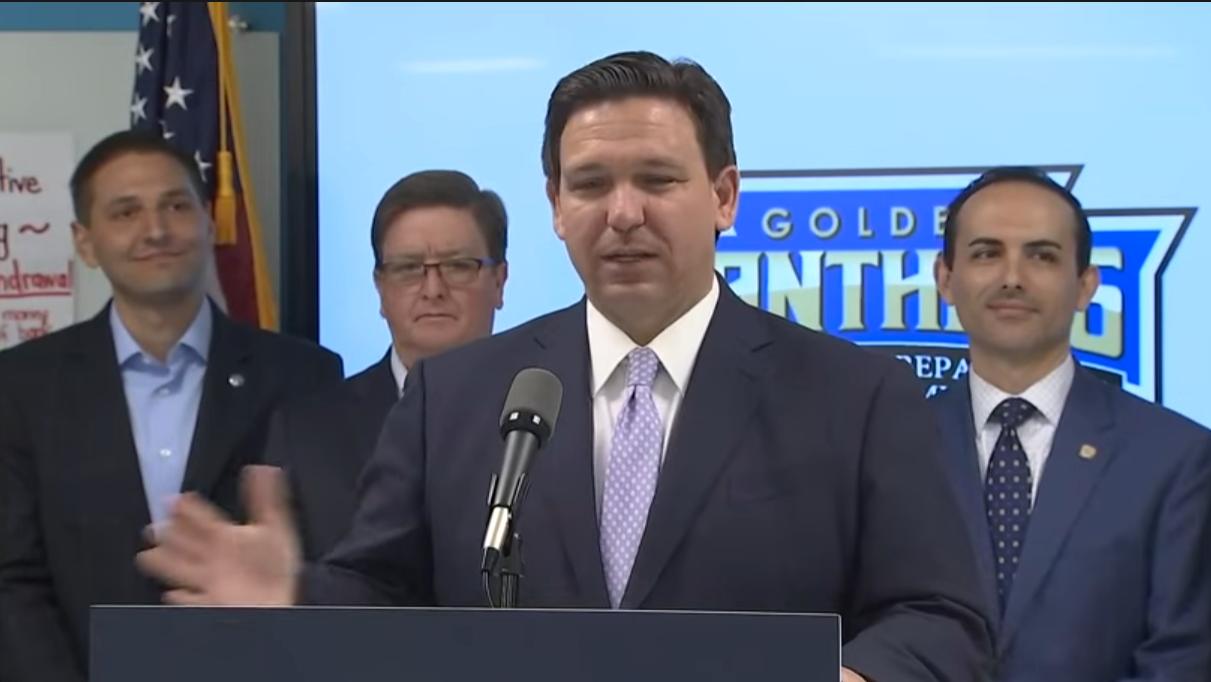 SPRING HILLS, Fl. – Florida Republican Gov. Ron DeSantis signed the so-called "Don't Say Gay" bill Monday, which is sure to prompt lawsuits as opponents question the legality of legislation they see as harmful and discriminatory.
At a press conference, DeSantis said teaching kindergarten-aged kids that "they can be whatever they want to be" was "inappropriate."
"It's not something that's appropriate for any place, but especially not in Florida," he said.
H.B. 1557, titled "Parental Rights in Education," will make classroom instruction about sexual orientation and gender identity in grades K-3, while "age-appropriate" teaching would be allowed in older grades – though it is not clear what is considered "age-appropriate." The bill would also allow parents to sue schools or teachers who violate the legislation.
When the measure cleared the Florida Legislature earlier this month, statewide LGBTQ+ rights organization Equality Florida promised it would "lead legal action against the State of Florida to challenge this bigoted legislation."
"We will not sit by and allow the governor's office to call us pedophiles," the group said in a statement.
DeSantis' signature comes after nationwide pushback from top LGBTQ+ organizations, Democrats, LGBTQ+ youth, corporations and the White House. According to Equality Florida, over 600,000 people sent emails to lawmakers in opposition to the legislation.
DeSantis also pushed back against critics of the legislation, saying: "I don't care what Hollywood says. I don't care what big corporations say. Here I stand. I am not backing down."
While co-hosting Sunday's Academy Awards in Los Angeles, openly gay Wanda Sykes addressed the bill, telling the audience that "for you people in Florida, we're going to have a gay night." Fellow hosts Amy Schumer and Regina Hall then repeated, "gay."
After being criticized for a muted response to the legislation, Walt Disney CEO Officer Bob Chapek apologized for the company's response and clarified his opposition to the bill.
Still, employees put on a "full stage" walkout last week at various corporate locations across the U.S. to protest what they see as a "lame" and "inadequate" stance taken by the company and Chapek.
LGBTQ+ youth across the state vehemently protested the bill, with thousands of students staging a walkout at the beginning of the month.
"I pushed back on this, as I wasn't going to allow staff to minimize our reach and message," Jack Petocz, the lead organizer, said. "Using my megaphone, I told students to hold onto their flags and not to allow them to silence us."
Nothing says "protect children from indoctrination" like using them as props for your right wing political theater. pic.twitter.com/7qjSdcZnSC

— Brandon Wolf (@bjoewolf) March 28, 2022
Some Republicans in the Florida Legislature also voiced concerns over the bill, prompting several to break from their party and vote against it.
"I am not going to support the bill today in hopes that we can find a way to love our neighbors," said Sen. Jeff Brandes, who was one of two Republican senators to vote against the legislation.
After the vote in the House, where seven Republicans casted a vote against the measure, Nadine Smith, executive director of statewide LGBTQ+ group Equality Florida, said: "This bill is so extreme that it inspired a rare rebellion within House GOP ranks."
LGBTQ+ youth who had access to spaces that affirmed their identity reported lower rates of attempting suicide than those who did not, according to The Trevor Project.
This bill bans classroom instruction on sexual orientation and gender identity in schools, effectively erasing LGBTQ identity, history, and culture — as well as LGBTQ students themselves.
"Governor Ron DeSantis signed the 'Don't Say Gay' bill in the most cowardly way possible today. He hid his agenda from the media and the public until the last moment, skulking onto a charter school campus that is exempt from the law and away from students who would protest his presence," said Nadine Smith, Executive Director of Equality Florida. "He has attacked parents and children in our state by invoking hateful anti-LGBTQ stereotypes all to pander to his right-wing base as he prepares to run for President in 2024. DeSantis has damaged our state's reputation as a welcoming and inclusive place for all families, he has made us a laughing stock and target of national derision. Worse, he has made schools less safe for children. Equality Florida will defend the rights of all students to have a healthy environment to learn and thrive and for all parents to know their families are included and respected. This law will not stand and we will work to see it removed either by the courts as unconstitutional or repealed by the legislature."
"LGBTQ youth in Florida deserve better. They deserve to see their history, their families, and themselves reflected in the classroom," said Amit Paley, CEO & Executive Director of The Trevor Project. "While I am saddened to see this harmful bill signed into law, I am inspired by the outpouring of support for LGBTQ students we have seen from parents, teachers, celebrities, and their peers. Social support is vital for suicide prevention, and I want to remind LGBTQ youth in Florida and across the country that you are not alone."
DeSantis education purge begins after school board takeovers
Ziegler, a co-founder of right-wing group Moms for Liberty, was one of two dozen school board candidates receiving endorsement from DeSantis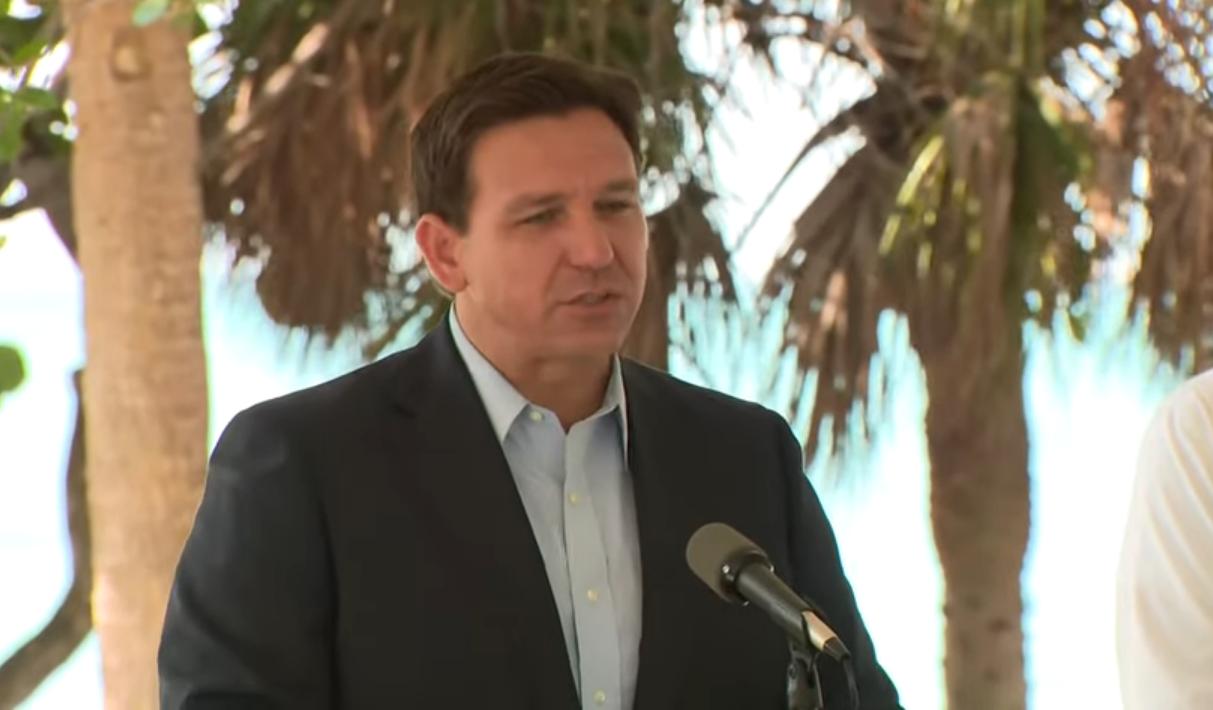 By Julia Conley | SARASOTA – Despite outcry from parents, teachers, and students, newly elected right-wing school board members in Sarasota County, Florida on Tuesday became the latest allies of Republican Gov. Ron DeSantis to oust a school superintendent over the district's adherence to public health guidance during the coronavirus pandemic.
Dozens of community members gathered at a school board meeting in Sarasota County on Tuesday evening to support Brennan Asplen, the superintendent of schools since 2020, whose contract was the subject of the meeting.
The board met the same day new members, including Chair Bridget Ziegler, were sworn in. Ziegler, a co-founder of right-wing group Moms for Liberty, was one of two dozen school board candidates who received an endorsement from DeSantis during the midterm elections. The majority of those candidates, who received $1,000 contributions from the governor, won their elections.
At the meeting, members condemned Asplen "for not pushing back on the mask mandate" that was in place for three weeks in 2021 after the school board voted 3-2 in favor of the mandate, making Sarasota County the first in the state to defy DeSantis' law blocking Covid-19 mitigation measures.
Quite a crowd gathered in front of the @sarasotaschools district building ahead of the special meeting to discuss the termination of Superintendent Brennan Asplen tonight.

Follow along for updates for the @HeraldTribune: pic.twitter.com/xcnoJ4a5ok

— Steven Walker (@swalker_7) November 29, 2022
On Tuesday the board ultimately voted 4-1 in favor of negotiating a separation agreement with Asplen, after another board member, Thomas Edwards, warned the move would be a "carbon copy" of a similar ouster in Berkeley County, South Carolina earlier this month.
In that case, new school board members who had been endorsed by Moms for Liberty voted to fire the district's superintendent and ban classroom discussions of racism in history and the present day.
Asplen is not the only school leader who has been pushed out of a superintendent position in Florida by DeSantis allies citing objections to public health protocols.
Five members of the Broward County school board this month fired Superintendent Vickie Cartwright over a grand jury report on the 2018 Parkland shooting. Like Asplen, Cartwright presided over the district during the pandemic and "faced frustration from some parents" over Covid-19 mitigation measures, which were implemented in violation of DeSantis' order.
All of the members who voted to fire Cartwright were DeSantis appointees following the removal of previous members after a school safety investigation stemming from the 2018 Parkland school shooting.
WUSF Public Media reported earlier this year that the county is undergoing "a transformational shift" with the governor's allies poised to take "a rare opportunity to advance conservative policy priorities in one of the state's most Democratic-leaning counties."
The superintendent of schools in Brevard County was also pushed out last week, hours after DeSantis-aligned school board members were sworn in.
Jonathan Friedman, director of free expression and education programs at PEN America, noted that parents from across the political spectrum have spoken out against the dismissals of school leaders in the Florida counties in recent weeks—"but to little avail."
Remarkably, local conservative parents have come out to these FL board mtgs to say they have been duped, did not vote for the ousting of their superintendents. But to little avail. The new playbook of total ideological control is in full swing. https://t.co/T9pFbL0kWA

— Jonathan Friedman 📚 (@jonfreadom) November 30, 2022
"The new playbook of total ideological control is in full swing," said Friedman.
Bill Kimler, a former candidate for state House in South Carolina, noted that a right-wing takeover of school boards like the one in Berkeley County "is happening elsewhere in the country."
"Every election cycle, we need to view school board positions with the same level of enthusiasm as we do the president of the USA," said Kimler. "Our kids' education cannot be left in the hand of extremists."
***********************************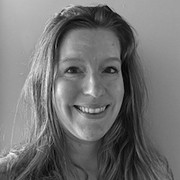 Julia Conley is a staff writer for Common Dreams.
The preceding article was previously published by Common Dreams and is republished with permission.