Michigan's high court rules existing law bans anti-LGBTQ discrimination
The lawsuit came in the wake of the companies' refusal to serve transgender customers and those in same-sex relationships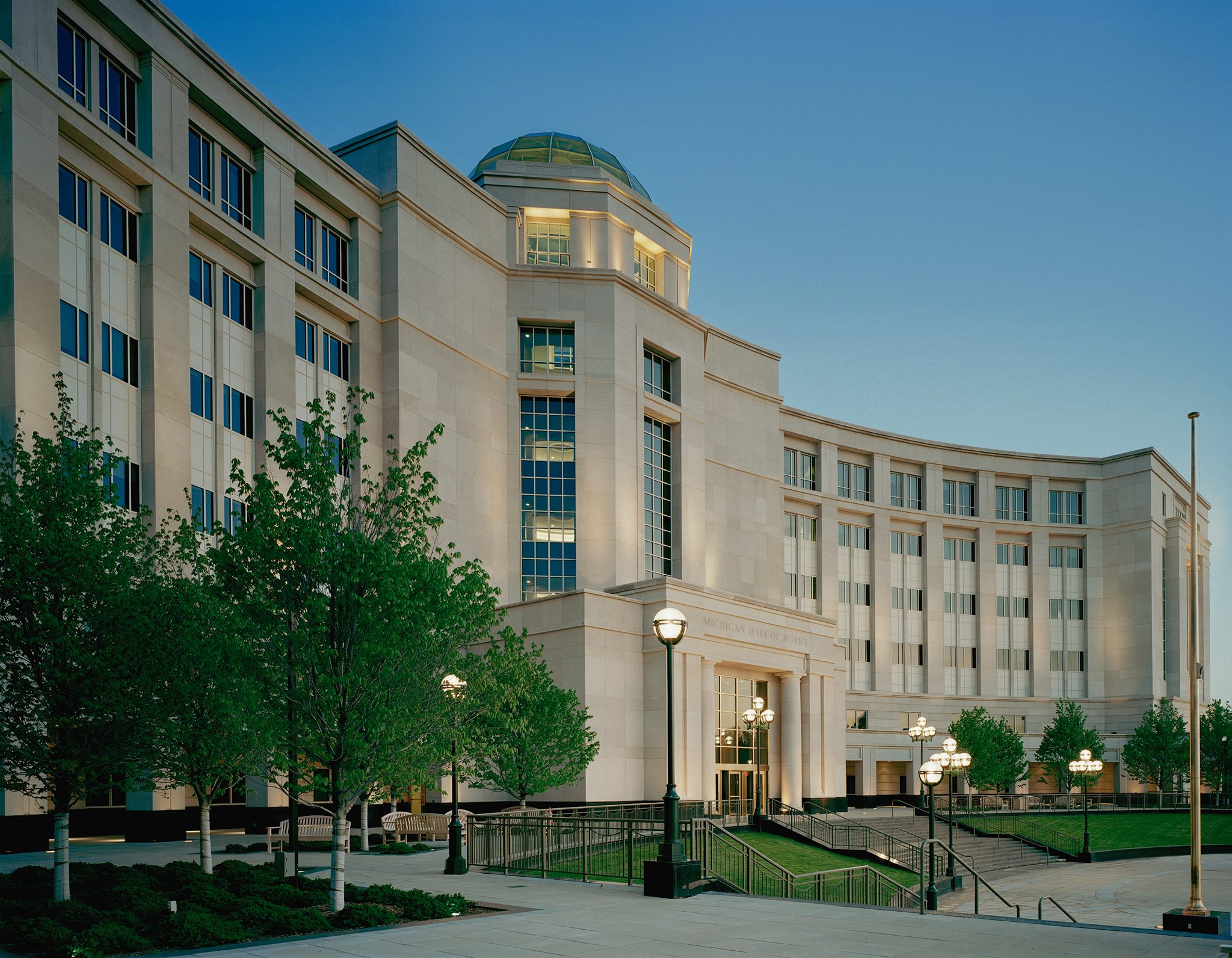 LANSING – In a 5-2 decision on Thursday, the Michigan Supreme Court ruled in Rouch World, LLC v Department of Civil Rights that the state's 1976 Elliott-Larsen Civil Rights Act bans discrimination on the basis of sexual orientation and gender identity.
The case, brought by the Michigan companies Rouch World and Uprooted Electrolysis, sought to challenge the state's Civil Rights Commission for its interpretation of the law that classified sexual orientation and gender identity as protected classes. The lawsuit came in the wake of the companies' refusal to serve transgender customers and those in same-sex relationships, prompting customer complaints that resulted in Civil Rights Commission investigations.
Given the arguments of the case, the Court was asked to determine whether the law's inclusion of the word "sex" as a protected category applied to instances of discrimination against members of the LGBTQ community.
Republican Justice Elizabeth Clement joined Democratic justices Richard Bernstein, Megan Cavanagh and Elizabeth Welch – as well as Democratic Chief Justice Bridget McCormack – in the majority opinion.
"Discrimination on the basis of sexual orientation necessarily constitutes discrimination because of sex," Clement wrote in the Court's majority opinion. "Accordingly, the denial of 'the full and equal enjoyment of the goods, services, facilities, privileges, advantages, or accommodations of a place of public accommodation or public service' on the basis of sexual orientation constitutes discrimination 'because of…sex' and, therefore, constitutes a violation of the [Elliott-Larsen Civil Rights Act] under MCL 37.2302(a)."
In his dissent alongside fellow Republican Justice David Viviano, Brian Zahra asserted his belief that the Court had overreached in its ruling.
"This Court's function is to interpret and apply the laws that the Legislature writes," Justice Zahra wrote. "That is not what the majority opinion has done."
While the ruling was not at odds with his own views on the matter, Zahra wrote, the Court's mandate was not observed by its majority in the case.
"Though I take no issue with today's outcome, because I do not recognize the manner in which it has been achieved by the majority opinion to be faithful to the judicial role, I dissent," Zahra wrote.
Similar arguments of overreach were made by the plaintiffs in the case who argued that the state legislature, not the Civil Rights Commission, held sole power to expand the law.
"The Legislature has declined to add 'sexual orientation' numerous times over the nearly 50 years since the [Elliott-Larsen Civil Rights Act] was enacted by the Legislature," the plaintiff companies wrote in their case brief last November. "Further, the Legislature explicitly rejected adding 'sexual orientation' to the [Elliott-Larsen Civil Rights Act]. The unelected [Michigan Civil Rights Commission] is not the Legislature and is not politically accountable to the people."
Previous, bipartisan efforts have been made by state lawmakers to codify sexual orientation and gender identity as protected classes under the law. Such efforts, however, have failed to gain requisite traction in the state's Republican-controlled legislature.
In writing the majority opinion, Justice Cavanagh rejected such narratives as pertinent to the duty of the Court.
"Should the Legislature disapprove of an application of a statute's enacted language, the Legislature remains free to amend the statute," Cavanagh wrote. "This Court, however, is bound by the language that the Legislature has enacted, not what the parties or amici believe the Legislature should have enacted or what any individual representative believed was enacted."
Following its announcement Thursday afternoon, LGBTQ advocates in the state heralded the decision as a victory for equality in the state.
Michigan Attorney General Dana Nessel, who had argued the case before the Court in conjunction with entities including the American Civil Liberties Union, released a statement following the ruling.
"Now, more than ever, it is critical that those of us elected to public office work to preserve and protect the rights of all residents," Nessel said. "Today's ruling confirms what we have long known – that the protections afforded by the [Elliott-Larsen Civil Rights Act] cover all Michiganders."
The decision garnered similar praise from other top state officials, including Governor Gretchen Whitmer and Lieutenant Governor Garlin Gilchrist.
"As a mom, a governor, and proud ally of the community, I am so grateful for this ruling," Whitmer said in a statement. "It will save lives, protect families, and help ensure that every Michigander is treated with dignity and respect by law."
With the Court's expansion of the law's protections, members of Michigan's LGBTQ community are now shielded from discrimination in all areas outlined in the law's language.
Such includes protection in sectors including employment, housing, education and public accommodations.
"For too long, LGBTQ+ Michiganders had been left out of our state's civil rights protections," Whitmer said. "No longer. Because of this ruling, nobody can legally be fired from their job or evicted from their home because of who they love."
LGBTQ+ affirming school mural sets parents off: "It's Satanic"
The student creator of the mural maintains the artwork is intended to be inclusive. "I put my art up there to make people feel welcome"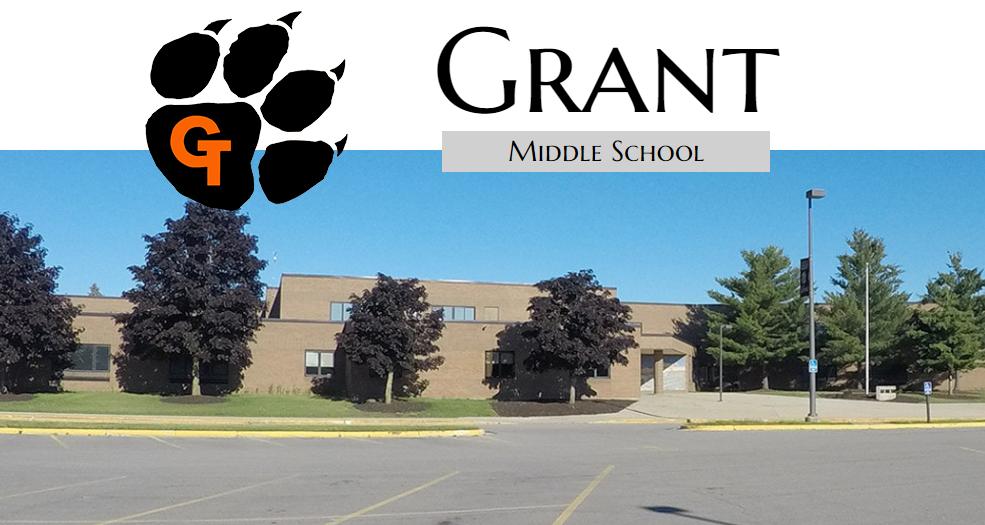 GRANT, Mi. – Some parents of teenagers in this Western Michigan small town about an hour North of Grand Rapids are extremely angry over an LGBTQ+ affirming mural painted on the wall at the Child and Adolescent Health Center at Grant Middle School.
During a school board meeting last week the anger spilled over into heated arguments with some in the audience saying the transgender flag, a video game character and other symbols painted in the mural were 'Satanic.' Prior to the board meeting social media threads on posts critical of the mural had become the mainstay of community discussions around Grant.
The student artist from Grant High School, Evelyn Gonzales, who was responsible for creating the mural maintains the artwork is intended to be inclusive. "I put my art up there to make people feel welcome," she told WZZM 13, the ABC News affiliate in Grand Rapids.
Gonzales, high school sophomore who won a design competition, created the mural with a bright green background characters including one wearing a blue T-shirt with the colors of the transgender flag. Another student is outfitted in shorts overalls with a rainbow-striped T-shirt that many parents have complained represent the colors of the LGBTQ+ pride flag.
Two other characters are in clothing with colors of the bisexual flag — pink on the top, royal blue on the bottom and an overlapping purple stripe in the middle.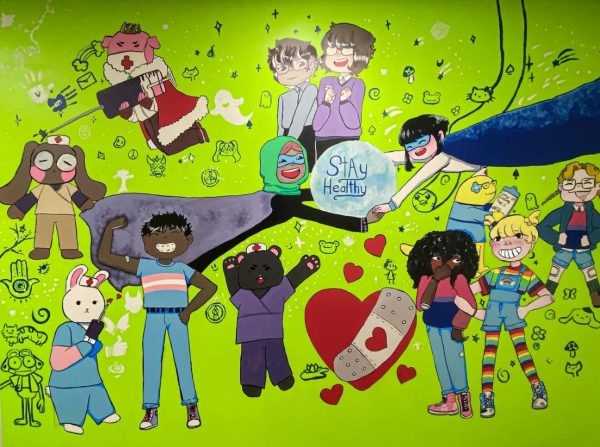 Gonzales added multiple smaller line drawings, including a mask, which some parents have complained is Satan, and a hamsa hand, which is considered a symbol for the hand of God in many cultures.
The mask and hand are both design elements that were not included in the artist's original contest submission.
During the school board meeting Gonzales defended inclusion of the mask which she told the audience comes from a video game and another symbol she noted is a Hispanic sign of protection. Visibly upset she told the audience and the board "That's not what I'm a part of- that's not what I'm trying to put out there."
According to journalist Jordan Gerblick writing for online video and PC/console gaming magazine 'gamesradar+' the mask is from the popular Genshin Impact game. The mask drawn by Gonzales is inspired by Genshin Impact character of Xiao, whose character is notably an immortal defender hired by one of the world's seven supreme gods to kill demons, so the whole Satan allegation definitely doesn't track, Gerblick pointed out.
Gonzales explaining her thinking and creative process did little to calm the enraged parents WZZM 13 reported as after she made her remarks and fled in tears one stood up and angrily said "I feel like she did a really good job finding excuses to defend the things she put on," said Katelyn Thompson. "None of us are that stupid."
As for the transgender flag, one parent implied it's a sickness.
"When adults pretend things that are like real life, it's a mental illness," says Danielle Beight. "We need counselors, we need medication that's going to help bipolar disorder, fix their brains."
With another saying it is discriminatory against Christian beliefs.
"We and our administration should embrace that and get all of this hate material out of our schools, because it is hate material," says Nate Thompson.
While some parents called for the mural to be removed or altered, WZZM reported that Grant Public Schools handbook includes a nondiscriminatory policy, saying in part, "any form of discrimination or harassment can be devastating to an individuals academic progress, social relationship and/or personal sense of self-worth."
No decision was made on the future of the mural at Monday's meeting.
After accusations of a decision being made in a closed door board executive decision after the public meeting, Grant Public Schools Superintendent Brett Zuver released a statement Wednesday:
At Grant Public Schools, our daily charge is to foster a safe, welcoming learning environment where all students can succeed. We are committed to creating a culture of civility, respect, understanding and inclusion as we provide all our students a well-rounded and academically challenging learning experience.
Recently, one of our students painted a mural in the Child and Adolescent Health Center located in the back of Grant Middle School. This student won a contest to brighten up the building and received approval to paint the proposed mural depicting smiling children and the message "Stay Healthy."
The completed mural includes some features that were not part of the original submission, and at this week's Board of Education meeting, many community members raised concerns about the mural. This matter was not on the board agenda. What to do moving forward does not require a board vote, no vote was taken, and no final decision was made at that time.
We understand and recognize there are different opinions regarding the mural. We feel it is of the utmost importance to continue in a thoughtful, respectful, and deliberate manor. At this point, all parties involved are working together and advancing forward to come to a positive, and agreeable, resolution.
We encourage members of our school community who engage in discussions and debate to do so in a respectful, civil manner. We do not condone, and we will not tolerate discrimination, harassment or bullying whether in word, deed or on social media.
Great things are happening at Grant Public Schools. Let's work together to remain focused on our mission of preparing all our students to succeed.
WZZM: No final decision was made on the future of controversial mural: