Virginia's Gov. Youngkin will force teachers to out their LGBTQ+ students
"I firmly believe that teachers and schools have an obligation to make sure that parents are well informed"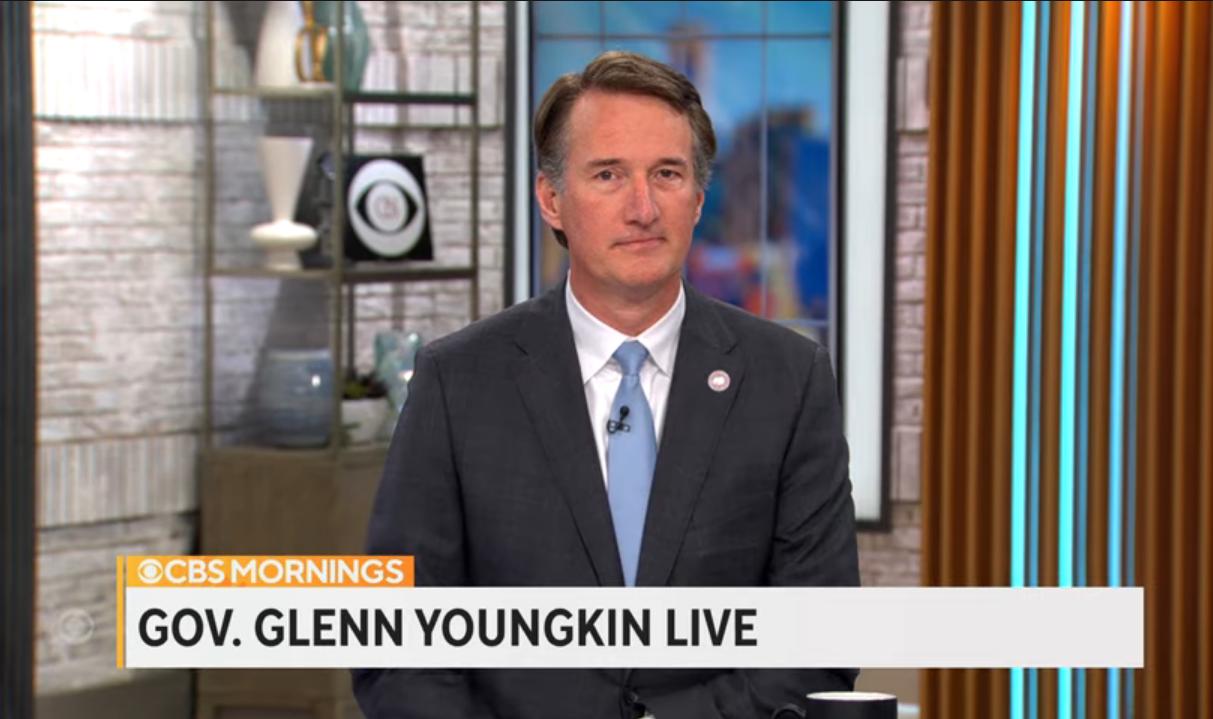 RICHMOND – Virginia Republican Governor Glenn Youngkin affirmed his support on Tuesday for measures that would require teachers to notify parents of their children's sexual orientation or gender identity, regardless of the students' consent. 
The move was justified under the pretext of protecting "parental rights," a specious argument that has given cover to policies enacted by conservative legislatures across the country that target LGBTQ+ people, including students, in public schools.
"With regards to informing parents with most important decisions about their children…Parents should be at the forefront of all of these discussions," Youngkin told WJLA News. "And I firmly believe that teachers and schools have an obligation to make sure that parents are well informed about what's happening in their kids' lives."
Critics, however, charge that coming out is an intensely personal act, that taking away a student's ability to do so on their own terms can be psychologically damaging, intrusive, and hurtful. In some cases, for students whose parents or guardians might harbor anti-LGBTQ+ views, it can be dangerous.
Lambda Legal reports between 20 and 40% of homeless youth identify as LGBTQ+ and are "frequently rejected by their families or fleeing abusive long-term placements." Forcibly outing young LGBTQ+ people can mean they will be forced to live on the streets.
Notwithstanding Youngkin's efforts to portray himself as a moderate when campaigning for governor, Tuesday's statement follows a series of extreme rightward moves he has made with respect to education policies in the state that concern LGBTQ+ youth and subject matter.
Florida's controversial "Parental Rights in Education" bill, which critics termed the "Don't Say Gay" bill, was similarly premised on the right of parents to control the material to which their children will have access in school.
In reality, the overbroad legislation prohibits any classroom discussion of sexual orientation or gender identity for students in certain grades, which could potentially lead to disciplinary action against a teacher who mentions their same-sex spouse.
Youngkin has similarly taken aim at educational materials in public schools, such as by signing into law SB656, which requires parental notification of nebulously defined "sexually explicit content."
Just after taking office in January, he set up a "tip line" to solicit comments from Virginia parents on "divisive practices" or the inclusion of curricula and materials they may consider objectionable.
Plaintiffs in multiple lawsuits, the most recent of which was filed on Monday, accuse Youngkin of violating public records laws by his refusal to share "tip line" emails with news media organizations.
Virginia's new guidelines stipulates parental input on trans kids
"A trans youth who is not openly out to family effectively would be forcibly outed which would cause serious harm in most cases"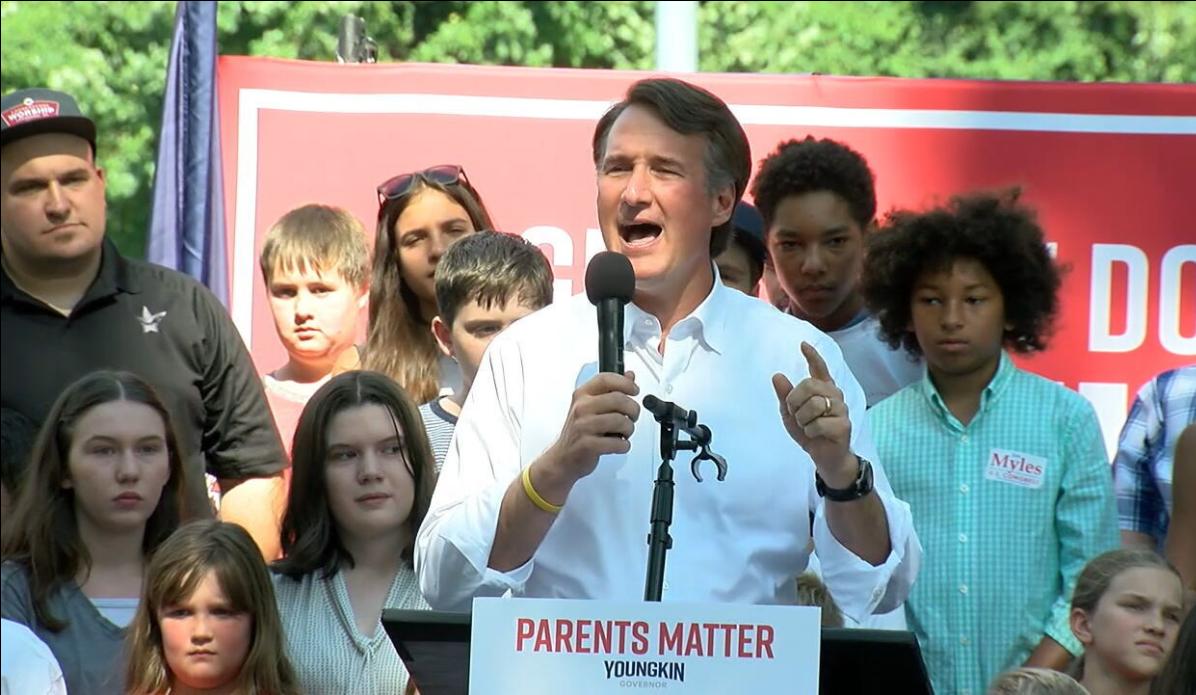 RICHMOND – The Commonwealth of Virginia's Department of Education released its new guidelines Friday that requires school administrators, faculty, and staff receive written permission from parents regarding embracing or recognizing a trans student's gender identity.
With today's release, the Department of Education's Model Policies for the Treatment of Transgender Students in Virginia's Public Schools (the "2021 Model Policies"), adopted on March 4, 2021, was effectively repealed and replaced. The emphasis in Friday's document was centered on 'parental rights.' The new set of guidelines also took aim at the 2021 guidance noting:
"The 2021 Model Policies promoted a specific viewpoint aimed at achieving cultural and
social transformation in schools. The 2021 Model Policies also disregarded the rights of parents and ignored other legal and constitutional principles that significantly impact how schools educate students, including transgender students. With the publication of these 2022 Model Policies on the Privacy, Dignity, and Respect for All Students and Parents in Virginia's Public Schools (the "2022 Model Policies"), the Department hereby withdraws the 2021 Model Policies, which shall have no further force and effect."
The language reflects a campaign promise by Republican Governor Glenn Youngkin to respect parental rights in public education. LGBTQ+ advocates however, expressed alarm over the section reading:
"The phrase 'transgender student' shall mean a public school student whose parent has requested in writing, due to their child's persistent and sincere belief that his or her gender differs with his or her sex, that their child be so identified while at school," the guidelines read.
"Parents are in the best position to work with their children … to determine (a) what names, nicknames, and/or pronouns, if any, shall be used for their child by teachers and school staff while their child is at school, (b) whether their child engages in any counseling or social transition at school that encourages a gender that differs from their child's sex, or (c) whether their child expresses a gender that differs with their child's sex while at school," the policy continues."
A trans activist who has children enrolled in the Fairfax County School District, the state's largest school system and who asked to not be identified, told the Blade that in effect, a trans youth who is not openly out to family effectively would be forcibly outed which would cause serious harm in most cases.
The other aspect the activist noted that the guidelines effectively require school staff and faculty to misgender trans students.
School Division] personnel shall refer to each student using only (i) the name that appears in the student's official record, or (ii) if the student prefers, using any nickname commonly associated with the name that appears in the student's official record.
School Division] personnel shall refer to each student using only the pronouns
appropriate to the sex appearing in the student's official record – that is, male
pronouns for a student whose legal sex is male, and female pronouns for a
student whose legal sex is female.
Notwithstanding the provisions of paragraphs (2) and (3) of this section,
[School Division] personnel shall refer to a student by a name other than one in
the student's official record, or by pronouns other than those appropriate to the
sex appearing in the student's official record, only if an eligible student or a
student's parent has instructed [School Division] in writing that such other
name or other pronouns be used because of the student's persistent and sincere
belief that the student's gender differs from his or her sex.
Any written instruction from a parent or eligible student under paragraph (4) of
this section shall be memorialized in the student's official record and subject to
the same retention, disclosure, and confidentiality requirements as the official
record itself. The legal name and sex of a student shall not be changed, even upon the written instruction of a parent or eligible student.
The state's governor has waged war on the LGBTQ+ community, focused especially on trans youth. At the beginning of September at a rally in Annandale, in the suburban Washington D.C. metropolitan region, Gov. Youngkin called for schools to out trans and gender nonconforming students to their parents and guardians, prompting a rebuke from GLSEN.
The organization's Executive Director Melanie Willingham-Jaggers condemned the Governor's comments in an exclusive emailed statement to The Los Angeles Blade, writing: "It's devastating to see politically motivated attempts to break trust between students and educators and to force educators to violate students' privacy by outing them to guardians."
They added, "This kind of hostile school climate puts trans youth at greater risk of harassment, mental health challenges or discrimination. Transgender and nonbinary students need respect and autonomy, not additional scrutiny and policing of their gender identity in school."
"They think that parents have no right to know what your child is discussing with their teacher or their counselor, particularly when some of the most important topics, most important topics that a child may want to discuss are being determined," the Governor said during the rally.
"What's their name? What pronoun will they use? How are they going to express their gender? This is a decision that bureaucrats in Fairfax County believe that they should be able to make without telling parents," Gov. Youngkin said.
Protecting students' privacy is a core element of "A Guide for Transgender and Gender Nonconforming Students," published by GLSEN and the ACLU.
Equality Virginia on Thursday announced it will track whether school boards have implemented the Virginia Department of Education's guidelines for transgender and nonbinary students.
Equality Virginia Executive Director Narissa S. Rahaman in a press release notes "almost half of Virginia's K-12 students attend schools in divisions that have fully adopted VDOE's model policies for the treatment of transgender students" since their issuance in 2020.
"These policies, developed in accordance with evidence-based best practices, give teachers and administrators critical tools to create safe, inclusive and learning environments for all students," said Rahaman. "School boards in every corner of our commonwealth have a unique and urgent opportunity to protect transgender students by adopting the model policies."
Equality Virginia in its press release further noted the School Board Policy and Meeting Tracker will "provide parents, advocates and students information on local school board meetings, potential agenda items and opportunity for public comment, and whether the school district has adopted" the guidelines.
The other issue within the new set of guidelines the activist told the Blade, is that the language almost nullifies the U.S. 4th Circuit Court of Appeals in the case of then high school student Gavin Grimm who fought against his school policy on use of school restrooms and changing rooms.
The 4th Circuit Court of Appeals found that the Gloucester County, Virginia, School District's policies that prohibited students from using bathrooms and locker rooms that did not correspond with their "biological gender" and denied them transcripts that correspond to their gender identity was unconstitutional.
The U.S. Supreme Court in June of 2021 declined to hear the case upholding the 4th Circuit ruling.
Additionally reporting by Christopher Kane and Michael K. Lavers
Virginia school board votes 5-2 to adopt hate group ADF's policy
A policy that requires transgender students to submit a request to use school bathrooms that align with their gender identity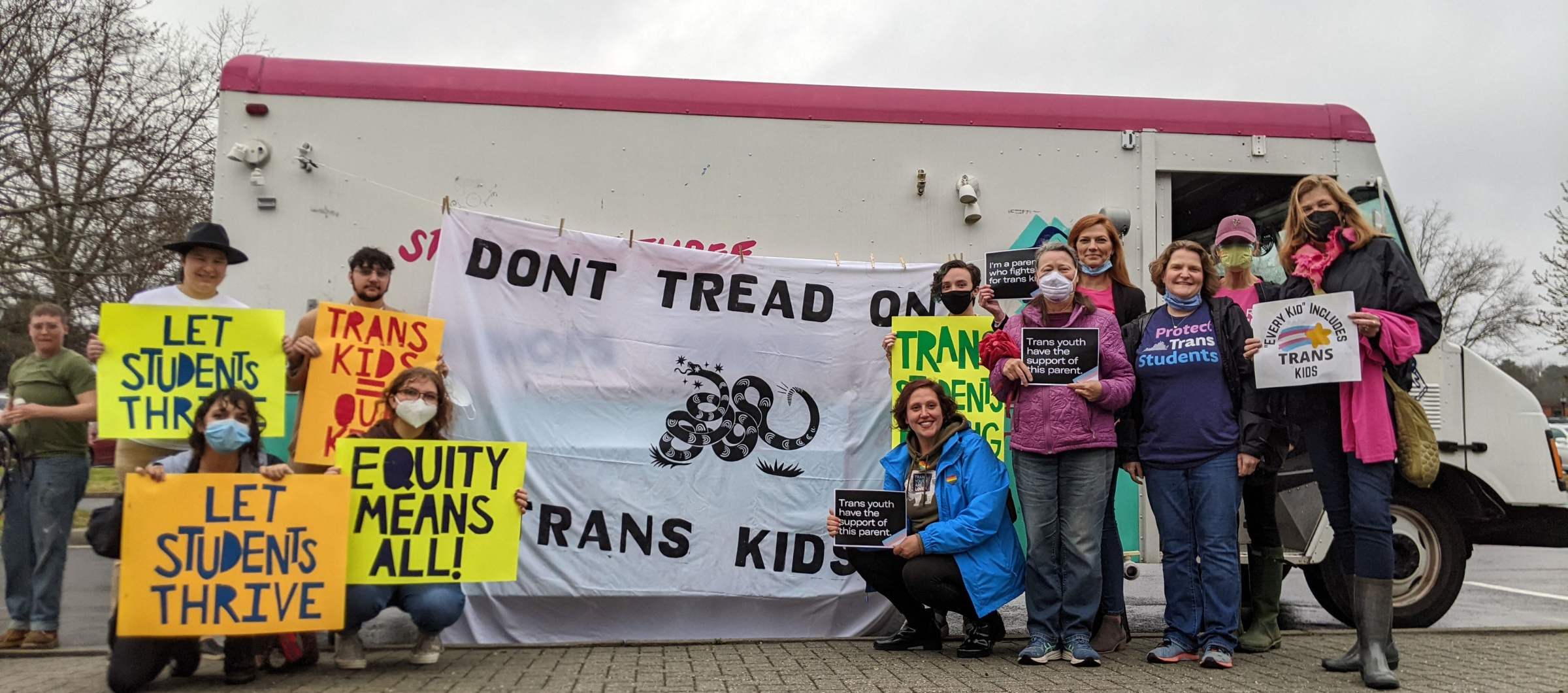 ASHLAND, Va. – In a closed door session the Hanover County School Board in suburban Richmond, Virginia, voted 5-2 to approve a policy that requires Hanover's transgender students to submit a request to use school bathrooms that align with their gender identity and gives the school board the authority to approve or deny those requests.
In the policy approved Tuesday night, school staff and administrators can request a meeting with the student and their parents/guardians, and "will receive all relevant information, which may include:"
a statement from the student that, among other things, specifies their gender identity and how they have consistently, persistently and insistently expressed that identity
signed statements from the student's personal physician, therapist or licensed counselor verifying that the student has been diagnosed with gender dysphoria and/or that the student consistently and authentically expresses a binary gender identity
statements from the student's parent or guardian
student disciplinary or criminal records
information related to the privacy and safety of other students
any other relevant information, including documents from other interested parties
Alas, it passed, 5-2.

— FCPS Pride (@FCPSPride) August 30, 2022
DISAPPOINTING: The Hanover County School Board voted 5-2 to adopt its bathroom/locker room policy that would make trans and non-binary students jump through hoops simply to exist in schools.

To trans and nonbinary students in Hanover: You are LOVED. We are here for you.

— ACLU of Virginia (@ACLUVA) August 30, 2022
The school board voted 4-3 last March to allow the Alliance Defending Freedom (ADF), an anti-LGBTQ+ legal firm listed as a hate group by the Southern Poverty Law Center, to offer a free legal review of the school district's policy regarding equal educational opportunities.
At the time then Board Chair Ola Hawkins provided the following statement:
The School Board voted last night to engage Alliance Defending Freedom for legal review of Policy 7-1.2 at no cost to HCPS. On behalf of the School Board, I do not have anything further to add to this other than what was discussed and decided upon."
According to current Board Chair John F. Axselle III, the policy was an effort between the board, its attorney and counsel from ADF. 
Virginia lawmakers passed a state law in 2020 requiring all 133 of the state's school districts to adopt policies consistent with or more comprehensive than the Virginia Department Of Education's model policies before September 2021. In November of 2021, the Hanover County School Board struck down a measure that would have made bathrooms more accessible to trans students but did approve minor changes favoring trans kids.
In a 4-3 vote not to move forward, the board shot down a measure that would allow trans students to use bathrooms and locker rooms that align with their gender identity, but did approve policy revisions that will allow for school officials to "use the name and gender consistent with the student's gender identity," upon request of the student and parent.
That decision led the Virginia ACLU to file a lawsuit against the board on behalf of five parents of transgender students.
Hanover Schools Attorney Lisa Seward said a U.S. Fourth Circuit Court of Appeals decision in Grimm v. Gloucester County School Board — in which Gavin Grimm, a trans man, sued the Gloucester County School Board after he was barred from using the boys restroom — would protect the current policy.
The appeals court ruled that not letting Grimm use the correct restroom was unconstitutional and violated his rights under Title IX. The U.S. Supreme Court declined to hear the case earlier this year, leaving in place that ruling.
Earlier this month  a coalition of the Commonwealth's leading advocacy organizations for lesbian, gay, bisexual, transgender and queer (LGBTQ+) equality responded to Hanover County School Board's (HCSB) Policy 7-1.7 Restroom and Locker Room policy, which was approved Tuesday.
"This is not just about bathrooms or locker rooms. It's about the right of transgender students to exist in public spaces without having to justify or explain themselves," said Breanna Diaz, Policy & Legislative Counsel at the ACLU of Virginia. "Yet, the Hanover County School Board's proposed policy seeks to do just that by imposing an invasive policy that will deter youth from accessing school facilities. The school board must listen to Hanover families and oppose the proposed policy and immediately adopt a bathroom and locker room policy consistent with the Virginia Department of Education's model policies."
"The rights of transgender and non-binary students in Hanover County are not up for debate," said Narissa S. Rahaman, Executive Director of Equality Virginia. "The Hanover County School Board's unnecessary and discriminatory policy will lead to more harm for transgender and non-binary students in Hanover public schools."
"The Hanover County NAACP continues to advocate for the full rights of all Hanover Students and teachers. Hanover has exhibited a pattern of refusing to be an inclusive community," said Pat Hunter-Jordan, President of Hanover County NAACP. "In the 1950's schools were closed rather than following the law to integrate. Rather than renaming schools to avoid further harm to students of color, we had to sue them for our rights. And yet, here we are again. Rather than allow our transgender student population their full rights, Hanover schools are wasting taxpayer money, once again in the court system.  We will continue to advocate until Justice is served and until inclusivity and equity are a normal part of Hanover culture and tradition."
Virginia court rejects obscenity proceedings against LGBTQ books
"The First Amendment protects literary expression, even when some people find portions of the works difficult or objectionable"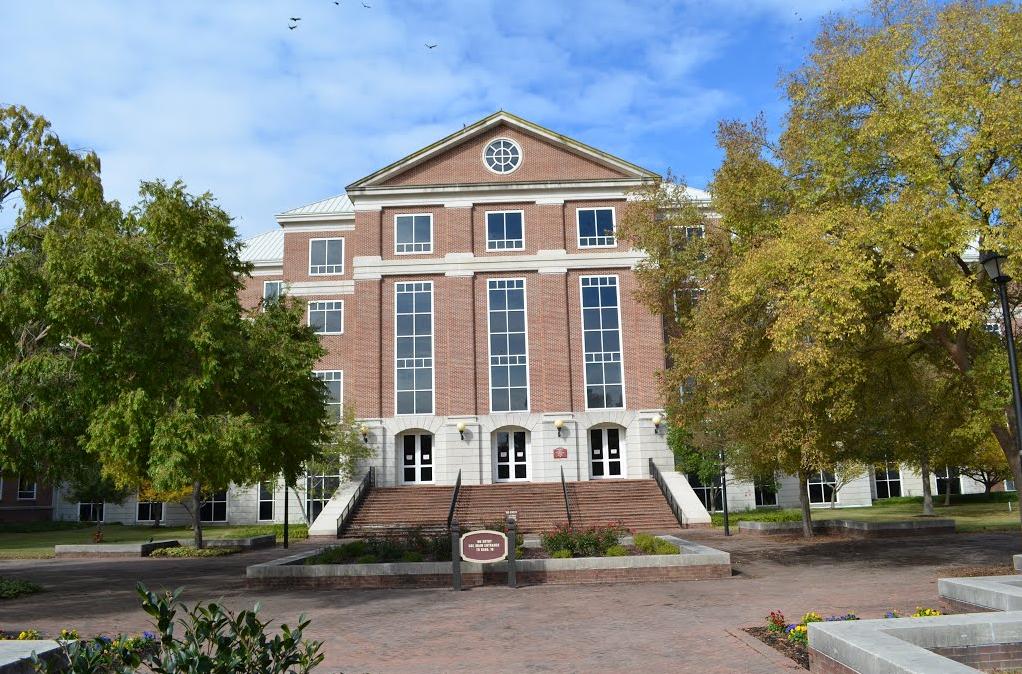 VIRGINIA BEACH, Va. – The Circuit Court for the City of Virginia Beach rejected two petitions arguing that two LGBTQ+ themed books were obscene and illegal to sell or lend in the state of Virginia.
In its ruling the court found that the Virginia state statute pursuant to which the petitions were filed violated First Amendment free speech rights and the constitutional right to due process. Likewise, the Circuit Court vacated a lower court determination of probable cause for obscenity.
The proceedings were initiated pursuant to Virginia Code § 18.2-384—a law that has not been used for decades, but which purports to allow any individual to file a petition claiming that any book is obscene. Under the statute, a book could have been deemed obscene and its distribution could have been made criminal without any notice–much less an opportunity to be heard on the issue –to the countless bookstores, book lenders, and other distributors who would have been governed by the result.
The books being challenged through two separate obscenity proceedings in Virginia state court are Gender Queer by Maia Kobabe, an autobiographical graphic novel about adolescence, gender and sexuality, and A Court of a Mist and Fury, a fantasy romance novel by Sarah J. K. Maas. Gender Queer was the most banned book in the United States in 2021, according to the American Library Association.
"We are pleased with the outcome of today's proceedings," said Matt Callahan, Senior Staff Attorney for the ACLU of Virginia. "The First Amendment protects literary expression, even when some people find portions of the works difficult or objectionable. All people should be able to choose what they wish to read."
The ACLU, the ACLU of Virginia, and Michael Bamberger of Dentons, and general counsel to Media Coalition, filed a motion challenging the proceedings on behalf of Prince Books, Read Books, One More Page Books, bbgb tales for kids, American Booksellers for Free Expression, Association of American Publishers Inc., Authors Guild, Inc., Freedom to Read Foundation, American Library Association, and Virginia Library Association.