Right-wing media exploit monkeypox- retread anti-vax misinformation
These anti-vax talking points are intended to stigmatize LGBTQ people by framing promiscuity as the primary driver of the disease


By Mia Gingerich | WASHINGTON – As monkeypox presents an ever-increasing threat to Americans, predominantly gay and bisexual men, conservative media figures are exploiting the global health emergency to stoke fears of the COVID-19 vaccine and related health measures and to attack queer men.
These anti-vax talking points are often invoked alongside AIDS-era rhetoric intended to stigmatize LGBTQ people by framing promiscuity as the primary driver of the disease and gay and bisexual men as culprits in — rather than victims of — the growing outbreak. This stigmatization has already reportedly resulted in violence against gay men.
During the last week of July, the U.S. reported both the fastest rise in and highest number of monkeypox cases worldwide, leading the Biden administration to declare a public health emergency on August 4. The virus, which is endemic in certain African countries, is usually rare in Europe and the U.S. However, the virus recently found its way to men who have sex with men (MSM), where it has proliferated primarily through sexual contact. The gay community has emphasized the need to warn about the risk the virus poses to MSM while not feeding into anti-gay rhetoric that depicts gay sexuality as immoral.
Despite this plea from those most affected by the ongoing health crisis, right-wing media quickly responded to the spread of monkeypox with homophobia – recalling the vilification that gay men experienced during the AIDS epidemic. In addition to being impacted by the latest right-wing media smear campaign risking targeted violence against LGBTQ people, queer men are also less likely to seek medical care for monkeypox in countries where their sexuality is stigmatized.
Conservative media figures invoke COVID-19 conspiracy theories and criticism of health measures in coverage of monkeypox
From early on in their coverage of the monkeypox outbreak, right-wing media figures used the story to renew efforts to sow vaccine hesitancy and undermine COVID-19 health measures. Some far-right figures have even spread conspiracy theories that falsely assert the COVID-19 vaccine is directly responsible for the monkeypox outbreak.
On May 24, The Daily Wire's Candace Owens said on her show that "the first person who lines up to get a monkeypox vaccine, I'm going to laugh in your face." Owens then suggested the World Health Organization, Bill Gates, and Dr. Anthony Fauci were involved in the spread of both diseases as part of "attempts at authoritarianism" and "globalism." This claim coincides with the recent conservative conspiracy theory claiming the U.S. was ceding power to the WHO.
From the May 24, 2022, edition of Daily Wire's Candace
Fox News' Sean Hannity brought anti-vax conspiracy theorist Dr. George Fareed onto the August 8 edition of his radio show, where Fareed falsely claimed "the mass vaccination with these gene therapies, COVID vaccines, have the ability to weaken the immune system and make people more vulnerable to viral infection," suggesting the vaccine could precipitate the spread of monkeypox.
Far-right blog American Greatness posted an article on August 3 promoting the work of Shmuel Shapira, an Israeli scientist pushing similar claims as Fareed. The article claimed "Twitter censored Shapira" after the platform flagged a tweet of his as misinformation. Shapira's tweet read, "It is well established the mRNA vaccines affect the natural immune system. A monkey pox outbreak following massive covid vaccination: Is not a coincidence."
Right-wing media figures have also taken advantage of the recent health crisis to reignite their crusade against public health measures implemented during the COVID-19 pandemic. Conservative commentators claim that a double standard exists between government reactions to monkeypox and COVID-19, ignoring differences in how the two diseases spread.
Podcaster Steven Crowder, amid a longer homophobic rant suggesting gay men were engaging in bestiality, claimed on August 2 that COVID-19 health measures were "politically motivated" and that masking and social distancing "didn't make any difference whatsoever." Crowder then contrasted those measures with the fact that Pride events still took place this year despite the spread of monkeypox, saying, "They won't even cancel their gay San Francisco fuckfest."
From the August 2, 2022, edition of Louder with Crowder, streamed on YouTube
An article for The Federalist titled "Americans Lost Fundamental Freedoms During Covid — But Halting Gay Orgies To Stop Monkeypox Is Too Far?" bemoaned COVID lockdowns and claimed, "We shut down the world for a virus that had no traceable transmission, it was entirely random. It really isn't too much to ask for gay men to stop engaging in orgies and public sex events for their 'mental health,' their 'self-esteem,' and to continue 'having fun.'"
On Twitter, right-wing personalities expressed a similar sentiment.
Alt-right troll Mike Cernovich tweeted his criticism of public health advocate Dr. Gregg Gonsalves: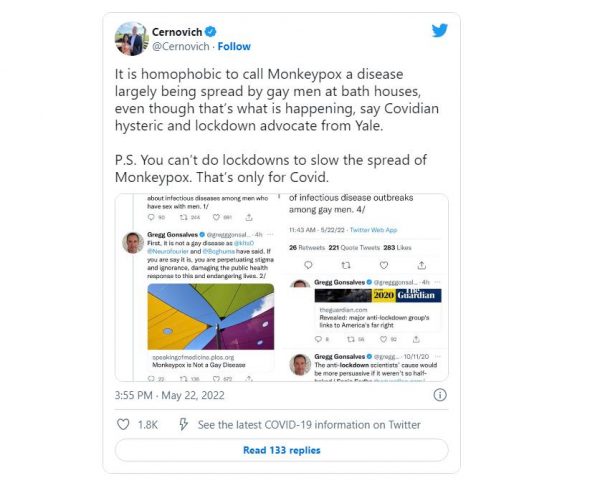 Far-right YouTuber Ian Miles Cheong continued his online anti-gay tirade on monkeypox:
They forced everyone to be apart from their dying parents and grandparents in hospitals, banned travel, and forced kids out of school and into Zoom calls, but "men who have sex with men" can't cool it for two weeks?

— Ian Miles Cheong (@stillgray) August 4, 2022
Right-wing radio host Dan O'Donnell similarly tweeted:
They shut down the entire country for COVID-19 but won't shut down the gay orgies for Monkeypox because science. https://t.co/4E2cO7chok

— Dan O'Donnell (@DanODonnellShow) August 5, 2022
Gay men are targeted with violence while right-wing media continues to depict them as threats
After the first cases of monkeypox were found among children in the U.S., LGBTQ advocates reported right-wing figures were using the news to falsely claim that gay men were guilty of abuse. This was a part of a larger attempt by right-wing media to use the monkeypox outbreak to depict LGBTQ people as a threat to society. By attempting to evoke the sort of stigmatizing rhetoric pushed during the AIDS epidemic that frames the MSM community as vectors of disease, right-wing media is feeding a culture of prejudice that has already resulted in violence against gay men.
The above-mentioned article from The Federalist fearmongered that "as gay men spread the virus within their population at startling rates, the chances of it escaping into the mundane world through close contact in stores, crowded streets, or buses increases," claiming that gay and bisexual men were spreading the disease through "truly selfish behavior [that] is endangering the rest of us."
Right-wing talk show host Erick Erickson tweeted, "'My orgy doesn't affect you,' said the man who spread monkeypox to the lady who worked at the gas station. Two weeks of no orgies to stop the spread is just too much to ask."
"My orgy doesn't affect you," said the man who spread monkeypox to the lady who worked at the gas station. Two weeks of no orgies to stop the spread is just too much to ask. But don't y'all go to church or see your grandparents. COVID is on the rise again.

— Erick Erickson (@EWErickson) August 4, 2022
On Hannity's August 8 radio show, guest Dr. Brian Tyson said the virus would "spread to the heterosexual community if we don't get a handle on the gay community to stop the transmission," and claimed "the CDC and the NIH, they're afraid to come out and tell the gay community to stop having intercourse until this pandemic goes away."
On the August 5 edition of his show, Turning Point USA's Charlie Kirk characterized the government response to monkeypox as an attempt to avoid offending "the alphabet mafia" of the LGBTQ community, saying, "You can't go after the gay community for maybe doing something they shouldn't be doing," before declaring he would "not live through another lockdown or an erosion of our civil liberties by a corrupt or usurpatious government because we're afraid to offend people. Don't care, and you shouldn't either."
From the August 5, 2022, edition of The Charlie Kirk Show, streamed on YouTube
The effects of right-wing media's misinformation about the COVID-19 vaccine put their audience at serious risk. However, these conservative figures are now jeopardizing the health of millions of LGBTQ Americans as well by seeking to stigmatize their sexuality during a public health crisis.
**********************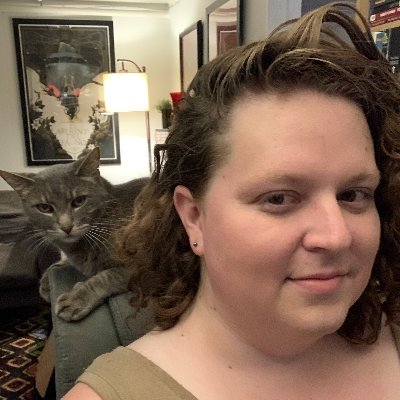 Mia Gingerich is a researcher at Media Matters. She has a bachelor's degree in politics and government from Northern Arizona University and has previously worked in rural organizing and local media.
********************
The preceding article was previously published by Media Matters for America and is republished by permission.
Supervisor Hahn to host Downey & Long Beach vax pop-ups
"This vaccine is critical to keeping people safe from the MPOX virus and I want to make it as easy as possible for people to get vaccinated"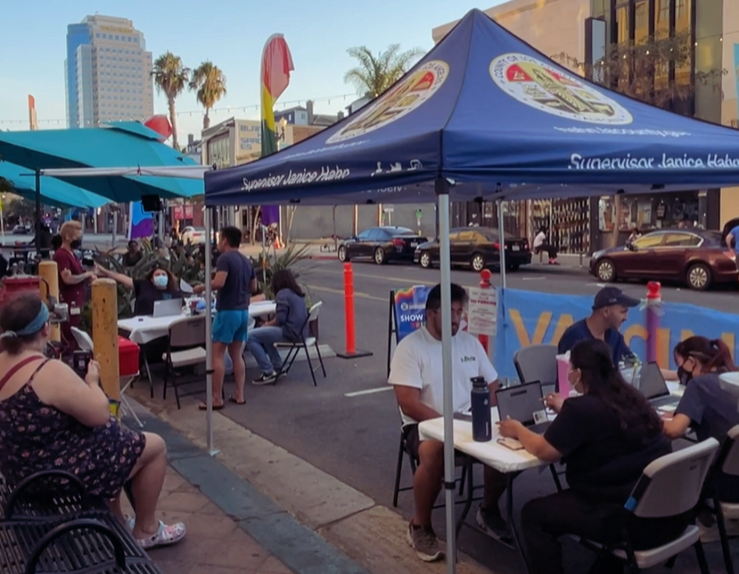 DOWNEY, Ca – Los Angeles County Supervisor Janice Hahn will host a series of Mpox vaccine pop-up clinics outside of bars in Downey and Long Beach this coming weekend. These follow a successful Mpox vaccine pop-up that the Supervisor held outside of Hamburger Mary's in Long Beach earlier this month, where 67 people received a dose.
"This vaccine is critical to keeping people safe from the MPOX virus and I want to make it as easy as possible for people to get vaccinated," said Supervisor Hahn. "I am partnering with the LA County Department of Public Health, Long Beach Public Health, and the City of Downey to bring these pop-up vaccine clinics to places where people spend their free time and that are considered safe spaces by the LGBTQ+ community."
Muevelo Fridays is an LGBTQ+ Latino dance party held once a week at The Epic Lounge in Downtown Downey. Falcon and Falcon North are well-established bars serving Long Beach's LGBTQ+ community. The Falcon is located on East Broadway, home to several other gay bars that attract people from across the region.
"We appreciate that the Supervisor listens to community concerns, especially when it comes to public health, and we're grateful that she's using her resources at the county level to bring the mobile testing unit to Downey," said Downey Councilman Mario Trujillo, who worked with Supervisor Hahn's office to bring the pop-up to Downey on Friday. "We invite Downey residents and residents from surrounding communities to take advantage of the unit that's being brought locally for their benefit."
The vaccine pop-ups are carried out using a cargo van mobile unit. Supervisor Hahn purchased one of these mobile vans to bring COVID-19 vaccines to communities across her district.
On-site vaccination staff are employees of the Los Angeles County and Long Beach public health agencies.             
What:  Supervisor Janice Hahn Mpox vaccine pop-ups
Details:
Friday, September 23, 8pm to 10:30pm
Muevelo Fridays
The Epic Lounge
8239 2nd St., Downey, CA 90241
Saturday, September 24, 8pm to 12am
Falcon
1435 East Broadway, Long Beach, California 90802
Sunday, September 25, 5pm to 9pm
Falcon North
2020 East Artesia Boulevard, Long Beach, California 90805
Racial disparities persist in monkeypox outbreak
With the racial disparity ongoing, health observers say additional efforts are needed to reach out to marginalized communities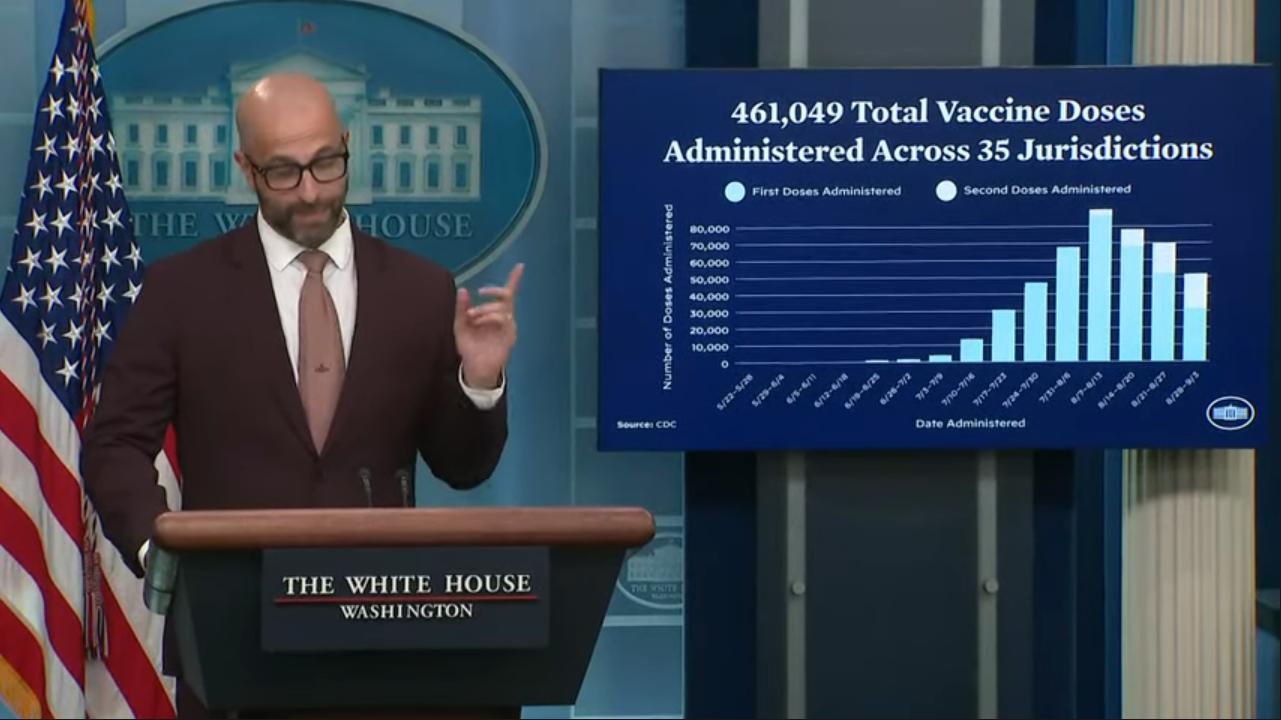 WASHINGTON – Racial disparities persist in response to the monkeypox outbreak as the numbers of Black and Latino men contracting the disease are now disproportionately high, but that inequity is getting new attention as overall cases drop.
Although overall new cases in the monkeypox outbreak are steadily on the decline after numbers peaked in the summer, a growing share of the continuing numbers belong to men who have sex with men who are racial minorities.
The latest numbers show the racial disparity dramatically. In the week of Sept. 4, Black people consisted of 41 percent of the cases and Latinos consisted of 27 percent, while 26 percent were white and three percent were Asian, according to data from the Centers for Disease Control.
Black people among the new cases of monkeypox were much smaller when numbers were first reported earlier in the summer. For example, the percentage was 18 on June 22 and as low as 8 percent June 8. The percentage of Latinos, as with white people, has been on the decline, although they're still overrepresented in new cases in the context of their demographics in the U.S. population at large.
The disproportionate impact of new monkeypox cases on racial minorities hasn't gone unnoticed. As a result, health officials are attempting to shift the focus of the monkeypox outbreak away from gay and bisexual men and other men who have sex with men more broadly and more toward men of color who are sexual minorities.
Sean Cahill, director of health policy research at the Boston-based Fenway Institute, said in an interview with the Washington Blade the racial disparities in the monkeypox outbreak are largely the result of Black and Latino men being "less likely to get vaccinated than their proportion of the population."
"So they're more vulnerable to monkeypox, and they're less likely to get the vaccine," Cahill said. "So that's a real problem, and it's really critical that you know, federal, state and local partners come together and really center equity in the response and try to reduce the burden on Black and Latino gay men, but also increase access to the vaccine to ensure that people can protect themselves."
The Fenway Institute last week issued a blueprint calling for a more effective federal response to monkeypox, accusing the U.S. government of failing to effectively mobilize existing public health infrastructure to aid communities affected by the virus. The document outlines a range of possible actions, but also concludes marginalized communities are having difficulty accessing vaccines and treatments, which are concentrated at well-resourced institutions less accessible to communities of color.
Cahill, asked to characterize whether the numbers demonstrating racial disparity have changed over time or have remained stagnant, said any trends are difficult to determine because the data on racial demographics has been available only recently and "it's very imperfect data."
"I don't know if it's getting worse or better, the disproportionate racial ethnic impact," Cahill said. "But it's definitely there, and it doesn't seem to be going away."
The Biden administration, while touting the 20 percent decline in overall cases in the monkeypox outbreak, has also started to recognize the continued disproportionate impact of monkeypox on Black and Latino men who have sex with men.
Rochelle Walensky, director for the Centers for Disease Control & Prevention, said during a conference call with reporters the U.S. government approaches the decline with "cautious optimism."
"Over the past several weeks, we have also seen the racial and ethnic makeup of this outbreak evolve," Walensky said. "While monkeypox cases were first seen predominantly in non-Hispanic white men, in the last week, among the cases for which we have race and ethnicity data, non-Hispanic Black men represented 38 percent of cases, Latino or Hispanic men represented 25 percent of cases, and non-Hispanic white men represented 26 percent of cases."
Among the efforts the Biden administration has undertaken is a pilot program for vaccines reserved for large events and equity. Monkeypox vaccines have been administered to more than 10,000 people, including at Southern Decadence in New Orleans, Atlanta Black Gay Pride, Charlotte Pride, Boise Pride Festival, and Oakland Pride and Pridefest.
Dr. Demetre Daskalakis, the face of LGBTQ outreach for the Biden administration in monkeypox efforts and deputy director the White House monkeypox task force, was among those promoting the pilot program in equity efforts during a conference call with reporters.
"Health departments will use their local experience and connection to the community to identify hyperlocal strategies to improve vaccine access to communities of color, specifically those that are overrepresented in this outbreak," Daskalakis said.
David Johns, executive director of the National Black Justice Coalition, said in the racial disparities in the monkeypox outbreak are consistent with other trends in public health.
"There have been so many opportunities to learn ways to address health inequities before they grow," Johns said. "That Black people continue to be disproportionately impacted by this newest health epidemic is additional evidence of how white supremacy works and the importance of democratized responses to crises."
Biden health officials, asked by the Washington Blade during the virtual meeting why the administration's stated goal of equity in managing the monkeypox outbreak isn't producing racial equity among new cases, restated their efforts and talked about the difficulty in achieving that goal.
Walensky, who has also had a lead role in the Biden administration combating the coronavirus pandemic, said racial disparities in the monkeypox outbreak "is not uncommon for many infectious diseases, quite unfortunately," and defended the U.S. government's approach to monkeypox.
"And it is exactly for these reasons why we started on these pilot projects before we even saw the shifts in data, as that is often the case in infectious diseases that we have more vulnerable population — racial and ethnic minorities — who are most impacted later on," Walensky added. "And so, we anticipated this. We have embarked on these activities to address this in exactly this moment."
Daskalakis, following up in defense of the Biden administration's efforts on equity, said he's "spoken to providers on the ground and also promoters at these events who have noted that this effort is really unprecedented in terms of reaching deeply into these communities."
"I think all of our commitment in the administration is to really focus efforts on equity to resolve the issues that we're seeing. It is a hard effort and it's a challenge," Daskalakis added. "And I think that the way to address equity is intentionally, and this is an example of intentional work to address equity."
With the racial disparity in the monkeypox outbreak ongoing, health observers say additional efforts are needed to reach out to marginalized communities to ensure they have access to public messaging and vaccinations.
Cahill said although people of color in urban areas go to LGBTQ centers to receive health care, many of them are also getting care through other facilities that aren't LGBTQ-specific, such as emergency rooms and urgent care clinics .
"I think providing some training and technical assistance to those healthcare organizations in how to provide affirming care to bisexual men could be an important approach and could make it so that people might be more likely to disclose same-sex behavior in those contexts," Cahill said.
LA County Public Health confirms first death due to Monkeypox
The patient was severely immunocompromised & hospitalized. To protect confidentiality & privacy additional information won't be made public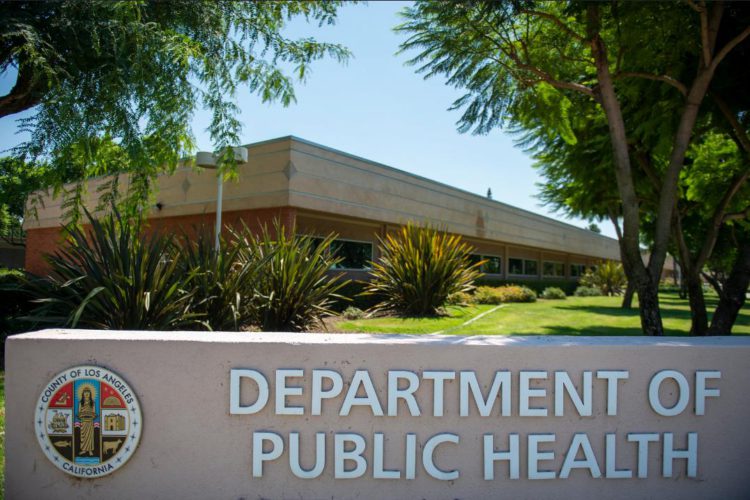 LOS ANGELES – In a press statement issued Monday afternoon, the Los Angeles Department of Public Health, along with the Centers for Disease Control and Prevention (CDC), has confirmed the first death due to monkeypox in a Los Angeles County resident.
According to the statement the resident was severely immunocompromised and had been hospitalized. To protect confidentiality and privacy, additional information on this case will not be made public the statement added.
LA County Public Health Chief Medical Director Rita Singhal had told reporters last week during a briefing that this second possible death from monkeypox in the U.S. was under investigation.
In the first case, NBC News reported that in late August, the Texas Department of State Health Services reported that a person diagnosed with monkeypox in the Houston area had died. The patient was described in a statement as "severely immunocompromised."
The role of monkeypox in the patient's death was under investigation, Texas officials said at the time.
The Centers for Disease Control and Prevention said Friday that a case analysis found that 61% of people in the U.S. who have developed monkeypox also had HIV or another sexually transmitted infection or disease.
Monkeypox cases data in LA County as of September 9, 2022 showed 1,836 cases which included the cities of Long Beach and Pasadena which have separate health departments.
Los Angeles County (excl. Long Beach and Pasadena)1,722, Long Beach 92, and Pasadena 22.