Inaugural LA County Youth Climate Commission seeks youth leaders
"It's a fantastic opportunity for young people who are both passionate about climate change and interested in public service"
LOS ANGELES (Press Release) – Aiming to empower the region's next generation of environmental leaders, the County of Los Angeles today issued a call for young adults to serve on its inaugural Youth Climate Commission.
On the heels of major climate legislation at the federal level, the County is seeking 25 youth leaders who have a commitment to civic action that will create greater resilience in their communities.
The Board of Supervisors, responding to grass-roots activism from Los Angeles youth climate leaders, adopted an ordinance to create the Commission to inform, recommend, and advise on County goals, plans, actions, and policies related to climate change mitigation and resilience.
The panel – the first County Commission to focus exclusively on climate change – aims to amplify the perspectives and priorities of local youth, since they will be the most dramatically impacted by the ongoing climate impact during their lifetime.
"I am heartened that after years of insufficient action on climate, Congress is advancing a major climate bill that will change the game for lowering our emissions nationally," said Supervisor Hilda Solis who represents the First District and authored the ordinance. "With new federal resources, the stakes are even greater for us to ensure that the very people whose future is most impacted are at the table to effect real change."
"Despite another season of record-breaking heat and extreme weather, I remain hopeful in the next generation's unwillingness to stand idle in the face of the climate crisis. The Youth Climate Commission provides an important structural pathway for new and diverse leadership to advance equitable and bold climate solutions for the Los Angeles region" said Supervisor Holly Mitchell who represents the Second District.
"Young people all across Los Angeles County are an untapped source of energy and ideas that can, and should, influence the County's actions on climate change," said Supervisor Sheila Kuehl who represents the Third District and was the co-author of the ordinance. "I encourage young people who have a commitment to reversing climate change, protecting biodiversity, and reimagining our relationship to our planet's natural resources to consider participating on this exciting body that will help to shape LA County climate policy for years to come."
"We are already seeing the effects of climate change, but many of my colleagues and I will be long gone when the worst impacts of the climate crisis take hold. Young people are leading a movement on this issue and they are proving better at it than the generations before who have failed them. They deserve a seat at the table in shaping our County's climate policy and I encourage the young climate leaders across my district to apply to be a part of this commission", said Supervisor Janice Hahn who represents the Fourth District.
"Our County is very big, so it's important that we attract a diverse group of individuals so that we hear perspectives inclusive of different parts of our County, such as our high desert, foothill, and mountain communities," said Supervisor Kathryn Barger, who represents the Fifth District. "Many of these communities face a higher likelihood of being impacted by natural disasters due to climate change, such as wildfires and flooding. I highly recommend anyone who is interested to come forward and apply to join this new County Commission. It's a fantastic opportunity for young people who are both passionate about climate change and interested in public service."
The findings of the County's recent Climate Vulnerability Assessment, demonstrated that an estimated 56% of residents – nearly 5.7 million people — face high risk to such climate hazards as extreme heat, wildfire, inland flooding, extreme precipitation, coastal flooding, and drought.
Low-income and communities of color face a disproportionate amount of climate vulnerability as well as limited capacity to withstand and weather future threats, the study found.
The commission's recommendations will further the ongoing implementation of Our County Sustainability Plan, the most ambitious regional sustainability blueprint in the nation. Among its 159 action items is creating a fossil fuel-free L.A. County by 2050.
"We are committed to reflecting the diversity of our County in our new Youth Climate Commission. We invite young adults from marginalized communities, communities burdened by pollution, and beyond to co-create with us a future with healthy, sustainable communities by applying to serve as commissioners," said Executive Officer Celia Zavala.
Application materials are available on the website and must be submitted by Sept. 15, 2022. Interested applicants must be age 18 by Oct. 1, 2022.
Lindsey Horvath is the youngest Chair of the Board of Supervisors
Horvath since her election as a Supervisor she has made it clear that she is on a mission to end homelessness in Los Angeles County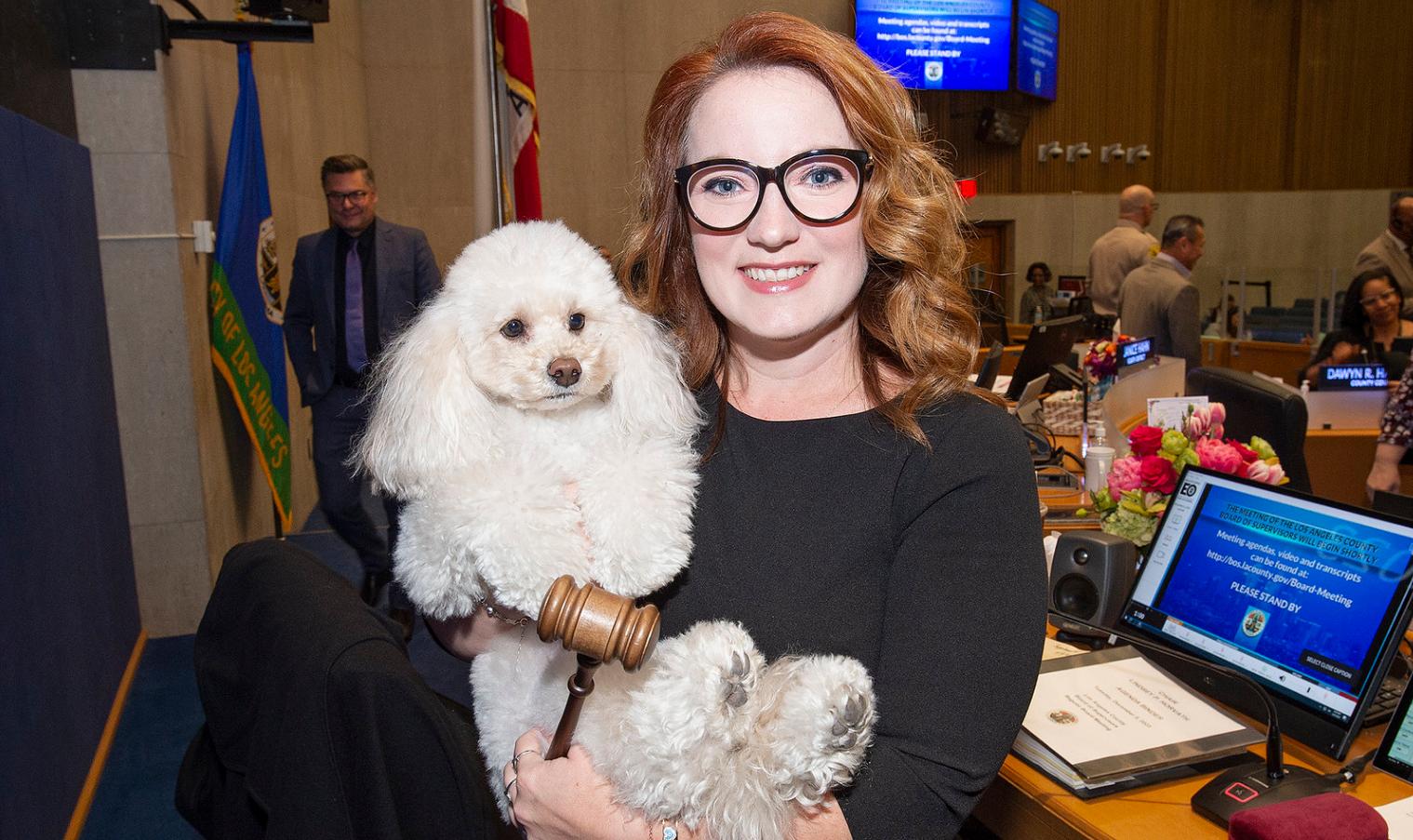 LOS ANGELES – One year after being sworn in to serve as Supervisor for Los Angeles County's Third District, Supervisor Lindsey P. Horvath became the youngest-ever Chair of the Board of Supervisors as she took the gavel Tuesday.
During the Board's reorganization meeting, Supervisor Kathryn Barger was selected as Board Chair Pro Tempore.
In her remarks following her becoming Board Chair, Horvath noted:
"In listening to young people, I am clear that the crisis of the moment is homelessness. From the threat of falling into homelessness because of the rising costs of rent and just living, to the reality of being unhoused while trying to go to school, and never being able to recover from the debt that piles up, the pervasiveness of homelessness in our region is a daily attack on our dream for a better future."

"While homelessness is the crisis of the moment, climate change remains the crisis of our time. No one makes that clearer than our young people, whose commitment to a cleaner, more sustainable future is unwavering."

"But, the most insidious, sinister crisis we face today is the crisis of despair. The rate of suicide is unprecedented, especially among women and girls who face increasingly complicated mental health challenges. Anxiety, depression, and substance use are pervasive."
"This is a moment for urgency. This is a moment for impatience. This is a moment for profound change. We must march forward together and take bold steps to bridge generations and create the change that we so urgently need," she added.
Horvath since her election as a Supervisor she has made it clear that she is on a mission to end homelessness in Los Angeles County. As Third District Supervisor she represents 10 cities and 26 unincorporated communities from West Hollywood to Malibu, Topanga to Chatsworth, and Pacoima to Santa Monica. Her district spans 446.08 square miles and is plagued by homelessness.
There are approximately 69,144 homeless people within the county, and that number is on the rise. 75% of those unhoused individuals do not have any form of permanent housing and are forced to wander from place to place, finding or making shelter wherever they can.
Six out of ten of these unhoused individuals are newly homeless – a reflection of the inequity between rising home prices and stagnant income levels that have left so many in California unable to make ends meet.
This past January, [2023] the Los Angeles County Board of Supervisors declared a state of emergency for the homeless crisis.
"The declaration has allowed us to do two things," Horvath told The Blade. "First, we were able to accelerate hiring. We learned that in the Department of Mental Health, for example, it can take longer than a year for mental health professionals to be hired into the department. That is completely unacceptable. We need to hire people faster to do this work.
"Second, we were also able to expedite contracting. We learned from LAHSA that a contract could be touched up to 140 times before it is finally executed, and funding is able to reach service providers. Obviously, that is unacceptable. We are improving our contracting processes."
Given the new laws attempting to outlaw the existence of the LGBTQ+ community in many Republican-controlled red states across America, young LGBTQ+ people flock to places like Los Angeles with little to no resources to avoid being persecuted for their identities.
When asked how the she intends to deal with the influx of homeless LGBTQ youth pouring into LGBTQ+ safe havens like Los Angeles, Horvath told the Blade that she is prepared to welcome them with open arms.
"We tackled this challenge a lot when I was the Mayor of West Hollywood. We saw a lot of people come to West Hollywood for exactly this reason, and we know that that is not unique to West Hollywood. It's happening throughout Los Angeles County, so we are already providing those services to those who need them. Anyone who comes to our area will be met with support and care."
In a statement released by her office, Horvath detailed her accomplishments over the past year:
Introduced the emergency declaration on homelessness, the foundation for expedited results across the County, and appointed herself to LAHSA where she now sits as Chair.
Introduced protections for renters as essential homelessness prevention, including extending a 4% cap on rent increases for unincorporated Los Angeles County, along with other actions to strengthen the Rent Stabilization and Tenant Protections Ordinance.
Championed environmental action through motions to create a cleaner Santa Monica Bay and to protect our coast from sea level rise and erosion; opened improvements to the Marvin Braude Bike Trail; and today introduced implementation steps for the first comprehensive water plan for the region.
Stood for working Angelenos by authoring motions to strengthen hotel worker protections and created an entertainment business interruption fund. She also supported the WGA and SAG/AFTRA strikes.
Advanced a more inclusive and just LA County by initiating a Jewish Community Safety Plan; rooted out hate and antisemitism in all its forms; and recognized LA County's unofficial "gay beach".
Focused on care for system impacted young people and families by authoring a motion regarding Mandated Supporters, and co-authored a motion to create a Prevention framework for LA County.
As the new Chair of the Board of Supervisors, our message is clear:

This is a moment for urgency. This is a moment for impatience. This is a moment for profound change. pic.twitter.com/9qvgA8YmAe

— Lindsey P. Horvath (@LindseyPHorvath) December 5, 2023