Boston Children's Hospital targeted by anti-LGBTQ+ violent threats
Anti-LGBTQ LibsofTikTok, which has often promoted the "groomer" label attacking the LGBTQ community, spread the lies about Children's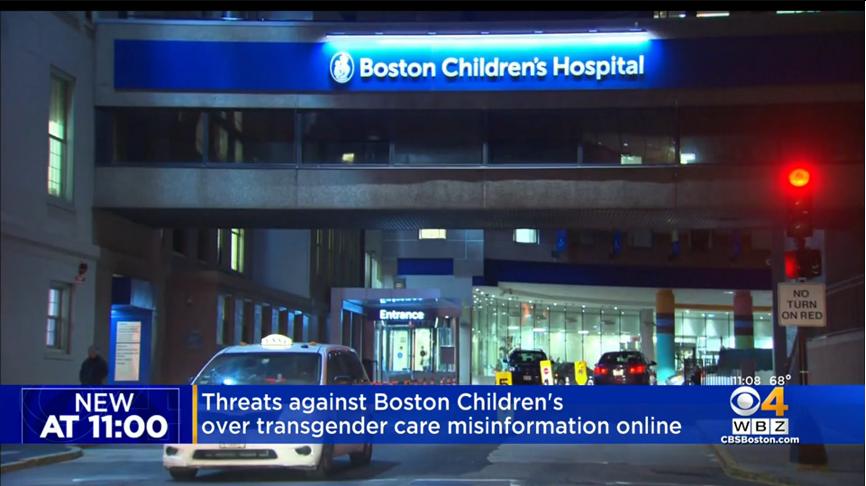 BOSTON – Anti-LGBTQ+ far right extremists are targeting Boston Children's Hospital threatening its employees and medical staff after falsehoods and disinformation spread online recently about the healthcare facility's treatment of transgender youth.
In a statement posted online, a spokesperson for Boston Children's wrote: "In response to commentary last week critical of our Gender Multispeciality Service (GeMS) Program, Boston Children's Hospital has been the target of a large volume of hostile internet activity, phone calls, and harassing emails including threats of violence on our clinicians and staff fueled by misinformation and a lack of understanding and respect for our transgender community."
The statement notes that the false information, with special attention being cast on the lies that Boston Children's was performing hysterectomies (transgender gender care related) on minors. The age of consent for that gender-affirming procedure is 18.
"We condemn these attacks in the strongest possible terms, and we reject the false narratives upon which they are based," the hospital continued. "We are working with law enforcement to protect our clinicians, staff, patients, families, and the broader Boston Children's Hospital community and hold the offenders accountable. We will continue to take all appropriate measures to protect our people."
August 16, 2022
Journalist Martha Bebinger with WBUR,  Boston's NPR news station, noted the campaign started last week with criticism of a video posted on the hospital's website about hysterectomies. Several conservative social media accounts shared posts about the video on Twitter. The hospital performs hysterectomies on patients 18 and older, but not on children as some of the posts claimed.
The social media account LibsofTikTok, which has often promoted "groomer" discourse that falsely linked LGBTQ teachers and parents to pedophilia, began to make a variety of false claims. One allegation included the lie about Children's offering gender-affirming hysterectomies to children under 18 years old.
Surgeons at Boston Children's have said they would consider performing other procedures, including phalloplasty, or penis construction, on 17-year-old male transgender patients. But hospital staff say that hasn't happened because no 17-year-old has met required legal and other criteria.
Conservative journalist and anti-LGBTQ+ activist Christopher Rufo, who has helped incite white Christian nationalist right-wing uproar over the critical race theory being taught in the nations' secondary schools and also fabricated a story that queer theory was also being taught to kindergarteners up through high school, took aim at Boston Children's in a tweet Wednesday.
Yes, American doctors are performing "vaginoplasties" on minors—castrating young males and creating artificial vaginas out of their penile tissue.https://t.co/LzLsZpeeRU pic.twitter.com/6NgBGitZZh

— Christopher F. Rufo ⚔️ (@realchrisrufo) August 17, 2022
Then adding to the far-right extremist pile-on, Media Matters for America reported Wednesday that anti-Trans pundit Matt Walsh also attacked the hospital.
The Daily Wire's Matt Walsh falsely accused Boston Children's hospital of putting "every toddler who has ever been born…on a path to sterilization and butchery before they can even talk." Two days later, the hospital's staff was deluged by violent threats. pic.twitter.com/uoyb35VPM6

— Media Matters (@mmfa) August 17, 2022
Christina Buttons, a Nashville-based radical anti-LGBTQ far-right journalist for the Canadian anti-LGBTQ conservative publication, the Post Millennial, which features other transphobic writers, attacked NBC News reporter Brandy Zadrozny on Twitter over her reporting on Boston Children's.
God help me, I know I shouldn't bother, but just quick before I log off: the "evidence" for this lie, that a children's hospital is performing genital surgery on minors, actually shows that the center provided ZERO of these surgeries on minors.https://t.co/elQ7nF1dCU https://t.co/478VyUsx4U pic.twitter.com/L6BP11HHDc

— Brandy Zadrozny (@BrandyZadrozny) August 17, 2022
A spokesperson for Twitter told the Blade Wednesday afternoon that the company support team was looking into the reports of harassment.
NBC's Brandy Zadrozny reported: Anti-trans activists also targeted the individual doctors who appeared in the YouTube videos from Boston Children's Hospital, leaving vulgar and harassing comments on their social media accounts and flooding their online pages with negative reviews. Some hospital staff have since made their social media profiles private.
This isn't the first time that far-right activists have targeted doctors and medical institutions — or even Boston Children's Hospital.
Lee Leveille, co-director of Health Liberation Now, a trans rights advocacy group that investigates the effects of policy on trans health, said the hospital was also a target in May 2021 for providing gender-affirming care amid a similar wave of targeted harassment on medical facilities.
"The original organized network that jump started the clinic protests has been slowing down a bit and is more decentralized," Leveille said over email. "Local pockets will still operate here and there, but they're less connected to a central organized push than the original ones. Now we're seeing new faces rallying the cause — including the likes of Matt Walsh and Libs of TikTok."
A spokesperson for the Boston Police said the department is aware of the threats and is working with Boston Children's staff.
"Pedo Scum- Off Our Streets:" Boston Neo-Nazis protest drag event
Boston Police say that a group of counter-protestors had shown up as officers ushered the children out of the book reading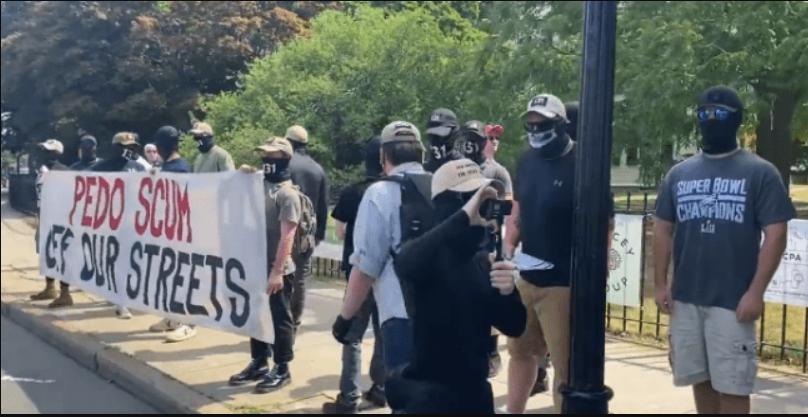 BOSTON – The neo-Nazi leader of a white supremacist group and two others were arrested Saturday afternoon in the Jamaica Plain neighborhood of Boston as they marched and chanted in an effort to disrupt a drag queen story hour event at the Loring Greenough House.
According to Suffolk County District Attorney Kevin Hayden, Boston Police officers arrested Chris Hood, 23, the founder of the National Socialist Club, (NSC-13) which has been listed by the the Anti-Defamation League as a white supremacist neo-Nazi hate group with six active chapters in the New England regional area.
Boston Police said that Hood was arrested while engaged in a physical altercation with a counter-protester, 27-year-old Seth Rosenau, which officers broke up. Both men were charged with disturbing the peace, and they will both be in West Roxbury Court on Monday.
Members of the white supremacist neo-Nazi hate group were standing across the street from the drag queen story hour event at the Loring Greenough House holding a banner that read:"Pedo Scum Off Our Streets." In witness videos of the event that neo-Nazis can be seen wearing hats with masks covering their faces.
Boston Police say that a group of counter-protestors had shown up as officers ushered the children out of the book reading and away from the group of neo-Nazi white supremacists. Verbal arguments ensued culminating in a couple of fist-fights, one of which led to the arrest of Hood.
"We are prepared and will not be intimidated in our work to make Boston a city for everyone," Mayor Michelle Wu said in a statement. "We remain ready for citywide deployment of extra public safety resources with a zero tolerance approach to any groups looking to intimidate or harass residents in our city."
The Suffolk County District Attorney issued a statement in which he called it an "organized white supremacist action" and noted that Boston was a "way point in the crusade of hate" launched in Charlottesville, Virginia five years ago during the infamous "Unite the Right" rally.
"The presence of white supremacists at a Jamaica Plain book reading today, like their downtown Boston march earlier this month, is at once a disgrace and a warning," said Hayden. "Society everywhere is targeted by these groups, and society everywhere must reject them."
3 men arrested after white supremacists protest outside drag queen story hour reading:
LGBTQ+ friendly senior housing vandalized in Boston over the weekend
Boston Mayor Michelle Wu 吳弭 tweeted, "Hate & acts of vandalism will not be tolerated at the Pryde—or anywhere in Boston"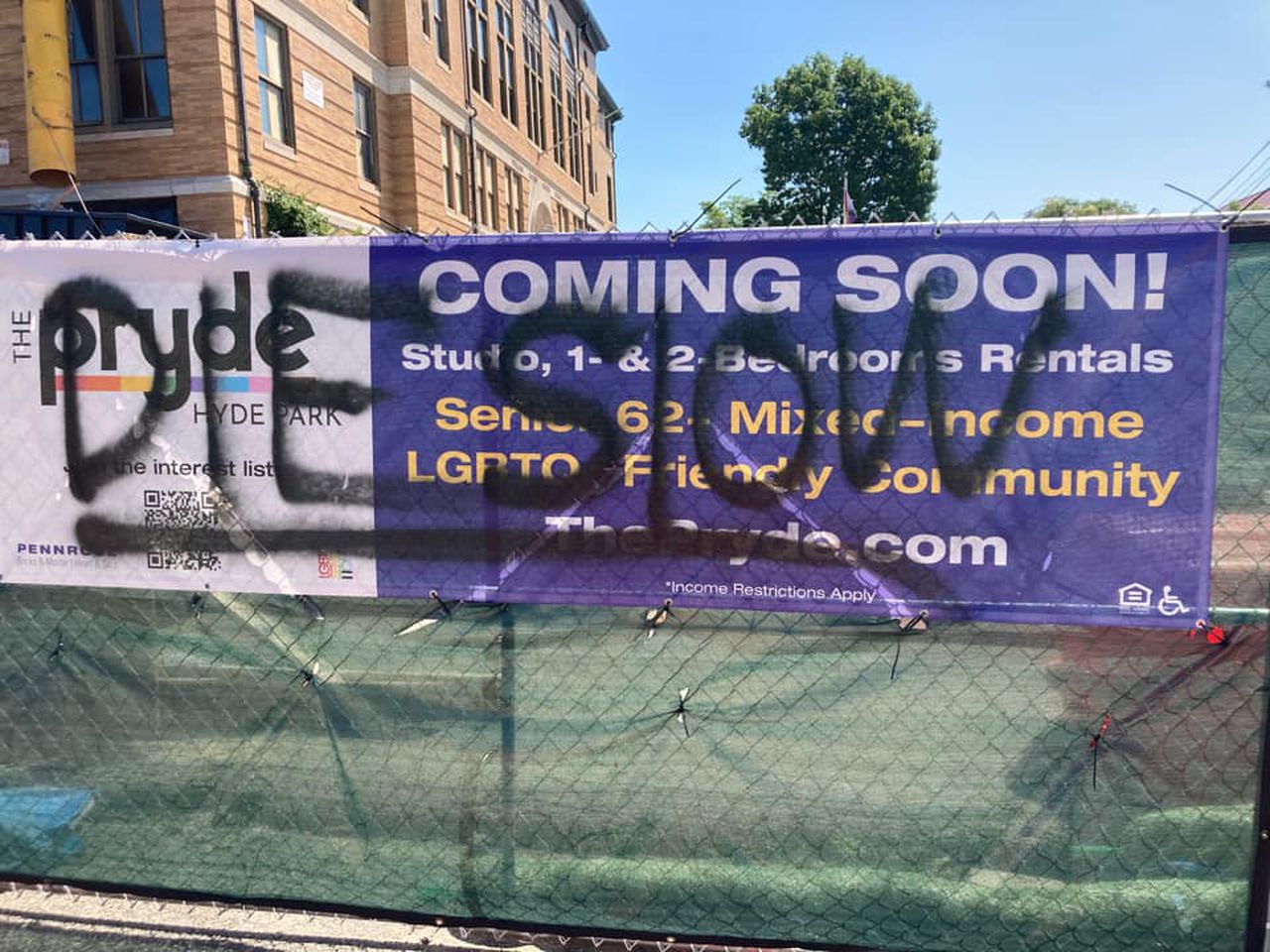 BOSTON – Boston's Hyde Park neighborhood residents and others gathered The William Barton Rogers School Project at 15 Everett Street on Sunday hours after homophobic slurs and messages stating "die by fire" and "die slow" were found spray painted on banners hung at The Pryde, a 74-unit housing development for LGBTQ+ friendly senior housing.
Reactions to the blatant homophobic graffiti include Boston Mayor Michelle Wu 吳弭 who tweeted, "Hate & acts of vandalism will not be tolerated at the Pryde—or anywhere in Boston."
Hate & acts of vandalism will not be tolerated at the Pryde—or anywhere in Boston.

This affordable, LGBTQ+ senior housing development has been led by local residents, boosted by neighborhood voices & fueled by united support. We will move even faster to get it done. 🏳️‍🌈🏳️‍⚧️ pic.twitter.com/cG9knQnKqt

— Mayor Michelle Wu 吳弭 (@MayorWu) July 10, 2022
Ruthzee Louijeune, a Boston City Councilor, organized the gathering outside of The Pryde Sunday evening to condemn the homophobic vandalism.
The Pryde building in Hyde Park has been vandalized with anti-LGBTQ+ rhetoric.

We won't stand for this.

Not in my neighborhood.

Not in our city.

No matter how emboldened some people are getting.

Stand with us in solidarity at 4pm, 15 Everett Street in Hyde Park. #bospoli https://t.co/V2EABW3wJG

— Ruthzee Louijeune (@Ruthzee) July 10, 2022
A spokesperson for Boston Police Department Captain Joe Gillespie, who commands the BPD District E-18 where The William Barton Rogers School Project is located, said that investigators are checking all local video surveillance systems and asking residents for assistance.
Suffolk County District Attorney Kevin Hayden denounced the vandalism in a statement:
"It breaks my heart to see these ugly threats targeting a project — and a community — of such importance to our city," Hayden said. "This is the second straight weekend of Boston being marred by hatred and intolerance. This cannot stand. My office will prosecute threats to the LGBTQ+ community wherever and whenever they occur."
Hayden also referred to the march last weekend where members of the Patriot Front white nationalist group marched through downtown Boston.
A state lawmaker, House Rep. Mindy Domb condemned the vandalism on Twitter:
"We must condemn hate in all its forms and stand with all of its targets," Domb said. "Rising incidents of anti-LGBT, anti-Semitism & anti-Asian activities are connected and happening in a climate of growing threats to our communities. Our collective rejection & outrage is urgently warranted."
We must condemn hate in all its forms and stand with all of its targets. Rising incidents of anti-LGBT, anti-semetism & anti-Asian activities are connected and happening in a climate of growing threats to our communities. Our collective rejection & outrage is urgently warranted. https://t.co/7DTVlrOSp9

— Mindy Domb (@MindyForMA) July 11, 2022
Out Massachusetts Attorney General Maura Healey runs for Governor
Healey, the first LGBTQ person elected to as a state AG position could make history as no Out lesbian has been elected governor in the U.S.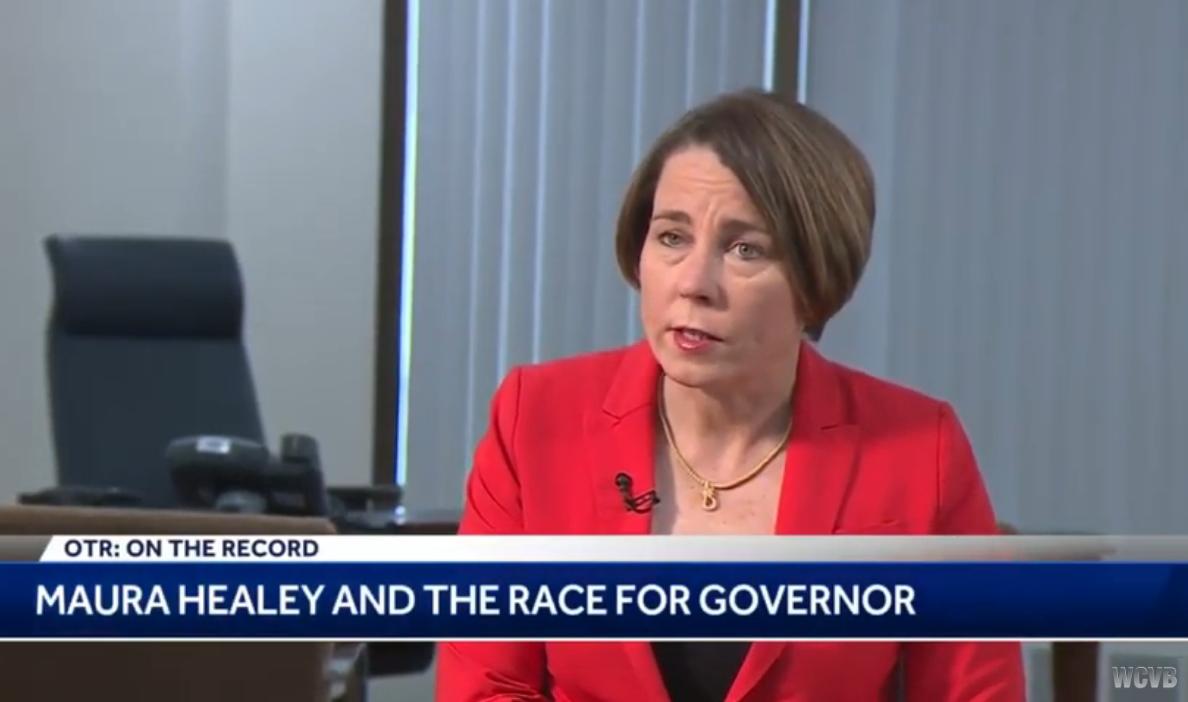 BOSTON – Massachusetts Attorney General Maura Healey announced yesterday morning that she is running for governor after months of speculation and following a record fundraising month.
Healey,  who was the first out LGBTQ person elected to a state attorney general position in the U.S. – could make history again with a victory in November. No out lesbian has ever been elected governor in the U.S.
Only two out LGBTQ people have ever been elected governor in the U.S. and both are sitting governors: Oregon Governor Kate Brown (who is a bisexual cisgender woman) and Colorado Governor Jarod Polis (who is a gay cisgender man), both of whom are Democrats.
Healey made the announcement on Twitter: "Massachusetts, I know the years of the pandemic have been really hard, but I see a state that is coming together with courage, grit and caring to great things," Healey says, before detailing her upbringing and her work as attorney general.
"I have stood for you as the people's lawyer and now I am running to be your governor, to bring us together and come back stronger than ever," Healey adds
I'm all in!

I've spent my career standing up for the people of Massachusetts. Now I'm running for Governor to bring our communities together and build an economy that helps every family thrive. Will you join me? https://t.co/qVhhZgbF6D pic.twitter.com/3JL2kICz9U

— Maura Healey (@maura_healey) January 20, 2022
"Maura is a fearless advocate for marginalized communities and chooses the battles that create a better and more inclusive future for her state and country. She led the first state challenge to the Defense of Marriage Act, stood up to the Trump administration's attacks, and is a proud champion for LGBTQ youth," Mayor Annise Parker, President & CEO of LGBTQ Victory Fund, said in a statement about her organization's endorsement of the Massachusetts Attorney General.
"As a lesbian woman, Maura knows well the frequent failures of our political and legal systems to address bias and discrimination and that awareness informs her commitment to society's underdogs. Maura's values and determination – along with her public service experience – make her the governor Massachusetts needs at this critical moment. While a victory for Maura will make history, she is running because she can make an even greater positive impact on the lives of Bay Staters as their governor," Parker added.
Healey said the following about the Victory Fund endorsement;
"I'm very honored to receive Victory Fund's endorsement in this race and proud to work alongside them to ensure every Massachusetts resident can thrive. Our state has made important strides in protecting the rights of our LGBTQ+ residents, but there is always more to do. As Governor, I will continue this critical work towards a fair, safe, and just world for our trans and non-binary residents, LGBTQ+ youth, and the entire LGBTQ+ community."
In 2009, Healey led the first successful federal challenge to a state law barring same-sex couples from marrying while working in the Massachusetts attorney generals' office. Many of the arguments from Massachusetts played a significant role in the U.S. Supreme Court's ruling that struck down the federal Defense of Marriage Act in 2013.
As attorney general, she filed more than 100 lawsuits against the Trump administration, successfully pursued cases against corporations that fueled the opioid pandemic, and won numerous lawsuits protecting immigrant rights.
Attorney General Maura Healey front-runner for Massachusetts governor, political analyst says: