Prosecutors announce hate crime charges in attack on gay teenage couple
A 17-year-old was charged with assault, the 19-year-old was charged with criminal mischief & both youths with hate crime enhancements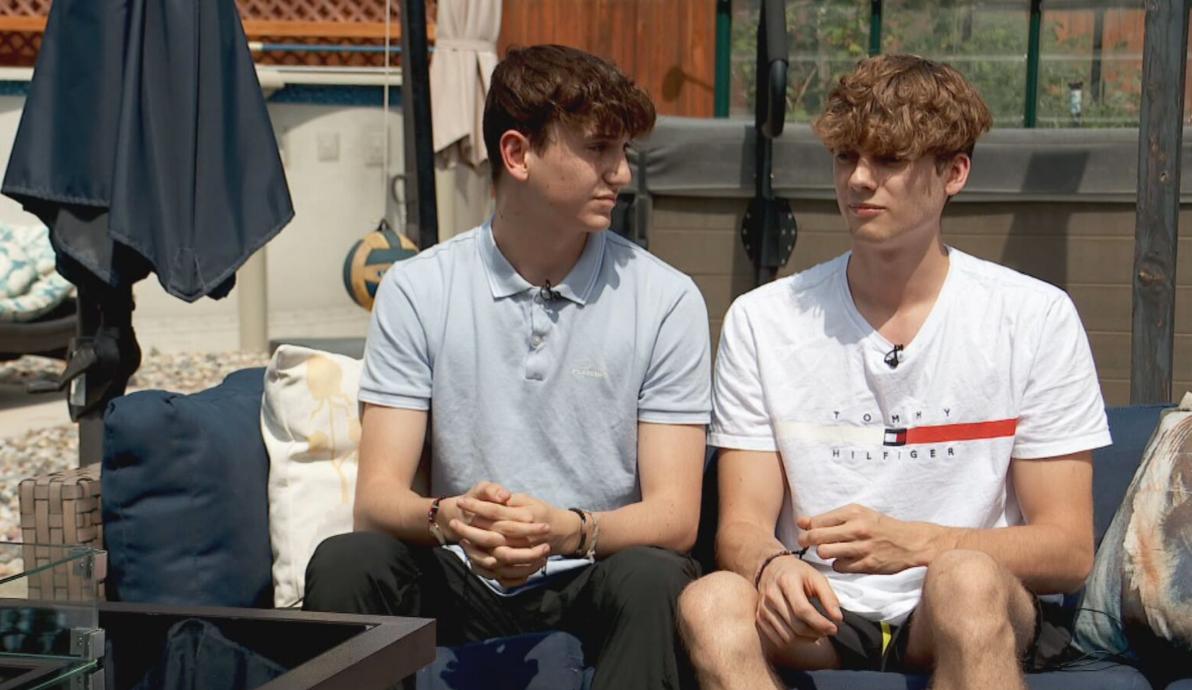 SANDY, Ut. – Christian Peacock and his boyfriend Jacob Metcalf were standing at the end of Peacock's driveway in this suburban Salt Lake City town hugging and quietly chatting in "a long goodbye for the night," two weeks ago when a Nissan-Infinity sedan with five young male occupants rolled by slowing down and one of them yelled "Fuck you, faggots."
Minutes later the Infinity returned and one of the young males got out and continued act aggressively using homophobic epithets and then when Christian Peacock stepped in to protect his boyfriend, he was punched sending him to hospital that left him with a mild concussion and brain swelling.
Earlier this week the Salt Lake City Tribune reported that a 17-year-old boy has been charged with allegedly punching Peacock sending him to hospital.
Sgt. Greg Moffitt with the Sandy Police Department told media outlets that the 17-year-old suspect's friend, Hayden Perry Stowell, 19, also faces charges, after he went back and allegedly vandalized the LGBTQ Pride flags displayed in front of the Peacock home in retaliation for his friend's arrest.
Prosecutors have added hate crime enhancements added to both of their other court charges.
The Tribune reported that the 17-year-old was charged in juvenile court with assault, a third-degree felony; and initiating a riot, a second-degree felony.
Stowell has been charged in 3rd District Court with retaliation against a witness, a third-degree felony; and criminal mischief, a class A misdemeanor.
The charging documents for the 17-year-old say he told police he approached the couple and "clearly targeted" them due to their sexual orientation, the Tribune reported.
He allegedly also told officers that he didn't like that Peacock and Metcalf were displaying physical affection openly in their driveway. The 17-year-old refused to identify anyone who was in the car with him at the time of the attack, the charges state.
A witness later identified Stowell as also one of the occupants of the car during the attack on Peacock.
Peacock's boyfriend had recorded portions of the incident which was later posted to social media. According to the Tribune, Jocelynn, 19, Peacock's sister grabbed her phone and started taking pictures of the alleged assailant and the others in the car. She also chased the car down the street and captured the license plate number. She then shared both on her Instagram and Snapchat pages.
One of her friends recognized the car and knew the person who drove it and gave Jocelynn the kid's address. Jocelynn went there and spoke to the mother of that boy.
"Do you know what your son has done?" she asked, according to Peacock and Metcalf, who went with her.
The Salt Lake Tribune and other media outlets in the Salt Lake region generally do not identify minors who have been charged with crimes, unless they have been charged and bound over for trial in adult court.
The case could become a test of the state's new hate crime law, which hasn't been used extensively since it was put in place in 2019 after a Latino father and son were attacked at their tire shop, the Tribune noted.
A community group had put up Pride flags to show support for Peacock and his boyfriend Metcalf in their neighborhood but surveillance footage taken two weeks after the attack — shows Stowell, the suspected vandal, outside the victim's home, according to the Sandy Police Department.
Stowell allegedly pulled out the flags, which were found "strewn about" the front yard and the street, police said, and at least one flagpole was broken, the Tribune reported adding that Stowell allegedly "ripped down the pride flags" 12 hours after his 17-year-old friend was booked into juvenile detention in connection with the July 30 assault, charging documents state, noting that the suspected vandal's "only clear purpose" was to "further intimidate and harass" the victim's family.
Both the teenage victim and his sister have been "struggling with anxiety and fear since the assault on July 30, 2022," charging documents note, "and with the continued intimidation they felt by the damage to their flags."
An attorney for the Peacock and Metcalf families sent KUTV 2News a statement Tuesday afternoon:
"There can be no place in Utah for hate crimes. We appreciate the swift and continuing efforts of the Sandy Police Department, Sim Gill, and the District Attorney's Office to investigate and prosecute the hate crimes that targeted our family. We also thank our friends and neighbors in Sandy, including Mayor Monica Zoltanski, for standing by us and making clear that hate crimes will not be tolerated in Sandy."
New survey shows 72% of Utah residents back same-sex marriage
Troy Williams, executive director of Equality Utah said he's not surprised to see that a majority of Utahns now support marriage equality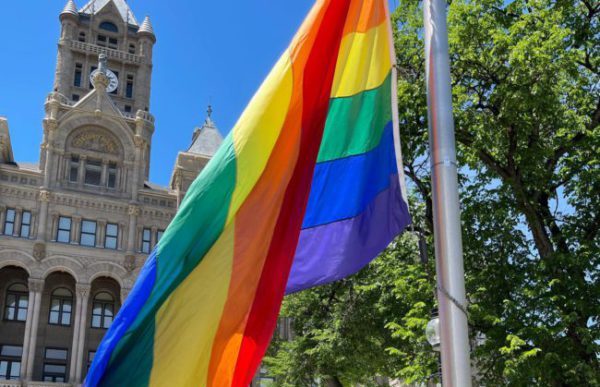 SALT LAKE CITY – The results of a poll run by the Hinckley Institute of Politics and the Desert News found 72% of Utah's residents agree that marriages between same-sex couples should be recognized by law as valid, with the same rights as cis-gender marriages.
"For a state that less than 20 years ago passed laws and a constitutional amendment prohibiting same-sex marriage, there has been a seismic shift in opinion," said Jason Perry, director of the Hinckley Institute of Politics at the University of Utah.
The Deseret News/Hinckley Institute of Politics survey also found that 23% of those surveyed disagreed, while 5% expressed that they don't know.
The poll shows Utahns are aligned with the nation as a whole on the issue. A Gallup poll in May found 71% of Americans say they support legal same-sex marriage, a new high.
Troy Williams, executive director of Equality Utah, told the Desert News that he's not surprised to see that a majority of Utahns now support marriage equality.
"Utah is a pro-family state, and we recognize that families come in all shapes and sizes. When we see loving, committed couples joining in matrimony, our natural impulse is to support and encourage that love. This gives me great hope for the future," he said.
A new poll shows nearly three-fourths of Utahns support legal same-sex marriage. | By @dennisromboy #utpolhttps://t.co/DBJHHNgmnJ

— Deseret News (@Deseret) September 30, 2022
'Angels' block anti-LGBTQ+ hate at Utah back-to-school event
Attendees were shielded with the same type of wings that blocked the Westboro Baptist Church during 1999 trial for Matthew Shepard's killers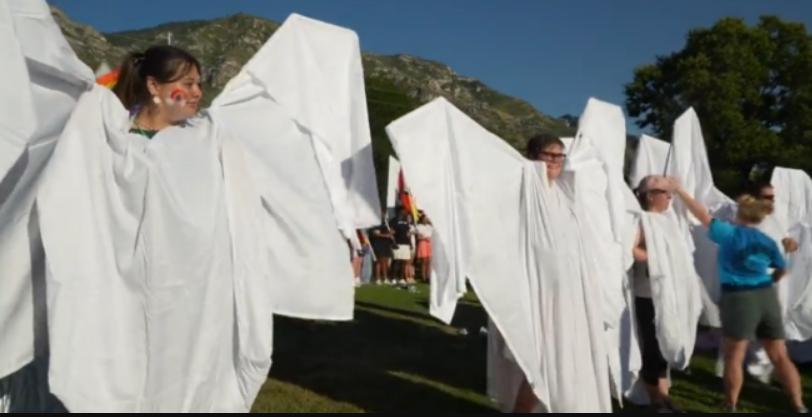 PROVO, Ut. – For the second year in a row, the Back to School Pride Night, hosted by the RaYnbow Collective, a Provo-based nonprofit organization with the mission of creating and identifying safe spaces for LGBTQ+ students, faculty, and staff at Brigham Young University was held Kiwanis Park.
This year, however, a group of around 100 protestors gathered shouting homophobic epithets, holding up anti-LGBTQ+ signs, many quoting the Book of Mormon at the LGBTQ+ attendees. The protestors according to the Salt Lake Tribune were blocked by a group of 'angels' who stood hand in hand, forming a shield between the 100 people rallying in front of them and the LGBTQ students, alumni and friends from BYU who gathered off campus to find and show support for each other Saturday night.
The angel's wings, made of white sheets draped over PVC pipe that extended 3 feet above their shoulders, blocked most of the posters at the "Back to School Pride Night" many who were shouting "pedophile" and "groomer" the Tribune noted adding: "You're going against God," one man spat. Another told them to "stop protecting the homos" at Brigham Young University.
The RaYnbow Collective told local Provo newspaper, the Daily Herald, prior to the Saturday event that its goal for this particular event was to connect LGBTQ+ friendly businesses, students, and community members. The event drew attention last week when BYU, after originally agreeing to hand out pamphlets containing LGBTQ+ resources to incoming freshman, opted instead to trash the pamphlets.
"It's really inclusive, so we encourage Provo community members to come join, anyone who is queer is welcome, anyone who has family members who are queer, or if anyone's just curious to come check it out," said Maddison Tenney, founder and executive director of the RaYnbow Collective. "We worked really hard to make sure it's safe with Provo police, and that it's really family friendly."
Back to School Pride Night also featured a family-friendly drag show with performances from 12 drag queens. According to Tenney, the stage names of the performers, as well as the show's music, have been adjusted to make this event appropriate for all ages.
In the past year, countless protests against similar "family-friendly drag shows" have touched off elements of far-right groups opposed to LGBTQ+ equality and people, most of which have been spurred on by the infamous Libs of TikTok account targeting the LGBTQ+ community.
The Tribune reported that Provo Police which provided a buffer zone during the event had warned Tenney prior to the back-to-school gathering there was going to be pushback.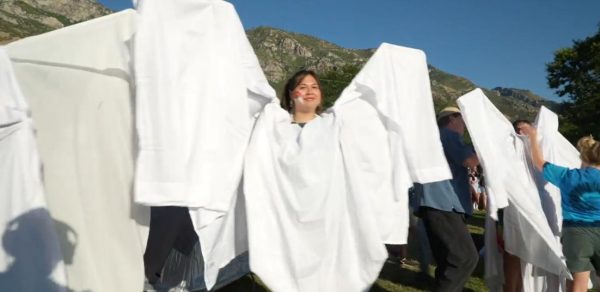 That's when she told the Tribune her group decided to use angel costumes — a strategy famously used by the friends of gay University of Wyoming student Matthew Shepard in 1999, when the two men accused of killing him went on trial. Shepard, 21, was beaten, tortured and left hanging from a wooden prairie fence in October 1998 after being attacked for his being gay. Shepard died six days later.
The Angel Action Wings Project blocked signs held by members of the Westboro Baptist Church led by Fred Phelps who protested outside the Albany County courtroom in Laramie, Wyoming with signs that said "God hates fags."
Several groups have since replicated the display, including at the funerals for the victims of the Orlando, Florida mass shooting at Pulse nightclub in 2016.
"Religion has been weaponized against the queer community for a long time," Tenney told the Tribune Saturday. "But that needs to end. I believe there's nothing more divine than who I am as a queer child of God."
Utah law triggers investigation into whether student athlete is transgender
Unhappy over 2nd/3rd place in a statewide competition parents of two high school student athletes asked if girl who claimed 1st is trans 
MIDVALE, Ut. – Dissatisfied with their second and third place finishes in a statewide athletics competition last year, the parents of two high school student athletes suspected that the girl who claimed the top slot is transgender. 
Records dating back to kindergarten reveal the winning athlete's gender is and was always listed as female – this, following an investigation conducted by her school at the request of those parents and at the behest of the Utah High School Activities Association (UHSAA).
An official with the organization conceded on Wednesday that the directive to launch the inquiry was made pursuant to the Utah legislature's passage of HB11, which prohibits transgender girls from competing in girls' school sports teams.
The UHSAA representative said they have received numerous other complaints, many alleging that certain female athletes "don't look feminine enough." The association took "every one of those complaints seriously," following up with the school and school system, he added. 
Opponents of HB11 and similar bills across the country have long feared that state legislatures, by passing these measures, would facilitate such intrusive, invasive investigations based on warrantless speculation and inuendo over student athletes' gender identities. 
That aside, notwithstanding the consensus of mainstream scientific and medical opinion, bills like HB11 incorrectly treat gender as a fixed and immutable biological trait. 
As Utah House Minority Leader Brian King (D-House District 28) said, "Things are not simply black and white, in terms of gender orientation, sexual orientation, gender identification. It's definitely not accurate to say that girls are girls and boys are boys."
King delivered those comments when voting against his Republican colleagues who successfully overrode Gov. Cox's veto of HB11 in March. The law's fate may now be tied to the outcome of a lawsuit filed by advocacy groups including the ACLU of Utah, who argue it is discriminatory and unconstitutional. 
The ACLU tracks state bills that aim to exclude transgender youth from athletics, versions of which have been introduced in Alaska, Arizona, Delaware, Georgia, Hawaii, Iowa, Indiana, Kansas, Kentucky, Louisiana, Maryland, Michigan, Minnesota, Missouri, Mississippi, New Hampshire, New Jersey, Ohio, Oklahoma, Pennsylvania, Rhode Island, South Carolina, South Dakota, Tennessee, Virginia, Wisconsin, West Virginia, and Wyoming, in addition to Utah.